Rosenbach reels in rare Sendak trove
A detail from a pop-up book by the German artist Lothar Meggendorfer, in the collection of Maurice Sendak.
After a long legal battle, most of the late author's rare books finally go to the Philly museum and library.
Sunday, Jan. 29, 2017
When Maurice Sendak died in 2012, he left a will directing that all his "rare edition books" go to the Rosenbach of the Free Library of Philadelphia – a cache of 895 items that made up a large part of the celebrated author-illustrator's own personal library of rare books.
But the Sendak estate contested the will, claiming that it had the right to keep many of the rare and valuable books. After two years of litigation, the case recently came to a close, resolved through a combination of a Connecticut judge's rulings and an out-of-court settlement.
The net result: 643 books went to the Rosenbach, and 252 to the estate. Many of the newly acquired books will be on display at the Rosenbach through April 30.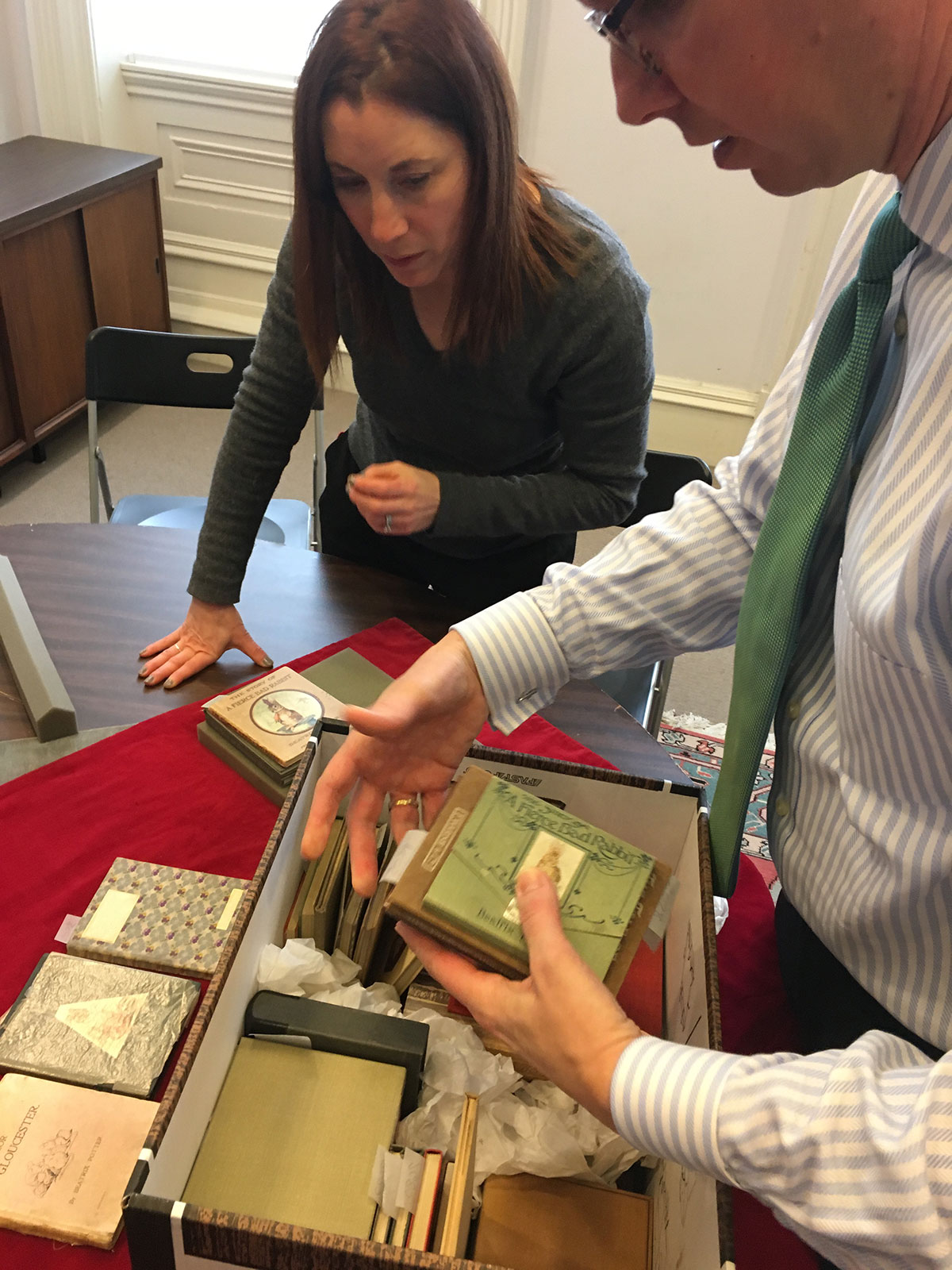 Rosenbach registrar Jobi Zink and director Derick Dreher open boxes of books from the Sendak collection.
Not all rare books, however, are created equal. The two most expensive items, two William Blake works -- illuminated editions of Songs of Innocence and Songs of Experience -- were worth millions, according to filings in the lawsuit. They ended up going to the Sendak Foundation in Connecticut, to the obvious disappointment of the Rosenbach.
"Those two books likely have a far higher market value than anything else [in the Sendak rare-book bequest], contested or otherwise," said Rosenbach director Derick Dreher.
Still, the resolution, including the Nov. 23 out-of-court settlement, in which both sides agreed to not pursue further legal action, enriches the Rosenbach's collection enormously. The books new to the Rosenbach hold special significance: Sendak was a frequent visitor to the Rosenbach starting in the late 1960s, eventually becoming a board member and major donor, and his wanderings among the stacks influenced his own work and his leanings as a major collector of rare books.
The last of the books due to the Rosenbach arrived Dec. 6.
Of the original group of 895 titles considered to be "rare edition books," as Sendak's will phrased it, 400 were not contested — that is, the Sendak estate did not dispute that they were meant for the Rosenbach. These include items such as early editions of Tolstoy, a 1914 volume of Mozart letters, an 1866 Tennyson Enoch Arden with gilt decoration, box after box of Henry James, a great deal of Scottish fantasy writer George MacDonald, and a 1917 anthology covering 500 years of Yiddish poetry.
Along with Herman Melvilles by the dozens.
The Rosenbach was already strong in works by Melville. Now, with the additions from the Sendak estate, "the Rosenbach collection is surely the best in the world," Dreher said. "It contains items ranging from the first British and American editions of Moby-Dick, which the Rosenbach already had, to his other well-known novels like Typee, just to name one, to his lesser-known Civil War works, religious works, and poetry. We even received a copy of his very rarest book, Timoleon. It was published after he died, in an edition of just 25, and a clipped signature was pasted into each copy. That one is known in the rare-book world as a 'black tulip' [which is to say, exceedingly rare]."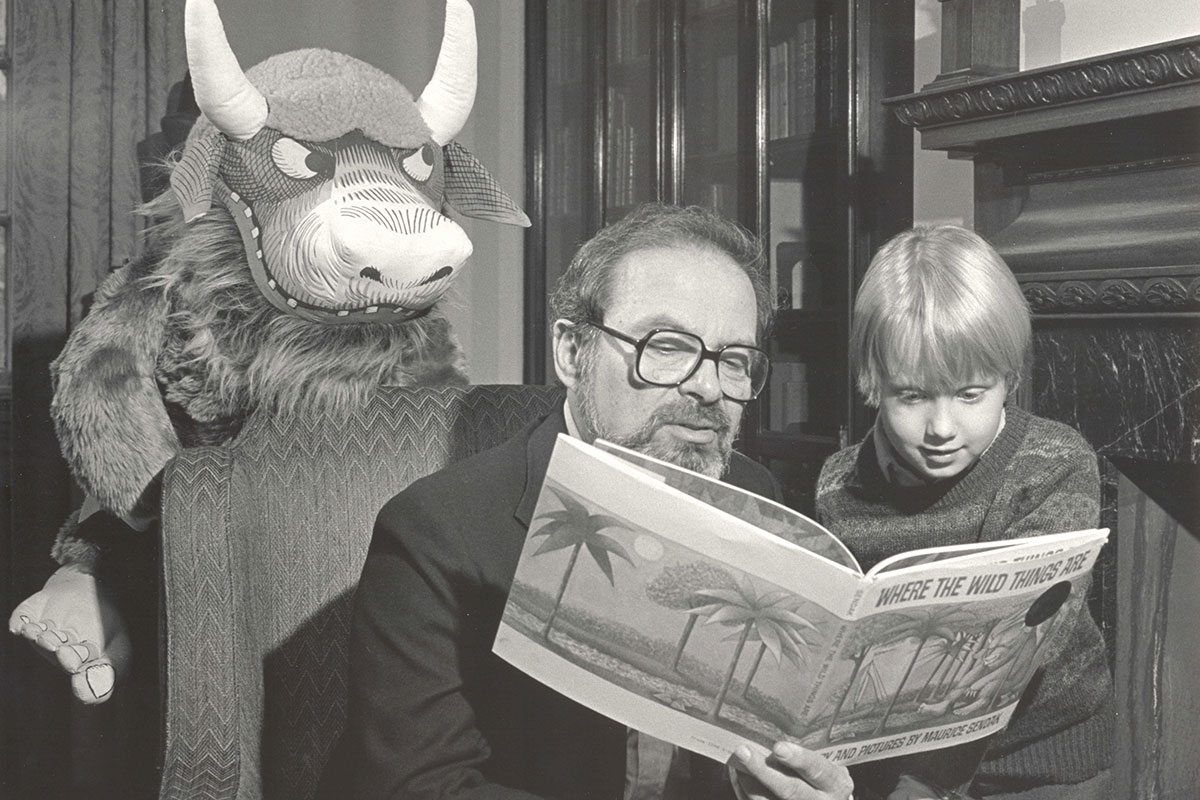 Maurice Sendak reads his book "Where the Wild Things Are" to a child at the Rosenbach Museum and Library.
The two Blakes worth millions may have slipped through the Rosenbach's fingers. But the local institution did receive (from both the contested and uncontested lots of books) 14 other Blakes to add to its existing collection of illuminated and engraved Blake books, drawings, and one watercolor. It also received 15 new Sendak titles to add to the 500 volumes it already had, as well as new ones by Oscar Wilde, Lewis Carroll, Thomas Rowlandson, and Mark Twain.
The largest single group new to the Rosenbach as part of the Sendak bequest – the boxes of Henry James – gives the museum and library a totally new area of concentration, says Dreher.
"We went from having almost no James at all to having a complete collection of first editions of his work," he said.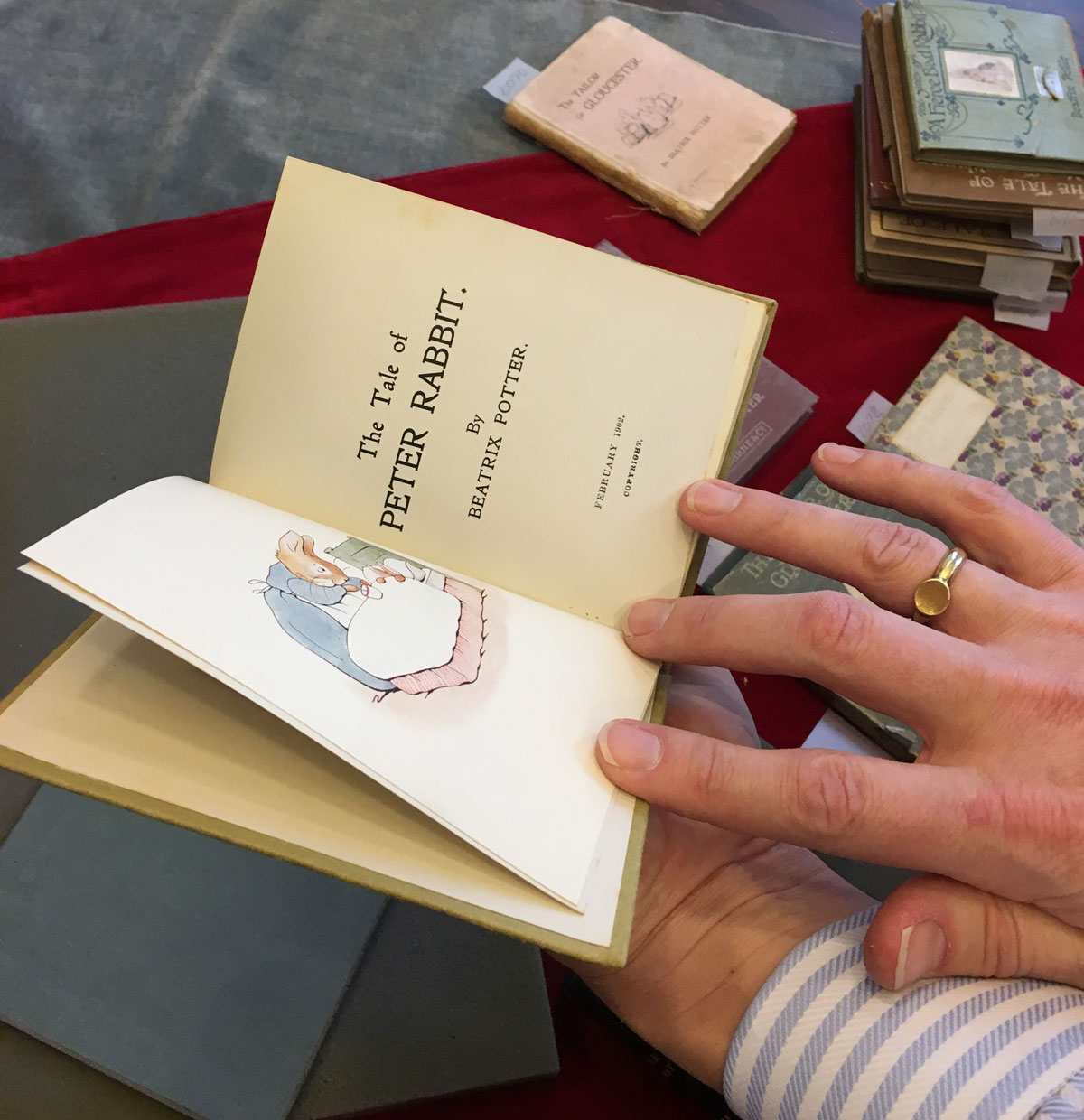 The Sendak collection includes a self-published edition of Beatrix Potter's "The Tale of Peter Rabbit," as well as the first commercially published edition.
Some of the new works complement the riches at the Free Library's rare book department on the Parkway. "The library's rare book department has long been presumed to have the third-largest collection of Beatrix Potter in the world," said Dreher, "and with the 56 rare books we have now received, our combined holdings are undoubtedly the largest in the U.S."
Other welcome additions to the Rosenbach's children's collection include volumes by Randolph Caldecott, Jean and Laurent de Brunhoff, L. Frank Baum, Margaret Wise Brown, and William Steig.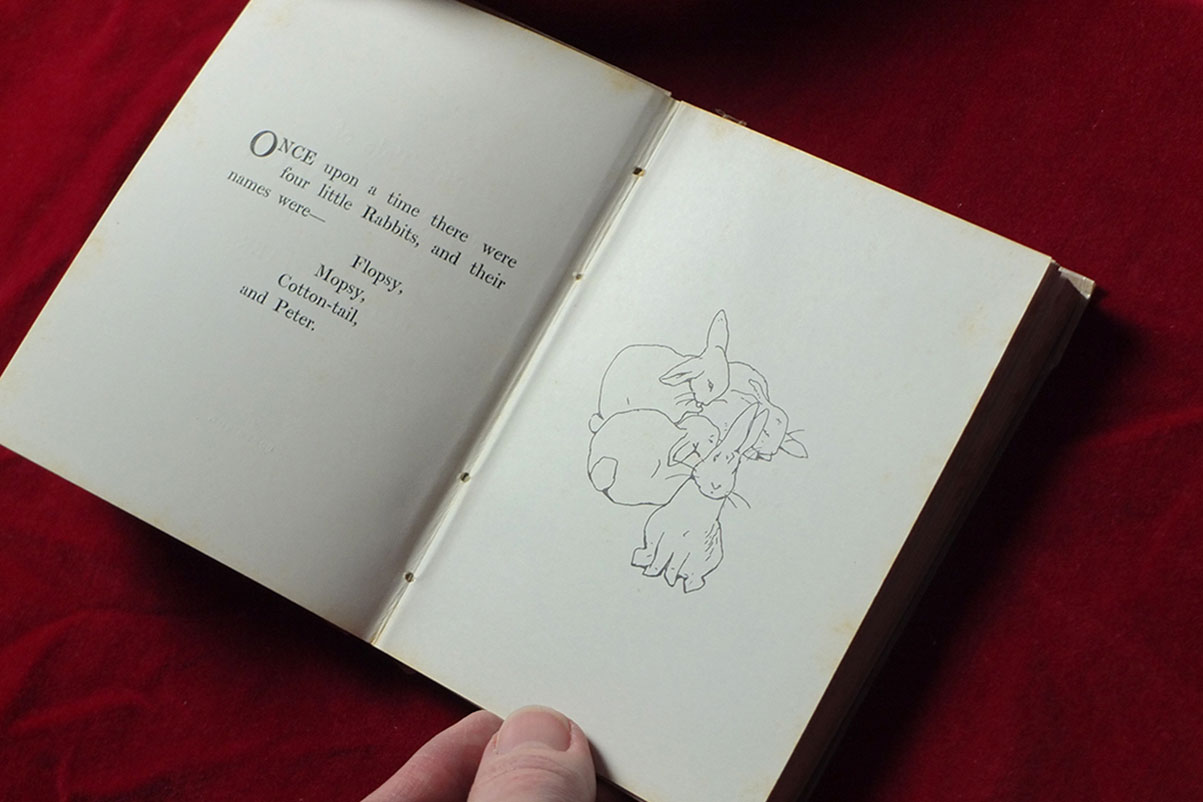 The Rosenbach received a self-published copy of Peter Rabbit as well as the first commercially published edition.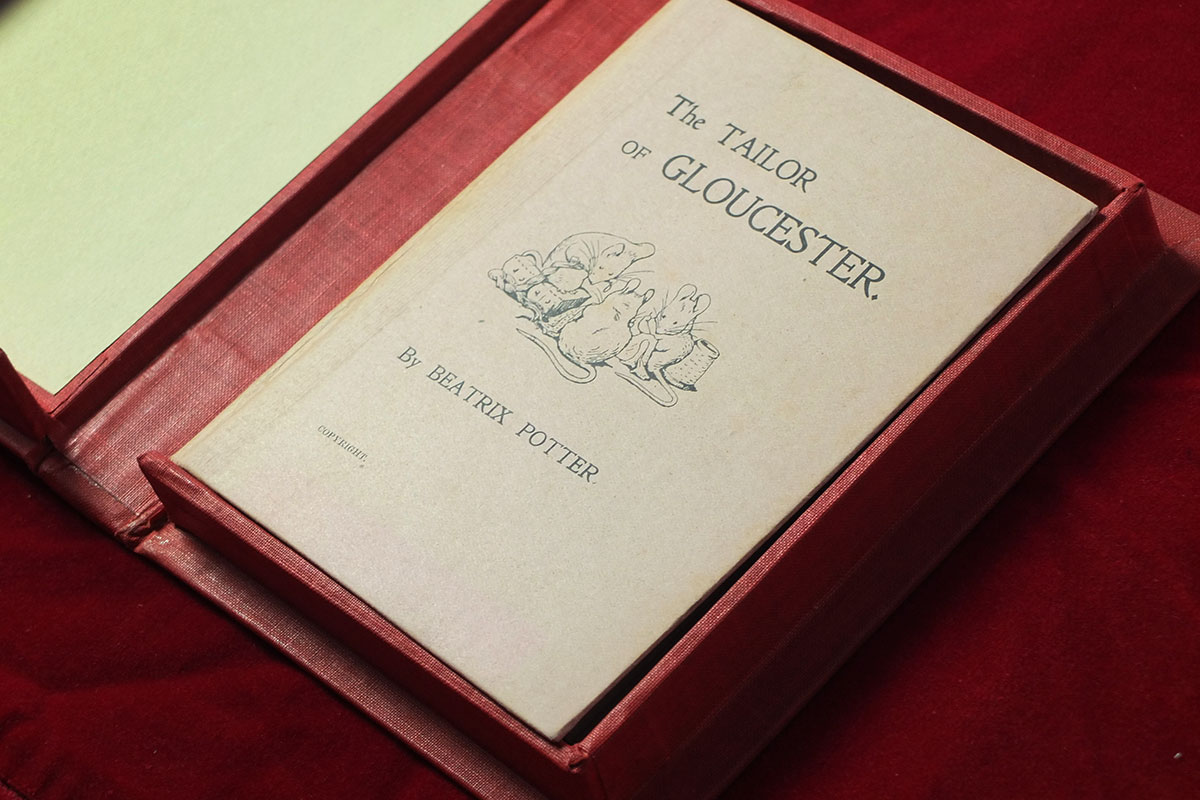 A very rare version of The Tailor of Gloucester. The cover is surprisingly still pink.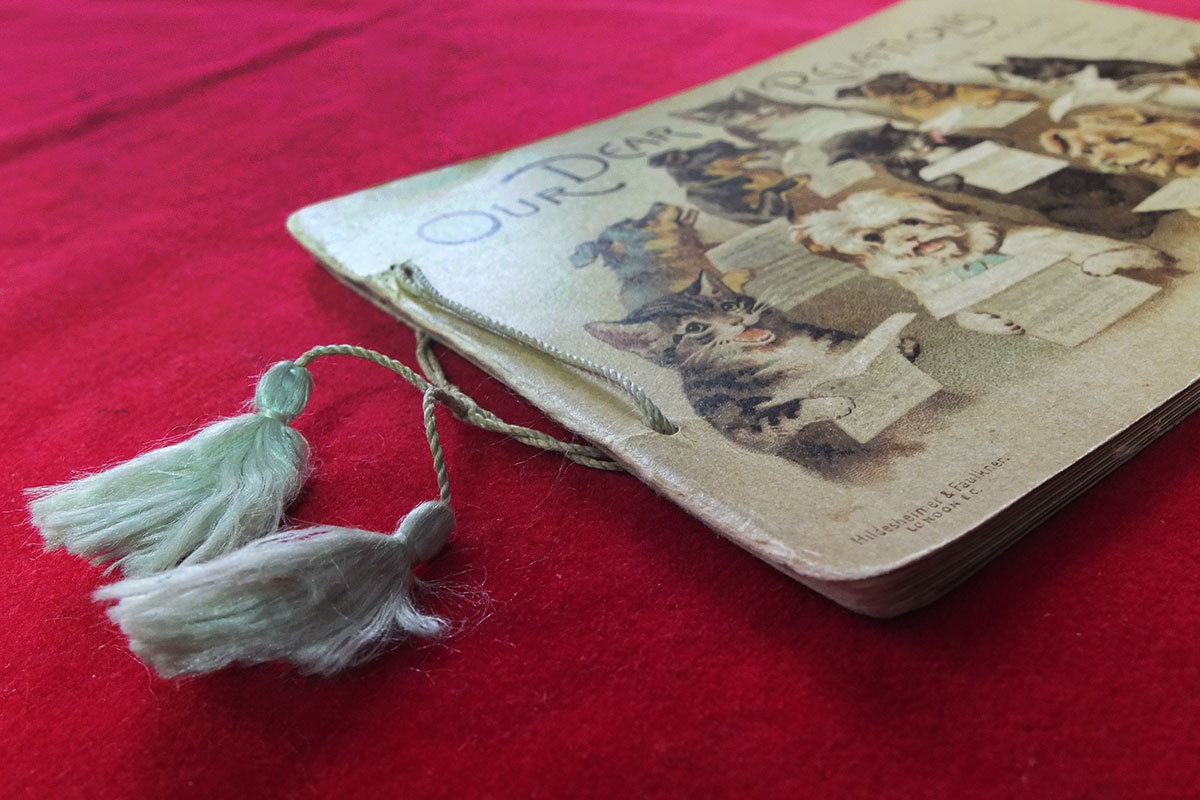 "Our Dear Relations," the first book Beatrix Potter illustrated. It was self published and bound with a string.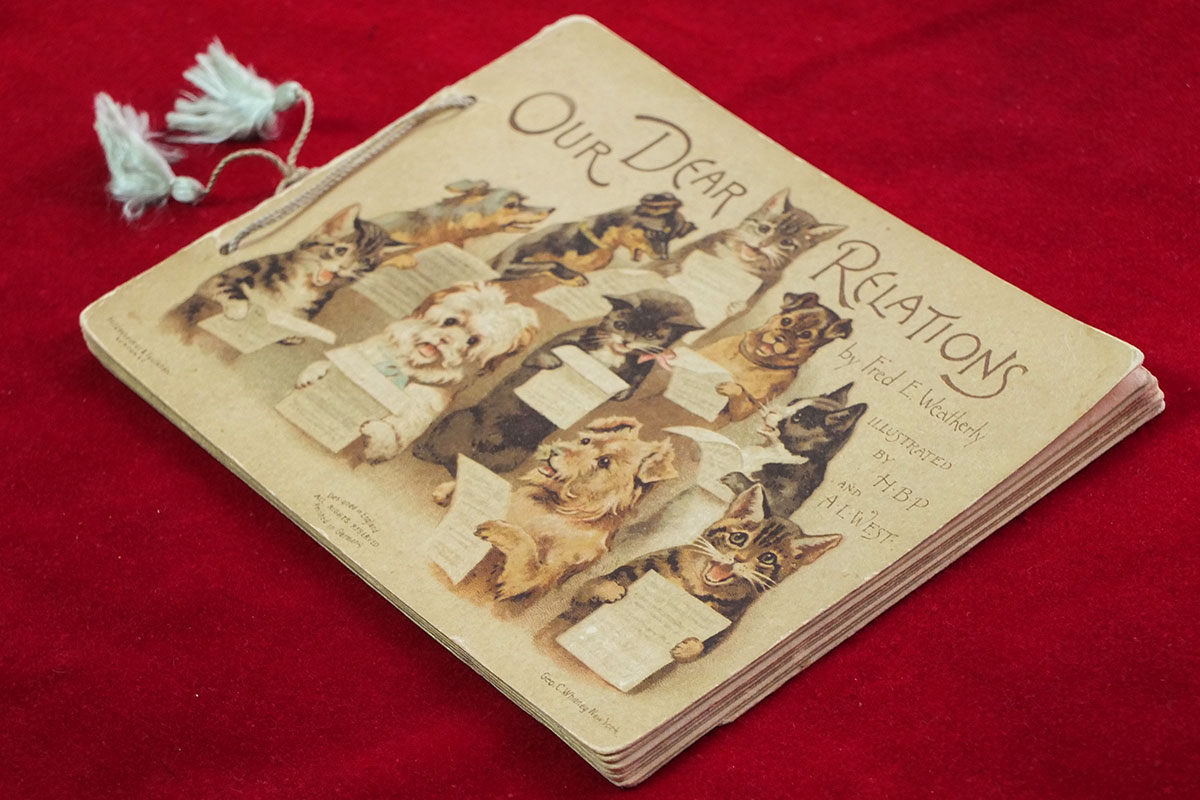 "Our Dear Relations," the first book Beatrix Potter illustrated. It was self published and bound with a string.
Previous
Next
And then there are the books the Rosenbach lost. Among the 252 titles that went to the Sendak estate are a George Cruikshank-illustrated edition of Harriet Beecher Stowe's Uncle Tom's Cabin; dozens of Sendak-illustrated books; a number of books illustrated by David Hockney, and illustrated editions by John Tenniel, Gustave Dore, Blake, Aubrey Beardsley, Augustin LeGrand, and Walter Crane.
Connections abound among Sendak and the Rosenbach. Sendak visited the museum and library often; what he saw influenced his own work; he collected the books that influenced him over his lifetime; and he eventually willed these books to the Rosenbach.
The Sendak Bequest brings hundreds of rare books to the Rosenbach. Examine four of the most significant acquisitions up close, as Rosenbach director Derick Dreher explains their significance – what they once meant to Sendak, and how they complement the museum and library's collection.
‍

Watch videos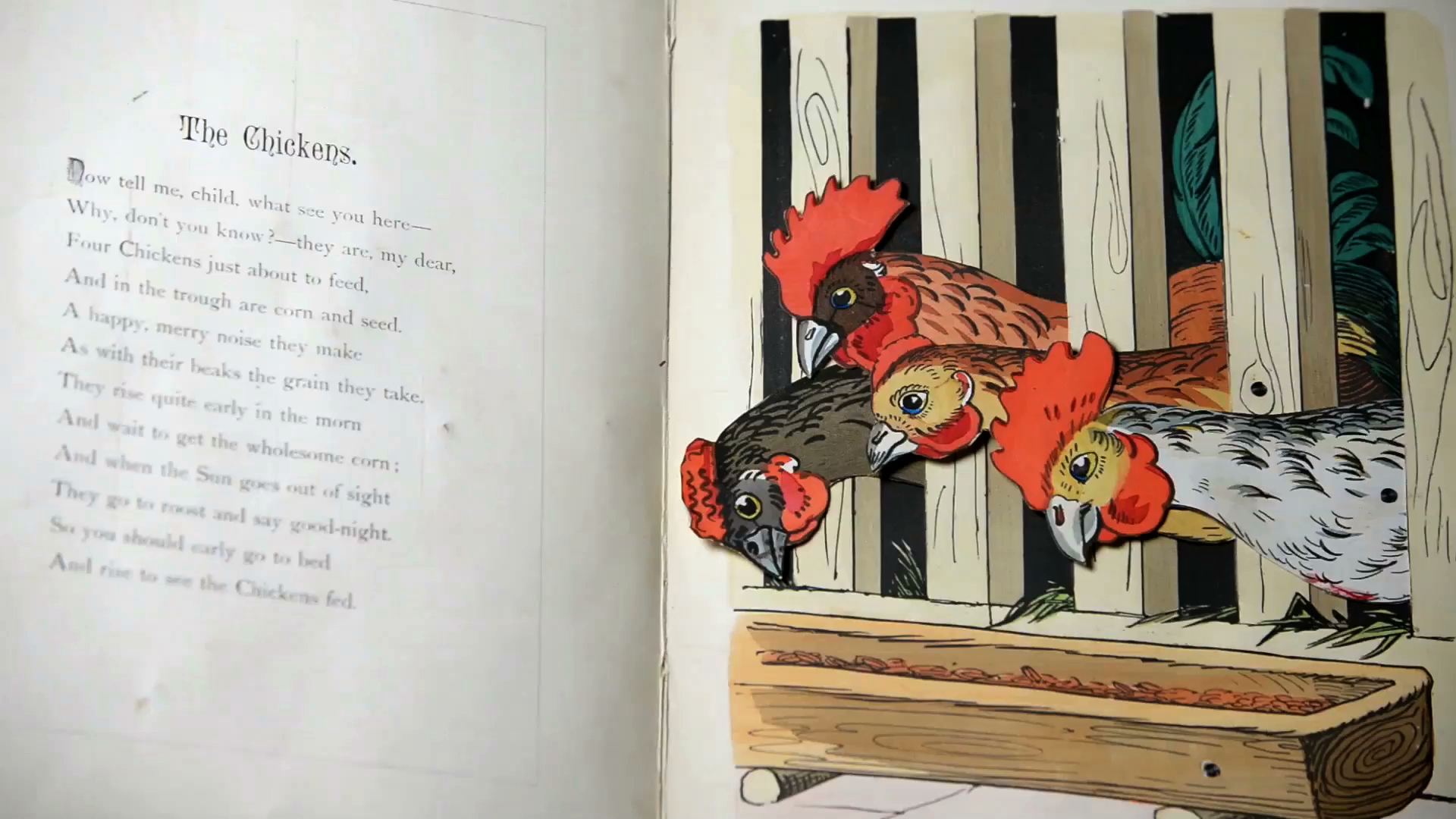 "He does that with fine art, too — he sees a show and gets every single catalogue there is on that artist and that influences his next six books," says Patrick Rodgers, who oversaw the Sendak collection at the Rosenbach for several years and is now galleries director for Montgomery County Community College. "But the thing he stuck with most is how literature gets pictured, and that is a quintessentially Rosenbachian idea."
As a piece, the collection forms a trenchant portrait of an unusual artist: enamored of 19th century aesthetics in music, art, and literature even as he commented on modern societal concerns. The collection is also a testament to the many ways in which Sendak was influenced.

Dreher points to the way James' "ability to sketch out a scene" shaped Sendak's own narrative style, and to Sendak's reverence for Beatrix Potter — not just her illustrations, but her command of language. "He talked about her vocabulary being so advanced, he described her as one of the greatest English writers ever — and not a children's writer," Dreher says.
Blake was "first and foremost" among those Sendak emulated. Then came Caldecott: "He described Caldecott as a master in all things, and he wrote at some length about his individual illustrations Caldecott made of fairy tales and his uncanny ability to bring a whole story to life in one frame, forcing your eye to dart here and there to figure out what happens next."
The Rosenbach's future for making explicit such connections in exhibitions, Dreher says, is wide open. "Sendak to me was always such an interesting overlay to the Rosenbach collection. What he offered was a way to connect some of the dots. You could get from, say, Melville to Potter using Sendak, or Blake to Melville. You could connect artists of different eras and countries and backgrounds in ways that would raise different questions as you made exhibitions."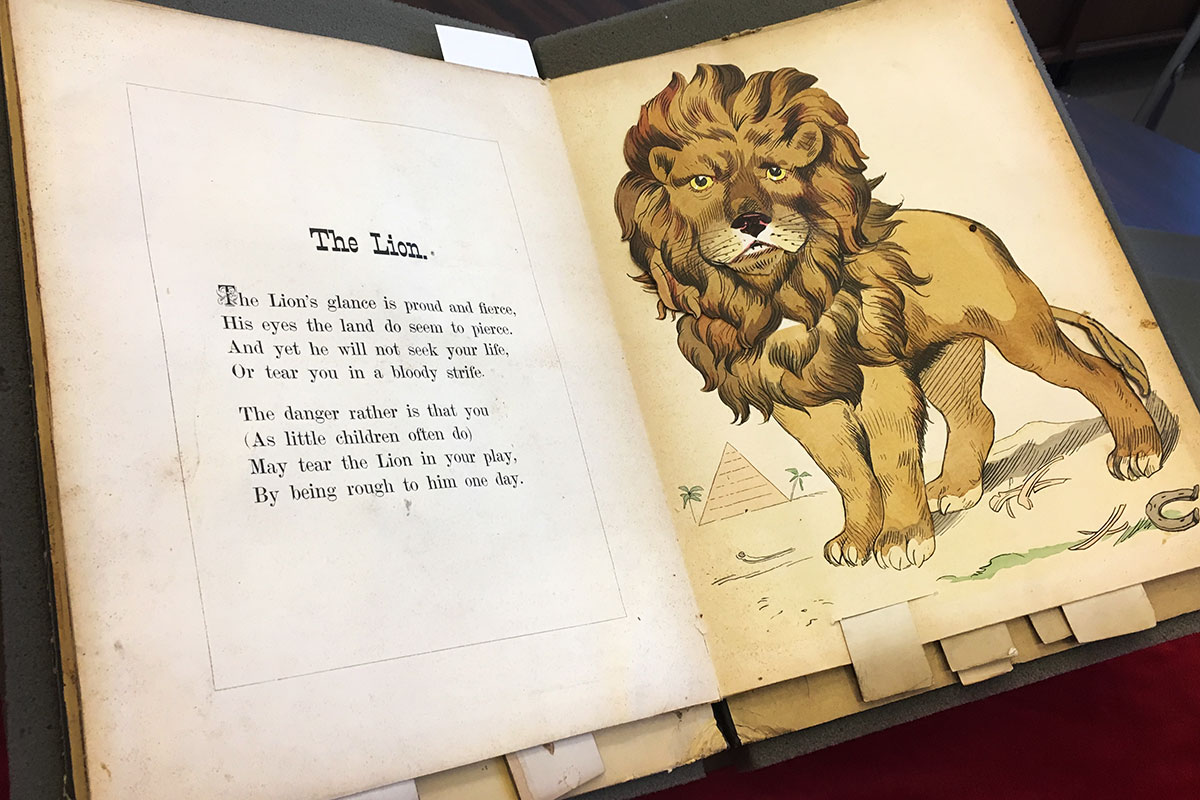 A lion in a Meggendorfer pop-up books resembles some of the lions Maurice Sendak drew.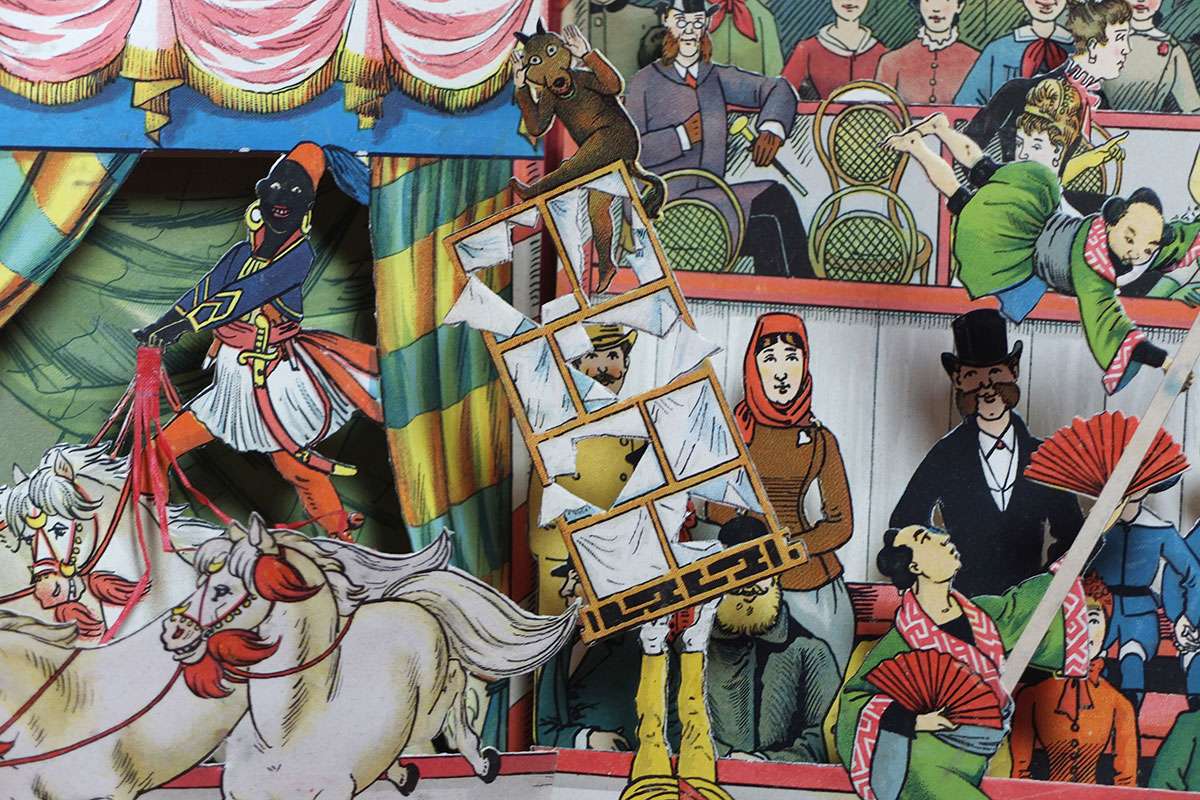 A scene from Lothar Meggendorfer's "Internationaler Circus."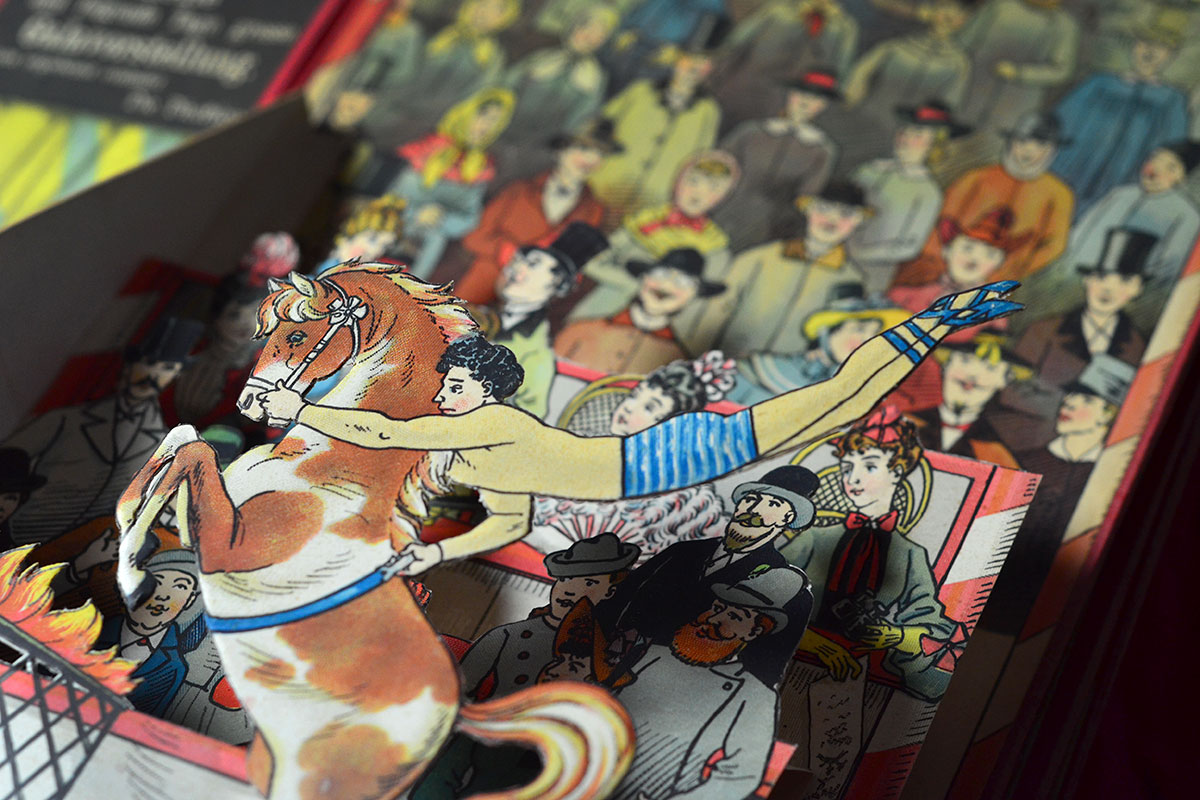 A scene from Lothar Meggendorfer's "Internationaler Circus."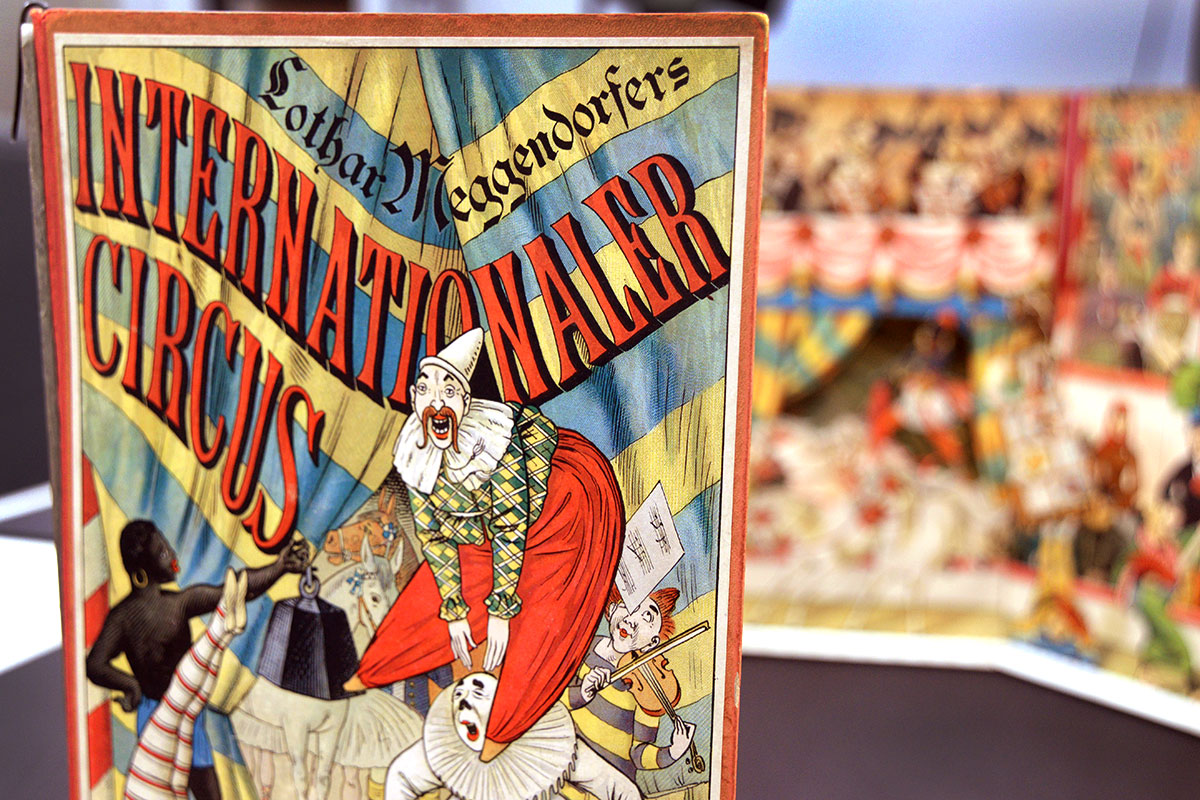 A scene from Lothar Meggendorfer's "Internationaler Circus."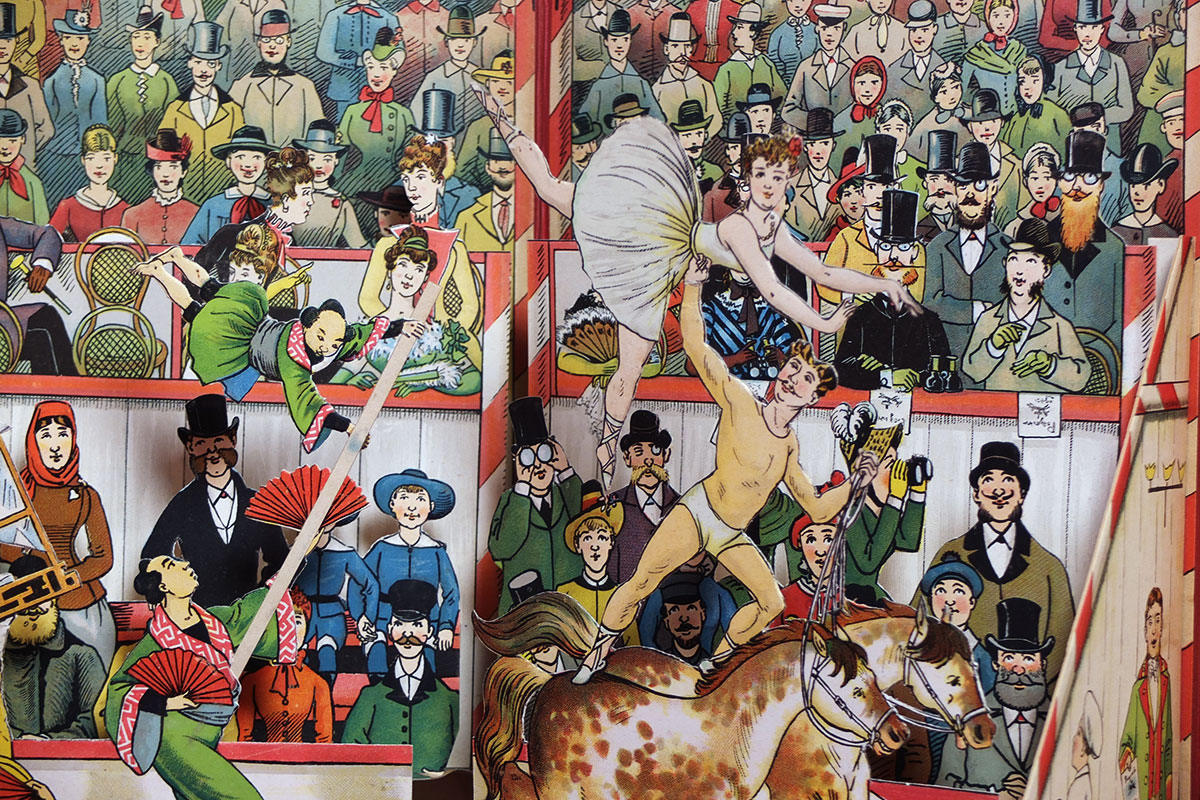 A scene from Lothar Meggendorfer's "Internationaler Circus."
Previous
Next
Lothar Meggendorfer's "Internationaler Circus"
The Rosenbach has no specific plans for Sendak shows for the next couple of years, "but it remains an interesting prospect," says Dreher.
Any such show might include a book once in the personal library of Sendak: Early American Children's Books. Its author was the co-founder of Philadelphia's rare-book trove on Delancey Place, A.S.W. Rosenbach.
In the lawsuit's final settlement, Sendak's personal copy ended up being awarded to the estate. But the Rosenbach didn't need it. It owns several.
pdobrin@phillynews.com, 215-854-5611
Recent Acquisitions from the Bequest of Maurice Sendak
Twenty titles will be on display, including Lothar Meggendorfer's Internationaler Circus, Melville's Timoleon, Oscar Wilde's House of Pomegranates, books by Beatrix Potter, and Sendak's Outside Over There. At the Rosenbach of the Free Library of Philadelphia, 2008-10 Delancey Place, Jan. 31-April 30. Tickets $10, $5 for students and $8 for seniors. Closed Mondays. Information: www.rosenbach.org, 215-732-1600.