Elevating
our
skyline
TOM GRALISH / Staff Photographer
Comcast's Innovation and Technology Center at 1800 Arch St. Projected to open in 2017. The 1,121-foot-tall, 59-story structure neighbors the 975-foot-tall Comcast Center.
Comcast skyscraper's carefully choreographed construction is a ballet of billets and brawn
Sunday, July 3, 2016
Here at the top of Comcast 2.0 - the new Comcast Corp. tower rising on the 1800 block of Arch Street - James "Jimmy" Colozzi was setting metal rebar to reinforce concrete. He was standing 1,000 feet above street level, his body harnessed to what will be the city's tallest building.
To get to that point, Colozzi and his crew of five rebar-setters took a winch-driven construction hoist to the 44th floor and climbed makeshift stairs and ladders for the last 14 floors.
Look down, and there's mostly air. An abyss.
Beside Jimmy, his brother Chris also was setting rebar for the walls of the tower's concrete core. Chris had just celebrated his 51st birthday, and the five-man crew, who had worked together from the ground floors on Comcast 2.0, had a cake for him.
"One [year] short of a full deck" of cards, Chris Colozzi said as his sun-weathered face broke into a smile during a break, "and I can be like that all year."
JESSICA GFRIFFIN/ Staff Photographer
Ironworker Christian Colozzi installs rebar on one of the top floors of the Comcast tower.
Topped by three cranes poking into the Philadelphia skyline, the new $1.5 billion Comcast tower is a marvel of skyscraper construction, a just-in-time ballet of hard-hatted brawn and materials, with hundreds of unionized construction workers and their supervisors racing to keep on schedule for an opening slated for early 2018. It's about half done.
One minor delay last month was a flash storm of howling winds and driving rain that idled the cranes and sent workers on the upper floors scrambling to hold on.
The wind blew insulation out of open floors, snarling construction for about a day.
"The whole job is planning for tomorrow. We are putting steel up. We also are doing final prep for jumping two of three cranes," said lead superintendent David Rhoda of construction manager L.F. Driscoll.
"Every day we put in windows and we take deliveries," said Rhoda, who has also been construction supervisor for the Symphony House, St. James Washington Square, and 1706 Rittenhouse. "We have two guys who all they do is schedule deliveries. That's their full-time job."
Just-in-time delivery has been popular in the manufacturing sector for decades and has been adapted for skyscraper projects like the Comcast tower.
A SteelFab Inc. mill in Roanoke, Ala., is manufacturing the building's steel beams to exact specifications - so precise that each one is numbered at the mill for a specific location in the building - and trucking them to the firm contracted for the tower's steel work, Cornell & Co. Inc. of Westville, N.J..
Cornell then trucks those numbered steel pieces across the Delaware within about an hour of when they are needed by iron workers connecting the lattice of beams. About 14,000 steel beams, girders, columns, and braces - all collectively called pieces - will reinforce the new tower.
"We ship [steel] within an hour of when we need it on the site so the truck isn't sitting around making noise and bothering the neighbors," said Joe McKernan, Cornell's operations manager and lead supervisor. "We have to feed the beast."
Panoramic views of the tower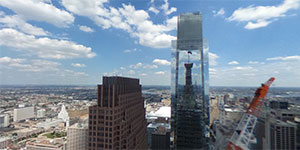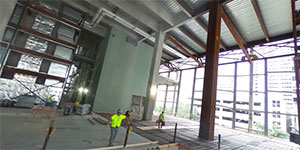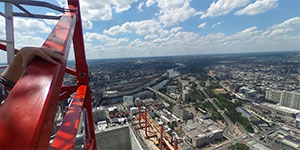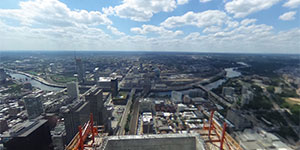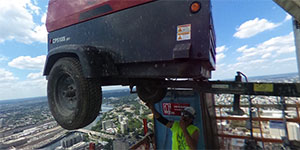 Comcast announced the plans for the Comcast Innovation and Technology Center in January 2014. The cable and internet giant owns 80 percent of the building - and will fill it with thousands of employees.
Developer Liberty Property Trust owns the other 20 percent of the 60-story building. At 1,121 feet high, Comcast 2.0 will be topped by a 222-room Four Seasons luxury hotel.
Foster & Partners of London won a competition to design the "vertical stacked campus," and the building underscores Comcast's aspirations to transform itself into a technology company, with its X1 set-top box, voice-control TV remote, and WiFi wireless network.
The new tower will have a five-story, glassed-in entrance called the winter garden. There also are three-story atriums throughout the building.
Tony G. Werner, president of technology and product for Comcast's cable division, will lodge his engineers and development teams in this tower. He watches its construction daily from his office on the 54th floor of the adjacent Comcast Center, which will soon be the city's second tallest building. "It says we're committed to Philadelphia, we're committed to technology, and we're committed to the talent - that's what I like about it," Werner said.
Thornton Tomasetti, one of the world's leading firms for developing skyscrapers, designed the structural engineering for the new tower from its Philadelphia office with mostly young engineers from this area.
Comcast 2.0's construction crews are veterans of other regional building projects, though none as tall as this one.
At the site, the city's Department of Licenses and Inspections is a constant presence and even has a desk in the project's administrative headquarters at 1717 Arch St.
The building's owners have also hired special firms to inspect the concrete, steel, and windows, he said. "Every bolt, every weld is inspected," Driscoll's Rhoda said. "There is all kinds of oversight."
One day in late June, B. Pietrini & Sons, the concrete contractor based in King of Prussia, was pouring the 28th floor - a complex task that involves the coordination of 45 concrete shipments from South Philadelphia, a concrete pumper, and a crew both spreading the concrete and prepping the floor.
"Obviously it's coordination and timing. Concrete has everything to do with timing," said Robert L. Clements Jr., Pietrini's on-site supervisor.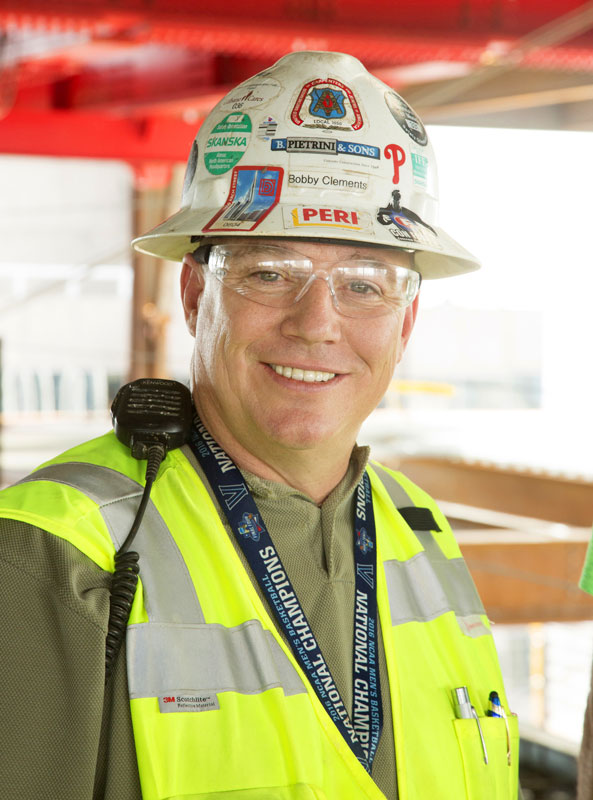 JESSICA GRIFFIN / Staff Photographer
Bob Clements, on-site supervisor
Clements began a tour on Arch Street, where concrete trucks nosed into the site and dumped their loads into the concrete pumper.
Boom. Boom. Boom. The pumper sounded like a giant rhythmic sledgehammer. As he stepped on the hoist, Clements pointed to the concrete pipe that ran vertically up the building, transporting the fresh concrete with the constant thrust of the pumper.
On the 28th floor, the concrete pipe changed direction and ran horizontal, snaking through openings and over a steel-mesh floor. It rested on two or three rubber tires every few feet. The tires absorbed the shock of the thruster forcing the concrete through the pipeline. Muffled boom. Muffled boom.
At the concrete pipe's terminus, an 18-person crew - all men with one woman - spread concrete spewing like water out of garden hose.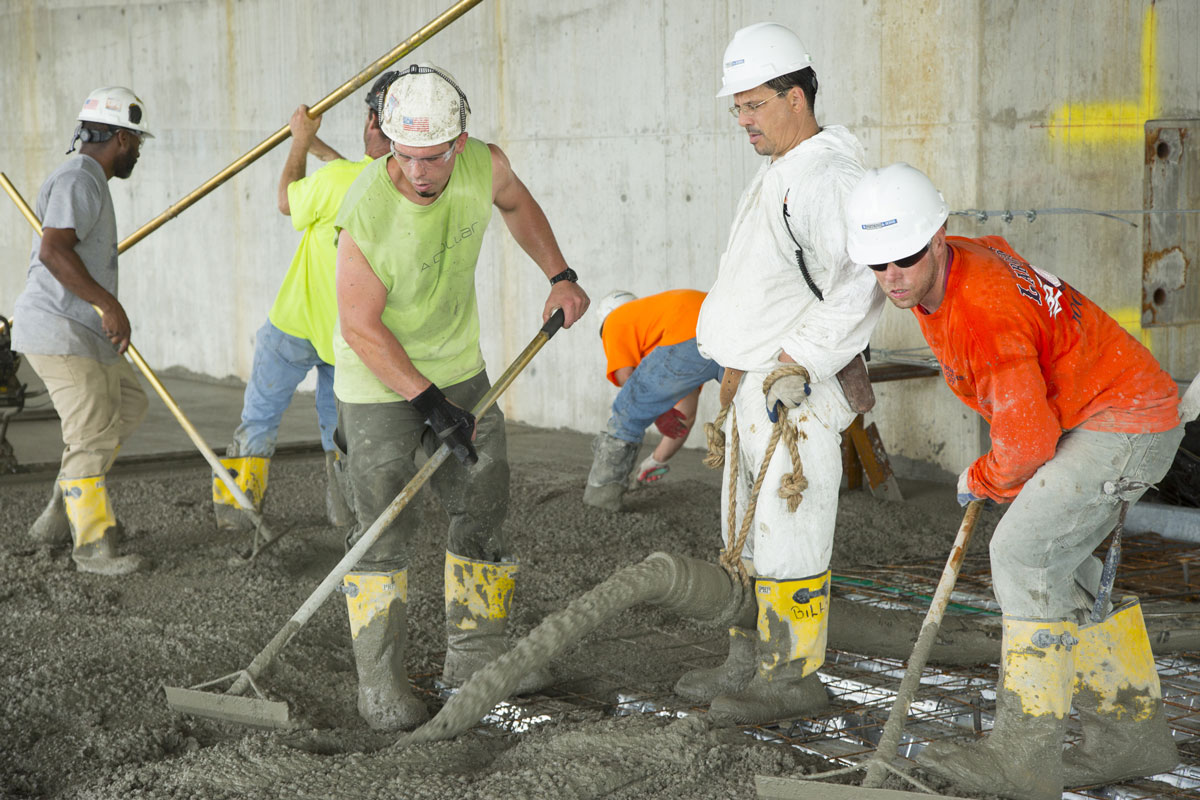 JESSICA GRIFFIN / Staff Photographer
Concrete laborers (Left to Right) Nick Galanti (green shirt), William Gallese (white suit), and Joe Calicyo (orange shirt), work with wet concrete on one of the upper floors of the Comcast tower.
Vice president Mark Pietrini and Clements watched. "It shouldn't be too wet so that it makes a mess and it shouldn't be too tight [dry] so that it's hard to install," Pietrini said. He thought the concrete at the moment could be on the tight-ish side.
A guy in a white suit to protect clothing from the splashing concrete turned to Pietrini and Clements, making a slashing sign across his throat. There was a problem.
The concrete flow from the street to the 28th floor had slowed to a trickle and stopped. One of the concrete trucks from South Philadelphia concrete plant must have been late. They have to arrive every eight to 10 minutes on a big pour day like today to keep the concrete flowing. Clements and Pietrini looked displeased.
In the downtime, laborers sprang to action relocating the flexible part of the concrete pipe so they could fill the rest of the floor.
"Pull," yelled Derrick Robinson, 50, who lives in Elkins Park. Men yanked on ropes attached to the pipe - which weighed hundreds of pounds. "It's hard work, but somebody has got to do it," Robinson said. Now the concrete flowed again. Levelers, straight-edgers, and bull-floaters smoothed it out.
Clements looked on. They had one day to do this floor - 23,000 square feet, eight inches thick.
"Beautiful concrete. That is perfect," he said gesturing at it. "The better the concrete is, the easier it is on the crew."
bfernandez@phillynews.com, 215-854-5897, @bobfernandez1
TOM GRALISH / Staff Photographer
Philadelphia's changing skyline.