‍
BEYOND BARS
Moving out of prison, into hope
A consensus is growing: Too many are in jail, for too long. Change is occurring to help inmates stay out, but hurdles remain.
Pub date, Jan. 15, 2017
At first blush, there's nothing unusual about Julian "Julz" Curry's story.
At 32, he's been in prison, off and on, for about 10 years - the last time, about two years.
There has been no headline-grabbing violence, just a steady drip of drug and theft convictions, from possession with intent to distribute crack cocaine to stealing his grandmother's car along with her cash, jewelry, and some DVDs.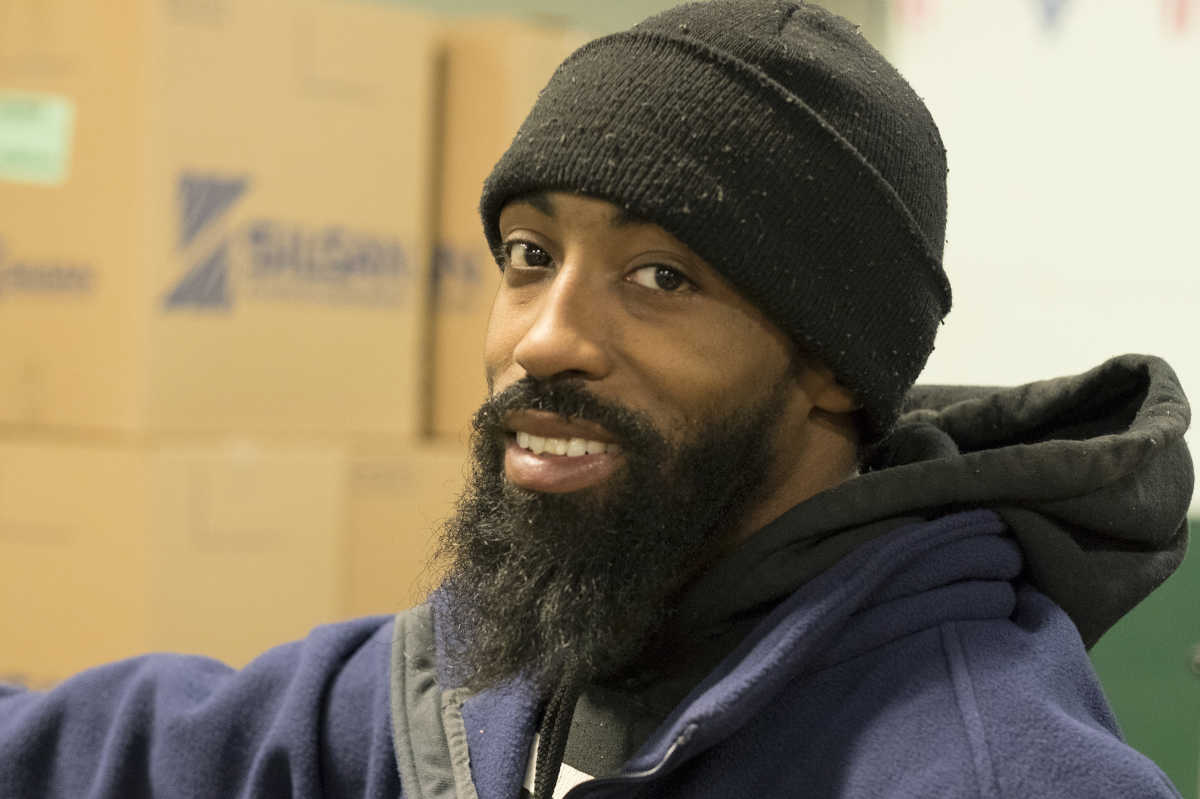 ED HILLE / Staff Photographer
Julian "Julz" Curry, a singer-songwriter recently released from prison, at work at DiSorb Systems in North Philadelphia. He later lost that job but is determined to avoid returning to prison.
Two experts, former District Attorney Lynne Abraham and Philadelphia Defender Association policy director Mark Houldin, say Curry's situation is a common one: the fallout from an early crime, such as the burglary Curry committed at age 20, coupled with drug use and a lack of job prospects, pulls many people into a vortex of jail, probation, and more jail.
The real question now is whether Curry, a North Philadelphia singer-songwriter and factory laborer, can stay out of jail.
"I definitely don't want to go back on that road anymore," he said in November, while on a break from his job at DiSorb Systems in North Philadelphia - a position he would lose a month later. "It's been a rough road."
Luckily for Curry, there seems to be a shift in how society views people who have come out of prison.
There's a growing agreement by liberals and conservatives that too many people are incarcerated for too long. The system is too costly - Pennsylvania just announced it would close two prisons due to budgetary problems - and the people coming out of prison often can't support themselves and their families, causing problems for society.
Legislative solutions, including changes to criminal record laws, are being crafted around the nation, including in Pennsylvania.
And in Philadelphia, a $3.5 million grant from the MacArthur Foundation will fund efforts to reduce the number of inmates, mostly by paying attention to pretrial procedures that hold people unnecessarily.
It's also personal - with so many incarcerated, more people have friends or family caught in the system. That also goes for lawmakers, who have seen colleagues sentenced to prison, including former Pennsylvania Attorney General Kathleen G. Kane.
All of this is why Ann Schwartzman, executive director of the Pennsylvania Prison Society, with 30 years in the field, finds herself unusually upbeat. "There is such a focus on reentry that good things are happening," Schwartzman said.
"It's too expensive to keep people in prison for $35,000 to $45,000 a year," said Schwartzman, who will soon shift to a policy position in the Prison Society. "The popular expression is, 'We want taxpayers, not tax burdens.' "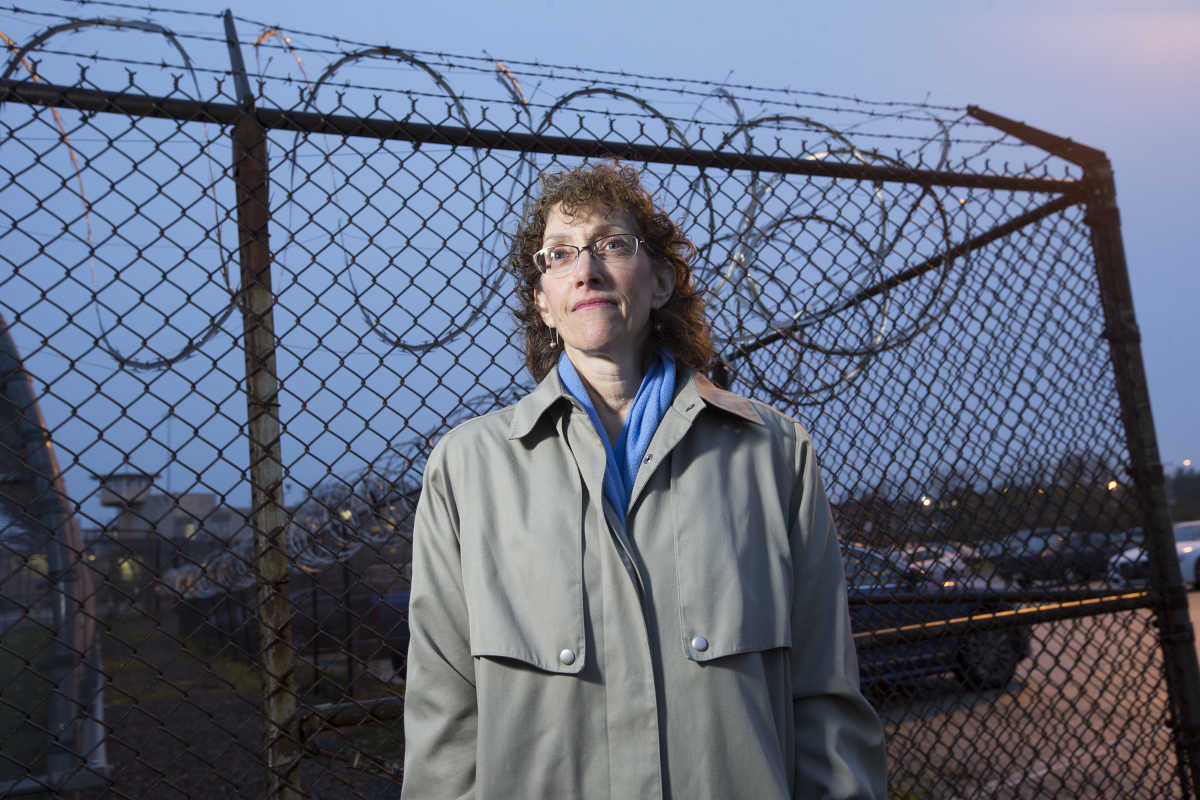 CHARLES FOX / Staff Photographer
Ann Schwartzman, executive director of the Pennsylvania Prison Society, is upbeat about recent developments: "There is such a focus on reentry that good things are happening."
To be sure, many people coming from prison will return to a life of crime.
That's been the experience of career prosecutor George Parry, now a criminal defense attorney in Philadelphia. "I'm sure there are people who make a mistake and go to prison and change their lives," he said. "I've just never met any of them."
"By the time they go to prison, they already have a pretty serious criminal history to start."
George Parry, a criminal defense attorney in Philadelphia
He said courts make allowances to keep people with first or less serious offenses out of prison. "They try not to incarcerate them. By the time they go to prison, they already have a pretty serious criminal history to start."
So what's going on?
In New Jersey, the focus has been keeping people out of prison in the first place. The Garden State streamlined its parole process and gave judges more flexibility in sentencing low-level drug offenders.
The result is that New Jersey became a national leader in reducing state prison populations - Jersey cut the number of state prisoners by 26 percent from 1999 to 2012, even as prison rolls rose elsewhere, according to the Sentencing Project, a Washington-based research group.
Inmates in New Jersey
Total population of state-sentenced inmates, including state-sentenced inmates housed in halfway houses and county jails. (Inmate population as of June 30 of each calendar year.)
SOURCE: New Jersey Dept. of Corrections
Three in 10 people released from N.J. state prisons are re-incarcerated within 3 years, according to the state's most recent report.
Now to improve those numbers, said Ryan Haygood, who leads the New Jersey Institute for Social Justice, the emphasis is on small, but important details - getting identification, driver's licenses, and public assistance for people coming out of prison.
"There's still a lot of work to be done," he said.
"On the books, there are more than 1,000 legal impediments, 600 of them in employment, such as the kinds of licenses you can hold," he said.
In Pennsylvania, a law went into effect Nov. 14 allowing people to petition the court to seal criminal records for low-level misdemeanors. And this year, Republicans and Democrats are working together on the "Clean Slate" bill that would automatically seal certain records without requiring a petition.
In Philadelphia, the city has set a goal of cutting the number of people who return to prison by 25 percent over five years.
"There's a trend of reentry coalitions forming."
Aviva Tevah
The Philadelphia Reentry Coalition has 65 partners, from prosecutors to public defenders.
"There's a trend of reentry coalitions forming," said Aviva Tevah, who coordinates the coalition through the managing director's office of public safety. "People are realizing that no single program is going to solve the problems we have identified."
The statistics show the scale of the problem:
Pennsylvania's state prison population has steadily risen since 1940, when 7,006 were incarcerated, reaching a high of 51,700 in November 2013. Since then, it has fallen slightly, hovering just under 50,000. About 60 percent return within three years.
Pennsylvania prison population by month:
‍
SOURCE: Pennsylvania Dept. of Corrections
In Pennsylvania's state prisons, about 20,000 of the 49,914 inmates hail from Philadelphia, Montgomery, Bucks, or Delaware Counties. Of the 20,000 who come out each year, 6,831 return to the region, including 4,032 to Philadelphia.
In the city, there's considerable churn, with 36,000 people moving through its jail system in a year at the rate of about 100 people admitted a day. Eight in 10 are there pretrial and have not been convicted, spokeswoman Shawn Hawes said.
To slow the churn, some reentry partners include federal judges, who work with parole officers to reduce recidivism; Philadelphia Works, the quasi-governmental agency that links employers to job seekers; law groups, including Philadelphia Lawyers for Social Equity; local universities; and federal, state, and city agencies.
In Philadelphia
The population of Philadelphia's prisons fluctuates, but during the month of October, 7,975 people were in the city's prisons. Of them, only 20 percent were serving time for relatively minor offenses or for parole and probation violations.
The majority, 80 percent, were in prison, under arrest, unable to make bail and awaiting the disposition of their cases.
Nine in ten of those in prison were men.
Males
Seven in 10 were African-American...
and nearly two-thirds were between the ages of 18 and 35.
Females
Nearly two-thirds were African-American...
and were more concentrated in age, with about four in 10 aged 26 to 35.
It costs $120 a day, or $840 a week, to keep someone in the city's prisons.
The city defines recidivism by arrest, not conviction. Recidivist inmates, according to the city's definition, are those who are rearrested within three to five years.
The city's recidivism rate is 35 percent within three years, 55 percent within five years.
SOURCE: Philadelphia Department of Prisons
Philadelphia District Attorney Seth Williams' office has been actively involved.
Preventing crime and reducing recidivism are keys to safety, he said.
"Anytime you're talking about protecting public safety, you must proceed with caution, particularly when we're talking about anything connected to physical violence," Williams emailed.
"The record is clear: Rehabilitation and reentry programs help make us safer"
Philadelphia District Attorney Seth Williams
"Reentry and expungement programs have to be part of our overall plan. The record is clear: Rehabilitation and reentry programs help make us safer; people who go through rehabilitation and reentry, and are able to become productive members of society, are far less likely to commit a crime again."
Ceciley Bradford-Jones, the new head of RISE, the city's reentry program, shares the general optimism. "The conversation is no longer taboo," she said. "It has grown beyond simply a social service issue to a commerce issue, a municipal sustainability issue, a class equity issue, a city vibrancy issue.
"We are getting very close to a solution."
‍
Recidivism
Recidivism is a word with multiple definitions. Some define it as being rearrested. Some say it's when a person is reconvicted or re-incarcerated. A 2013 Pennsylvania Department of Corrections report on recidivism, the most recent available, says that
six in 10
people are rearrested or are re-incarcerated within three years of release.
Overall recidivism rates:
‍
More than half of the people who return to prison within three years are back behind bars in the first year.
(Chart data as of 2008)
Recidivism by age
Under 21:
77.9%
‍
21-29:
67.3%
‍
30-39:
63.4%
‍
40-49:
57.8%
‍
Above 50:
37.3%
‍
Younger inmates tend to be more likely to recidivate and people with multiple stays in prison and prior arrests are also more likely to recidivate. It may be counterintuitive, but rapists, arsonists and drunk drivers are less likely to recidivate than thieves, burglars and kidnappers.
Nearly two-thirds of all people who return to prison within three years haven't committed a new crime.
Instead, they are back in prison because of a technical parole or probation violation. These are for such violations as failing to alert authorities to a new phone number, address or job or for some other legal, but prohibited activity, such as stopping into a bar.
‍
How many people?
As of Dec. 31, 49,914 Pennsylvania residents were in state prisons and nearly four in ten were from the Philadelphia region (38.3 percent), with 28.1 percent from Philadelphia county.
Together, Philadelphia, Delaware, Montgomery, and Bucks counties are among the top 10 counties in the state sending people to prison. They are also among the most populated.
Percentage of commitment:
‍
‍
Pennsylvania Inmate demographics
Females
2,825 offenders
‍
Average age: 37
27% black, 65% white, 7% Hispanic, 1% other
Seven in 10
of the 2,825 women in state prison are on the mental health rosters...
and 26.3 percent of them are considered seriously mentally ill. More than half (53.0 percent) need intensive drug or alcohol treatment.
Males
47,089 offenders
‍
Average age: 38
49% black, 40% white, 11% Hispanic, 1% other
One in four
of the 47,089 male inmates are on mental health rosters...
with 7.8 percent considered mentally ill. About 40 percent (41.4 percent) need intensive drug or alcohol therapy.
The majority of state inmates have just above an eighth-grade reading level and are unskilled, although women tend to be more skilled than the men.
‍
The costs
In 2013, Pennsylvania's Department of Corrections estimated that it could save $44.7 million annually by reducing its one-year reincarceration rate by 10 percentage points. Nearly half (49.6 percent) of the people who enter state prisons each year are recidivists.
| 1-year reincarceration rate | Annual bed days | Annual cost savings |
| --- | --- | --- |
| Reduced by 1 percentage points | 48,768 | $0.8 million |
| Reduced by 5 percentage points | 234,930 | $15.0 million |
| Reduced by 10 percentage points | 475,035 | $44.7 million |
SOURCE: Pennsylvania Department of Corrections
In her office, Schwartzman, a reentry coalition partner, keeps a cheat sheet on her desk, ready to grab when she has to speak or be interviewed. The words Barriers and Obstacles top the page, in bold type.
She lists 23 - each significant enough to stop even the most resilient former inmate.
They can't readily get identification cards or driver's licenses. Life and social skills are needed, but they don't have them. They lack jobs and education. Many are illiterate or poor students. They have health problems: addiction, diabetes, hepatitis, and mental-health issues.
They often lack food, clothing, furniture, or housing. They need transportation and child care. They may be in danger of losing permanent parental rights for their children. Family relationships may be in tatters.
Not insignificant, she said, is the "Rip Van Winkle" syndrome. The world has changed - think about ATMs, self-checkout at grocery stores, cellphones, smartphones, the internet, and Uber.
Even with all that, the key to stopping the cycle is keeping former inmates employed, Bradford-Jones said.
As much optimism as there is, she said, a major key will still be "changing the anxious mind-set of those in hiring positions."
Executives may say they want to hire people out of prisons, but the message doesn't always reach the human resources departments, she said.
In North Philadelphia, when Brooks Hulitt became president of DiSorb Systems, which manufactures chemical compounds that disinfect medical waste, he inherited Curry and a few other workers through a temp agency.
Hulitt made them full time and gave them a raise.
"Doing what we do, where we do it, the demographics - a lot of people have criminal records," he said. In other words, that's the available labor force.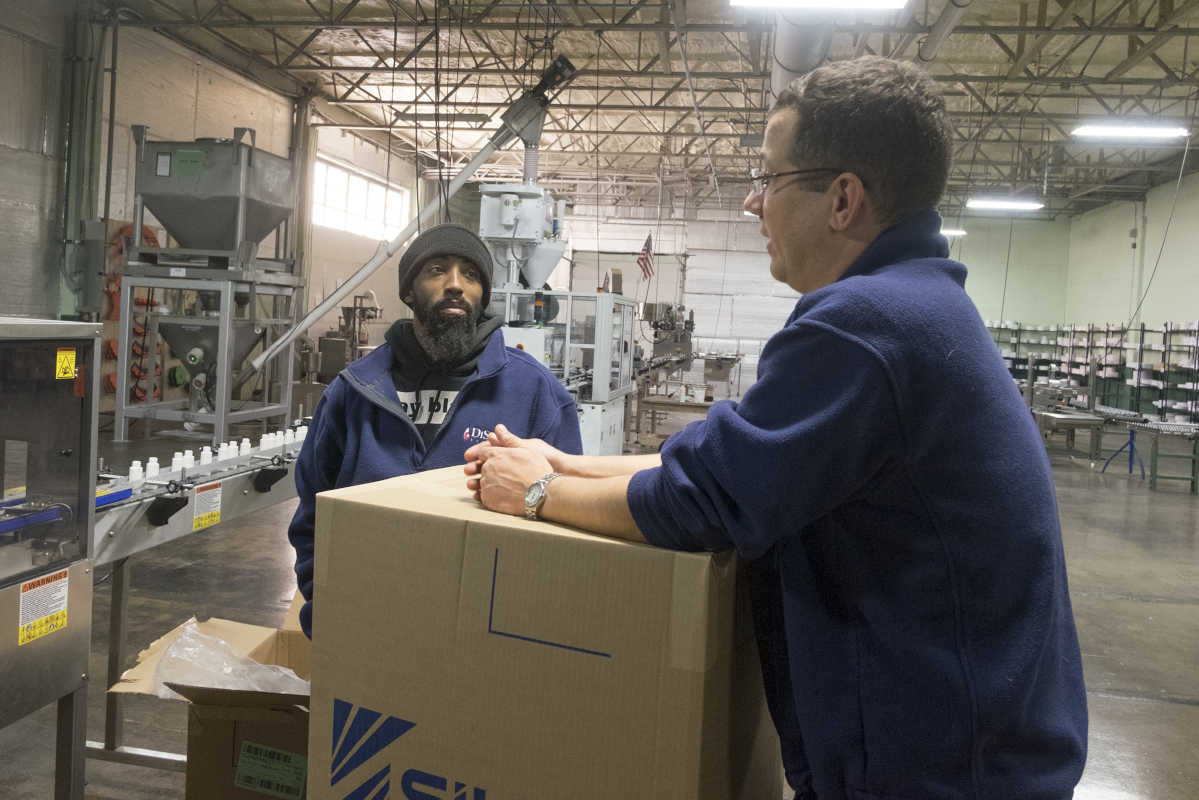 ED HILLE / Staff Photographer
Brooks Hulitt, DiSorb Systems president, talks with Julian Curry at the plant in North Philadelphia. Hulitt got tax incentives for hiring former inmates but now says he would do so anyway.
This year, through the Philadelphia Re-Entry Employment Program, DiSorb will qualify for a $10,000-per-worker tax credit against the city's business-privilege tax. With four workers, it'll nearly wipe out DiSorb's business tax bill, he said. There's also a federal tax break of $2,500 a person.
"If they took the tax credits away, would I stop hiring" people returning from prison?
"No," he said.
Curry's chances of staying out of jail are mixed.
It doesn't help that he's had multiple arrests or is African American - a group that tends to be rearrested more often.
In March 2014, Curry got a ticket for "theft of services," court documents show, when he didn't pay $2.25 to ride the Market-Frankford El.
He had enough money for rent, he said, but not enough for his fare. The ticket violated his probation. Curry returned to jail for two years, including work release, when he got the DiSorb job.
These days, he's older and has been employed - good signs. And, he yearns for stability so he can nurture his music career under the name Julian Tha Don. He'll play at Bourbon and Branch in Northern Liberties on Jan. 22.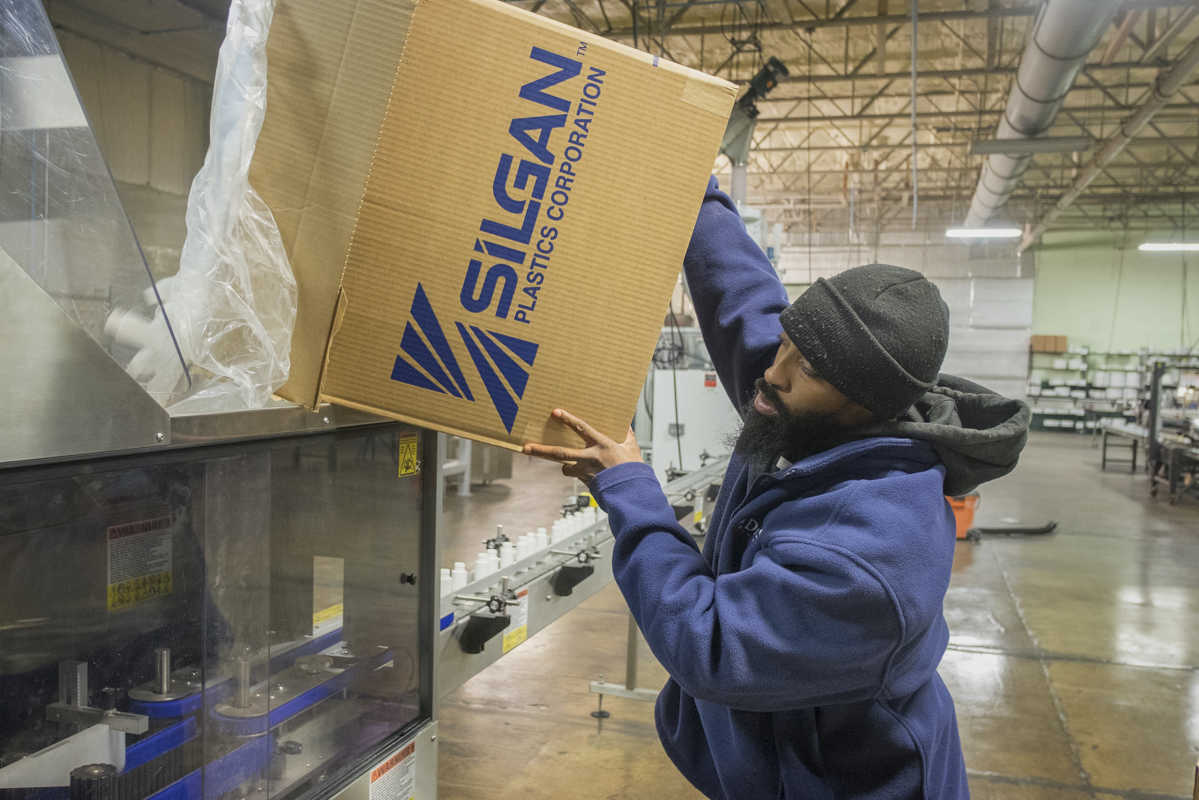 ED HILLE / Staff Photographer
Julian Curry at work on an assembly line at Disorb Systems. Though he lost the job due to some disagreements with coworkers, he's still pursuing his music career and has an appearance set as "Julian Tha Don" at Bourbon and Branch in Northern Liberties.
"These guys take care of me," he said in November at DiSorb. "Me losing this job right now would be terrible."
By mid-December, however, he had lost the job, due to some disagreements with coworkers, although Hulitt liked Curry's energy and work ethic. And so, once again, Curry found himself working day gigs through a temp agency.
"I'm not proud of my decisions," Curry said. "But I know my intentions."
Philly.com/jobbing
Inquirer staff writer Aswin Mannepalli contributed to this report.
Graphics and design by GARLAND POTTS / Staff
About the project
Six months ago, Philadelphia journalists from competing media organizations decided to do something different — to work together, for one year, on one important story, looking beyond problems to solutions.
The journalists formed the Philadelphia Reentry Reporting Collaborative and chose to examine the fate of people released from prison and what works best in reintegrating them into society.
The project, seeded by the Solutions Journalism Network, was chosen for its importance — the city has the highest per-capita incarceration rate of America's 15 largest cities — and for its breadth — room for many stories and many ways to tell them.
Besides the Inquirer, Daily News and Philly.com, the Collaborative includes WHYY, the Philadelphia Tribune, El Sol, Philadelphia Magazine, WURD 900 AM, NextCity, Technical.ly, Philadelphia Public School Notebook and others. Temple University and Muhlenberg College are also involved.
To read more about the project:
‍ Visit link
To read our collective work:
‍ Visit link
​