Remembering Hank, 25 years later
DOUGLAS C. PIZAK / AP Photo
Hank Gathers collapsed and died on a basketball court, doing what he loved. After a quarter-century, his memory endures.
By Dick Jerardi | Daily News Staff Writer

Friday, February 27, 2015
As the lady emerged from the Mount Lawn Cemetery office in Sharon Hill, she was asked how to go about finding a gravesite.
"Do you have a last name for me?"
"Gathers," she was told.
"Hank Gathers?"
"Yes."
She went around to the corner of the building, pointed across Hook Road to a spot just beyond a giant headstone with the name "ARNOLD" on it, explaining the grave was right behind that. This was not the first time she had been asked the question.
"Is he some kind of a celebrity?" she asked.
Actually, he was a son, a father, a brother, a friend, a high school legend in North Philly and the heart of a college team that will be remembered long after many of the national champions are forgotten.
The cemetery, a mile west of the airport just beyond Darby Creek where 84th Street turns into Hook Road, is bisected by the road, traffic flying by incessantly, a subtle but constant reminder of our hurry on the way to some unknowable future.
Just beyond the "ARNOLD" headstone (where the father and brother of former Saint Joseph's player and current assistant Geoff Arnold are buried), easily visible from Hook Road across from the office, sits a small circular drive surrounding a giant bush on a grassy island. Just as you get to the end of the drive, you look out to the right and there is the gravesite: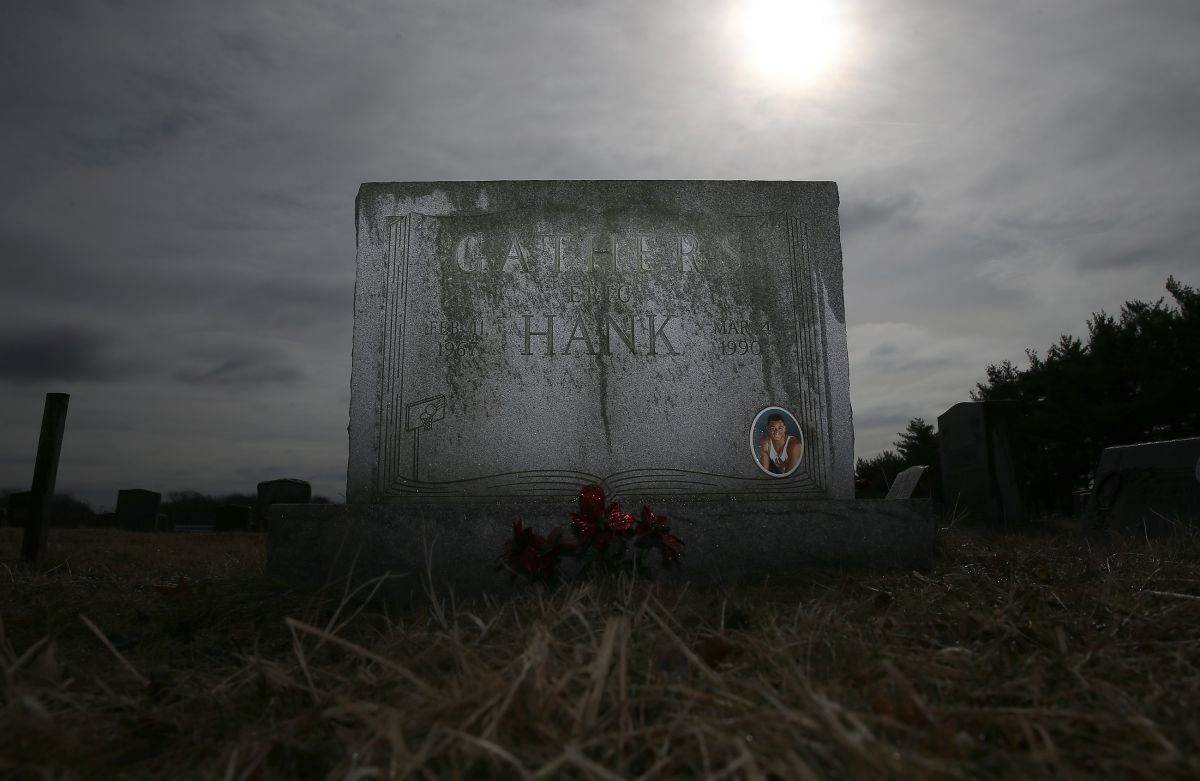 DAVID MAIALETTI / Staff Photographer
Hank Gathers' grave at Mount Lawn Cemetery.
GATHERS
ERIC
HANK
Inscribed on one side of Eric "Hank" Gathers' name is Feb. 11, 1967. On the other side, March 4, 1990.
Just above and to either side of GATHERS is Hank's number — 44. On the bottom left are a backboard and a basket hanging from a pole, a ball about to go in; on the bottom right is a picture of a smiling Hank Gathers.
There is a line of pine trees to the right of the grave and a fence line separating the oil drums from the gravestones. It is sunny but bitterly cold, the first Tuesday in February, 8 days before what would have been Hank Gathers' 48th birthday.
The cemetery, with a giant pile of flowers in a heap at one end, surrounded by traffic and a petroleum pipeline, is anything but bucolic; not the same scene, but not unlike the North Philly where Gathers grew up, the same neighborhood where so many came to his funeral at Emmanuel Institutional Baptist Church on North 22nd Street between Montgomery and Cecil B. Moore, just a mile south of Dobbins Tech at 22nd and Lehigh where Gathers and college teammate Bo Kimble were senior stars in 1985 on one of the great high school teams in city history.
Drive south on 22nd from the school to the church now and you see a skyline dominated by the shimmering Comcast Tower. So much has changed since the seemingly indestructible Hank, playing on his home court at Loyola Marymount's Gersten Pavilion 25 years ago next Wednesday, flew in the air to complete an alley-oop dunk in one final, spectacular second and was dying at midcourt seconds later.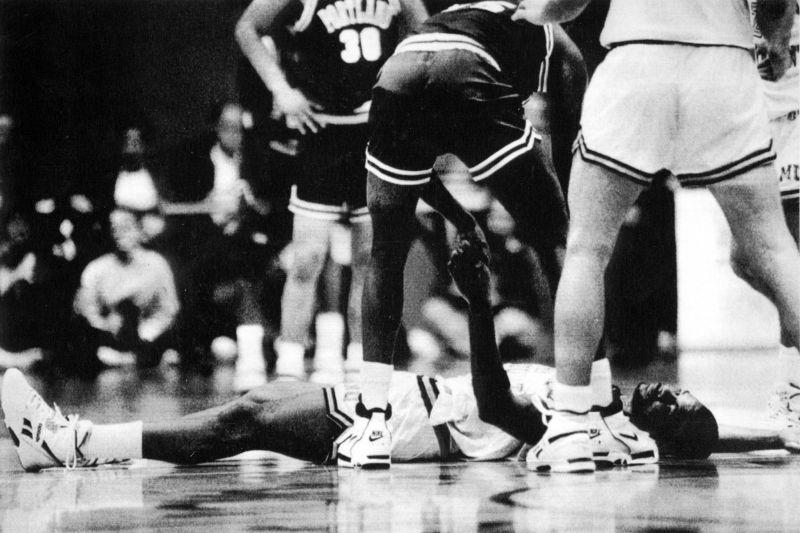 GARY FREIDMAN Jr. / UPI
Close your eyes and you can still see the endless line of people on 22nd Street trying to get into the church on March 12, 8 days after Hank died and 4 days before his team would go on one of the most remarkable journeys in NCAA Tournament history.
The church certainly does not seem large enough to fit everybody on that street that day. In the end it could not, so loudspeakers delivered the words from the church to the streets.
Today, a swimming pool and a field sit across from the church. A rec center takes up an entire block between 21st and 22nd. "Faith is taking the first step even when you don't see," is inscribed there. Nearby, hanging over a fence, is a glass backboard.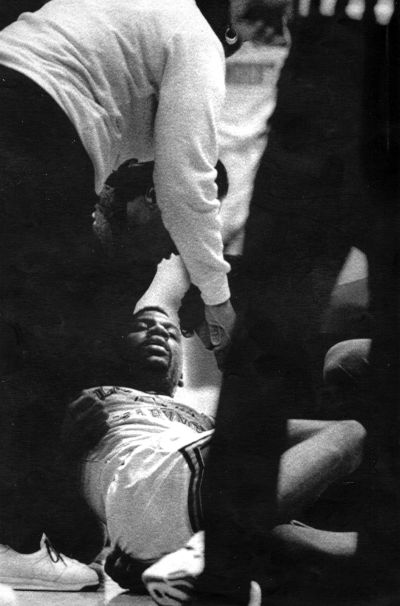 Hank's son, Aaron Crump, was 6 the night his father died, sleeping in his North Philly home.
"I remember my grandmother coming to wake me up," he said. "She said he has passed away, but I was like, 'I don't understand what you're saying.' When she made it clear he wasn't coming back, I didn't have that sad feeling. I reacted like everybody was reacting. They cried so I cried. I didn't feel like he was gone."
He reacted through 6-year-old eyes and 6-year-old feelings.
"I just didn't want to deal with it," he said.
When reached, Hank's mother Lucille politely explained that with the 25-year anniversary coming up, this is a very difficult time.
"You don't get over it, you get through it," she said.
Doug Overton was on the court at the Albany (N.Y.) Civic Center the day his former Dobbins Tech teammate died. His La Salle team was finishing off a win over Siena in the semifinals of their conference tournament as the horrible news began to circulate. La Salle, which had lost just one game all season, was going to be playing for a conference championship the next night, just before Hank and Bo played for their league title in California.
"I think we were just getting the game under control," Overton remembered, his voice catching as he thought back to that moment. "For some reason, I just looked over and the arena seemed quiet and people were just whispering. I looked over at my mom and I saw her crying."
There was no basketball talk that night in the locker room or later at the Albany Hilton.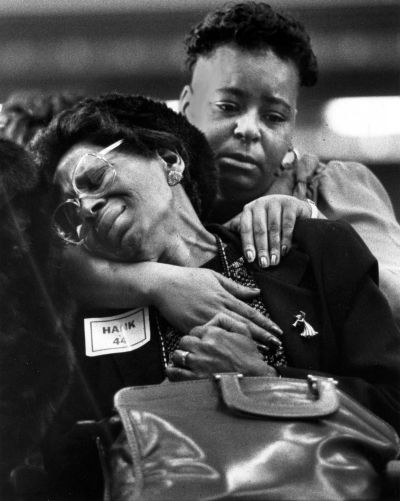 Sherry Coats, behind, comforts Doris Neal, a great aunt of Hank, at the funeral.
"I was wanting to be home," Overton said. "All the memories, you just want to be with everybody."
He was with his team and they all were worried about him. His coach, Speedy Morris, left it up to him. He did not have to play in the next game. He did, though.
Overton had "Hank" stenciled on his sneakers. The team had a "Hank 44" patch attached to its shorts. LaSalle did not play well, but it did win the championship.
Kimble was right there on the court with Gathers when his heart gave out. An autopsy ruled that the cause of death was a heart muscle disorder.
"One of the tragedies is that we had a defibrillator there, but everybody panicked and didn't go get it," he said. "I never knew we had one."
Six years ago, Kimble was playing in a game in Camden. A friend named Robert Carter collapsed on the court.
"I was so upset that I didn't know CPR, the paramedics came within 5 or 6 minutes, but he didn't make it," Kimble said.
Not long after that, Kimble started a foundation with Dr. Tamara Goode, the mother of his son, Brendon, called "Forty Four for Life," with the goal of placing of defibrillators in public places to reduce cardiac-arrest fatalities.He is now a trained CPR instructor.
Kimble couldn't save his friend in Camden, couldn't save Hank 25 years ago. He is helping to save lives now.
"Hank was full of life," Kimble said. "That last thing you think is that he's going to die...It's one of those tragic things you never get over. He just had that kind of spirit. He was an even better person than he was an athlete."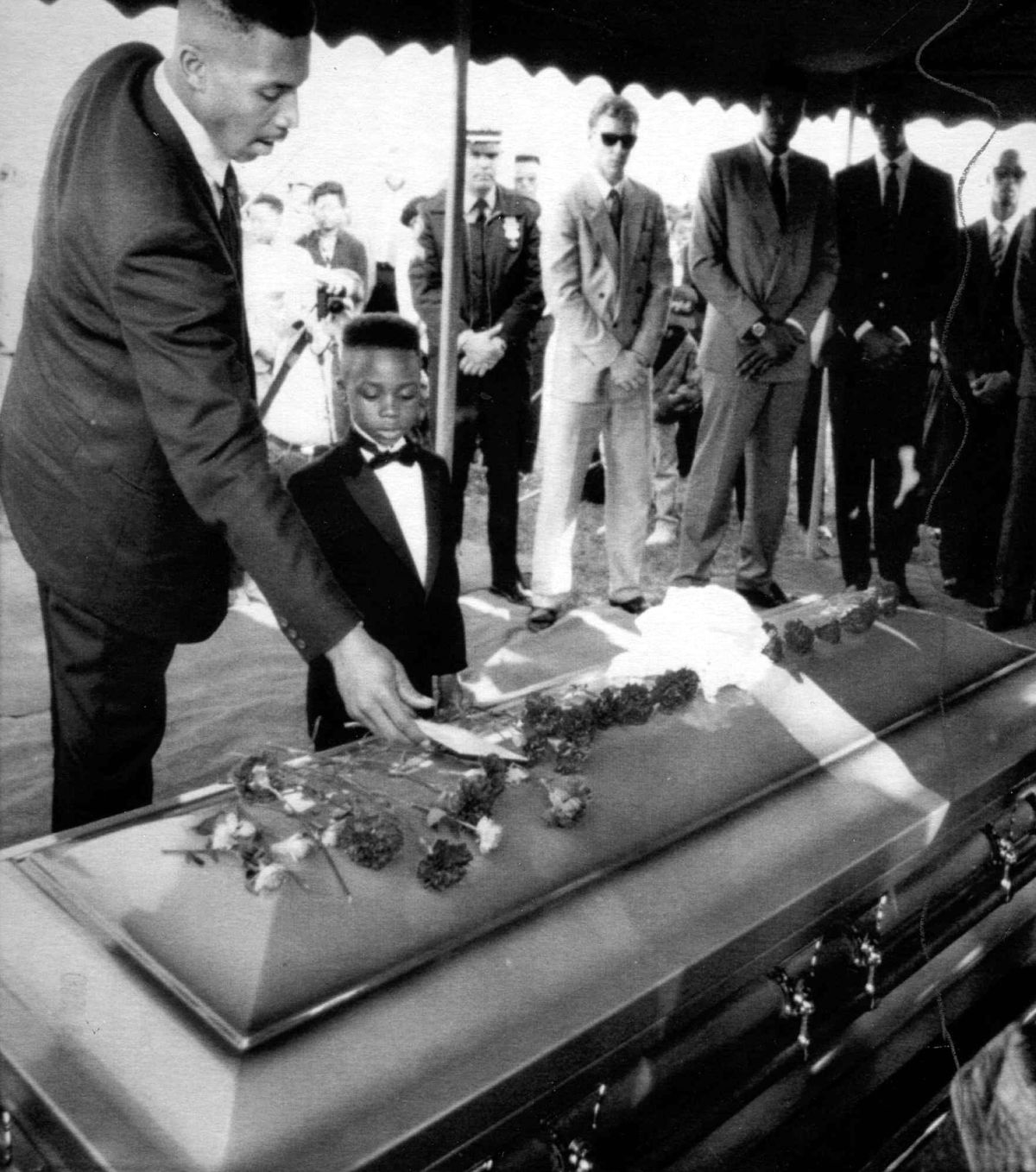 Hank's brother Derrick (left) and his son, Aaron Crump, at the burial.
Aaron Crump went to Cheltenham High, where he played varsity basketball his final two seasons. He reportedly got a $1.5 million settlement from several lawsuits, less attorney fees. Hank's mother and her family reportedly got $895,000.
His settlement, Crump said, became his problem.
"I came into a lot of money when I turned 18 based on the wrongful-death suit," Crump said. "You combine a whole lot of money in a young black male with no guidance. I wasn't working, spending money, hanging out with the wrong people in the wrong neighborhoods and I had the wrong mindset."
He pleaded guilty to aggravated assault with a weapon. He was in Rockview State Prison, between State College and Bellefonte, from 2007 until 2012.
"It humbled me to the point where I could focus on what was important," Crump said. "Ever since I came home, it got me to thinking, to want to know who my father was on a personal level."
Crump admittedly was not able to deal with his feelings over not growing up with his father who died so young, so tragically and so publicly. All these years later, his is a journey of discovery.
"I have a lot of little memories that I hold close to me because those are all I have," said Crump, who now lives in Northeast Philly. "I've been coming across people just recently that either know my father, know of him or have been affected by him in a positive way. I'm kind of getting to know him through those people."
He wants to make sure "nobody forgets the man he was and to make sure this is a celebration of who my dad was."
Crump has a daughter, Dasia, who will turn 8 on Tuesday and a fiancée, Kiera, with two children of her own. He works a 9-to-5 sales job, but his passion is the mentoring he does on the side. He works with several nonprofits, including Making A New United People (M.A.N.U.P.) in Silver Spring, Md., and Cheltenham Achievement Network (C.A.N.). The Hank Gathers Legacy Group, which he formed, partners with both.
"I was pretty much set up for success and didn't succeed because of the choices I made," he said. "I basically bring that basketball structure and discipline to at-risk children."
He has a story to tell about the mistakes he made and an example to share of the hard work his father put in to become such a unique player and person with an everlasting legacy.
"The children need somebody to guide them toward what they should be doing as opposed to what they want to do," Crump said.
DOUGLAS C. PIZAK / AP Photo
Overton, then a Dobbins freshman, first met Gathers at basketball tryouts. He really was trying out. Gathers, a junior, was already on his way.
"He kind of took me under his wing," Overton said. "I used to stay at his house. We used to play everywhere."
Hank was always ready to ball.
"If we were in a car and he had slacks on, he would get out of the car if he saw a court," Overton said. "He had to drive with five guys so he could be ready to play at all times anywhere against anybody. He could have a dress shirt and hard shoes on. He didn't care. He just played ball. He would be dribbling down the middle of the street, stop traffic, people honking their horns. He was a nut about basketball and that's how we became so passionate about it."
Overton, who grew up in Germantown, remembers Gathers living that first year in the high rises at the Raymond Rosen Projects, the low rises the next year.
"It was rough," Overton said.
Kimble, who grew up at 26th and Clearfield, met Gathers at 25th and Diamond before they went to high school.
"I was a lot shorter than Hank and I was dunking the ball with ease," Kimble remembered. "He probably couldn't believe that I was jumping like that."
Six months later, they were on the JV team together at Dobbins as freshmen.
"Hank wasn't really that good," Kimble said. "He wasn't that coordinated. After his sophomore year at Dobbins, he was playing every day, everywhere. He came back 11th-grade year as a whole different person. He became a monster. He was the Hank Gathers that we all got to know...He came back cut up; he was very coordinated, dunking on everybody, getting every rebound. He was just so determined he was going to get a scholarship and make it out of Philly. He just lived and breathed basketball."
After they played a school practice or game, Kimble said, "we'd go out and play another game. We just were crazy."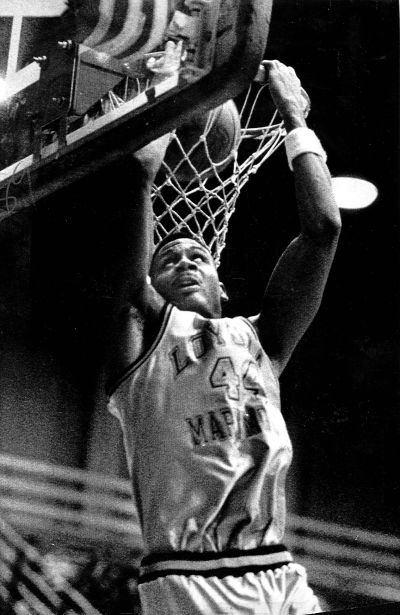 Overton was a sophomore on those city champs that played for the title against Southern with eventual La Salle teammates Lionel Simmons and Bobby Johnson. He started alongside Hank, Bo, Hank's brother Derrick and Darrell "Heat" Gates, with Randy Slade coming off the bench.
"I think the only person that wasn't nervous was Hank," Overton said of the title game. "We spent the night before at Randy Slade's house. He was up all night. I don't know how we won that game because we didn't get any sleep. All we talked about was the championship game, how many people were going to be there, how big it was, North Philly and South Philly. He kept saying, 'It ain't going to be no game, we're going to blow them out.'"
The game, played at Temple's McGonigle Hall, had North Philly on one side of the gym, South Philly on the other. Hank called it. His final high school game was Dobbins 86, Southern 62. Hank had 27 points and 14 rebounds, Bo 27 and 12. Overton scored 12 points. The L-Train had 18 and 11.
Hank and Bo went to USC mostly because of assistant David Spencer who, according to Kimble, was at 18 Dobbins games their senior year. Overton was heavily recruited by USC, but he chose La Salle. Hank and Bo ended up transferring to Loyola Marymount. They wanted Overton to come, too, but he told them he "would rather play with Lionel and pass him the ball 20 times than pass it to you all 40 times." Overton stayed close with Hank the whole time, never dreaming they would be on the same court again.
Then, on Jan. 6, 1990, La Salle and Loyola Marymount staged one of the epic games in city history. Barely a month before on Dec. 9, 1989, Gathers had fainted while at the free-throw line during a game against UC-Santa Barbara. The season before, he had become just the second player to lead college basketball in scoring and rebounding during the same season — 32.7 points and 13.7 boards — as Paul Westhead's team was setting scoring records and playing the game at a speed that most could not comprehend.
After he collapsed, Gathers underwent a series of tests. He missed the next two games. Kimble had 53 points when the Lions won at Oregon State. Gathers returned 21 days after his collapse when Loyola played on Dec. 30 against Niagara, but, now on medication for a heart condition, he was not the same player.
Loyola, working its way east for games against Saint Joseph's and then, 2 days later against La Salle, stopped at the Cincinnati Gardens on Jan. 2 to play Xavier, with its big men Tyrone Hill and Derek Strong. Hill had 38 points and 20 rebounds. Strong had 24 and 24. Gathers shot just 7-for-23 and had 20 points. Xavier won, 115-113.
Kimble put on one of the great shows in history two nights later on Hawk Hill. He shot 17-for-33 from the field, 5-for-8 from three and 15-for-16 from the line. He had 54 points in 33 minutes and capped it off with the game-winner — a nice, relaxed, running 40-footer at the buzzer. Hawks coach Jim Boyle was proud his team had held Loyola under 100 in the 99-96 loss. The subplot was Hank. He scored just 11 points in 26 minutes. Something was wrong.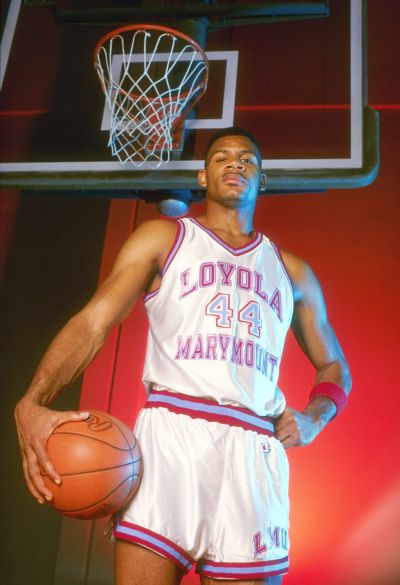 Next came La Salle, which had not lost a game that season. Simmons was on his way to 3,000 points and national player of the year. Overton, the junior point guard, was on his way to the school record for assists and steals.
"It wasn't the game that I remember the most," Overton said. "It was the night before. It was at the [Penn Tower Hotel]. I went to see Hank because he was having troubles against St. Joe's. There was a lot going on. He really wanted to play in that game [against La Salle] more than St. Joe's."
Overton went to make sure his friend was all right. Gathers was a sculpted 6-7, an athletic marvel who never seemed to get tired.
"I knew he wasn't himself, but nobody ever thought that would happen to him," Overton said. "Hank was invincible, his body, his spirit. We just thought, 'It was Hank, he's just got a little something going on, he's Superman.' We just didn't know how serious it was."
That night in the hotel was for talking about what was going to happen the next night.
"We just talked smack that whole night," Overton said. "He was like, 'We're going to run you all out of that gym, you all going to be tired.' I was like 'Come on man, we play on the streets too; we can run with you all.' And we did — up until 2 minutes to go...I've never been that tired in my life."
That Saturday night, they played at the Civic Center, across the street from Loyola's hotel. Hank was no longer sluggish from the medication he was taking. What happened with his diagnosis and the medication was the subject of several lawsuits that were eventually settled for nearly $2.5 million.
The joint was jammed with 10,254 fans. Hank was Hank, with 27 points and 12 rebounds. Bo had 32 and 10. Simmons had 34 and 19, Overton 23 points, 10 assists and seven steals. There has never been a more entertaining game played in this city. It was Loyola Marymount 121, La Salle 116. Hank, a notoriously bad free-throw shooter, clinched the game with two foul shots, both shot lefthanded as he had earlier abandoned his righthanded shot.
Four Saturdays later on Feb.3, in a now-legendary game played on CBS at LSU, Bo remembers Hank, with NBA scouts all over the building wondering if he could play against taller players, getting his first seven shots blocked by Shaquille O'Neal. Hank was so intimidated by Shaq and fellow 7-footer Stanley Roberts that he finished with 48 points and 13 rebounds. Bo had 32 points. Shaq had 20 points, 24 rebounds and 12 blocks. LSU won, 148-141, in overtime.
"I can't imagine anybody ever scored 48 points on Shaq," Kimble said. "Hank Gathers did."
That February, Loyola scored 150, 141, 157, 137, 139, 131, 123, 131 and 117. Bo was leading the country in scoring. Hank was playing like Hank always played. There was no obvious indication anything was wrong, at least not on the court.
Then, it was March 4, the semifinal game in the West Coast Conference Tournament against Portland. The clock stopped with 13:34 left in the first half, Loyola leading 25-13, Hank Gathers on his way to a nearby hospital where he would be pronounced dead. The tournament was called off, Loyola declared champions.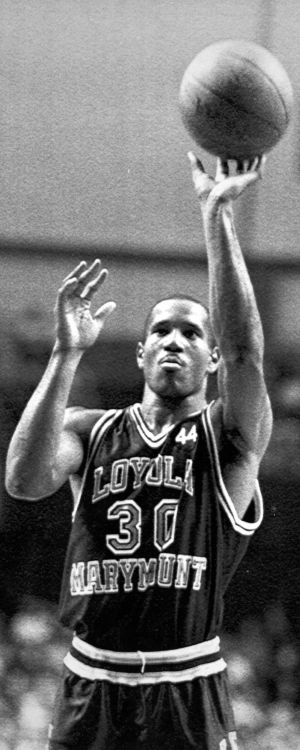 DOUGLAS C. PIZAC / AP Photo
Bo Kimble, with a left-handed homage to his friend. He made the free throw.
The Loyola Marymount team came to Philadelphia for the funeral and then returned to Los Angeles to get ready for its NCAA game that Friday in Long Beach, just south of its campus. The La Salle players watched the late-night spectacle in their Hartford hotel rooms, the night before they would play their last game of a season that would end 30-2.
Kimble had decided he would shoot the first free throw of every NCAA game lefthanded in Hank's memory.
"That was my selfish way to honor him," Kimble said. "I didn't even know the crowd was there. It was my way of saying, 'I love you, miss you and respect you'...It wasn't about making it, it was about taking it."
Bo made the free throw against New Mexico State. He also had four fouls with 7 minutes to go in the first half. He went in and out, but never got his fifth. He had 35 points after the fourth foul, finished with 45 points and 18 rebounds. Loyola won, 111-92.
Two days later, Bo made the first free throw again. His team took out defending national champion Michigan, 149-115, an incredible display of shooting and speed that will never be duplicated. Bo had 37 more.
The following Friday in Oakland, Alabama held the ball. Bo never got to the free-throw line. Loyola won, 62-60.
The Lions played UNLV for the right to go to the Final Four in Denver. Bo made a lefthanded free throw. He had 42. They lost, 131-101. UNLV beat Duke, 103-73, the following week for the national championship.
"If Hank was alive, I can tell you right now, we would have won the national championship," Kimble said.
Their season had started in Las Vegas against the No. 1 Runnin' Rebels on Nov. 15, 1989.
"They called a bomb threat to slow the game down right before halftime," said Kimble, remembering every detail like the game was last week. "We had two 15-minute halftimes. We were on a 28-4 run at the time they called the bomb threat. The only bomb that was in the building was Loyola Marymount, Hank Gathers and Bo. It wasn't the points that would have gotten them; it was the pace. They wouldn't have been able to do that in the tournament because that bomb crap would have only worked one time."
It is unclear who exactly "they" were or how long the game was stopped, but the stories from the time certainly describe a bomb threat. UNLV won, 102-91.
Bo finished that season with 1,131 points, an average of 35.3 per game. His team averaged 122.4 points.
"People come up to me all over the world and remember Hank to this day," Kimble said. "It was the way we played and the style of play. People remember because of the success connected with tragedy."
And, 25 years later, they still remember.
"What makes it a little easier for me is that I don't think of Hank and the tragedy," Kimble said. "I think of Hank and all the fun stories, how amazing he was. He just stood for so much happiness and laughter and that usually trumps any of the sorrow of him being gone. Usually, it's nothing but celebration because I choose to celebrate his life."
MIKE POWELL / Getty Images
Dick Jerardi can be contacted at jerardd@phillynews.com.