Social media moves
Twitter
College coaches are using Twitter, other tools more in recruiting
It is cool to think, D'Andre Swift said, that a college football coach would want a prospect enough to mail a handwritten note.
But hey, this is 2016. How does the St. Joseph's Prep running back - and Pennsylvania's top 2017 offensive recruit - know a school really likes him?
"When a coach DMs you constantly," Swift said. "That shows you're a priority."
Simon Gratz cornerback Kenny Bennett, another 2017 recruit, is also bombarded with direct messages, or DMs, on Twitter at all hours.
"For me, it would get annoying when it is like 11:30 at night, and I'm trying to sleep," Bennett said. "That is when I'm like, 'All right, dude. Leave me alone.' "
Cherry Hill West cornerback Harrison Hand usually wakes up to 20 or 30 Twitter notifications. Fans tweet at the 17-year-old, encouraging him to go to their school, and coaches often send direct messages around 5 a.m., said Hand, whose offers include Rutgers and Temple.
"It is cool," Hand said, "especially when it is a new coach that DMs you."
"To me, it is exciting," said Denise Hand, who gets a screenshot from Harrison every time a new coach - "What is it, DMs or TMs?"
Shouting to be heard
Both recruits and recruiters use social media to communicate with and impress one another. Click through the Tweets below to see the various ways coaches, colleges, and athletes attempt to lure one to the other.
JARED WHALEN / Staff
Denise stays on top of her son's recruiting. She created accounts on Twitter, Instagram, even Snapchat, although she admits she doesn't exactly know what she is doing on Snapchat. Coaches don't call the house anymore, she said, so she needs social media to stay in the loop.
Nowadays, coaches have to worry not only about outsmarting opponents on the field. They also must outwork rivals on social media, using hashtags and graphics to attract the best players.
"Anytime we have a recruiting meeting, there is a meeting about social media," said Rutgers head football coach Chris Ash. "It is a nonstop conversation here because recruiting is nonstop."
For players, social media can serve as a type of online resume.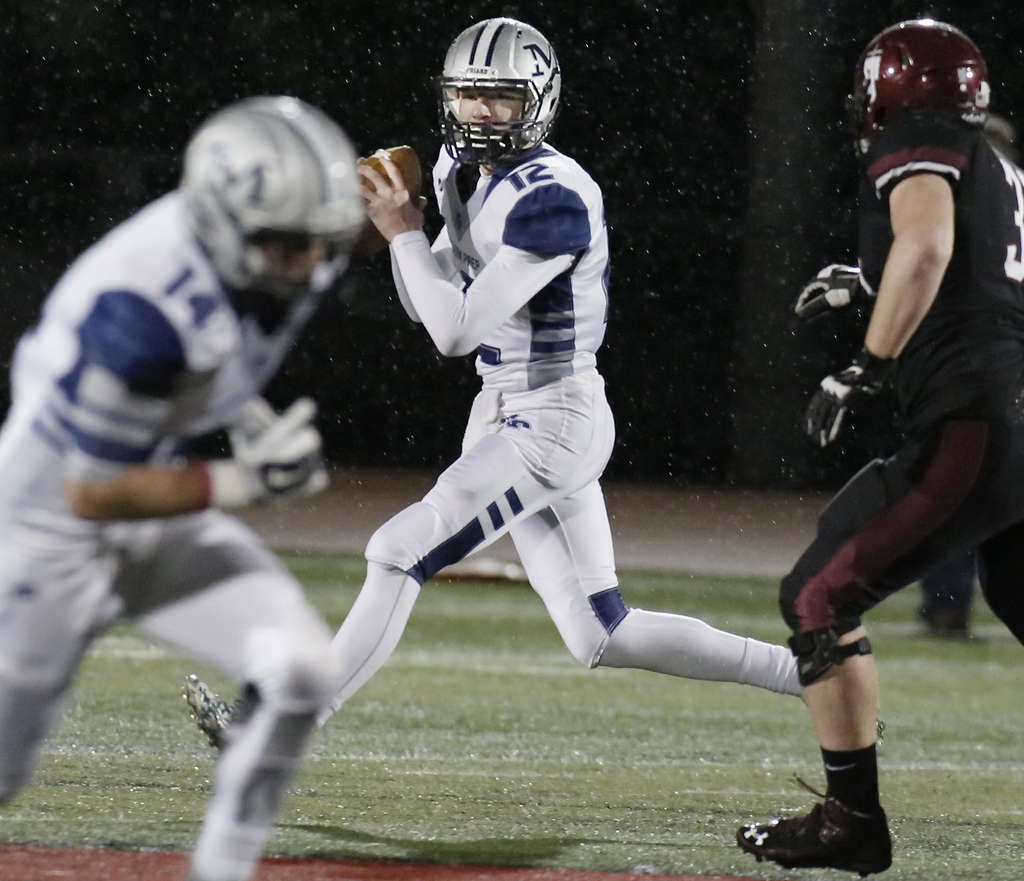 ELIZABETH ROBERTSON / Staff Photographer
For Malvern Prep quarterback Kevin Doyle, social media means he can put "myself out there so other colleges can see and understand me."
It is about "building the brand," said Malvern Prep quarterback Kevin Doyle, a 2018 recruit. "Putting myself out there so other colleges can see and understand me."
While they may use Facebook, Instagram or Snapchat with friends, recruits said Twitter is the main recruiting platform. Penn State, Temple and Rutgers coaches said they, too, mostly stick to Twitter, but their programs have active Instagram accounts and Facebook pages.
Coaches have mixed feelings about this recruiting revolution.
They can monitor recruits like never before. A player's highlight tape can't get lost in a pile of mail; it is linked to their Twitter page. At all hours of the day, programs can tweet out photos and videos.
But like so much in recruiting, the online side has pitfalls. One wrong tweet can jeopardize a recruit's scholarship. Programs must work to keep an entire staff on message 24/7. And high school coaches are no longer needed to connect college coach to player.
Archbishop Wood coach Steve Devlin said he still gets the same number of calls about recruits. A high school coach's opinion of his player still matters, he said.
Changing landscape
Social media has gotten even trickier lately. Beginning on Aug. 1, the NCAA allowed coaches to like, favorite, share, or retweet recruits' posts.
"I'm not for it at all," said Ash, who was hired at Rutgers in December.
"I don't think that is a good thing for college football," said Josh Gattis, Penn State's offensive recruiting coordinator. "I think it is going to end up creating more problems than the NCAA initially had in mind."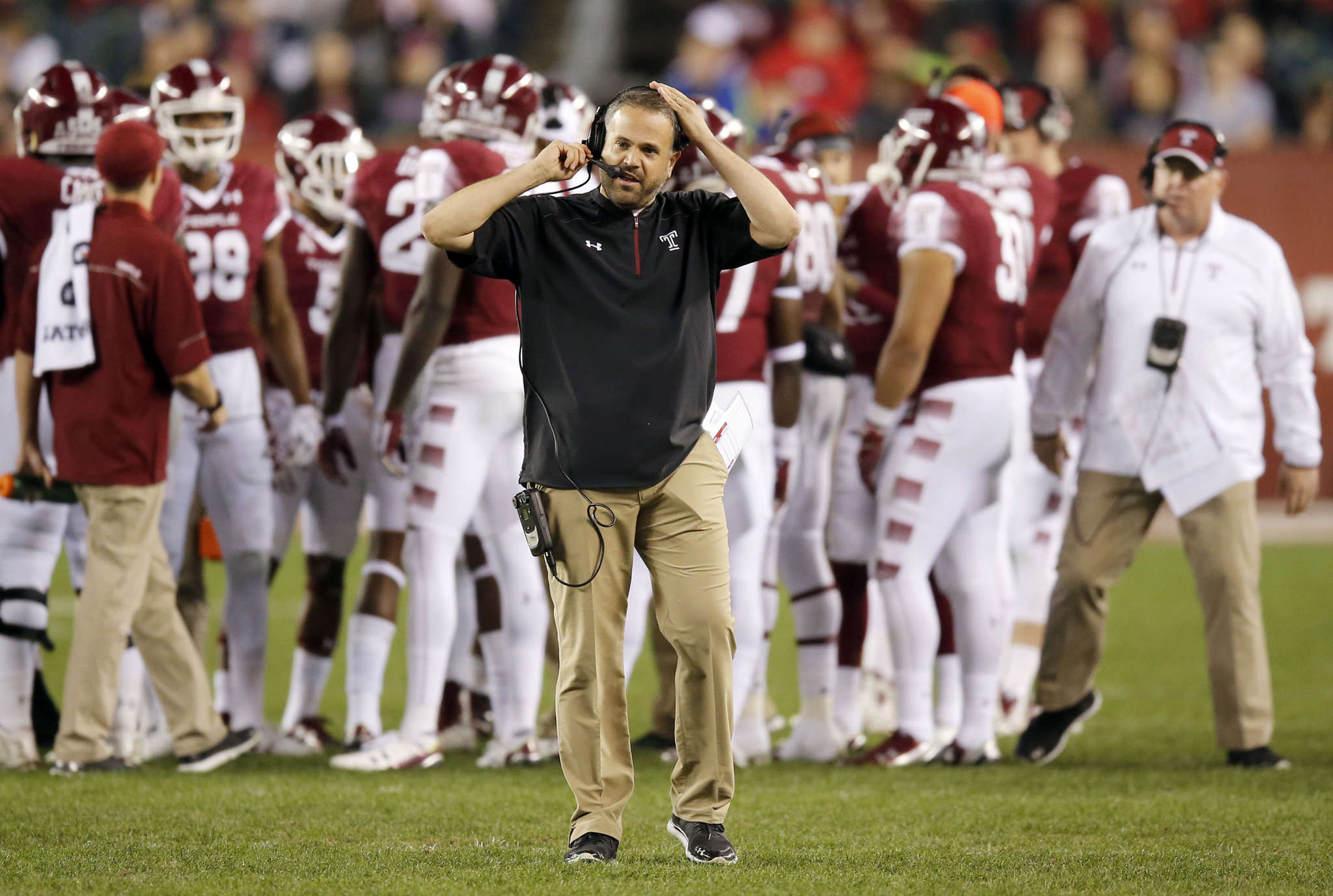 YONG KIM / Staff Photographer
Temple coach Mike Rhule has retweeted some recruits from his personal account, after an NCAA rule change allowed it.
Temple coach Matt Rhule said he was waiting to judge the rule until he saw it in action but has since retweeted some recruits from his personal account.
Regardless of whether coaches approve of the change, programs have little choice but to take advantage of it.
"If School A is doing it," Gattis said, "you don't want to hurt yourself."
"Social media is a competitive field just like everything we do," Ash said. "You want to have the best graphics. You want to have the best videos. You want to have the most creativity. You want to find ways to make recruits go, 'Wow.' "
"That is the million dollar question. What pushes them over the edge?"
Karen Weaver, Sport management professor at Drexel University
Karen Weaver, an associate clinical professor of sport management at Drexel University, said many coaches could still use the platforms better. The younger coaches - such as Penn State's James Franklin and Michigan's Jim Harbaugh - are more natural at it, said Weaver, who specializes in social media and sports.
But how much does social media skill matter to recruits?
"That is the million dollar question," Weaver said. "What pushes them over the edge?"
Measure fan bases
If Temple recruiting coordinator Mike Siravo could gather all the high school prospects in a room, he would be honest.
"If you need a bunch of coaches to like what you do, to retweet or like or favorite what you do, and that affects where you go to college," Siravo said, "you're going to have a really hard time in college playing football."
For Malvern Prep's Doyle, Twitter lets him measure fan bases. As of early July, Doyle had 11 scholarship offers, including Temple, Pitt, Michigan State, and Kentucky.
Whenever Doyle tweets about another offer, that school's fans tweet back.
He sees that "this fan base is really active and really cares about this program all throughout the year," Doyle said, while "there are other schools where it is just a seasonal sport."
As for coaches' accounts, Doyle said he likes to see posts about coaches' kids and examples of their personality. He wants to see that football is a large part of a coach's life but not the whole thing.
Social media "doesn't play a huge factor," Doyle said, "but it definitely sits in the back of your mind."
On the Rutgers football Twitter account, the theme is the "Ash Era." Each tweet is forward-thinking.
In November, Rutgers' football coach Kyle Flood and athletic director Julie Hermann were fired, at the end of a season during which seven players were arrested and Flood was suspended three games for violating the university's academic compliance policy.
Social media helped Rutgers move on, Ash said. With recruits in mind, the program rebranded, sharing motivational videos on its social media accounts.
Ash's staff monitors recruits closely. If a prospect is disrespecting women or talking about drugs, alcohol, or weapons on Twitter, he shouldn't expect a call from Rutgers.
At Penn State, Gattis said he not only monitors what recruits are tweeting. He also looks at what they are retweeting and liking. Likes don't show up on the main page of a recruit's timeline. If coaches go looking, that like can reveal what the recruit does when he thinks no one is watching.
At Temple, Rhule follows recruits but does not obsessively examine each tweet.
But he does take ownership of Temple's own online identity, of which Philadelphia is a big part.
Pinned to the top of the Temple football Twitter last month was a video made by ESPN College GameDay. The clip's narrator called Temple "the new Broad Street Bullies."
"We're trying to be a tough, hard-nosed team, guys who aren't entitled, who earn whatever they get. That video sums some of that up," Rhule said. "We want the local kids to stay here and play here. We want people from outside the area to come and be a part of Philadelphia."
No coach or player knows exactly where social media will take recruiting next or whether the August NCAA rule will have an impact.
Bennett - who is being recruited by Temple, Maryland, and Pitt, among other schools - said a like or retweet by a coach online wouldn't affect his decision.
" Social media is great, but you can stage it... The kids can. We can. At the end of the day, we want to be a program that is based in reality. "
Matt Rhule, Temple Football Coach
"The only thing that would weigh my decision is how much a coach talks to me," Bennett said. "You can say 'Oh, Kenny, we love you. We really want you here' on Twitter, but you only call me once every three weeks."
Penn State's Gattis predicts social media will only get crazier.
Unfortunately, he said, the internet drives buzz, which means a lot to 16- and 17-year-olds.
Rhule strives for balance.
"Social media is great, but you can stage it," Rhule said. "The kids can. We can. At the end of the day, we want to be a program that is based in reality."
With the new rule, Siravo said recruiting could devolve into every one of a recruit's tweets being liked or retweeted by every college interested in him.
"When that happens, it all gets watered down," Siravo said. "Guess what it comes back to? Face-to-face contact. Live conversation. Interaction with parents. Handwritten notes."
@ErinMcPSU