Before the glory
Jay Wright's early

struggles at Villanova
Steven M. Falk/Staff Photographer)
Given his decade-plus of success, including a top seed in this year's NCAA Tournament, it is hard to believe there was a time when Villanova coach Jay Wright wondered if his job was secure. But there was.
By Mike Kern | Daily News Staff Writer

Wednesday, March 18, 2015
The last decade-plus has produced the second-best era of Villanova hoops, exceeded only by the one in the late 1970s through mid-'80s that, of course, gave the program its national championship for the ages.
Jay Wright's Wildcats have gone to a Final Four, an Elite Eight, two Sweet 16s (losing to the eventual national champion every time), have twice been a No. 1 seed in the NCAA Tournament and just put together the two best regular seasons in Main Line history, back to back.
Tomorrow in Pittsburgh the Wildcats (32-2) — who just won their first Big East championship in 20 years and are a top seed in the Madness for the first time since 2006 — will play Lafayette (20-12) in a first-round East Regional matchup.
It has been quite a run, even though they haven't made it to the second week since getting to the third week 6 years ago. Especially for a coach who wasn't always certain he'd stick around long enough to make all or at least some of that fall into place.
Because there was a time...
"Going into the fourth year [2004-05], I wasn't worried about being fired," said Wright, whose team lost its second game last March as a 2 seed for the second time in five years. "But I knew we were on the hot seat. Meaning if you go four years at Villanova without going to the NCAA Tournament, you just kind of know...Look back at history. It just doesn't happen."
It did take Rollie Massimino five years, but in those days only 32 teams made the field.
"No one was saying anything to me, like I had to do anything, but in my mind I was thinking, 'This just doesn't happen here,'" Wright went on. "And it shouldn't. I was worried about the perception in basketball circles. There was that pressure of you know it's time. More for us and our staff than the administration.
"That's just the reality of it. And the reality was there."
Wright, a product of Council Rock High in Bucks County, was hired in 2001. A Villanova assistant for five seasons at the end of Massimino's tenure, he had spent the previous 7 years at Hofstra, where he made the NIT in his fifth season and finally got to the NCAA in his last two. The team hadn't made the NCAAs in three of Steve Lappas' last four years, including the last two. Only once had the Wildcats gone longer than six seasons without getting to the four-letter tourney. That was from 1940 to '48.
But it wasn't merely about what wasn't happening on the court. There was the phone-card scandal in March 2003, when 12 players were suspended after an investigation by the university showed that they were among a group of student-athletes who'd used a school access card to make unauthorized calls in the days before cell phones became standard issue. This led to a scenario at the end of that season and the beginning of the next where the Wildcats only had five scholarship players available for games and sometimes not many more than that for practice. Players were suspended for three to eight games depending on the amount of the phone charges.
"It was crazy," Wright said. "We played Pitt, they were top five [they lost by two]. We played at Siena in the NIT and got hammered. We came back the next year and played a D-III team [Redlands]. We were trying to knock off games to get it over as soon as possible. We lost to Ohio State by one. I remember the last game before we had everybody back was La Salle.
"We had it marked off."
Then in July 2004, the program received a 2-year NCAA probation for multiple violations regarding recruiting, extra benefits and impermissible contact that had occurred from the fall of 2001 until March 2003. While all of the violations were deemed to be "secondary" in nature, the Infractions Committee determined that when taken in combination it caused the case to rise to the level of "major."
There are those who've suggested that when Wright landed the second-ranked recruiting class in the nation in 2002, some folks in the Big East didn't like it. "We were very, very aggressive," Wright said. Hence the heightened scrutiny. The reasoning didn't really matter. Stuff had happened.
"Even though there was no penalty, it's still a black mark," Wright said. "It's embarrassing."
The biggest thing he had going for him was the support of athletic director Vince Nicastro and Villanova's former president, Reverend Edmund J. Dobbin.
"I never want to forget, and never will forget, because they must have heard the [critics] too, but they both clearly told me, 'You're good, we're happy,'" Wright said. "They didn't want me to be concerned about it. In their minds that was true. But fans are fans.
"I remember the line from one person close to the program specifically: 'We're excited about this guy, but is he going to be able to get it done?' And rightfully so."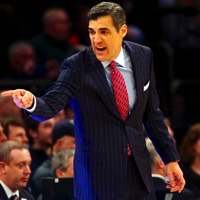 YONG KIM / Daily News photographer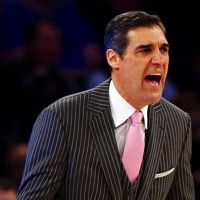 YONG KIM / Daily News photographer
CHARLES CHERNEY / AP photo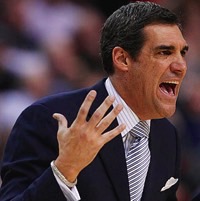 RON CORTES / Staff photographer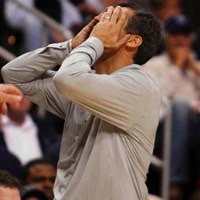 RON CORTES / Staff photographer
Nicastro, who started at Villanova as the Director of Ticket Operations in 1994, had only been elevated to athletic director a year before Wright's return. He was convinced they had the right guy. But he understands that maybe not everyone agreed with him, particularly after five straight trips to the NIT and the sanctions.
"We obviously had those bumps along the way," Nicastro said. "But we managed them. Jay knew how to handle the adversity. It was clear he was a leader. It just hadn't translated into NCAA Tournament teams right away. You could feel it was coming.
"It's a responsibility. And he takes that burden very seriously. I can see where things might have weighed on him when we weren't hitting on all cylinders. But I don't think he ever let that impact the way he went about his business. If he had those private moments, it didn't show.
"I'm sure there was noise, from the fan base. I don't think it was overwhelming. And it never became a distraction...There's going to be self-imposed pressure. It was a difficult time for all of us, not just Jay. The culture is important here. You want to do things the right way. Now your integrity's being challenged. What are your intentions? You made mistakes. Once we came to grips with that, we needed to own up to them and correct them to get through it. It was hard, for a program that prides itself on doing things within the letter of the law and spirit of the rules. It was a challenge. Jay navigated that."
Mostly by doing his best to keep the staff and in turn the players insulated from whatever might have been going on or was being insinuated outside the locker room.
"I specifically did that," Wright said. "I didn't want them to feel it. They were doing a good job. A lot of stuff was going on. I kept reassuring them, like Father Dobbin and Vince were reassuring me. I was going out of my way to do that. But inside...I talked to [his wife] Patty about it all the time. Just said, 'Hey, this might not happen here.' This isn't the movies. She was always great about it. That's the beauty of the wife.
"At that point in our career, we had gone through the same thing at Hofstra. Again, the president and AD were very patient, really. But if it didn't happen, you've got to go get another job. You picked this business. You can't think about that."
Brett Gunning was one of Wright's assistants through his entire time at Hofstra and the first seven seasons on Lancaster Avenue before moving on the NBA. He saw both sides of the journey. Like Nicastro, he said Wright didn't change who or what he was. And everyone noticed and took their cue from that.
"Maybe being the age that I was, I didn't realize the so-called pressure that possibly was going on," said Gunning, who spent four seasons in various capacities with the Houston Rockets before joining the staff of the Orlando Magic in 2012, a stint that ended in early February when head coach Jacque Vaughn was fired. "It's cliche-ish, but Jay really was just trying to make us better every day. He never talked about let's try to win 20 this year, or anything like that. It was always let's evaluate after each game and see what we have to address. A lot coaches talk that talk. But do they really create an environment where that's the constant focus? I don't remember him telling us we had to get it done or we'd be in trouble. He was able to keep an even keel. He set the tone.
"You hear the word 'attitude.' No one lived that more in the program than him. He didn't let anybody see him down. Going back to the phone scandal, we played Pitt the next day on national TV with five guys. We went to the Maui Classic the next year, same thing, lost to Chaminade. He never once lost his confidence. When you work for a guy like that you never wonder if you're going to do it.
"We just stuck with the process. His immediate reaction to the phone scandal was, 'We did it, we're going to pay the consequences. And by the way, you're not perfect. You're 18-to-20-year-old kids. So go on CBS and own it.' He had that ability, no matter what hurdle it was. We were going to handle it as men and as a group. And we're going to walk out of that locker room with our heads up, no matter what."
RON CORTES / Staff photographer
Baker Dunleavy is Wright's associate head coach. Back then he was a guard for the Wildcats, playing behind guys like Randy Foye, Allan Ray, Mike Nardi and Kyle Lowry. The son of former NBA player and coach Mike Dunleavy, he'd been recruited as part of that prized 2002 group that included Foye, Ray, Jason Fraser and Curtis Sumpter. The ones that would eventually get everything headed in the proper direction. Even though Fraser, rated as the best prospect, was limited by injuries throughout his career. So it took them awhile to make enough of a difference.
"It was definitely humbling, for all of us," Dunleavy said. "We lost a lot of close games. Our inexperience showed. We didn't know what the Big East was like, or what the Big 5 was like. Coach can tell you all he wants, but the younger you are the more you listen to the hype. You learn. Coach wouldn't let us feel sorry for ourselves.
"It got a little chaotic. But the beauty of Coach is, you never knew about any of that. He never changed the tone of his voice, or the message. He was never going to let us believe there was any doubt in his mind. He coached with desperation. Still does. I think that's what makes him so good. When you're starting to feel good about yourself, he doesn't let you. When you're young, it's about you. The older you get, you realize you haven't done anything yet. Sometimes it takes that to bring guys together. If it doesn't pull you apart. It can be fragile.
"As a player you have no idea the pressure that's on the coach. There's going to be uncertainty. Our mind was just day to day. How do we get this thing going? We weren't even thinking about keeping it going."
"It got a little chaotic. But the beauty of Coach is, you never knew about any of that. He never changed the tone of his voice, or the message. He was never going to let us believe there was any doubt in his mind."
Baker Dunleavy
There were signs. In the 2004 Big East tourney, as an 11 seed, the Wildcats beat two NCAA-bound teams, sixth-seeded Seton Hall by a point and third-seeded Providence by three. They lost in the semifinals to Connecticut, which went on to win a national title. The following season, they were picked to finish seventh in the preseason poll. They would come in fourth and earn a 5 seed in the NCAAs, where they got to the Sweet 16 for the first time in 17 years. The season came down to a controversial call that went against them, and North Carolina eventually hoisted the trophy. But the 24 wins were their most since 1996-97.
In 2006 they went 28-5, got a top seed and made it to the Final Eight.
If you're looking for a definitive turning point, well, there was that 21-point win over unbeaten Kansas on Jan. 22, 2005, when 13,000-plus ignored a snowstorm and made it to South Philly the afternoon before the Eagles beat the Atlanta Falcons across the street to reach the Super Bowl. In their two previous games, the unranked Wildcats had lost on late free throws to Georgetown at the Pavilion and at Boston College.
"We felt good about that team coming in [to the season], but you just don't know," Wright said. "Somebody gets hurt, anything can happen...We'd just lost at BC, which was No. [9] in the country, after being up six with about 2 minutes and change to go. We did everything possible to lose. So we're coming out of that thinking, 'What can we do?' We might not do this, because you only get so many shots. We might still be too young.
"We're supposed to have a great crowd for Kansas, and then we get a blizzard. And I'm thinking no one's going to be at this game. So you're thinking what else can go wrong? We get Kansas in our building, and they might not have to deal with the crowd. But we played so well. We didn't just win. And we started to feel like, you know what, this team is pretty good. We hadn't done anything before that.
"I also felt like our fans, for the first time since our first year, when we beat UCLA here, they were fired up. They were the first season. Then the next two, when everything hit and you're not winning...I felt like that game helped get everyone excited about the program again."
Who knows how different it might have been to survive as unscathed now, with all the social media out there.
"They're kids," Dunleavy said. "They're reading what people are saying and maybe responding. You've got to educate your guys. I mean, [Wright's] email is public. You're accessible to everybody. And everybody deals with it in different ways.
"Fans have the right to how they want to judge their team. That's the fun of being a fan. As crazy as it seems, [Mike Krzyzewski] had seasons where people criticized him. Now this guy's saying X, your finger's on the button because I want to defend my guy. Even though it's the right intent, it's the wrong thing to do. It would have made it tougher."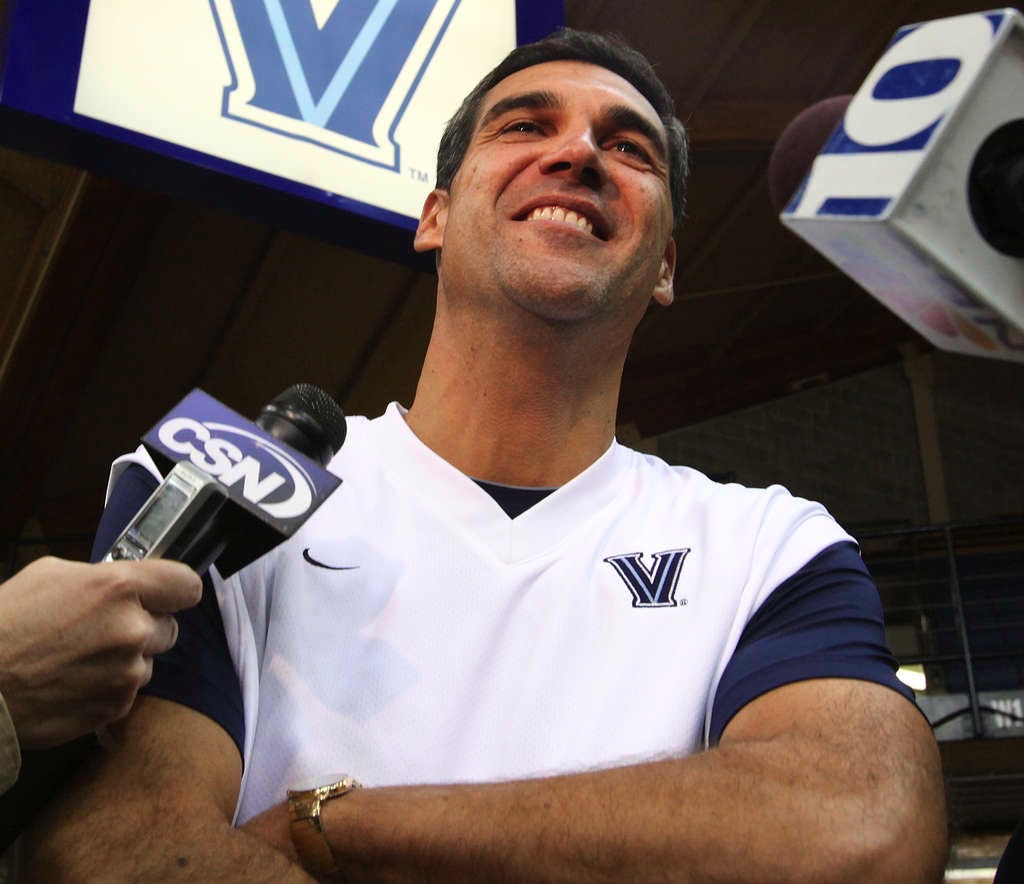 STEVEN M. FALK / Daily News photographer
Hey, there were some who were saying it might be time for Villanova to think about making a change after the Wildcats tied a program record for most losses by going 13-19 in 2011-12. Following a season that started 16-1 and closed with six straight losses.
Mostly, though, it's been good. Like beating three top five teams in 2012-13 with two sophomores and a freshman as your leading scorers. And in this new Big East, with the kind of players that are coming in, there's no indication that it's going to stop any time soon.
"Fans want success, and they want it to be sustained," Nicastro said. "Our expectations are high as an institution. And [Wright's] are high as a coach. It's difficult to do this year-in and year-out. If you go back 10 years and ask to put an expectation on it, I think this has been a surprise, for sure. One of the things he preaches is never take it for granted.
"Everything's relative. I'm sure John Calipari has some pretty high expectations. In every conversation I have with Jay, it's how do we get the program better today, and how do we best position it for 5, 10, 15 years from now. I'm not sure how many coaches think like that. He feels a responsibility to protect [the future]."
Added Gunning: "Winning was important, but it's not like he just showed up at games and went, 'OK, judge me on this.' He really believes in making the whole campus feel like they're a part of it. Does that maybe get you one more year? Maybe. Maybe somebody else would've been gone."
What we do know is, Wright's pretty much never looked back. He's had chances to explore other career options. But his wife is also from this area and likes it here. And their three children were in school [the youngest is now closing in on college age]. At 53, he's secure. In himself, and where he's at. Which makes it easy to forget the formative stages.
Unless you're the one who lived it.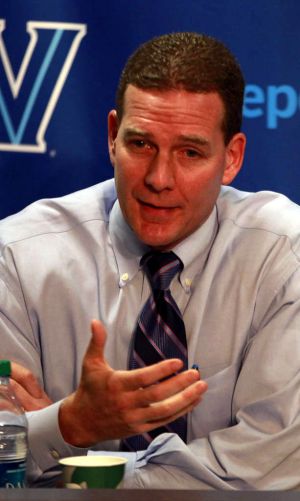 Vince Nicastro
"At that point, you hadn't done anything to even think it was possible," Wright said. "You've got to prove it to yourself, too. You can talk about it, but you do. You don't think of things like that until after you've done it.
"When I was at Hofstra, because I played at Bucknell, I had an idea of what you could be at that level. When you come to a place like Villanova, I didn't. Even with Coach Mass, you're just battling every year. I still think that way. It's not about job security. It's how successful can we be this year, every year.
"The administration expects us to get great players, conduct ourselves with class and be competitive every night. I don't care who you're playing, show we're good enough that we've got a chance. Now, fans expect a lot more than that. But a passionate fan base is a good thing. As long as they're not determining whether or not you keep your job. It's the same reason I was kind of hearing it after three years. It's all fair.
"If we don't make a great run this year," he continued, "there's going to be disappointment. You sign up for that. That's why you get 20,000 for Georgetown [in the Wells Fargo Center]. How many programs can do that? Only a few. So you can't complain. You can't have it both ways. I think the balance here is the best."
As long as you don't lose sight of everything that came before. Including the blemishes, large or otherwise.
"I have to be the storyteller," Wright noted. "They have to know that Randy Foye and Allan Ray never worked out in that practice facility (Davis Center). They practiced in Jake Nevin, or on the west campus in a little gym that didn't have an official-size court and no AC. They practiced with baseballs flying over their heads here ]in the Pavilion]. This isn't handed to you. We practiced at Haverford School, because the court wasn't down or there was something else going on on the court, like a volleyball game. One time Randy Foye had an asthma attack at Haverford and we didn't have the trainer there. So I drove him to the hospital, in my car. So I never want to forget...
"One year at Hofstra, I remember being down and out and recruits were telling me that other coaches were telling them I was getting fired. I was devastated. I didn't think anybody knew that. That was happening here, too. I was prepared for it then."
Still, there was a time...