Evolution of
a play-caller
YONG KIM / Staff Photographer
Kelly bites on his play card during a play review against the New Orleans Saints on Saturday, January 4, 2014, in the first round of the NFC playoffs.
As coaches and players tell it, Chip Kelly's potent up-tempo offense is the product of a relentlessly curious football mind.
Chip Kelly walked into Disneyland, down Main Street, U.S.A., past Sleeping Beauty Castle, through Tomorrowland, and smack dab in front of Space Mountain.
He did all this while playing imaginary games of football, as if he were on a field instead of in one of America's most popular amusement parks. Kelly didn't get on any rides. The roller coaster was in his mind and his companion was another coach.
Kelly and Dana Bible liked to talk football. Their conversations always drifted toward X's and O's, and the animated, Northeastern-bred coaches would often act out the plays they crafted in their heads.
It could be anywhere - their offices, their homes, a restaurant. On this day, it was at Disneyland. Kelly and Bible were in Anaheim, Calif., in the early 2000s for the American Football Coaches Association Convention and they were hungry.
"Why did we go there? I don't know, the heck, it was a good place to eat," Bible said. "We're in Anaheim, let's go see it. We didn't ride any rides. We didn't need that. We were too busy blocking and throwing touchdowns to each other."
When Kelly and Bible reached Space Mountain, they bumped into BYU coach Bronco Mendenhall and his family.
"I'm telling you, we're walking past Space Mountain in Disneyland, and [gosh] dang, Chip's throwing something deep to me, or I'm, [gosh] dang, throwing something deep to him," said Bible, who was the offensive coordinator at Boston College at the time. "We're not throwing an object, but he was the quarterback going through the footwork and I was the receiver running the route. And then he'd come out and tackle or block this.
"We were doing it as everybody was lined up to get on the rides, and there we were talking football."
"He's playing games all the time in his head. I think that's what all good play-callers do."
Gary Crowton
Kelly confirmed the Disneyland visit through an Eagles spokesman.
While the Eagles coach declined to rehash this particular experience, that Kelly loves to talk football is no secret. That football is his main preoccupation isn't, either. It is especially true of offensive play-callers. And Kelly is, possibly, one of the best ever.
While his innovations often draw the credit for his successes, they don't exist without Kelly's inquisitive mind. His quarterbacks have called his offense a simple one to learn and execute, but its effectiveness is often built upon speed, with the trigger-quick Kelly pulling the strings.
Coaches such as Bible and Gary Crowton, who Kelly said were instrumental in his development as a play-caller, said that he always was curious about why plays worked or didn't work. The quarterbacks who played for him, from New Hampshire to the Eagles, said that Kelly calls the plays as if he were ready to take the snap himself.
He is a former quarterback, after all, like so many offensive coordinators. And his offense is, in many ways, an extension of how he functions.
JOE GIBLIN / Associated Press
"He's a very demanding coach," former New Hampshire quarterback Ricky Santos said. "He has a process, he has a system, he envisions what his offense is, and if you're not doing that and it's not going as smooth as he would like, he's going to let you know."
Kelly has softened since going to the NFL. But the challenge is greater. He said defensive coordinators are much harder to scheme against. After two 10-6 seasons, Kelly gambled and traded for oft-injured quarterback Sam Bradford.
It was a calculated risk, like so many of Kelly's decisions. He said there was a 10 to 12 percent chance that Bradford would tear the anterior cruciate ligament in his left knee for a third time. But in the 27-year-old, Kelly has his most talented quarterback in the NFL.
"The clock in his head and the beat of his heart is up-tempo."
Dana Bible
Numerous innovative coaches fell short of winning a Super Bowl because they didn't have a quarterback good enough to implement their ideas. Kelly knows that it takes a village - that is why he often speaks in plurals or about the planning process.
"I think it helps," Kelly said when asked if his quick thinking aided his up-tempo offense. "But what we end up doing - because I think it's the thing that helps the most - is we get so many reps [in practice] and we get so many more opportunities to be in play-calling situations . . . we have had a lot of trial and error in terms of how we do it."
But it's not just repetition on the field. The plays are being played out in Kelly's mind on a loop. Or, as when he's with Bible, they're being mimed.
"Football is in his mind all the time," Crowton said. "He's always thinking things through. He's playing games all the time in his head. I think that's what all good play-callers do.
"I get accused of that all the time. I have seven kids, and when I'm with the family, it's like, 'Dad, come back to us.' But with Chip, he doesn't have to worry about that - he's always thinking that way and that's what made him a success."
That is why Sundays can't come soon enough for Kelly. He's spoken before about his distaste for waiting around until prime-time matchups. Given the opportunity to schedule the first day preseason game as far back as anyone could remember, he had the Eagles-Colts last month start at 1 p.m. Because why not?
When kickoff arrives he can finally stop playing the game in his head and articulate it to his players, in particular his quarterback. Kelly, restricted to signaling during his 14 years as a college play- caller, had never called plays into a headset until two years ago. The NFL first allowed quarterbacks to wear one-way radios in 1994.
Tale of Two Plays
Jeff McLane breaks down two formations from last year and how Chip Kelly used them to fool defenses.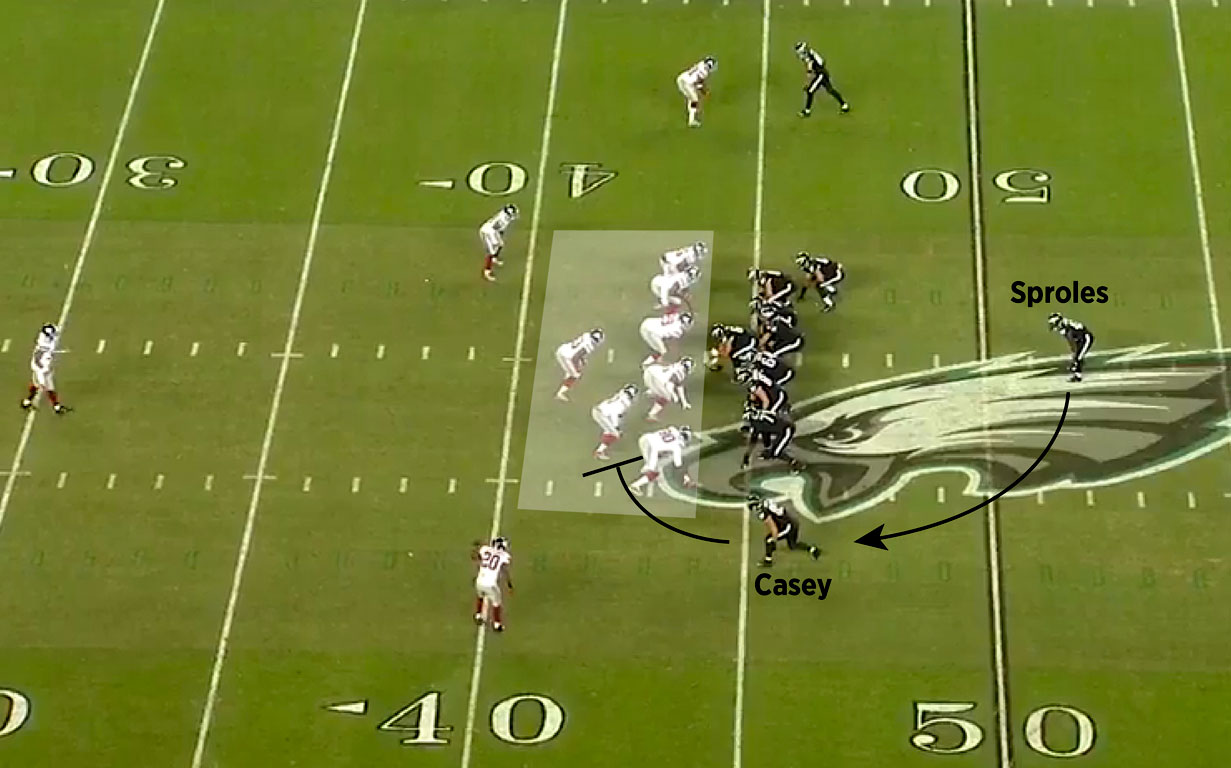 While Chip Kelly said he doesn't run plays to set up other plays, that doesn't mean he doesn't take advantage of a defensive tendency. All coaches have plays that look the same pre-snap and develop into something different. But not every play-caller knows when to pull the hook after the set-up play. For instance, the Eagles ran a play last October against the Giants that had Nick Foles handing off to Darren Sproles. They had three-tight-end personnel on second and 11. James Casey, lined up in the slot, had the front-side block on the linebacker as the Eagles center and right guard pulled left. The Giants stacked the box with eight defenders, though, and held Sproles to a 2-yard gain.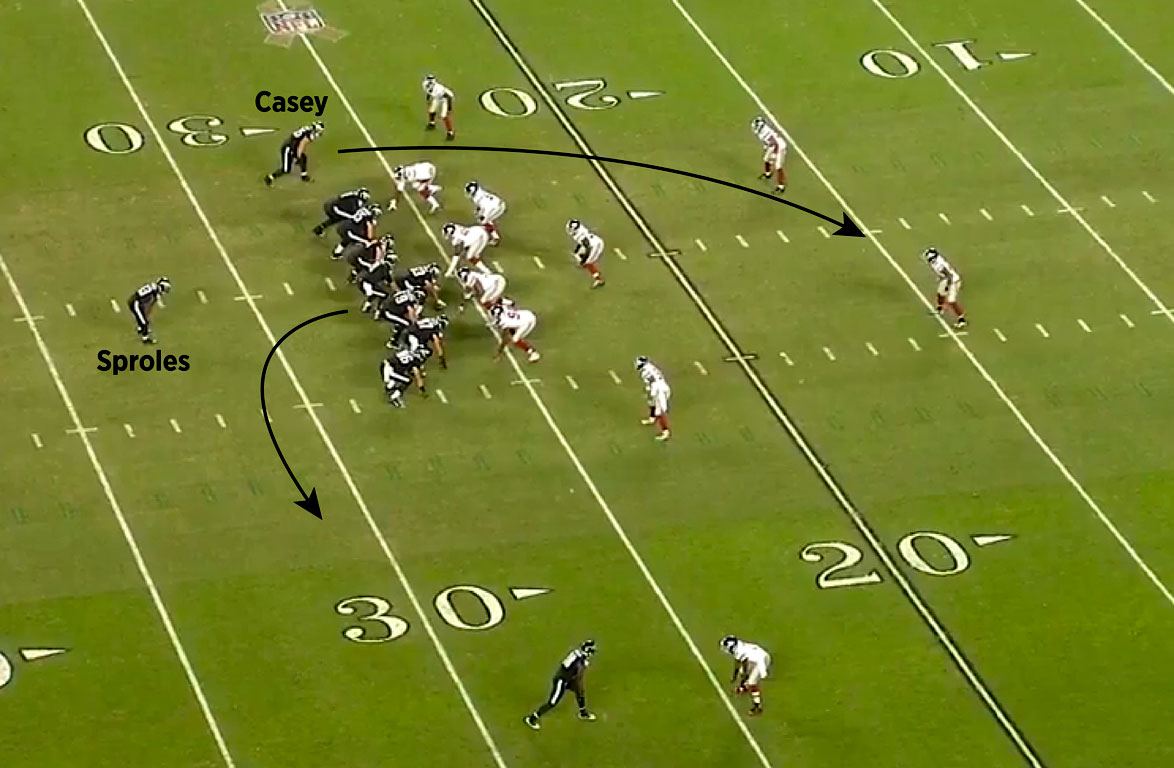 Two drives later, the Eagles were in the same formation, with the same personnel on second and 3 at the Giants 26. A series earlier, Casey sprang free out of the slot on a different play in which he ran a 20-yard out. But Foles missed him and threw incomplete to Riley Cooper. The former Eagles tight end didn't get on the field much in two seasons, but Kelly always seemed to know when to use him. Rather than block the linebacker on this play, Casey ran past him on a deep post. Foles, meanwhile, faked the handoff to Sproles and moved outside on a naked bootleg.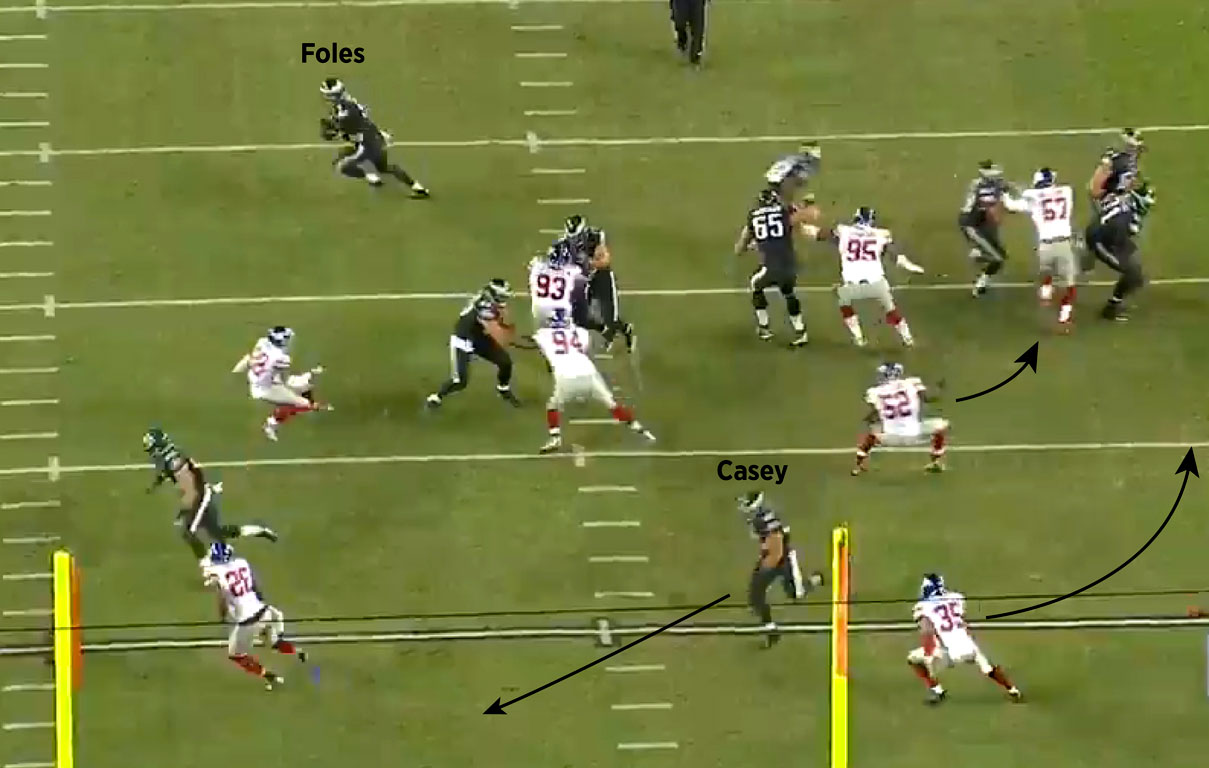 The Giants were playing with two deep safeties rather than the one they had the previous time the Eagles were lined up in this formation. The play-action understandably got the linebackers to bite right, but the safety responsible for Casey — former Eagle Quintin Demps — was caught flat- footed as Casey raced by him. Foles had all kinds of time and floated a 26-yard touchdown pass to a wide-open Casey.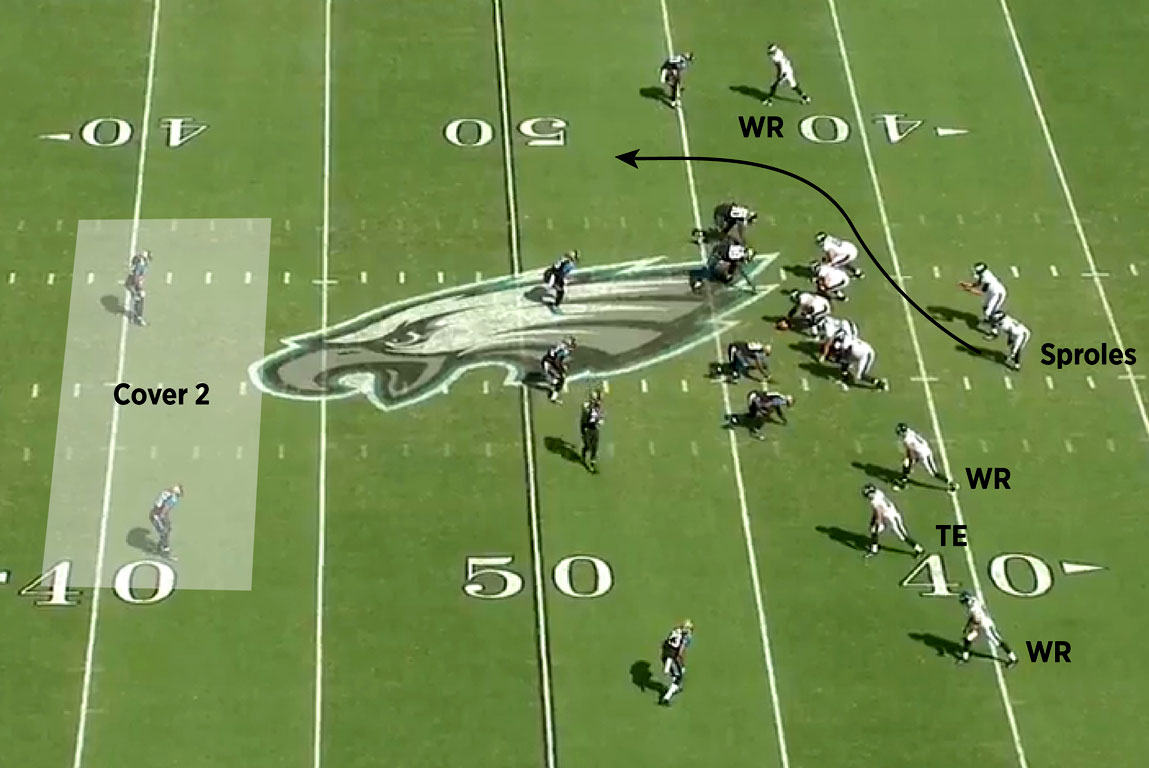 There's a "why" behind everything Kelly does, and the reason he likes to go up-tempo is because it can often keep an opponent in an "auto" defense. The Eagles trailed the Jaguars, 17-0, in last season's opener, but on their opening possession of the second half, Kelly kept his foot on the pedal. On this third- and-9 play, he called for a misdirection screen to Sproles. The Eagles were in "11" personnel (three wide receivers, one tight, and one running back) and the Jaguars countered with a basic Cover 2 umbrella. It's a standard defense on third and long, and the Jaguars stopped Sproles a yard from a first down.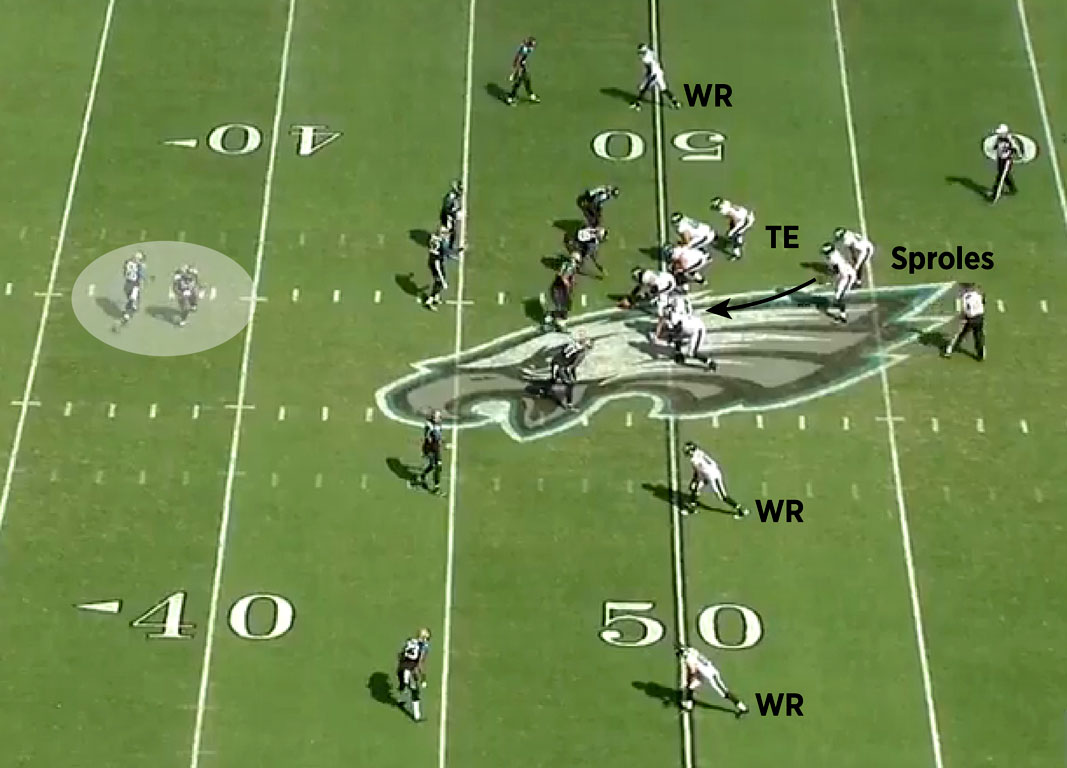 Kelly didn't waste any time deciding to go for it on fourth and 1. The Jaguars had no choice but to stay in their nickel personnel as the Eagles stayed in "11" personnel without any substitutions. The Jaguars weren't even set in their "auto" Cover 2 defense when Foles called for the snap.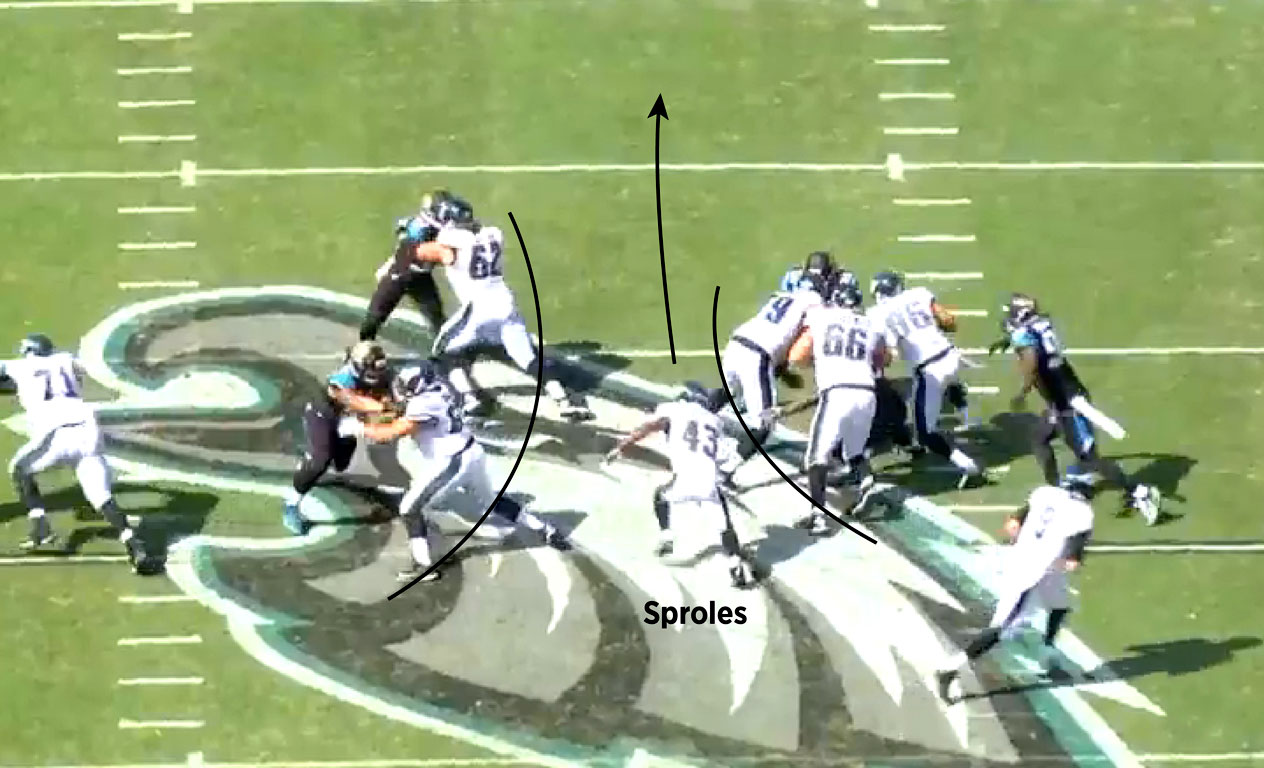 Kelly called for the Eagles' bread-and-butter inside zone run. With a six-on-five advantage in blockers to run defenders, Sproles had a giant hole to run through. The safeties reacted way too late. Sproles took the ball to the house for a 49-yard touchdown, and the Eagles were on their way to a comeback victory.
When Kelly communicates with his quarterbacks it's as distinctive as the "S 8" on the back of his play card.
"It happens fast and he gets really excited, especially if we hit someone with a big play and we're coming back fast, he is just screaming in your ear," Bradford said. "You can tell he's excited, he wants to get the play run. I think it's good because as a quarterback I can tell through his excitement that it's my job to push the tempo, it's time to get rolling. . . . 'All right, let's go, here we go, here's the next one.' "
Kelly will hold a laminated card that is roughly 14-by-11 inches over his mouth as he sends in the play, often with a "high-pitched scream," as quarterback Matt Barkley called it. Off to his side are the four signalers dressed in black except for the red wristbands meant to draw attention to their constantly motioning hands.
The signals are for all the players. The quarterback has Kelly in his ear calling the play or he can get it via hand signal. When Kelly came to the Eagles he spent much of the two extra weeks he was afforded as a new coach teaching the players the new signals.
"I was so uncomfortable with that because I hadn't done it since college," former Eagles quarterback Michael Vick said. "I'm saying to myself, 'I could be spending more time learning the offense than learning signals.' . . . I think me not wanting to do it took me a little longer, but I realized that if I wanted to be in contention for the quarterback competition, then I needed to learn."
It's all done in the interest of time as Kelly pushes the tempo.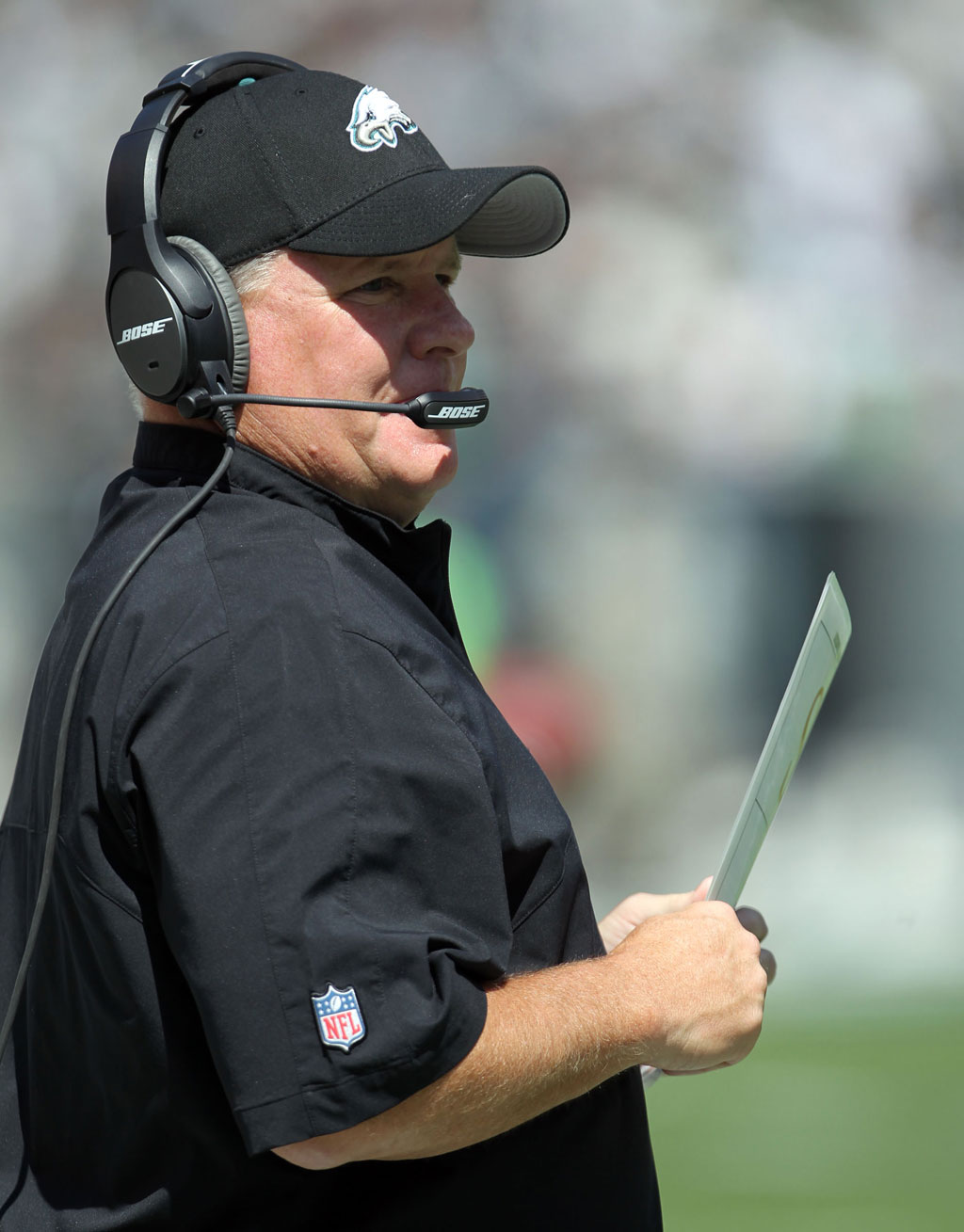 YONG KIM / Staff Photographer
Kelly watches his players play the Jacksonville Jaguars on Sunday, September 7, 2014.
"The key is if you run a lot of plays, you can call crappy ones," Kelly said. "So if you're a team that only runs 50 to 60 plays a game, you almost have to hit on every single one of your play calls. If you can get 85 to 90 play calls, you can have 25 to 30 not very good calls, but they tend to forget about them because then the next play got your first down."
There is a brief pause once the official whistles for the 40-second play clock to reset. Kelly then clicks the remote button attached to his right hip and rattles off the play call. He has up until 15 seconds are left on the play clock before an NFL employee switches off the headset.
Kelly doesn't need that long. His calls are shorter than most. Many West Coast systems, like Andy Reid's, for instance, double his verbiage.
"In Chip's system it may have been maybe six, seven words max in the entire play," Vick said. "With Andy, we sometimes had 12, 13 because we called the play, the motion, the formation. And if we had to tag somebody in the route, we would have to call out the play we were tagging."
"He can see what's going to happen, and so the calls are already in line."
Sam Bradford
Kelly makes the call once, maybe twice. If the quarterback doesn't hear it, there's a signal he can give to get it again. The fast-talking Kelly never hems and haws, the quarterbacks say.
"It's decisive," Bradford said. "It's like he already has four or five plays in his head. It's like he can see what's going to happen, and so the calls are already in line. Whether it's a run or a completion, whatever, he's already got the next one in his mind. That's what it is and we're going."
If there's time for more information - remember, the Eagles are typically moving at warp speed - Kelly will give the quarterback a "heads up." He doesn't want to overload him with too much data.
"He's either giving him the red flag, 'Watch out for . . .,' or he's giving him, 'I'm calling this play looking for this . . .,' " Bible said. "So here he goes, 'Rhino-82, heads up on the free safety, deep post.' What he's saying to you, quarterback, is, 'I'm calling this thing because I'm looking for the post.' He's either doing that or he's going, 'Rhino-82, watch out for the free safety blitz.' "
Bible had traveled up and down and all around the coaching ranks by the time he wound up at Boston College in 1999. The Philadelphia Eagles had just fired him after less than one year as offensive coordinator in coach Ray Rhodes' doomed final season. He met Kelly at one of Boston College's summer camps and they connected almost immediately.
Their friendship continues. Bible, 61, is retired and living in San Diego. He said they haven't seen each other as often, but they still talk on occasion and the conversations always revolve around football, much as they did when they were both living in New England.
Kelly had just become New Hampshire's offensive coordinator in 1999 and he was still formulating his offense. He still is. But he sought out Bible and other like-minded coaches as he tinkered with ideas.
They spoke often over the phone, but Bible remembered the meetings that took place in person and in a public setting. There would be a clinic or a camp and they'd end up grabbing a bite to eat afterward. No topic was off-limits and they eventually got to know each other's families and inner circles, but football was the bond.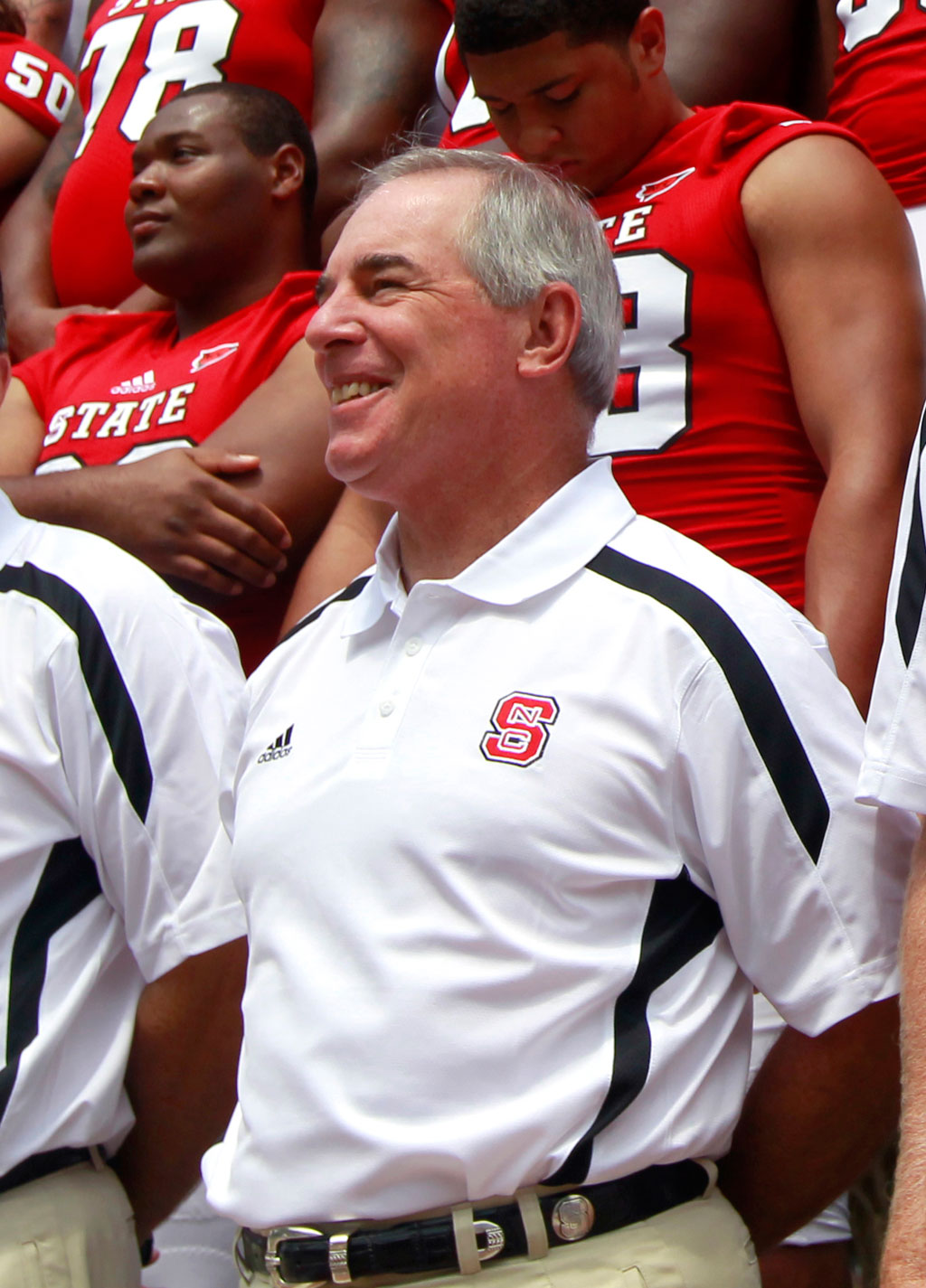 AP Photo/The News & Observer, Ethan Hyman
Kelly and Dana Bible didn't ride any of the rides at Disneyland. Instead, they ate and talked football.
"There never was a time when we were together that there wasn't some discussion, or somebody wasn't drawing something up, or somebody was blocking some chair, or running some route in a restaurant," Bible said. "It just never did."
Bible said he still has cocktail napkins with plays he drew up with Kelly. He said he could still recall the odd stares they would get when they pulled all the chairs out from a table, lined them up, and started blocking them.
"Yeah, we would get looks," Bible said. "First off, let me tell you, we weren't at the most high-class places. We weren't going to five-star restaurants. We were in there with the families, guys getting off work. But once they figured out we were a couple of coaches, because we could get pretty animated, they wouldn't feel threatened and it was no big deal."
Crowton first met Kelly in the early 1990s. He was the offensive coordinator at New Hampshire and Kelly was beginning his coaching career as an assistant at Columbia. New Hamsphire was hosting a coaches clinic and Kelly was the only one who showed up for Crowton's workshop.
"One of the things we both have in common, and I felt that earlier in his career and early in mine, our minds are going 100 miles an hour," said Crowton, now the offensive coordinator at Southern Utah. "And sometimes our minds are going faster than our mouths can talk. The thought's there, but to get it out sometimes and verbalize it, it's almost easier to do a signal than it is to say it."
Kelly jumped to Johns Hopkins and back to New Hampshire, where he played defensive back in college, and along the way visited the similarly aggressive-minded Crowton at his every new stop - Georgia Tech, Louisiana Tech, the Chicago Bears, BYU, and ultimately, Oregon.
Both had gravitated toward the spread offense when it wasn't yet in vogue and both had begun to experiment with the zone-read, although the pass-happy Crowton didn't dare bring either to the NFL during his brief, late-1990s stint with the Bears.
Kelly visited with other coaches, too. It was all done in the name of preparing to be a play-caller.
"With anything, there's always a trial and error," Kelly said. "There's always got to be a first time that you do it, whether you're riding a bicycle, or calling plays, or writing an article, whatever. There's a process in it and I think there's an experience that's gained through in how you did it."
When longtime New Hampshire coach Bill Bowes retired after the 1998 season, new coach Sean McDonnell promoted his offensive line coach to offensive coordinator. Kelly, 35 at the time, was ready, but he hadn't yet settled on a base philosophy.
"At that time, we were changing offenses every week," former New Hampshire quarterback Ryan Day said in June. "We would go from Run and Shoot to the Wing-T to the Veer. One week we threw it six times, the next week we threw it 65 times. Coach kind of had a laboratory there."
Day, now the Eagles quarterbacks coach, said more recently: "I think he liked to keep defenses on their heels and mix it up a little bit, but also I think he was trying to figure out what best fit the guys that we had on our team."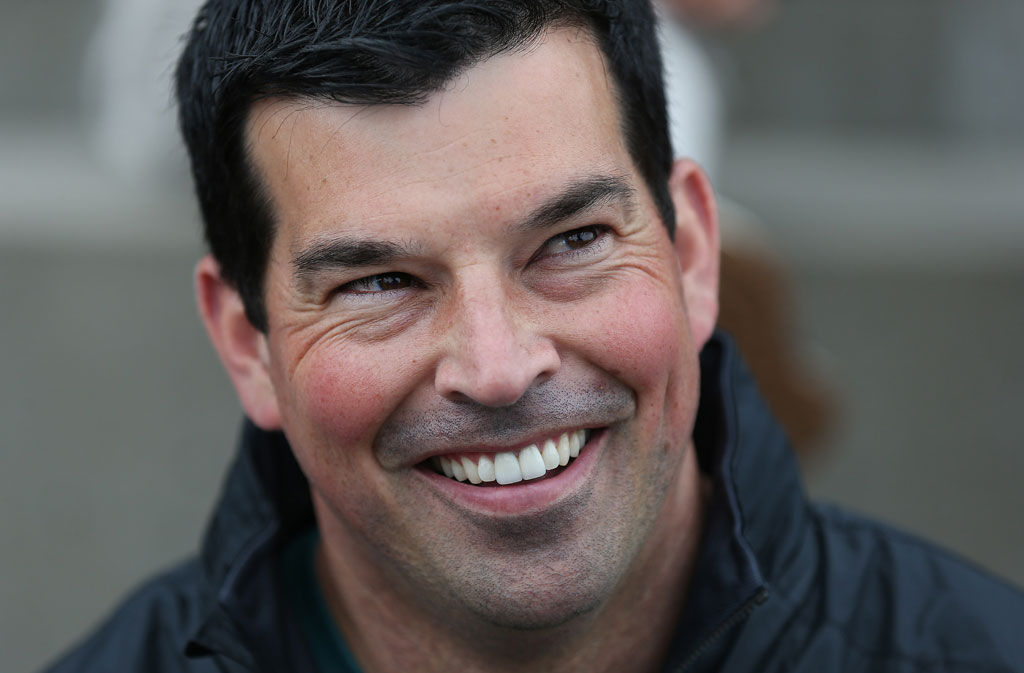 DAVID MAIALETTI / Staff Photographer
Quarterback coach Ryan Day talks with the media at the NovaCare Complex on June 3.
Bible said that as Kelly was searching for a blueprint for his offense they initially worked on finding defensive constants through film study. When is a defense predictable and how do you get the defense into that personnel or coverage so that you know if you make the right call your chances for success are greater?
Defensive constants often led to discussions about risk and reward and how with every call you had to weigh whether the potential gain was worth the potential risk.
"The risk-reward is such that you're sitting there, you look at the defense, you take it apart, and go, 'Two out of three times in this situation right here, this guy is sitting in this defense. That's a real tendency. That's a real constant there. We're going to take advantage because I got the play those two times he's got that same defense called. I've got the play that can go to the house. Touchdown,' " Bible said.
It's about playing the percentages based upon where defenses allocate their resources. If they're playing in a coverage with two deep safeties, more times than not you're going to run the ball. If they're stacking the box and have more numbers than you have blockers, you throw it.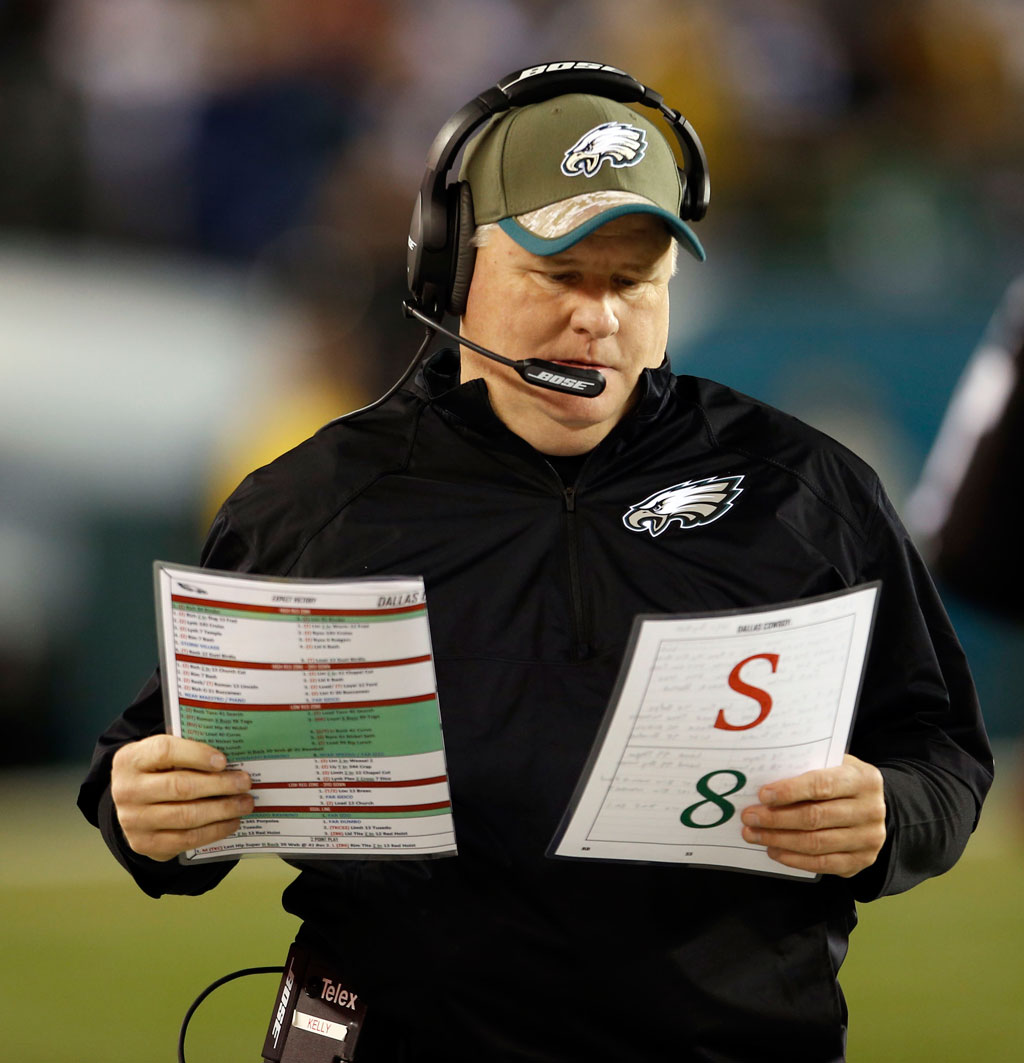 YONG KIM / Staff Photographer
Kelly looks at his play list against the Dallas Cowboys on Sunday, December 14, 2014.
"You're talking about percentages. Those are constants," Bible said. "I would say that Chip's risk-reward is different than many other coaches that he competes against. I think that makes him unique. Some people would look at it and say, 'He's more of a risk-taker, this and that.' I don't think he looks at it like that."
Kelly's offenses at New Hampshire compiled yards and put up points in his first five years as coordinator, but the offensive explosion didn't produce a winning season until 2004. That's when Santos took over for the injured Mike Granieri. But the transition wasn't smooth for the then-redshirt freshman.
Santos recalled his fourth start, when he threw for an Atlantic Ten-record 538 yards in a 51-40 win over Villanova. He was the toast of the state and garnered national attention and was feeling pretty good about himself until the next day during film review, when Kelly graded him out at 57 percent.
"I wasn't making my reads. I was on the backside of plays, scrambling, doing stuff that was great, but at the end of the day, maybe the flat was open, or someone was open that I didn't see because I wasn't on the right side," Santos said. "Chip said, 'These are the criteria that I coach and grade my quarterbacks by and you didn't meet X, Y or Z.' He just had a vision."
Kelly's vision for his offense included an up-tempo element from the start. Day said that the goal was to run as many plays as possible and that there were games when New Hampshire surpassed 100. It wasn't as sophisticated as it would become, but the objective was to pressure a defense into a constant and increase the odds for success.
Crowton called it an "auto defense." It's mostly a base defense, which isn't difficult to decipher through film study. But defenses will also have "auto zones" and "auto blitzes" they can check into against the no-huddle. Those can be decoded, as well.
When defensive coordinators are forced to play it safe they often play soft for fear of being beaten deep. Kelly gladly takes those yards underneath. That is why he preaches to his quarterbacks to take what's given, even if it's a 3-yard check-down.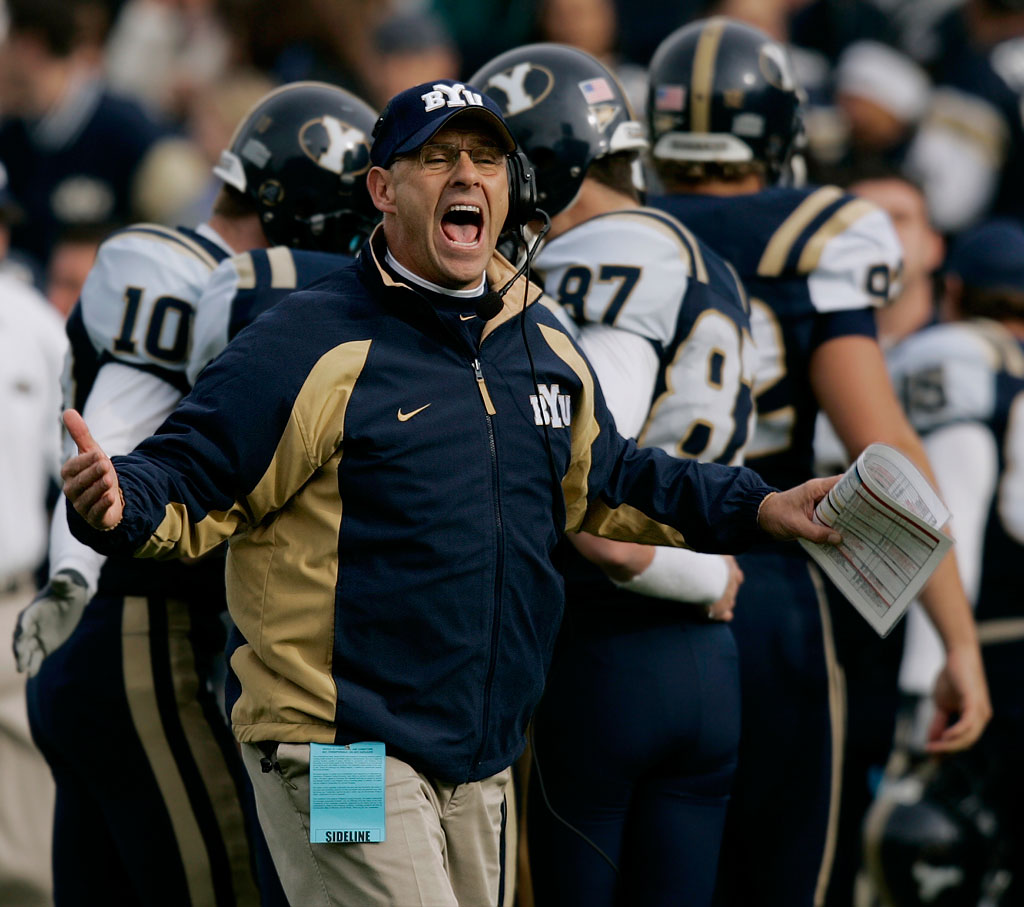 DOUGLAS C. PIZAC / Associated Press
Football is on Kelly's mind all the time, Crowton said.
If a defense can adjust to the tempo, however, and a defensive coordinator can successfully mix in an exotic blitz or coverage, it can put an offense on its heels.Bible said he advocated having various tempos, like former Bengals coach Sam Wyche, his mentor and another play caller ahead of his time, had to keep defenses off kilter. Kelly plays with the speeds, certainly if he's ahead and wants to kill the clock, but it goes against his nature.
"The clock in his head and the beat of his heart is up-tempo," Bible said. "That's just him. So it's not a surprise that he gravitated to up-tempo. You can't have the success and go at the speed that he has gone if your mind isn't razor sharp or quick as can be.
"In a play-calling deal, you have to be three moves ahead. The play that you're calling now is old news. It's the three plays ahead with the four potential scenarios that could arrive to get you there. That's just how his mind works."
Kelly's up-tempo had come a long way since the start, when it was more of a glorified two-minute drill. The offense would line up and the quarterback would signal and bark out code words to the players. Kelly would frantically signal in the calls. He once told Crowton that he had to call a timeout on himself because he had so many thoughts racing inside his head.
But he implemented a signaling system at New Hampshire in which he relayed the play, the formation, and the protection to the quarterback and the receivers with only a few hand gestures. He also introduced one-word calls via signals that encompassed everything.
So "Alpha" would mean to speed up, run such-and-such play, and the quarterback had a progression read, for example. Or "Nitro" - Crowton said he calls his "Turbo" - would repeat a successful play at up-tempo speed hoping the defense hadn't figured out what went wrong or have time to make a correction.
"It was a different way of thinking and it allowed him to signal fast because it wasn't that complex," Santos said. "I also think it allows kids to maybe play earlier in his system because they can pick it up a little sooner."
When Crowton left for LSU after two seasons with the Ducks, Oregon coach Mike Bellotti wanted to replace him with someone who ran a similar-style spread offense that used the zone-read. Crowton recommended Kelly.
"I said, 'This is the guy that you need to keep doing what we're doing,' " Crowton said.
Kelly found different ways to go even faster at Oregon. He wasn't necessarily the first to come up with some of the innovations, but the result was spellbindingly original.
He started using signs that would send in a play to the entire unit. He had multiple signalers communicating with hand gestures. They wore red wristbands and motioned frenetically - like a third-base coach on amphetamines. Many college teams now employ the tactic.
It was nearly impossible to figure out who was doing what. When Kelly thought teams were stealing signs, he implemented a placard system that had various pictures - Phil Mickelson, maybe, or a word like "GLYCERINE" - to indicate the play, or not.
"When you find out later a lot of it was gimmick, you didn't know at the time," Santos said. "He had two guys holding up cards and you're like, 'What does it all mean?' It was most likely to distract the other teams to not find out who their real signaler was."
It was also a distraction from the man actually calling the plays - Kelly. He was a born play-caller, according to Bible and Crowton. He knew precisely when to dial up a play that may seem risky at the time but was actually carefully set up by his previous calls.
Crowton said that he admired the way Kelly sets up the naked bootleg play, for instance. He'll call back-to-back zone-read runs and then hit a defense with the naked - a play in which the quarterback fakes a handoff and rolls out without a blocker. But rather than have the quarterback dump to the open man in the flat, Kelly protects the edge a little longer to get the safety to bite, which opens up the backside post.
"You're playing one play at a time, but you can't be thinking only that play," Crowton said. "You've got to be ahead in the game and anticipating what's going to happen. It's kind of like a fighter. He's thinking all his moves through before he throws his punches."
Kelly dismissed the notion that he's making a call to set up others or that he's thinking steps ahead.
"I've never heard that either because I don't know how you think two, three plays ahead when the play you just ran, you don't know what the outcome of that play is," he said. "You could get sacked. Say it's second and 2. I'm not thinking about my next call because I don't know if it's a first down on the next call.
DAVID MAIALETTI / Staff Photographer
Eagles' head coach Chip Kelly talks with Mark Sanchez, left, during the 2nd quarter. Philadelphia Eagles play the Washington Redskins at FedEx Field on December 20, 2014.
"I could be sacked and now I've got to make a call that's a third-and-12 call, or I've got a first down and now I've got to make a first-down call."
Kelly said he wants only pertinent info in the moment - down and distance and where the ball is placed in between the hash marks. He said that he'd have discussions with his assistants in between series and at the half about possible trends - "nevers" and "always," he called them - but that they seldom exist in the NFL.
"There are certain percentages you can play, but a lot of people, especially when you play teams that play you twice, very rarely does a team that you play in your division defend you the same way they did in the first game," Kelly said.
"The key is if you run a lot of plays, you can call crappy ones."
Chip Kelly
Kelly often likes to say "We're going to do what we're going to do" when he talks about an upcoming opponent. In essence he sticks to the core tenets and strengths of his offense as he devises a game plan. But the script is tailored to the defense. And it isn't overloaded with plays.
"If you go into a game and you listen to people say, 'We have 150 plays up for this game.' Well, 'How did you practice them all?' " Kelly said. "You only have X amount of days. You're getting 50 snaps three days in a row, that's 150. Did you run every play once and did you run it to the right and did you run it to the left and did you run it against that defense that you were anticipating getting?"
Come Sunday, after the week of work, the game should be the easy part.
"He knows what he wants," Eagles receivers coach Bob Bicknell said. "At some of the other places I've been you're kind of searching, you're grabbing for things. Well, we know what we're trying to do. There's not a guy on our staff that doesn't know what we're trying to do."
Kelly is getting bits of information from offensive coordinator Pat Shurmur, who is upstairs in the coaches box. Sometimes another assistant may click in over the headset if he has something pertinent to add. Eagles offensive line coach Jeff Stoutland, who is down on the sideline, said he'll typically walk over and deliver a message.
"I'll grab him quick and say, 'Hey this is what they're doing,' or I'll show him a picture and then he gets it," Stoutland said. "That's why he's so smart. He just puts it right in his brain. He's like, 'I got it.' And then as the game goes on and when he sees an opportunity, he gets after it."
The airwaves are not to be cluttered with multiple voices. Kelly, for example, has never clicked in when the defense is on the field, according to defensive coordinator Bill Davis. He also doesn't call plays in practice. There is a script and Shurmur radios in the call to the quarterback.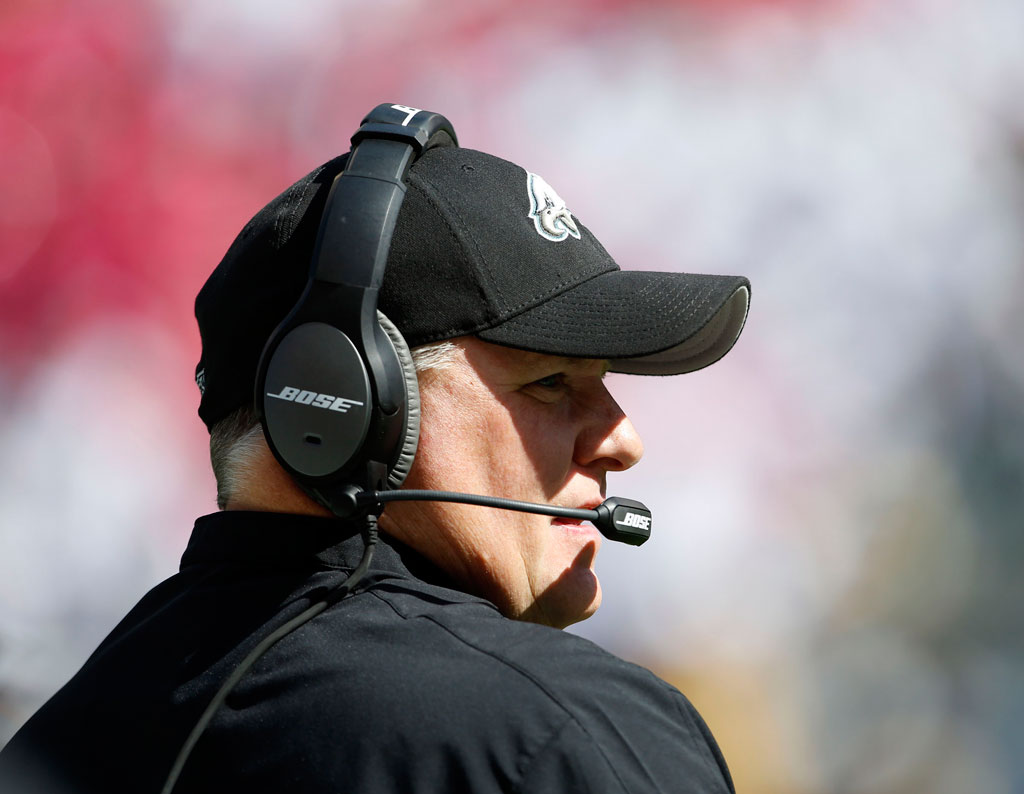 YONG KIM / Staff Photographer
Kelly coaching the Eagles game against the St. Louis Rams on Sunday, October 5, 2014.
"I have to referee," Kelly said, "so it's very difficult to blow the whistle and talk to the quarterback at the same time."
Kelly's quarterbacks aren't given the option to audible out of a play. Barkley, who was traded to the Cardinals last week, recalled in the preseason game against the Colts when Kelly had the wrong play for the down and distance, but ran it anyway.
"He kept saying a curse word, 'Ah, screw it, screw it, screw it! Just run it!' " Barkley said.
"And we picked up the first down anyway. But it works when you're going fast."
Kelly's quarterbacks still have great responsibility, obviously. And to execute the proper read, particularly in package plays that have multiple options after the snap, the quarterback must be able to process the defense and make the correct throw all in a matter of a second or two.
More often than not, the quarterback already knows what to look for after a week of preparation. Santos didn't have the benefit of the headset at New Hampshire, but he said the offense started to click in his second season, when he knew exactly why Kelly would call a certain play.
"He'd call it in, and I'd go, 'OK, I remember the meeting now, he wants to call this because he's expecting a three-deep coverage,' " Santos said. "That was an easy look and then you would adjust to the other stuff off it."
But Kelly will occasionally toss in a curveball. For instance, last month against the Packers, when the Eagles faced a fourth down inside the 5-yard line, Kelly called for a play that had tight end Trey Burton getting open over the middle on a crossing route.
"That was a call that we hadn't talked about or ran that in practice for about three weeks," Bradford said. "No one on the field was expecting that to work and then he calls it and we score a touchdown."
Santos said that Kelly used to always scream at him, "Figure it out," and that he never completely understood what he meant. Now the receivers coach at New Hampshire, he finds himself often echoing his former coach.
"It was essentially a way to tell your players, 'Take ownership and listen, nothing is given to you. You have to have the ability to think on your feet and come up with answers yourself,' " Santos said. "Coach is not going to be there with you every second of the day to help you find that."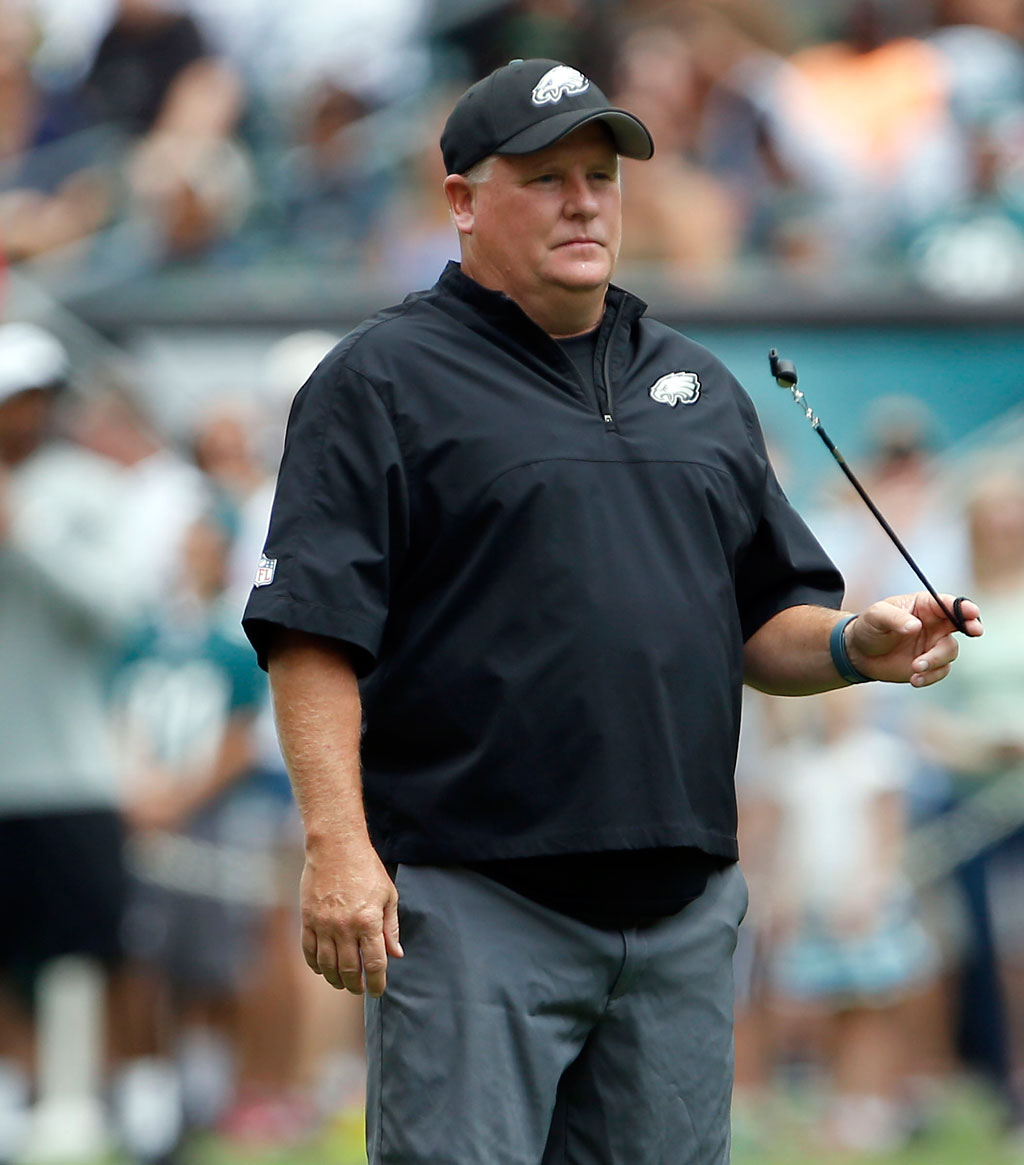 YONG KIM / Staff Photographer
Kelly during training camp at Lincoln Financial Field on Sunday, August 9, 2015 in Philadelphia.
Kelly can't do it all himself. Michael Vick, Nick Foles, and Mark Sanchez all had their triumphs over the previous two seasons, but something was missing. Bible said that Kelly's system would hit full throttle when he could find a quarterback, like Santos, who could complete his thoughts.
"He was scary because - he had a good arm, not a great arm; he could run, not great - he could finish Chip's sentences. And it was wild," Bible said of Santos. "When the quarterback knows why Chip is calling it and he can start the sentence in a call and they can finish it, this thing will go."
Bradford admitted that he wasn't yet there.
"I'm still getting a feel for that," he said. "I think that once you are that in-tune with the play-caller and . . . you have that type of relationship, I think that's great. I think that's something that we can get to. But I think that's still a work in progress right now."
Kelly's offense and his ever-curious mind continue to evolve, as well. He'll likely never stop riding the Space Mountain, or running routes in his mind or through an amusement park.
"Rather than look at a play in rote memory, like a lot of coaches tend to do, Chip spends his time on the whys of the play," Bible said. "He's digging and scratching and clawing - 'Why is this play good? Why is this play practical or functional in this kind of setting?'
"He always has a thirst and curiosity to find out whatever he's doing - the drill, the play, the call - what's behind it? And he'll never stop searching for it."