DAVID MAIALETTI / Staff Photographer
When Chip Kelly arrived in Philadelphia last year, little was known about the enigmatic coach from Oregon. Over a year and a half later, he remains a mystery to most - aside from his fast-paced offense.
By Mark Saltveit | for philly.com
Chip Kelly is an athlete. A jock. Most coaches are, of course. But something about coach Kelly's style – his look, his football innovations, his philosophical musings, edgy humor, jousting with reporters – can make him seem more like a stand-up comedian, or a business-management guru. What kind of jock talks about "informed acquiescence" at a press conference?
Don't be fooled. Kelly played three sports in high school – football, hockey and track – and he was tough as nails: a quarterback turned safety in football, a hard-checking forward in hockey, and part of a record-setting relay team in track. He was fast as a player, just like he is as a coach.
Look at the black-and-white photo of Kelly as a college player – the prototypical Irish tough guy who you don't want to piss off. As one Eagles insider said, "I don't think Chip has backed down much in his life. He's up for any challenge."
Kelly is a bundle of paradoxes – an egoless man with boundless self-confidence, disciplined and relaxed, intense and goofy, fun and moralistic, a guy who doesn't care about money and makes $6.5 million a year. He innovates at the highest level of football by emphasizing basics and teaching fundamentals. He is all football all the time, yet when asked on his NFL questionnaire who has the most important job in football, he wrote: "No one. It's a game."
Chip Kelly has mastered one of the fundamental truths common to all religions and philosophies: If you love your work, then hard work isn't hard. It's fun. And success comes naturally.
The key to understanding Chip Kelly is understanding New Hampshire.
Like the state, he has a well-deserved reputation for innovation and flexibility, but Kelly's roots are as rock-solid as they come. After all, New Hampshire's official nickname is "The Granite State."
Kelly, 50, was born and raised there. His friends and family are still in the area, and he owns a house in Rye, N.H. (He got a permit to expand it a bit in January of 2013, right after signing with Philadelphia.) When the Eagles broke for their monthlong hiatus this summer, Chip told reporters he planned to visit family and friends. He was spotted two days later, jogging around Portsmouth.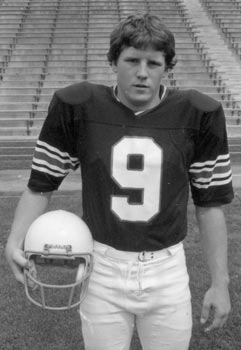 Courtesy of University of New Hampshire
Charles "Chip" Kelly was born in Dover, N.H., and attended Manchester Central High School, a diverse, inner-city school where, today, 30 different languages are spoken. In 2011, he was inducted into the school's Hall of Fame.
Kelly progressed to the University of New Hampshire, in Durham, where he played quarterback and safety for legendary coach Bill Bowes from 1981 to 1984, in the middle of Bowes' 27-year reign as UNH's longest-tenured and winningest head coach.
He graduated with a Bachelor of Science degree in physical education from UNH in 1990. The six-year gap between the end of his playing days and his graduation is one of many Chip Kelly mysteries. (The coach told reporters this year that, when evaluating draft prospects, he looks for players who have graduated, because it's a sign of their ability to complete tasks.) All we know is that he began coaching football during this time, as an assistant at his old high school.
After graduation, he worked briefly as an assistant coach at Columbia (1990-91, first defensive backs, then offensive line) and Johns Hopkins (1993, as defensive coordinator).
Then he returned to his alma mater as an assistant coach (1992, 1994-2006), working for his old coach, Bill Bowes. Kelly remained at UNH until 2006, when he became the offensive coordinator and heir apparent to Mike Bellotti at the University of Oregon.
When Bowes retired in 1999, Kelly became offensive coordinator under his friend Sean McDonnell, who has been UNH's coach ever since. That's 42 years and counting with just two head coaches for the Wildcats. One thing about New Hampshire guys – they're solid. Steady. Big on fundamentals. Not big self-promoters. Suspicious of flashiness and media guys.
New Hampshire natives are also clever and innovative, as you had to be to pull food out of the cold, unforgiving land. Because the rock-solid landscape made farming tough, a lot of settlers moved on to more fertile land in warmer climates. But the ones who stayed are tough-minded, not the type to give up easily.
I visited Manchester last summer and asked for a good, inexpensive sandwich place. Everybody recommended Caesario's Pizza on Elm Street, a classic down-home, no-frills sub shop. Nothing fancy about it.
"I wouldn't put it past him to, if things didn't work out or if something crazy happened, go to a lower level ... or to a high school and coach"
UNH coach Sean McDonnell
It's the kind of place that's so down-to-earth that it starts to seem judgmental. I felt pretentious there just because I was wearing glasses – not trendy specs, just any glasses at all. Stereotypically, I expected they would have a limited menu, just the same standard subs you'd get anywhere – meatball, salami, maybe veal parmigiana. I was wrong.
The guy at the counter steered me to the Nir, the special of the day. The Nir is a sub with chopped eggplant, eggs, olives, tomatoes and some other ingredients I missed, chopped up and marinated, maybe. I'm not sure. It was incredible, delicious, healthy and inexpensive. Hell, it was vegetarian, though nobody said anything about that.
This was not self-conscious innovation used to lure in trendy costumers or save a struggling business. It's the kind of fundamentally solid innovation that leads to great results. Caesario's seasoned fries have been named the best in New Hampshire every year since 2002.
But, like Kelly, there's much more to it.
Although Philadelphia is not his hometown, Kelly is exactly where he wants to be right now – in the NFL, in a blue-collar city, trying to win football games, and competing at the highest level. He's having the time of his life, even if Crab Fries don't taste the same as the seasoned fries at Caesario's.
Just eight years ago, he was perfectly happy as an assistant coach at UNH, making $60,000 a year even after 14 years of success. And when his NFL run is over, as it will inevitably one day be, his friends wouldn't be surprised if he came back home and picked up where he left off in 2006.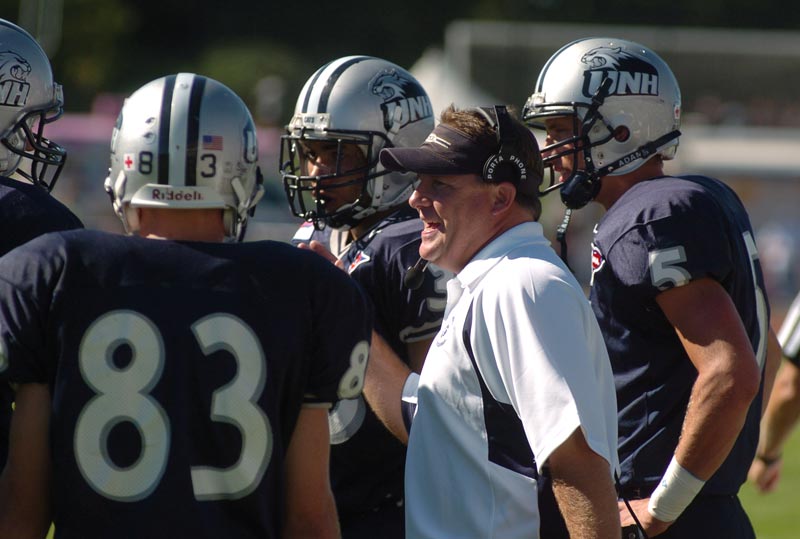 Courtesy of University of New Hampshire
UNH coach Sean McDonnell, one of his oldest friends, told the Oregonian newspaper,
I wouldn't put it past him to, if things didn't work out or if something crazy happened, go to a lower level and coach, or to a high school and coach. We talk about things like that. ... That's how he thinks. And he'd be very comfortable.
Coach Kelly is not a nightclub guy. He doesn't have a big group of casual friends and networking contacts. He has a small circle of very close, loyal pals, his old buddies from New Hampshire, including his brother Kevin, Dave "Doc" Wheeler, Mike Zamarchi, and University of New Hampshire football coach Sean McDonnell, whom he worked under for 14 years.
Just before the team's monthlong break this summer, a reporter asked Kelly if he had plans to visit any other coaches, something he frequently did while at UNH. His answer was ambiguous.
"I'm going to go catch up with a few dudes if I can," he said.
It wasn't clear if he meant coaches or friends, but for Chip there isn't much of a difference.
Many, if not most, of his close friends are also football or basketball coaches. It's not so much a "coaching tree" as it is a regional clique, with roots at Boston College, UNH and the New England Patriots. And while he was at UNH, he was known for traveling during the offseason to pick the brains of spread offense coaches all over the country, even at the high school level.
Some remain at the high school or assistant coach level, while others have risen to the highest levels of the profession, but that doesn't affect Kelly's friendship. He seems to treat them all with equal respect and affection.
Over the years, Chip has accumulated some new coaching friends as well, including Tony Dungy (two Super Bowl victories), Jon Gruden (only one), and Erik Spoelstra (who won his first of two NBA championships at age 42).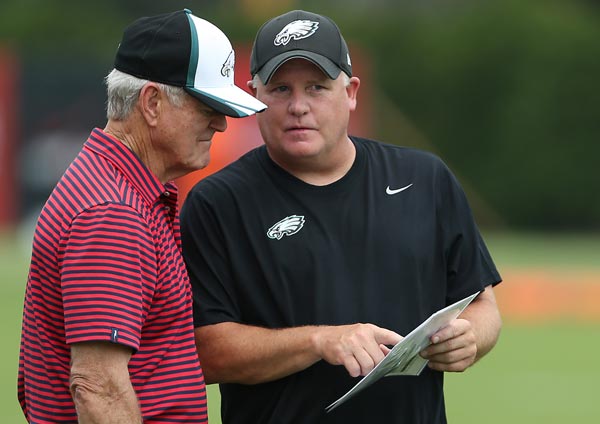 DAVID MAIALETTI / Staff Photographer
Dick Vermeil, former Eagles head coach, talks with Chip Kelly during Philadelphia Eagles Training Camp
This off-season, Kelly has spent time with Ohio State's coach Urban Meyer (two national championships). They've been buddies since Meyer was at Utah (2003-04). According to CSN Philly's John Gonzalez, Meyer was the one who suggested defensive coordinator Billy Davis – the best man at Meyer's wedding – to Kelly.
Kelly also visited Washington State coach Mike Leach – known for helping develop the "Air Raid" spread offense – for a couple of days down in Key West. On the Andy Staples podcast, Leach said that Kelly tracked him down at the famous bar Captain Tony's, celebrated by Jimmy Buffett in the song "Last Mango in Paris," and they ran into NASCAR driver Dale Earnhardt Jr. Of course they did. But even with the renowned racer in the mix, the focus stayed on football.
Other coaches now seek out his advice, too.
When Kelly was still at Oregon, renowned Patriots coach Bill Belichick – who has three Super Bowl victories as head coach, plus two more as an assistant – brought him in to Foxboro three times to discuss his tempo offense techniques and one-word play calls. The Patriots used these tactics to ramp up their already powerful offense, steamrolling Denver in the divisional round of the 2011 playoffs, 45-10.
Belichick knew Kelly through Bill O'Brien, who is now the Houston Texans' head coach – and actually interviewed for the Eagles' job in 2013. From 2008 to 2011, O'Brien was the offensive play caller for the Patriots, as QB coach and later offensive coordinator. His connection to Kelly goes back much further, though, according to the Boston Globe's Greg Bedard:
Kelly had become friendly with former Patriots offensive coordinator Bill O'Brien while both were rising in the college ranks. The UNH coaching staff would visit Brown, where O'Brien was coaching, for pickup basketball games and to talk X's and O's.
O'Brien coached at Brown in 1993 and 1994, which gives you an idea of how far back these connections go.
These friendships are personal as well as professional. Kelly calls his old buddies after their teams play games to see how they did or congratulate them on victories. Even after he moved to Oregon, 3,000 miles away, they stayed close. Last March, when his old high school basketball team beat rival Memorial High in the state playoffs, coach "Doc" Wheeler – a friend for three decades – got a congratulatory text from Chip within a half hour, while the team was still in the locker room.
Wheeler told the New Hampshire Union Leader:
I'm speaking for many people who know Chip; he's really a friend for life. No matter where he is, he's always keeping in touch with friends back home in Manchester. I can't say I was surprised to hear from him because that's Chip.
In Oregon, Kelly was not known to make any close friends outside of football, though he did bring his defensive line coach, Jerry Azzinaro ("Coach Azz") and several other colleagues back to Philadelphia. But Chip doesn't fit the stereotype of the obsessed, isolated workaholic by any stretch. He seems to know how to "turn it off" and relax despite his long hours.
The coach, known for studying business-management methods to use with his teams, hobnobbed in the off-season with the CEOs of some very famous west coast corporations, as well as running with literal bulls in Pamplona, Spain.
Back in Eugene, though, he was known to eat dinner at down-home burger joint Dickie Jo's, usually by himself, and didn't seem to be looking for new best buddies. (In case you're wondering, Dickie Jo's is greasily delicious but not considered health food under any definition of sports science.)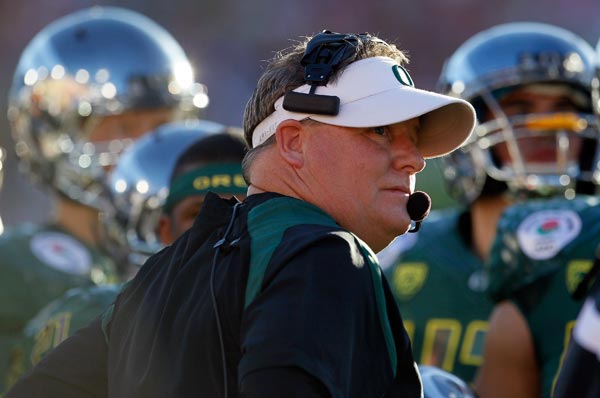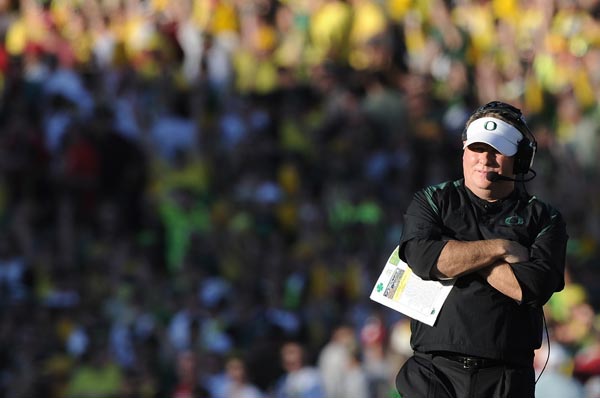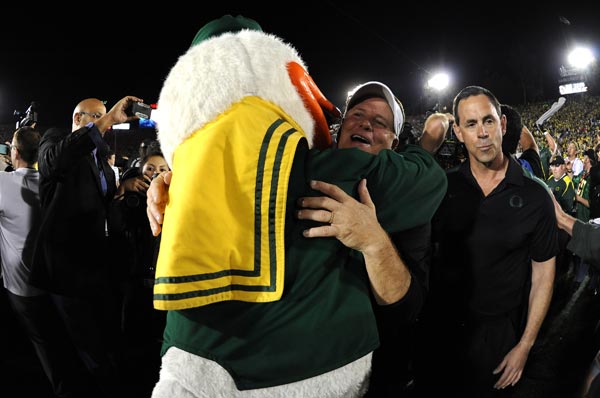 University of Oregon head coach Chip Kelly (from left): Jeff Gross/Getty Images, Harry How/Getty Images, Harry How/Getty Images
Chip was always generous with money, and once he took the Ducks job, his paycheck got bigger. More than 50 times bigger. So it wasn't a problem to fly out his old New Hampshire pals – many still assistant coaches with lower middle-class incomes – to see the occasional Oregon game, like the 2013 Fiesta Bowl, which the Ducks won shortly before he came to Philly. Kelly even negotiated a luxury box for his friends into his contract.
A lot of celebrities and big shots get lost when they "make it," twisted by all the yes-men and gold diggers and (temporarily) fawning reporters. Not Chip. His crew of hard cases is more than happy to give their old friend crap and keep him honest, and Chip is ready to throw it back. I talked about this in my book, "The Tao of Chip Kelly." As his old friend Kevin Mills said, "He's the king of trying to bust people's chops."
Kelly doesn't just text or call his buddies. He shows up. According to the Oregonian newspaper, he flew back to New Hampshire twice just in early May of 2012, during the off-season of his last year in Oregon.
The first was for UNH's Blue-White Game, during which locals acknowledged his presence with a hello and a knowing wave and afterward he provided McDonnell with a spot-on and solicited analysis of where the Wildcats can improve. (Go figure – Kelly said they weren't playing fast enough.) The second time was for a funeral of a local high school coach – Kelly postponed a scheduled safari in Africa to be there.
If Chip seems uninterested in making a lot of new friends, it's probably because he already has a solid group of loyal, longtime buddies who share his passion for pigskin.
MICHAEL BRYANT / Staff Photographer
Kelly doesn't like to talk about himself. He leads by example.
The qualities he looks for in his players inadvertently explain a lot about him, and his personal experiences in football have shaped his ideas on how to run a team.
This is true for all coaches, of course, but since Kelly challenges the conventional wisdom so often by substituting his own values – especially in building his rosters – it matters (and reveals) more.
When drafting and signing new players, Kelly looks for intelligent, fast, tough and versatile players. Often guys who have changed positions, often ex-quarterbacks. Team players who don't put themselves first or complain. Hard workers, gym rats, leaders, video geeks who over-prepare.
Those are all excellent descriptions of Chip Kelly as a high school and college athlete. He played hockey as well as football, converted from quarterback to safety, and impressed his coaches. He may not look fast, standing on the sideline with a plastic play sheet hiding his headset commands from lip-reading opponents, but look at his leg muscles if you get a chance. Kelly flies all around the Eagles' practice field, and his recent jump into an ice-filled pool for the ALS Ice Bucket Challenge showcased his deceptive athleticism.
Though he was a star quarterback and runner in high school, as well as a tough, hard-working hockey player, the 5-foot-9-inch athlete was not imposing at the college level. Back in 2009, his college coach Bill Bowes told Josh Peter of Yahoo Sports that Chip "wasn't very big, and he didn't possess the outstanding speed that you'd like to see with a guy of his limited height." According to Peter, Bowes moved Kelly to defensive back, and he never started a college game. That may be where he learned that "big people beat up little people."
But he was tough, a trait he has praised in Nick Foles, Jason Peters and Brent Celek, among others. Bowes told Sam Donnellon of the Daily News that Kelly "looked a lot younger than his age. But he was a tough kid, and he would hit you." And he was relentlessly dedicated to studying film and learning plays.
After graduation, Bowes hired him as an assistant coach.
The experience seems to have taught Chip the value of both the traits he had (toughness, intelligence, grit and dedication) and those he lacked (size and speed).
Kelly never blames referees or weather conditions for his teams' difficulties. Even when Lane Kiffin's Trojans were caught red-handed, cheating against Oregon by letting air out of their footballs for easier catching, the coach laughed it off. He'd never brag about that attitude, but this is what he said about LeSean McCoy at a June 19th press conference:
One thing I love about him is he takes responsibility for everything he does. If he doesn't have a good day, he doesn't make excuses about it. He learns from it and moves forward.
This is part of his old-fashioned stoicism, which coexists paradoxically with his fast-talking, highly articulate rambling at press conferences. But when the subject is serious, he clams up. Kelly bristled when reporters pressed him on why he kept silent about releasing DeSean Jackson.
I'm not gonna discuss when we release players. I don't think it's fair to them. I've got a ton of respect for anybody who's ever played in this league and anybody who's ever played for us. So to get into specifics about why we released one player or didn't release another player, that's … I'm never gonna do that. It's not my style and not what I'm gonna do.
There's a bit of the macho cowboy there. When times are tough, you grit your teeth, pour one out for the fallen, and move on. Keep your disagreements in-house.
The coach also values players who are natural team leaders, from Connor Barwin to Jason Avant, DeMeco Ryans and Jason Kelce. I call that " building a team with rebar." Malcolm Jenkins was not a star at New Orleans, but he studies film like a maniac and organizes his fellow defensive backs.
Chip's high school coach, Bob Leonard, told Zach Berman he was he was able to focus on the defensive line because Kelly, too, acted as the "quarterback of the secondary."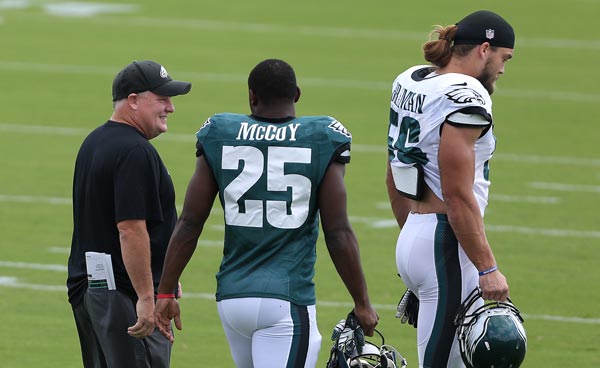 DAVID MAIALETTI / Staff Photographer
"He was always there. I didn't have to worry. I always had a safety who was going to be where he's supposed to be. That's what his strong point always was in high school. The job got done. …He had that ability to look at what was happening and do some things. And he motivated other kids."
In Philly, Kelly is building a team of players who share his core values and traits – hard work, intelligence, peak performance, film study, leadership, and putting team over ego. Linebacker Connor Barwin told Jeff McLane:
I think he is a gym rat. He's got no kids. He has a girlfriend. But this is what he does, and this is what we do. So I think those are the kinds of people he wants to be around.
Kelly confirmed this in his annual roundtable discussion with beat reporters, this May.
The more people get along and share the same vision and aspirations, the more you're going to get to where you want to get to. If you have people who have different agendas in terms of what they're trying to get accomplished, that's not going to help the cause.
"Where you want to get to," in this case, is the Super Bowl.
The jury is out on whether this strategy is the best way to get there. A team of like-minded players can also be seen as a bunch of yes-men who make the team by kissing the coach's butt instead of, say, being talented or delivering on the field.
Releasing DeSean Jackson may have been a big mistake in football terms – we'll know by mid-November – but it certainly demonstrates that Kelly backs up his talk with action. Most coaches pay lip service to team unity but few are willing to toss aside a Top 10 NFL talent to get there.
Kelly is no hypocrite. Players consistently describe him as straightforward and honest with his opinions. In June, he told a bunch of beat reporters that "I was probably a pain in the [butt] as a little kid, I would imagine. I questioned everything. I've always been a 'why' guy."
With his players, he encourages the same attitude. Running backs coach Duce Staley told Martin Frank of the Delaware News Journal:
He answered the whys. When you as a player want to know why we're doing something, he answers that. You don't get that everywhere. ... It makes the locker room happy and those guys understand.
In 1999, Sean McDonnell took over as coach at UNH, and Kelly's comments to the local paper describe what he admires in his mentor's values.
Sean is ingrained in Coach [Bowes]'s big qualities - honesty, integrity, being straightforward, recruiting character kids, hiring people with great character. From that standpoint, I don't think it's going to change.
You're unlikely to get Chip to talk about himself. But the team he is building, from stars to staffers, says a lot about him.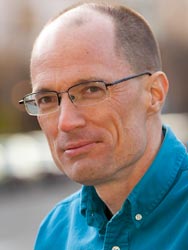 CHIP KELLY Q&A
Author Mark Saltveit took part in a live chat Thursday on philly.com to answer your questions on all things Chip Kelly. Read the full transcript here.
Born in Dover, N.H., to Paul and Jean Kelly, Chip may have gotten some of his analytical and constantly questioning attitude from his father, a retired lawyer. His three brothers – two older – all played sports as well, which is a great seedbed for any competitive personality. And one of his brothers served in the military – perhaps one source of the coach's great respect for America's armed forces.
Kelly has never married, and there are lots of articles that talk about him being "married to football," which in turn has led to tons of ignorant Internet chatter about whether he's gay, or needs to "blow off some steam," or maybe just needs to find the love of a good woman (such as the person asking). Stop. This is all ridiculous.
On July 24, 2008, Kelly announced his engagement to Karen "Kobi" Biagini, a University of New Hampshire grad who works as a merchandiser for Nike to this day. Those plans seemed to fade away after he got the Oregon head coaching job, though nothing further was announced.
More recently, Chip has appeared at NFL functions with an attractive and accomplished, somewhat younger lady, probably the girlfriend that Connor Barwin mentioned in passing. She is not a public figure, and he has chosen not to talk about the relationship to the media, so I'm going to respect that.
But don't worry about the Chipper. He's doing just fine.
Kelly is decisive, at play as well as work. In July 2012, he spent his vacation doing something he'd long dreamed of – running with the bulls in Pamplona, Spain. He treated a group of friends from New Hampshire, plus his then-receivers coach Scott Frost, to a trip over and back. They ran and suffered no injuries, unlike the tourist gored this year while taking a selfie. Chip's crew definitely won that day.
Kelly's nickname at Oregon was "Big Balls Chip" due to his aggressive play calls, including 2-point conversions and going for it on 4th down. You won't see many fake punts prettier than this one against Oregon State, and the Ducks won a huge showdown against Andrew Luck's Stanford Cardinal team in 2010 by turning around a 21-3 first quarter deficit with a surprise onside kick early in the 2nd.
His risk-taking reputation was so big that many fans were disappointed last year with Kelly's "caution," despite two plays with Brad Smith sliding from WR to QB, going for it on 4th and 1 from his own 24 against the Vikings, and a 2-point conversion try from the "Swinging Gate" formation (which failed due to a missed block by rookie Lane Johnson).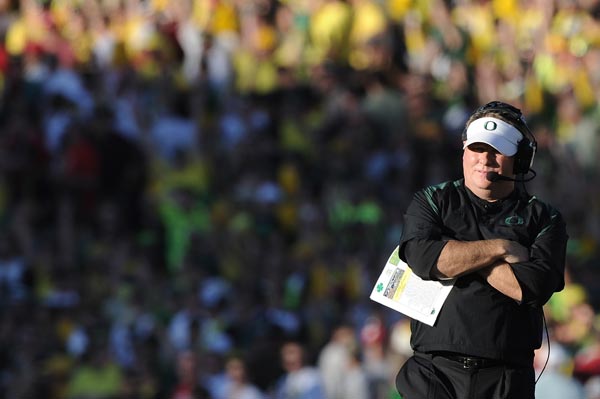 Harry How/Getty Images
There's an important distinction to be made here. Kelly is a risk taker, but not a gambler. He doesn't roll the dice on these plays. He takes risks that others wouldn't, but only after carefully sizing up the situation. (He had another exciting vacation scheduled in 2012, an African safari, but canceled the trip to attend a New Hampshire coach's funeral.)
Take the onside kick against Stanford, which turned around a dire situation in a crucial game. Kelly and his staff had noticed in their film study that two front men on Stanford's kick return team were not waiting to see the kick before they broke and ran backwards. So they practiced the onsides all week, aiming at those two players.
At Oregon, Kelly often said that he didn't worry about going for it on fourth because he was confident that the defense could step up and shut down opponents, even after a turnover on downs. Last year's Eagles defense did much better than anyone expected, but you couldn't honestly say the same thing about them. As defensive coordinator Billy Davis fills gaps, especially in the secondary, you can expect to see more gutsy play calls in the future.
It's not that Chip is a human computer, precisely calculating the odds. He has an intuitive aggression, based on years of experience and study.
Chip's former star receiver at UNH, David Ball, put it this way:
"What I love about him is – I compare it to a quarterback. There are two types. Both have the 'it' factor. But one will go for it, and the other won't. One is an 'Xs and Os' type, while the other is instinctual combined with the 'Xs and Os.' He's that. He's the guy you know in certain plays, it's not even in the read but he's going to go for it. ...
"He's Brett Favre. I want that in a coach. I want someone who is playing every game to win, even if it costs him a few. That's what I want. I'm sure he sleeps pretty well at night knowing that he goes and believes in what he does."
Take Marcus Mariota, Chip's final (and best) quarterback at the University of Oregon. He was a little-known recruiting target and didn't even start until his senior year of high school, languishing behind a strong incumbent. Now, along with Florida State's Jameis Winston, the Hawaiian is considered a front-runner for this year's Heisman Trophy award.
Chip Kelly offered him a scholarship before Mariota ever started a game, according to Jason Vondersmith of the Portland Tribune. His sense for the game gave him the guts to make an offer to a junior riding the pine because he could see his potential. And Chip's decisiveness sealed the deal.
The coach's riskiest move since coming to Philadelphia was releasing DeSean Jackson, for what he described as "football reasons" (as opposed to, say, "diva-like behavior reasons.") He hasn't shown a moment of doubt over the decision or concern over replacing Jackson's offensive output, and when reporters pressed him on the point, Kelly seemed puzzled that anyone might think he would.
"We'll be all right. We factored that into our decision. We looked at everything when we made our decision."
By the way, when Chip and his friends ran with the bulls? They walked the course the night before, and – I kid you not – studied film of previous runnings to prepare.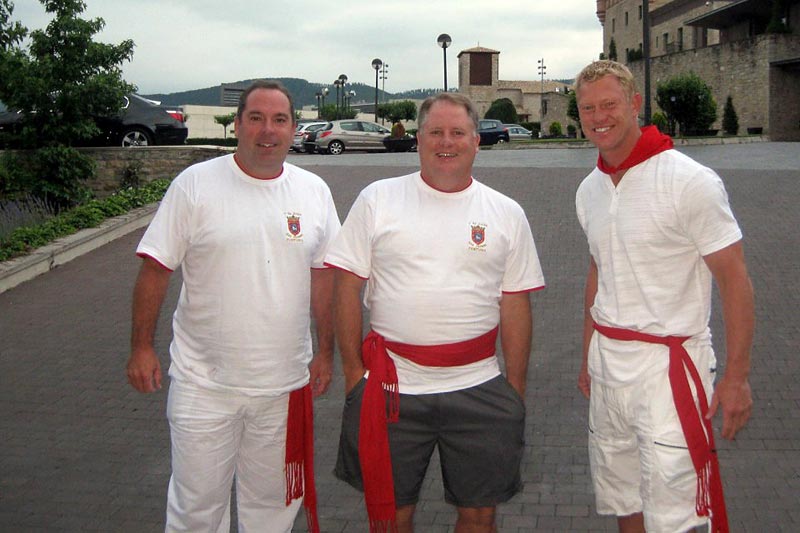 Photo via twitter.com/coach_frost
When Kelly signed with the Eagles, his college program was facing NCAA sanctions for recruiting violations.
Oregon had a lot of success signing players from Texas during the his tenure, nabbing running back LaMichael James, wideouts Bralon Addison and Josh Huff, and (briefly) quarterback Johnny Manziel.
In 2010, the Ducks paid $25,000 to a man from Texas named Willie Lyles and his one-person firm "Complete Scouting Services" – twice what it paid any other scouting service – shortly after Texas running back Lache Seastrunk signed with the Ducks. (LSU and California were also customers of Lyles's service.)
Seastrunk never actually played for the Ducks. After redshirting a year, he was stuck behind LaMichael James and Kenjon Barner on the depth chart, and transferred to Baylor where he went on to have a successful collegiate career. (He was released by Washington after training camp this fall and is currently out of football, as are James and Barner.)
Lyles mentored a number of Texas high school stars who ended up at Oregon, including Seastrunk, James and Tra Carson (who later transferred to Texas A&M). The NCAA's final report found that Lyles had crossed the line from public scouting service to Oregon recruiter, as he joined Chip on recruiting trips and followed up with phone calls and visits to the players.
Lyles gave the Ducks inside information, such as which players were not interested in Oregon and which adults in their lives (grandparents, coaches) were most important in the player's choosing process.
At the extreme, Lyles provided one player (presumably Seastrunk) with Ducks apparel, lodging for all-star football games the player performed in, and small amounts of cash, which totaled "approximately $100" according to the report. He also helped a player take the SAT.
Scouting services are supposed to provide quarterly written reports, but Lyles's information was mostly oral. When questions about Lyles were first raised, he copy-and-pasted together some outdated scouting reports and sent them to the Ducks, but Chip admitted under questioning that Lyles didn't provide the required written reports.
"Yes, I understand. The services weren't totally provided in terms of what we should have got."
The NCAA found that, while Kelly did not know about many of the violations, he had failed to properly monitor his program. They took away three of the Ducks' scholarships for three years, put limits on the team's recruiting, and required Kelly to "show cause" before being allowed to take any college coaching job for 18 months. (He had already left for the NFL by that point, though he nonetheless flew back to attend the final hearing in April of 2013.)
Many have charged that Kelly fled Oregon in the face of sanctions, the way Pete Carroll did at USC, but that's a flawed argument.
Oregon cooperated with the investigation throughout and had negotiated a summary disposition with the enforcement staff, though the committee rejected it in favor of a full hearing. A full year before Kelly left Oregon, CBS Sports was reporting that the likely summary disposition would minimize any sanctions.
Kelly discussed head coaching jobs with Tampa Bay in 2012, and Cleveland and Philadelphia in 2013, but turned all three down and appeared likely to remain in Oregon.
He ended up with the Eagles only after they sweetened the pot – presumably, by giving him final say over roster decisions, rather than more money. But no one knows for sure.
If he was sweating out the sanctions and trying to flee college, he played a mighty cool hand of poker with the Eagles in those negotiations.
The final NCAA report made it clear that this was no USC-type scandal:
"There is no information, in the record that Lyles coerced or directed any prospect to ultimately choose Oregon. That said, Lyles did provide a meaningful recruiting advantage by orally providing background information about prospects to the coaching staff and also by serving as a conduit to facilitate communication with prospective student-athletes. …
"Football staff members were not aware that the manner in which they were using scouting/recruiting services was impermissible. Nonetheless, the recruiting advantage that was gained via the oral reports from scouting services personnel was more than the minimal."
That was not the only controversy during Chip's years with the Ducks. Oregon had a number of player scandals, especially in 2009-2010.
Running back LaGarrette Blount punched a Boise State player after a tough loss in Chip's first game as coach. Kelly suspended him for the year, but later allowed him to return for the final few games of the season.
The following off-season was a nightmare, as Les Bowen recently described. Nine players got into legal trouble, including starting quarterback Jeremiah Masoli. Chip kicked him off the team but only after his second arrest. Masoli's guilty plea to stealing laptops out of a fraternity house had not been enough.
Oregon sports columnist John Canzano thinks that was a key turning point for Kelly, who was only in his second year as head coach at any level.
"He was struggling with discipline. He was struggling with a fundamental element of being a head coach. I think that summer before the 2010 season was huge for his own growth. I saw his philosophy change, where he suddenly stopped putting one player in front of the program."
Kelly began to crack the whip, even with his biggest stars.
Instead of hurting the team, this seemed to draw them together. With a sophomore wide-receiver-turned-quarterback named Darron Thomas at the helm, the Ducks pulled together and went 12-0 in the regular season. They eventually lost the BCS National Championship game by three points to Cam Newton's Auburn Tigers on a last-second field goal.
Bowen makes a strong argument that the 2010 season is a key to understanding Chip Kelly's conflict with DeSean Jackson. He quotes Oregon reporter Adam Jude:
"You're either with him or you're not. There's no in-between with him. …People [have] wondered if professional players would follow him . . . I don't know if 'overbearing' is the right word, but he's certainly demanding of his players. If you fall in line and if you're with him, [those] players tend to love him. If you cross him, you're probably not going to be in uniform very long."
Coach Kelly is quiet about religion, as with everything in his personal life. Football is one of the most religious institutions in modern life, with a lot of players and coaches talking and tweeting about Jesus daily. Kelly is respectful of faith but doesn't point to the sky after victories or thank his Lord and Savior. You might guess he's Catholic or vaguely Catholic, as a good Irish kid from Manchester who played CYO ball would tend to be, but you'd be guessing.
My book, "The Tao of Chip Kelly," drew parallels between his approach to football and the ancient Chinese philosophy of Taoism, which underlies a lot of Asian martial arts. But I was careful to say that I have no evidence Kelly has read or even heard about Taoist thought. It wouldn't be surprising. In the 1980s when he was in college, many a dorm room hadthe Jane English/Gia-Fu Feng translation of the Tao Te Ching on the shelf, and Kelly quoted a Zen proverb to an Oregon reporter once.
But it's not something he talks about publicly, and his use of Taoist principles doesn't prove anything. Any valid philosophy will be rediscovered again and again throughout history. Every culture on earth has some version of existentialist ideals, like "seize the day" or "live each day as if you're going to die tomorrow," for example. Coach Kelly may have rediscovered the principles on his own.
His main spiritual interest seems to be the philosophy of leadership and business innovation, rather than religion. This spring he responded to a fairly standard question about players by saying it "depends on what model of organization you want. Do you want blind obedience or informed acquiescence or self‑governance?" Not your standard coach's platitude.
That turned out to be a concise summary of business ethicist Dov Seidman's best-selling book, "How: Why How We Do Anything Means Everything." (Seidman himself retweeted Chip's quote.) Chip Kelly has quoted other business books, including "Grow the Bamboo" by Greg Bell, and last spring he went to see author Simon Sinek talk about his book "Leaders Eat Last: Why Some Teams Pull Together and Others Don't."
If there is a direct link between Kelly and Taoism, it's probably through Hungarian psychologist Mihaly Csikszentmihalyi and his popular business books on the concept of "Flow: The Psychology of Optimal Experience."
"Depends on what model of organization you want. Do you want blind obedience or informed acquiescence or self‑governance?"
Chip Kelly
Csikszentmihalyi has systematically studied the state of mindful immersion in work that is common to artists, elite athletes, yogis and kung fu masters, and talks about how to apply it to business and other endeavors. (His son Mark is a professor of Asian philosophy at Berkeley and writes frequently about Taoism.)
The path to flow involves minimizing ego, pursuing goals for their own joy rather than external rewards, and total absorption in the task. Leaders can create the conditions for this state by bringing together a team motivated by the love of their task, giving them clear structure and direction, and giving clear and immediate feedback on their success.
Whatever he has read, Kelly has clearly thought deeply and philosophically about how to create an effective team, not just one with a good record, but a close, supportive unit of character and integrity. And it's also clear that he does this not just to be nice, but because he thinks that is the best path to a Super Bowl.
The sometimes puzzling way he runs the team – from releasing DeSean Jackson to forbidding shortcuts across the Novacare Center lawn – makes much more sense from this point of view. The path of shortcuts is always weaker.
Kelly wants a team that is fully committed – heart, mind and body – including himself and his coaches. Doing things the right way is harder but the monkish discipline brings you to a place you can't reach any other way.
The payoff is not always obvious. It often looks like fortunate bounces, a surprising ability to rebound from setbacks, unheralded players becoming great, improbable winning streaks, and miracle seasons. Like luck. This sounds horribly corny, but there is something spiritual, deep, and, yes, almost religious about the transformation of a group of talented individuals into a unified team with its own independent personality and unique power. And that is Chip Kelly's true religion.
Since Kelly is so fascinated with business-management strategy, he must be all about the money, right? No. In 2006, after 20 years as a coach, Kelly was making $60,000 AND traveling around the country – sometimes on his own dime – to ask people about their spread football programs, often sleeping on couches and in guest rooms.
He turned down a job offer from NY Giants' coach Tom Coughlin – now a division rival – to be a "quality control" assistant, even though it would have been a massive pay raise, because the job didn't involve working directly with players. The extra money wasn't worth giving that up.
On one of his journeys, he met Oregon's coach Mike Bellotti, who was installing an up-tempo spread offense at the University of Oregon with former UNH assistant Gary Crowton as his offensive coordinator. When Crowton left for Louisiana State University, Kelly took his spot.
As Kelly's salary started to rise – $3-4 million a year at Oregon, over $6 million in Philadelphia – he seemed at a loss for what to do with all that cash. He bought his parents a house, but his friends all agree that money was never his deal. UNH coach McDonnell told the Oregonian newspaper this story:
"Back then [in New Hampshire], Kelly's house used to be a gathering spot. The only things that occupied his refrigerator were Diet Cokes and Freeze Pops. McDonnell recalls reading about the salary Kelly was supposedly offered by Tampa Bay, which led to the following telephone exchange shortly afterward:
"That would buy a lot of Freeze Pops, Charlie," McDonnell said.
"Mac, we could have bought the entire company," Kelly said. "
Kelly built a 6,300 SF house – with a pool and an indoor basketball court – in an upscale subdivision of Eugene, Ore. (You can buy it now, for $1.1 million.) But the newspaper Willamette Week reported that it "had little furniture other than a big-screen TV." And maybe a mini-fridge with a few Freeze Pops.
DAVID MAIALETTI / Staff Photographer
More than one person has called Chip Kelly arrogant, especially after the Eagles released star wide receiver DeSean Jackson.
ESPN's Jeffri Chadiha wrote that "[Andy] Reid knew how to handle Jackson's high-maintenance personality," while Kelly "seems very much like a man used to enjoying his power and wielding it however he sees fit."
Even worse, "He's so arrogant that he's felt no need to talk publicly about Jackson's release."
It should be noted that Chadiha also predicted that Pete Carroll was " going to fail in the NFL."
In regard to Chip and DeSean, he seems to have a peculiar understanding of arrogance – that a coach is arrogant if he doesn't grovel to a star player or placate the media after a controversy begins. That trait could just as easily be called "guts."
In many ways, Kelly is remarkably egoless as a coach. He explains his decisions to his players, invites questions and opinions from his team, and takes interesting ideas anywhere he can find them, from a volunteer women's softball coach who invented a signaling system to cornerback Cary Williams, when he suggested that Chip change his whole offensive strategy in the middle of the Snow Bowl game against Detroit. (Kelly followed Williams' late 3rd quarter advice, and the Eagles exploded for 28 points in the fourth.)
At New Hampshire, Kelly even invited players to suggest or create new plays.
The coach also shares his power with both players and assistant coaches. Quarterbacks execute zone read and packaged plays, receivers run option routes, and position coaches signal in plays directly to their players.
I doubt many other NFL coaches would stand before a team meeting and say something like "Shady and I got into it, and I was wrong," as Kelly did after last year's Tampa Bay game.
But Chip is laser-focused on his job, and he often skips the small talk or social niceties that most people expect, a trait that can certainly seem arrogant … or worse.
He can be impatient or fidgety when he wants to get back to work. As beat writer Jimmy Kempski pointed out, it's striking how much the coach moves his feet during press conferences, as if he can't wait to run back out to the practice field.
"He's got ants in his pants," Kempski says. "He does the same thing I do when I'm at a movie I don't want to be at."
While he was still coaching the Ducks, the Willamette Week newspaper reported that a number of boosters wanted to get rid of Kelly at a time when his record at Oregon was 46-6.
Before his arrival, the Ducks hadn't won a Rose Bowl since 1917. Kelly was hired to make the Ducks an elite team, and he clearly succeeded.
So why would boosters want to fire the most successful coach that the team ever had? Because his job description included massaging the donors who've made Oregon one of the best-funded programs in the nation, but the coach had other priorities – like game preparation and studying film.
He blew off meetings with alumni fundraisers in Portland or Skyped into them, and it infuriated some powerful, wealthy boosters - men who were used to being catered to.
That's why the idea – floated by some – that Chip might leave the Eagles to take Texas' coaching job last year was absurd. If he couldn't play well with Oregon's boosters, there is no way Chip could have gotten along with those Texas-sized egos.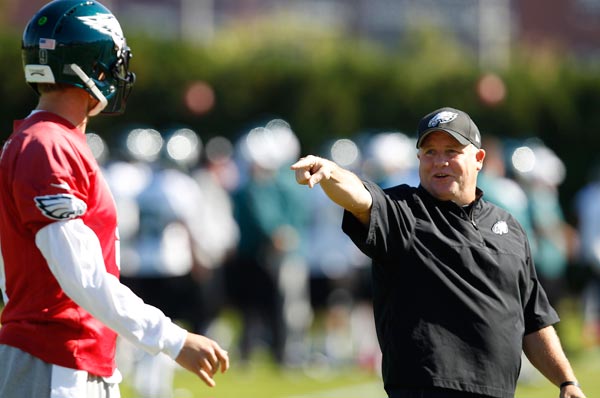 Head coach Chip Kelly, center, talks with his team at Philadelphia Eagles Training Camp at NovaCare Complex in Philadelphia Photos: DAVID MAIALETTI / Staff Photographer
So how can you square these two sides of the man, the egolessness and the arrogance?
It's because he is intensely focused on a mission bigger than himself: building the team and helping it win.
A fight with a bossy booster or a diva-like player is not about his personal ego. Chip bristles because this kind of conflict (and the time it would take him to manage it) threatens the mission, and he has no tolerance for that. It's not about him, or his authority. It's about the team. But if you get between him and his team's success, he will cut you off.
Some people suggested that the Eagles sign ex-Duck Colt Lyerla, an incredibly athletic tight end who has had drug and attitude issues, when he was released by the Packers last month. Even if he hadn't been arrested earlier this month for non-alcohol DUI, his second drug-related charge in a year, Lyerla was likely not going to be signed by the Eagles.
Why? Because Lyerla quit the Ducks' team last year. And for Chip Kelly, that is an unforgiveable sin.
Kelly's former receiver, David Ball, put it this way:
"I think he's misunderstood a lot because he's always on the go," he said. "His mind is always racing. It never stops. So when he doesn't say, 'Hi, how are you?' and carry on the conversation and seems distant, it's not arrogance. It's just him. And if you get close enough to him, you realize that, but people are judged on that. I've seen firsthand that's only a surface thing. There's much more to him than that...."
There's also a difference between people on the inside, and those (like you and me) who are on the outside.
Players, coaches and team staff are all working to support the mission. On the other hand, reporters, fans and people he doesn't know are hard for Kelly to trust or figure out, so he just shuts down in their presence.
Longtime friend Mike Zamarchi of Portsmouth, N.H., agrees. He told Sam Donnellon:
"Yep. No doubt about it. I hear it all the time: 'Why doesn't he like me, blah, blah, blah?' If he doesn't know you . . . it's not mean. He just won't talk."
This creates a strange contradiction. The team is very tight with releasing information to the outside world, and since 2009, Chip has only given a couple of one-on-one interviews, to the biggest national publications (e.g. Sports Illustrated). Keeping true to form, Kelly and the Eagles declined multiple requests to be interviewed or offer comment on this story as well.
At Oregon, all practices were (and still are) completely closed. But internally, the team has tremendous, open communication internally – or so we're told.
Kelly also has very strong faith in his convictions, and, in fairness, he has a pretty good track record when making judgment calls. His confidence is rooted in the fact that he believes in himself and his own knowledge, and while he remains open to outside ideas, he does not suffer from low esteem by anyone's measure.
Two months before Kelly took the Eagles job, Arizona Cardinals coach Bruce Arians dismissed the read-option as a "great college offense" that wouldn't work in the NFL.
Kelly's response was pretty straightforward.
"I don't care what other people think. It doesn't bother me. To spend time to think about what someone else thinks is counter to everything I've ever believed in my life. If I believe what other people think, that means I value their opinion more than I value my own. That's not the case."
UNH coach Sean McDonnell told the Oregonian:
"We would argue points and stuff. The courage of his convictions on how he'd see something -- he believed. He's a guy who will listen – trust me. And when you get to a point and he sees it, he'll admit it. But I've been around him for more than 20 years. There haven't been too many times he's been too far off."
You could say that he's always looking for ideas, but never looking for approval.
If you know your stuff and offer some interesting dialogue, he will absolutely listen to you. But if you're ignorant or just criticizing him, he just might be a bit less than gracious. And if you don't have ideas that might help the Eagles win, then he doesn't have any time for, or interest in, listening to you.
Mike Sando of ESPN Insider recently interviewed several league officials anonymously about all of the NFL's head coaches, and one general manager said this about Kelly:
"I just think he doesn't give a s--- what other people think, and he has his beliefs, he is outside the box and he is true to himself."
The GM meant that as a compliment.
Clearly, Chip can be intense.
But the stereotype of the obsessive, sleep-deprived, angry, yelling coach doesn't quite fit here. By that standard, he's a remarkably balanced and emotionally mature leader – one who avoids casting blame and making excuses, models good behavior, and has fun with his work.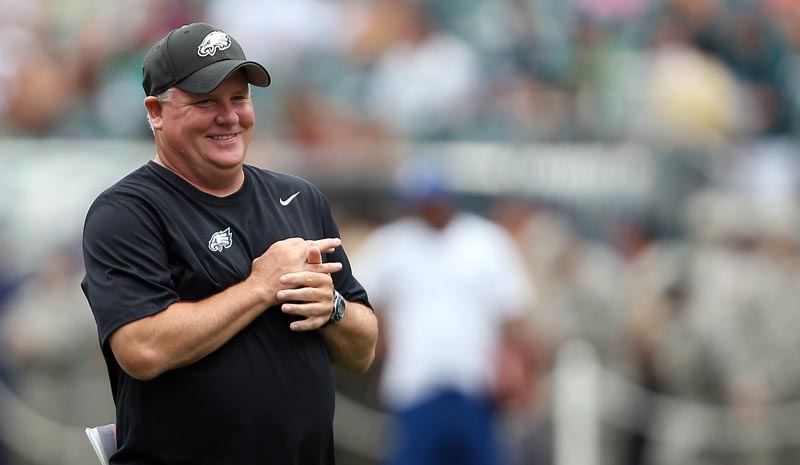 DAVID MAIALETTI / Staff Photographer
Admittedly, some of the fun is football geek fun. Ryan Day was the quarterback during Kelly's first year as offensive coordinator at UNH (1999) and as Josh Peter tells the story, they tried every formation imaginable.
"The veer. The wing T. The Power I. The spread offense. And then there was the game at Dartmouth, then celebrating its 100th year of football. Kelly turned back the clock almost 100 years. His offense opened the game in a single-wing, a formation last used with regularity during the days of the leather helmets."
"Guys are going every which direction, and the quarterback is using those old ball-handling moves, faking passes one way and putting the ball behind the back," Day said. "Week in and week out, we just had a blast."
This hasn't changed over the years. Nick Foles told CBS Philadelphia that
"Off the field, [coach Kelly is] just a fun guy to play for. He's just a guy's guy. He's just a good-old dude and he loves the game of football and guys really love him as a head coach and enjoy playing for him, and I'm one of them."
Chip is a quick-witted guy who likes to joke around, as we saw earlier with how he interacts with his friends. This is true with the players and coaches he works with so closely, but also with the press – with whom he has a more complicated relationship.
When Oregon named Kelly head coach in 2009 – for the first time in his life, at any level – he naturally held his first press conference ever. And though he must have been nervous, Kelly started with a joke, one that needs a little setup.
That week, Tim Tebow had been named all-SEC quarterback after Florida won the national championship, but not unanimously. South Carolina coach Steve Spurrier had left him off his ballot, which he claimed was an accident. It was a big controversy at the time. (Spurrier, of course, is often cited as the classic example of an innovative college coach who failed in the NFL.)
Sitting next to Oregon's star cornerback Walter Thurmond, Kelly started his first press conference ever by saying, "First off, I want everybody to know that Walter and I voted for Tim Tebow for first-team All-SEC quarterback."
Reporters laughed, but Kelly saves a lot of his most barbed humor for journalists, especially ones who ask silly questions. ESPN's Ted Miller describes him as being "funny, biting, pithy, strange, fiery and surprising when talking to reporters."
For example:
"I think the media around here is the smartest people I've ever been around in my entire life."
I'm pretty sure that was sarcastic. As was this response, when a reporter asked if he had an opening statement:
"Opening statements? Is this a debate? LaMichael: Thermonuclear war. Are you for it or against it?"
Or maybe not.
He told a press conference on Tuesday that he has "never been sarcastic in an interview here." Yeah, right. I'm just so sure.
Part of what's so impressive – which you wouldn't get from reading a website – is that Kelly usually responds instantly, even when math is involved, as if he were a professional stand-up comedian rather than a typical football coach.
Sometimes a reporter can't even finish a sentence:
"Q: Your defense is getting a lot of recognition coming into this season…
A: And they should! They should have since 2009 and 2010 and 2011…
Q: No arguing…
A: So why didn't you write it? Ah-ah-ah!! [deadpan, then smiles as reporter remains silent] Joking. Joking! [He throws his hands up in air]"
Reporters risk getting embarrassed in front of their colleagues, as when one asked whether knowing who would start at quarterback might help the other 10 players in the huddle., only to be reminded drily: "We don't huddle."
But in return, they are almost guaranteed a juicy quote or two and some insight about his football program in every press conference. It's a way of keeping everyone – including journalists – performing at a high level.
Rich Hofmann of the Daily News gives a great description of what happens when a reporter asks Chip a question that assumes he knows what the coach is thinking.
"Halfway through the question, or earlier, Kelly begins to smile as he listens to what is being presumed in the preamble before the question mark. The smile is the dead giveaway, that he is going to pull out a baseball bat from behind the podium and put the question (and sometimes, the head of the questioner) on a tee and launch him into the third deck."
To be fair, Chip gives great press conferences, with frequent jokes, true insight, and unexpected riffs on business philosophy or movies like " Beverly Hills Cop," "Night Shift" and "Pirates of the Caribbean." He also answers honestly, rarely giving the stock answers that so many coaches and players rely on.
It all goes back to that New Hampshire, chops-busting humor. That means you give everyone a hard time, including yourself, and generally stay as straight-faced as possible. With your friends, there's a lot of affection underlying the hard ribbing. With other people, there may be a bit less affection, sliding occasionally into outright hostility.
One of coach Kelly's "Chipisms" comes up a lot: "Play with emotion, don't let emotion play with you." (There's a whole chapter on it in the "The Tao of Chip Kelly.") And Kelly often displays that deadpan New England look which might be hostile, teasing or silly – all at the same time.
Shortly before he took the Eagles' coaching job, Nick Aliotti (his defensive coordinator at Oregon) said:
"Chip puts on a tough exterior that's hard to get through or break through. But Chip is really a lot of fun to work for. He's funny, he's witty, he keeps things light in the office."
That may have changed a bit over the years, though.
In that same article, reporter Jason Vondersmith asked running back Kenjon Barner (who had a cup of coffee with the Eagles at the end of this year's training camp) how Kelly had changed over four years in Eugene.
"He doesn't yell as much. Coach Kelly is learning how to deal with different players on a different level."
Kelly is not known for his emotional outbursts these days. But part of this is the difference between the face he shows the outside world, and the one he shares with his players.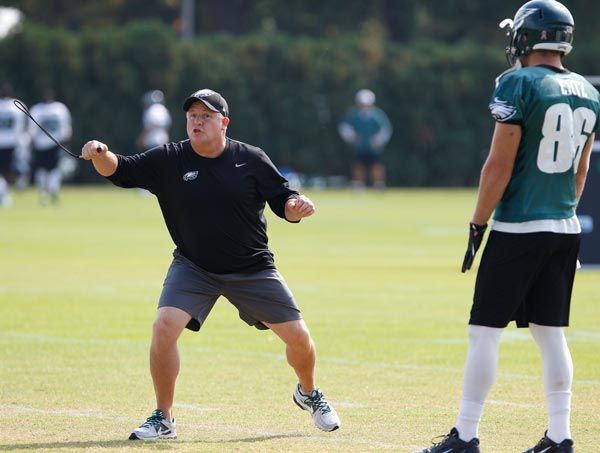 DAVID MAIALETTI / Staff Photographer
One Oregon beat reporter, who covered Chip since he first went out West, told me that he wandered into the locker room after the Ducks' final regular season game in 2012, the big Civil War rivalry against Oregon State, which was ranked No. 15 in the BCS standings at that time.
This reporter was there before any members of the media were supposed to be present, lurking in the corner, and Chip came in all fired up.
"We just laid 48 f---ing points on them!"
This reporter told me that he has never seen Kelly that loud or excited when reporters were present.
Josh Huff, another Eagle who played at Oregon, remembers a generally even-keel coach. Yet his favorite memory was one of the exceptions, at halftime of the 2011 game against Stanford, the Ducks' toughest rival during Kelly's time there.
Here's how Huff described it to Sheil Kapadia.
"[At] halftime... it was a close battle and he came in and I've never seen him so fired up. He came in, flipped the table over, he was cussing a little bit. It fired the whole team up. Eventually we went out there in the second half and did what we had to do, made plays and came out with a victory."
The other time Huff saw Kelly being emotional was when he told them that he was leaving for the NFL.
"…there was something going on because he'd never come into our winter workouts. I could just see the look on his face and he was just distraught. But he came in, gathered us up and he was just saying he wanted the challenge in the NFL. And I couldn't do nothing but thank him for what he's done." …
"I'd never seen Coach Kelly cry up until that point," he said. "When you see a man cry like that, that means he cares about that program, he cares about his players. And I care just as much about him as he cares about me."
The coach didn't address those comments. But on another occasion, a reporter asked him why he treated the media so much more caustically than his players.
A bit of his heart came through the sarcastic exterior.
"I'm different with our players because I trust our players and I'm with them every day, and I understand what they're all about. I'm like that with everybody. It ain't going to be "Kumbaya" and hug you the first time I meet you. But if I see you every day and understand what you're about every day and that you share the same vision that I have, then I'll die for you."
That's what Chip Kelly is all about.
Mark Saltveit is the author of "The Tao of Chip Kelly" (Diversion Books: New York, 2013). His second book, "Controlled Chaos: Chip Kelly's Football Revolution" will be published by Diversion in October. He can be reached at
@taoish