Sam Bradford
All-American

...everything
RICHARD T. CLIFTON photo
The Eagles' new quarterback seemingly excelled at everything during his Oklahoma upbringing: football, hockey, basketball, baseball, golf, life.
By Paul Domowitch | Daily News Staff Writer

Thursday, June 11, 2015
OKLAHOMA CITY — This was the spring of 2005. The tail end of Sam Bradford's junior year at Putnam City North High School.
Bradford wasn't at the top of the prep football recruiting lists, but he was high enough to attract interest from several Division I programs, including Stanford, Michigan, Texas Tech and nearby Oklahoma, where his father, Kent, played in the late 1970s.
On this particular day, an assistant coach from Michigan dropped by the school to make a sales pitch to young Sam.
The coach knew that, in addition to being an all-state quarterback, Bradford also played on the basketball and golf teams at Putnam City North. Which presented him with an opportunity to drop Michigan alum Tom Brady's name into the conversation for the 100th time.
"You know, son," the coach said. "Tom is a big golfer. I think I probably could arrange for you to play a round with him. Would you like that? He'd give you a few strokes, of course."
Bradford looked at the coach, smiled, and without the slightest hint of arrogance, replied, "I don't need any strokes."
The coach chuckled and said, "I admire your confidence, Sam. But Tom's a scratch golfer."
"He may be," he said. "But I don't need any strokes."
It's easy to underestimate Sam Bradford. His altar-boy face and quiet demeanor effectively hide a competitive fire that always has burned white-hot in whatever one of the myriad sports Kent and Martha Bradford's only child happened to be playing.
He threw 88 touchdown passes and only 16 interceptions in 31 starts at Oklahoma and became the school's fifth Heisman Trophy winner.
He was a Division I-caliber basketball player who averaged 18.6 points and 10.5 points per game as a senior and played on the same elite AAU team as fellow Oklahoma City native and NBA star Blake Griffin.
He is a scratch golfer, which is why he wasn't interested in being given any strokes against Brady. In high school, he beat such future PGA touring pros as Kevin Tway and Robert Streb.
He was an outstanding baseball pitcher. And although Oklahoma isn't exactly a hockey hotbed, he was so good in that sport that his former coach, Mike McEwen, who played on three Stanley Cup champions with the New York Islanders, thought he had NHL potential.
"He would've made it," McEwen said. "His talent level was top-notch. He could do anything. He was a great playmaker. He would make plays that would make me say, 'Man, I haven't seen that since the NHL.' The reads [he'd make]. Everything."
And yet, when Sam signed with Oklahoma, the coaching staff didn't exactly break out the Champagne.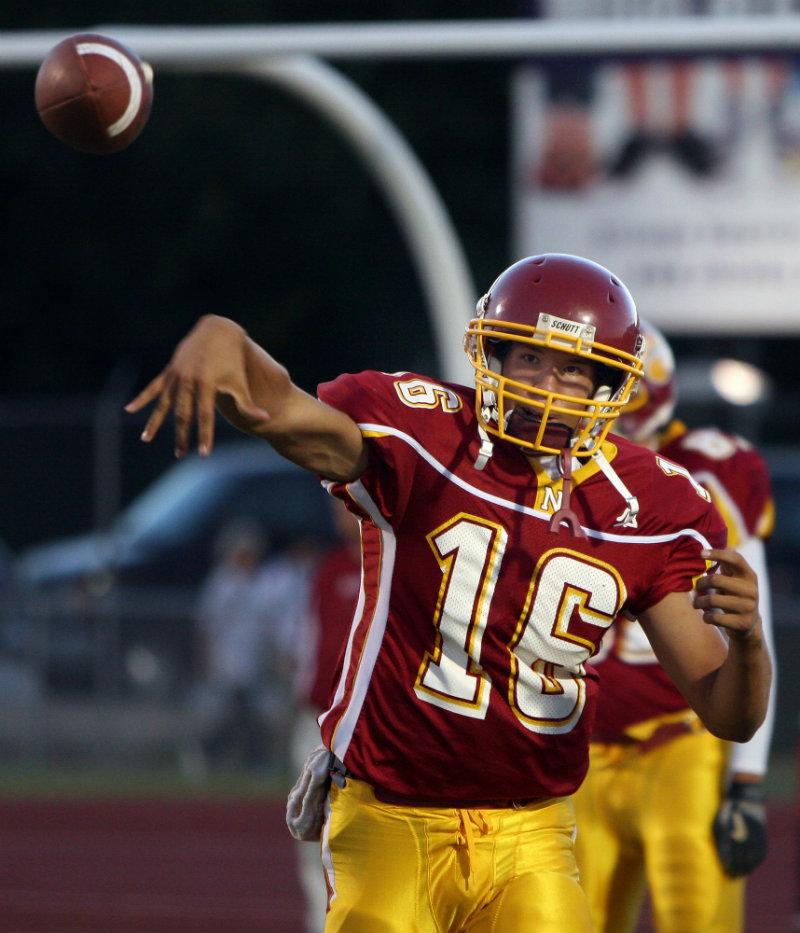 RICHARD T. CLIFTON photo
Bradford playing for Putnam City North High School
"He wasn't a finished product by a longshot," head coach Bob Stoops said. "He was – whatever this means – a three-star guy. Maybe even a two. Not a national name at all. But we had had him at our [football] camp and Chuck Long [the Sooners' quarterback coach at the time] really loved him.
"But some of the other offensive [coaches] were a little skeptical, because Sam was pretty quiet. [They wondered] whether he was going to have that kind of leadership [ability], that kind of mojo, when he was in there. Well, when he won the job [as a redshirt freshman in 2007], he sure enough did."
Bradford isn't a yeller or screamer. But he is a natural leader who has been the captain or co-captain of just about every team he's ever played on.
"Players recognize toughness," Stoops said. "They recognize commitment and discipline and who's working to get better.
"Sam is as great a worker as I've ever been around. It matters to him. You're not going to find him being talked about off the field. You're going to know he's working in the meeting rooms. And he's going to work hard on the field.
"To me, that's where you get your respect. A lot of guys talk a good game and don't do the other parts. But you can't fool the guys in the locker room. And talking isn't what gets it done."
But when Bradford needs to amp up the volume, he will. In his fifth game as a starter at Oklahoma, the Sooners lost to Colorado. During the game, wide receiver Malcolm Kelly pulled a DeSean Jackson and was bitching on the sideline to anyone who would listen about not getting any balls thrown to him.
Bradford quickly went over and had a little chat with Kelly.
"He came up to me and told me I can't come to the sideline looking all mad and frustrated, because the team, the offense, looks at him when I'm doing that," Kelly told reporters later. "More than anything, it was like he was telling me to get my act together."
CLEM MURRAY / Staff Photographer
As Stoops mentioned, Bradford wasn't a four- or five-star prospect. But he committed early to Oklahoma despite the fact that the Sooners had signed one of the country's top prep quarterbacks – Rhett Bomar — a year earlier.
"He didn't care what other quarterback we had, which tells you the type of character and competitiveness a guy has when he isn't concerned that there's another young quarterback already there," Stoops said.
His father had played at OU. The family had OU season tickets. Sam had been a Sooners fan his whole life. That's where he wanted to play.
Kent Bradford remembers driving down to the OU campus in Norman, only 30 miles south of Oklahoma City, with Sam to meet Stoops after he offered his son a scholarship.
"Sam's pretty quiet," Kent said. "He doesn't get all excited much. He didn't say much to Bob. Then, right before we left, he looked at Bob and said, 'I just want you to know, if I come down here, I'm going to play.'
"Bob looked at him and said, 'Well, Sam, you know, we've got other quarterbacks here. I can't promise you anything. It's an open competition.' Sam just said, 'Hey, OK. That's all I need to hear.'"
As it turned out, Bradford never had to beat out Bomar. After starting 12 games as a redshirt freshman, Bomar was tossed from the team in August 2006 after getting paid for working at an OU booster's car dealership but doing no actual work. He also was dumb enough to brag about it.
Even with Bomar gone, though, the Sooners coaching staff still wasn't completely sold on Bradford. He was redshirted in '06. But his play as the scout-team quarterback got Stoops' attention.
"I kept watching him on the scout team that year against our [No. 1 defense]," the coach said. "I know some people say it doesn't matter. That it's easy because it's not a game. But it's not. Not everybody does what Sam was doing. I've had plenty of scout team quarterbacks that weren't like that.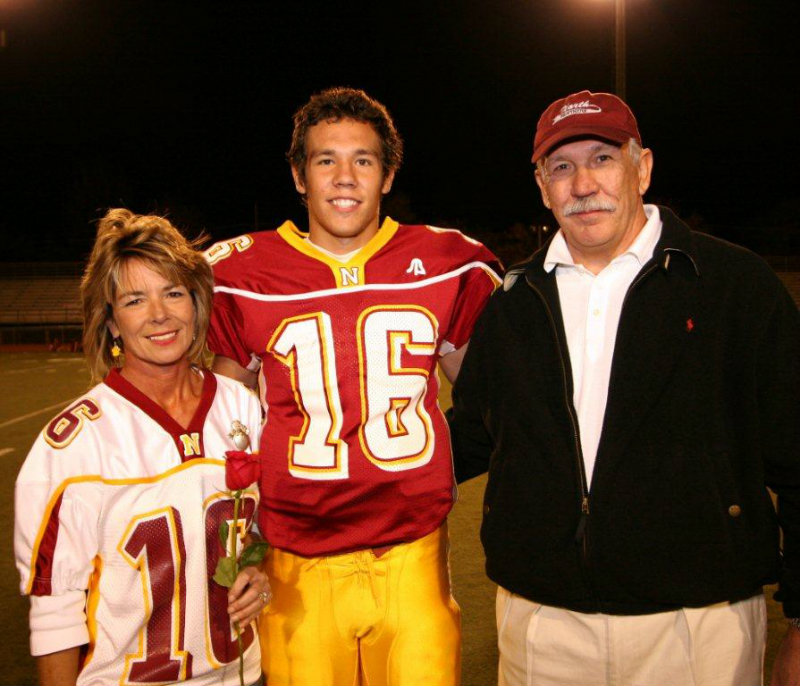 RICHARD T. CLIFTON photo
Parents Martha and Kent Bradford with Sam on high school senior night
"I was watching him stick balls in there left and right, and putting deep balls right where they need to be. And you start shaking your head [wondering], is this how it's going to be?
"I remember the defensive staff telling the offensive guys, 'Man, this guy is unbelievable. Just watch practice.' When the offensive guys started spending time with him in the spring [of '07], they started seeing what we were seeing every day. The accuracy was just uncanny. And the delivery. All of it. Finding the right windows."
By the end of spring practice in '07, the starting job was Bradford's, and he took it and ran with it. Led the Sooners to an 11-3 record as a redshirt freshman. A year later, he had a plus-42 touchdown-to-interception differential, won the Heisman and took Oklahoma to the BCS championship game, where they lost to Tim Tebow's Florida Gators.
Bradford likely would have been the first pick in the 2009 draft, but opted to stay at OU and make one more national-title run with his teammates.
"They had a really good team coming back," his father said. "They had Gerald McCoy, Trent Williams, Jermaine Gresham, DeMarco [Murray]. A bunch of good guys.
"I think that Florida loss left a bad taste in all their mouths. I think they all just said, 'Hey, let's come back and try this again.'"
It was a noble plan, but injuries set fire to it. Gresham tore up his knee before the Sooners ever played a down. Then Bradford injured his shoulder in the first half of the first game of the season against Brigham Young.
He passed on surgery and returned to the lineup a couple of weeks later. Played in two games, then reinjured the shoulder and missed the rest of the season. The Sooners finished 8-5.
"Things like that just are unexpected," Kent Bradford said. "You're around the sport. You know injuries are a part of it. But until your child is injured, you're kind of numb to it. When it's you're child, you're like, 'Wow, I wasn't expecting that.'"
If the shoulder injury caught Kent and Martha Bradford by surprise, the two torn ACLs Sam suffered the last two years with the St. Louis Rams blindsided both him and them.
"I've learned more than I want to know about ACLs," Kent said.
MICHAEL BRYANT / Staff Photographer
Primarily because of those two knee injuries, the second one of which he still is recovering from, Eagles fans have kept their emotional distance from Bradford since the March 10 trade with the Rams.
While Philadelphia is taking a wait-and-see approach with him, however, there is no shortage of affection for Bradford in these parts. The love and respect for him runs deep here. He is revered both for his athletic accomplishments and for the grounded, humble person he is.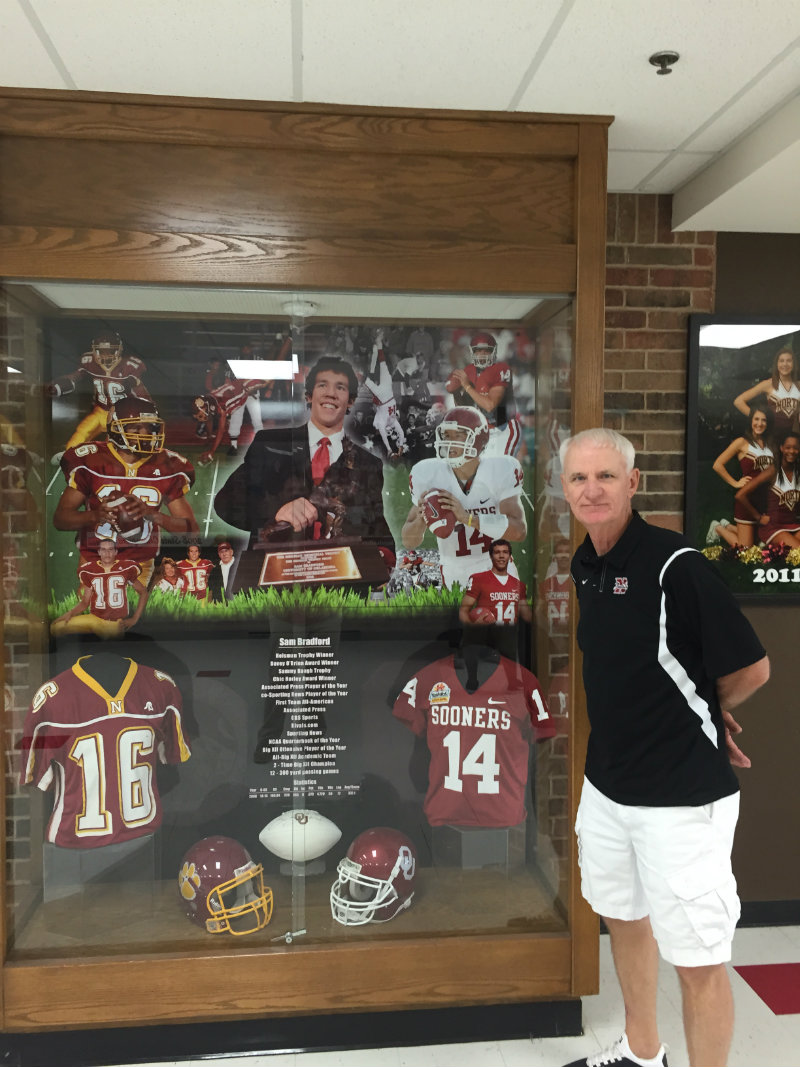 PAUL DOMOWITCH / Daily News staff
Bob Wilson, Bradford's high school coach
"Everybody knows Sam's a gifted athlete, but he's also a class act," said Putnam City North athletic director Bob Wilson, who also was the head football coach when Bradford played at the school.
"He's a great, great example for these young kids to follow. There just aren't that many role models anymore. It doesn't matter whether it's sports or life, or whatever. There just aren't enough. But he's one.
"I'm more proud of the way he is than I am of his athleticism. What you see with Sam is what you get. He comes from a great family. The acorn doesn't fall far from the tree there."
The road along the left side of the high school is Sam Bradford Drive. On the first floor of the main building of the school is a huge trophy case featuring a picture of Sam along with his Putnam City North and Oklahoma football jerseys and a replica of the Heisman Trophy.
Down in Norman, a life-sized statue of Bradford stands across the street from the stadium, along with the school's four other Heisman winners – Jason White (2003), Billy Sims (1978), Steve Owens (1969) and Billy Vessels (1952).
"I have such admiration and respect for his parents and how they raised him," Stoops said. "I've told them that I don't know that I've been around a more well-balanced person. I'm talking in life, off the field, on the field. Such a good athlete with perspective on it. All of it. And he had that here as a young guy."
Kent and Martha Bradford have been married 36 years. Kent has been in the insurance business since graduating from OU in the late '70s. Martha, who graduated from Oklahoma State, spent 29 years as an elementary school physical education teacher before retiring five years ago.
Sam has been their life.
"He was just an easy kid to raise," Kent said, as he sipped on an iced tea at a restaurant near his office last week. "We got very, very lucky. He was always eager to please you. He would always do his stuff."
On those rare occasions when Sam misbehaved, Martha played the role of the bad cop.
"Martha's the disciplinarian," Kent said. "Martha would be the one to send him to his room. I'd be the one watching the clock and saying, 'Can Sam come out and play now?'"
Sam has played a lot. And Kent and Martha have always been there to watch him.
They attended every one of his NFL games with the Rams, preseason and regular season, home and away. They were there for every one of his games at OU.
They attended all of his junior high and high school football, basketball and baseball games. They were at all of his golf matches, all of the AAU basketball tournaments and the 5 a.m. hockey games.
"Sam was an only child," Kent said. "He got those advantages of being an only child. He had a captive audience. He was our life.
" He was just an easy kid to raise. We got very, very lucky. He was always eager to please you. He would always do his stuff."
Kent Bradford
"Really, most of the traveling that Martha and I have ever done, we've only gone on a couple of trips that were non-sports-related or non-Sam-related. But it's been a blast. We got to meet a lot of people and saw a lot of kids grow up and develop.
"When he played on the AAU basketball team with Blake [Griffin], I can remember going to these national tournaments and seeing Kevin Durant and Greg Oden and all those kids when they were young. I can remember seeing them play when they were 10 years old. It's really been cool to watch them all kind of grow up."
Kent and Martha never pushed their son into anything. When he came home and said he wanted to learn to play the cello, they supported him. When he came home and said he wanted to play hockey or basketball or baseball or football or golf, they supported that, as well.
"I was always pretty anti-making him choose what a coach wants him to choose or what anybody thinks he ought to do," Kent said. "I was always, like, 'Hey, if you want to do it, then let's go do it, man. It's fine with us.'"
"His parents were always very supportive of what he wanted to do," said Norma Gallagher, who was the librarian at Sam's elementary school. "They would take him wherever he needed to go."
Sam started playing hockey when he was about 7. An ice rink was not far from his house in northwest Oklahoma City. Martha, who grew up in Chicago and knew how to skate, took him over one day. Not long after that, Sam was asking Santa Claus for ice skates for Christmas and the Bradfords were signing him up for hockey lessons.
Sam played hockey for about five years, somehow squeezing it in between all of the other sports he played. But he became very good at it.
"There weren't enough teams here [in the Oklahoma City area] to have any kind of league," Kent said. "So we would go to Dallas and Houston and Kansas City and Tulsa and Wichita [for games]. All over. It would be a weekend deal. Leave Friday at noon, come back Sunday evening deal. And you're playing games at weird hours.
"I remember we were in Dallas one weekend. We're sitting in our hotel room. Sam's asleep. We're cramming his hockey gear on him at 4:30 in the morning. I look over at Martha and said, 'Are we doing the right thing?' I mean, he's konked out and we're cramming hockey pants on him.
"She looked at me and said, 'Hey, I don't know. But if he ever complains, we're out of here. If he ever says I don't want to play it anymore, that's fine.' But he never complained."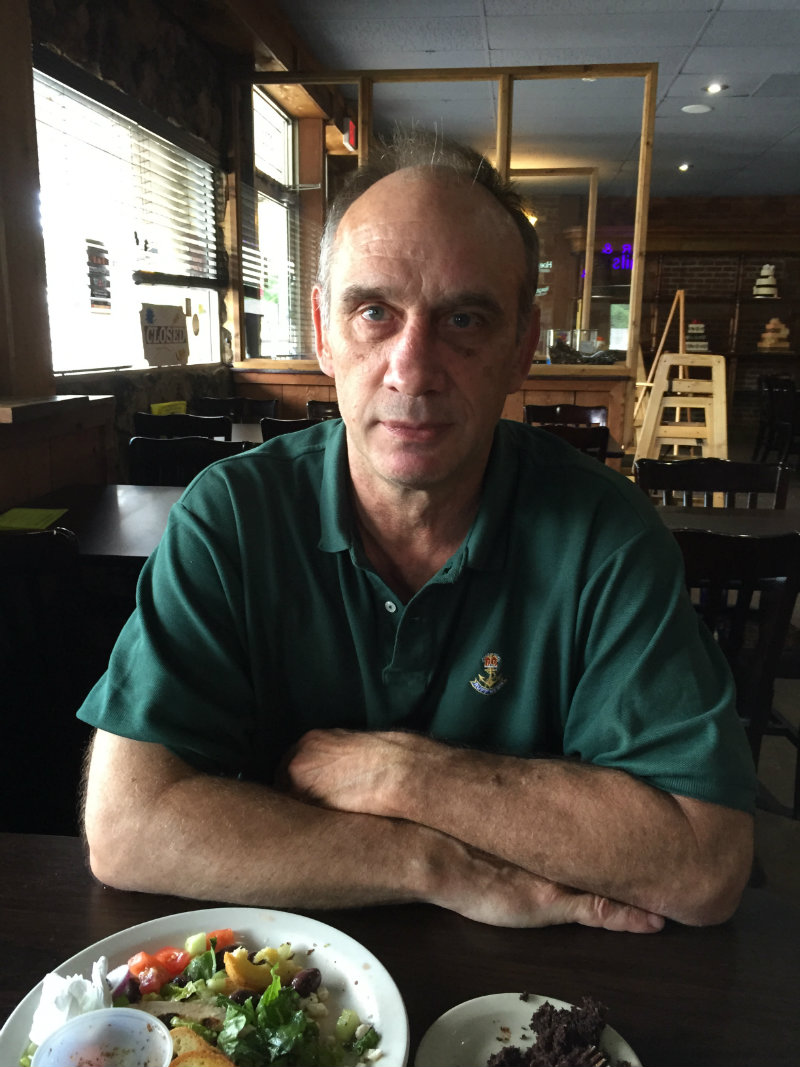 PAUL DOMOWITCH / Daily News staff
Mike McEwen, Bradford's youth hockey coach
McEwen, who got involved in the youth hockey program in Oklahoma City after three seasons as coach of the city's minor league hockey team, the Blazers, in the mid-'90s, said Bradford was one of the best players he's ever coached.
"He was tall," McEwen said. "The only thing wrong was he was a little bit slow. Everything else as far as hockey, though, he had. He could see the ice, make plays. He was tough. He was our captain."
When Bradford was 12, his travel team, the Junior Blazers, won the regional championship, beating a team from Houston.
"They were better than us," McEwen said. "We were down, 2-0, at one point, when Sam just kind of took the game over. He had two shifts and got two goals. He had a goal and an assist. He just took it over. You don't see that too often in a big game where a guy just says, 'Bleep it. I'm going to go out and do it,' and then does it. We ended up winning, 3-2."
About that time McEwen, who spent 12 years in the NHL with seven teams, tried, without success, to convince the Bradfords to consider having Sam focus on just hockey.
"I told Kent that I thought Sam could make it in hockey," McEwen said. "I've only done this about three times, because you don't see many kids like Sam.
"I started talking, and after about 30 seconds, I just see this smile come across his face. I'm saying to myself, 'I don't think he's buying it, but I'm going to keep talking.' After about a minute, he said to me, 'You know, Mike. It sounds good. But we're in Oklahoma. And hockey isn't exactly it here.'
"I kept going and trying to change his mind, but the smile just kept getting bigger. I said you're not really going to do this anymore, are you? And he said, 'No, Mike. I think Sam's going to concentrate on the other sports.'
"The way things turned out, he made the right choice. And it couldn't happen to a nicer guy."
Kent said the personal sacrifices his family would have had to make to advance Sam's hockey career would've been just too great.
"The problem with hockey that I saw as a parent," he said, "[was that] for these kids to advance, they were moving away. Eighth grade, ninth grade. Moving in with some host family up in Montana or somewhere like that.
"I'm going, 'That's bull----. I'm not sending my son away. It's not going to happen. He's my son. I want to raise him. I'm not going to send him away.' That's just not in my makeup.
"I said to Mike, 'Sam's got a bunch of buddies in school and is playing school sports. He loves hockey. But it's not that big in Oklahoma. It's not anything we grew up with.'"
​
Sam gave up baseball after his freshman year at Putnam City North, but continued to play football, basketball and golf.
"It's mind-boggling how athletic he is in so many different areas," said Bradford's longtime friend and high school golf teammate, Ben Bench. "His [golf] swing is so fundamentally sound, especially for as little as he played. I've played with Rickie Fowler. I've played with Anthony Kim. I've played with a couple of other guys who have played on tour.
"His swing, it's hard to describe or put into words. But it's so simple it doesn't really wow you. But I've played a lot of golf with him, and because [his swing] is so simple, it's so repeatable, and I think that's what makes him such a good golfer."
A lot of high school football coaches have been known to try to dissuade their players from playing other sports. They want them spending every spare minute in the weight room, getting bigger and stronger. But Bob Wilson always encouraged Sam to play other sports.
"That's one of the things I appreciated about Bob," Kent Bradford said. "There are a lot of high school coaches who are selfish to a certain extent, as far as wanting a kid to play their deal.
"But Bob was a big-picture guy. He encouraged Sam to play other sports. He told him, if you want to play them go play them. Bob knew that the vast majority of these kids aren't going to do anything past high school anyway. Might as well let them enjoy it."
Stoops said he actually became sold on Bradford not after watching him play football, but after watching him play basketball.
"I was watching one of their basketball practices," he said. "I liked what I saw of him throwing the [football] around and all that. But when you see him running around the basketball court, draining it from deep, going up and getting a tip and dunking it, I'm thinking, wait a second. This is an athlete. He looked so smooth running up and down the court."
Bradford was one of the most accurate passers in the country at Oklahoma. Has the same perfect mechanics throwing the football that he has swinging a golf club. He completed nearly 68 percent of his pass attempts in 31 starts for the Sooners.
Had separate streaks of 21 and 22 completions in a row.
"It was unbelievable," Stoops said. "And it wasn't just once in a while. You'd watch him in practice, I'd intentionally watch him for 20 straight minutes, and there wouldn't be one ball that was out of place."
NFL scouts still speak in superlatives about Bradford's Pro Day workout before the 2010 draft.
"He threw for something like 45 minutes and however many passes, and there was just one ball that was a little bit off," Stoops said. "One slant [throw] was back on the hip. The rest of them were right where you'd want the football to be.
"I was on the golf cart with him after his workout and someone was asking him if he was going to throw again if [individual] teams wanted to work him out. Somebody said, 'Why would you want to throw again?'
"He didn't say anything and kind of half-smiled at me, and I looked at him and said, 'Because you know you'd do it again.' He shook his head as if to say, 'I'm not afraid to throw the football.' He said, 'I'll throw every day if they want me to.'
"It wasn't a fluke that he had that day. He can have that day all the time. He's that good."
If Sam Bradford wasn't real, a fiction writer would make him up. He is the perfect son, the perfect friend, the perfect teammate, the perfect student, the perfect role model, the perfect leader, the perfect competitor. He even always seems to know the perfect thing to say.
At his first news conference after the Eagles traded for him, he won over the room with honest, thoughtful answers.
Kevin Wilson, who was the offensive coordinator at Oklahoma when Bradford was there and currently is the head coach at Indiana, still remembers Sam's answer to a question before that January '08 BCS championship-game loss to Florida.
"Somebody asked Sam to compare himself to Tim Tebow," Wilson said. "The way I probably would've answered it if I had been him is, 'Tim's a great player. He's an athlete. He can run. He can do a lot of different things. I'm a different player. I can move a little bit, but I'm going to make more plays with my arm than my feet. He's very good. I'm pretty good. I'm a little bit more of a thrower. He's more of an athletic quarterback.'
"But Sam said, 'I was raised not to compare myself to anyone, but to just be the best I can be. I just try to be the best quarterback I can be. I don't try to be better than anybody else.'
"I'm 48 years old [at the time], and I don't know that I would have had the poise to answer it that way."
Much of the credit for the way Bradford has turned out goes to his parents.
"Parents set the bar for kids, set the parameters," Bob Wilson said. "Some kids that are an only child act like they're an only child sometimes. Not Sam. As soon as you sit down with Kent and Martha, you understand why Sam is like he is."
Since Kelly traded for him, it goes without saying that Bradford is very smart. He had a 3.95 GPA in finance in four years at OU. Only one B.
He is nine credit hours short of his degree, mainly because he didn't take any classes his final semester because of the demands of the predraft process.
"His mother reminds him of that constantly," Kent said. "As does the university. President [David] Boren is always telling him, 'Now, Sam, you're going to come back and get that degree.' Sam keeps promising that he'll get it."
(Read Part II: Some of Sam Bradford's former coaches explain why he will be a perfect fit for Chip Kelly's offense.)
(Paul Domowitch can be contacted at pdomo@aol.com or @pdomo.)