John W. Mosley / Blockson Collection / Temple University Libraries
Can Cheyney University survive?
Cheyney State College president Leslie Pinckney Hill (second from right) with graduates around 1940.
Why the nation's oldest black college is so troubled.
Wednesday, November 15, 2017
By almost any measure, Cheyney University — the nation's oldest historically black college — is failing.
Despite its rich and proud history, the financially troubled school has struggled for years to halt plummeting enrollment – now at 755 students, barely half what it was seven years ago.
Faced with that decline, the university has admitted less qualified students in a bid for tuition dollars. It now accepts nearly nine out of 10 who apply.
Today, only 44 percent of its freshmen make it to sophomore year, the lowest rate in the state university system. And fewer than 20 percent go on to graduate within six years.
Many who drop out leave with onerous debt. And former Cheyney students have by far the highest student-loan default rate among those at the 14 state-owned universities.
Those dismal statistics come after more than a decade of unstable and at times questionable leadership, leaving the school with soaring debt as well as shrinking enrollment. But in the last several years, Cheyney's top administrators, along with its trustees and the state system's board of governors, have deepened the crisis through lax oversight and startling mismanagement, an Inquirer and Daily News investigation has found.
Consider:
Cheyney administrators raided scholarship funds and research grants meant for students and faculty as well as other restricted funds totaling $3.4 million. They spent the money on day-to-day expenses, in possible violation of state and federal law.
Cheyney staffers failed to open or process the applications of as many as 3,000 prospective students between 2012 and 2015. Several hundred paper applications were never picked up from the post office.
The university at one point failed to invoice and collect $7 million in outstanding tuition bills, pushing its deficits even higher.
From 2011 through 2014, staff did not download SAT and ACT scores from the thousands of students who had applied. This prevented the school from being able to identify and recruit promising candidates.
More recently, the Justice Department began investigating serious lapses in Cheyney's handling of $29 million in federal grants, loans, and work-study funds — money that went to students who in some cases weren't enrolled or didn't have the grades or course load to qualify for the funds.
This account is based on a review of more than a thousand pages of court records, previously undisclosed audits and internal documents, more than 80 interviews, and the newspapers' analysis of 10 years of Cheyney education data collected by the federal government.
These failings and other factors have contributed to Cheyney's abysmal academic record. On graduation and retention rates, the school performs far worse than the other 13 universities in the Pennsylvania State System of Higher Education and below many other historically black universities.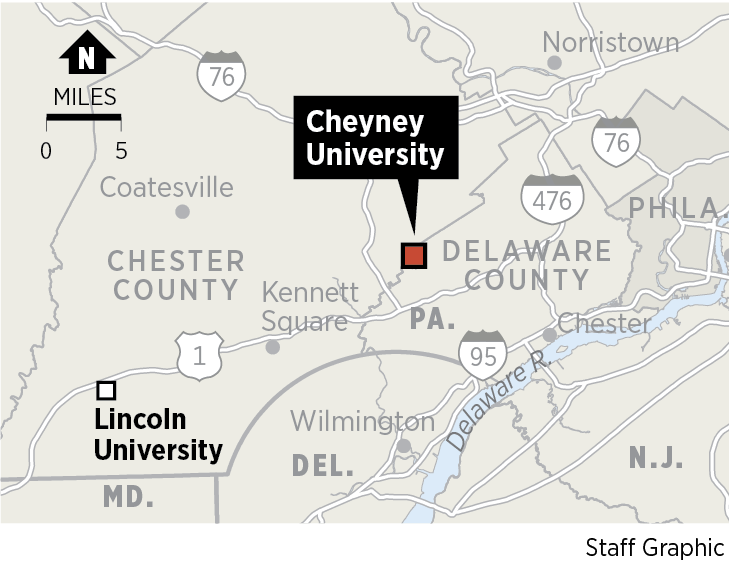 Were it not for the school's vaunted Keystone Honors program, which has more than 100 students, and which school officials say retains 95 percent of its freshmen and boasts a 72 percent graduation rate, Cheyney's overall academic measures would be worse.
"How are they still open?" asked Lashay Akers, 23, of Pittsburgh, who in 2013 dropped out after a year at Cheyney and was left with $5,000 in debt.
Where does the fault lie?
"Perhaps what has been most damaging to Cheyney's success is the lack of accountability that has persisted for years, and maybe decades," said Frank T. Brogan, former chancellor of the state university system. "For too long, too many people, both internally and external to the university, have looked the other way and enabled the university to slide into an unstable position."
Robert W. Bogle, the longtime chairman of the school's council of trustees, is blunter in assigning blame.
"It's all of us," he said.
All of which raises the troubling question: Can Cheyney survive?
An answer may come Thursday. The Middle States Commission on Higher Education is expected to decide whether to revoke the school's accreditation as a result of its shortcomings. Without accreditation, the school is ineligible for federal and state financial aid — money that 90 percent of its students depend on.
Taking that step would almost certainly force the 180-year-old school to close.
Getting into Cheyney
Enrollment, which numbered nearly 3,000 students in the late 1970s, has fallen by more than half in the last 10 years, from about 1,500 students in 2007 to fewer than 700 in 2016. As enrollment fell and finances crumbled, Cheyney relaxed admission standards, taking in less-qualified students. It now accepts nearly 90 percent of those who apply.
Enrollment
‍
Cheyney University students
‍
Admission rate
‍
Pa. public university average
‍
Staying in School
Many new Cheyney students are unprepared for the rigors of college. While about two-thirds of U.S. college students typically return to the same school for their sophomore year, the freshman retention rate at Cheyney is only 44 percent. Fewer than one in five Cheyney students graduate within six years. At nearby Lincoln University, also a historically black college, the graduation rate is 2.5 times higher.
Income after Cheyney
The median salary of workers in 2014, ten years after starting college at Cheyney. It is the lowest of any four-year public college in Pennsylvania.
Cheyney University
$29,200
Lincoln University
$33,300
West Chester University
$46,700
SOURCES: Inquirer/Daily News analysis of U.S. Department of Education and Pa. Dept. of Education data
A storied history
Cheyney has a long tradition of offering opportunity to underprivileged students, many from the cash-strapped Philadelphia school system and among the first in their families to attend college. Founded in 1837, Cheyney gave African Americans a chance at education when other schools would not.
The school's alumni include the Philadelphia civil rights activist Octavius V. Catto; Bayard Rustin, a chief organizer of the 1963 March on Washington; and Ed Bradley, the 60 Minutes broadcast journalist.
Bogle, chief executive officer of the Philadelphia Tribune, is also an alum.
"A great deal of who I am and have ever been is because Cheyney gave me an opportunity," he said.
Like many historically black colleges, Cheyney has been challenged in recent years by a national decline in high school graduates and expanding college options for black students. It also has had to deal with decades of underfunding and the legacy of racism.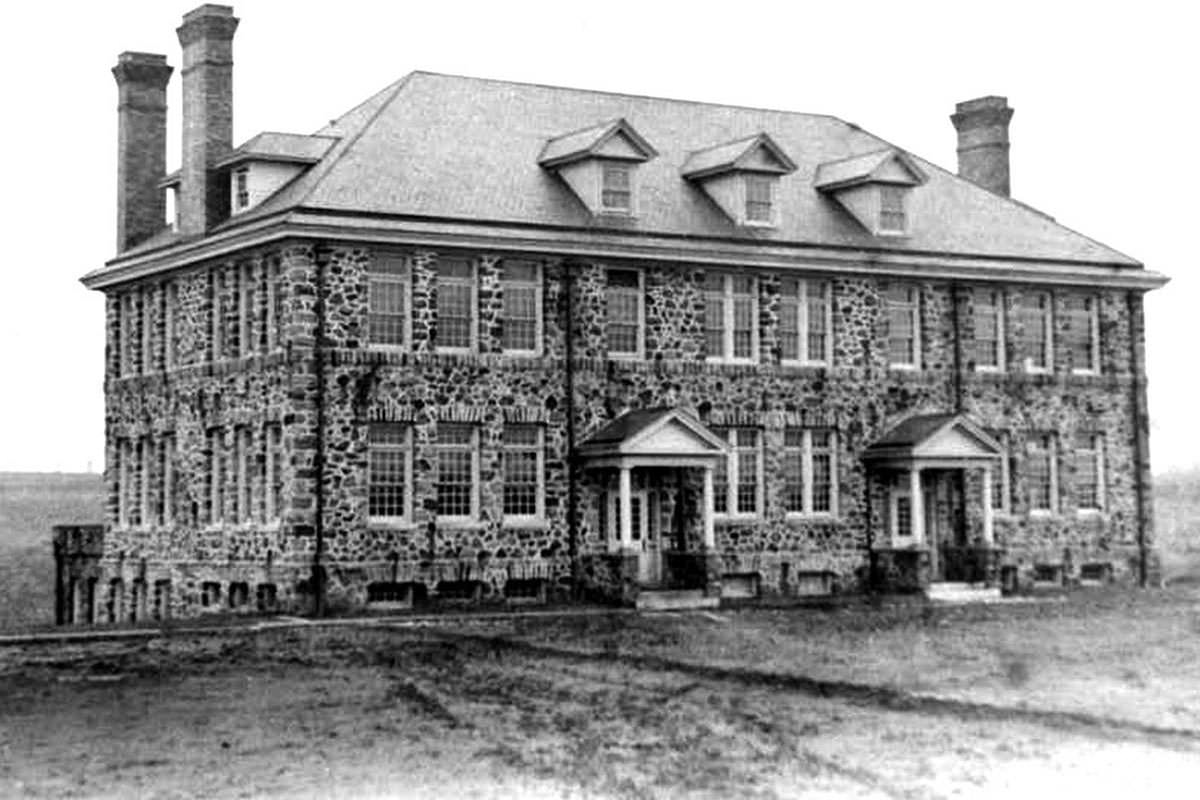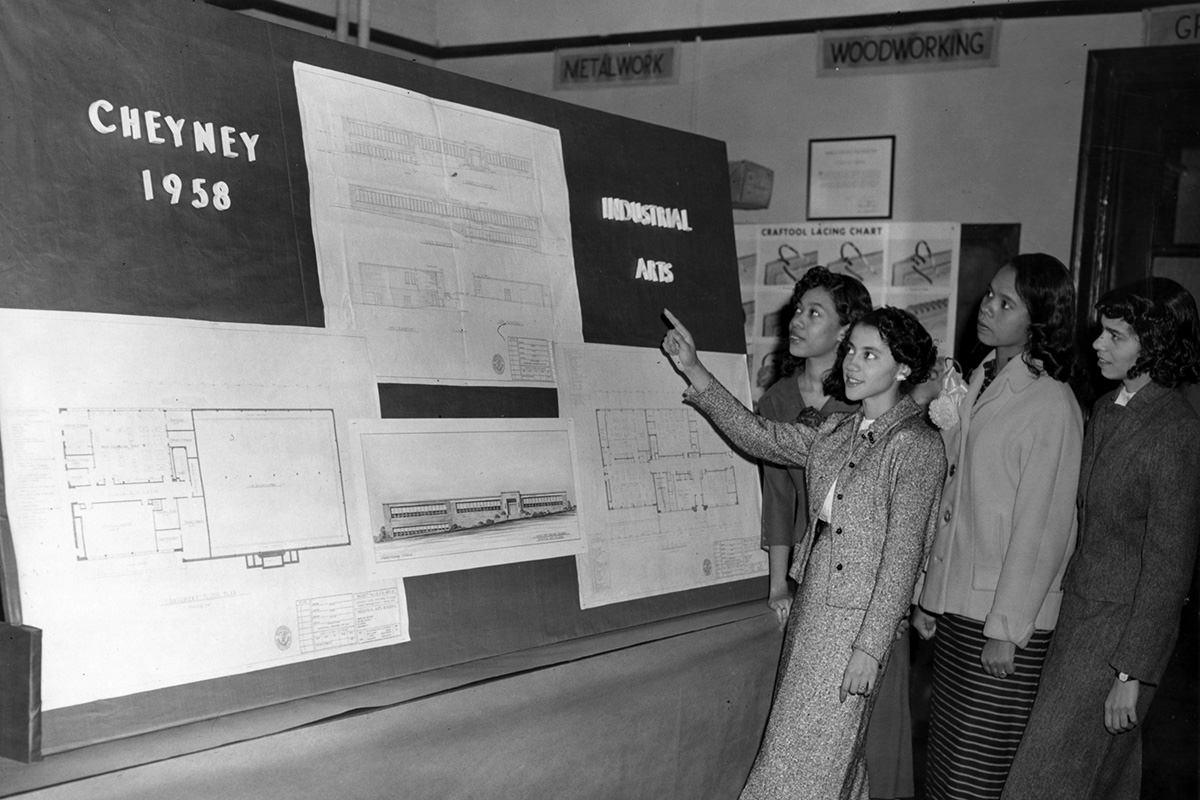 Archives of Cheyney University and John W. Mosley / Blockson Collection / Temple University Libraries
Humphreys Hall, left, built in 1903, is named for the university's founder, Richard Humphreys. Right, students in an industrial arts class in 1958.
Humphreys Hall, top, built in 1903, is named for the university's founder, Richard Humphreys. Bottom, students in an industrial arts class in 1958.
In 1969, the federal government charged Pennsylvania, as well as nine mostly Southern states, with operating a segregated system of higher education in violation of the Civil Rights Act. Pennsylvania's state universities had to desegregate and distribute resources equitably. Three decades later, the state, again under federal pressure, agreed to give Cheyney $36.5 million for new building projects and provide support for its academic programs.
After nearly two decades of budget deficits, Cheyney stayed in the black until 2006. But it has run a deficit nearly ever since, with debt exceeding $25 million last year.
The overspending accumulated under three university presidents — Wallace C. Arnold, Michelle Howard-Vital, and Frank G. Pogue.
Asked why deficits were allowed to persist, James Dillon, the state system's vice chancellor for administration and finance, said presidents repeatedly offered plans for balanced budgets, only to have them collapse.
Cascading troubles
Beginning around 2011, problems at the school escalated.
Student enrollment fell nearly 25 percent in just one year. Cheyney relaxed its admissions standards and the percentage of applicants the school accepted jumped from about a third to almost 90 percent by 2013.
"At one time, I believe Cheyney took students they knew they shouldn't have taken to ensure the funding source," said Bogle.
"At one time, I believe Cheyney took students they knew they shouldn't have taken to ensure the funding source."
Robert W. Bogle, board president and chief executive officer of the Philadelphia Tribune
And those students paid a price, according to a former Cheyney financial administrator who asked not to be identified because she did not want to publicly criticize the school.
"In an effort to help, we were actually doing a disservice, because the students didn't always have the skill set for college, so we had a high dropout rate," she said. "And the students who were unable to complete their degree also were unable to pay back their loans and debt. It was an extremely vicious cycle."
Over the next years, records show, dysfunction reigned in Cheyney's admissions and financial aid offices.
From 2011 through 2014, nearly half of students awarded federal aid at Cheyney were ineligible to receive it, in some cases because they did not enroll, dropped out, or failed to make required academic progress, a state-ordered review later determined.
Meanwhile, staffers allowed the school's financial-aid records to slide into disarray. Files were stuffed into cabinets, packing boxes, even arrayed on the floor, a state audit later revealed.
Moreover, the school did not have an electronic means of cross-referencing billing records with attendance and athletic records. As a result, administrators had to check records by hand, resulting in what one report called an "absence of data integrity."
In the athletic department, for example, team members who weren't enrolled or eligible for scholarships competed nonetheless, records show. The NCAA in a 2014 report said Cheyney had "a lack of institutional control," wiped out wins for teams and coaches, canceled postseason play and put the Division 2 school on probation until 2019.
Cheyney's admission records, too, were a staggering mess.
Between 2012 and 2015, as many as 3,000 applications for admission to the school went unopened or unprocessed, and some were later found stuffed in admission staffers' desks. Hundreds were found at the post office, having never made it to the admissions office.
Deborah Bowles, who joined the office as a consultant in late 2013 and a few months later was hired to oversee it, declined to comment. Bowles, who left the office in November 2015, said by email: "I do not wish to talk about Cheyney."
The university also failed to collect unpaid tuition bills from hundreds of students. In normal practice, students who don't pay up or obtain loans are not allowed to take classes. At one point, students owed a collective debt of $7 million. Today the debt stands at $2.5 million.
Bogle, who has chaired Cheyney's council of trustees for 20 years and has served on it for 30, said: "No one should support or can support that kind of an operation. A private company would declare bankruptcy."
Asked about his responsibility for the shortcomings, Bogle said he and other council members shared in the blame, but stressed that they had limited oversight. Indeed, council meeting minutes going back at least until 2013 show that Bogle decried the school's growing deficit and called for cuts to realign the troubled finances. "The council spoke about the problems, but we're not empowered to change the problems," he said. "We aren't empowered to fire the CEO."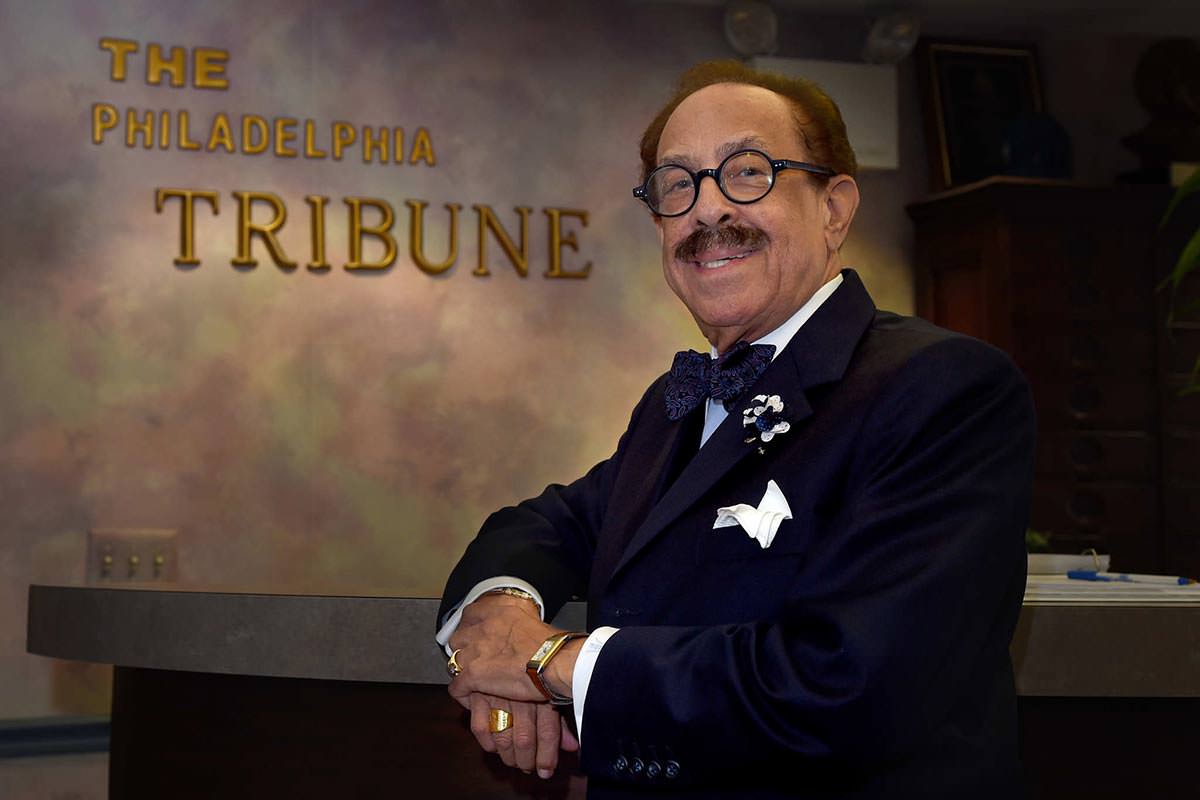 TOM GRALISH / Staff Photographer
Robert W. Bogle, longtime board member at Cheyney University, says blame for the school's problems falls to "all of us."
The council recommends candidates for president and participates in interviews, but the system board of governors ultimately has the power to hire. Similarly, the council conducts annual reviews of presidents, but it's up to the board of governors to dismiss a leader. Both the council and the board of governors approve the university's budget.
Michelle Howard-Vital ran Cheyney from 2007 to 2014, during which time she allowed its budget deficit to grow to $6.7 million, and the admissions and finance offices were in apparent shambles. Reached at Florida Memorial University, where she serves as interim president, Howard-Vital agreed to a later interview, but never followed through. She did not return subsequent phone calls.
Bogle, who initially supported Howard-Vital, said the council grew wary of her administration within a year, but was powerless to remove her because the board of governors and the chancellor had that authority.
State Sen. Vincent Hughes (D., Phila.), a Cheyney trustee, at that time called for a state investigation into the admissions mess.
"If 10 percent of those 3,000 had wound up being accepted students, then a student population of 700 would now be at 1,000," Hughes said.
The state did investigate but declined to make it public, saying it was confidential. Hughes said he never got a clear answer on what happened, but was told that the staffers and administrators responsible no longer work for Cheyney.
The state system's chief counsel, Andrew C. Lehman, blamed the admissions fiasco on a lack of coordination as well as "incompetence and indifference," according to a 2016 letter he sent to Hughes. Kenn Marshall, a spokesman for the state university system, attributed the lapses in part to a high turnover of staff and a lack of training.
In addition to the chaos in the enrollment office, state officials discovered another debacle. In 2016, an audit found that Cheyney had improperly diverted more than $3 million in scholarship money, research grants and other restricted funds and used it to plug a hole in its budget.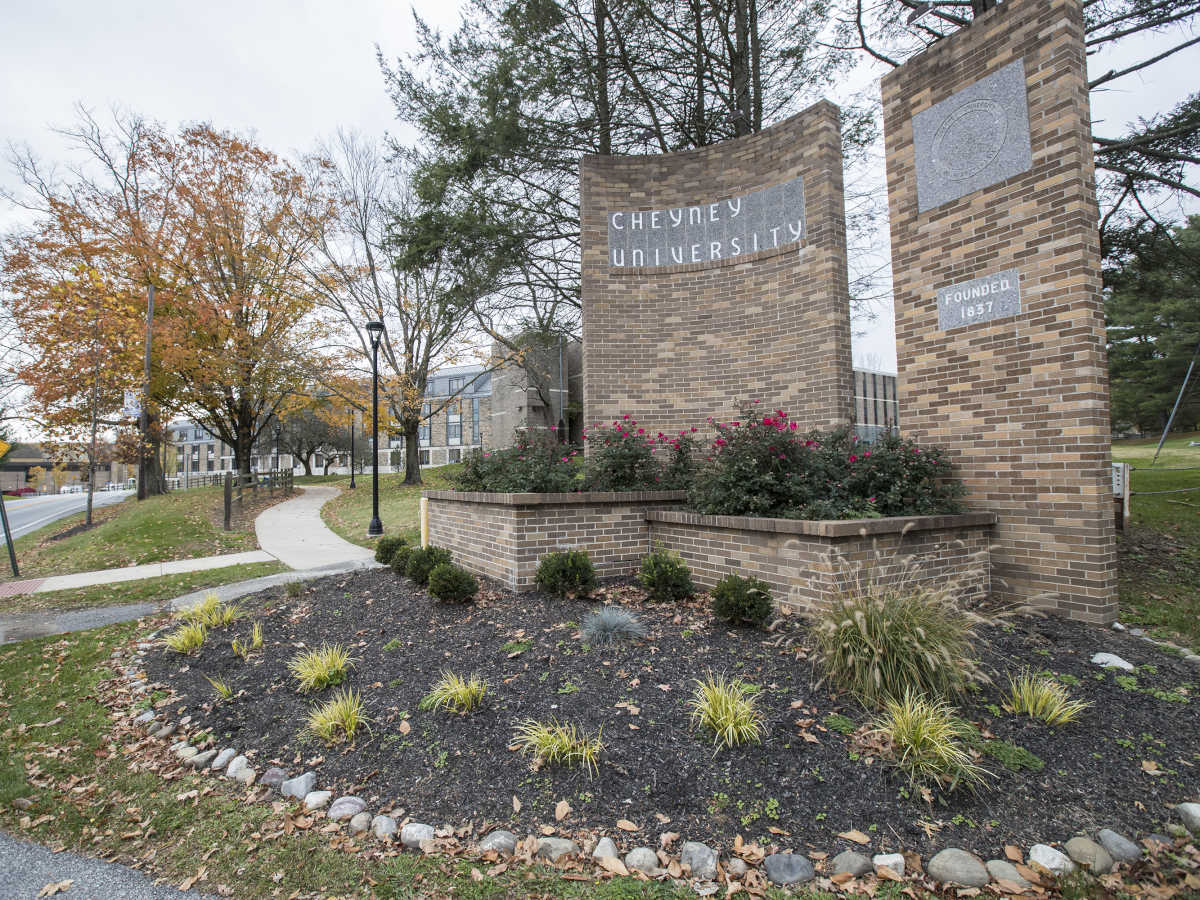 MICHAEL BRYANT / Staff Photographer
The Cheyney Road entrance to the university campus.
State officials ordered the funds restored and loaned Cheyney money to do that.
The misspending is highlighted in a whistle-blower lawsuit filed in May by Sheilah D. Vance, the former deputy president of Cheyney, who says she was dismissed after alerting Pogue to the diversion of funds, which she described as illegal. School officials said in court papers that they knew of the problem before Vance pointed it out and that her position was eliminated for budget reasons.
In a brief telephone interview, former president Pogue said he found "a lot of disorganization" when he arrived at Cheyney in 2015, but declined to elaborate.
"It was an institution in trouble, and I tried to do my best to turn it around," he said. "We accomplished some things. We didn't accomplish everything."
Students and faculty say the effects of the school's funding problems are clear. They show in limited course offerings that can impede students' path to timely graduation. They show in the worn-down dorms and aging buildings in need of maintenance. And they show in curricula that in some cases have not been updated in years.
"I felt like everything was like a repeat of high school," said Melva Ford, 23, of Philadelphia. "Everything wasn't advanced."
She dropped out in September 2016, just three weeks into her junior year, and now has $19,000 in debt.
Ford said she chose Cheyney because she had heard it was the best historically black university, but has since reached her own conclusion.
"To be honest with you, that would probably be the last school I recommend as far as an HBCU," she said.
Who is to blame?
The school's shortcomings can be attributed to a succession of leaders who lurched from crisis to crisis, all under the stewardship of the council of trustees and the state board of governors.
Bogle said the state system, which hires and fires university presidents and "has a heavy, heavy hand in every facet of the university's life," deserves a lot of the blame for Cheyney's problems, along with several presidents.
"I don't think this university has had a president who understood the culture, understood the environment, and put all the pieces together as to what Cheyney needed with the cooperation of the state system to turn it around," he said.
Cynthia Shapira, board of governors chair, said she couldn't address Cheyney's steep and steady decline because she has led the board for little more than a year. Her predecessor, Guido Pichini, declined to comment.
"We've taken steps to address problems that had been left untouched for too long," Shapira said. "The university is on the right track now."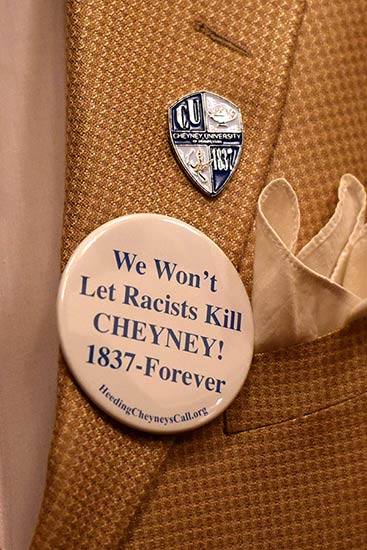 TOM GRALISH / Staff Photographer
Many Cheyney alumni mobilized this summer to save the school, the nation's oldest historically black university.
Some Cheyney supporters such as Michael Coard, a lawyer and Cheyney graduate, have accused the state of deliberate neglect, fueled in part, they say, by racism. "The villain, the bad guy, is the state system," said Coard, who is active in Heeding Cheyney's Call, a group of alumni, students and other university supporters.
The group contends that Cheyney needs more funding than other state schools to make up for decades of discrimination.
State officials counter that they have invested in Cheyney "at an unprecedented level," both to eliminate any unfair treatment and "secure Cheyney's future."
"Cheyney is in the condition it is today because of poor decision making and lack of accountability," Brogan said in a statement. "Those things know no race, creed, or color. They slowly, insidiously eat away at the integrity of organizations — no matter what."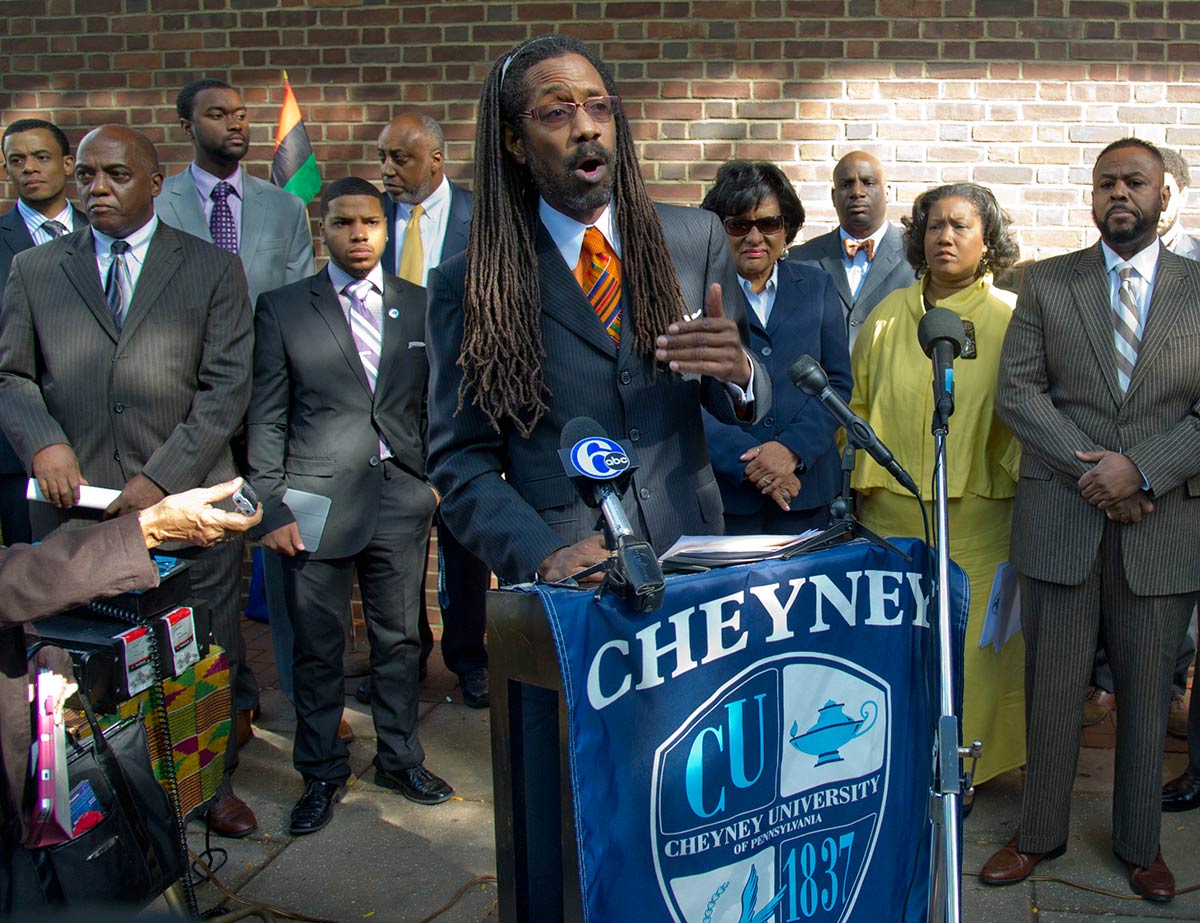 CLEM MURRAY / Staff Photographer
Michael Coard, a 1982 graduate of Cheyney, has accused the State System of Higher Education of deliberate neglect of Cheyney, fueled by racism.
In the last fiscal year, Cheyney received more than $26,000 per student in state funding, compared with an average of $5,000 per student at other state universities.
State investment in Cheyney included funding for a new residence hall and a science center and money for a Philadelphia campus.
And in August, the board of governors agreed to forgive $30 million in loans to Cheyney if it balances its budget in each of the next four years.
That task may be difficult to accomplish if the U.S. Department of Education decides Cheyney has to return the $29 million in mishandled federal financial aid.
Ways to save Cheyney
If Cheyney is to survive, it will likely have to build on the fierce loyalty it garners from alumni and students.
"The professors care about you. They care about you like you're their own," said Salimah Williams, 24, a senior biology major from Philadelphia.
For Cheyney students, more than three-quarters of whom come from low-income families, that support is key.
Ainje Hines, 21, of Chester, said most colleges rejected her because of low SAT scores. "This place gave me a chance," she said.
And with tutoring and other support from Cheyney, she's made good on it. The senior psychology major said she has maintained a 3.5 GPA.
Students say they're drawn to the school's intimate feel, its small classes, and the personal attention from faculty. They also delight in its rural setting, 275 acres of rolling farmland in Delaware and Chester Counties, far from distractions to their studies.
"Cheyney has contributed so much to my life," said Nyrie Watson, 21, a senior from Wilmington. "Cheyney has really made me a different person, a better person."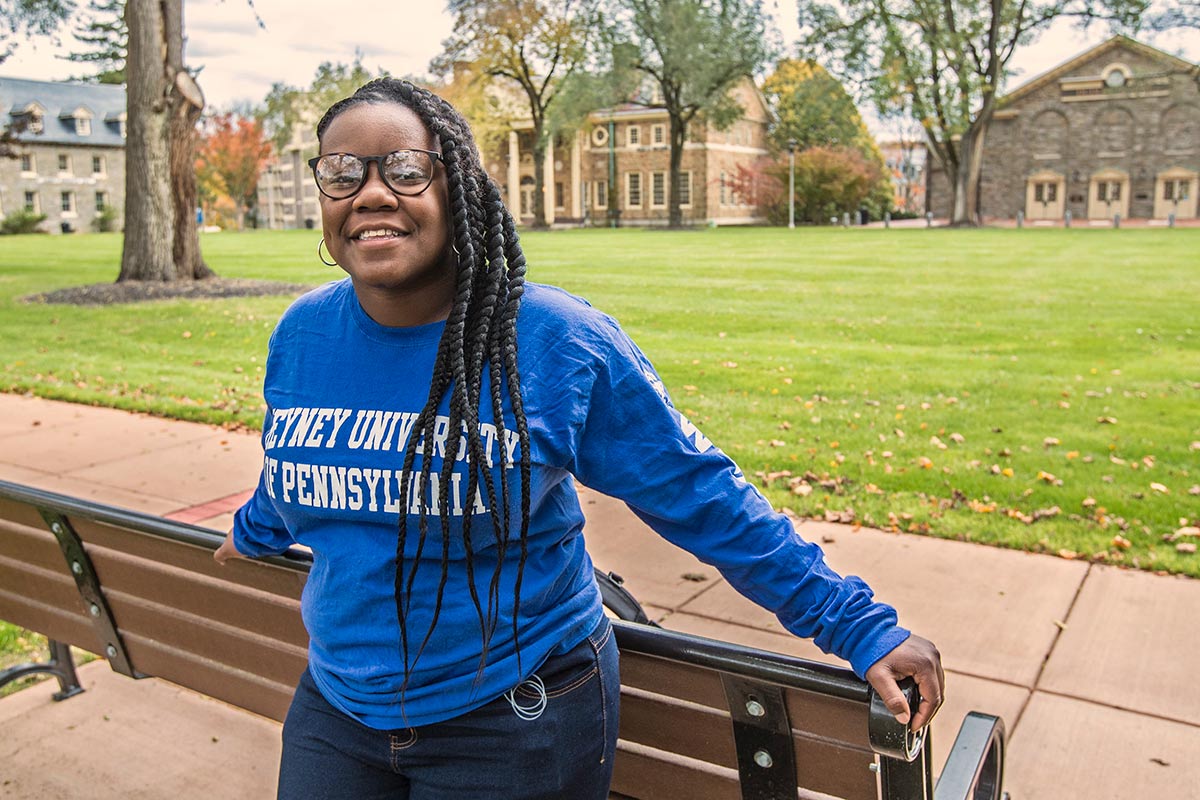 MICHAEL BRYANT / Staff Photographer
Nyrie Watson, a senior and education major, outside at the Quad on the Cheyney campus. She says the school made her "a different person, a better person."
The task of trying to rescue Cheyney has fallen to Aaron Walton, 70, a retired executive from health insurer Highmark, who took over as president in May.
Walton, who served on the state board of governors, knew of Cheyney's struggles when he took the job and says he's confident they can be overcome.
"There's tremendous support for the legacy this university has," he said. "It's a gem for our country." Yet, he said, "the business model has to change."
Walton has promised to balance Cheyney's budget. To do that, he will have to slash jobs and programs to close a $7.5 million deficit in the school's $35 million budget.
"We have to shrink to grow," said Walton.
Earlier this year, a state task force — led by Walton and Bogle — made some bold suggestions, including creating a research institute on race, ethnicity, and social justice.
"It would draw the very best minds — white, black, short, tall or skinny — into an enterprise that would revisit the African American experience in America," Bogle said. "Housing, health, across the board."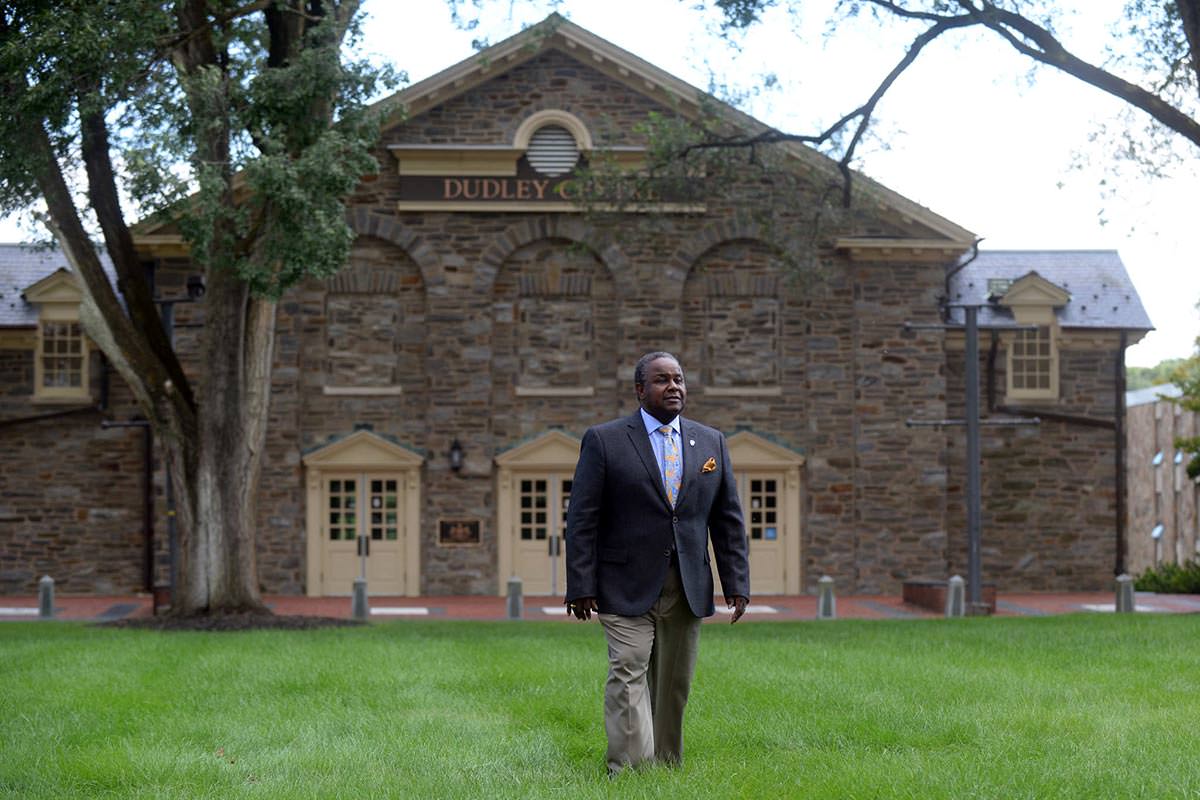 BOB WILLIAMS / For the Inquirer
Aaron Walton, Cheyney's president, says he has to cut staff and slash programs to eliminate debt: "We have to shrink to grow."
Walton hopes to put the school on a path to success so it will be attractive to future presidents.
Walton spent his first month assessing Cheyney, then dismissed 12 percent of the staff, bringing it under 170, and realigned the positions of others.
He brought in experts in finance, writing, and business development, as well as a former college president with experience in the accreditation process, to help him craft a plan. He declined to share it before Thursday's accreditation meeting.
Walton also enlisted a Boston University psychiatrist to design a counseling program to help struggling students achieve.
"This has been a school of opportunity for many years, so you have a lot of students who are admitted who perhaps aren't where they need to be academically, but show great potential," he said.
Their problems aren't just academic. "They're psycho-social. They're behavioral," he said. "If you come from a troubled home and you're here worrying about your siblings or what's going on at home, it's hard to study."
While continuing to welcome students who show potential, Cheyney will strengthen its admission standards, Walton said. The average student SAT score now is 766 on a 1600 scale, according to education data.
"We're not going to admit more students than we're prepared to work with to get them to academic proficiency," he said.
Walton vowed to be a stickler about finances, ending the practice of spending more than the school takes in. And he will require students to pay their tuition to stay enrolled.
"My focus is, how do we rebrand Cheyney and bring it back to and surpass the status of what it had in the past?" he said. "I believe that is possible."
So, too, does senior Nyrie Watson.
"I think it's so important to keep Cheyney open because it's the oldest HBCU. That's something we should cherish," she said. "I really would like to see my children and my grandchildren attend Cheyney."
An earlier version of this story erred in summarizing Deborah Bowles' tenure at the troubled enrollment office at Cheyney University. She joined the office as a consultant in November 2013, was hired to oversee it in February 2014 and left in November of 2015.
Michele Tranquilli contributed to this article.