Teaching hope
CLEM MURRAY / Staff Photographer
Mitchell Elementary School fourth graders take a test.
At a cash- and resources-short Southwest Philadelphia school, teachers and staff do more than educate. They feed, they clothe, they beg, they cheerlead – all to help give disadvantaged students a future.
The tiny girl walked into the Mitchell Elementary School counselor's office dressed only in pants and a tank top. Outside, it was 39 degrees.
"My teacher sent me to get a sweater," she whispered. "I'm cold."
Nancy Hoover, the counselor at the school in Southwest Philadelphia, didn't blink. She fished something warm from one of her beat-up filing cabinets. A few minutes before, she'd outfitted an older girl with pants and a shirt to replace the ill-fitting uniform the girl had worn to school.
Funding Philadelphia schools, for better or worse, is about much more than providing basic academic needs.
This month, Gov. Wolf made his 2017 budget proposal — whose outcome will have an enormous impact on Philadelphia schools. Mayor Kenney's is due in a few weeks. Most days of the week, politicians have something to say about the state of the cash-poor Philadelphia School District.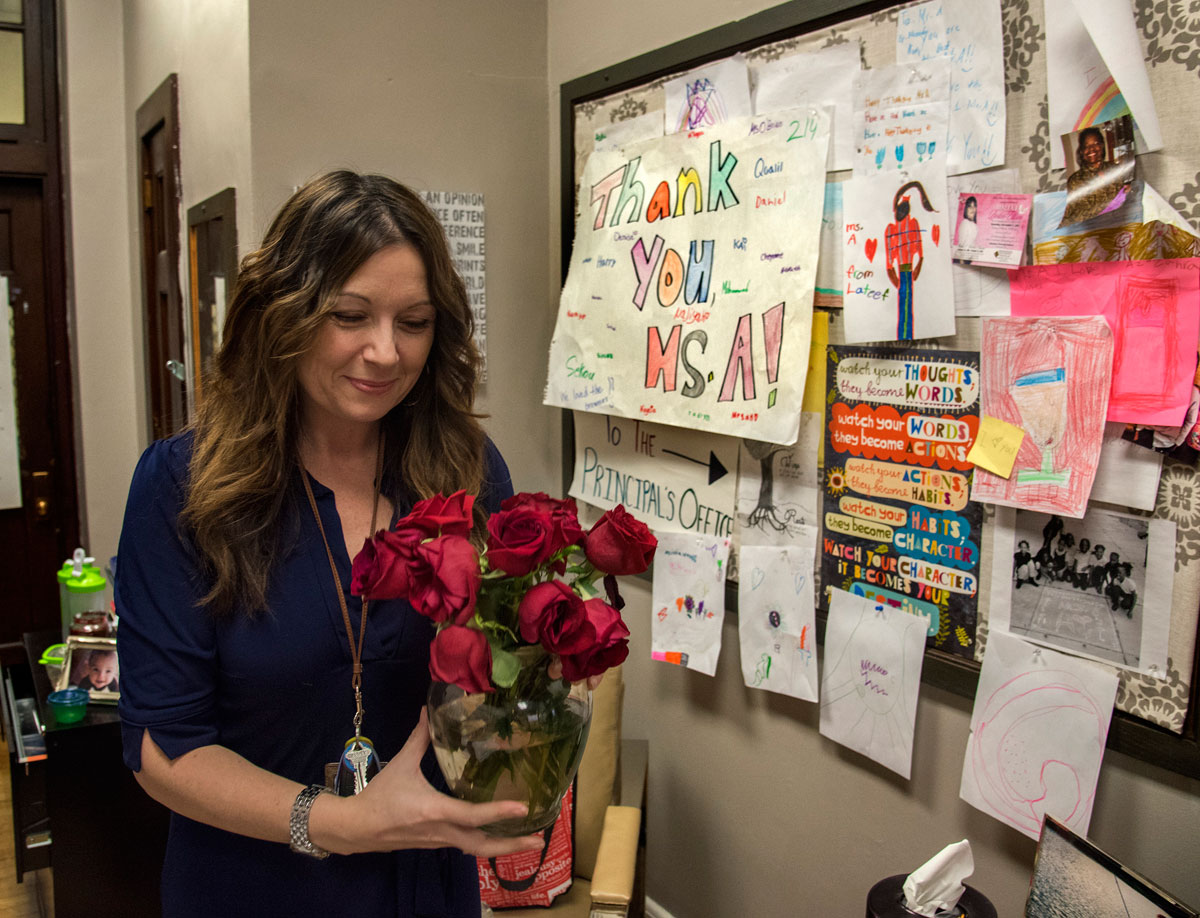 CLEM MURRAY / Staff Photographer
Principal Stephanie Andrewlevich carries a bouquet of roses she received from the Men of Mitchell, a group of at-risk boys under the tutelage of school police officer Donald Lewis.
Stephanie Andrewlevich, the first-year principal of a school some had given up on, would love a piece of the $200 million in new money Wolf has suggested for Pennsylvania schools, but that possibility feels far away from 55th Street and Kingsessing Avenue.
The needs and the promise of that shivering little girl, and her 700 classmates, drive educators on. But for those in the trenches at schools like Mitchell, keeping optimism afloat requires superhuman efforts some days.
Consider: Some teachers began the school year with no computers in their rooms, and there's barely any budget for books. Until very recently, Andrewlevich conducted daily assemblies in an auditorium that had just a few working lightbulbs. Staff have had to call 911 an estimated 15 times so far this school year on days when there is no nurse in the building.
"My dad told me years ago, that's your paycheck, when you connect emotionally."
Stephanie Andrewlevich
Every one of Mitchell's students lives below the poverty line, and some are homeless. A significant number of children have behavioral or mental health issues, with many needs concentrated in the early grades, where classes are large.
Some students have never been outside Southwest Philadelphia. Some are raising themselves.
Mitchell ranks low on test scores, quality of school life, and growth measures, based on last year's data.
Several years ago, the school fared fairly well academically, but as resources eroded districtwide, Mitchell also grew from a K-4 to a K-8 school, and conditions worsened.
And yet, hope prevails.
Against the odds, Hoover said this month, "we are a school on the rise."
Andrewlevich didn't just want to be a Philadelphia principal. She wanted to be Mitchell's principal.
She grew up in the Northeast with parents who valued education. Her father spent his career finding the best in the city's toughest kids — Richard Junod taught at Shallcross, a district disciplinary school that was the last stop before the streets for many students.
Andrewlevich wanted that challenge, too.
"It was almost selfish," she said. "I wanted to feel what he felt. I'm not trying to save the world — it's personal satisfaction. My dad told me years ago, that's your paycheck, when you connect emotionally."
CLEM MURRAY / Staff Photographer
Andrewlevich, 41, addresses students in the auditorium before the start of classes.
Circumstances, she knows well, often dictate student outcomes. Andrewlevich's own birth parents gave her up for adoption, a decision that transformed her life.
"If my parents hadn't given me up, I would have been a high-needs kid in a high-needs school," she said.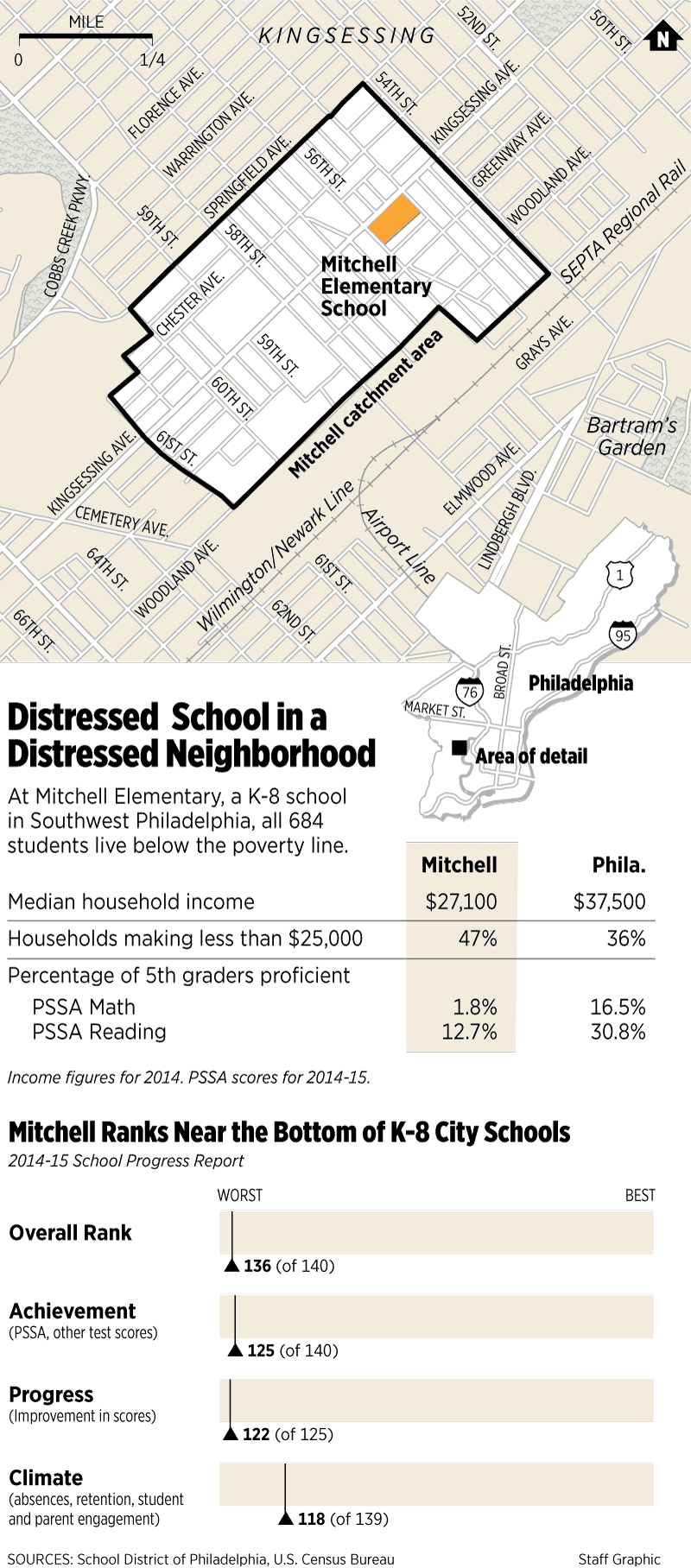 In her first classroom as teacher, at Harding Middle School in Frankford, the principal gave her a group of overage children with behavior problems and told her to do the best she could. With a mix of toughness and affection, she reached those kids, and they gave her everything they had — which, she found, was a great deal.
After Harding, Andrewlevich taught at Conwell, a magnet middle school in Kensington. Last school year, she worked at district headquarters, in the Office of Teacher Effectiveness.
"If my parents hadn't given me up, I would have been a high-needs kid in a high-needs school."
Stephanie Andrewlevich
Once qualified as a principal, Andrewlevich had opportunities to go to other schools, places not quite so needy.
Andrewlevich wanted Mitchell.
"I've worked in many schools, and no one loves the kids like we do here," she said. "My staff — they are soldiers for this work. I saw how hard they worked, despite the way things were crumbling around them. They could all go to other schools, but they choose to be at Mitchell."
She held no illusions about what she was walking into. The school smelled of urine and had a rampant rodent problem. One day early in her tenure, Andrewlevich ended a meeting because fleas were biting her legs. The students were used to chaos, fights, suspensions.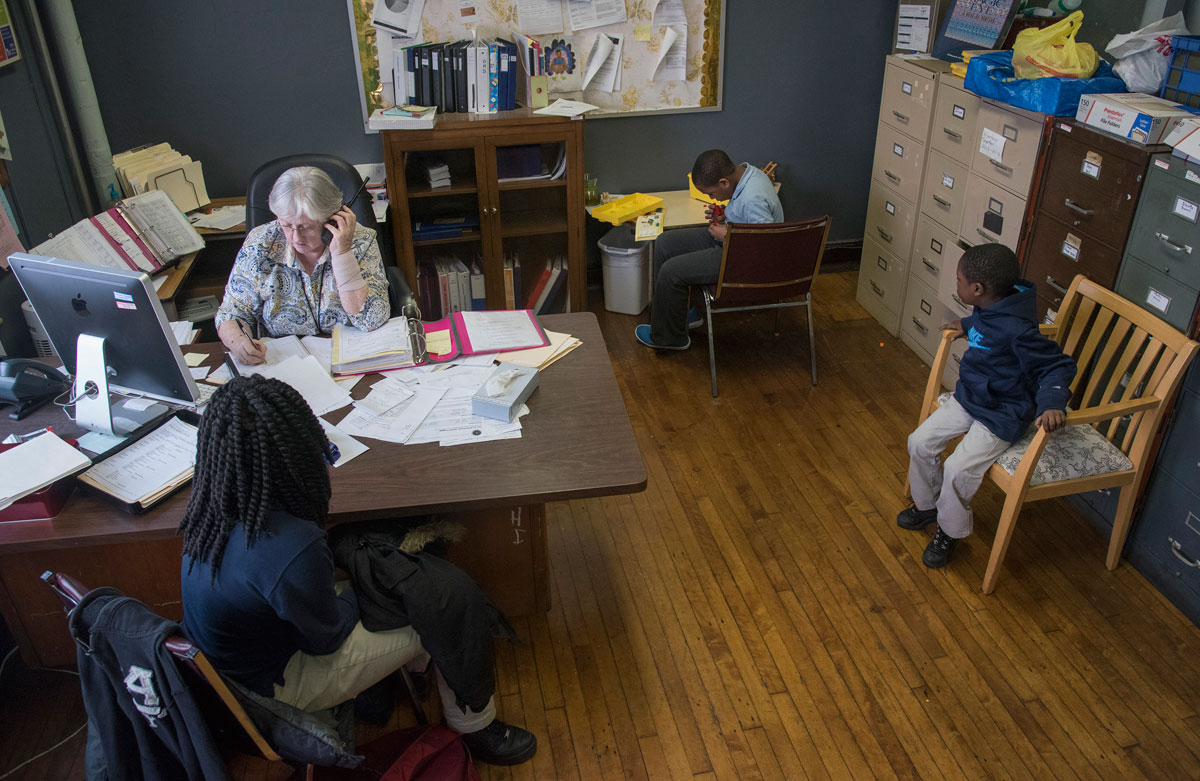 CLEM MURRAY / Staff Photographer
Counselor Nancy Hoover makes a call as students wait in her office.
Jeff Harvey, Mitchell's custodian for the last eight years, put it plainly.
"Ms. A wasn't playing," Harvey said appreciatively of the 41-year-old, who favors hoop earrings and heels. "She got it done. She said she wanted the smell out of the building, and she wanted the kids to act right."
In the past, kids flooded bathrooms, swiped things from one another's book bags, "acted wild," said Dashan Thomas, 14, an eighth grader.
"She wanted the smell out of the building, and she wanted the kids to act right."
Jeff Harvey, Mitchell's custodian
"Last year, you'd throw food and nothing would happen," Thomas said. "This year, no way."
Amir Curry, another eighth grader, nodded.
"The expectation was just for us to pass; we could do whatever we wanted," said Curry, also 14. "Mitchell is just way better now."
On a visit to Mitchell this summer, Superintendent William R. Hite Jr. said he was struck by two things: "The principal had enormous energy, and she was running around in high heels."
He has been moved by the whole staff's urgency to teach — and care for — the students. That's been renewed this year, Hite said.
Of Andrewlevich, the superintendent said: "You can spend some time with her and really be inspired to continue to work on behalf of children."
To keep her drawers stocked with clothes, Hoover, the counselor, drove recently to three Goodwill stores, scouring shelves for pants and shirts in an array of sizes. She washed and ironed her finds before she brought them to school.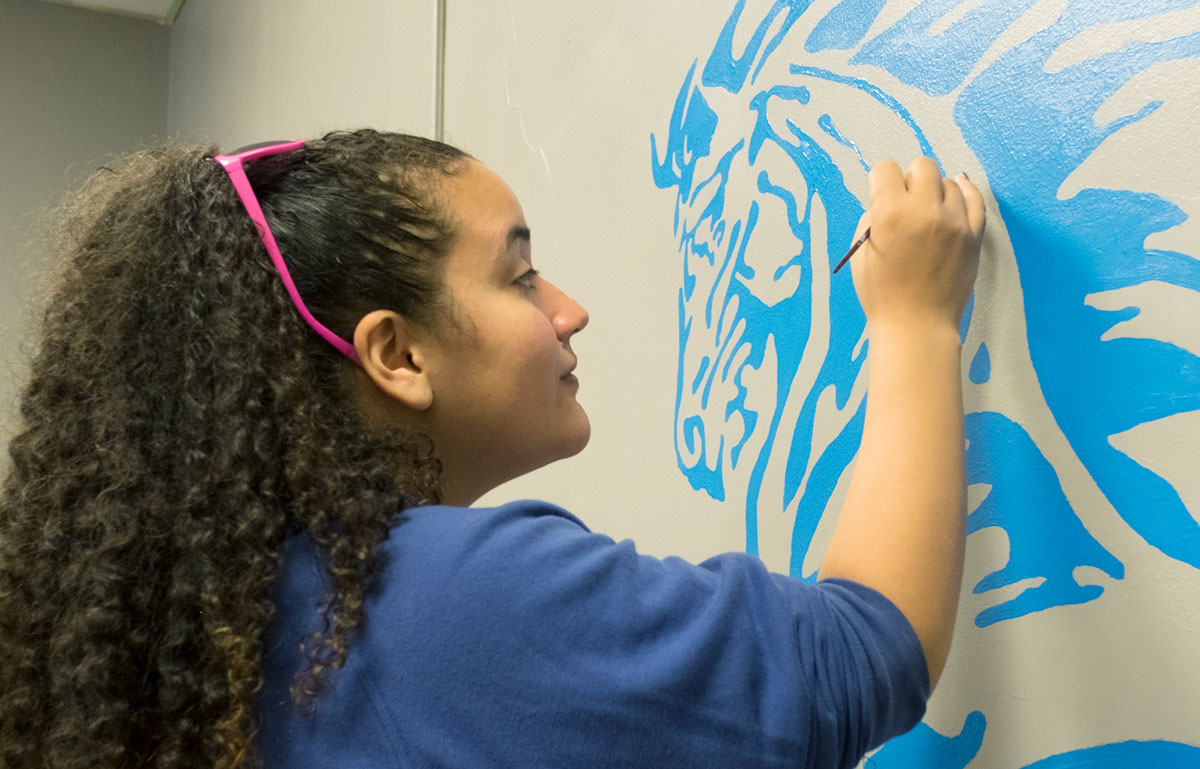 ED HILLE / Staff Photographer
City Year alumna Eva Rodriguez paints in the main office.
Hoover's efforts are no different from many Mitchell staffers' — or those at other Philadelphia schools. They outfit their classrooms with the essentials that paltry or nonexistent supply budgets don't begin to cover, and find a way to send the school's resident chess whiz to tournaments. One Mitchell teacher shops for groceries for a student's family every week.
Andrewlevich views it as her job to be her staff's champion, to go to bat for what they need. While much still needs to improve at the school, she said, that has nothing to do with how hard her employees work.
For Hoover, that support has made all the difference. Before she came to Mitchell, she didn't even know there was a National School Counselors' Week; this year, she got a token of appreciation every single day.
"She makes us feel valued," Hoover said of Andrewlevich. "And that drives us on."
"Last year, you'd throw food and nothing would happen. This year, no way."
Dashan Thomas, an eighth grader
The school had a number of partnerships to build on before Andrewlevich arrived, but she was "relentless" in establishing more, Hoover said — in stressing Mitchell's needs, cajoling the central office into action in some cases.
She got furniture donated.
Volunteers — including many teachers — came in over the summer to paint their classrooms. Hundreds more came to Mitchell in October via a City Year project to brighten the school with murals. Pennsylvania Real Estate Investment Trust gave $20,000 toward sprucing up the auditorium; Wayne Presbyterian Church donated violins and is paying for a part-time teacher to give lessons.
Andrewlevich, an avid runner, has designs on the Philadelphia Marathon to begin to raise the $50,000 she estimates she'd need for her students to play on their playground again. Mitchell had equipment but lacks the proper mats to keep the children safe, so it sits idle.
An injury kept the principal from running last year's marathon. She'll be there this year, she promised, with a different staffer or student running alongside her every mile, holding up signs touting Mitchell's promise.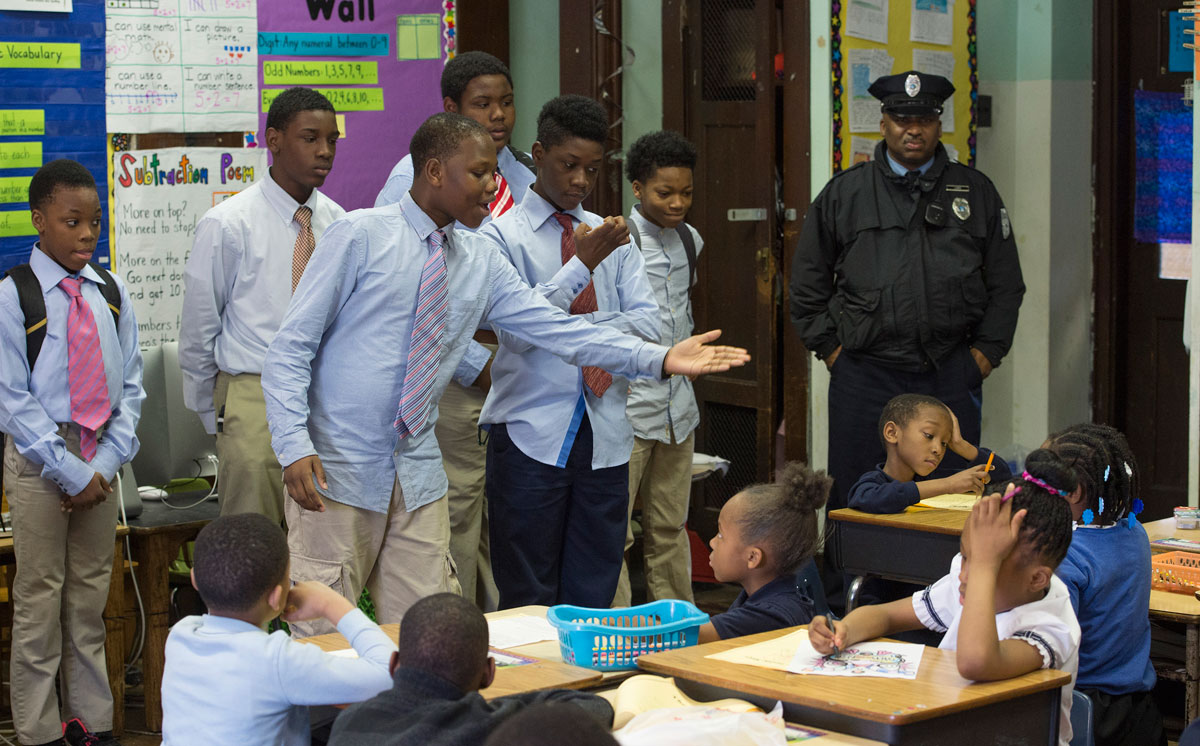 CLEM MURRAY / Staff Photographer
School police officer Donald Lewis (right) listens as Maliek Robbins and other Men of Mitchell speak to a class about being good students and looking to the future.
Donald Lewis, the school police officer, welcomes the changes.
For several years, he's wanted to start "Men of Mitchell," a leadership group for at-risk middle-school boys who remind him of himself: a kid growing up in a single-parent house.
Previous principals told him they didn't have the money to make it happen, Lewis said, but Andrewlevich gave him the green light. There's still no budget, but Lewis dips into his own pocket to cover the group's few expenses, or Andrewlevich scrapes together a few dollars, or someone finds a donation.
Under Lewis' supervision, the Men of Mitchell gave pep talks to younger students this month.
"You have to have education to succeed in life," Curry, the eighth grader, told one class. "Education is a priority."
Slowly, Lewis said, the kids are believing in Mitchell.
"Now, they know this is home," he said. "They know this is our house."
One recent day, eight boys strode into Andrewlevich's office wearing shirts and ties and solemn expressions.
"We'd like to present you with these roses for everything you do for us," said seventh grader Maliek Robbins, handing over a dozen crimson long-stems. Another boy presented a carefully written certificate of appreciation.
"I can't believe you did that," Andrewlevich said, her voice scaling up an octave and shaking a little.
"I love you guys."
kgraham@phillynews.com, 215-854-5146, @newskag, www.philly.com/schoolfiles