Live Aid
30 years after
MICHAEL MERCANTI / Staff Photographer
It was July 13, 1985: an enormous concert, a fundraiser for African famine relief, a day Philadelphia owned the attention of the world.
By Chuck Darrow / Daily News Staff Writer, darrowc@phillynews.com
Wednesday, July 8, 2015
Monday marks the 30th anniversary of the globally televised Live Aid concerts for African famine relief, staged in London and in Philadelphia's long-gone JFK Stadium.
That sweltering day in Philly saw many iconic moments, such as Mick Jagger and Tina Turner's incendiary set, and the ill-fated Led Zeppelin reunion (ruined, according to Zep guitarist Jimmy Page, by drummer Phil Collins' incompetence and lack of preparation). Across the pond, U-2 did a career-making turn at London's Wembley Stadium.
But there were also many lesser-known, yet fascinating aspects to what will likely remain the most historic single-day entertainment event ever staged. Here are a few things you might not know.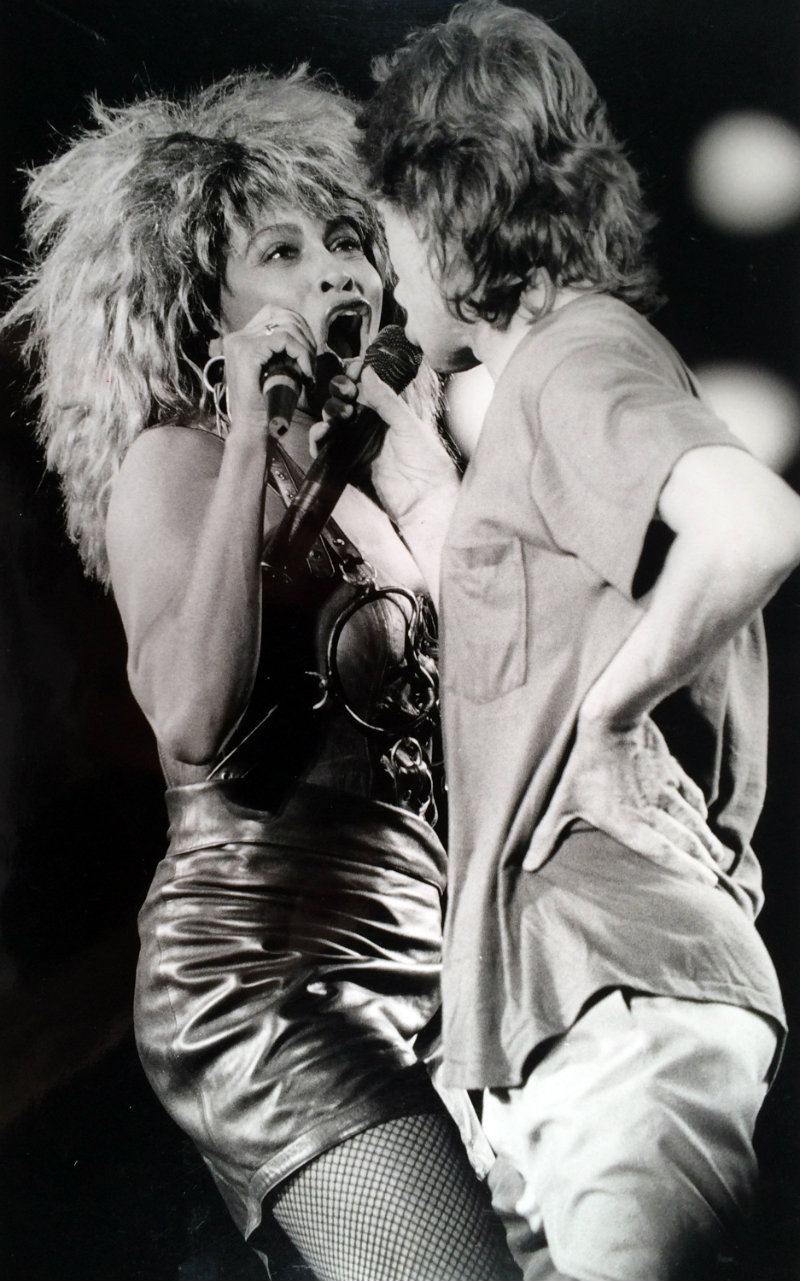 GEORGE REYNOLDS / Staff Photographer
Tina Turner and Mick Jagger
Minority report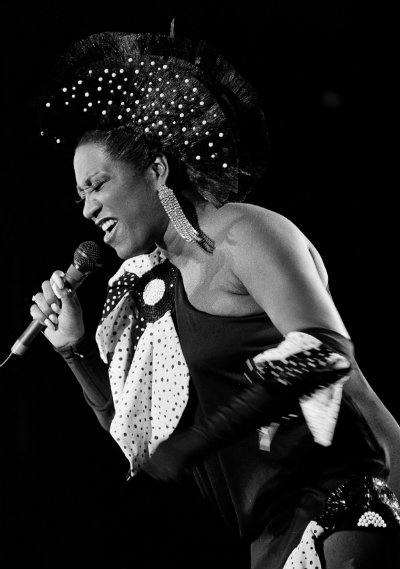 RUSTY KENNEDY / AP PHOTO
Patti LaBelle
From the moment such music-industry mahoffs as the late uber-promoter Bill Graham and Larry Magid, of Our Town's Electric Factory Concerts, gathered at City Hall to declare Philadelphia the host of Live Aid's American set, controversy took a seat on the podium.
At their June 11, 1985, news conference, concert organizers proudly unveiled an impressive preliminary roster of artists booked for JFK Stadium — Jagger, Eric Clapton, Santana, the Temptations, the Cars and Stevie Wonder.
Then the fireworks began.
Tommie St. Hill, today a lobbyist, then a reporter for The Philadelphia Tribune, pointed out that a concert being staged to help Africans had but two black acts — Wonder (ultimately a no-show) and the Temps.
All hell broke loose, with Live Aid honchos going on the defensive and accusing the media of trying to run down a noble project. The promoters ultimately added home girl Patti LaBelle, Ashford & Simpson, the Four Tops, Billy Ocean and the late Philly soul titan Teddy Pendergrass.
His lump-in-the-throat set was his first gig since the 1982 car crash that left him permanently wheelchair-bound.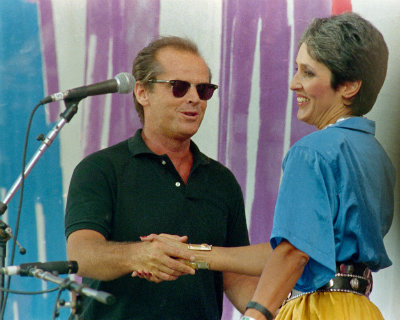 AP Photo
Jack Nicholson and Joan Baez
Pretenders for real
For those lucky enough to have witnessed it, the single best Live Aid performance didn't happen at Live Aid.
In the days running up to the event, the performers booked every available professional-grade rehearsal studio in the area. Finding no vacancies, the Pretenders — who hadn't gigged in a year — decided to shake off the rust with a private, late-night Live Aid Eve set at the old Chestnut Cabaret, at 38th and Chestnut streets.
The band blasted through a greatest-hits show that included "Message of Love," "Back on the Chain Gang," "My City Was Gone" and "Brass in Pocket." It was a ferocious and indelible effort.
MICHAEL MERCANTI / Staff Photographer
Suit & tie
The JFK show was scheduled to begin at 9 a.m. Sometime during the eight o'clock hour, then-Mayor Wilson Goode and his entourage arrived backstage. It was early, but already the temperature was rolling well into the 80s, with humidity to match.
Goode was formally attired in a black suit, white shirt and dark power tie. But that formal look was deceiving. Asked by a reporter how he felt, the mayor — two months to the day after the MOVE bombing and subsequent inferno put Philly back on the national map, for very different reasons — memorably channeled his inner James Brown and replied, "I feel good! I'm ready to roll!"
Philly's 1st Hard Rock
The Hard Rock Cafe at Reading Terminal Market has been an East Market landmark since it opened in 1996. But the popular eatery was not the first to plant the Hard Rock flag in our fair city.
The backstage mess tent at Live Aid was a full-service Hard Rock outlet, complete with trademark music memorabilia decor and popular menu items.
Most media had severely limited access to the area where stars' trailers were located, so Hard Rock was where reporters could get up-close-and-personal with many acts. And the chow was far superior to what was being served at concession stands.
Because all the proceeds went to the Live Aid fund for famine relief in Ethiopia, everyone — including performers — paid for their food.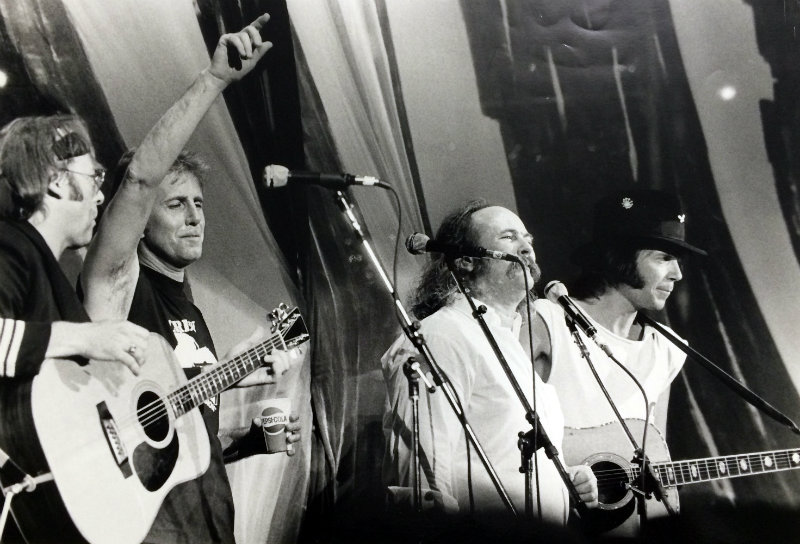 MICHAEL MERCANTI / Staff Photographer
Crosby, Stills, Nash & Young
Phil & Kal's excellent adventure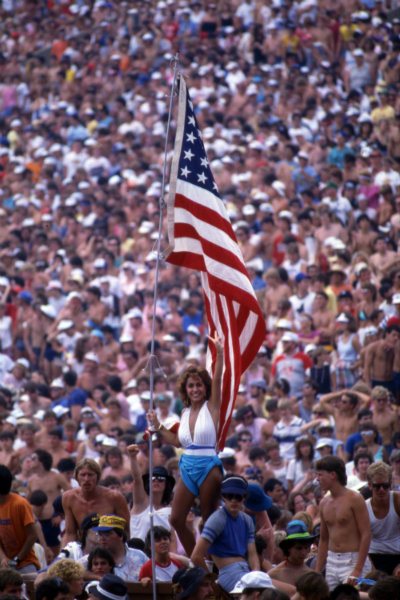 AKIRA SUWA / Staff Photographer
One of the day's biggest stories — MTV covered him as if he were a president or Pope — was Phil Collins' playing both London and Philly. He did a solo set at Wembley, then hopped a Concorde supersonic jet to New York's JFK Airport and, from there, a chopper to JFK Stadium, where he joined the Led Zeppelin reunion.
Also on the transatlantic flight was local philanthropist Kal Rudman, publisher of the influential, Cherry Hill-based radio-industry tip sheet, Friday Morning Quarterback, which told music-station programmers what records they should be playing.
Rudman had seen the London show, and when Collins learned he was on the flight, the musician insisted that Rudman sit next to him.
Rudman remembers that Collins experienced some jitters, but not because he was on his way to one of the day's most anticipated reunions, live in front of 100,000 people and a global TV audience estimated at one billion.
Said Rudman, "Phil later told me that when he saw me [on the plane], he died and went to heaven. Here he was, sitting next to the guy who determined whether his records were going to live or die. He was rather tongue-tied and nervous."
MICHAEL MERCANTI / Staff Photographer
Did you know?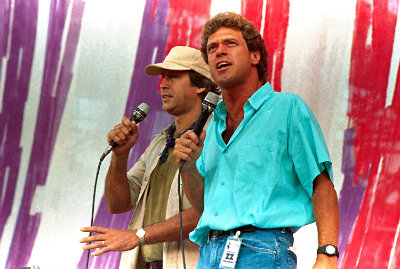 AMY SANCETTA / AP Photo
Chevy Chase (left) and Joe Piscopo from 'Saturday Night Live'
Face-value admission to the Philly concert was $35 — $77.35 in today's money. That wouldn't even pay the "service charge" on a ticket to a similar event today.
In addition to Stevie Wonder, among the announced acts who never made it to JFK Stadium were Cyndi Lauper (she had abdominal surgery), Kris Kristofferson, Waylon Jennings, Rod Stewart, Billy Joel and Paul Simon.
The Led Zeppelin reunion was planned as a set by guitarist Jimmy Page and vocalist Robert Plant. Then bassist John Paul Jones came aboard and, with the addition of Phil Collins and the late Tony Thompson, of Power Station and Chic, on drums (replacing John Bonham, who died in 1980), Zep did a public set for the first time since 1977. Their three songs were "Rock and Roll," "Whole Lotta Love" and, of course, "Stairway to Heaven."
Other reunions that day included Crosby, Stills, Nash & Young (who'd last played together in 1974) and Black Sabbath, fronted by Ozzy Osbourne for the first time in seven years. And, though in the grip of his controlling psychologist, Eugene Landy, Brian Wilson played with the Beach Boys.
The four emcees in Philadelphia were Jack Nicholson, Bette Midler and "Saturday Night Live" alums Joe Piscopo and Chevy Chase.