TIM TAI / Staff Photographer
Dave Hakstol, unmasked
Inside the life and mind of the Flyers' wake-surfing, expectation-welcoming, snot-and-balls-seeking head coach.
Tuesday, September 25, 2018
DETROIT LAKES, Minn.
The mid-July afternoon on Pelican Lake was windless and warm and glistening with sunlight, and Dave Hakstol's head and feet peeked out of the water as he waited for his daughter to decide what song would play, like theme music, as he wake-surfed.
"Maybe," he said with feigned apprehension, "this is a good time to end this interview."
Avery Hakstol grabbed her father's phone off the dashboard of his boat, an XT23 MasterCraft that he bought earlier this year. In the phone's song catalog, there was some AC/DC, some Josh Turner, some Toby Keith. But Avery Hakstol is precocious for a 12-year-old, with a sharp sense of humor. So while Dave Hakstol gripped the handle of a wake-surf rope and bobbed in the lake, his feet pressed lightly against his board, his torso wrapped in a thin gray life vest, she giggled as she scrolled through the selections. In a matter of seconds, Zac Efron's and Vanessa Hudgens' voices, singing "We're All in This Together," were blasting from the phone.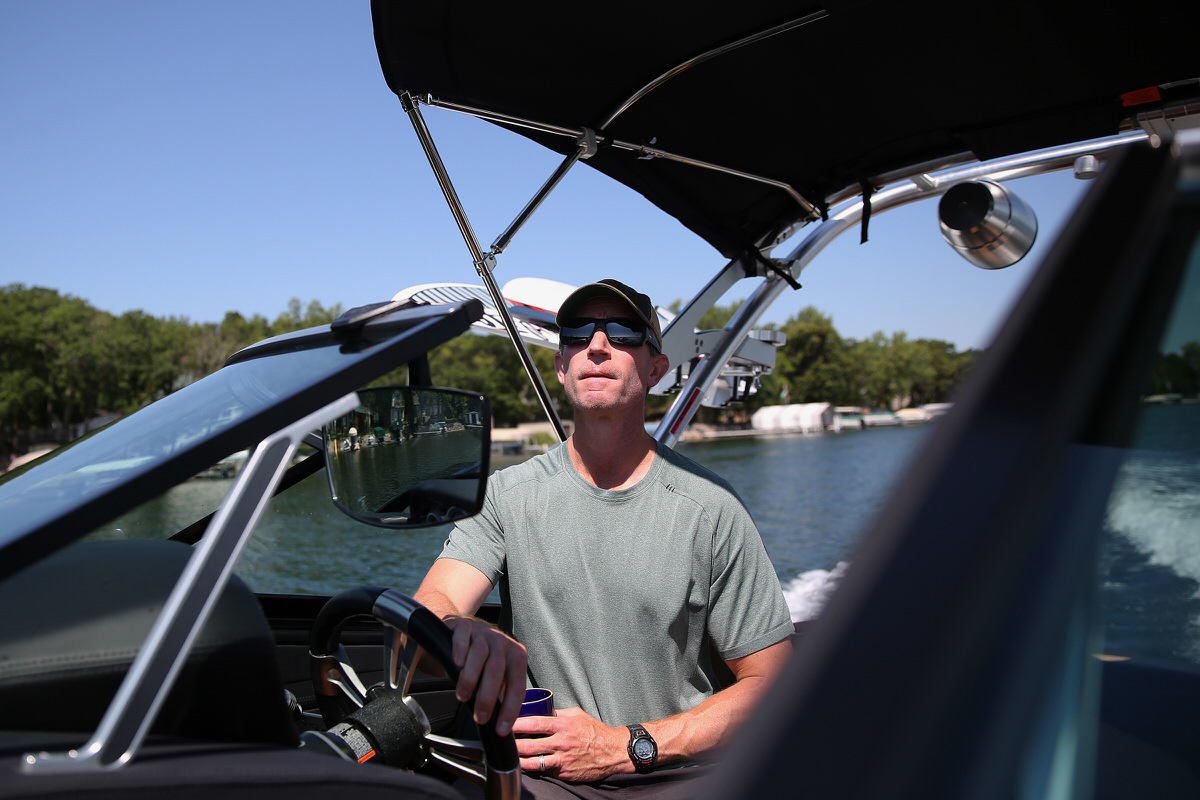 TIM TAI / Staff Photographer
Flyers head coach Dave Hakstol pilots his boat on Pelican Lake in Otter Tail County, Minn., in July. He and his family spend much of their summer at his in-laws house on the northern Minnesota lake about an hour from Fargo, N.D.
At the wheel, Hakstol's wife, Erinn, turned the ignition key and soon had the boat purring at 13 mph. Their son, Brenden, 10, sat in the rear with a friend. Upright on the board, Hakstol sailed along behind, his hair wet and slicked back. "Mom, turn it up," Avery said. Erinn pressed the phone's volume button, and as Hakstol tossed the rope to Brenden and rode the foamy swell, a sheepish smile came over him, an apparent recognition of the irony of the moment: Dave Hakstol, the closed-off head coach of the Philadelphia Flyers, surfing to the soundtrack of High School Musical. He reached down with his right hand and let the lake water flow over his fingertips.
Then the XT23 sped up and the wake churned higher and rougher, and Hakstol concentrated on staying atop the board, coiling his body slightly to maintain his balance. Falling now represented failure. He lowered his head and trained his eyes on the waves with the same mirthless look that has been his most familiar attribute during his three years with the Flyers. It was the look that he wears throughout every game while standing behind the players' bench, as if he were a stone hawk on a parapet, and that he dons like armor for every news conference, for all those terse interactions with the media when he divulges little about his team and even less about himself. And here, he wore it for three minutes – until he knew he had lost the wake's edge and shouted, "Aw!" and wiped out – on a perfect summer day with his family. It was the look that reveals nothing and everything about Dave Hakstol at the very same time.
Controlling the flame
No one knows who Dave Hakstol is. This is a rather remarkable truth, but with respect to Hakstol's place within the ecosystem of Philadelphia sports, it is an absolute truth, and not even he would deny it. His acknowledgement of it was a reason that he agreed to a series of interviews this summer at the Flyers' headquarters in Voorhees; his family's home in Grand Forks, N.D.; and his in-laws' lake house here in northern Minnesota. He would not have done so before or during his first season with the Flyers, he said, not so soon after general manager Ron Hextall broke from the franchise's norms and traditions and plucked Hakstol from the powerhouse program he oversaw at the University of North Dakota.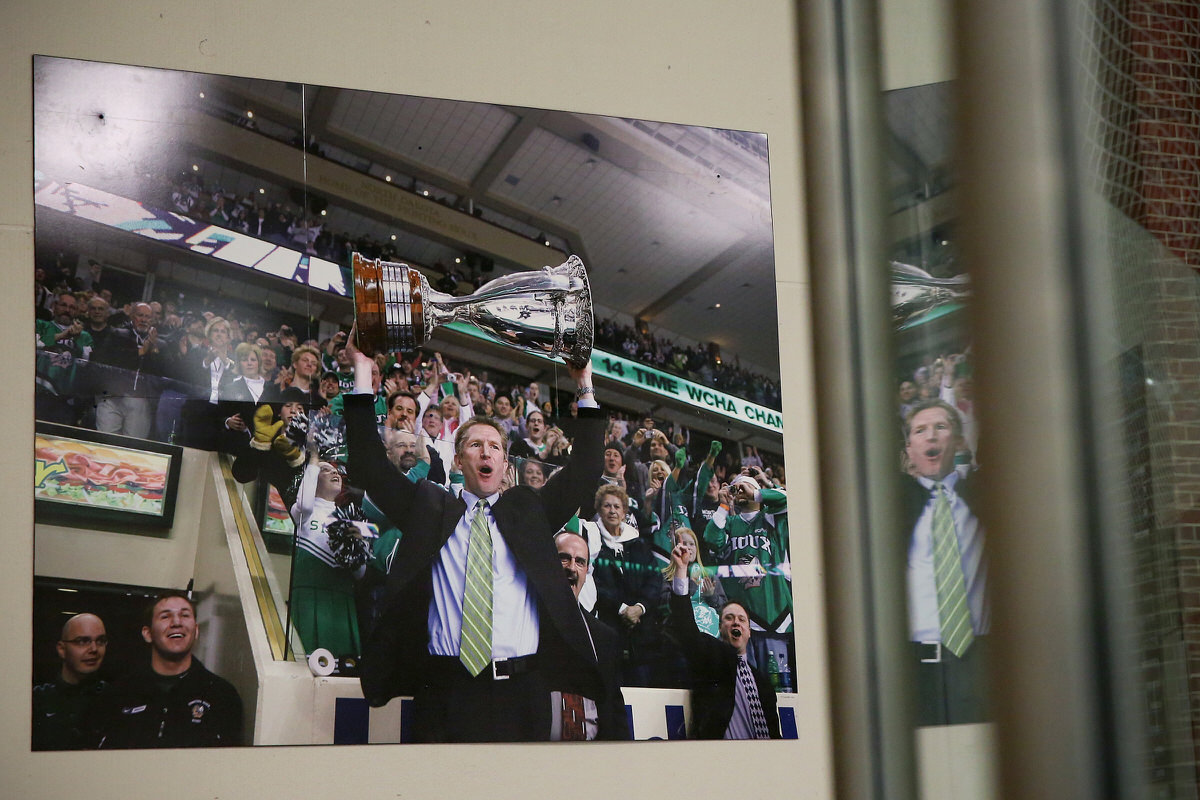 TIM TAI / Staff Photographer
Dave Hakstol's photo adorns the wall of the practice rink at Ralph Engelstad Arena at the University of North Dakota in Grand Forks. Hakstol spent 11 years as head coach of his alma mater.
"Early on, you're guarded a little bit," said Hakstol, who turned 50 in July. "Especially in Philadelphia, guarded is not the way to go. We all have rough edges. What I'm finding out in Philly is, rough edges are part of who we are. You know what I mean? When you try to keep those out of the media, out of the spotlight, out of the public eye, you almost become a little bit … phony? I don't know if that's the right word."
What is the right word? Reticent, perhaps, in part because that is his nature, in part because that was his upbringing, in part because he and his family agreed it was time to open up. "I feel like we don't have anything to hide," Erinn said, "and I believe in Dave." No matter the motivation, it is a fascinating time for the Flyers' head coach, their most visible figure, to have confessed to concealing at least some of his true self, to being all but a blank page.
The Flyers have qualified for the playoffs in two of Hakstol's three seasons – while the roster's average age, over that period, has fallen from 28.2 to 26.3 – a modest achievement that nonetheless has obscured the breadth and depth of the changes that they have made and needed to make. There has been no bottoming-out, no multiyear period of total hopelessness that other franchises, such as the Chicago Blackhawks and Pittsburgh Penguins, withstood before they rose to join the NHL's elite. Those two playoff appearances have helped to paper over what the organization has been doing with Hakstol as its coach: rebuilding.
But the Flyers also haven't won a postseason series since 2012, and they were overmatched in six-game losses to the Washington Capitals in 2016 and the Penguins last spring. With Hakstol entering the penultimate year of a five-year contract, don't the Flyers have to advance beyond the playoffs' first round this season just to validate that they are making progress under him, just to prevent him from becoming a lame duck?
"You don't start anything with 'I've got to,' " he said. "That's not a good way to go about business. The organization has a really strong, clear plan in place. It is moving forward. We've made a lot of progress. I know where the expectations are and where we want to go.
"You can choose to look at it whichever way you want. The way I look at it is as an opportunity."
– Dave Hakstol
"You can choose to look at it whichever way you want. The way I look at it is as an opportunity. The players have done a lot of heavy lifting over the last few years. The organization has. That continues. With that comes expectation, which is fine. Where would you rather be?"
His family and confidants, the people who have known him longer and better than anyone, chuckled at the notion that he might be at a crossroads this season. "We talked about that here after his first year," said Mark Poolman, the strength and conditioning coach for UND's hockey program. "He made the playoffs, and we were like, 'Oh, boy. Now he's going to have to continually do that. You don't get to have a dip. Way to go, Hak. You've screwed yourself over.'"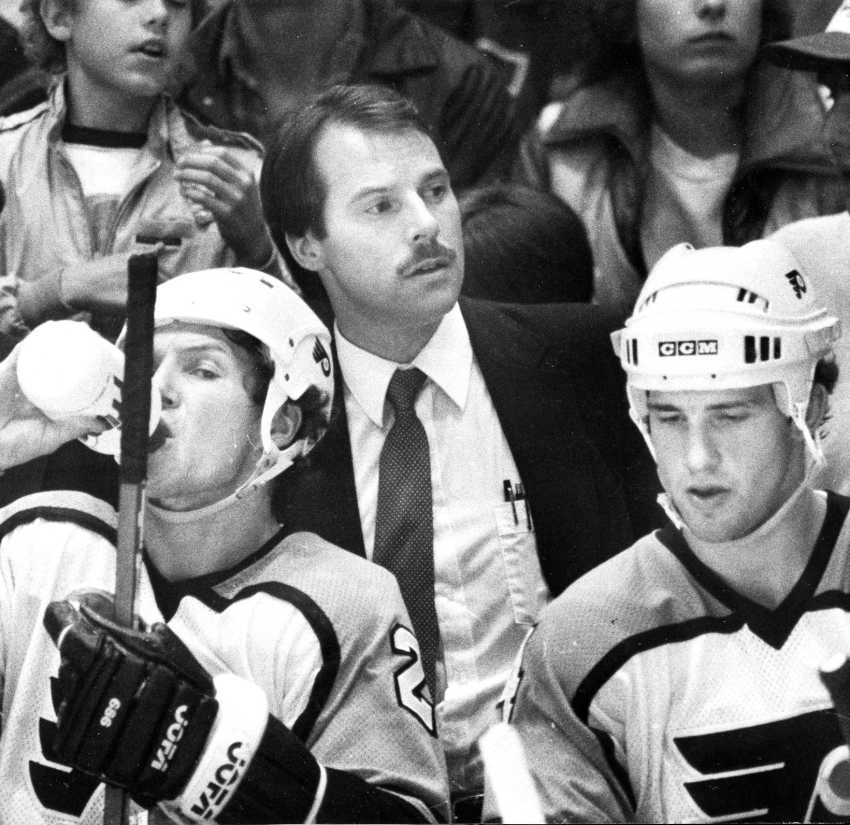 File photo
Mike Keenan led the Flyers to the Stanley Cup Finals in 1985 and 1987, but was fired in 1988 because his relationship with the players had deteriorated due to his coaching style.
Given that timeline and Hakstol's public persona, it has become easier to define him not by who he is but by who he is not. He is not Mike Keenan, with that Il Duce countenance, stalking the center aisle of the team plane and pointing to a random player to say, I may just cut you tomorrow. He is not Ken Hitchcock, handing reporters a few glib quotes to fill their notebooks and soften them up, then metamorphosing once the puck dropped, mocking his players as sissies – I guess none of you wimps wants to play tonight – until they were ready to shiv him in the solar plexus with their stick blades. He is not John Stevens, who in the minors had coached and won the respect of the very players he was charged with developing into stars, and he is not Peter Laviolette, whose locker-room command that his team "play with jam" made him a cult hero.
Each of those coaches guided the Flyers to the conference finals within two years of being hired, yet Hextall will give Hakstol as much or more rope than any of them. To anyone programmed to think that the Flyers would treat every season like their first and final chance to win the Stanley Cup, such patience just doesn't compute, especially for a franchise that has gone 43 years without a championship, especially in an era of sports that fetishizes the consumed and blinkered coach.
Hakstol was such a coach. He had to be so single-minded for his career to rise from where it began to where it is, and without Erinn and their children, he would fall back into that obsessiveness. "He would work all the time," she said. But he doesn't. There's no Dick Vermeilesque anecdote about Hakstol flogging himself for forgetting to pick up Brenden from hockey practice or studying film with such focus that he didn't notice fireworks popping on July 4. Compartmentalizing. That's what he and Erinn called it – the ability to snuff out and relight his competitiveness so that no one, he himself most of all, would burn up in the flame.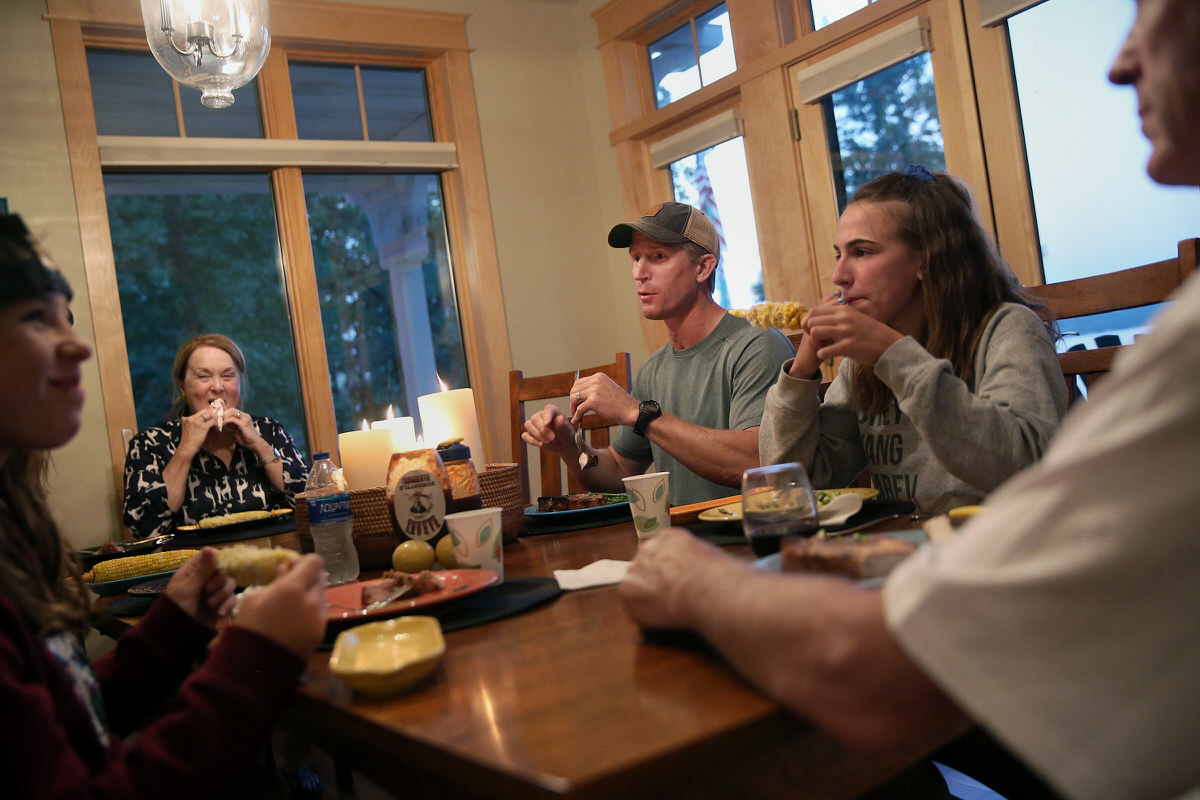 TIM TAI / Staff Photographer
Dave Hakstol (center) eats dinner with his mother-in-law, Becky O'Keefe (second from left); his daughter, Avery (far left); family friend Lilly Hodgson (second from right), 14; and father-in-law Tim O'Keefe (far right). Tim O'Keefe, who was CEO of North Dakota's alumni association and a former UND defensemen himself, ran in the same circles as his daughter Erinn's future husband.
He could flip off a referee, Donnie Adam, in 2008; smolder in silence over a two-game suspension from UND's president; sweat through a stack of T-shirts and curse at his television as he bunkered himself in his basement while his team played without him; and leave his anger so far behind that he and Adam grew to be friends. He could pore over his laptop each morning in his Grand Forks home office this summer, replaying on the screen and in his memory those awful closing minutes of the second period of Game 6 against the Penguins, when the Flyers surrendered a two-goal lead and in turn the series. And he could keep those what-ifs at an imperceptible simmer once Avery and Brenden decided to unfurl their Slip 'N Slide in the backyard.
He could park the XT23 on a sandbar to share a cooler of Bell's Two Hearted Ale with his oldest, closest friends, or set out for a tranquil bay to surf and ski and be silly – typical summertime activities at the lake house, where no Flyers player has ever set foot. He could hear the Wells Fargo Center fill with chants of "FIRE HAKSTOL" in the closing minutes of a 5-0 Game 4 loss to the Penguins, and he could hear Erinn tell him afterward that she rushed Brenden out of the arena before he could make out the echoes of a few thousand Flyers fans rallying against his father, and months later he could dismiss the episode with four words: "Part of the job."
He can compartmentalize. He has to.
"You've got to have balance in life, right?" he said. "You can't have all calm water. That's not very exciting."
Circus animals and blades of steel
No one knew who Dave Hakstol was. Forget the boat and the beautiful afternoon on the lake. This was a rickety bus and the dead-ass 5 a.m. darkness of October in Sioux City, Iowa, in 1996. This was his first day as the head coach of the Sioux City Musketeers of the United States Hockey League, his first day as a head coach anywhere, in a formative and oft-forgotten year in his life, and here were 15 late-teen hockey players sizing him up as he took a seat among them for a five-hour ride to Rochester, Minn., for that night's game.
He'd become a head coach cold turkey. Two days earlier, his predecessor, David Lohrei, had resigned suddenly over a contract dispute. Players who had come to Sioux City hoping to earn college scholarships began leaving for other teams, and the few who stayed were hardly thrilled that the coach who had recruited them was gone. The franchise's owner had begged John "Gino" Gasparini, the USHL's commissioner and Hakstol's old coach at North Dakota, for help in finding Lohrei's replacement. Though he remembered that Hakstol, while a defenseman at UND, had expressed only a faint interest in coaching, Gasparini made him his only phone call.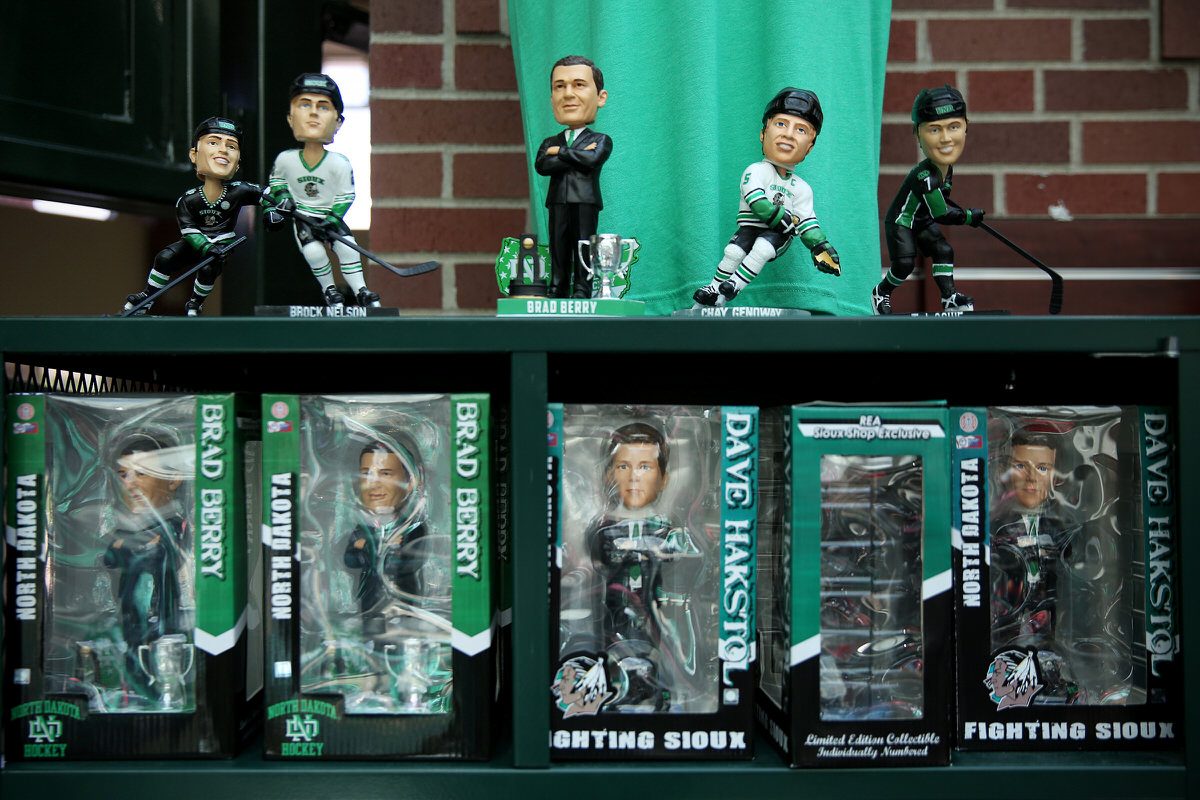 TIM TAI / Staff Photographer
Dave Hakstol was a defenseman for the North Dakota Fighting Hawks – then the Fighting Sioux – from 1989 to 1992. You can still purchase his bobblehead at the team store on UND's campus.
Those Sioux City kids sulking on that bus didn't know Hakstol, but Gasparini did – the stock he came from, the stage of life he'd reached. Hakstol had grown up on a beef farm five miles northwest of Warburg, Alberta. The farm has since swelled to 10,000 acres, but Warburg's population still hovers around 700 people, and on a farm in western Canada, you work and you don't complain and you certainly don't preen, and you take care not to do anything that would embarrass yourself or your family, because in a town that small, nothing travels faster than shame. Before he could think about playing hockey or baseball with his buddies, Hakstol had to complete his daily chores – feeding 700 cattle, seeding grain fields, baling hay – to help his father, Ed, who ran the farm and managed an oil field. Then he had to mind his studies to the satisfaction of his mother, Theresa, a schoolteacher. The family television got four channels, one of which was in French.
At 17, he bought a 1967 Camaro: red, with a dual silver stripe that bisected the hood. He sold it a few weeks later, realizing how impractical a purchase it had been. What, was he going to race it on the five miles of gravel road that surrounded the farm? Hadn't his father, who worked every day from dawn to dusk and could have afforded to buy himself a brand-new pickup anytime, driven nothing but used trucks his whole life? A boy raised in that sort of environment becomes a certain sort of man.
"David was always very intense, very honest, very straight," Gasparini said. "He was a captain for me for two years, and he was certainly one of the great captains I've had. He was an adult, a very mature young man."
Hakstol had been playing professionally, in the International Hockey League, for five years, hanging on to the hope that he might earn a call-up to the NHL. But he had torn his right ACL in his last game with the Minneapolis Moose, and another IHL team, the Las Vegas Thunder, had considered signing him but decided against it. Now he was a 28-year-old, stay-at-home defenseman with a bum knee and a finance degree, unsure of whether he should go to graduate school or how he might earn a living until Gasparini told him he was the ideal coach for a team that had won just 17 of its 46 games the previous season, that seemed bound for nowhere again.
The job paid $28,000 a year. He took it, hopped a plane to Iowa, boarded that bus to Rochester – and lost, 16-4. "I knew what I was getting into," he said, but the rout was just the beginning. More than 40 players, including seven goaltenders, suited up for Sioux City during the 1996-97 season; the roster had more turnover than a fast-food restaurant staff. The team's home arena was the Municipal Auditorium. Built in 1950, it held 3,500 spectators and housed its rink – which was 170 feet by 75 feet, much smaller than a regulation 200 X 85 NHL surface – on its second floor. The locker rooms were two floors up and accessible only by stairs, and the ground level was the Auditorium's convention center.
"That's where they kept the animals for the circus, too," said Leigh Mendelson, who joined Hakstol's coaching staff that season. "So it would smell like lion piss down there."
"My first half-year in Sioux City really solidified that I had a lot to learn but loved what I was doing...even though it could be frickin' miserable."
– Dave Hakstol
As a player, Hakstol had always believed that he understood hockey, that he could keep his pulse steady and his play efficient and smart even at a game's tensest moments. But now he had to run practices and orchestrate line changes and manage the emotions and anxieties of young players who had been made promises and expected them to be fulfilled, and he recognized how narrow his perspective had been. "You're dealing with everything," he said. "It was hard. There were a lot of hard days there." Except he had a chance to walk away just after Christmas, when Las Vegas reconsidered and offered him the opportunity to play again, and he found himself saying … no. "My first half-year in Sioux City really solidified that I had a lot to learn but loved what I was doing," he said, "even though it could be frickin' miserable."
His record that season was an unsightly 8-43-2, and he didn't love coaching enough to put himself through another six months of muggings without doing all he could to defend himself. So he commenced with a clean sweep: new players, new culture, new everything. Mendelson, who had been coaching in a lower-level league, drove his '88 Volkswagen Fox from St. Louis to Iowa just to meet Hakstol and ask him for a job. "His reputation precedes him as far as the person he is," Mendelson said. Hakstol hired him, then dispatched him to the corners of North America and everywhere in between – Saskatchewan, Arizona, Maryland, with the occasional overnight nap in the Fox – to mine junior and midget leagues for players whom other USHL franchises had overlooked. Once the offseason began, Hakstol and his other assistant, Todd Jones, joined Mendelson on the recruiting trail. Because the Musketeers played on the Auditorium's smaller rink, Hakstol calculated that he could sacrifice some talent and creativity on his roster – not much, but some – for the sake of finding guys who charged pell-mell into the most treacherous areas of the ice and didn't give ground once they got there.
"I have a huge value in toughness, in team guys," he said. "Call it what you want. It involves guys who are willing to do the dirty work. Snot-and-balls guys – that's got to be part of the foundation of who you are."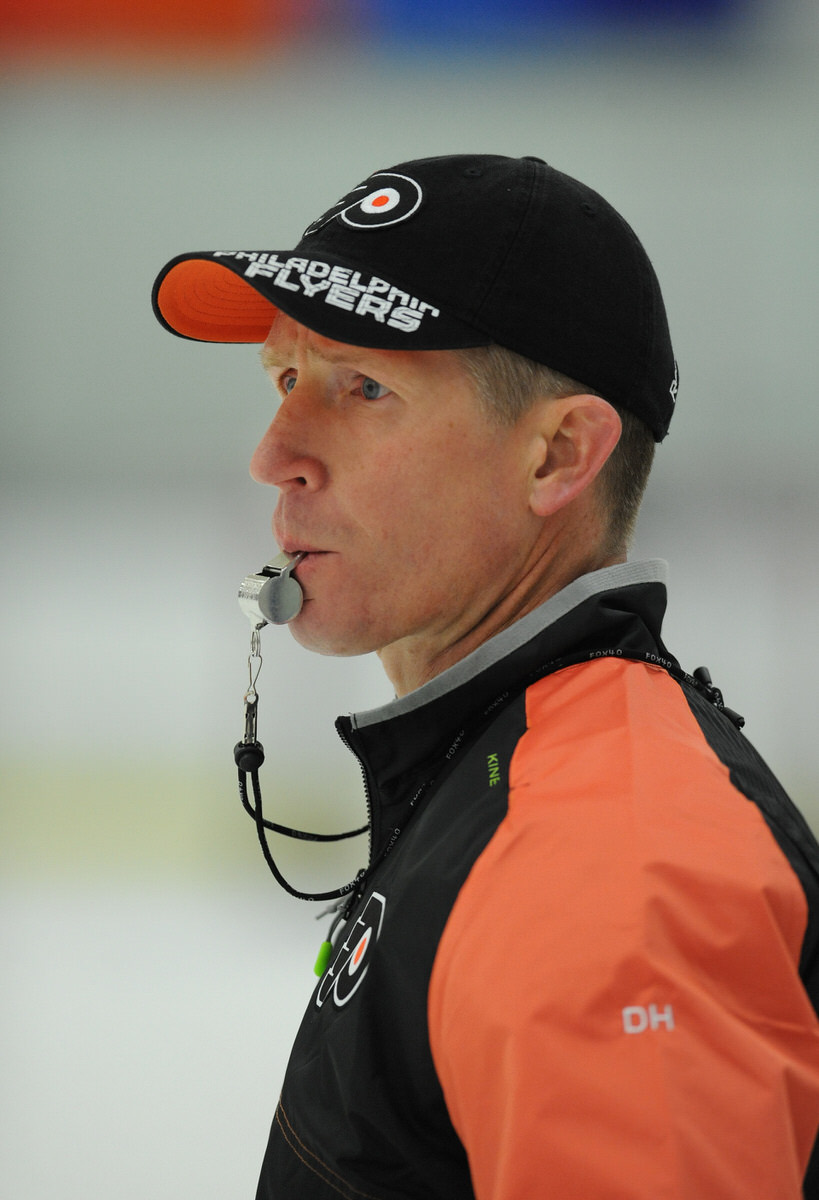 CLEM MURRAY / Staff Photographer
When Dave Hakstol took over in 2015, he was one of only a handful of people to jump from the college ranks to an NHL head-coaching job.
That mandate led to the acquisitions of players who were disparate in everything except their desire to win. There was Ruslan Fedotenko, who scored 43 goals in 55 games for Sioux City before scoring 173 goals over 12 NHL seasons, his first two with the Flyers. There was David Hale, a defenseman who was Hakstol's stylistic clone, who after two seasons with the Musketeers was drafted in the first round by the New Jersey Devils, spending three years at UND and seven years in the NHL, reaching a level in his playing career that his coach never did. And there was forward Chris Olsgard, 6-foot-3 and 225 pounds, now a financial planner in Columbus, Ohio, who was the team's captain for two seasons and its penalty-minutes leader for one. That last detail wouldn't be noteworthy but for one relevant factor: Olsgard's shoulders were so unstable that he tended to dislocate one of them whenever he was in a fight. Yet he so respected his teammates and Hakstol, and so wanted them to respect him, that he often had someone – the Musketeers' trainer, an assistant coach, another player – lift his pasta scotta arm and pop the shoulder back in its socket so he wouldn't miss his next shift. "Tells you a lot about how Hak could motivate someone," Olsgard said.
It led to 6 a.m. team runs along the banks of the Big Sioux River or up and down the Auditorium's staircases, and it led to an understanding between Hakstol and his team that the boys could have their fun on a Saturday night as long as they showed up fresh for practice the next morning. When they didn't, it led to on-ice drills conjured out of an athlete's nightmares. One day, Mendelson and Jones went rummaging through the Auditorium's attic and uncovered half a dozen "hockey sticks" – steel plates welded to steel bars. Each was four feet high and weighed 25 pounds. Mendelson assumed that they had been props from a stage play, but they seemed the tools of a dungeon master. So whenever a certain sluggishness fell over practice, Hakstol would call out, "Blades of steel," take a seat in a lawn chair at the center faceoff dot, and snicker as his hungover night-riders tried to pass and shoot while wielding those monstrous instruments.
It led to a remarkable turnaround in Sioux City: a 35-18 record and a playoff berth in 1997-98, then two more winning seasons and two more playoff berths before Hakstol returned to North Dakota as an assistant coach under Dean Blais. "Here's what I learned: Make sure you come up with a plan of how you want to do it, who you are, and then do it," Hakstol said. "If it's good enough, you're going to succeed. If it's not, you'll fail, but you can look yourself in the eye and say, 'I did it my way.'"
Pleasure on the prairie
Everyone knew who Dave Hakstol was. Of course everyone did. UND hockey is less a sport in Grand Forks than it is a civic religion. It is the great connector, the cultural lingua franca for townies and undergrads, for politicians and professors, for the chairman of the booster board and the president of the local 4-H Club. Proportionally, the Fighting Hawks' popularity in the region is staggering. The city has 57,000 residents, and with 11,640 seats, as the home to a program that has won eight national championships and reached the Frozen Four 22 times, Ralph Engelstad Arena is a prairie town's grandest pleasure palace. Imagine the Flyers' arena accommodating more than 20 percent of the population of Philadelphia and its suburbs. The Wells Fargo Center would have to hold 1.2 million people.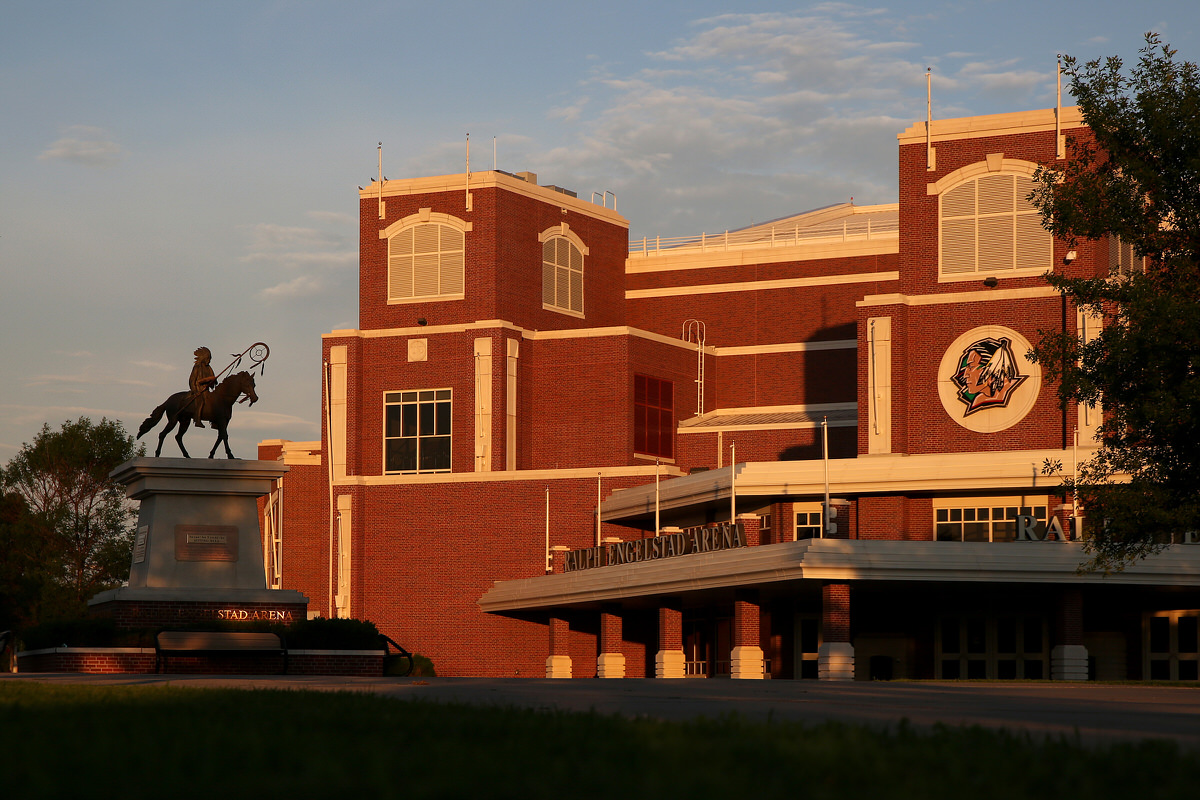 TIM TAI / Staff Photographer
UND's Ralph Engelstad Arena seats more than 11,000 people – around 20 percent of Grand Forks' population.
Erinn O'Keefe knew who Dave Hakstol was, in fact, before he ever became UND's head coach. Her father, Tim, was the CEO of North Dakota's alumni association and foundation, a former defenseman for UND himself, a mover in the same circles as her future husband. In August 2001, while Hakstol was still an assistant, he met Erinn through mutual friends during a day trip to Pelican Lake, and he fell for her when she sandbagged him on a bet: For a beer, who could stay on their water skis longer? He wobbled for a few seconds on a single slalom ski and tumbled into the water, and his friends, who knew Erinn had spent her whole life on the lake, got a good laugh out of the look on Hakstol's face as he watched that freckled, brown-haired girl glide across the sheet of blue.
The two of them dated for two years, much of it long-distance because he was away so often on recruiting trips. She could tell, she said, that he loved what he did but that remaining an assistant coach might not fulfill him, and she trusted that if he did get a job with more power and pressure, he would not let those shackles drag him down, or her.
"I might say to him, 'Oh, man, that game was really something,' and we might talk about it for a couple of minutes, but he really doesn't bring it home," Erinn said. "And it hasn't always been that way. That's something he's developed over time. It amazes me because it's not a put-on.
"He compartmentalizes things."
They married in 2003, and it took a year for circumstances to test her trust. Blais resigned to accept a coaching position with the Columbus Blue Jackets, and at a UND golf tournament/fund-raiser near Minneapolis, athletic director Roger Thomas drove Hakstol back to Grand Forks, the 300-mile trip turning into Hakstol's de facto job interview as the two discussed a dozen topics that had nothing to do with hockey, another five-hour ride changing Hakstol's life forever. "I knew him, but I didn't know him," Thomas said. "I was pleasantly surprised to see more facets of him personally."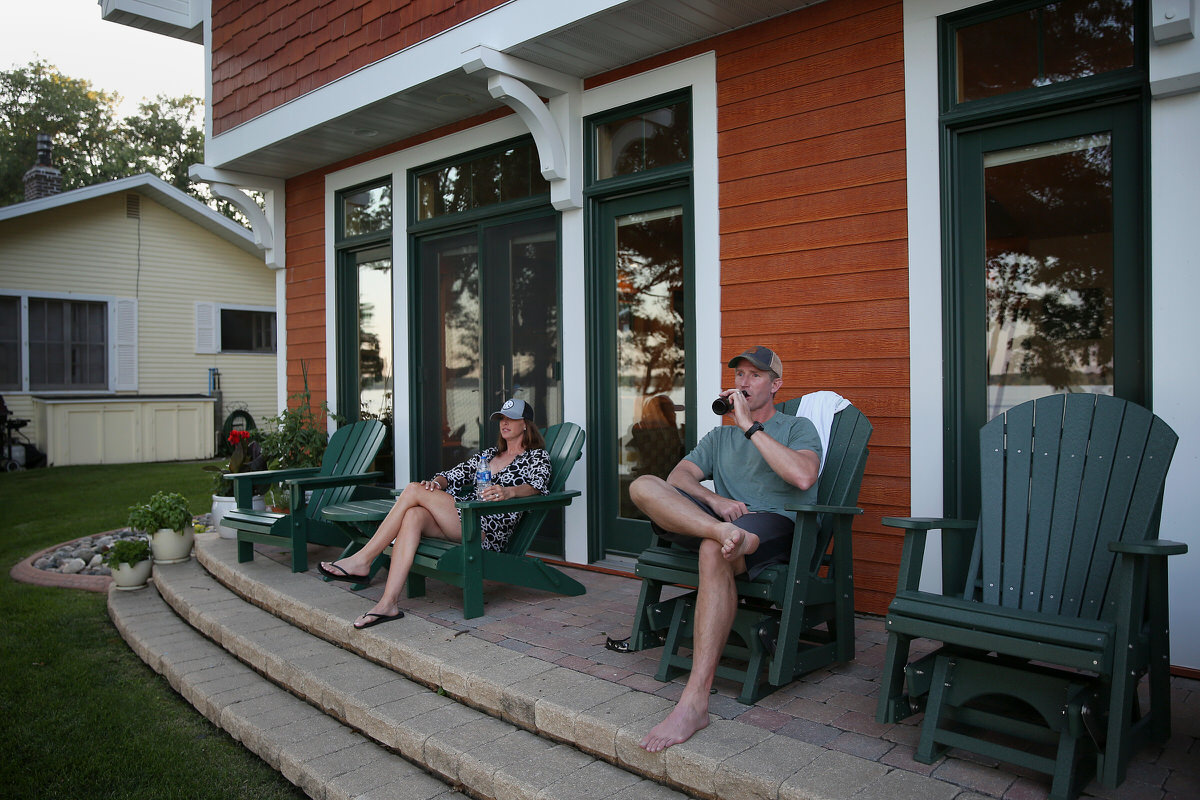 TIM TAI / Staff Photographer
Dave Hakstol and his wife, Erinn, relax behind her parents' home on Pelican Lake in Minnesota. The two have been married for 15 years.
The most fervid fan base in college hockey didn't share Thomas' confidence. Message boards popped and sizzled over the hire: All it took was one long interview? Why didn't Thomas scan the continent for the best candidate? We have a history to uphold here! It's an unsettling thing, isn't it, to have someone you don't really know in charge of something you care about so deeply?
Even if Hakstol had been inclined to embark on a shake-hands, kiss-babies, PR campaign, there was a graver matter on his mind: Not long after his promotion, he learned his father had been diagnosed with prostate cancer. Ed and Theresa moved to Grand Forks and lived with Dave and Erinn for two months, and while Hakstol prepared for the season, his mother and father drove an hour to Sanford Roger Maris Cancer Center in Fargo once a week for Ed's treatments. On Feb. 7, 2005, nine months after his son became North Dakota's head coach, having returned to Warburg to be as comfortable as possible in his final days, Ed Hakstol died at 66.
"I knew what the odds were," Hakstol said as he sipped a 6 p.m. cup of black coffee and sat at their kitchen island. "They weren't great. … I was able to make a couple of trips home. Not enough, obviously."
"They were so proud you were in the position you were in," Erinn said.
He remained there for 11 years, leading North Dakota to the NCAA championship game in his first season and back to the Frozen Four six more times thereafter – though the Fighting Hawks never won a national title under him – steering his own course instead of presuming he could keep the program on autopilot. The recruiting plan, he told his assistant coaches Dane Jackson and Brad Berry, was simple: Cut out the crap. No one comes to Grand Forks for the beautiful winters or the cosmopolitan culture or the downtown nightlife. "Guys who came here wanted to be friggin' hockey players," Hakstol said, and he predicated his coaching philosophy on that basic belief. He wanted snot, and he wanted balls.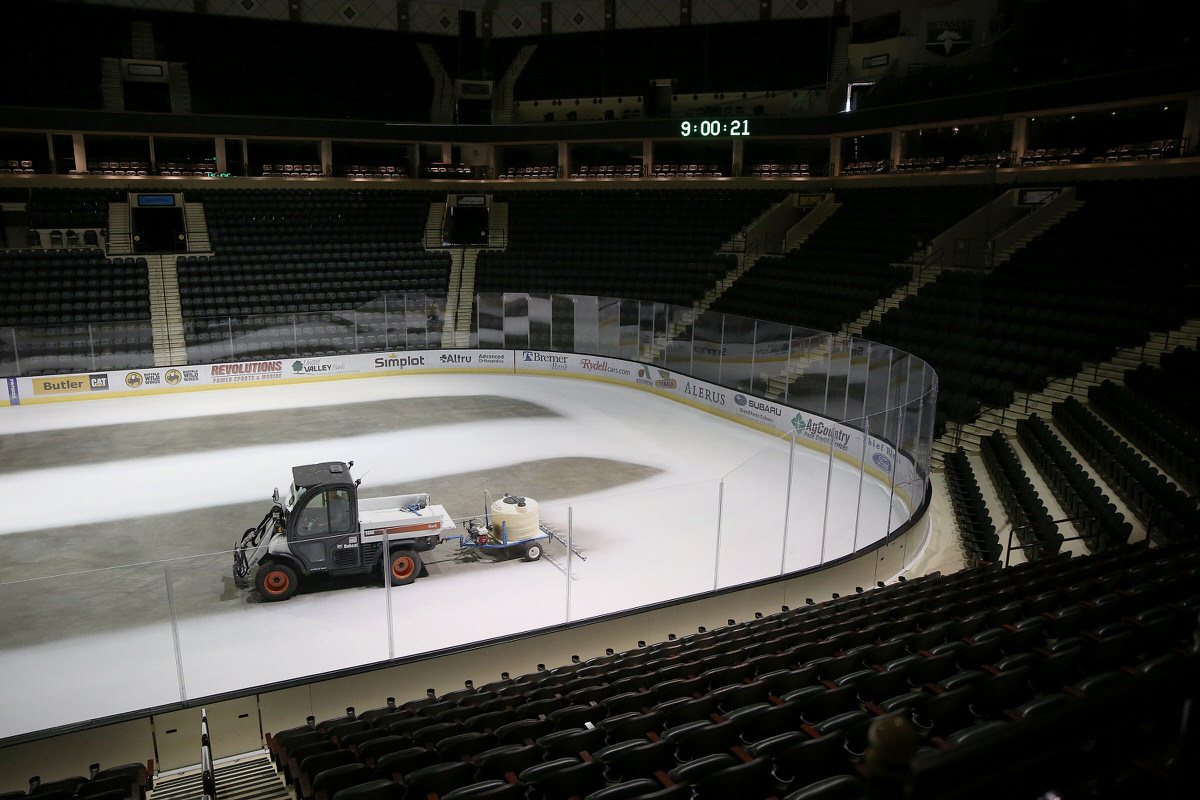 TIM TAI / Staff Photographer
In his first year as UND head coach, Dave Hakstol led his team to the NCAA championship. He went back to the Frozen Four six more times.
There would be no hand-holding, no excuses for indifference toward academics, nothing but the same self-accountability that would be taken for granted from a professional athlete. "He led a little bit by intimidation," said Jackson, who has known Hakstol since 1989, when they became teammates at UND. "He would take a guy and go have coffee with him away from the rink, even though I'm sure the guy was nervous."
When Jonathan Toews, who went on to win three Stanley Cups as the captain of the Chicago Blackhawks, learned he had received a B in one of his courses, he practically crawled into Hakstol's office to apologize. When a university police officer cited a UND forward named Brett Hextall for providing an underage person with alcohol, for asking his buddy's 20-year-old girlfriend to hold his beer at a Sugarland concert, Brett didn't bother to tell his father, Ron, but confessed to Hakstol immediately. If he didn't, he feared that Hakstol might find out from someone else, that hiding even such a minor incident would breach the bond between player and coach.
"Hak had a quote," Brett Hextall said. "Basically, it was, 'How you do something is how you do everything.' If you let the classroom slip, then practice starts slipping and games start slipping and you're letting every area of your life go. He kind of ate his own dog food. Whatever he said, he was doing."
What he sought was a mixture of structure and freedom, solid and liquid, the existential mortar that binds a team together. It was Hakstol, for instance, who suggested that the university renovate the first floor of Ralph Engelstad Arena and who spearheaded the fund-raising effort, arguing that the capital improvements were necessary for UND to stay ahead in college hockey's facilities arms race. And it was Hakstol, once construction began in 2014, who toted a tape measure and a ball of string into the gutted husk of the old locker room. He stood on ladders, arranged and rearranged chairs, and insisted on a particular detail: that the giant rectangular space be reduced to an oval two-thirds as big. Make the room smaller to foster unity, and reconfigure it into a design that would allow every player – no, that would force every player – to look each of his teammates in the eye.
He and the other coaches would toss truck tires onto the ice, and he would put his players through hours of a serpentine passing drill, the bodies and pucks moving like electrons in an atom, crossing and looping but never touching, not until a puck thudded clumsily off someone's stick and everyone else slumped his shoulders, knowing that Hakstol would make them begin the drill again. But whenever he stood at a marker board to diagram systems and situations, whenever a player asked him, Coach, what should I do there? the answer often challenged the kid to bust out of those restraints, to be more than a robot: I can't tell you what to do there. That's a read. It's a hockey play. Make a play.
He had made the program his own, in every regard, and it took time for him to learn that he had to loosen his grip, that he could not be so meticulous and exacting about every aspect. "He expected everything to be at a high level – airplanes, hotels, meals," said Poolman, the UND strength coach. "He's very detail oriented, and if for some reason somebody isn't doing their job, it's going to affect the team. That kind of got to him. Eventually he understood, 'I can't control that.'"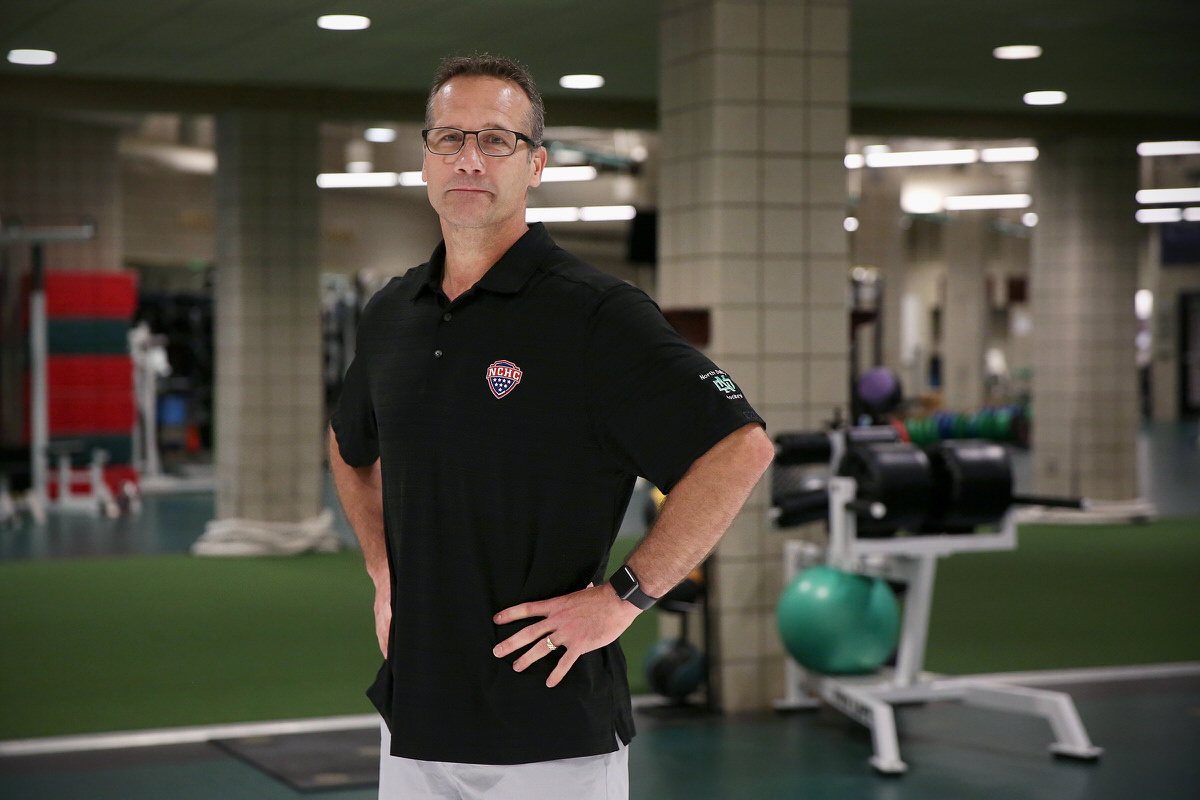 TIM TAI / Staff Photographer
Mark Poolman, the strength and conditioning coach for UND's hockey program, has spent more than two decades at the university. Poolman watched Hakstol turn the program into his own when he took over in 2004.
The itch to coach in the NHL flared up occasionally, a bug bite on his brain. But no coach had gone directly from a college program to the NHL since the Calgary Flames hired Wisconsin's Bob Johnson in 1982, and he discussed the possibility with Erinn only when he got the rare phone call from a team feeling him out about his interest. None of those opportunities offered enough stability for him to cut the emotional connection he had to UND. Even now, the Hakstols split time between South Jersey and Grand Forks, which means that Brad Berry's and Dane Jackson's families become their neighbors again each offseason. That Jocelyne and Monique Lamoureux – twin sisters, UND alumni, and stars of the U.S. Olympic women's hockey team – might join Dave and Erinn for a morning workout at the gym or offer Avery a quick stickhandling tutorial in the driveway. That every trip to Hugo's Family Marketplace for milk and bread will bring another shopper clad in Fighting Hawks green and white telling him not to worry about those crazy Philly fans.
To stay cocooned within that comfortable life … yes, they could have settled for that. "Everything here is easy," Erinn said, "almost a little perfect." They could have remained in Grand Forks, and Dave Hakstol could have remained at North Dakota, and odds are, his hunger for a national championship would have been sated. And he could drive around town, as he did one day in July, and look out his window and see Ralph Engelstad Arena and know that the building and program would be his for as long as he wished.
"It's not my building anymore," he said that day, never taking his eyes off the road.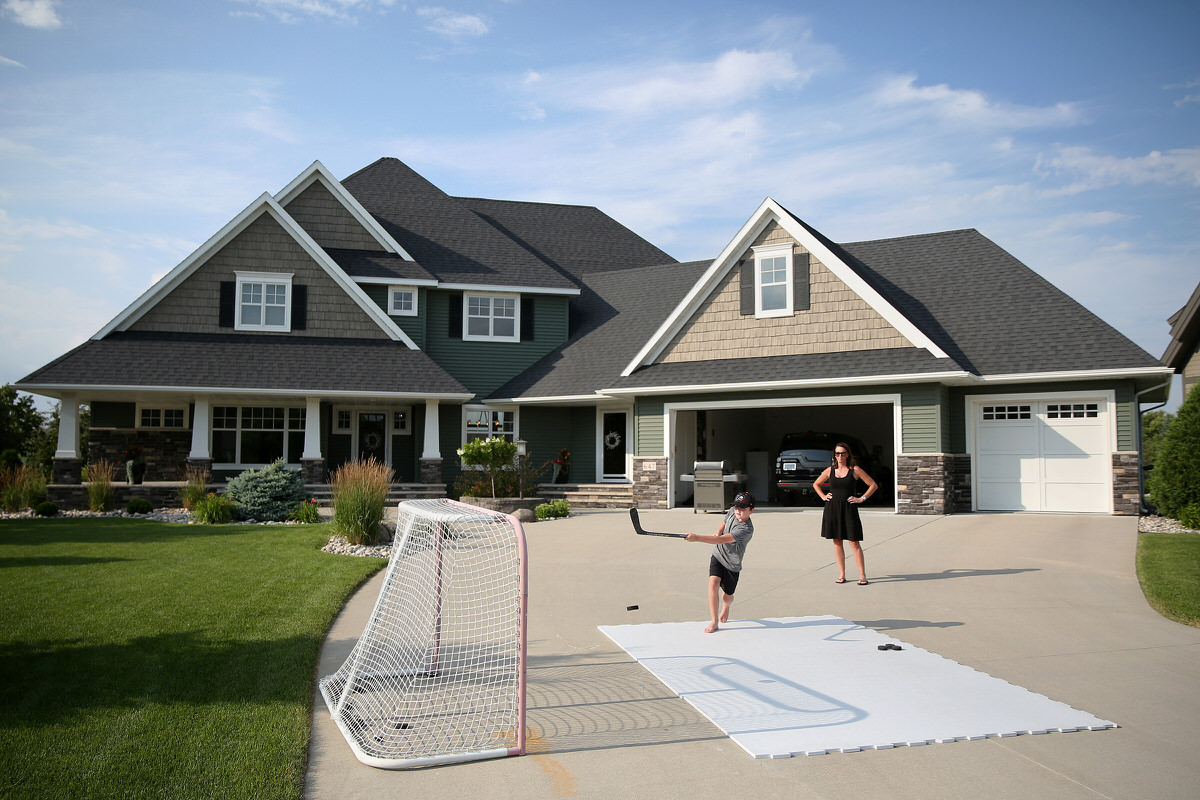 ‌
‌
1
of 9
Behind closed doors
Everyone wanted to know who Dave Hakstol was. A college coach from North Dakota? With no direct ties to the Flyers? The GM hired the guy who coached his kid? The news release in May 2015, revealing that Ron Hextall had selected Hakstol to replace Craig Berube as the Flyers' head coach, landed on the team's followers and fans with the force and surprise of a fallen star, and Hextall had taken measures to make sure that it would.
This was no furtive conspiracy, Hextall said, no long-range plan hatched the instant his son Brett chose to play hockey at UND. Before interviewing Hakstol, he had spoken one-on-one with him just twice – at a hotel in Minneapolis during Brett's freshman season and at the 2014 Frozen Four in Philadelphia. Over Brett's college career, Ron worked in the Los Angeles Kings' player-personnel department, scouting and traveling for months at a time. Aside from watching the Fighting Hawks from a distance, from hearing the scuttlebutt within the hockey community that Hakstol was capable of coaching in the NHL, he gleaned his most telling insights into Hakstol from the stories Brett told him during their rare father-son dinners.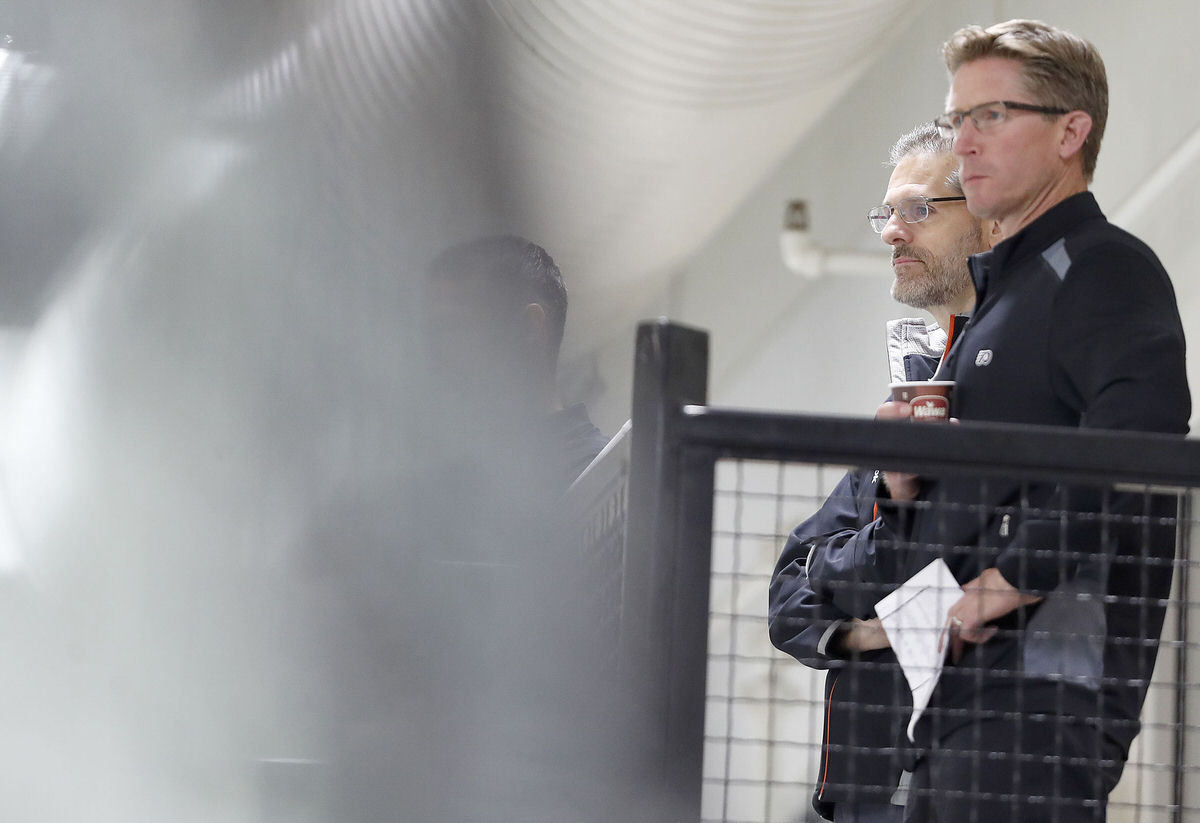 DAVID MAIALETTI / Staff Photographer
Ron Hextall, Flyers' general manager, became familiar with Dave Hakstol because Hextall's son, Brett, played for UND.
"Everybody thinks that I had this relationship with him," Hextall said, "and I didn't. I really didn't. I'd met him, but I can't say I knew him."
Hextall saved the secrecy for the interview process. It took three phone calls and a couple of weeks just to persuade Hakstol to fly to Philadelphia, and Hextall didn't want to get the rumor mill grinding by having the two of them spotted together at a Center City restaurant. Instead, the Flyers put Hakstol up at an office-park hotel within walking distance of their headquarters in Voorhees, and he spent two days sequestered in Hextall's office, reviewing film and talking coaching principles and, above all, extracting some assurances from the man who would be his new boss.
Hakstol doesn't have an agent – "Don't need one," he said – and if Hextall was truly committed to a gradual rebuilding plan, then any contract that Hakstol might sign had to reflect that commitment. Hence, a five-year deal. Hakstol also didn't have a national championship, and when he framed that fact in its starkest terms – I haven't won at North Dakota – Hextall told him that the program's consistent excellence mattered more: Whoa, you've won there. You haven't won it, but you've won. Remember that. The job was Hakstol's, if he could get past that single regret.
"Anybody who's competitive would never tell you they're good with it," Hakstol said. "But I had to make that decision. You can never look back and redo it later. That opportunity is done."
This time, he couldn't initiate a Sioux City-style housecleaning, and he had no chance of silencing the locker room with just a glare. He didn't have the cachet, not with Hextall in control atop the organizational pyramid, not within a room of players who had as much or more experience in the NHL than he did, not when one of those players, forward Ryan White, dismissed him as an "effing college guy," according to a source close to the team.
"If you're the new kid on the block, you've got to earn your way, and I'm OK with that."
– Dave Hakstol
He kept Berube's assistants, reasoning that bringing along Jackson or Berry or any other colleagues who were familiar only to him wouldn't ease his transition. Because he hadn't yet cultivated any professional relationships with any referees or linesmen, he said, he felt like he was in the back seat of a car someone else was driving, the officials ignoring a rookie head coach's pleas for fairness as if it were a rite of passage. "If you're the new kid on the block," he said, "you've got to earn your way, and I'm OK with that." It was good, for Hakstol's sake, that Hextall was giving him time, because he needed it.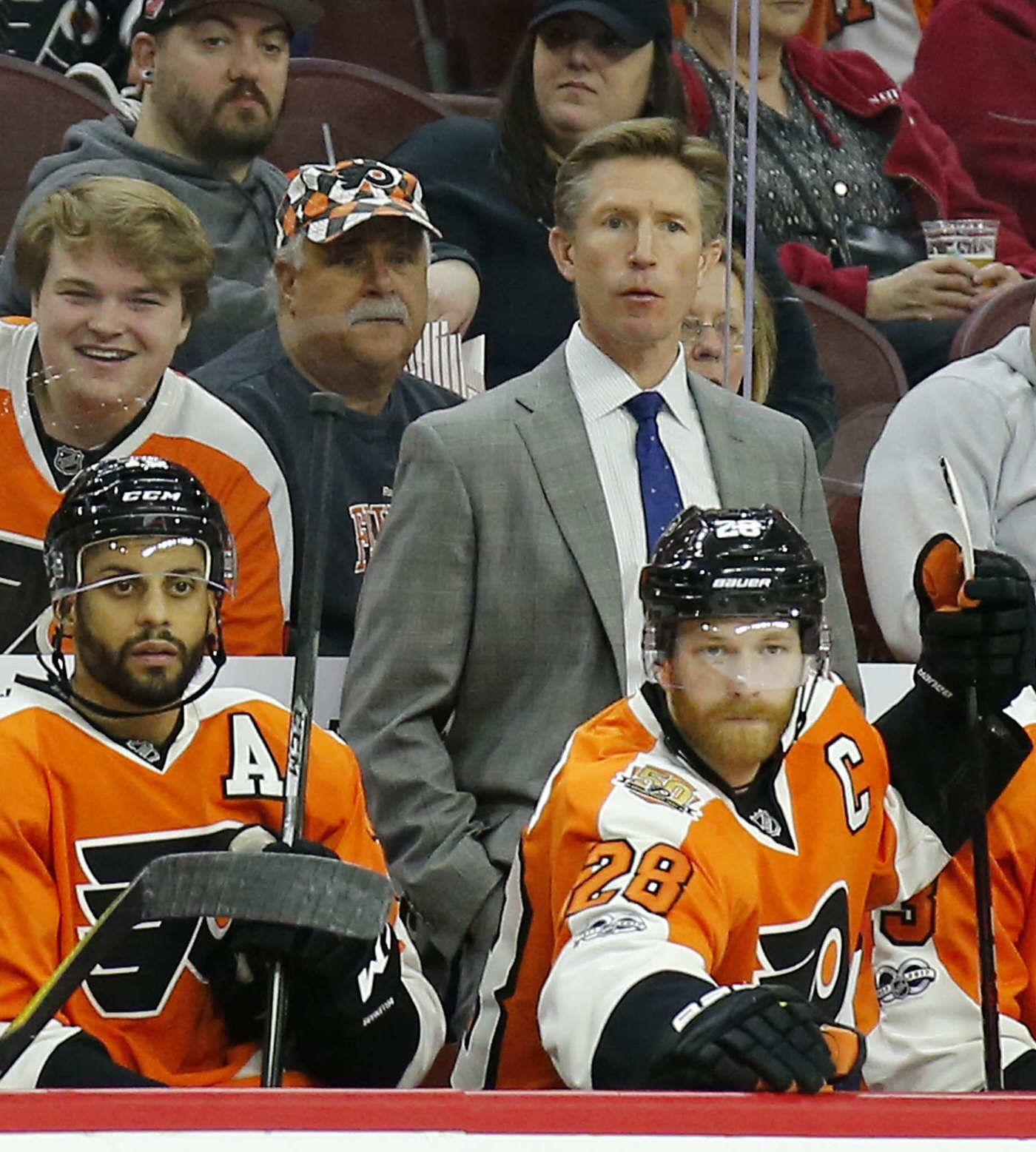 YONG KIM/Staff Photographer
Flyers head coach Dave Hakstol "didn't have an ego" when he took over the team, captain Claude Giroux (right) said.
"He didn't have an ego," Flyers captain Claude Giroux said. "He didn't say, 'This is my way.' He just wanted to learn and get better. You see players do that, but you don't see a lot of coaches try to get better like that."
A year-and-a-half in, he made his most assertive and controversial coaching move: In November 2016, he called defenseman Shayne Gostisbehere into his office and – three days after Gostisbehere had won the Pro Athlete of the Year Award from the Philadelphia Sportswriters Association – benched him. The decision angered Gostisbehere, and a predictable uproar ensued as fans and media questioned why Hakstol seemingly had a higher standard for the Flyers' younger and more talented players – the players most important to the team's future – than he did for some veterans.
Beyond some platitudes about growth and development, Hakstol was reluctant to explain his reasons publicly. But to him, all that mattered was that Gostisbehere understood that he needed to take more direct routes to loose pucks and start making the simpler, sounder play, not the flashier one. That his youth and importance didn't absolve him from having to correct these flaws – no, it placed a greater responsibility on him to correct them. And that he could count on Hakstol's delivering these teaching points either mouth-to-ear on the bench or behind closed doors. "There's a man's way to do it," Hakstol said, "and I don't need the media to be between me and you."
"I realize it more now that it was probably the best thing for me," said Gostisbehere, whose 65 points last season ranked fourth among NHL defensemen. "He's not going to just leave me out there when I'm not playing well. He's going to sit me down, even though the town doesn't agree with it, and I have to respect that."
The human element. Hakstol handled it as a husband and a father; no one would question that. But even after the Gostisbehere situation resolved itself, Hakstol admitted that he still had to master the ability to read the contours of an individual's personality and the context of a particular situation, so he could reach every player and, in turn, draw the very best from the entire team. Stoicism was his default posture, but sometimes it was an unnecessary and unhelpful shield. At a hotel bar in Calgary last December, the Flyers having gone 10 games without a victory, Hakstol met up with Dane Jackson, who was in town on a recruiting trip for North Dakota. Half a beer into their conversation, Hakstol was keeping his upper lip stiff: He was fine. The boys were working hard. No problem here, no sir. "I said, 'Hey, Hak, it's me, man. It's OK. You're allowed to let your guard down,' " Jackson said. "And he said, 'I'll be honest. It's been tough.' "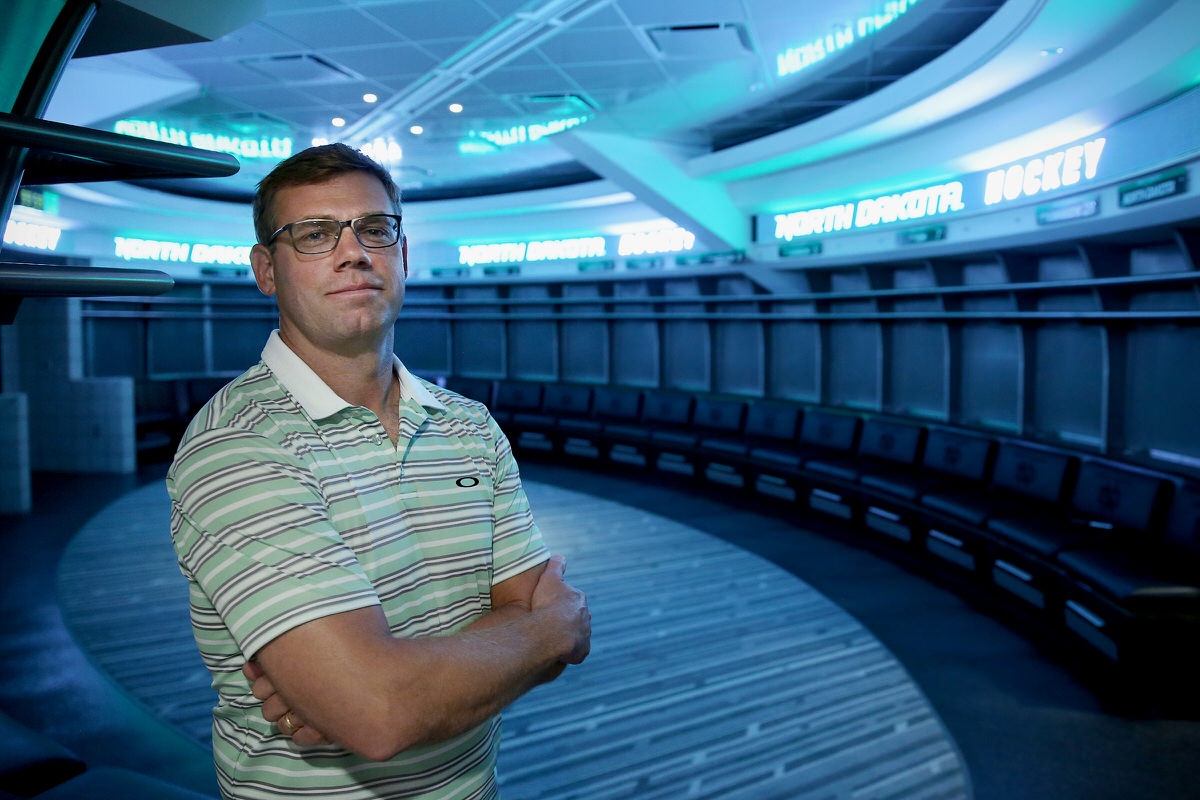 TIM TAI / Staff Photographer
Dane Jackson, who joined Dave Hakstol's UND staff as an assistant coach in 2006, stands in the redesigned Fighting Hawks locker room. When the Ralph was being renovated in 2014, Hakstol asked builders to make the old rectangular locker room smaller and oval to force his players to get to know each other.
If his instinct was to maintain his presence even then, if he was reluctant to be vulnerable even with a friend he considers a brother, it makes you wonder: How much more does he have to learn about measuring a moment in that moment, about taking the pulses of the people involved in whatever was happening right now – a decisive stretch in a big game, the news conference afterward – and adjusting accordingly? Was this why none of those seven Frozen Four appearances culminated in a national championship? Sometimes, doesn't a structure addict have to let go, scrap the painstakingly crafted plan, and rewrite the script on the fly?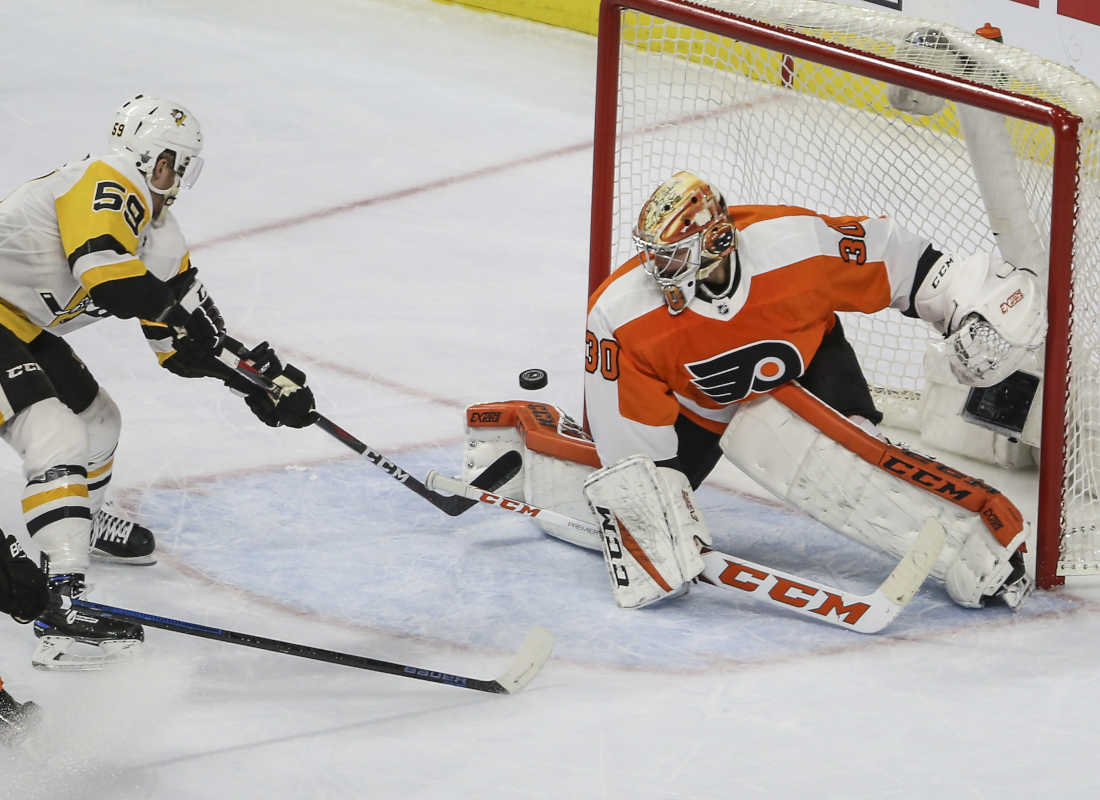 STEVEN M. FALK / Staff Photographer
Michal Neuvirth and the Flyers allowed the Penguins' Jake Guentzel to score a hat trick in Pittsburgh's decisive Game 6 win at the Wells Fargo Center in the first round of the playoffs in April.
Take that playoff series last season against the Penguins. Hakstol pointed to a telltale stretch of the decisive Game 6: Having taken a 4-2 lead, the Flyers allowed the Penguins to score twice in the final 6½ minutes of the second period and once early in the third, and Pittsburgh rolled to an 8-5 victory. Before that collapse, though, the Flyers had already lost three games by a combined score of 17-1.
"Their approach in that series was different than the way I would have gone about it," said Keith Jones, a color commentator on Flyers telecasts and an NHL analyst for NBC Sports. "I would have tried to draw the Penguins into a game they don't like to play. There are times you have to recognize that you're an inferior opponent and play a game that is more muck-and-grind and pulling them into the fight. I'm not telling you the Flyers would have gone on to win the Cup, but they could have beaten the Penguins. I don't put that all on Hak, but I do think his role in that is important."
So why didn't the Flyers use that jagged-edge strategy?
"Pittsburgh is a tough team to drag into a back-alley brawl," Hakstol said. "So it's not about making it hard that way. It's about making every inch of real estate harder. You know what I mean? And we didn't do it.
"In Game 6, in reality, we had that series right where we needed to have it, and we pissed it away. We gave it away. Those things shouldn't sit well with our fans. They really don't sit well with me and us inside. It was a pretty harsh lesson for us, and I hope it's one that pays off."
That's the opportunity he said he relished, the rougher waters he said he welcomes. That's the challenge and the standard and the gratification and the uncertainty. Where would you rather be? You go through the process, you do it your way, and either that lesson pays off, or …
Do you find this story valuable? Support journalism at The Philadelphia Inquirer, Philadelphia Daily News and Philly.com by subscribing.
How else would he want to be measured? He had no trophy case in his Grand Forks study, no shrine to himself and his relative celebrity, just five framed items hanging on a light gray wall: a puck from his first victory with the Flyers, a color photo of Team Canada from the 2017 World Championships, an International Ice Hockey Federation silver medal from that tournament, a black-and-white photo of a row of hockey sticks at Ralph Engelstad Arena, and a rendition of the old Fighting Sioux logo – with "Love, Mom & Dad" inscribed at the bottom – that his parents gave him after he became North Dakota's head coach. There could have been more memorabilia. Why weren't there?
He stood with his hands on his hips, shaking his head. "This is my children's house, you know?" he said. "Everybody in this town knows what I do for a living. I don't need to put it on display. It's not a museum." Besides, the things that reveal who a coach is and shape who he might yet be can't be mounted on a wall: the nourishing fatigue of a day's work on a snow-sprinkled farm, an arena's unforgettable odor after the lions have been there too long, or the sensation of an opposing coach's right hand in yours when a playoff series has ended badly and the hometown crowd has shouted your name in derision and a summer of reckoning and compartmentalizing has just begun.
The way things work
On the southeastern shore of Pelican Lake, wedged into the staircase-like incline of a cragged hill, was a lovely, two-story house, painted dark blue. Three red awnings, spiked into the water below the hill, set off a section of the lake to dock a boat. "Somebody had a vision there," Dave Hakstol said over the XT23's rumbling motor, as he nodded to his right to point out the house. "It's one of those places where you say, 'They nailed it. They did a hell of a job.'"
Hakstol drives past the house often. For a long time, he said, that hill was empty, and it was natural to assume that it would remain empty, because who would want to take the time and effort to cut into those rocks, at so steep an angle? But three years ago, he noticed that a builder had begun to carve into the hill. And two years ago, whenever he drove past, he could see that the house was nearing completion. And a year ago, he could see that the house was finished, and that it was the equal of any house on any shore on the lake, maybe the best of all of them.
"That's typically how things work in life," he said, and he turned his head forward again. The horizon was before him. He could see clearly what was ahead of him, and where he wanted to go.
TIM TAI / Staff Photographer