TIM TAI / Staff Photographer
Hungry and awake
in Mexican South Philly
'We call it Puebla-delphia'
Sunday, April. 29, 2018
---
TIM TAI / Staff Photographer
In the early-morning hours in South Philadelphia, the air stirs with fragrant memories of Mexico, and the vibrancy of neighborhoods reborn yet again on a delicious wave of immigrant flavors.
It's the sweet corn smell of tamales steaming at midnight at Tamalex at Seventh and Federal, where co-owner Estela Piña leads a crew of four women until just before dawn, hand-filling 1,500 corn husk bundles of moist masa dough with tender meats and vivid salsas. When the doors open at 8 a.m., the foil-wrapped bundles (just $6 for three) fly out the door by the dozens.
TIM TAI / Staff Photographer
Clockwise from bottom left, blue corn masa is pictured alongside blue corn pinole, dried blue corn cobs and blue corn chips at Blue Corn restaurant in the Italian Market.
It's the ethereal pull of barbacoa at El Compadre, where whole lambs marinated in chef Cristina Martínez's secret seasonings slow-cook throughout the night with chiles, avocado leaves and maguey, perfuming the art-filled yellow space with a powerful call to feast — one answered by hungry lines of locals and tourists who begin to gather at 5 a.m.
It's the masa-scented steam that fogs the windows at Tortilleria San Roman when the Rivera family's steel tortilla machine begins rolling, and fluffy, fresh-pressed rounds rattle down its squeaky conveyor belt and tumble into warm paper bundles.
It's a hot cup of cinnamon-scented champorrado made from powdered red Aztec pinole corn and a touch of chocolate at Cafetería y Panadería Las Rosas, where there are colorful concha rolls and churros for dunking, and fresh telera breads for Mexican torta sandwiches emerge from a historic bakery once known for Italian hoagie rolls (when it was Coppola's) and German pastries before that, in the 1870s, when Fredrick Heineman Jahn arrived at Eighth and Watkins to bake his own American dreams into reality.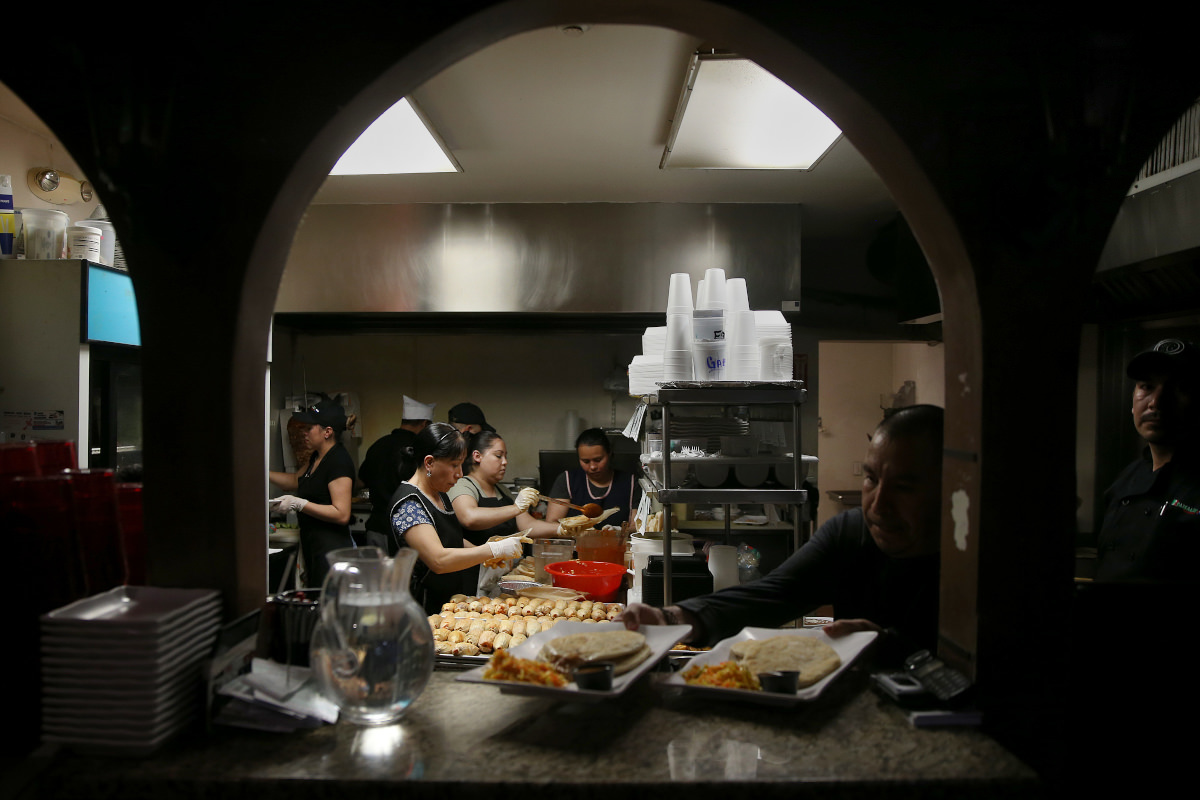 TIM TAI / Staff Photographer
From left, Socorro Aparicio, Mari Pilar and Veronica Guapo make tamales rojos at Tamalex restaurant.
And it's the dark magic of Ines Sandoval's profoundly good mole, an intricate blend of toasted chiles, fruits, nuts and Mexican chocolate that takes five days to make at Mole Poblano, and whose seamless dance of sweetness and earthy spice conjures the volcanic mountain village in the state of Puebla that she and so many of Philadelphia's other Mexican immigrants left behind: San Mateo Ozolco.
"We call it Puebla-delphia!" says fishmonger Marcos Tlacopilco, wearing an Eagles cap as he presides over an ice bank of porgies, red snapper and catfish at his Original Marco's Fish & Crab House, where 15 years ago he was one of the first Mexican immigrants to buy a business in the Italian Market.
We've seen this inspiring story play out for centuries in South Philadelphia, the world's gateway to the city for generations of Swedes, Germans, Irish, Jews and the Italians who famously arrived with little in their pockets, found affordable housing and stayed to craft the red gravy meatball culture and hoagie delis that defined South Philly's identity for much of the 20th century. The Southeast Asian diaspora brought an exotic burst of pho halls and Asian markets to Washington Avenue in the 1980s that still bustle with commerce.
In the late 1990s, a Puebla man named Efren Pelléz was accidentally left behind in Philadelphia by his coyote smuggler on the way to New York City, walked into David Suro's Center City restaurant Tequila's (the only awning he could find with Spanish words) and asked: "How far is it to New York?"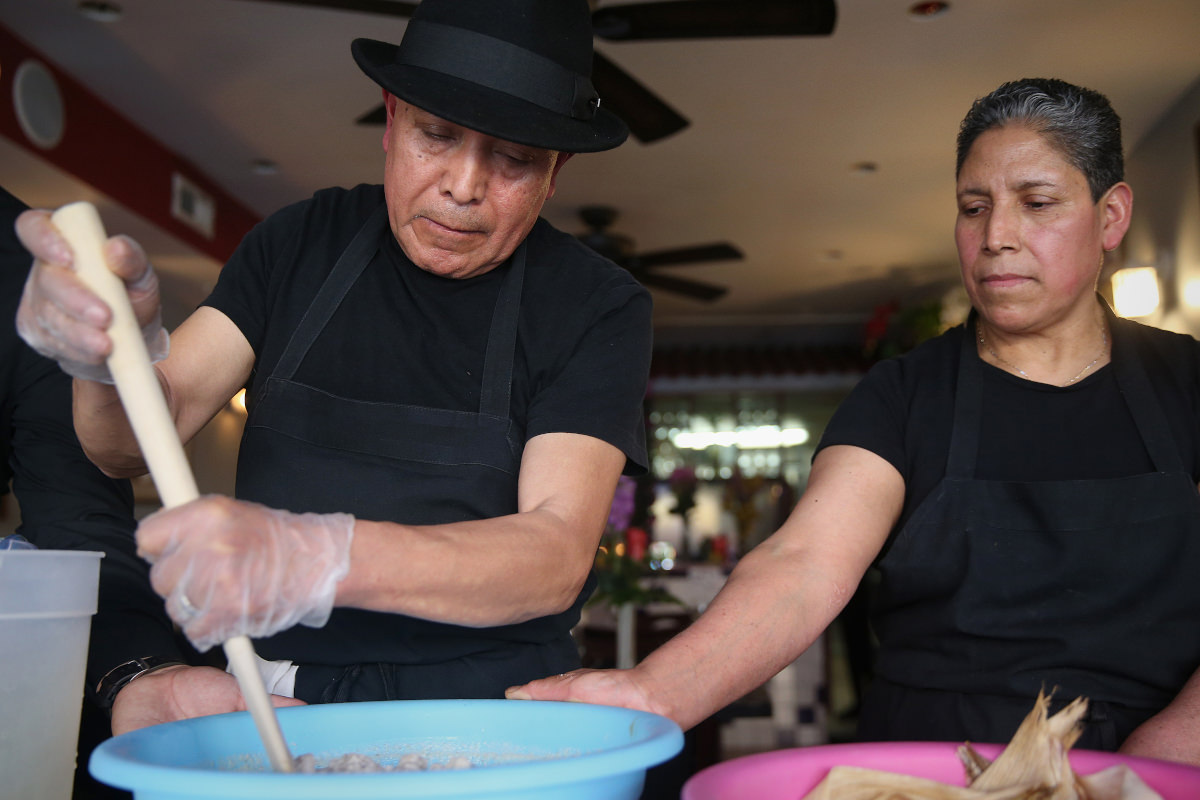 TIM TAI / Staff Photographer
Ines Sandoval-Pérez, right, watches as Pedro R'os-Hernandez stirs the masa filling while demonstrating how to make tamales at Mole Poblano.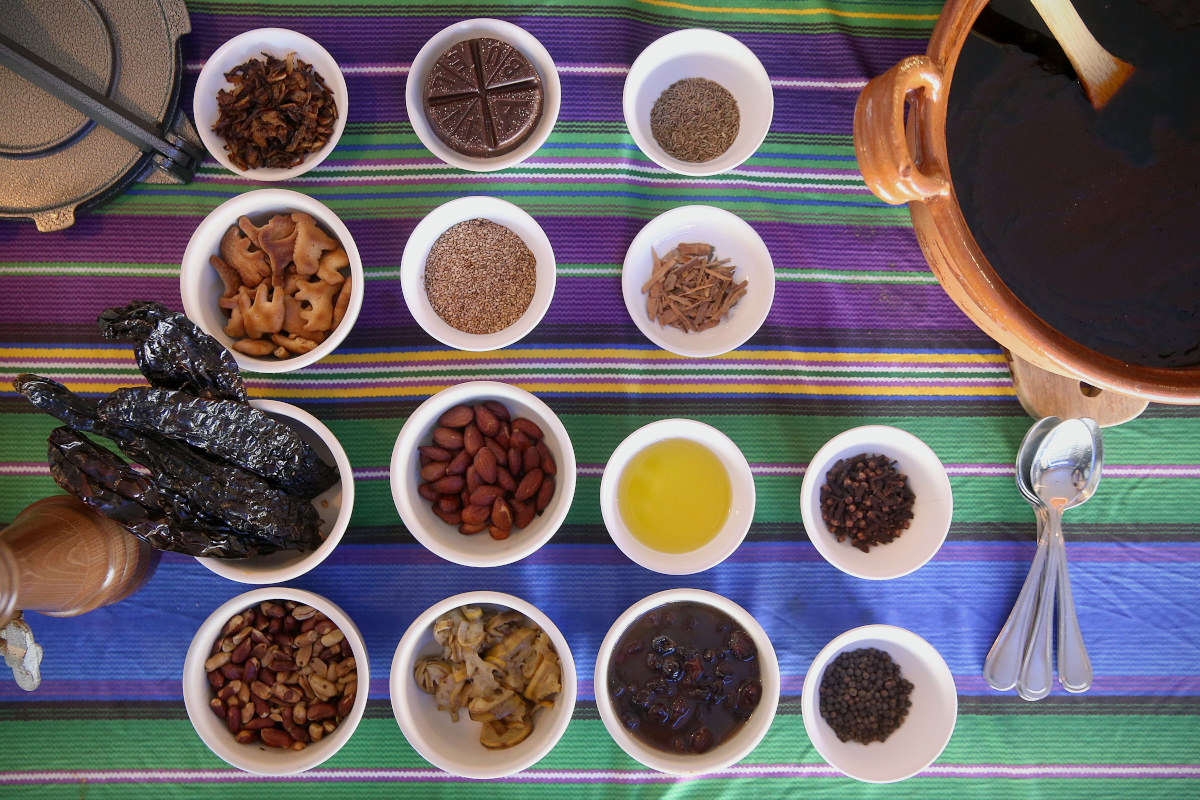 TIM TAI / Staff Photographer
Ingredients to make mole are pictured at Mole Poblano.
"He was the first seed planted in Philadelphia," says Suro, who said Pelléz settled and helped launch the Puebla pipeline here before he eventually returned to Mexico where he died. "30,000 people later ..."
The population figures are up for debate, with official 2016 census data counting just under 5,000 living from Christian Street to Oregon Avenue, and 18,612 citywide. The real number is at least 20,000 living in South Philadelphia alone and double that across the city, according to the local Mexican consulate, which acknowledges many are still undocumented, including some of the city's most talented chefs.
But there is no mistaking the signs of a thriving Mexican influx now entering its second decade on South Ninth Street — or "Calle Nueve" as this stretch of the Italian Market has become known to some — from the azure facade of Blue Corn restaurant to the fresh chorizo being made at Los Amigos, to the barrels of dried chiles and long canela sticks that flank the sidewalk market of Carniceria El Pueblo at Ninth and Ellsworth.
The baton-passing has not been easy for old-timers watching the neighborhood's ethnic shift. But Bill Mignucci, a third-generation son of the Italian Market, and president of Di Bruno Bros., sees the Mexican influx as the healthy option between erosion and evolution: "When I think of the Italian Market, I think of the American dream, the cycle of immigration and the entrepreneurial spirit. And the values of the Italian and Mexican communities are extraordinarily aligned around the love of food, sticking together as families, and working harder than the next guy. That's what Danny and Joe Di Bruno did 80 years ago."
In many ways, given the current anti-immigrant political climate, Mignucci acknowledges today's Mexican community faces perhaps even more challenges than his ancestors: "But we need to celebrate our cultural diversity, because these are the new storytellers [of South Philadelphia]. They are the new underdogs."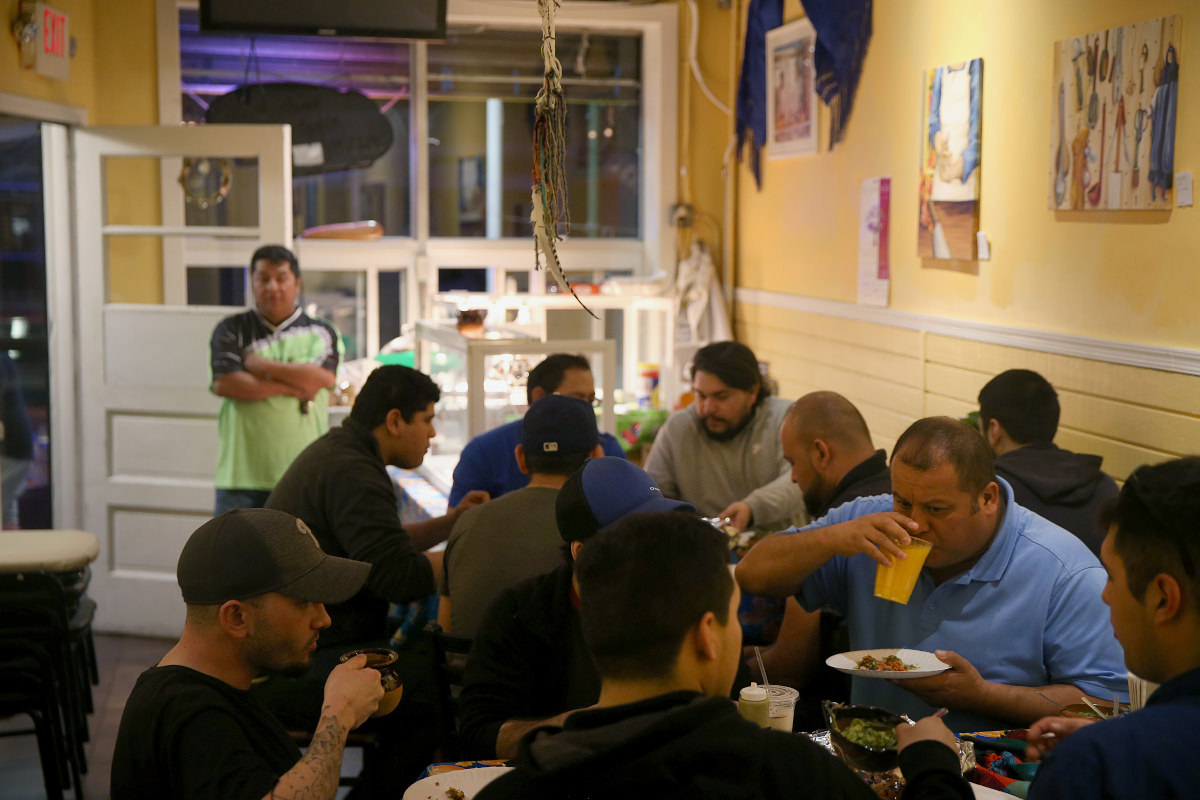 TIM TAI / Staff Photographer
A group of early-morning diners eat breakfast at El Compadre in the Italian Market.
The Mexican community's mood, restaurateurs and activists tell me, has been deeply troubled by the Trump administration's anti-immigrant policies, fears of which last year led to cancellation of the annual Cinco de Mayo festival, El Carnaval de Puebla. The concerns were well-founded considering a recent investigation copublished by ProPublica and the Inquirer found Philadelphia's aggressive ICE office arrested more undocumented immigrants without criminal convictions than any other ICE office in the country.
But their spirit has been resilient as the Carnaval returns in force this weekend, with hundreds of festively costumed Carnavaleros expected to parade through South Philadelphia on Sunday to honor the 1862 Battle of Puebla, ending with an afternoon fiesta in the park at Fourth and Washington. "It's important for us to share our traditions with our adopted city as well our children, many of whom have never been to Mexico," says Tamalex co-owner David Piña, one of the Carnaval's organizers.
If ever there was a moment to celebrate the energizing impact Philadelphia's Mexican awakening brings to us on a daily basis, this is it.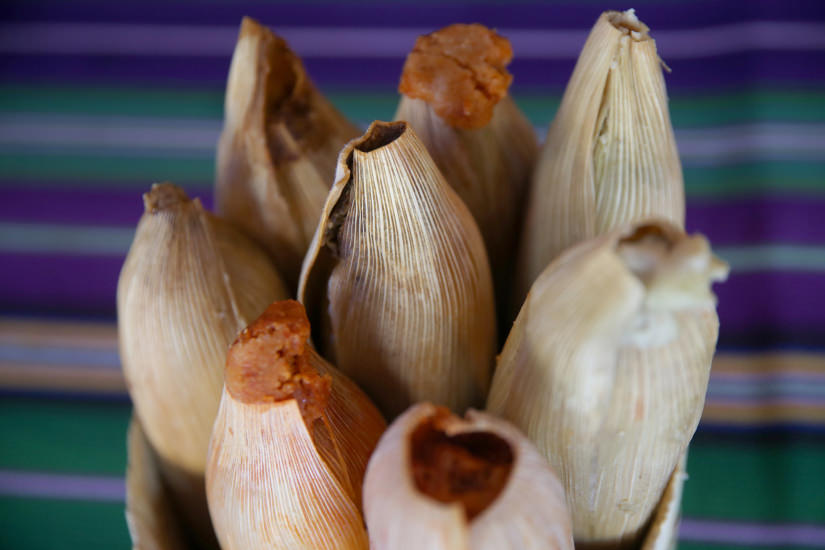 TIM TAI / Staff Photographer
Cooked tamales are pictured at Mole Poblano.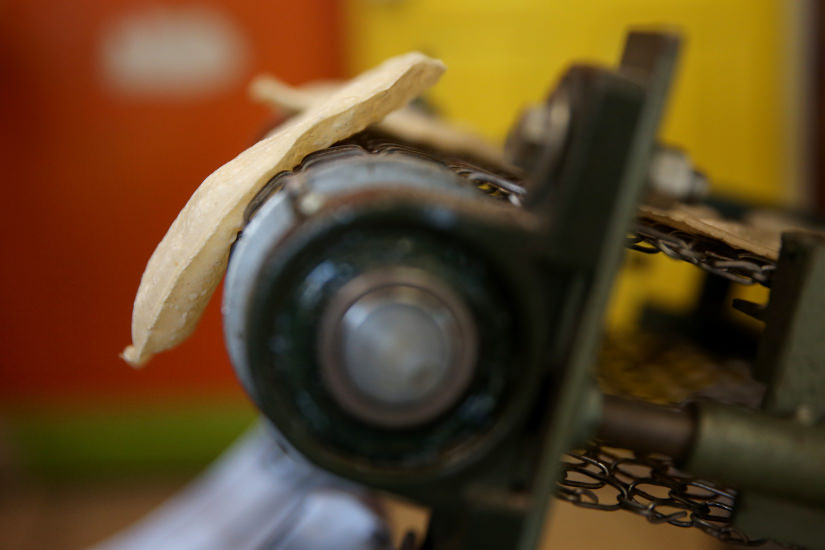 TIM TAI / Staff Photographer
Freshly cooked tortillas roll off a conveyor belt at Tortilleria San Roman in the Italian Market.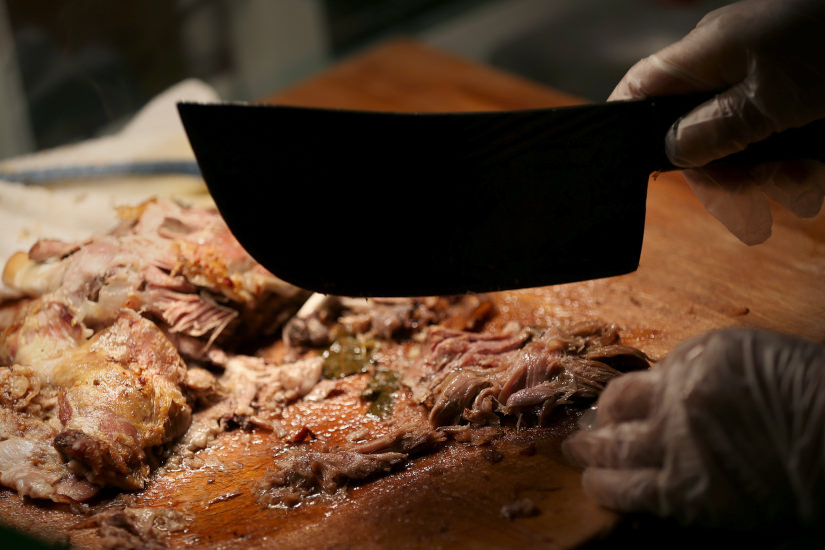 TIM TAI / Staff Photographer
Chef and co-owner Cristina Martinez chops up lamb barbacoa before sunrise for early customers at El Compadre in the Italian Market.
The population figure itself is significant, as the community quietly grew from just a handful of arrivals in 2000, when Los Amigos butcher Raul Aguilar recalls "only four houses with eight men in each — just enough for a small soccer league" to a number that outpaced the much-publicized increase of affluent residents in Center City over the same period (slightly more than 14,000). And the Mexi-delphians have been just as essential, if not completely undervalued, contributors to the city's prosperity over the past two decades, revitalizing long blighted blocks, stabilizing population growth, and creating businesses that boost the economy. (Undocumented immigrants in Pennsylvania paid $139 million-plus in 2014 state and local taxes, according to the Institute on Taxation and Economic Policy.)
They've also supplied not just our first big infusion of genuine Mexican flavors, but a coveted labor force that coincided, not coincidentally, with Philly's epic restaurant boom. That vulnerable population also has long been exploited with lower wages than their American counterparts — as much as 40 percent less, according to chef Dionicio Jimenez of El Rey, a Puebla native who's worked in some of the best kitchens in Philadelphia for 21 years. Both he and Suro, however, believe the disparity is starting to close as the supply of Mexican employees now exceeds demand from an industry expansion that shows no signs of slowing.
Even better, the earliest generation of arrivals, having logged more than a decade working their way up from dishwashing to skilled line-cook jobs in kitchens of all persuasions, have taken the leap to join an entrepreneurial boom, opening restaurants of their own and delivering a treasure trove of soulful Mexican flavors that go far beyond the Chipotle burritos many Americans know, not to mention a world of specialties beyond tacos. There are hand-pressed masa huaraches, sopes, and oval-shaped tlacoyos to covet. Pozoles red, white and green. Dozens of intricately spiced variations on al pastor. Tamales wrapped in corn husks and Oaxacan-style banana leaves. And multiple shades of mole poblano that range the spectrum of spicy, sweet and smoky notes in a way that can distinguish the measured sweetness of San Mateo Ozolco from the earthier chile heat of San Nicolas de los Ranchos.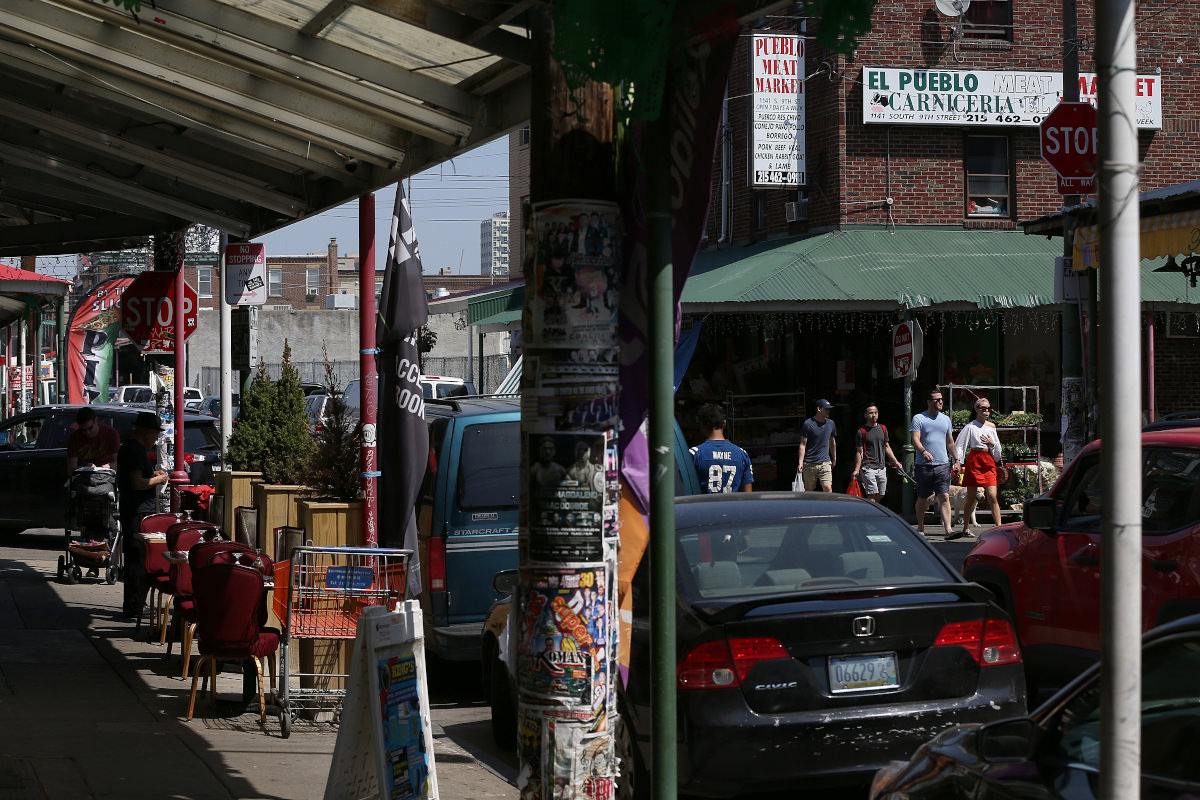 TIM TAI / Staff Photographer
Pedestrians walk past the Pueblo Meat Market in the Italian Market.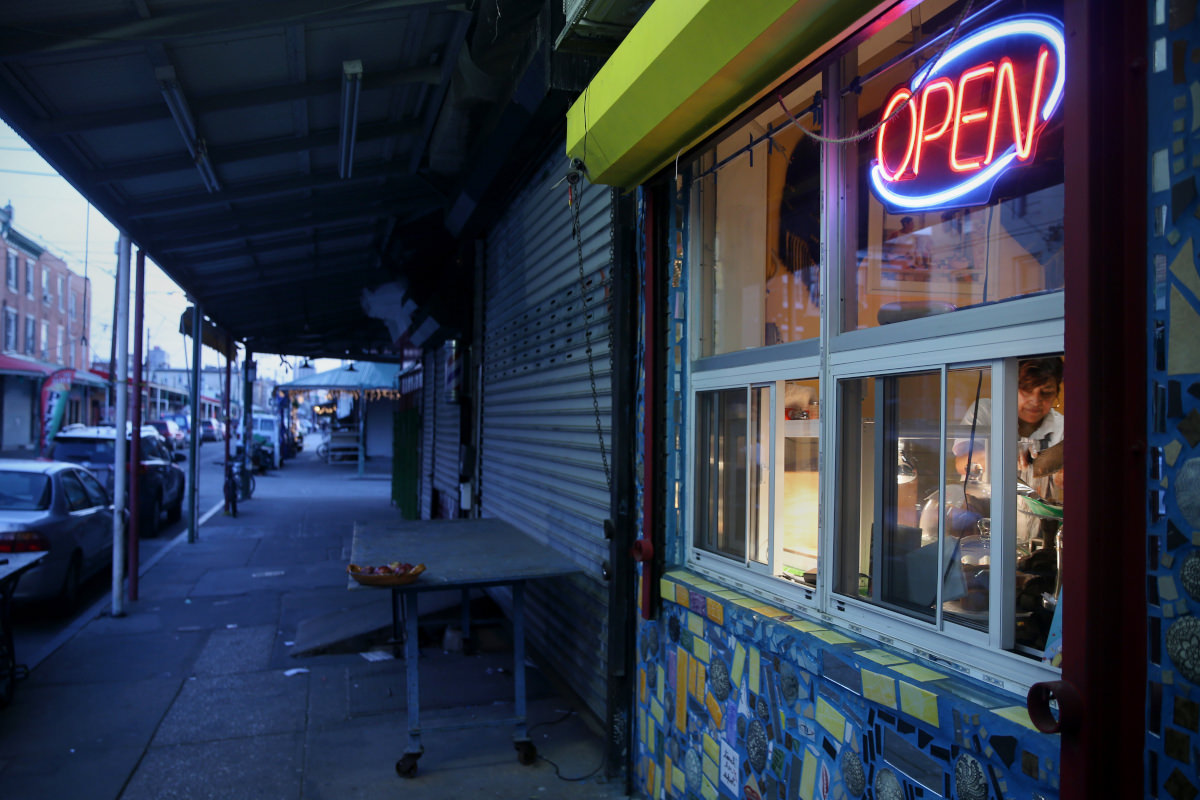 TIM TAI / Staff Photographer
Chef and co-owner Cristina Martinez weighs an order of lamb barbacoa for an early customer as the sun rises just before 6:30 a.m. at El Compadre in the Italian Market.
The payoff as I researched this guide of nearly 40 Mexican restaurants, markets and bakeries is the realization that an important new dining neighborhood has been emerging right before our eyes, with an impressive roster of family-run BYOBs and taquerias cooking remarkably affordable menus that are deeply rooted in one of the world's most flavorful culinary traditions and redefining South Philadelphia once again.
And the delight of discovery never ends, as new ventures emerge on a seemingly weekly basis. One of the latest — and most compelling — would have been easy to miss, because Sara and Alfredo Ramos have run La Tienda as a corner grocery at 13th and Snyder for five years. But after carefully saving their profits for years to build a $30,000 kitchen in back, they setup three mismatched tables down a market aisle at the end of March and unleashed an exceptional menu of cooked-to-order specialties. Towering cemita sandwiches layered with fried chicken, Oaxaca cheese, beans and chipotle salsa. Cheese-stuffed poblano peppers dipped into a meringue-like egg wash and fried to order for chiles rellenos. A platter of enchiladas rojas glazed in a cuminy red salsa so vividly alive with flavor, it was one the best things I've eaten all year.
Surely, once word gets out, three little tables (including the old school desk I sat at) won't be enough.
"¡Ojalá!" Sara Ramos says, glancing skyward in prayer with the Spanish phase for, "I hope so!"
One of South Philly's newest chef-entrepreneurs and storytellers has an exciting chapter waiting to be written.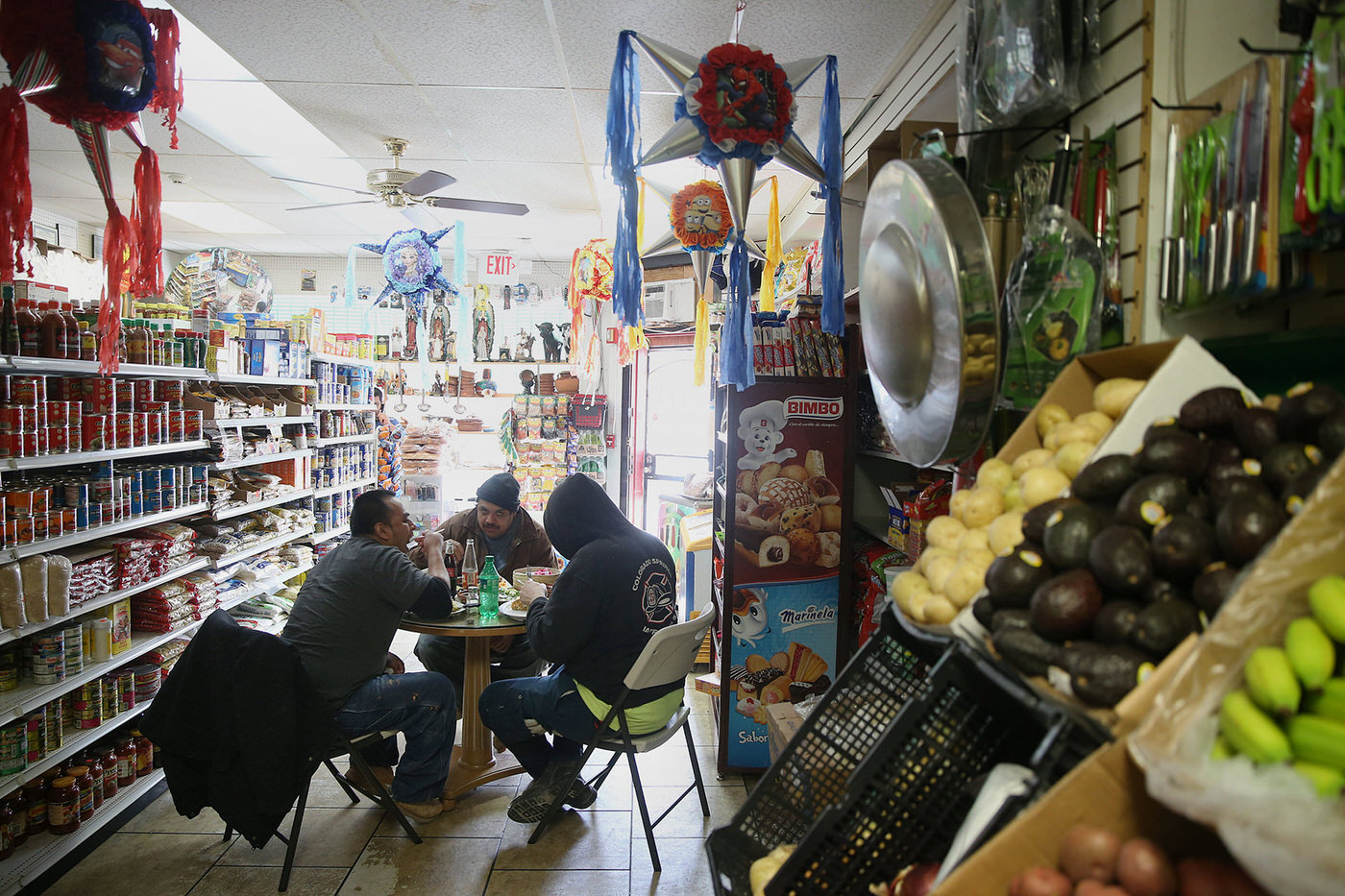 Reviews
All the places on this list are recommended. Only restaurants with multiple visits over time, however, are able to receive bell ratings.
‍
‍
‍
‍
Superior
Rare, sets regional dining standards.
‍
‍
‍
Excellent
Special, excels in most every category of the dining experience.
‍
‍
Very Good
Interesting, with above-average food.
‍
Hit-or-miss
Too inconsistent for a strong recommendation.
Glossary
I love a good burrito as much as anyone -- just not when I'm in a real Mexican restaurant. Yes, there is such a thing in the authentic Mexican tradition, but it's far smaller than your typical Chipotle belly bomb and mostly found in the northern border regions (or Tex-Mex kitchens) where flour tortillas are common. When I'm eating in South Philly, where most cooks come from the state of Puebla, I will always go for anything made with masa, the corn dough used for tacos and enchiladas, among many other specialties. Except when I want a torta. Here's a handy glossary to help navigate some of the most common ingredients and dishes you'll find on local Mexican menus.
Huaraches, sopes, tlacoyos
Fresh corn tortillas are beautiful. But masa can be formed into other shapes that, when machine-made tortillas are being used elsewhere on the menu, are almost always assuredly handmade with thicker textures that deliver a fluffy, earthy corn chew. Huaraches (which means "sandal") are large ovals, while sopes are small and round with ridges to contain a layer of beans and toppings. Smaller tlacoyos are oval-shaped turnovers often stuffed with beans then topped with salsa. The best quesadillas in South Philly also are made of hand-pressed masa.
Al pastor
This flavorful taco option, which descends from the Lebanese influence on Mexican cooking, is traditionally pork marinated in guajillo sauce and spices layered on a vertical spit beneath a pineapple. The complexity and balance of seasonings will tell you a lot about the skill in the kitchen. Most restaurants do without the spit, but when you find one that does, it's always better.
Carnitas
Also pork, but slow-cooked, often with orange juice, Coca-Cola, sometimes dairy, and usually plenty of fat, this is another bellwether filling for your taco.
Tinga de pollo
Pulled chicken braised in tomato sauces smoky with chipotle peppers, this is my go-to topping for tostadas.
Mole poblano
There are multiple versions and colors of mole, the intricate sauce that is Mexico's national dish. But mole poblano, which hails from the state from which most Philly Mexicans came, likely is the original and probably the most famous. It typically blends Mexican chocolate with chiles, nuts, fruits, animal crackers, seeds and other spices, but as many variations exist as there are home kitchens.
Huitlacoche
The swollen black kernels of corn infected with fungus, colorfully known as corn smut, have been called the Mexican truffle, with an intensely earthy flavor and dark black hue that brings dramatic color to any dish. It's considered something of a luxury, so not always common (and almost always canned). But their juicy pop is fantastic inside the hot folds of a quesadilla made from fresh corn tortillas, usually paired with Oaxaca cheese and spicy jalapeños.
Cemita or torta?
Both are overstuffed Mexican sandwiches, but come on different breads. The more common telera is bigger, on a flour-dusted football-shaped loaf piled high with meats, lettuce, tomato and avocado, among other things. The cemita, a Puebla specialty, comes on a chewier round sesame-speckled roll with (in addition to the meat) fresh Oaxaca cheese, refried beans, chipotle sauce and papalo herb, whose butterfly-shaped leaves taste like a mix of mint and cilantro.
Chilaquiles
Stale tortillas simmered in salsa then paired with eggs is a classic Mexican breakfast, and one of the best ways to start your South Philly morning.
Champurrado
This chocolate-flavored variation on the warm sweet beverage of atole is mixed a cinnamon-scented powder of ancient pinole corn, which, in South Philly, is often blue or red and shipped direct from relatives' farms back in Puebla. Perfect for breakfast.
TIM TAI / Staff Photographer