DAVID MAIALETTI and MICHAEL BRYANT / Staff Photographers
Mayfair Diner, China Gourmet, and Picanha Brazilian Grill
Immigrants add amazing flavor
Thursday, March 16, 2017
I was chatting about the state of Northeast Philly food over creamy crab cakes and crispy potatoes at the Mayfair Diner with a regular known as "Gumbo Bob" when longtime waitress Betty Woods overheard our conversation. I had identified myself as an Inquirer reporter but, well, she hadn't heard my name …
"I don't like Craig LaBan because he'd never come to a place like this," Woods said with the kind of conviction that comes from presiding over a diner counter for 46 years. "He only writes about fancy, expensive places in Center City, and he'd look down his nose at us. But this is where the real people eat!"
Ah, the world of an anonymous critic, where honest opinions often go both ways. But let's get one thing straight: I'd come to celebrate the Northeast and one of the last stalwarts of its diner culture, not to bury it. Too many of the great diners that fed its post-WWII working-class boom with affordable and scratch-cooked American meals have faded beneath waves of fast food, changing demographics, and shifting tastes. But the Mayfair, judging by my pleasant lunch and Gumbo Bob's steady devotion, is one of the few that has changed little, despite a change in ownership after decades under the watch of the same family.
What has changed drastically, however, is the face of those "real people" of the Northeast, where nearly 30 percent of the 200,000 residents who live north and west of Roosevelt Boulevard are foreign-born. And that stunningly diverse immigrant infusion has transformed this vast and too-often ignored swath of the city into a positively thrilling culinary destination for international flavors.
For two months, I feasted on Uzbek kebabs and Brazilian churrasco, Transylvanian stuffed cabbage, stellar Vietnamese banh mi, and flaming Portuguese sausage. I tasted the authentic offerings of Russian markets, a growing Chinese corridor with some of the city's best seafood and dim sum, and a South Indian community that produces the hard-to-find dishes of Kerala -- not to mention an Indian cheesesteak wrapped inside a dosa crepe. With side trips to some of the area's more traditional spots, from classic cheesesteak and hoagie delis to Italian gems, kielbasa corners, craft beer pioneers, and, yes, some still-great diners, rarely has a Philly eating adventure been so fun. There may be no Philly food destination more dynamic than Northeast Philly.
Here are nearly 60 recommendations to prove it.
Eastern Europe & Central Asia
South American, Caribbean & Portuguese
New American & Beer Destinations
Eastern Europe & Central Asia
Middle Eastern & Israeli
Judah Grille
CRAIG LABAN / Staff
Lamb kufta kabobs from Judah Mediterranean Grille in Krewstown Shopping Center, 9311 Krewstown Rd. in Northeast Philadelphia.
This Israeli-style grill from Yalli and Mike Avitan serves an extensive menu of glatt kosher meats and traditional Jewish dishes, from aromatic veal and turkey shawarma served over silky hummus to spiced lamb kofta kebabs, spicy shakshuka tomato stew baked with eggs, and a distinctive mashed eggplant-tahini starter. Soulful soups, like mushroom barley, also nod to some Ashkenazi flavors. BYOB is encouraged, but it must be kosher.
Al Sham
CRAIG LABAN / Staff
Syrian-style kibbeh stuffed with aromatic ground beef and almonds at Al Sham, 6738 Bustleton Ave. in Northeast Philadelphia.
This longstanding grill anchors the heart of the Northeast's Middle Eastern commercial strip. Now run by a Bangladeshi chef and his Malaysian wife, it serves a wide range of well-cooked regional favorites, from Syrian-style kibbeh stuffed with aromatic beef and almonds to crisp falafel with moist and vividly green centers to excellent Palestinian-style hummus and baba ganoush, and a flavorful mixed grill.
Back to top
Indian
Ateethi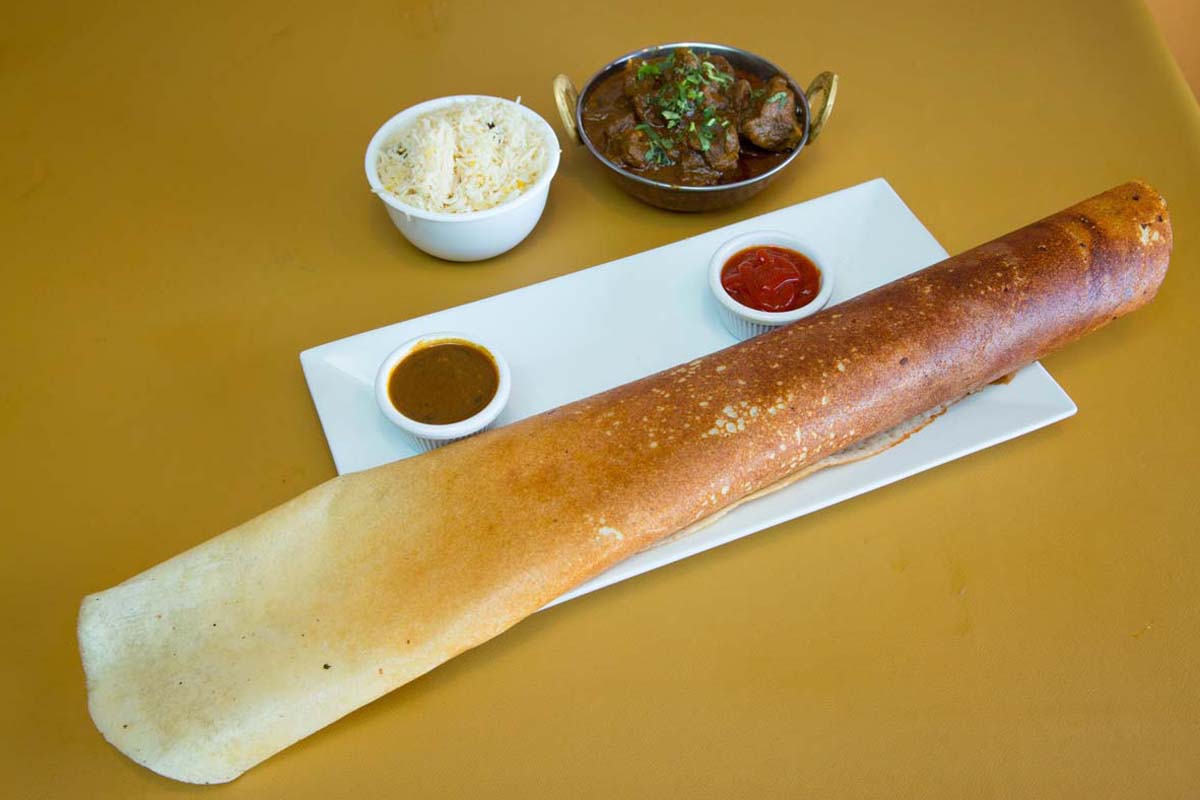 JESSICA GRIFFIN / Staff Photographer
The cheesesteak dosa with a side of goat curry dip from Ateethi, 9321 Krewstown Rd. in Northeast Philadelphia on March 9, 2017.
Stray from the typical menu items (and weekend buffet) at this South Indian restaurant from two generations of the Joseph family. Head instead to the distinctive flavors of their home state of Kerala, where beef (allowed due to a large Christian population) comes stewed Ulathiyathu-style in a spicy coconut gravy; thick kingfish steaks are braised in a Kerala curry with the deeply earthy sourness of black tamarind, a dish best eaten with kappa, boiled yucca mashed with coconut milk and aromatic curry leaves. For the ultimate Philly-Indian fusion, try the dosa stuffed with Kerala-spiced Philly cheesesteak with a side dip of goat curry.
Mallu Cafe
CRAIG LABAN / Staff
Kerala Porotta bread from Mallu Café.
The no-frills dining room does mostly take-out, but there are seats, and its Kerala-style south Indian cooking is worth the visit, especially for a spicy beef fry tossed with shredded coconut chips, delicious coconut-stewed chicken Varutharacha, and what is absolutely the flakiest layered porotta bread I've ever tasted.
Zaika
CRAIG LABAN / Staff
The mixed Pakistani Grill from Zaika, 2481 Grant Ave. in Northeast Philaldelphia.
Pakistani cuisine is similar to Indian food, but as evident at this Grant Avenue eatery connected to a market and halal butcher, the cooking is meat-centric and with a spicing that can have more edge. Go for the sizzling mixed grill to get the full effect of pungently flavored but tender meats. For something unique, try lamb or bony goat stewed in tangy gravy thickened with urad split lentils. Biryanis are also recommended.
Back to top
South American, Caribbean & Portuguese
Italian
Vietnamese
Café Saigon Restaurant
CRAIG LABAN / Staff
The house special banh mi at Cafe Saigon.
This lively cafe specializes in everything but pho, including what may well be the best banh mi in town (lots of pate and mysteriously crunchy lunch meat for the special; moist dark meat for the chicken hoagie). But it also serves a formidable bun rieu (tangy seafood soup) and an outstanding bun cha ha noi, the rarely seen but incredibly flavorful grilled pork, meatball, and noodle dish made famous recently by President Barack Obama and chef Anthony Bourdain's televised meal together in Vietnam.
Pho Nam
CRAIG LABAN / Staff
The house pho (menu item P1) with fresh herbs and a side of nuoc beo from Pho Nam.
There are better-known pho halls on Adams Avenue, including the upscale style of Pho Ha Saigon and the classic minimalism of pioneer Pho 75. Neither, though, produced a soup with nearly as much small-batch savor and beefy complexity as the relatively new but more modestly appointed Pho Nam, which serves its with bountiful fresh herbs and superbly tender meats. Try it with nước béo, a side dish of rendered beef fat steeped with scallions to give your pho an extra-rich boost. The lemongrass-grilled short ribs with broken rice are also superb, as is the "Golden Bags" fried wonton starter.
Nam Vang
CRAIG LABAN / Staff
Cambodian seafood noodle soup (#15) at Nam Vang.
Hidden away behind glass walls on the inner corridor of the Farmer's Best Asian market, this no-frills cafe serves Vietnamese fare but also specializes in Cambodian flavors, like grilled beef sticks (#11) and a remarkably delicate seafood noodle soup (#15) filled with shrimp, scored curls of squid, and scallops bobbing in a broth aromatic with cilantro and roasted scallions.
571 Adams Ave. (Inside Farmer's Best Supermarket)
Back to top
Chinese
China Gourmet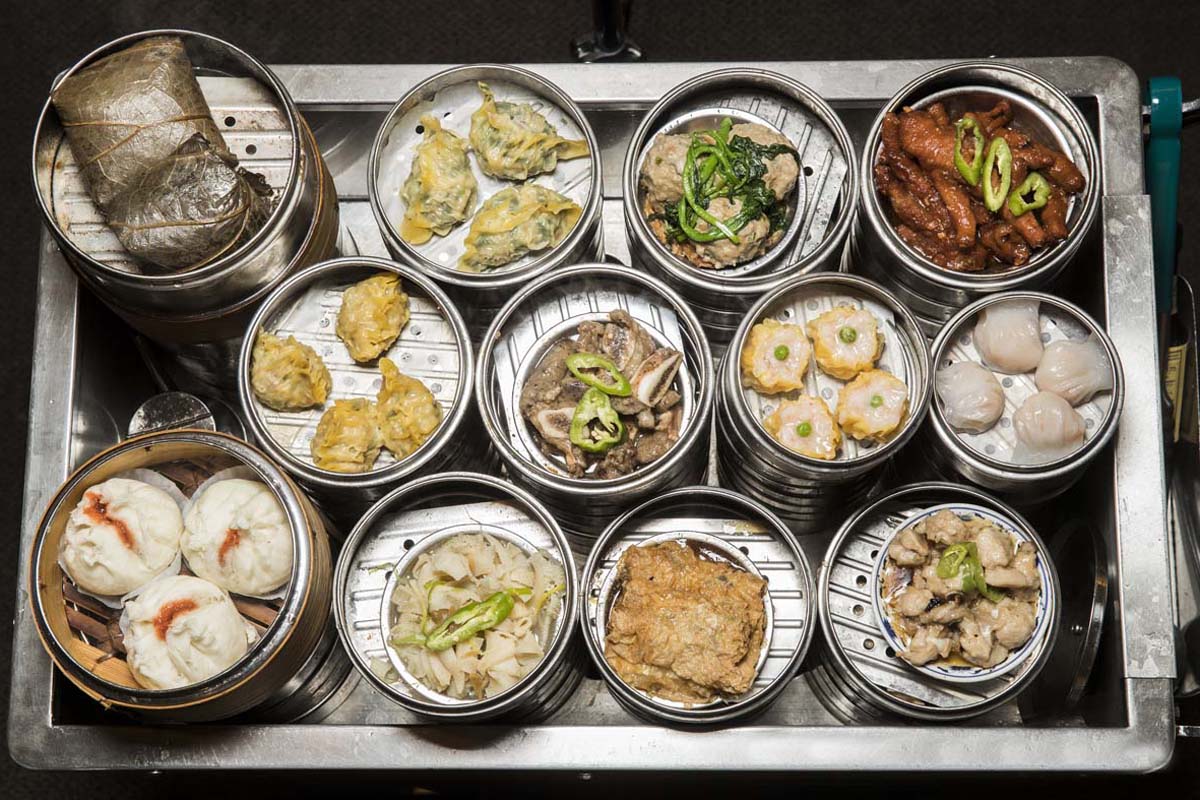 MICHAEL BRYANT / Staff Photographer
The dim-sum cart at China Gourmet (left to right, top row to bottom): Lotus Leaf with Sticky Rice, Watercress Dumpling, Beef Ball and Chicken Feet. Middle row, left to right, Fortune Dumpling, Short Beef Rib, Shrimp Shao Mai, and Shrimp Dumpling, and Bottom row left to right, Pork Bun, Beef Tripe, Bean Curd Skin Roll and Spare Ribs Tips.
This year-old Cantonese entry to Bustleton Avenue's mini-Chinatown makes some of the finest, freshest dim-sum in town, significantly better than neighborhood mainstay Jade Harbor. But it's the live seafood tanks crawling with giant crustaceans ­– 12-pound lobsters and 10-pound king crabs – that are a special draw. Chef-owner Mink Feng clearly has the talent to cook them, able to turn one giant crab (running about $400) into a multicourse feast to feed 10. A Hong Kong-style duo of a considerably smaller Dungeness crab and a lobster, flash fried in a microcrust beneath seasoned ground pork, was one of the more memorable dishes I've eaten this year. The very tasty, crispy "duck chins" are also an authentic specialty.
1st Oriental Restaurant
CRAIG LABAN / Staff
A mixed platter of Hong Kong-style BBQ meats - crispy pig, honey lacquered pork and roast duck - from 1st Oriental Restaurant in Northeast Philadelphia.
This two-month-old arrival to the 1st Oriental Supermarket complex from a veteran of Chinatown's Rising Tide will be adding dim sum soon to its authentic Cantonese menu. But it's already notable for its array of Hong Kong BBQ-style meats, including a wonderful honey-lacquered pork, crackly crisp pig, and juicy roast duck.
Morning Star Pastries
This simple corner cafe is more than just a bakery for traditional Hong Kong-style pastries and stuffed buns. It's a de facto community center for Chinese locals old and young who come for simple and incredibly affordable home cooking, including a rustic beef noodle soup so aromatic with Chinese herbs and spice it's practically restorative.
Back to top
Barbecue
Rib Rack
The ribs are baked, not smoked, at this dark-lighted Castor Gardens standby, but they are still delicious. So are the tender chickens and Buffalo wings, which were particularly notable.
Sweet Lucy's Smokehouse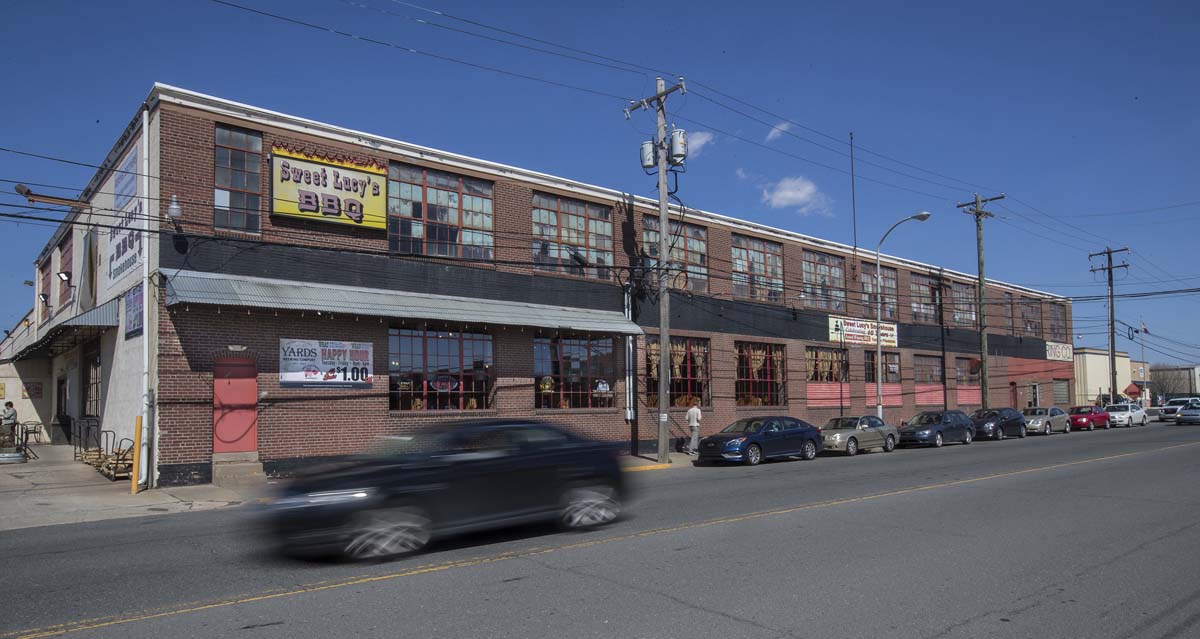 MICHAEL BRYANT / Staff Photographer
Sweet Lucy's BBQ on State Road near Cottman Avenue in Northeast Philadelphia.
Still smokin' and growing in size, the bright and cheery industrial space filled with picnic tables at Sweet Lucy's remains one of Philly's best destinations for genuinely smoked barbecue. Everything is solid, but the tender pulled pork (splashed with Carolina-style vinegar sauce), smoked kielbasas, and exceptionally moist chickens are notable. The meat-studded Smokehouse chili, wings, and bacony Brussels sprouts are also notable.
Back to top
New American & Beer Destinations
Old School American
Gallo's Seafood
CRAIG LABAN / Staff
A lump crab cake from Gallo's.
This sprawling Holme Circle seafooder run by a second generation of the Calloway family, which began in the Northeast in 1970, is a pleasantly maintained destination for straight-ahead American fish-house fare, including creamy seafood bisque, excellent lump-filled crab cakes, a popular grilled salmon, and outgoing service. A separate Burger Bar annex added in 2010 with good, thick Angus patties offers some casual turf to complement the surf next door.
Chickie's & Pete's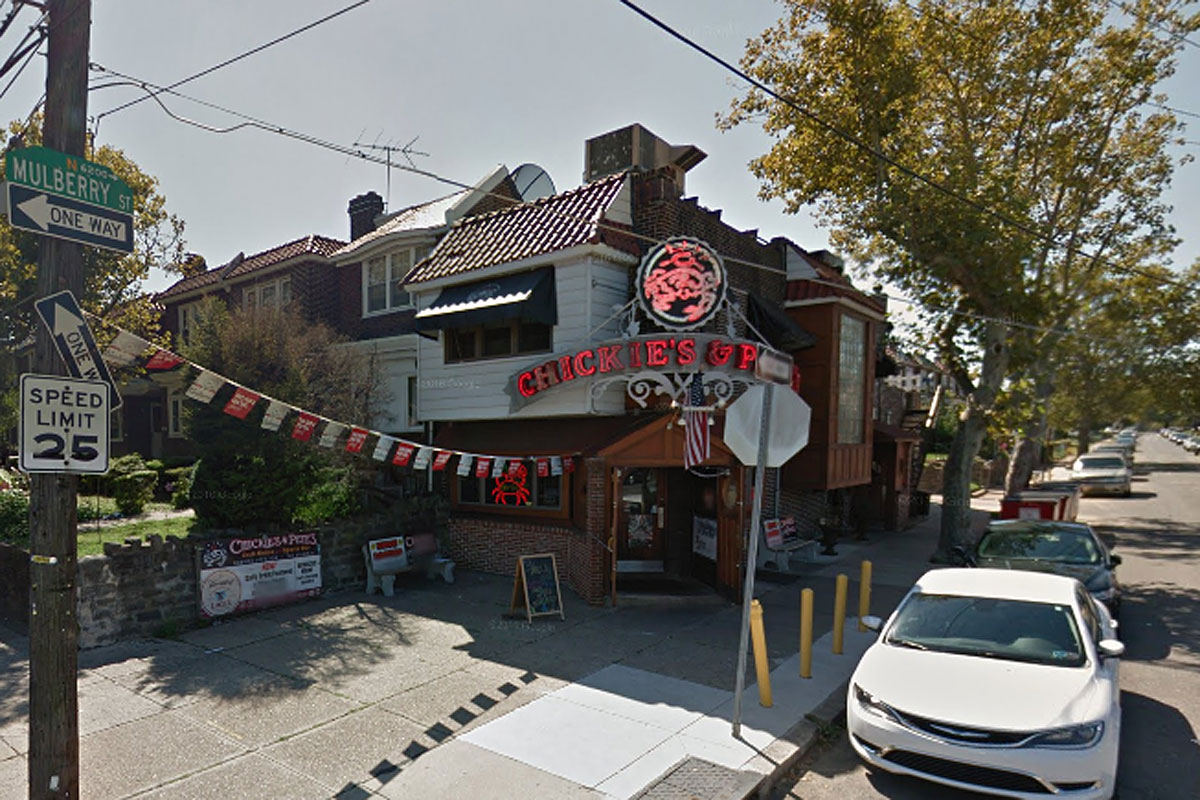 The Crabfries sports-bar empire began at this unassuming but always packed corner tavern in Mayfair. And the spice-dusted, crinkle-cut spuds in cheese sauce – without a trace of crab – remain one of the most overrated things in Philly food culture. That said, this bi-level corner taproom remains a genuine down-to-earth Northeast neighborhood touchstone with other assets, including steamed whole crabs (decent), a great beer selection, and better-than-average hot Italian sandwiches of roast pork and beef that are the big menu's most reliable hits.
Ashburner Inn
CRAIG LABAN / Staff
Mini crab cakes with roasted red pepper tartar from the Ashburner Inn.
This Holmesburg mainstay near the prison and Pennypack Creek is the kind of shamrock-bedecked tavern where seniors in golf caps pack the midday bar to watch spring-training games on the big-screen TVs, simply rapping the counter with an empty bottle – "Hey, Lenny!" – when they want another light beer. Only two of the 20 drafts are local brews ("Go to Fishtown for that!" advised my neighbor). The Ashburner's wood-fired oven, however, happens to turn out some very respectable, crisp-bottom pizzas, and the crab cakes with spicy red pepper tartar sauce are full of flavorful, sweet crustacean and zing.
Back to top
Diners, Hoagies & Steaks
Markets
1st Oriental Supermarket
This massive (and recently renovated) market sells products from across Asia, as well as a wide selection of fresh greens, seafood, and produce comparable to some of the best spots on Washington Avenue. The management is also very helpful to English-only speakers.
Nuno's Meat Market
CRAIG LABAN / Staff
Nuno's Meat Market, 7731 Castor Ave. in Northeast Philadelphia.
This old-school butcher shop is the place to go to stock up for your Brazilian BBQ party, with excellent-quality picanha top sirloin (just $6.99 a pound!) and spicy house sausages to go with swordlike skewers for the grill and several choices of seasoned BBQ salts. Also a good source for uncommon Portuguese cheeses. (Also visit: Don Pedro Meats & Market, 6047 Castor Ave.)
Supreme Pizzeria & Bakery (Padaria Brasilera)
Yes, Supreme does make pizzas, Brazilianized with hearts of palm, corn, and Brazilian cheese. But the real draw here are the warm cases brimming with Brazilian pastries stuffed with savory meats, Brazilian cheese puffs, and bags of airy tapioca flour breadsticks (biscoito de polvilho) to snack on with coffee.
Don Pedro Meats & Market
Both Portuguese and Brazilian-style sausages and meats are sold at this butcher and market, which also features in Latin products and produce.
Rieker's Prime Meats
CRAIG LABAN / Staff
Rieker's Prime Meats, at 7979 Oxford Ave. in Northeast Philadelphia, sells hand-made, authentic German luncheon meats and sausages.
You'll still hear customers order in German at this 47-year-old Fox Chase institution run by a second generation of the Rieker family, which turns out a full butcher shop's treasure chest of traditional brats, marinated meats and wieners, house-made spaetzle, and tangy German potato salad.
Kuttanadu Super Market
CRAIG LABAN / Staff
Spicy Kerala-style Indian snacks at Kuttanadu Super Market, 8923 Krewstown Rd. in Northeast Philadelphia. The market offers Indian grocery products.
In addition to all the usual spices, halal meats, fresh fish, and basmati found in many other Indian stores, this market specializes in hard-to-find ingredients from the south Indian state of Kerala, including rare black tamarind pods, and regional snacks like banana chips that I've become somewhat obsessed with.
Lipkin's Bakery
CRAIG LABAN / Staff
A mixed box of mini-knishes from Lipkin's Bakery, 8013 Castor Ave. in Northeast Philadelphia.
One of Philly's classic kosher bakeries changed hands last year, but it hasn't changed in quality at all, still specializing in fresh challah for Shabbat, excellent seeded rye, respectable bagels, and especially a wide variety of mini-knishes stuffed with everything from kasha to spinach, mushroom, and "pizza" style (all significantly better when warmed at home).
Simon's Glatt Kosher
It's been a while since I've experienced gruffer service than Simon's, but this cornerstone kosher butcher with roots in Kiev and Israel is still an essential destination for stocking up on flanken (Jewish short ribs) and meats for an Israeli-style grill party highlighted by patties and kebabs seasoned with shawarma or "Mizrachi" spice blends.
Amana Grocery
This longstanding Middle Eastern specializes in halal meats.
Jana Food Market
This is one of a couple of worthy Middle Eastern markets on Bustleton Avenue for house-butchered halal meats where the personable service will also guide you to quality Egyptian rice, Lebanese olive oils, spices, teas, jars of ready-to-roll grape leaves, and cute demitasse sets for Turkish coffee. (Also visit: Al-Amana, 6746 Bustleton Ave.)
Bell's Market
CRAIG LABAN / Staff
Chicken Kiev to go from the prepared-foods counter at Bell's Market
My favorite of the Russian markets is always a destination for its extensive selection of feta (an entire aisle of choices!), an elaborate pickle bar (try the mushrooms and Georgian salad), rustic house-baked breads, a vast smoked-fish counter, Russian chocolates, and prepared foods, like samsa meat pastries and bake-at-home chicken Kiev.
NetCost Market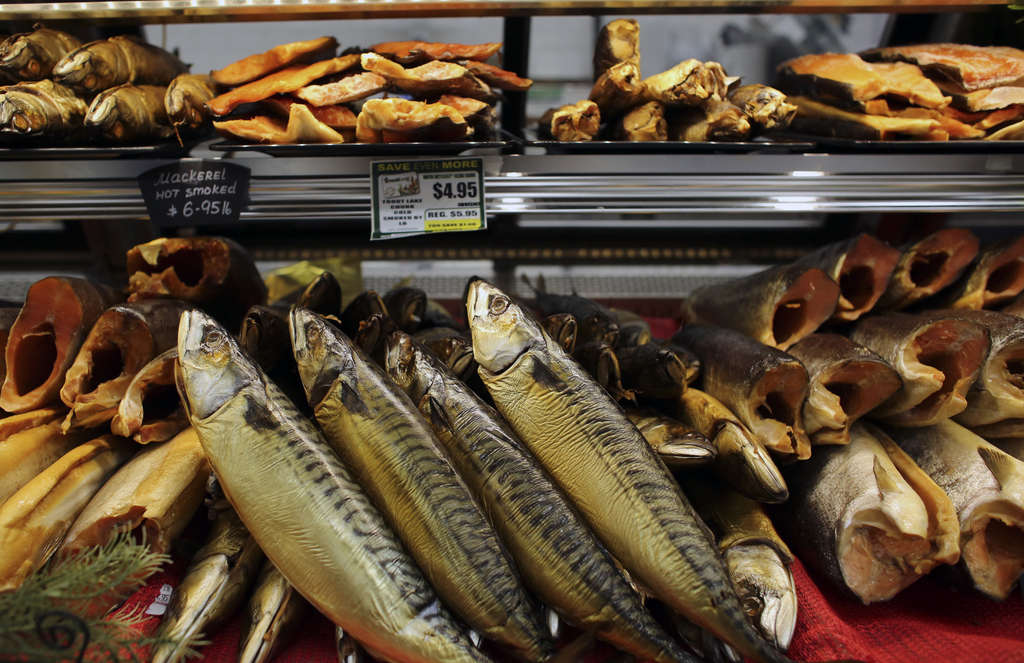 Joseph Kaczmarek
Dried fish at NetCost, popular with Russian and Eastern European immigrants.
This bright and modern chain out of New York with two locations in Northeast Philly feels like the Russian version of Acme, with an extensive selection of smoked bacons and kielbasa (try the spicy Gypsy variation), frozen pelmeni dumplings in bulk, excellent fresh lamb, and a prepared-foods bar laden with myriad varieties of sweet and savory blintzes, as well as several variations of plov (pilaf).
Back to top