MICHAEL KLEIN / Philly.com
The Continental at 20
Kevin Stout, a doorman at The Continental at Second and Market Streets, is restaurateur Stephen Starr's longest-serving employee.
How a onetime corner diner changed the course of Center City nightlife.
Michael Klein / Philly.com
mklein@philly.com
Philadelphia was easing back to work after Labor Day 1995. The town was buzzing about the O.J. Simpson murder trial, Ricky Watters' short-arming a pass in his first game as an Eagle ("For who? For what?"), and the ownership swap between the NBC and CBS TV stations that confuses people to this day.
At dusk Wednesday, Sept. 6, nightlife promoter Stephen Starr stood outside the Snow White diner at Second and Market Streets in Old City with interior designer Owen Kamihira and looked across at the Continental. The work was finished. The interior lights were up and the stainless-steel trim gleamed beneath spotlights. Five colorful, light-up dice were suspended in the sky, as if tossed up from the roof, and the "Continental" sign bathed the street in a late-summer warmth. The street was quiet, as it was back then.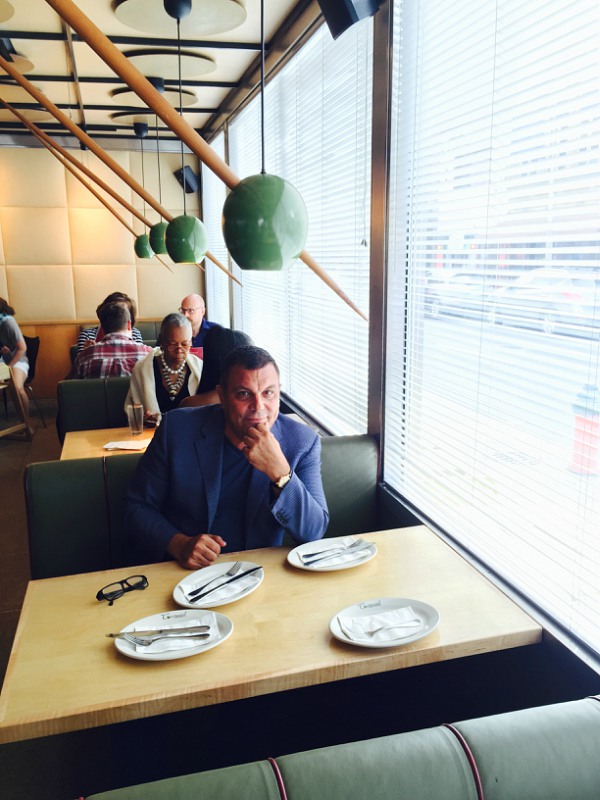 SRO
Stephen Starr at The Continental, Sept. 4, 2015.
"We just stood there and said, 'Wow,'" Starr recalls. "It was magic. The restaurant just glowed. It was very emotional. We knew it was going to be a hit."
When the doors opened the next night, it was.
Straight up.
Twenty years ago this week, The Continental reintroduced the long-lost cocktail culture to Philadelphia and launched Starr's dining empire, now 31 restaurants in five states that employ 3,340 people and generate more than $200 million a year in revenue. There are now four Continentals, counting one that opened last month in Miami Beach.
That reimagined corner diner provided a creative spark for restaurants through the city.

"It was like a shock of electricity for the development of Old City and led the way for the restaurant revolution down there," said Ed Rendell, Philadelphia's mayor at the time.

Two decades later, Starr alumni are everywhere, having moved on to open their own bars and restaurants.

Jose Garces, imported from New York, was chef at Alma de Cuba and El Vez before he started his own empire. Michael Schulson (Sampan, Izakaya, Independence Beer Garden) was chef at Pod and then at Buddakan in New York. Aimee Olexy (Django and the Talula's trio) was a director of operations.
The Continental's original 48 seats – now expanded to about 150 seats in a warren of rooms - didn't take much to fill, and everyone wanted to join the scene. Aspiring trendies from the burbs, Philadelphia's movers and shakers, office workers, restaurant folk, students, singles, young couples, beautiful women, out-of-town celebs, Pat Burrell (subject of numerous rumors) - all squishing in for crab pad Thai, beer-battered shrimp and calamari, and sizzling shrimp scampi.
And the cocktails.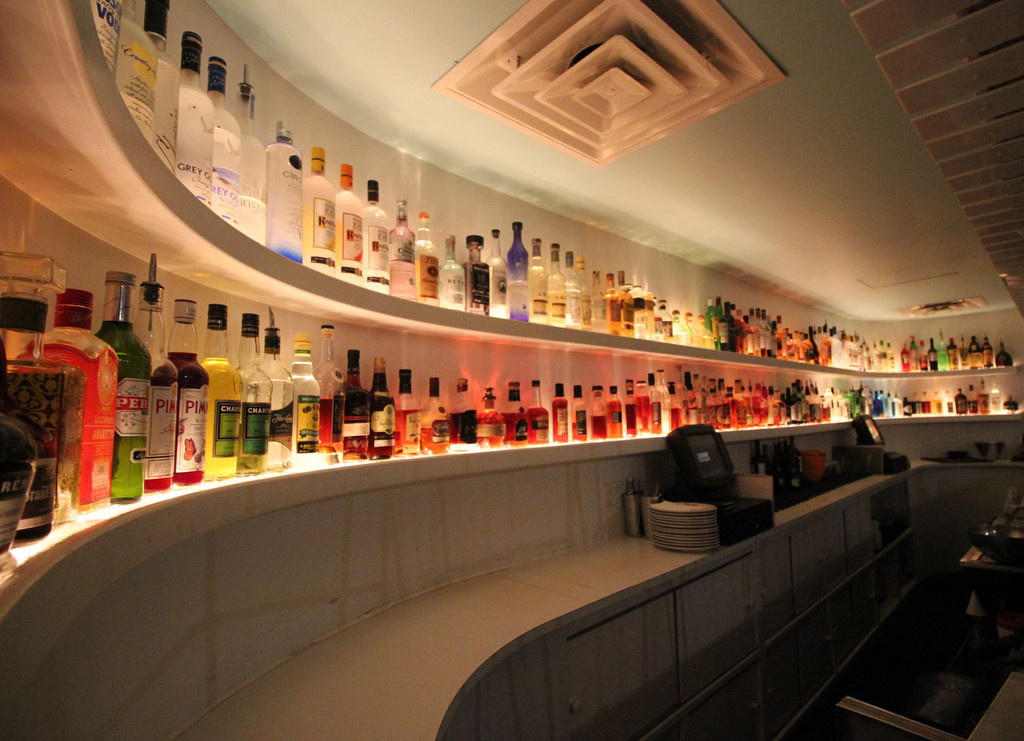 MICHAEL KLEIN / Philly.com
The bar in a rear dining room at The Continental.
The air rattled with stainless-steel shakers. And, it turned out, many customers initially couldn't handle the "up drinks," such as those $5.50 chocolate martinis made of Absolut and crème de cacao in a chocolate-rimmed glass. (A martini is now $11.)
"They didn't know how to drink them," Starr said. "These were strong drinks and it got out of control quickly. I would work the bar Sundays and I seriously thought about selling [the place]. They were passing out at the tables. I was getting disgusted."
One Sunday morning, Starr got a call from the alarm company and heard that a customer who had fallen asleep on the toilet after one too many cocktails was wandering around the restaurant. "In the version I remember," said Kevin Stout, who started as a doorman six weeks after it opened, "Stephen called [the restaurant] to talk to someone and the guy picked up the phone and said, 'Hello, Continental?' … While it was kind of funny to us, Stephen wasn't all too happy."
Eventually, Starr said, the public learned to handle the martinis.
"We tapped into something that was missing at the time," Starr said.
MICHAEL KLEIN / Philly.com
The Creation
"I was bored," Starr said. Over the years, the son of a TV repairman from Woodbury Heights, N.J., had opened a few clubs (Grand Mom Minnie's, Stars, Ripley Music Hall, The Bank) and even a short-lived burger shop in Ardmore called Shake Burger N Roll.
His bread and butter was concert promotion – Cyndi Lauper, U2, Bruce Springsteen, Jerry Seinfeld. On the cusp of 40 and flush with cash after selling his promotion business, "I was looking for something to do. There was a void in Philly for a fun restaurant. There were either restaurants or bars. I had gone into the Continental [Diner] just for coffee and I was intrigued with the building. It was a '60s diner."
"Old City comes and goes, but The Continental is still a gleaming example. It's still relevant."
Owen Kamihira, interior designer
At the time, Starr said he was reading about a cocktail craze that was starting in California and had spread to New York City, where a club called Global 33 had opened in a former diner on Second Avenue. It was named after a Twilight Zone episode, and he considers himself a "giant" Twilight Zone fan. It was fate.
Looking for a name, someone said, "Why don't we call it what it was called?"
The Continental.
Starr called for Miguel Calvo, who had designed Global 33, setting him up with a young designer from Bucks County named Owen Kamihira.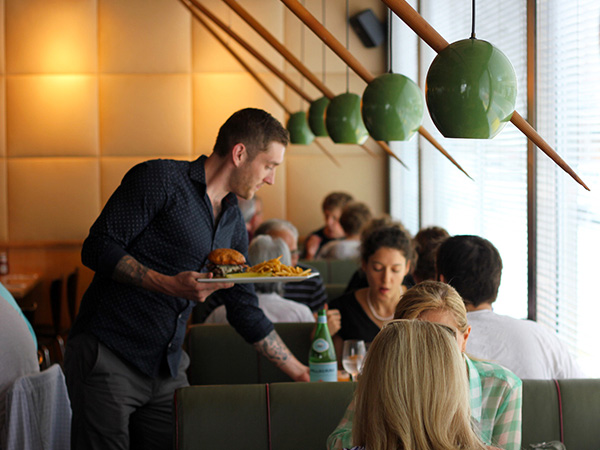 MICHAEL KLEIN / Philly.com
Manager Matt Martin serves beneath the Continental's iconic toothpick-speared olive lamps.
Starr told them to keep the diner layout (subbing a concrete counter for Formica), but to add touches suggesting cocktail culture.
Kamihira says he then looked for what he called "that thing – something iconic." He fashioned light fixtures resembling large green olives, adding oversize wooden toothpicks to "pierce" the fixtures, which hung over the booths in the window.
"You know, it still has a fresh feel to it," said Kamihira, who went into the restaurant business himself 10 years ago with Bar Ferdinand and later with El Camino Real. "Old City comes and goes, but the Continental is still a gleaming example. It's still relevant."
The Chef
Months before the opening, Starr scouted for chefs. Everyone turned him down, he said. Forty-eight seats? Cocktails? Al Paris, then a partner at a Walnut Street hotspot called Circa, suggested one of his former chefs, Bradlee Bartram.
Bartram and Starr clicked. But they dickered over whether they could work together. One morning, Bartram recalled, he heard a beep on his answering machine. Playing the message, he heard Starr's voice: "I'd like to talk to my executive chef, please."
Bartram said he turned to his wife, and said, "He's a madman and I'm going to work for him."
"And what a great madman he is."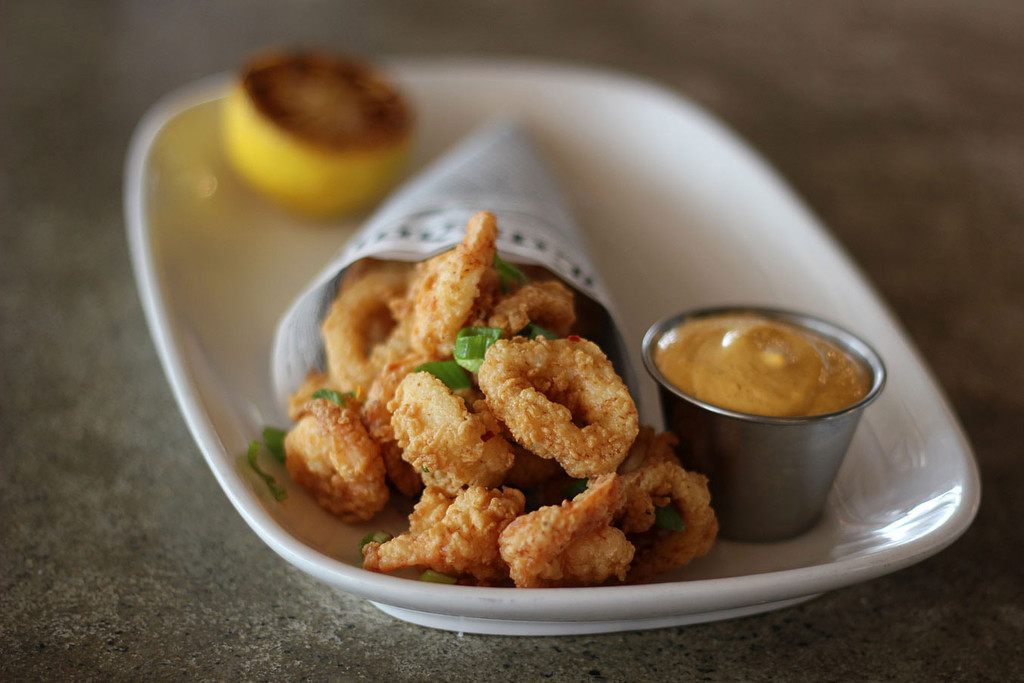 MICHAEL KLEIN / Philly.com
Beer-battered shrimp and calamari is an original dish at The Continental, Second and Market Streets.
Starr tried everything on the menu and threw out most of it. The first menu contained fewer than 20 food choices. Now, it goes on for pages, much like a diner's.
"Interestingly enough, one of the things that he and I both share is a fear of what can go wrong, despite the bravado it takes to open a restaurant like that," said Bartram, who left Starr Restaurant Organization in mid-2013. "There is a healthy dose of humility in opening. People would love it or hate it. We stood there wondering what was going to happen."
The opening weekend was not overwhelming for Bartram and his second in command, Raul Bacordo. "The second weekend, it was off the charts," Bartram said. "We started to get control over the crowds on the third weekend, but people were waiting an hour and a half to get in." Bartram, coming from a pure food background, realized that it worked. "It was extremely trendy but we worked very hard for what we did to be trendy and have some substance behind it," Bartram said. "I feel very strongly to this day that we had a lot of integrity. The spirit of it now is very much the same."
The Doorman
The Continental's longest-tenured employee is Kevin Stout, who started, six weeks after opening, as a doorman because "I was working in the restaurant business and I didn't want to get dirty." And he's still a doorman, on Friday and Saturday nights. It's Stout's side job; by day, he works in wealth management for a large bank.
Why still do it? "I love the energy and the restaurant," said Stout, who grew up in Drexel Hill. He considers working for Starr "an honor and a privilege."
Now in his mid-40s, he calls himself an "extra cog" - in his words, the go-to guy helping the managers. Besides working the door, at 6-foot-10 he changes light bulbs without a ladder. He's fetched cars for Joey Merlino and helped Fox29 sports anchor and WIP talk-show host Howard Eskin retrieve his towed car at an impound lot by borrowing then-Sixers general manager Billy King's limo.
The early days were "like the bloody Wild West," said Richard Roberts, a manager for the Continental's first dozen years before he retired to Mexico. The rest of the street caught up. Cuba Libre across the street opened in 2000. Revolution House replaced the Snow White Diner in 2011.
The Continental's scene nowadays is much calmer, as the crowds can spread out. On the off-chance nowadays when someone is acting up, Stout said, "I'll just go into the room, and just be there. I have a stoic look." He said he has had to throw out only one customer over the years.
"My job is simple," Stout said. "I'm the first person and the last person you see. I want to make sure you've had a good time."
Stout recalls one of Starr's first instructions: "If someone tells you to let them in because they're a friend of mine, don't let them in. I have no friends."
Starr laughs at the memory and anecdote. "I was a club guy. I didn't have any friends in the restaurant business."
Now he has plenty.
Upon this anniversary, Starr was asked to reflect: If he had decided to sell the Continental early on, what would he have done?
"I probably would have tried to make movies," he said. "Less drama."
See more memories of the Continental, and a whimsical video, here.
MICHAEL KLEIN / Philly.com