The Four Seasons' signature restaurant prepares to change course.
By Michael Klein | mklein@philly.com | Philly.com
Photos by Stephanie Aaronson | Philly.com
Tuesday, Dec. 23, 2014
Late on the evening of Dec. 27, 2014, Fountain restaurant pastry chef Jaclyn Alessandrini will put the final flourish on a vanilla crème brulee or perhaps a soufflé, and a waiter will carry it out.
It will mark the last course of the Fountain's 11,473 dinner services, going back to the Four Seasons' debut on July 31, 1983. Ronald Reagan was in the White House, the Phillies were on their way to the World Series, and chef Jean-Marie Lacroix was deep in the bosom of a white-walled kitchen shepherding a few French chefs and a band of crackerjack line cooks from blue-collar wards like Westmont and Upper Darby into a kitchen team responsible for what quickly would become one of Philadelphia's most-decorated restaurants – the setting for countless power lunches, intimate dinners ending in proffered diamonds, and Champagne-fluted anniversary celebrations.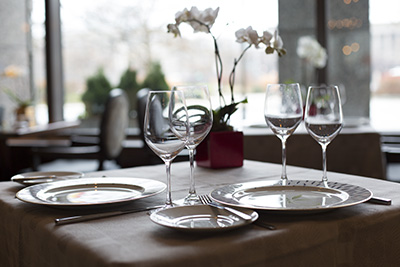 You can debate the impact and glory of the Fountain vs. its longtime expense-account rival, Le Bec-Fin. But the fact is, the Fountain will be the only five-diamond, five-star, four-bell restaurant to the end. No other restaurant in Philadelphia over the years has ever scored 29 points out of 30 in Zagat Survey's categories of food, décor and service.
But with the Four Seasons' closing on June 6, 2015, pending a move to the Comcast Innovation and Technology Center when it opens in 2017, management chose a date two days after Christmas for the Fountain's dinner finale. The Fountain will remain open for breakfast and lunch, but subsequent dinners will be offered in the lounge next door. There will be a steakhouse in the new hotel that succeeds the Four Seasons at 1 Logan Square. It will not be the Fountain.
The Fountain is busy – a truth that makes the closing all that harder to accept. Its demise has nothing to do with a downturn of business (Le Bec-Fin), the vagaries of public opinion (Le Bec-Fin), or the departure of a central figure (Le Bec-Fin).
"World-class elegance" is how The Inquirer's Elaine Tait summed up her first review in October 1983, when dinner entrees cost $15 to $19. While prices have risen with the times (entrees are now $19 to the $50s), the "constantly changing Parkway view that rivals a Paris boulevard" and the world-class elegance remain.
The secret to the Fountain's appeal, in the words of the current chef, William DiStefano:
"To satisfy the guest at all costs."
Here are their stories.
"We didn't think it was going to be busy – this was going to be easy work-wise," said Jean-Marie Lacroix, his accent a patois of British-clipped English and the rolling French of his boyhood in Franche-Comté.
Lacroix was working for the Four Seasons in Montreal when corporate asked him and pastry chef Eddie Hales to set up its new restaurant on Logan Circle in May 1983. He said the ownership had heard grumbling that Philadelphians would not embrace the Four Seasons – a squat newcomer clad in Minnesota granite plopped into an old-money brick and limestone city.
Lacroix said he had 5,000 candidates and chose 12 people for the Fountain and its lounge, the Swann, named after the landmark on Logan Circle outside.
The naysayers were wrong. From the first day, Lacroix said, "there was a stampede."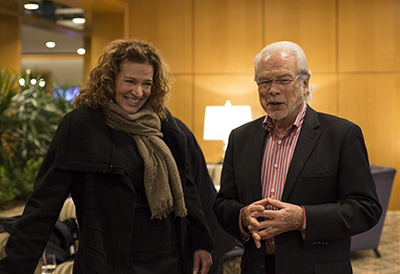 Lisa Carroll talks with Jean-Marie Lacroix (right) in the lobby of the Four Seasons.
This started a scramble to add staff, and add staff he did.
Martin Hamann, now chef at the Union League, was one of his first hires. The rest of the kitchen roster reads like a who's who of chefs, restaurateurs, and sommeliers – many of whom remained on staff for decades: Jean-Francois Taquet, Francesco Martorella, Bruce Lim, Daniel Gottlieb, Tony Clark, David Jansen, Bill DiStefano, Melissa Monosoff.
The Four Seasons' turnover at the top was remarkably low. Lacroix himself made the front page when he left in 2002 to open the restaurant at the Rittenhouse Hotel that still bears his name, even though he left two years later. He is now chef for Brulee Catering.
"Papa" Lacroix – who as a silver-haired 74-year-old carries a regal air befitting an elder statesman – is revered. "The chef is the greatest man in my life," said Clark. "We were all happy to work for such a great teacher."
"The best compliment I ever had was a gentleman who said, 'You know, this is a restaurant with rooms on top,' " Lacroix said. "That's what I wanted to do - run the restaurant like an independent restaurant. They let me do it."
Lacroix credits "a few things" for the Fountain's success. "The timing was right - it was perfect. We had some luck and we worked hard – the right people. We worked well together.
"When you do that and you enjoy your work, people will taste that."
"When Jean-Marie interviewed me for a job, I was terrified," said Tony Clark, now chef at the Valley Forge Casino. "He had such a strong accent, I couldn't even hear him, so I had to 'fake hear' him. But it didn't work, because he yelled at me."
Lacroix seldom raises his voice in the kitchen. But he makes it clear who is in charge. Clark recalled a time he was called into Lacroix's office. "He said, 'Tony, you're a nice guy but I don't need nice guys.' Ouch! That hurt. There was the time I had to stay after work and make 100 French omelets because Chef hated mine."
Or the time that banquet chef Joe Drago and Clark were annoyed at Lacroix. "We hid a salmon filet behind his file cabinet," Clark said. "We couldn't wait for him to smell it. The chef would go crazy trying to find the smell. But it never smelled."
Lacroix, incidentally, is still cooking on Logan Circle. Brulee caters events at the Free Library of Philadelphia across the Parkway.
"When talking about the Fountain, most people would think that the most important thing would be the great setup of the restaurant, the china, the flatware, the stemware, the great wine list, or possibly the purveyors that we had to choose from around the world," said David Jansen, who was restaurant chef from 1989 to 2010. "But I think the most important thing that made the restaurant great was the people who worked there. Not just the chefs but the people that worked there, in the kitchen, in the front of the house, and at the hotel itself. The cooks, the busboys, maitre d's, managers, waiters, all of them."
"Some of my best memories revolve around the people," said Townsend Wentz, a saucier from 1996 to 2003 who now owns Townsend, a restaurant in South Philadelphia. "The guys I worked on the line with are still some of the best friends I have. Being trained how to be a line cook in a kitchen where you're constantly learning, being pushed, and pushing yourself created a tight bond amongst us. We would come in early by two or three hours to get a good spot to work, set up cutting boards, line up mise en place, secure oven time, or spend an hour in the butcher shop, cutting bones for sauce on the band saw, learning things you didn't know about breaking down meat and fish, then heading upstairs to the main kitchen to get a jump on your work. We would break out cutting boards after service to unwind, get set up for tomorrow, then meet up at a local spot to talk about the day, what we did, and what we would do better tomorrow. It was 24/7."
"I grew up as a sommelier and as a professional adult," said Melissa Monosoff, who worked there from 2002 to 2006. "Being in a corporate environment for the first time was like taming a wild animal. I had to learn professionalism and the all-important Four Seasons diplomacy, which I still use to this day."
Townsend Wentz calls it "the opportunity to try to achieve perfection."
"Working on the four savory dishes for the tasting menu that changed three times a week was always an exciting challenge," Wentz said. "Marty [Hamann, who was mentored by and then succeeded Lacroix] would make these beautiful menus, and you had to deliver. I still have my copies of the handwritten menus from Marty, and they're more important to me than any of the cookbooks I own."
William DiStefano, who grew up in Upper Darby, leads what he calls a "competitive but always cohesive kitchen." His 25 years are studded with personal milestones, from his first night on the line as a commis, to his first night leading the brigade as saucier, his first day as a sous chef when he received his name-embroidered coat. "Then you reflect on all the work that it took to get there. The first time that name appears on the menu, and now you oversee a great restaurant, and all the responsibilities that come with it to maintain all the accolades that everyone works so hard to achieve." He singled out the latest additions to his team, Derrick Santiago and Dat Nguyen.
But ask DiStefano what the future holds for him and his crew, and he is uncertain.
"Once you have the opportunity to work with so many extremely talented people, all striving for the highest standards of quality and excellence, you know how it should be done," said Lisa Carroll, who started a 10-year stint in 2000 as one of the few earlier female waiters; she now co-owns Hickory Lane Bistro in Fairmount. "We always had amazing guests and we tried to wow every one of them. Some of the funny engagement stories always stick out for me.
"One gentleman had prearranged to have the ring presented at dessert in a chocolate box that our amazing pastry chefs created," Carroll recalls. "When he arrived, he was so nervous we weren't sure if he'd even make it to dessert. … Then to prolong the torture, his soon-to-be-fiancee ordered the six-course tasting menu and wine flight. None of us were sure he was going to make it, but he did with many trips to the restroom. She was completely surprised. My advice if you're going to get engaged in a restaurant: Do it early, then make all your calls, then enjoy dinner."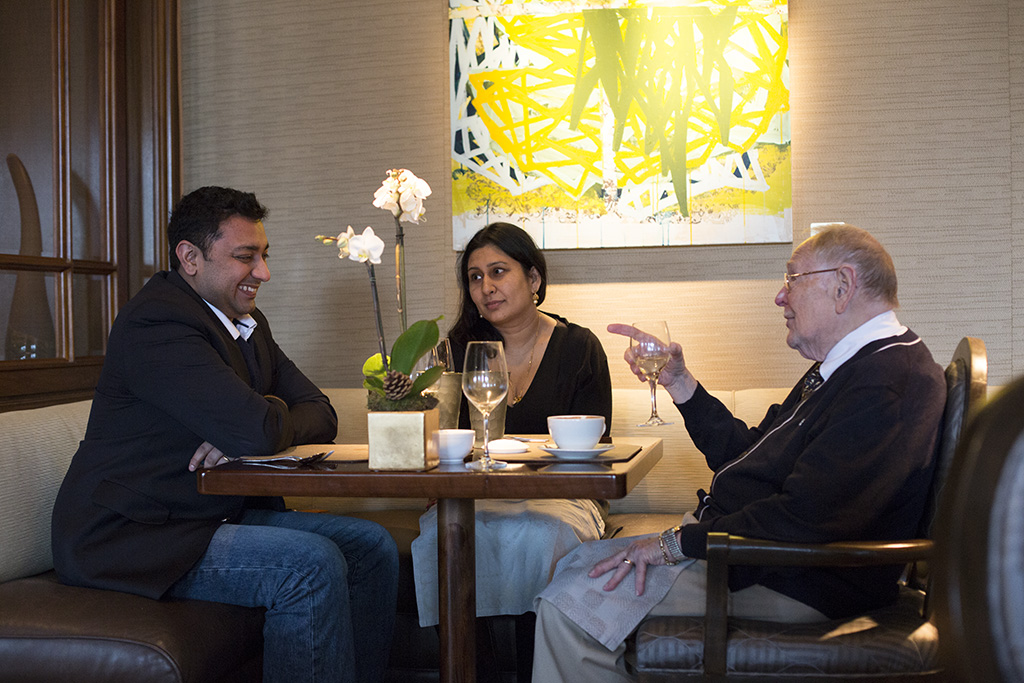 (Left to right) Drs. Savya Shukla, Paramjeet Kaur and George Popky enjoy lunch at The Fountain.
"Another engagement, the gentleman insisted what he wanted to say be printed on a special dessert menu. Dessert time came and his bride-to-be took the menu and, without looking, said for him to pick dessert. He froze, so I approached and said to her, 'I think you really want to order dessert – it's just for you.' She read it and cried and then he was deployed to Iraq the next day."
"But one of the most stressful was a gentleman had special Riedel wine glasses delivered and he had the stem specially cut and the ring placed on the wine glass. The glasses were delivered in a box and the staff was aware that the glasses were to presented when the bottle of wine was ordered. As they arrived, we took the glasses out and discovered they were filthy - covered with fingerprints and dust, I guess from the glass workers. Of course, we couldn't serve a filthy glass, so in the process of polishing, the stem broke. Panic ensued and then the full team effort kicked in - Engineering with glue, delay tactics with the sommelier, and a course from the kitchen. All the while, one server was holding the stem for 10 minutes and not moving until it held. They never knew, it went off seamlessly to them, but we know the real story."
Tod Wentz said: "Being a young pantry cook doing the Book and the Cook [for a time an annual pairing of restaurants and cookbook authors] with Daniel Boulud, and having him work alongside for a short while was memorable. Those kinds of events we did were an eye-opening experience. Having chefs like Charlie Trotter, Gray Kunz, Charlie Palmer and others come through the kitchen exposed us to the culinary world outside Philly."
William DiStefano said: "Standing in the kitchen and finding Julia Child, the legend I have spent countless hours watching on PBS as a youth, who was here on a book tour, approaching a group of us in 1990, with an arm extended and a warm, gracious greeting and handshake for all."
DiStefano recalls one evening when he was a young line cook in the early '90s – "with my back to the stove, head down, prepping intensely at my cutting board catching some movement out of the corner of my eye, slowly turning my head to the right with my chef's knife still chopping beneath me, to witness Paul Bocuse, alone, who had just arrived for a Champagne promotion we were hosting, in full uniform, reclining in the chef's office in a peaceful and meditative state. Obviously mentally preparing himself for his evening as well. That silhouette will eternally be forged into my memory."

"One of the most memorable evenings featured homegrown talent," recalled Ruth Hirshey, who was the public relations director from 1989 through 2008. Papa's Feast, a 1992 dinner to benefit Share Our Strength, was the first time the restaurant ever closed to the public. The name mixed an affectionate nickname for Jean-Marie Lacroix with that of the Danish film, Babette's Feast. Working together on an evening to honor their mentor were Fountain chefs past (Jean-Francois Tacquet, Francesco Martorella), present (Martin Hamann, Tony Clark) and future (David Jansen and William DiStefano). "Dinner began with a performance by Grover Washington Jr. and ended after service with the sabering and consumption of bottles of Champagne in the kitchen," she said.
Fountain staff guest-cooked at the James Beard House in Greenwich Village. "It was a challenging opportunity to re-create the Fountain's magic away from home," said Hirshey. "An almost military precision marked the packing and preparation for each event. And after producing gorgeous dishes that were paired with the beautiful wines of Bordeaux or Napa Valley, the beer and hot dogs inhaled by the team at a rest stop on the New Jersey Turnpike at 2 a.m. could not have provided a starker contrast to the luxurious meal enjoyed earlier in the evening."
As for a local offsite job, Clark recalls the society wedding at the Union League that the Four Seasons was contracted to cater. "We partied like rock stars till 6 a.m., but we had to take product back to the hotel on a rolling rack. We were smashed - four drunk chefs rolling a cart through the city."
Click here for readers' personal memories of the Fountain.
Urban Farm, a steakhouse, will occupy the Fountain space in 2016.
Top photo: (From left) Matthew Ridgway, David Jansen, Martin Hamann, Paul Mitchell, Stephen Fellona (rear), William DiStefano (front), Jean-Marie Lacroix, Townsend Wentz, Lisa Carroll and Tony Clark at The Fountain.