Aging in place
CLEM MURRAY / Staff Photographer
Under the watchful eye of her daughter Linda (left), Mary Casavecchia, 87, walks past her bed in the living room of the Northeast Philadelphia house she bought in 1965.
Staying in a family home can become a strain for both the elderly and their adult children. Forcing an obstinate parent to move can be wrenching.
The story of Mary Casavecchia and the house she won't leave began decades ago.
There was a brief, disastrous marriage to a man who made her heart flutter, then abandoned her. She was on her own, raising two children on a bookkeeper's pay.
She never wanted to marry again. When it was time for Linda, her oldest, to go to school, Mary Casavecchia did an unusual thing for a woman in 1965: She bought a rowhouse by herself in Northeast Philadelphia.
She took the first house she looked at, and she's still defiantly living in it. It has burnt-orange carpet from the late '70s on the floors, brown early-American-style wallpaper patterned with eagles on the kitchen walls, rows of old novels on the shelves, and family pictures on the walls.
Her love for this house and refusal to part with it have thrust mother and daughter into one of the toughest challenges families face: what to do when aging parents insist on staying in the family home even after it has become risky or isolating. Even loving families can find themselves in a standoff, each generation unable to see the other's point of view.
Mary Casavecchia is 87 now. She was working part time as a bookkeeper until three years ago. She has memory problems, diabetes, and painful knees.
Linda Casavecchia made her mother give up driving three years ago, and it's still a sore subject. Her mother turns off the air conditioner on hot days. She is confounded by the remote to her new TV. She fell on the cellar steps last year. Her bed is in the living room, and there's a commode in the dining room - like so many Philadelphia houses, hers doesn't have a bathroom on the first floor.
Linda Casavecchia, 57, who lives a few blocks away, comes every day to empty the commode, straighten up, and talk. She heats dinner and makes sure her mother has eaten breakfast, tested her blood sugar, and taken her medicine. Some days, Casavecchia washes her mother's hair in the kitchen sink and gives her a sponge bath there. She worries about the day her mother can no longer walk.
"The thing that bothers me the most," she said, "is I know that she's lonely."
CLEM MURRAY / Staff Photographer
Linda Casavecchia, who lives a few blocks away, comes every day to visit her mother. "I worked so hard for this house. Why should I go and sell it to somebody else?" Mary Casavecchia says.
Mary Casavecchia, an outgoing woman with thick, gray hair and lively eyes, won't even consider bringing in hired help, much less moving to assisted living where her daughter thinks she'd like the company.
"I worked so hard for this house. Why should I go and sell it to somebody else?" Mary Casavecchia asked.
For all the current enthusiasm for helping seniors stay in their homes, there can come a point where aging in place starts to look more like a potential train wreck - at least to the kids - than an idyllic way to grow old. Adult children are left with the wrenching choice between worrying incessantly and taking on more and more caregiving, or trying to force an obstinate parent to move.
"We don't know what is right," Linda Casavecchia said.
Leslie Boyle, a Swarthmore woman whose mother - now in her 90s - is even more adamant about not moving than Mary Casavecchia, agonizes.
"It's probably the hardest thing I've ever done," Boyle said. "You're just torn."
Meanwhile her mother, who is wary of strangers and did not want her name used, said she's happy where she is. She feels young and says there's nothing wrong with her mind, though she has dementia.
"It's probably the hardest thing I've ever done. You're just torn."
Leslie Boyle of Swarthmore, whose mother is now in her 90s
I love living by myself," she said. "I can do whatever the hell I want."
More than 13 million older adults were living alone in 2015, including 46 percent of all women 75 and older. It's hard to know how many parents and adult children are at impasse, as the topic has received scant academic attention.
One hint: A recent study by Allison Heid, a developmental psychologist at Rowan University, found that 77 percent of middle-aged adults said their parents were stubborn sometimes. Sixty-six percent of parents agreed.
"Almost everybody I know my age is struggling with this with their parents," said Barry Jacobs, a 58-year-old psychologist in Springfield, Delaware County. His book, Meditations for Caregivers, written with his wife, Julia Mayer, was published this summer.
They want to stay
Overwhelmingly, older adults at all socio-economic levels say they want to stay in their homes as long as they can.
It's a difficult subject to study, and science has little to offer about whether frail elders are generally happier, mentally sharper, or healthier in their longtime homes or apartments, their children's homes or assisted living facilities. Families have to feel their way through, sometimes with the help of counselors, care managers, doctors, and lawyers. If parents will accept help - and many balk - modern technology and in-home services can help seniors stay at home, but not always to the end.
Often, the conflict simmers until a health crisis forces a move to the "first open bed," said Kimberly Van Haitsma, an expert on senior housing at Pennsylvania State University who also advises the Abramson Center for Jewish Life in North Wales. When possible, she said, it's much better to tour facilities - together - before a broken hip or stroke forces the issue.
The decision is dauntingly complex, forcing families to grapple with their ability to provide care in the home or pay for help. A lifetime of relationship baggage and cognitive changes that can make it hard for some seniors to evaluate risk and take action further complicate the issue. Added to all that: negative ideas about senior housing formed when depressing, regimented nursing homes were the only alternative to staying at home.
Money is often a factor. Regardless of the setting, care for seniors is costly. The most attractive residential alternatives to staying in one's home are out of reach for many retirement budgets. The median cost of assisted living in Pennsylvania is $3,600 a month, while a semiprivate nursing home is more than double that. Meanwhile, Pennsylvania's Department of Human Services, spends an average of $2,410 a month per person to help low-income people stay in their homes.
Beneath the conflict lies what remains a taboo topic in many families: mortality. In late life, increasing medical and cognitive problems are harbingers of the inevitable. How does a family set goals for its oldest generation's last months or years?
Deborah Carr, a Rutgers University sociologist who studies aging, said the older generation may remember their own parents and grandparents living at home, but they likely didn't live as long as today's seniors do.
"Extensive parental longevity is a pretty new phenomenon," she said. "Boomer adult children don't know how to deal with this. . . . They don't have a road map."
Carr's most recent research found that 65-year-olds whose parents were still alive had 17 percent more depressive symptoms than peers whose parents had died. The symptoms were worse when the living parents were in poor health.
"We can come to terms with the death, especially if we've had a good relationship with our parents," she said. Aging parents who are declining, though, create a "daily sense of worry," often made worse if there's a history of family dysfunction.
Conflict
At its emotional base, conflict about where and how seniors will live stems from differences in goals. As Keren Brown Wilson, a pioneer of assisted living housing, told author and physician Atul Gawande, "We want safety for those we love, and we want autonomy for ourselves."
Older adults see their homes as a place - maybe the only place - where they're in charge. By the time you're in your late 80s, you've likely lost people and, often, purpose. You may not be able get around much. But you haven't lost the place you can navigate in the dark and, as Mary Casavecchia says, where you can leave your dirty dishes in the sink if you want to. You may realize there are problems, but they pale compared with the imagined ordeal of leaving.
In addition, it's hard to take direction from people who once took orders from you: your kids.
"We want safety for those we love, and we want autonomy for ourselves."
Keren Brown Wilson, a pioneer of assisted living
"Most of us are obstinate about change all of our lives, especially when it's imposed from the outside," said noted psychologist Mary Pipher, who has written about navigating this generational shift.
Many older adults don't like the idea of someone telling them when they'll have their first cup of coffee or turn out the lights at night. They don't know that top senior facilities don't do that any more.
Another argument is harder to counter, because age-segregation is the norm when seniors move to special facilities: Repeatedly, elderly people say they don't want to be surrounded by other old people, especially sick ones.
John Lewis, an active 79-year-old who moved to a new house near his golf club in Gladwyne after his wife died, has seen unappealing senior housing.
Some places, he joked, "are sort of like 'God's waiting room.' You sort of think that you're on the clock. . . . I want a place where people seem to be truly alive."
Mary Casavecchia said she'd rather read a book than sit around with other old women.
"All you talk about is the things you did when you were younger," she said. "After a while, it becomes dead, because how many times can you talk about the same thing?"
The children, meanwhile, worry that their parents could fall and lie on the floor for hours - or days - before anyone found them. They struggle with emergency calls in the middle of the night or work day. Over time, there are more meals to make, more doctors to visit, more bills to pay.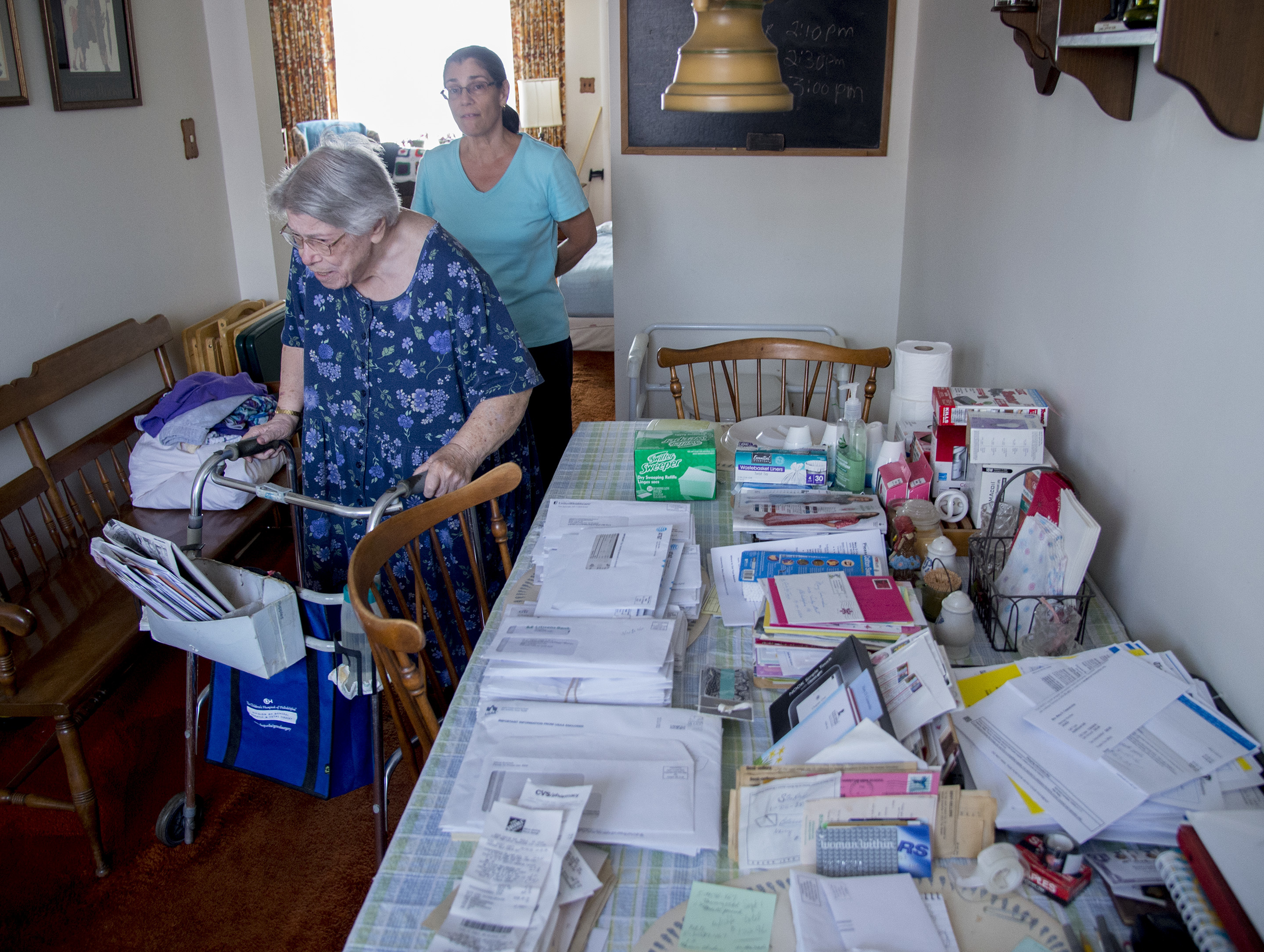 CLEM MURRAY / Staff Photographer
Linda Casavecchia worries about the day her mother can no longer walk. "The thing that bothers me the most is I know that she's lonely."
The problem is not just what's best for mom, but the toll her increasing needs are taking on her caregivers. She may not even realize how much help she's getting.
Pipher, who wrote in 2000 about communicating with seniors in Another Country: Navigating the Emotional Terrain of Our Parents, is now, at 68, writing about older women. She encouraged her own aging mother to move closer to her because it was easier for Pipher. "I really felt like it was my responsibility to be self-aware of my motives," she said.
Accepting risks
Experts said that, if parents are mentally sharp and choose to accept the risks of living at home, it's OK for their children to accept them, too.
"Sometimes, you're simply waiting for a medical crisis. You don't have any choice," said Sara Honn Qualls, director of the Gerontology Center at the University of Colorado at Colorado Springs.
"Sometimes, you're simply waiting for a medical crisis. You don't have any choice"
Sara Honn Qualls, Director of the Gerontology Center, University of Colorado
Dementia or even normal brain aging can make it hard to reason with parents. "At what point do you stop letting the most irrational person in the room drive the bus?" asked Linda Anderson, a Media elder-law attorney.
Some may be so impaired that they can no longer make their own decision - that's a medical determination - but many are in a gray area.
Sometimes the most loving thing an adult child can do, Jacobs said, is to "essentially overrule a parent."
"Usually, I can coach a family through basically strong-arming a decision," Qualls said.
Seniors often don't realize how impaired they are. "I wish I had a dollar for every time someone said to me, 'Yes, I have some memory problems, but they're making way too much of it,' " Qualls said.
Cognitive changes are one reason she favors moving to new surroundings while older adults can still adapt relatively easily.
Jason Karlawish, codirector of the Penn Memory Center, said the elderly may be affected by two kinds of brain changes: dementing diseases such as Alzheimer's and more "normal" brain aging that affects "fluid intelligence." That's "our ability to take in and process new information, especially under time pressure," he said.
This can make aging parents especially vulnerable to financial scams. It can also make them balk at complex decisions, like where to live.
Karlawish said psychological studies have shown that our perspective on time changes as we age. The elderly are more present-oriented and more interested in pleasant experiences than the young. They don't tolerate negative stress as well.
How can you tell the difference between someone who is making an informed risk and someone who isn't?
Karlawish says the former will say something like " 'I know I can fall, but I like this house and this is the way I'm going to live.' . . . They're aware of their risk and they're going to own their risk."
It's a problem when they say, "I'm not going to fall."
"I never know . . ."
Senior-care experts all have seen older people who did much better once they moved to a place where they got regular meals, some socialization and an environment that accommodates disabilities. Others, though, say modern technology such as cameras and electronic medication dispensers can help some families monitor parents in their homes and compensate for impairment.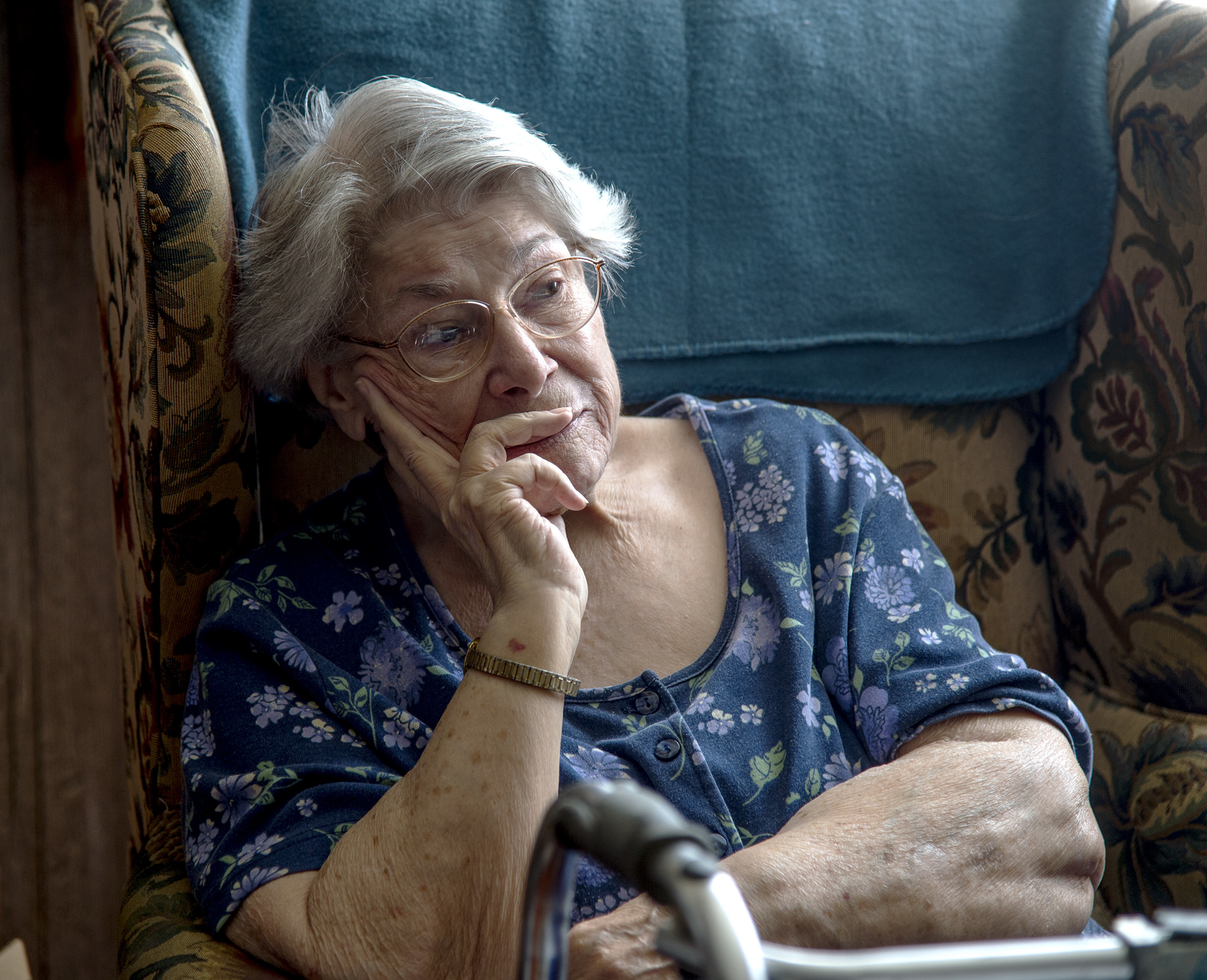 CLEM MURRAY / Staff Photographer
Mary Casavecchia says she is content to spend her days alone.
"I've been in this field 35 years," Qualls said. "I never know when I sit down with a family or individual . . . what the ideal situation is for them."
Linda Casavecchia desperately wants to do the right thing for her mother. She realizes that her help, though necessary, makes her mother feel less able, less valuable. She knows how heroic it was for her mother to raise two kids and buy a house alone.
For now, she's decided that she will be her mother's "assisted living." She fears it would kill her mother to force her to move.
Mary Casavecchia says she is content to spend her days - alone - glancing at old books, napping, and watching TV.
She wishes she could go out more, but says she likes living by herself. "I would be very unhappy," she said, "if I had to go somewhere else."
sburling@phillynews.com
215-854-4944
@StaceyABurling
CLEM MURRAY / Staff Photographer