Rise
of the drones
VisitPhiladelphia
The William Penn statue atop City Hall, backed by the Philadelphia skyline. This is a still from a drone video done by city firm Get-Kinetic for Visit Philadelphia. Many organizations are using drones to give previously impossible views of cities, real estate, farms, and geography.
Drones are changing the way we see, the way we work, the way we access the visual world. Soon they may even change the way we get pizza.
Victoria Mier and John Timpane / Inquirer Staff Writers, jmier@phillynews.com, jt@phillynews.com
Thursday, May 7, 2015
Picture this: The idyllic New England coast. A young couple in love, walking in the sunshine, arms around each other.
Something small and black is zipping across the blue sky.
It's a drone, carrying very important cargo: a diamond ring.
How else would Andrew Mudge, owner of Black Kettle Films and avid drone enthusiast, propose to his girlfriend, Sophie Lehar? "It's futuristic, but it's also romantic," Mudge said. "We'll always have that fun story. And, why not propose with a flying drone? It seems like we're at the dawn of the drone age."
Lehar said yes.
Within the last five years, in both private and public sectors, drones have become ubiquitous. That much is obvious. In January, Shawn Usman, a scientist at the National Geospatial Intelligence Agency, lost control of his drone and crashed it on the White House Lawn. (He wasn't charged.) Pizza Plaza of Souderton, among other places, has mulled pizza delivery using drones.
Now you can, from the comfort of your chair, see Philadelphia as you could never see it before. The tourism outfit Visit Philadelphia just released drone views of Philly, previously impossible to see, courtesy of city firm Get-Kinetic. Smile, Billy Penn atop City Hall! And photographer Chris DeAntonio has created a series of drone videos on Vimeo titled Forgotten Philadelphia — including a dramatic visual tour of the SS United States.
And Amazon is still pleading with the Feds to let it deliver goods to customers by drone.
But drones are also a medium — a way of seeing. Media maven Robert Thompson of Syracuse University says, "Like any new way of seeing, they change the way we see, what we see, and how we think of ourselves." They let us see things we literally could not see before.
"Think of them as flying robots," says Peter Asaro, assistant professor at the School of Media Studies at the New School in New York. They are detached, remotely controllable, lightweight — and they can hover. "They are now so cheap almost anyone can use them. For $300 on Amazon.com, you can get a quad-rotor with HD cameras, and you can control it from a smartphone or tablet. The barrier to aerial photography has fallen. You don't have to rent a helicopter." As Thompson puts it, "One more monopoly of corporate media-makers now moves to individuals."
Drone-rise has been this fast because of a series of parallel technical advances. The miniaturization of audiovisual tech has been under way for decades, especially of cameras, which revolutionized surgery decades before the drone age. But those now-familiar quad-rotors? As Asaro points out, "The reason a quad rotor is stable is that it has gyroscopes. Before three or four years ago, such small, lightweight gyros were either impossible or very expensive."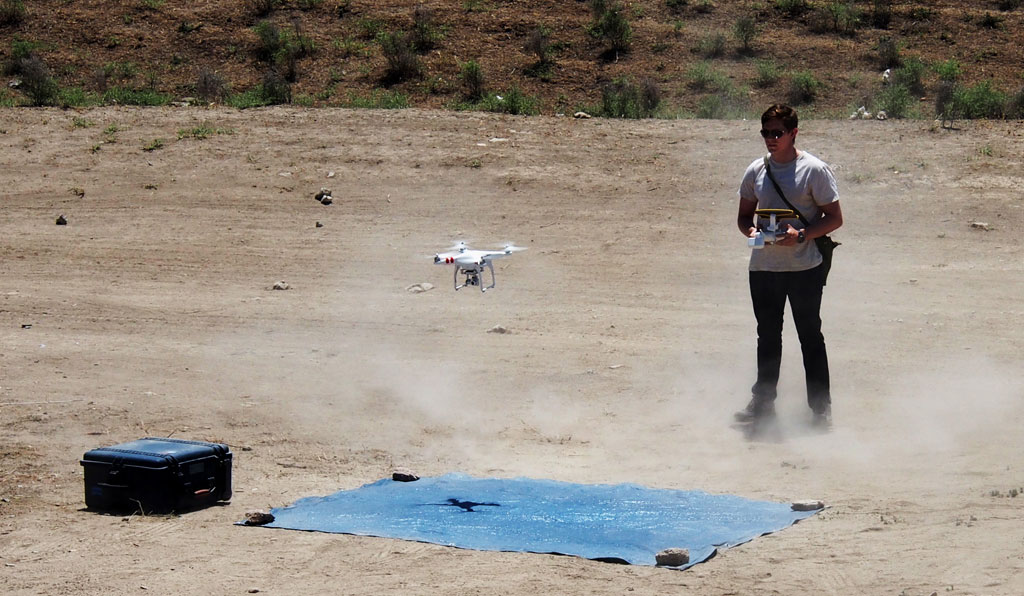 Lucas Stephens, a doctoral candidate at the University of Pennsylvania, launches a drone to study Gordion, the site of the capital city of the ancient Phrygians, now part of Turkey.
The word drone now carries a sinister connotation, thanks to drones' prominent use in warfare (where we see the enemy better than the enemy can see us), and, domestically, the threat drones pose to privacy and security. (Police are chasing drones all over Paris: They've been seen near nuclear installations and the Eiffel Tower.) In March, the Federal Aviation Administration proposed "New Rules for Small Unmanned Aircraft Systems." According to local FAA officials, Philly has not seen Paris-level drone pollution. Miscreants are issued cease-and-desist orders, and so far there have been no big worries.
But in a big way, humanity is ignoring all that. This way of seeing is becoming expected. It's all over the place, from archaeology to videography, from selling real estate to making wedding videos. Because how you see is what you are.
Surveyors can do a week's work in a day with a drone. Big-game poachers and police fight each other in the national parks of Africa, with drones carrying AV, GPS, and thermal imaging tech. Marine biologists use them to track whales and great white sharks. Climatologists document polar melt with them. Son Ðoòng Cave in Vietnam is the world's largest, impossible to grasp from earthbound vantage. So photographer Ryan Deboodt and team documented it with gobsmacking drone video useful for both scientists and travelers. For newsgatherers, they're "the paparazzi of the sky," in Thompson's memorable aperçu. Farmers use them to decide where to irrigate and direct chemicals.
As with so many other media, the human ambit widens. What we can see — what we can imagine, think about — broadens. Our world changes with the view.
"Like any new way of seeing, [drones] change the way we see, what we see, and how we think of ourselves."
Robert Thompson, media maven at Syracuse University
Drones are already an essential piece of every archaeologist's tool kit, according to Lucas Stephens, a fourth-year graduate student at the University of Pennsylvania. Among other useful applications, Stephens said, drones can reduce the hot, brutal work of surveying a site from an entire summer to a single afternoon.
Once the dig begins, some "physical parts of the archaeological record" are destroyed entirely in the excavation process, according to Stephens. But drones help digitally preserve the site, he said, providing a helpful visualization of each layer so it's never really gone for good.
Examining the aerial renderings of the landscape before the team breaks ground, or looking at outlying burial mounds and ancient roads, helps archaeologists realize "the larger picture," Brian Rose said. He codirects the site at Gordion, ancient capital city of the Phrygians (including the real-life King Midas) in what is now Turkey. Seeing how each element relates to the others, Stephens said, is nearly impossible from the ground.
Garrett Rothman, a broker at RSR Realtors in Harrisburg, uses the aerial robots to sell real estate. With simple street-level photos, Rothman said, a pool house or a nearby golf course can't be highlighted until the sixth or seventh photo in a listing.
But drone's-eye views ensure "potential buyers see those things first." According to Rothman, it's working — the broker said he gets more Internet hits and more showings on listings with drone photos. Rothman reckons that more agents and sellers will be using drones to show off properties in the near future.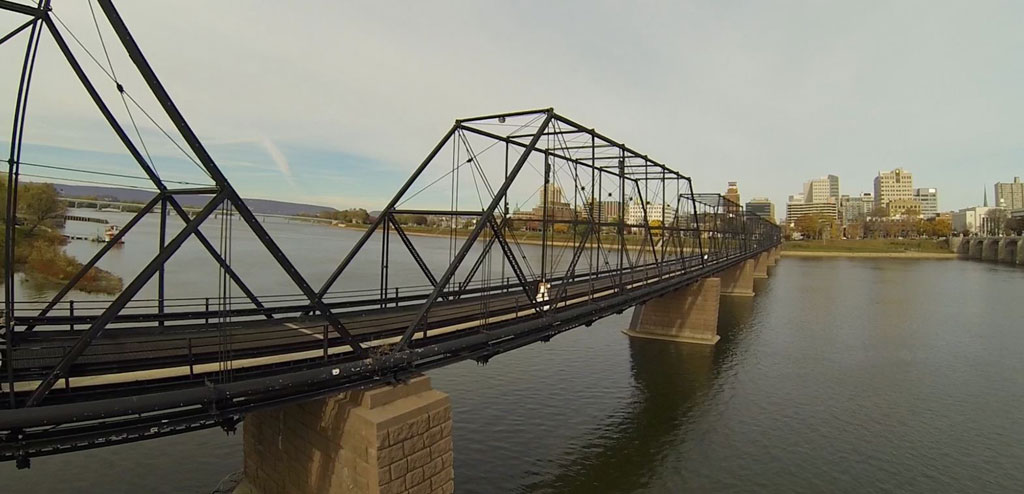 Films by J (Jarret Juran)
Bride Amanda and groom Steve Tatum on the Walnut Street Bridge in Harrisburg, in a photo taken by drone.
"Technically, it becomes possible that everyone can be walking around with their own personal reality-TV show," Thompson says. "They can, from this new vantage point, document almost everything from above."
Jarrett Juran of Films By J, a Mid-Atlantic videography company, says drones bring "the wow factor" to wedding videos, "especially at a beautiful venue or location." A recent client of Juran's, Amanda Tatum of Media, said the drone not only wowed wedding guests but also captured some special moments.
"When we had our first walk, we were on a bridge, and it was so cool that the drone could follow us," Tatum said. "That's an aerial shot you couldn't get otherwise."
Problems await. Asaro says, "It's going to be interesting to see how privacy and safety laws develop. The FAA ruling was a commercially oriented ruling that didn't touch privacy at all." We have no right to the airspace above our domiciles, but is there a lower limit? Will courts fix one?
And what will the world be like when everyone has drones? "It's hard to imagine," Thompson said, "but you won't have to wait long."
jt@phillynews.com 215-854-4406 @jtimpane