SPRING FASHION
Simply modern
Staff photographs by Michael Bryant. Styling by Elizabeth Wellington
Diamond print shirt dress by Theory, $455, at Theory; snake earrings, A. Link & Co., $5,625, at Bernie Robbins Jewelry; short skull necklace, $320, and long skull necklace, $475, both SheBee at Atelier Rittenhouse.
Flashy is out. Styles for spring offer cleaner palettes, basic shapes, and cool confidence.
Elizabeth Wellington / Inquirer Staff Writer, ewellington@phillynews.com
Sunday, March 22, 2015
The best of this spring's fashions feature clean lines and simple shapes. Silhouettes mold to contours, but still move softly with the body.
More sensuality lies in the details.
Slits splice the sides of below-the-knee pencil skirts. Deep V's are carved into pantsuit bodices. Fringe on midriff-baring blouses tickles the abs that peek through the tassels.
Even maxi dresses, a vestiary favorite of the boho chic, are cut to skim curves, rather than dwarf them.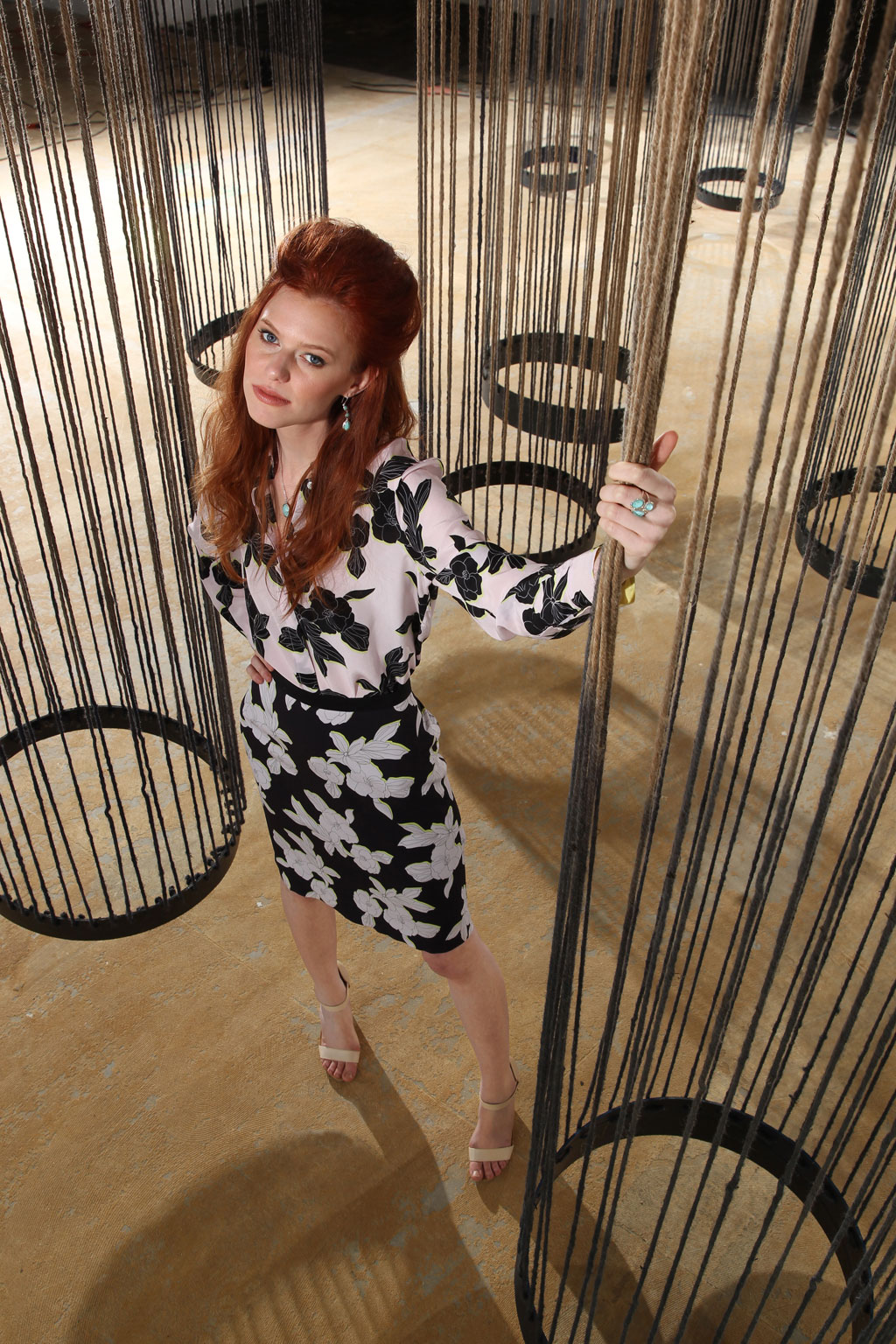 MICHAEL BRYANT / Staff Photographer
Blouse, $350, and skirt, $350, both Paul Smith Black at Knit Wit. Necklace, $1,295; three-stone ring, $1,595; rock-candy ring, $650; earrings, $1,395 - all Ippolita at Bernie Robbins Jewelers.
"Strong and powerful are the themes of spring 2015," said Sharla Floyd, buyer and curator for Center City women's boutique Atelier Rittenhouse. "We've had girly-girl, we've had punk. Now our customer is feeling confident."
The pastel palette is also what makes this season's clothing look really modern.
Designers from Phillip Lim to Theory's Lisa Kulson and Ben Stubbington worked with ocean blues and minty greens as well as lemon yellows and blush pinks for their cubicle-appropriate collections of jumpsuits and shirt dresses. Sometimes, the hues are saturated, but they are at their best when barely there pale.
And it is the milky ecrus and optic whites that make this season's 1930s-style A-lines and 1970s-inspired bell bottoms — a bit less dramatic this time around — move beyond modern to futuristic. Designers Misha Nonoo of New York and Andrea Lieberman of A.L.C. of Los Angeles are among the freshest in their approach.
"The colorless neutrals and soft pastels make everything feel so new," said Maureen Doron, owner of Skirt boutique in Bryn Mawr. "Grays are very cool. Cornflower blues are very cool. Every woman wants to be cool. Not edgy, just cool."
That's because, after so many seasons of loud flourishes — exposed zippers crawling up the back of sheath dresses, and color blocking on, well, everything — edgy is over. The fashion-forward woman is finally confident with simplicity.
Exhale.
The shift didn't happen overnight.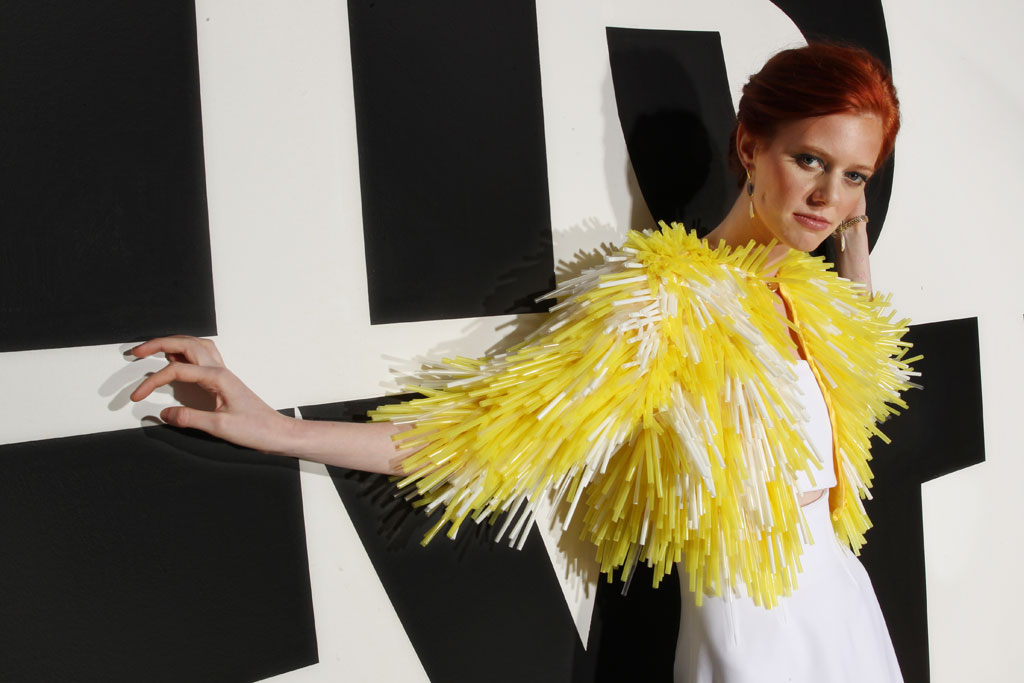 MICHAEL BRYANT / Staff Photographer
White bandeau, $895, and skirt, $2,495, both Katie Ermilio, at Atelier Rittenhouse; cropped yellow jacket, Conrad Booker Couture, price upon request; drop earrings, Safian & Rudolph, $995; bracelet, $21, ellelauri available at ellelauri.
In fact, all things simple have existed in high fashion since 2009, when French designer Phoebe Philo took over as creative director of fashion house Céline. Her inaugural collection of plain blazers and cigarette pants in solid jewel tones was praised by fashion's most notable insiders.
From that moment, more designers started to gravitate toward cleaner palettes and basic shapes.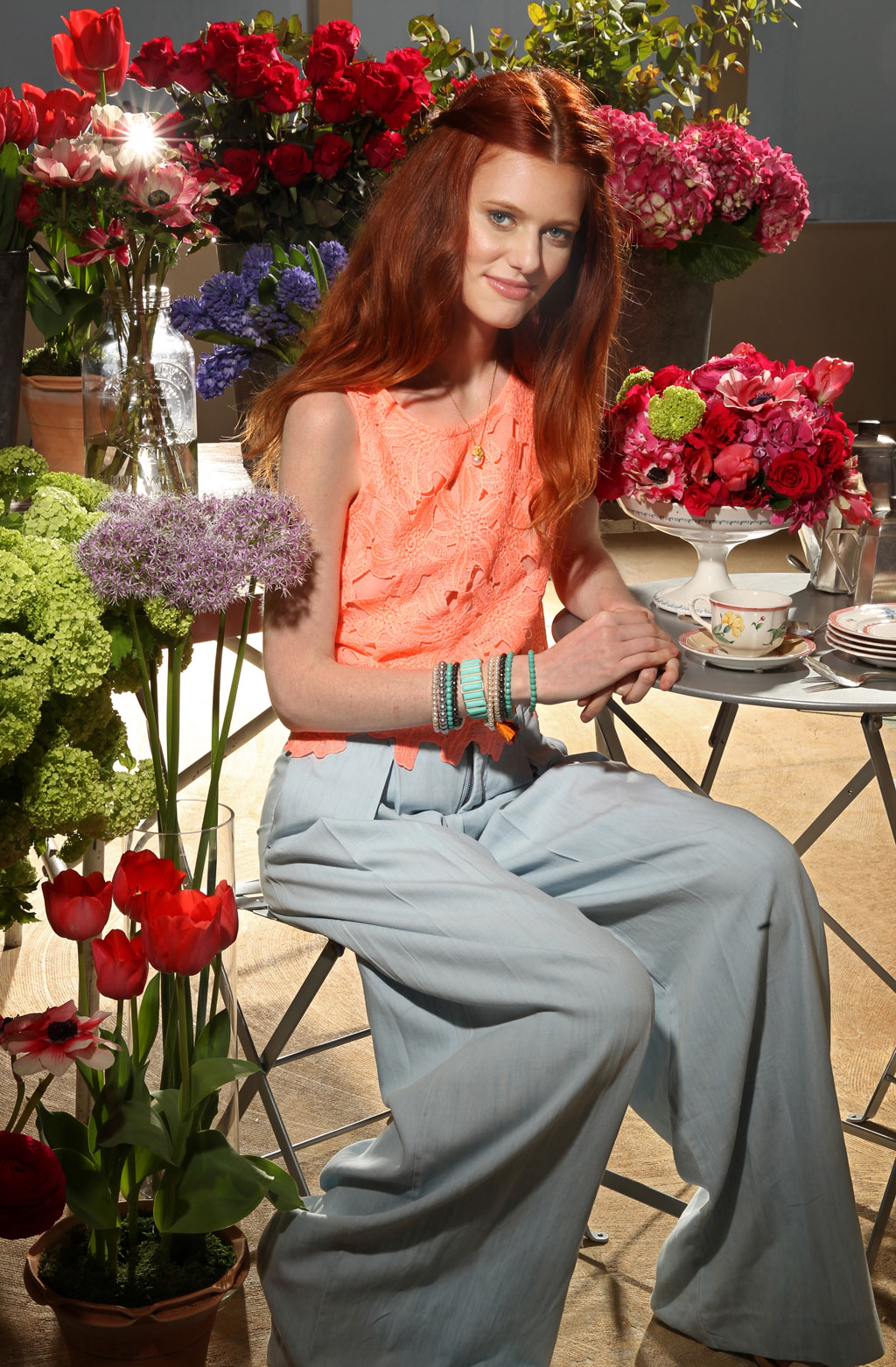 MICHAEL BRYANT / Staff Photographer
Coral midriff top by Double Zero Inc., $24.99, at Century 21 Department Store; wide-leg chambray pant, Kiind Of, $89, at Macy's; arm-candy stretch bracelets, John Wind, $28, www.maximalart.com; pearl drop necklace, Carrera Y Carrera, price upon request, at Bernie Robbins Jewelers.
At the same time, too many embellishments appeared gauche in a lackluster economy. Even as the job market has been slowly recovering, less truly does mean more — except when it comes to technology. Fashion experts say our smartphone and social-media addictions are more reasons we yearn to tone down our clothing — even the amount.
"When we do buy a sweater, we want it to be a forever sweater," said Floyd. "And for that, it has to be a little special and cutting-edge."
All things minimalist and futuristic hit their stride this spring when a cross section of designers, from Los Angeles-based Paul Smith to New York Fashion Week presenter Bibhu Mohapatra — the designer behind the dress Michelle Obama wore to India in January — proved that pared down doesn't mean dressed down.
These fashions — from skirt-and-top sets to backless jumpsuits — are perfect for formal dinners in airy lofts overlooking urban cityscapes, but comfortable enough for late-night cocktails at a beer garden.
"Fashion is evoking a time when people really dressed up," said Katie Ermilio, a womenswear designer from Malvern completing the first year of a two-year incubator program with Council of Fashion Designers of America. She's known for plain pieces made from luxe satin, silks, and lace.
"There is something very powerful about minimalism — about not having to fret about whether or not something works. Sometimes," Ermilio said, "getting dressed is just about taking a beautiful, clean skirt and balancing it with a beautiful, clean blouse."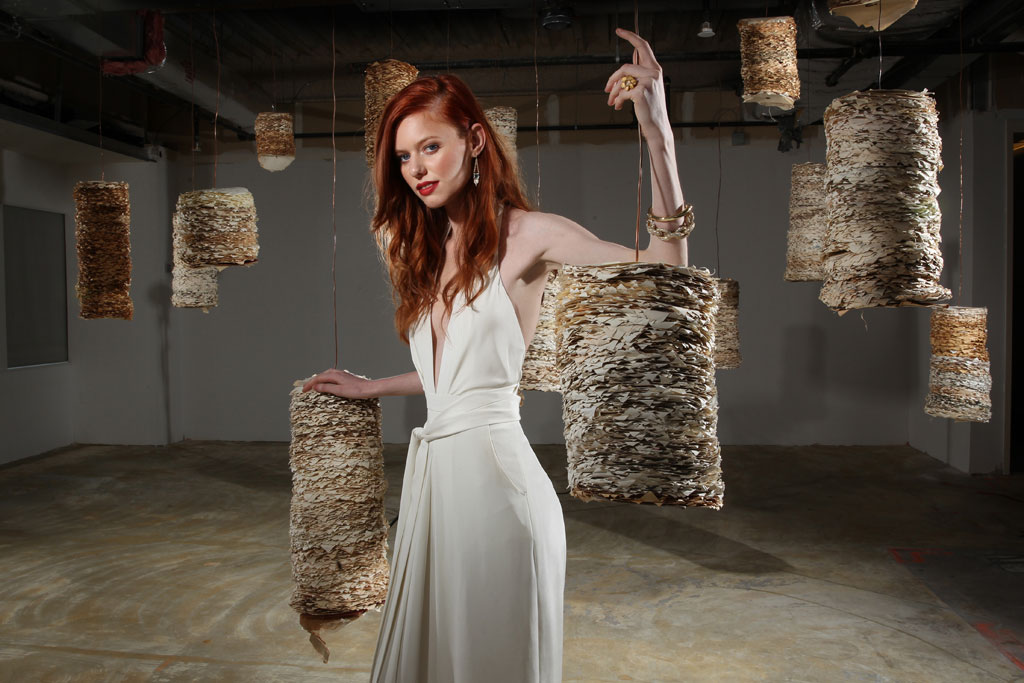 MICHAEL BRYANT / Staff Photographer
White V-neck jumpsuit by Misha Nonoo, $785, at Atelier Rittenhouse; prasiolite earrings, Ivanka Trump Empire, price upon request, at Bernie Robbins Jewelers; gardenia flower ring, Carrera y Carrera, price upon request, at Bernie Robbins Jewelers; link bracelet, ellelauri, $89, and spiked gold bracelet, Gorjana, $36, both at ellelauri.
That balance refers to the manipulation of proportions in this season's collections, another key element to making classic silhouettes look current.
"Fashion is evoking a time when people really dressed up."
Katie Ermilio, womenswear designer from Malvern
Higher waists and shorter pant legs are updating trousers, longer hemlines on skirts are elongating our legs, and yes, the tummy-baring midriffs (which the demure may choose to wear with a softly structured blazer) are challenging long-held ideas of where hemlines should hang.
"There are a lot of extremes this year, like the very skinny pant that stops above the ankle, or a superwide leg that's long enough to cover the tops of shoes," Doron said. "That's what's getting people out to shop."
Even though we're done with the loud stuff, toned-down embellishments are working to pique shoppers' curiosities, said Ann Gitter of Knit Wit. Graphics in reversible prints and small geometric shapes can jazz up the simplest of skirt sets.
"The positive-negative patterns are very eye-catching and futuristic," Gitter said.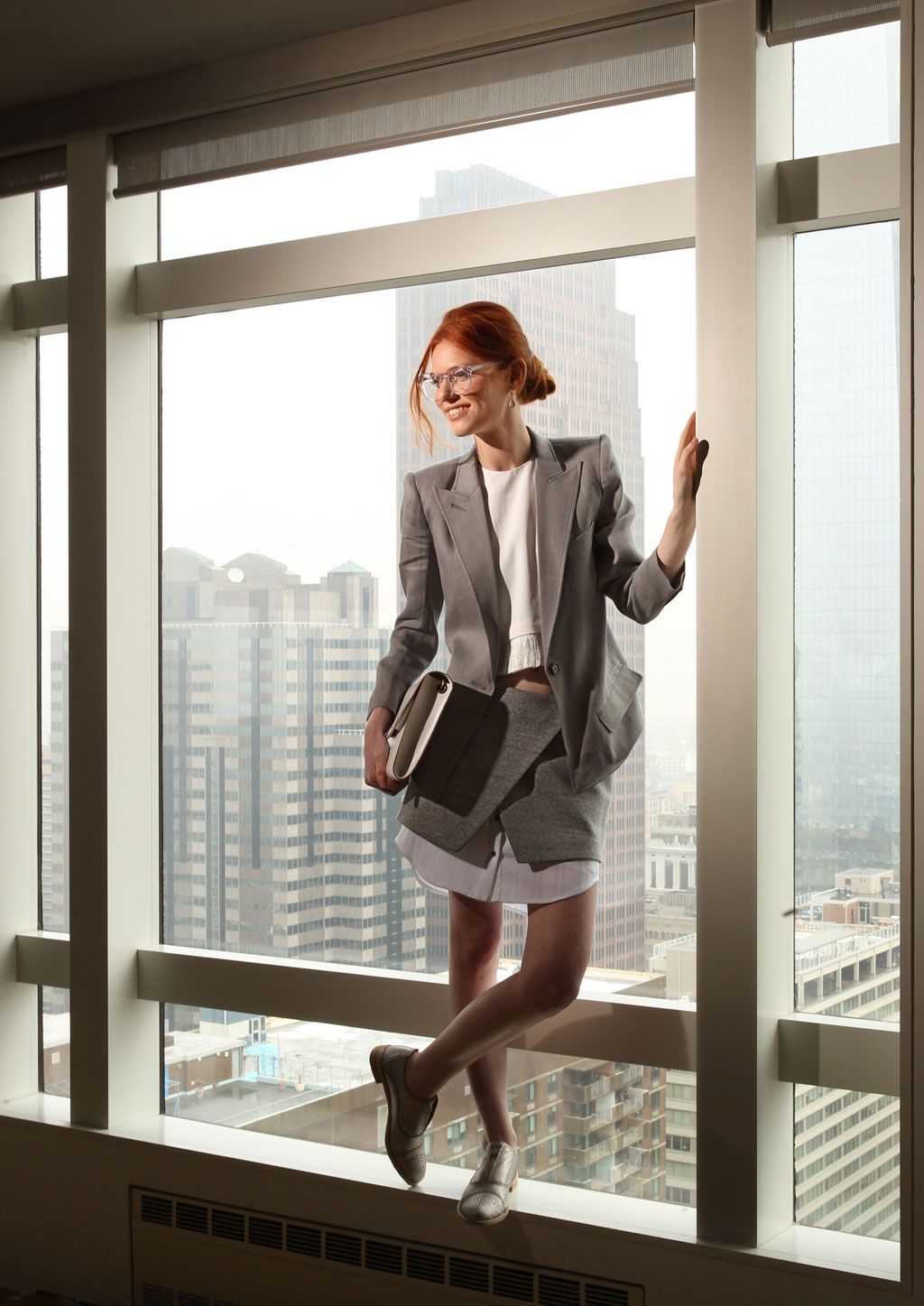 MICHAEL BRYANT / Staff Photographer
Gray blazer by Smythe, $563, at Skirt; fringe blouse, A.L.C., $235, at Knit Wit; silver metallic shoe, Bus Stop X All Black, $195, at Bus Stop Boutique; gray mini skirt, Intermix, $275, at Intermix; envelope clutch, Vere Verto, $475, at Atelier; amethyst drop earrings, Safian & Rudolph, $450, Safian & Rudolph; clear eyeglasses, SEE, $319, at SEE Suburban Square.
Fringe along the bottom of silken cropped shirts, jumpsuits fashioned from eyelet material, and pleated maxi dresses are among the most stylish of the feminine extras.
"Fashion this season transcends age," Floyd said. "Sixty-year-old women who have rocking hot bodies are trying deeper slits. Young women who never really had a chance to dress up are trying more mature and sultry looks."
215-854-2704
Listen to Elizabeth on Fridays at 8 a.m. on WURD-AM (900) with Solomon Jones.
SPECIAL THANKS TO:
Location: Brandywine Realty Trust, which provided the loft space on the 32d floor of Two Commerce Square. For questions about leasing, call 215-851-6074. The art installations are courtesy of InLiquid Art + Design.
Hair: Ashley Brown, Moko Organic Beauty Studio, 55 N. Third St., 215-922-6656.
Makeup: Vanessa Rivera, Salon Rosa M., 948 Montgomery Ave., Narberth, 610-771-9900.
Model: Claire Mahoney, Wilhelmina Philadelphia.
Assistant Stylist: Mark Anthony Barksdale.
Clothing and Accessories: Atelier Rittenhouse, 1921 Walnut St., 215-266-7272, www.atelierrittenhouse.com; Bernie Robbins Jewelers, 595 E. Lancaster Ave., Suite #1, St. Davids, 610-971-2446; Bus Stop Boutique, 727 S. Fourth St., 215-627-2357, www.shop.bustopboutique.com; Century 21 Department Store, 821 Market St., 215-952-2121, www.c21stores.com; Conrad Booker, Philadelphia Incubator at Macy's designer-in-residence, bookerconrad@gmail.com; ellelauri, 114 S. 19th St., 267-457-5939, www.ellelauri.com; Intermix, 1718 Walnut St., 215-545-6034; John Wind Maximal Art, www.maximalart.com; Knit Wit, 1729 Chestnut St., 215-564-4760; Macy's Center City, 1300 Market St., 215-241-9000; Petit Jardin En Ville, 134 N. Third St., 215-923-1600, www.petitjardinenville.com; Safian & Rudolph, 701 Sansom St., 215-627-1834, www.safianrudolph.com; SEE Suburban Square, 37 Coulter Ave., Ardmore, 610-726-9010, seeeyewear.com; Skirt, 931 W. Lancaster Ave., Bryn Mawr, 610-520-0222; Theory, 1616 Walnut St., Philadelphia, 215-735-1034.
Artwork in photos:
Diamond-print shirtdress: Artwork: "T's Wheel (Or Why I Don't Believe In Infinite Growth)," Leah Reynolds.
Graphic blouse and skirt: Artwork: "A Flexible Perspective," Susan Benarcik.
Yellow jacket: Artwork: "This Time Next Week," Buy Shaver.
Coral midriff top: Set design: 1920s vintage French tea set, $420; 1930s vintage French compote, $185; Guy Wolff Pottery, $65; Fermob bistro set in gray, $450; vintage French jar, $85; all available at Petite Jardin en Ville.
White V-neck jumpsuit: Artwork: "Mental Notes," Susan Benarcik.
Pleated gown: Artwork: "The Ocean's Whisper to Me," Linda Celestian.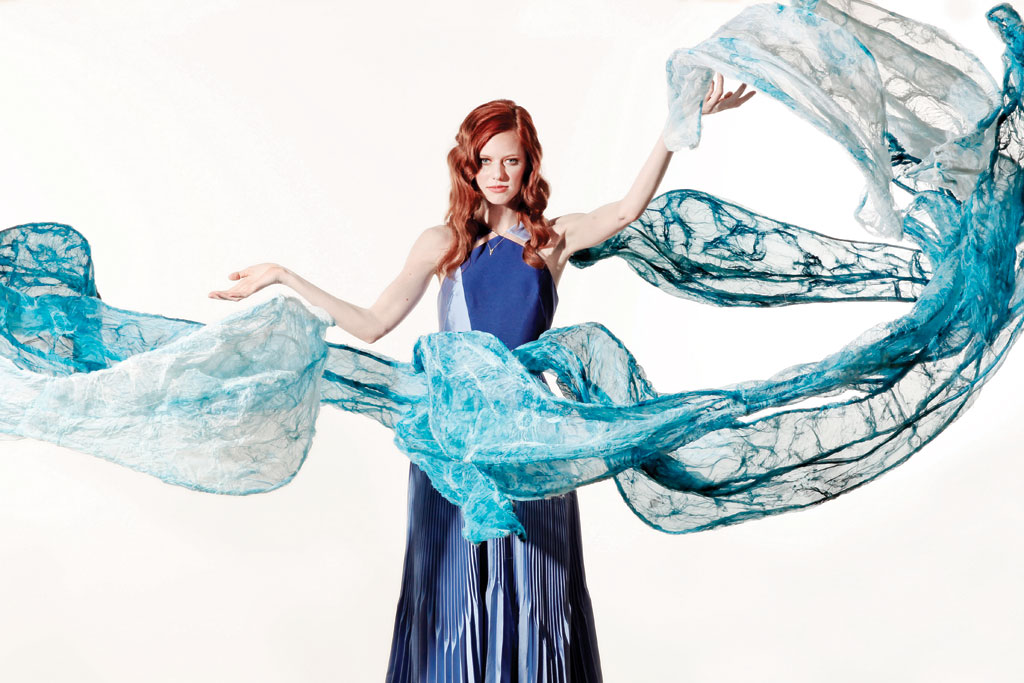 MICHAEL BRYANT / Staff Photographer
Pleated gown by Bibhu Mohapatra, $3,500, at Atelier Rittenhouse; arrow necklace, $579, Safian & Rudolph, at Safian & Rudolph.