A boy
by any name
Tom Gralish / Staff Photographer
Matt Dawkins waits for his mother and sister after dinner at a Chinese restaurant.
Matt Dawkins, 17, never felt right as a girl. Now transgender, he's opening new doors.
Rita Giordano / Inquirer Staff Writer, rgiordano@phillynews.com
Sunday, May 10, 2015
The starter pistol cracks, the foot-falls thud-thud-thud against the track. High school runners await their heats, mostly girls with girls and boys with boys.
One runner — Cherokee High School junior Matt Dawkins, who broke records as a freshman — traverses the geography of gender.
On the sidelines, the Marlton 17-year-old razzes one of the guys. Later, he grins and joins the easy banter in a knot of girls.
And why not? Last year, he was one of them.
Sophomore year and all his years before, he was Maya. But he believes Matt was always in there, wanting to break free.
The road to liberation has been long, confusing, at times quite painful.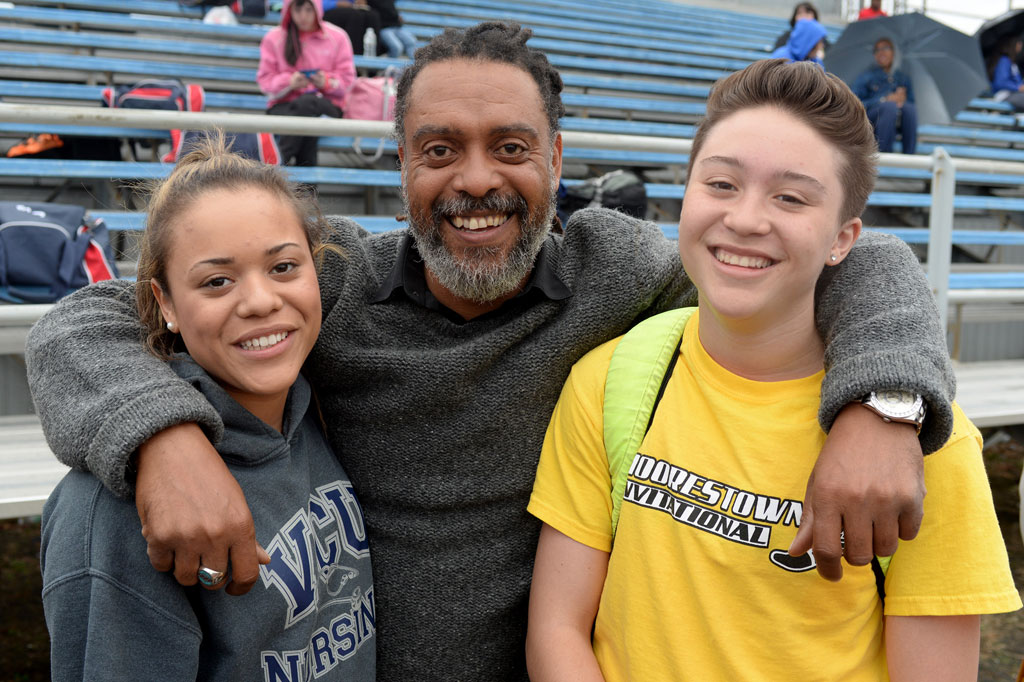 TOM GRALISH / Staff Photographer
Between heats, Matt Dawkins (right) with his twin sister, Jada, and their father, Nigel Dawkins.
"Now I feel I don't have to hide," said Matt, who came out to his family as a transgender boy in late 2013 and to his school last fall. "I don't have things hovering in the back of my mind. Everything is out in the open."
In many ways, his journey has just begun. His body is only starting to change from female to male. Decisions loom on what medical options to pursue.
That he has gotten here is a testament to his determination to be who he is, support at school and home, and a mother who, despite her own sense of loss, never stopped advocating for her child.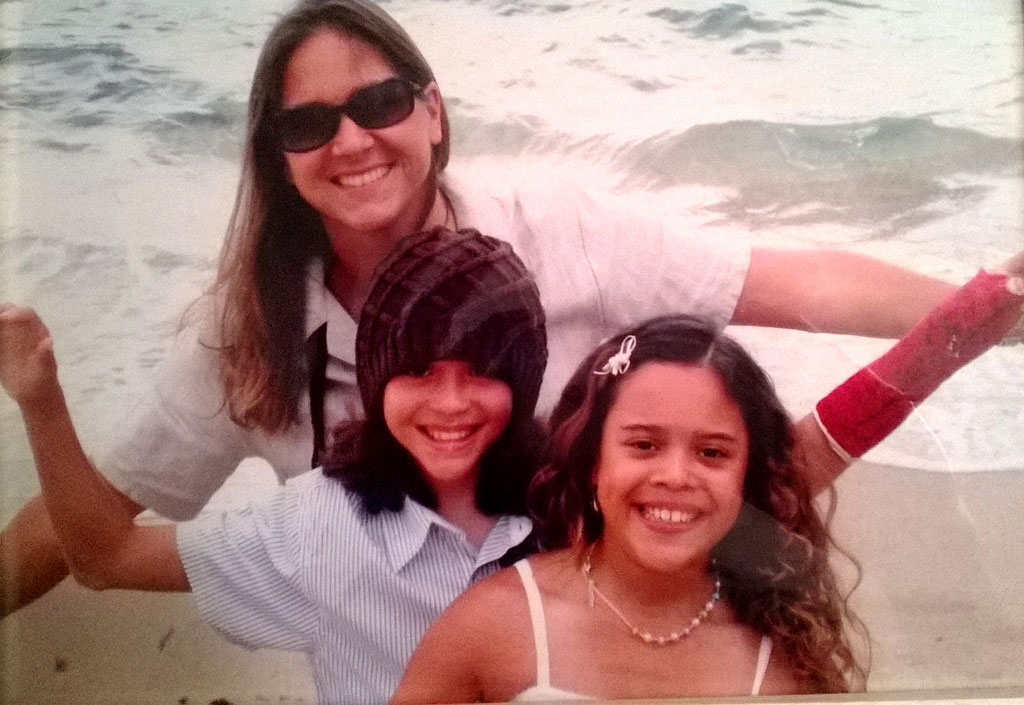 Matt Dawkins (left) and his twin sister, Jada Dawkins (right) with their mother, Tammi Grovatt-Dawkins, when they were around 7.
His experience is by no means the norm. In a survey by the National Center for Transgender Equality, 41 percent of transgender people ages 18 to 35 responding had attempted suicide. Seventy-eight percent said they were harassed at school.
An estimated 0.3 percent of the adult U.S. population, transgender people are often misunderstood and marginalized, even disbelieved. Alienated from their own bodies, many plummet into desperation and despair.
Friends of Riley Matthew Moscatel, a Bucks County transgender teen captured on video last August walking in front of an Amtrak train, said he had supportive friends and family. Yet before his apparent suicide, he wrote on Instagram of being "a prisoner of my own body."
An Ohio teen, Leelah Alcorn, committed suicide by stepping in the path of a tractor-trailer in 2014. She left behind a Tumblr post that would be read internationally about feeling like a girl trapped in a boy's body. She wrote that her parents would not accept her trans identity and sent her to Christian therapists, who told her she was selfish.
"The only way I will rest in peace is if one day transgender people aren't treated the way I was," she wrote, "they're treated like humans, with valid feelings and human rights."
In Matt's family, being different from other little girls was accepted. They just did not know how to define it or what to call it.
For a long time, neither did he.
One Christmas, the Dawkins twins, then about 5, posted wish lists on the refrigerator.
Jada, a future cheerleader, loved dress-up and dolls. Her list was long. Maya's was not.
"I said, 'You need to put more things on your list," recalled mother Tammi Grovatt-Dawkins. "'Is there anything else you want?'"
She wasn't prepared for the answer: "'I want a penis. That's all I want.'"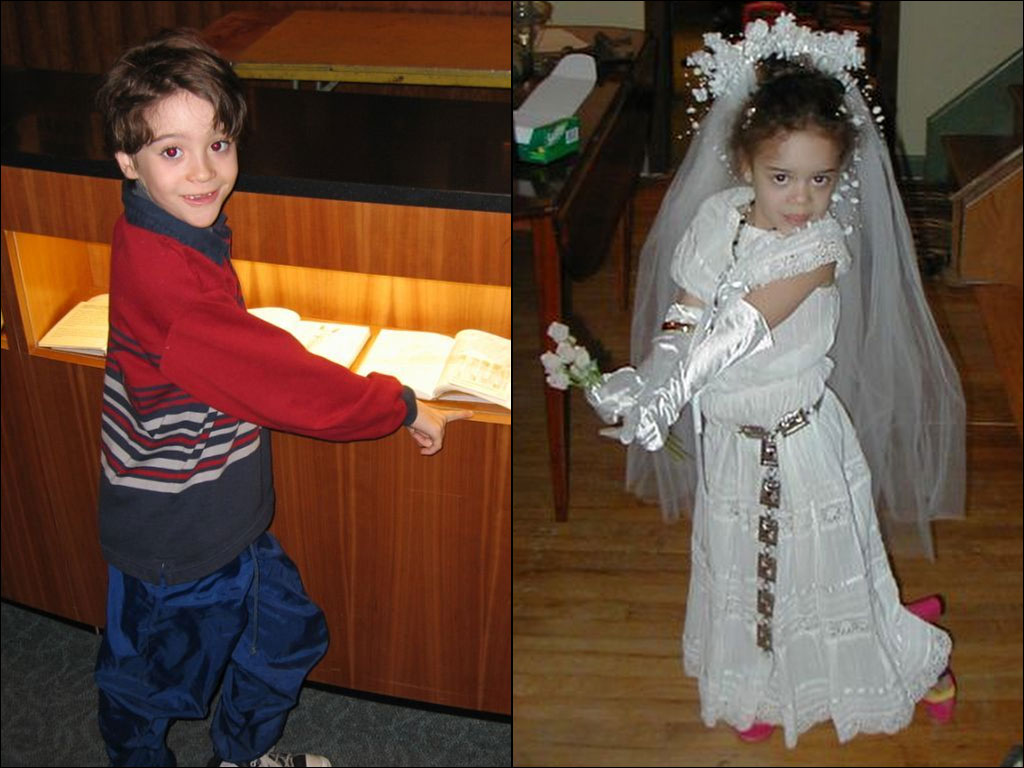 Fraternal twins Maya (left) and Jada Dawkins. The young Maya - now Matt - hated wearing girl's clothes, preferring boy's clothes and boxers. In first grade, Maya asked to be called Michael.
Tammi, a therapist, didn't fuss; she just gently asked questions.
"Maybe she's sporty girl. Maybe she's a lesbian. Maybe's she's a boy. But there wasn't fear about it."
Tammi Grovatt-Dawkins, when her twins Maya and Jada were 5
"Maybe she's sporty girl," the mother thought. "Maybe she's a lesbian. Maybe's she's a boy. But there wasn't fear about it."
The child was allowed to just be.
Looking back, the family can point to many signs.
The young Maya hated wearing girl's clothes, preferring boy's clothes and boxers. In first grade, Maya asked to be called Michael.
Halloween choices were Captain Hook or Batman. No princesses.
"For Christmas, I bought Matt boy toys — trucks, a Darth Vader mask," said Faith Kaye, his maternal grandmother, a retired teacher. "He just was never a girl."
When it was time for her first bra, fraternal twin Jada, like a lot of girls, was excited. Matt remembers crying. He hated it.
What he loved was running.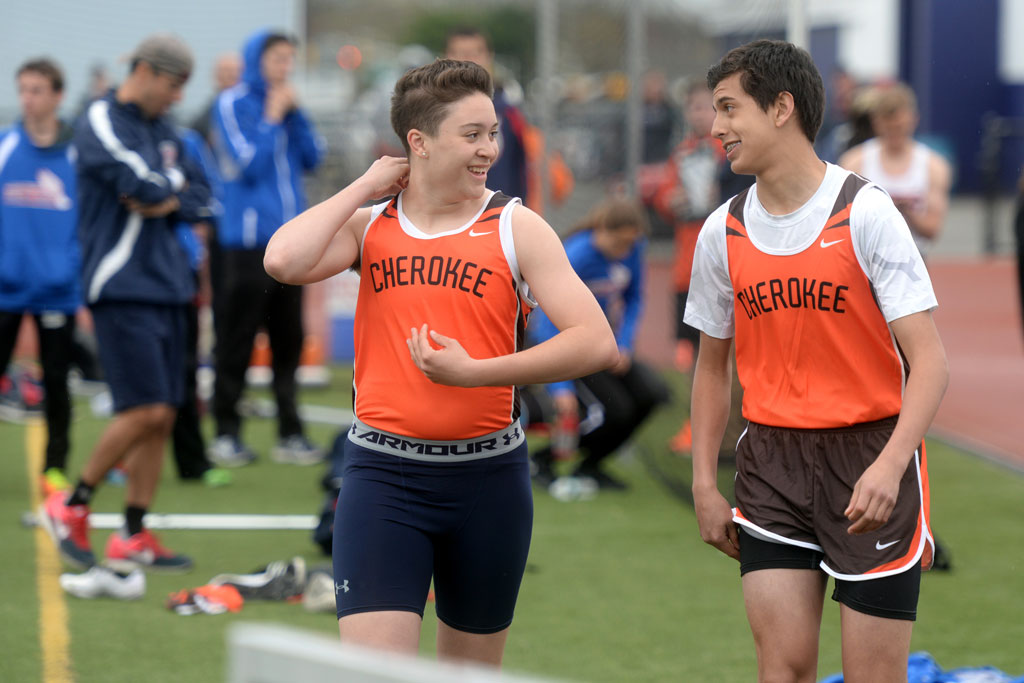 TOM GRALISH / Staff Photographer
After running in their 100 meter boys heat heats, Matt Dawkins (left) walks with a teammate during a meet at Washington Township High School.
"Literally I just would be sitting on the couch and I'd just get up and say, 'I have to run!'" Matt said. "I liked to do it barefoot. … I felt I was going so fast. It was really empowering."
In middle school, life got more complicated. Boys and girls started dating.
"I forced it because I tried to convince myself that I had to because everyone was getting into it," Matt said.
He tried different things, like letting Jada put makeup on him for a dance. He even had one serious boyfriend.
Then came high school and track.
He knew he was fast, but not how fast. As a freshman, Maya broke school records. The scary seniors invited her to run with them. There was talk of college scholarships.
That year, Maya also decided to come out as a lesbian, first to a friend and then in a letter to her mother. Everyone was accepting. For a little while, there was relief.
But in time, identifying as a lesbian didn't feel right either. Matt didn't like being called someone's girlfriend.
He sought answers on the Internet, where one Youtuber talked about his transition to male.
TOM GRALISH / Staff Photographer
Matt Dawkins, left, waits while his twin sister Jada Dawkins has her nails done for the prom.
"I knew what trans was, but I hadn't looked at it in depth," Matt said. "After I started looking, I was like, 'Wait, I can do that!' I was like, 'I really want to do that. I want to be him.'"
That relief was short-lived, too.
"I had the secret in the back of my mind all the time, even when I was racing," he said.
If he came out as trans and started transition care, he could finally be comfortable in his own skin.
But Matt believed that also would mean the end of track. He dreaded disappointing his mother, who was always there for him and Jada. How could she afford to put them both through college? They were all counting on a track scholarship. He'd be tossing it away.
"I was crying all the time," Matt said.
Sometimes at school, he'd go into a restroom, peel off his clothes, and scratch all over, as if to get out of his skin. Or he would run as fast as he could through a hallway until ordered to stop.
"I felt I was just going to explode all the time."
He looked for another way out of track, so it didn't seem like his choice.
"So sometimes I would go out and do rough play. I'd try to break something," Matt said.
More and more, he made himself throw up so he'd appear sick and wouldn't have to run.
His family saw the misery, heard the sobbing. His mother pressed on what was wrong.
"He would just say, 'I'm under a lot of stress.'" Tammi said.
One December day during sophomore year, the phone in Tammi's Haddonfield office rang. Maya's voice was on the line, hemming and hawing, talking about feeling scared.
Finally, the voice said: "Mom, I think I'm a boy."
"I felt like someone pushed me out of a plane," Tammi recalled.
Matt remembers a subdued, almost clinical, Tammi. Inside, his mother was flooded with fear of a world that could really hurt her child. And she was seized with a profound sense of grief.
"I felt like someone told me Maya was dying," she said. "I thought I would never be able to look at those baby pictures again."
It wasn't easy news for other family members, either.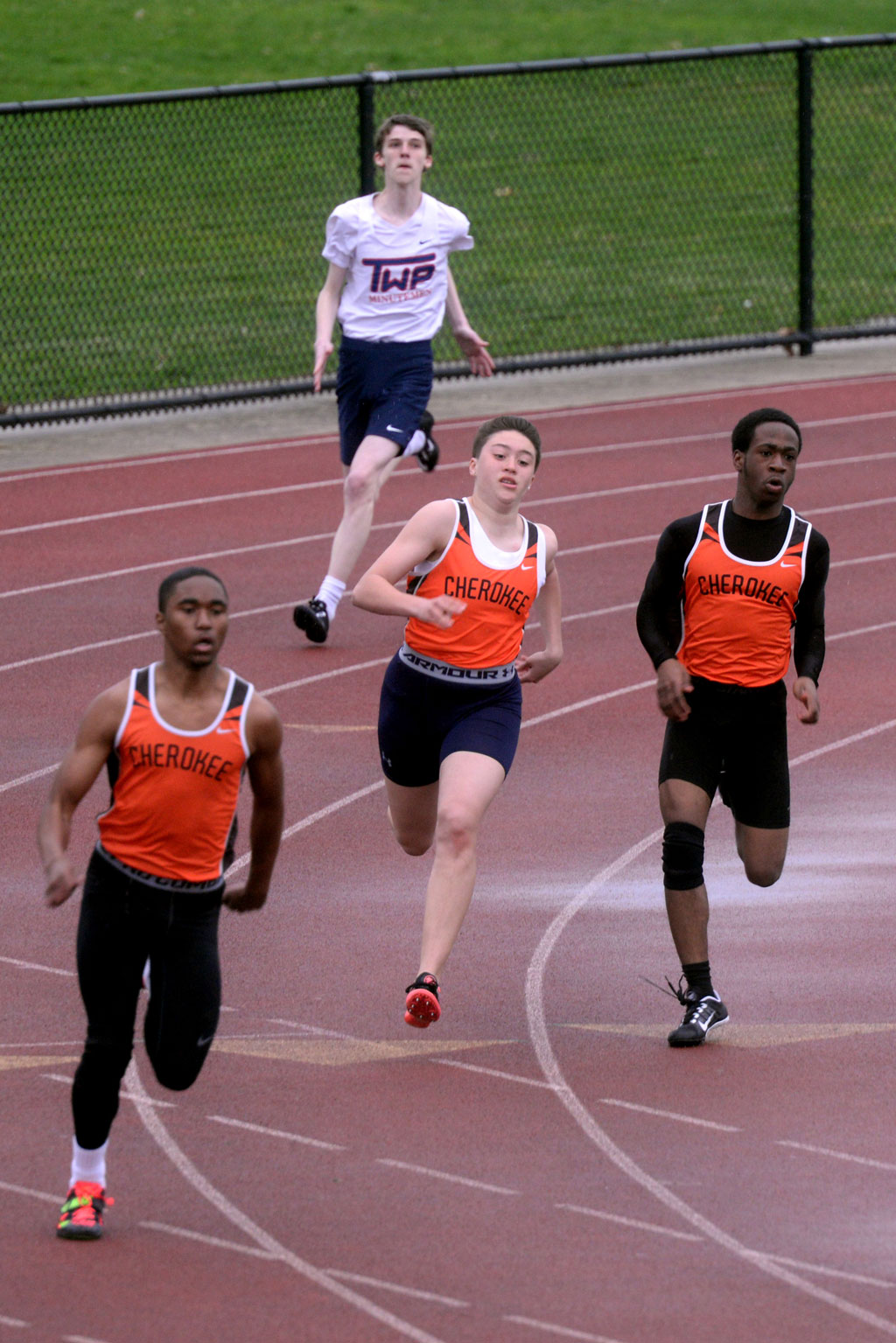 TOM GRALISH / Staff Photographer
Matt Dawkins (center) competes in a 200 meter boys heat during a meet at Washington Township High School
Matt and Jada's father, Nigel, a truck driver who is away from home often, wanted him to wait to transition, get a scholarship, finish college, get set in life.
Nigel's concerns remain.
"He's making a transition, but he's still a child in some ways," Nigel said. "The world is not always a cuddly place. I really want him to be strong."
Jada initially pushed back, too.
"I was like, 'Why do you have to do this right now in high school?'" she said.
It was a rough few months, but always, there was love, Matt says. That first day, Tammi started researching transgender transitions. Even with her mixed emotions, she was going to help her child.
A few weeks after Matt shared his realization, he took his mother's hand during an emotional conversation.
"He said, 'Mom, I'm the same soul. I just need to be in a different body.'"
It was the kind of thing Maya would say. Tammi still had more grieving to do, but those words helped her turn a corner.
Her therapist side took action: She set Matt up with a colleague, Joe O'Brien. It didn't take long for him to see Matt was serious.
"Matt is very brave, and Matt is outgoing but very humble," O'Brien said. "I found Matt to be definitely grounded."
Tammi and Matt also met with doctors to discuss medical options. He went to the Gender and Sexuality Development Clinic at Children's Hospital in Philadelphia.
The clinic, which is working with about 120 families, gets about two or three new referrals a week, codirector Linda Hawkins said. "We're actually meeting more and more of these young people and at younger ages."
Awareness and, more slowly, acceptance has grown as more transgender stories are told publicly. "Getting the word out that this is real," Hawkins said.
What advice would she give parents? "Listen to and love your child first and foremost."
Matt's family did both, he says. But early on, he was nervous about telling another important person in his life.
TOM GRALISH / Staff Photographer
Matt Dawkins gets an ink tattoo from his girlfriend, Liani Ortiz, in his Marlton dining room.
There was this girl, Liani Ortiz, a schoolmate. She has "gorgeous" green eyes, and Matt has a thing for girls with green eyes. They weren't a couple yet but were close. She'd had a boyfriend but was out as lesbian.
"I was like if she thinks I'm gay, this will not work because I'm not gay," Matt said. "I'm trans."
"You don't really like someone for their looks, their gender, or body features. You like them for who they are."
Liani Ortiz, Matt Dawkins' girlfriend
Matt was shaking when they began to talk.
"It took me like 20 minutes to actually say it. And then she was, 'OK. Yeah, if you feel like that, it's totally fine.'"
"You don't really like someone for their looks," their gender, or body features, Liani said one recent evening hanging out with Matt. "You like them for who they are."
In September, Matt decided to come out at school, friend to friend. Amazingly, none of the bad things Tammi feared for Matt happened.
"Not one negative comment," Tammi said. "None."
Students and teachers liked Maya, so they liked Matt.
By then, Jada was squarely in Matt's corner. She dove into the role of pronoun police.
"We had a lot of talks," Jada said. "I realized it wasn't a choice at that point. He really wasn't comfortable in his body. He had to do it."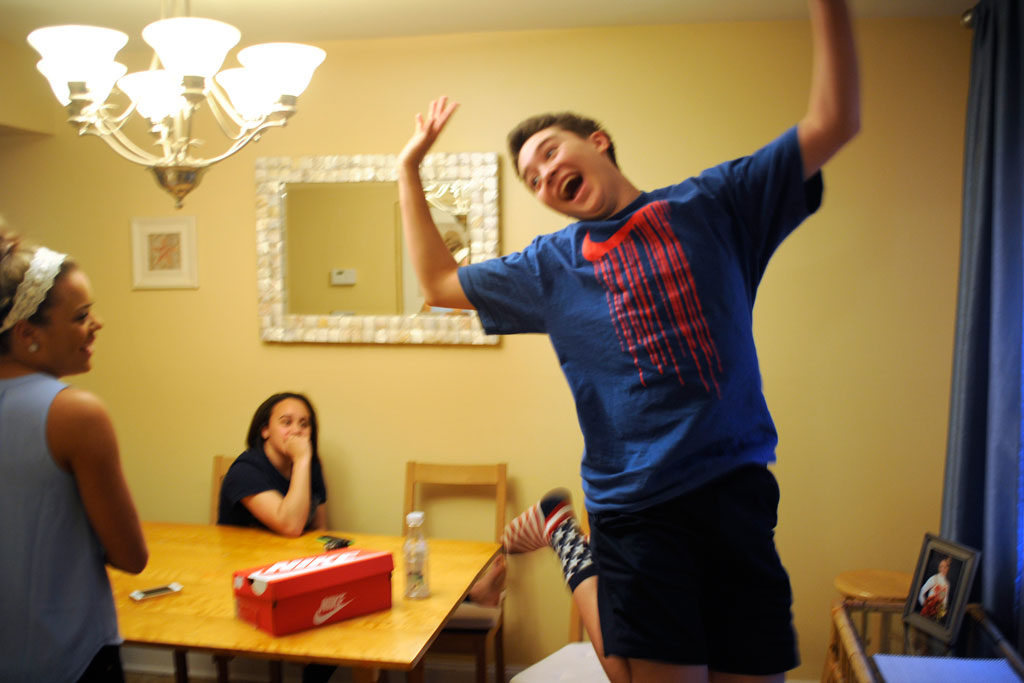 TOM GRALISH / Staff Photographer
Matt Dawkins (right) clowns around after is weekly draws testosterone injection, with his twin sister, Jada, (left) and his girlfriend Liani Ortiz.
Matt's guidance counselor helped him on logistics, such as changing his name at school. She also explained the rights transgender students have in New Jersey.
Those rights, however, are not evenly applied.
Last year, Rubin Smyers, a transgender teen wasn't allowed to use the boys' restroom at his Ocean County high school. The advocacy group Garden State Equality advised his principal his rights were protected by the state's Law Against Discrimination. He won.
(At Cherokee, Matt uses a gender-neutral restroom in the nurse's office.)
In February, Matt participated in a school talent show and dedicated his performance of Vance Joy's "Riptide" to Alcorn, the Ohio transgender student who took her life.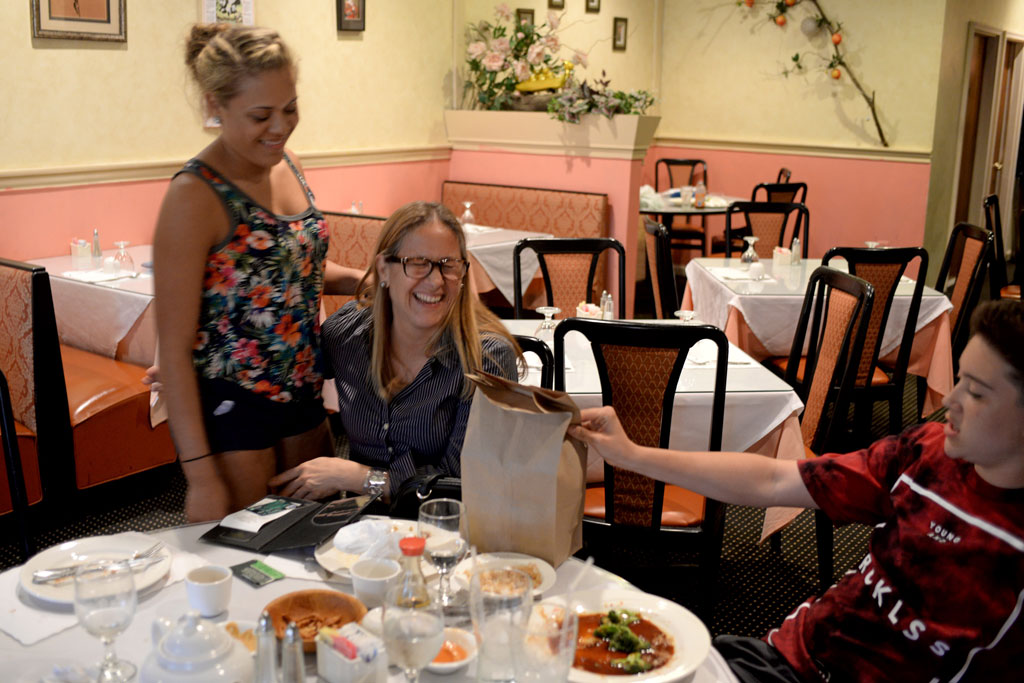 TOM GRALISH / Staff Photographer
Matt has dinner with his mother, Tammi Grovatt-Dawkins and twin sister, Jada.
And what had been a closely guarded secret not long before, he said aloud.
He, too, is transgender.
The audience cheered.
But as spring approached, a big question remained for Matt: What about track?
In addition to the state's antidiscrimination law, the New Jersey Interscholastic Athletic Association's constitution states that students can compete "in a manner that is consistent with the student's gender identity," although with certain conditions.
However, a NJIAA member school can appeal eligibility if it feels the student's participation would affect competition or safety.
After a meeting with Cherokee coaches, Maya was retired. Matt was on the boys' team. He is running this spring.
At a meet last month in Washington Township, Matt and teammates were preparing for the long jump by yanking off T-shirts and pulling on team shirts. As Matt took off his tee, a tight white garment — a breast binder — showed underneath. No one seemed to notice.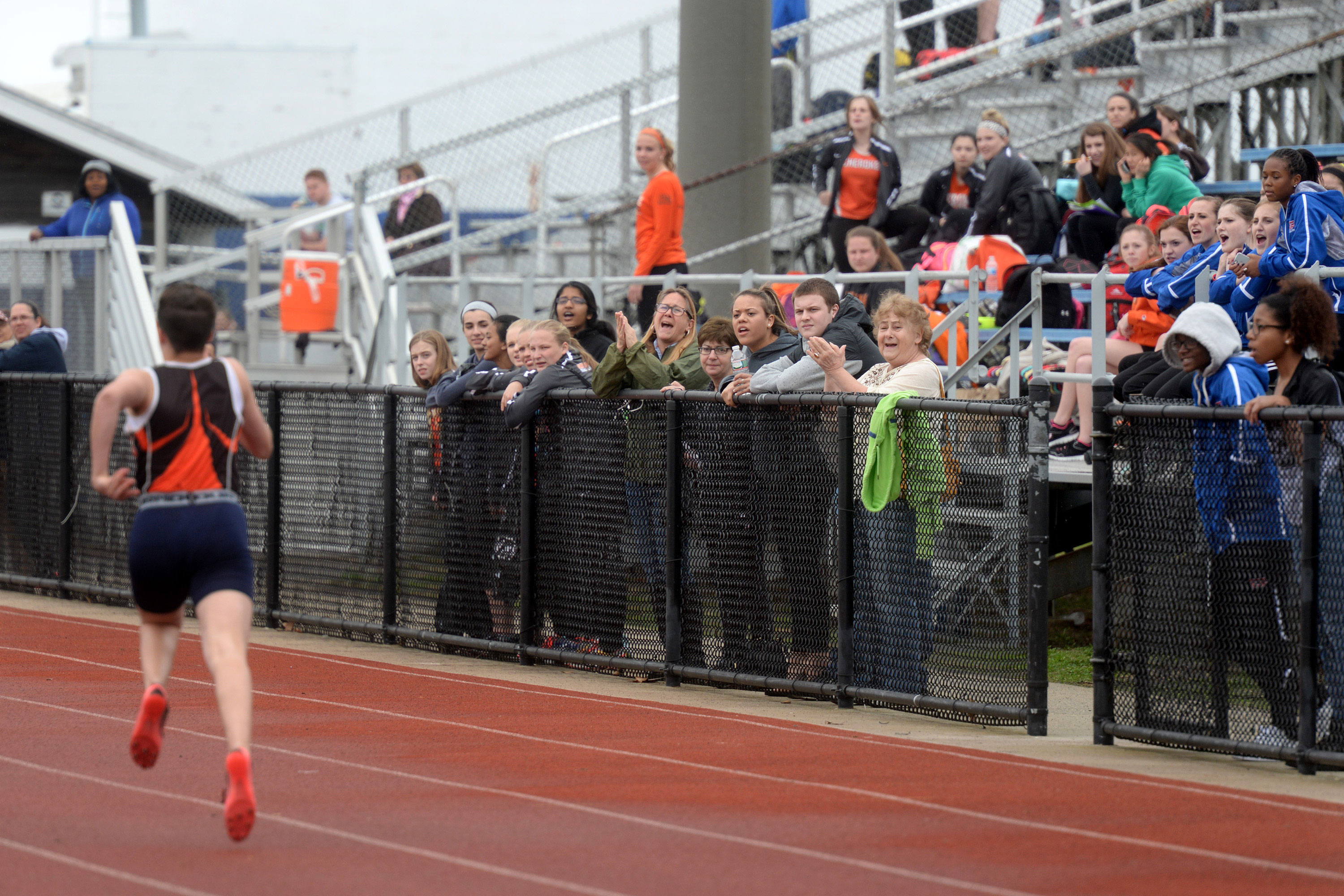 TOM GRALISH / Staff Photographer
His family cheers as Matt Dawkins competes in the 100 meters, during a meet at Washington Township High School.
Asked about Matt, junior Dalton Hopkins launched into his record-breaking freshman year. Pushed about having a trans teammate, Dalton shrugged.
"To be honest, we didn't judge," he said.
Sophomore Danny Weiss invites Matt to his team parties, he said. "He's one of the guys."
Though not the star Maya was on her team, Matt is running on a varsity level, his coach said.
In some ways, Matt said, he enjoys track more.
"This is more for my benefit. I'm going to run as hard as I can," he said. "But I'm running against the guys. As long as I keep up, I'm proud of myself."
He was taunted once by another track team — the worst incident he could recall since he identified as trans. "They were like, 'What is that running?'" Matt recalled.
His teammates seemed more upset than he was, he said. Anything like that happens again, they told him, come to us.
Tammi said Matt told her: "'I decided to take all my feelings and put it into the race.' As soon as he told me that, I said, 'You're going to be alright.'"
She stopped mourning Maya months ago. She has Matt. "They're the same person."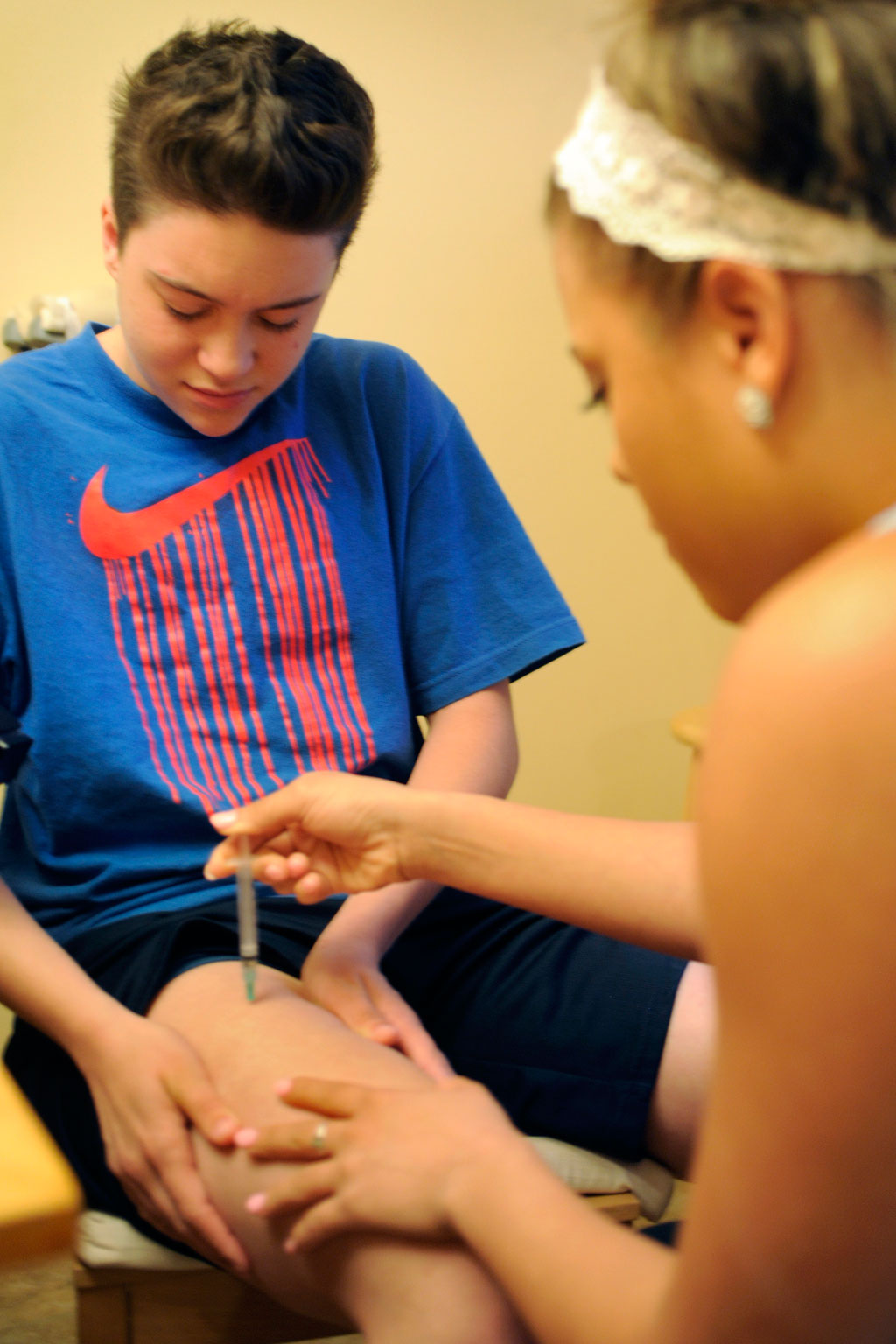 TOM GRALISH / Staff Photographer
Matt Dawkins gets his weekly testosterone injection from his twin sister, Jada, in the dining room of their home in Marlton.
When Matt started weekly testosterone shots on March 11, Grammy Faith baked a cake. The family called it his new birthday. Jada agreed to administer his injections. She's into it.
"I'm really proud I'm helping him become who he wants to be," Jada said.
The shots can't work fast enough, as far as Matt's concerned. He can't wait until people just look at him and say, "'That is a guy.'" When he doesn't have to correct pronouns or explain himself.
The family is exploring medical and financial options for surgery, beginning with removing Matt's breasts.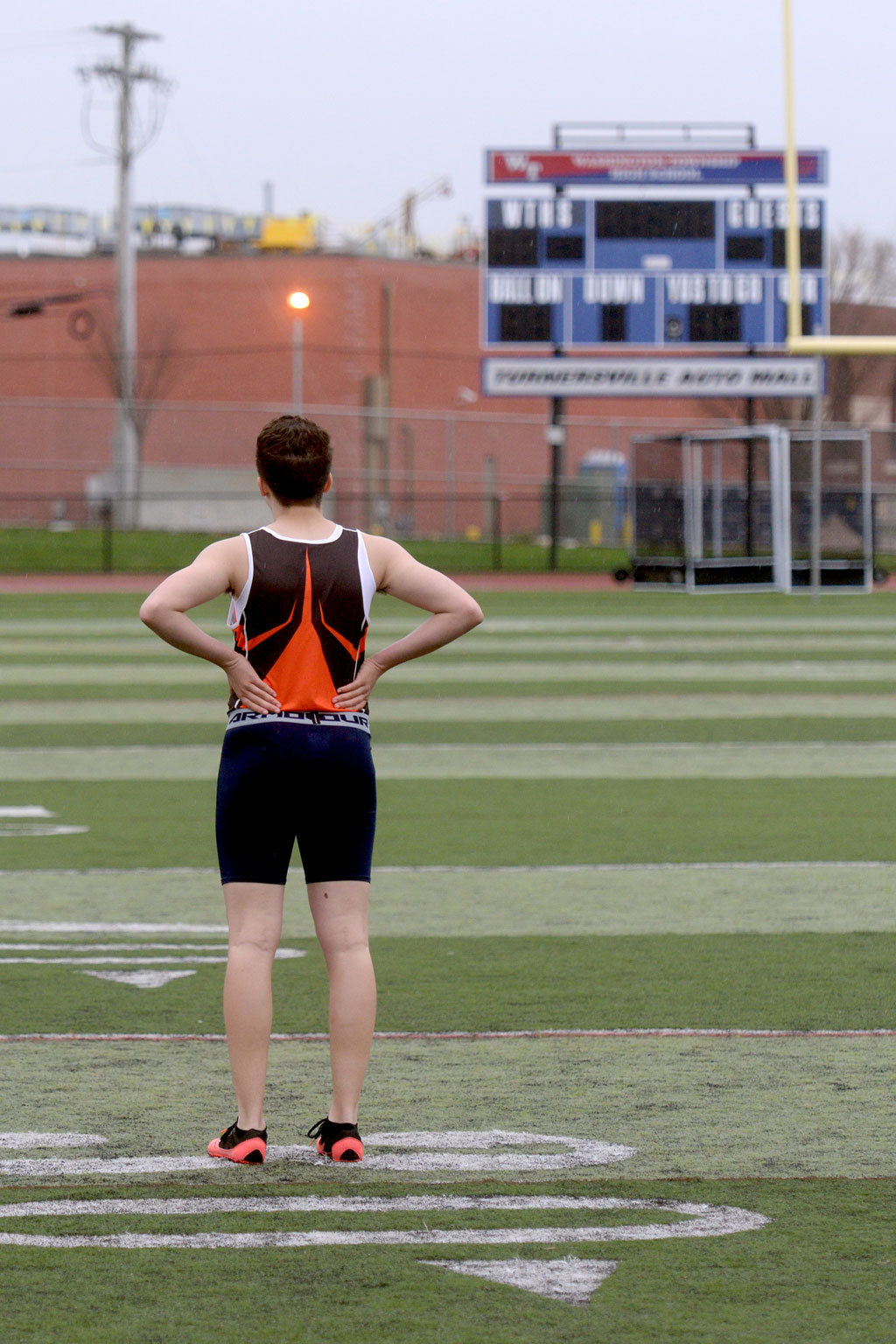 TOM GRALISH / Staff Photographer
Matt Dawkins pauses during a meet at Washington Township High School.
More photos
Matt isn't expecting a track scholarship anymore, but he does see himself in a new role: activist.
He and Tammi hope his story can help others. Kyle Schickner, a filmmaker and bisexual activist, is donating his skills to make a documentary about Matt. Matt and Tammi are raising money for the film on the crowdfunding site IndieGoGo.
"I feel my story is one of the good stories," Matt said. "It's a story that shows things are possible."
He believes who he is — and his journey to get there — may even open doors.
"Now that I know I am making a difference in the trans community and a lot of colleges might recognize that, and I could get scholarships for other things besides track."
Like being himself. "And that, to me, is amazing."
rgiordano@phillynews.com 856-779-3893 @ritagiordano
---
For more information about transgender people visit:
PFLAG support for transgender people and their families
National Center for Transgender Equality
Gay, Lesbian and Straight Education Network
For more information about transgender people and athletics: