The Problems and the Promise:
Gentrification in Philadelphia
DAVID MAIALETTI / Staff Photographer
The city cannot afford to slow development. The goal, then, is to encourage growth while protecting long-term homeowners and creating neighborhoods that are economically and racially diverse. The staff of the Philadelphia Daily News examines the gentrification issue, neighborhood by neighborhood, and offers a guide for residents trying to navigate through these changing times.
The issues that can divide a changing neighborhood
Alda Ballard has lived in her Catharine Street brownstone since buying it with her husband in 1980 for $20,000. She's lived in the neighborhood for 70 years.
Like many Philadelphians, Ballard clings tenaciously to her memories of her Center City West neighborhood in its heyday, before things went bad, when houses became empty shells that eventually collapsed or were torn down to be replaced by lots overflowing with trash.
That period was bad, to be sure, but now her neighborhood is experiencing another wave that troubles her: an influx of new people who are younger, wealthier — and whiter.
For the past few years, people have been offering to buy her seven-bedroom brownstone. She feels besieged by strangers who view her home as a valuable commodity and her presence as a nuisance.
"They are always knocking on my door telling me they want to buy my house," she said. "Well, I am not selling."
The same goes for the several rental properties that she owns in the area. "I keep my rents low, nothing higher than $850. It's not easy with the tax increases, but you do the best you can."
It is part of her effort to provide a place in the neighborhood for black tenants who don't earn enough to pay more.
Ballard is not worried about having to move for now. But in neighborhoods all around the city, longtime residents express fear of being forced out of their homes as waves of wealthier residents move in and spur property values to rise dramatically — a process known as gentrification.
Those who study property values and other trends believe it is an established reality in neighborhoods like lower North Philadelphia, Francisville, Northern Liberties, Fishtown, Kensington, Fairmount, Center City West, Hawthorne, University City, Point Breeze and Grays Ferry, to name a few.
Home-sale prices in these neighborhoods, which circle the city's central business district, have skyrocketed since 2000. Some momentum was lost during the recession, but sale prices resumed their steady climb in 2010.
Gentrification is not new, of course. The change of a block or neighborhood from low value to high value, is "a natural phenomena that has been with us since Benjamin Franklin," said Carolyn Adams, a professor in the Department of Geography and Urban Studies at Temple University.
Also the neighborhoods affected by gentrification aren't always black. Kensington and Fishtown, for example, were traditionally blue collar white neighborhoods. And in San Francisco white middle class professionals are being shoved aside by higher income earners in the tech industry.
For the last half of the 20th century, many parts of Philadelphia were on a downward spiral as the city lost population and business.
Now, the tables have turned. The city's population is on the rise, growing by 58,897 to 1,547,607 from 2006 to 2012, according to the most recent census estimates.
Many of these newcomers are choosing to live in Center City and nearby neighborhoods that offer quick access to job centers. Although the collapse of the real-estate market and the recession slowed development, the pace is picking up now that the economy is on the mend.
Despite concerns over gentrification, the city can't afford to slow development. So, it must find ways to encourage growth while protecting long-term homeowners and creating neighborhoods that are economically and racially diverse.
It might be easier to achieve world peace.
Philadelphia is ranked as the ninth most racially segregated metro area in America based on an analysis of the 2010 Census. Many Philadelphians live in neighborhoods where a single racial group represents 75 percent or more of the population.
It also is one of the poorest cities, with 26.9 percent of residents deemed poor by federal standards.
While population is on the rise, homeownership is declining, dropping to 52.2 percent from 59.3 percent.
Thirty-eight percent of homeowners earn less than $35,000; and 40 percent of homeowners do not have a mortgage.
These challenges are formidable. And so the economic pressures created by rising home values and higher taxes feed the fears that longtime homeowners will be forced to sell because they can no longer afford to stay.
But Adams says there is little direct displacement due to gentrification.
"When housing specialists use that term, they really aren't talking about displacing people," she said. "They are talking about market pricing that makes it impossible for people who are looking to move into that neighborhood who cannot find an affordable unit. That really is more the dynamic of gentrification now."
Adams' academic explanation doesn't mean much to the relatively few longtime black residents remaining in Center City West. They feel differently.
In just 15 years, they've watched longtime friends and neighbors move away, and be replaced by mostly white well-to-do strangers.
Jerome Whack, the owner and operator of the 20th and Christian Street Pharmacy for 45 years, said his customers complain daily about the disappearance of affordable apartments in the area. They tell him of rent hikes they can't afford, landlords no longer willing to accept their federal rent vouchers, and of new owners who want them out.
The new renters are willing to pay $1,300 and up for renovated digs in old brownstones just a few blocks from trendy shops on Walnut Street and the entertainment venues that line South Broad Street.
Whack doesn't live in the neighborhood, but owns the building that houses his pharmacy as well as three other properties in the area. Like Alda Ballard, his real estate holdings are highly coveted by real estate speculators. Whack shows a pile of unsolicited offers sent through the mail.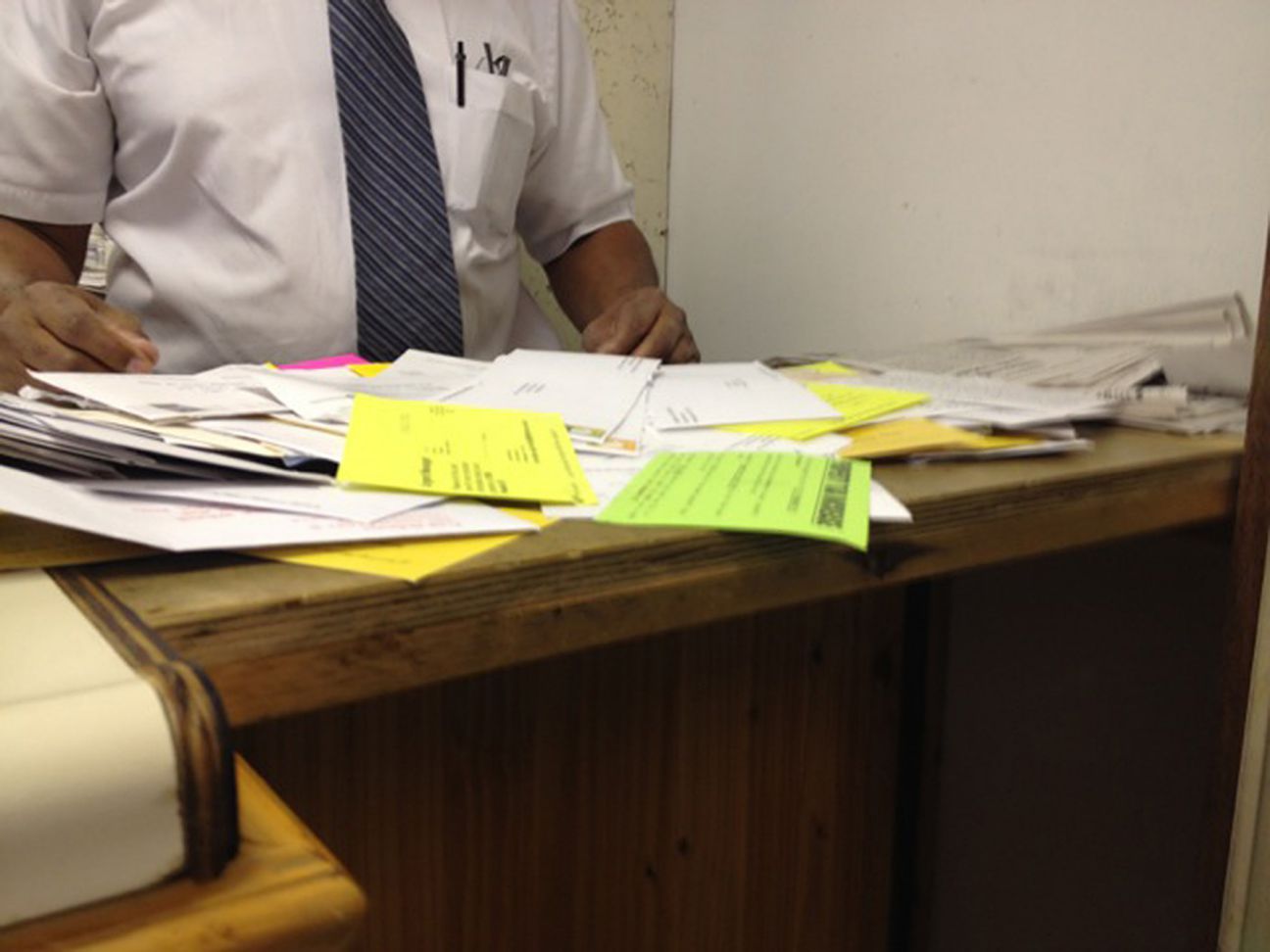 EARNI YOUNG / Daily News Staff
Jerome Whack, owner and operator of the 20th and Christian Street Pharmacy, did not want his face photographed as he showed off a pile of unsolicited offers to buy his properties.
Government's role
The market is one driver of changing neighborhoods, but larger policy directions, especially from the federal government, which often provides financing for redevelopment, also can play a big part. Universal Companies, founded in the 1980s by R&B music icon Kenny Gamble, has seen this first hand.
Gamble grew up in the neighborhood and returned in the late 1980s with the intent to rebuild the area as a mixed-income but largely black enclave.
It was not to be. Universal's affordable development projects depended on a complex web of federal, state and city financing, which took years to put together. Meanwhile, market rate developers were able to snap up properties and move forward at a much faster pace. A 1998 city survey counted 553 vacant buildings alone. By 2002, almost all had been redeveloped in some way.
Universal was able to build about 160 affordable rental units in the blocks between Broad and 18th streets, before real estate became too costly. It then partnered with the Philadelphia Housing Authority to build a mixed-income community of 249 units of low-rise rentals and for-sale housing on the site of the old Martin Luther King Housing Project, at 12th and Catharine streets. The renamed MLK Plaza, completed in 2011, was more than a decade in the making, and was PHA's first effort to include affordable workforce housing for middle-income buyers.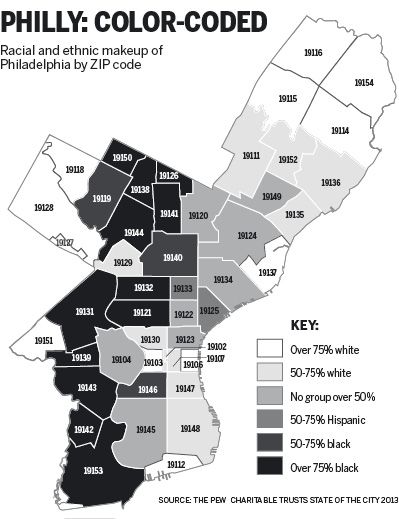 Daily News Graphic
The project was situated at the heart of Hawthorne, a neighborhood stretching from 11th to Broad streets and from Washington Avenue to South Street. By the time MLK was finished, the character of Hawthorne had changed and the housing was much more expensive.
That was the outcome HUD hoped for when it provided funding to redevelop the blighted public housing project under its HOPE VI program. The idea was to replace traditional public housing with a modern mixed-income community that would help revitalize the entire neighborhood by attracting private investment.
Hawthorne is not gentrified in the traditional sense, since there is room for everybody — renters and buyers— at all income levels.
Universal is now one of many developers who have their eye on Point Breeze, a gritty blue-collar neighborhood bounded by Washington Avenue and Mifflin Street and 25th and Broad streets. As of last spring, the city had approved 430 tax abatements for construction in the area. However, 1,097 vacant lots and buildings scattered throughout the neighborhood mean there is plenty of room for growth if the long-time residents and developers can come to terms on how it should be done.
One of the more vocal community advocates determined to maintain the diverse character of Point Breeze is Haley Dervinis, 32, a white professional who bought a renovated two-story rowhome on Annin Street in 2006 for $200,000. Eight years hardly qualifies the Drexel University employee as an old-timer, but Dervinis is committed to maintaining a diversity that brought her to Point Breeze in the first place.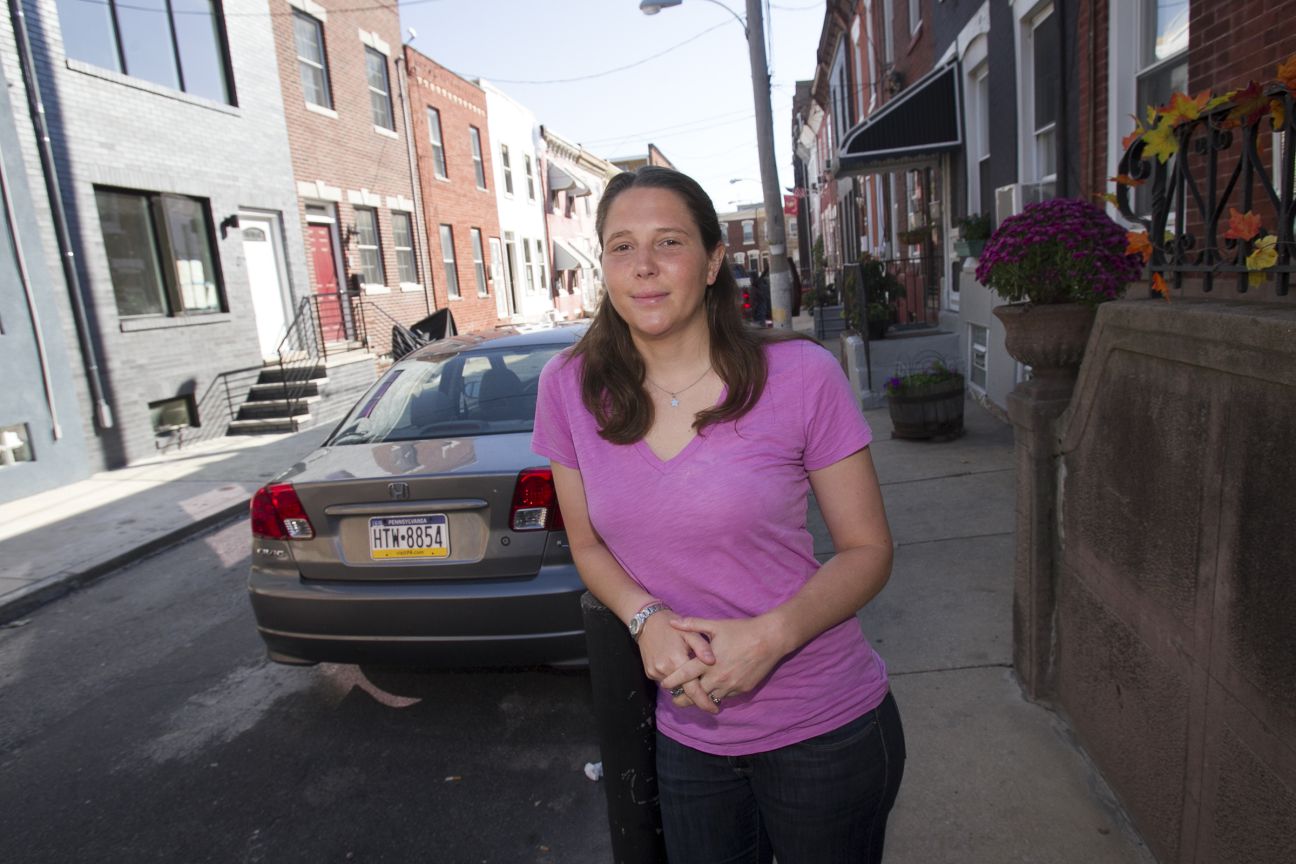 ALEJANDRO A. ALVAREZ / Staff Photographer
Haley Dervinis, of the 1300 block of Annin Street in Point Breeze.
"Yes, I am white but I moved to a neighborhood that was appropriate for me in terms of my income," Dervinis said.
According to Dervinis, she and her boyfriend were the first whites to buy on her block, but she doesn't see herself as an agent of gentrification. Nor is she waiting for the chance to sell her house for a whopping profit so she can buy a bigger house somewhere else.
"I love my block. I love the people that live here," Dervinis said.
Claudia S. Sherrod, executive director of South Philadelphia Homes, said she and other Point Breeze old timers feel their newer neighbors often show a lack respect for those who have called Point Breeze home for many years. "In many cases, these newcomers assume they are better because they may earn more money than we do and have rooftop decks and things that are not a part of our community," said Sherrod, who is black. She and her husband moved to Point Breeze and purchased a home in 1959.
The city's challenges
As if gentrification wasn't a big enough challenge, the city's new property tax assessment system, The Actual Value Initiative, has created further challenges. AVI is the city's attempt to catch up to increases in property values that were foregone during the real estate boom. Prior to AVI, properties were assessed at a percentage of their market value. Now property owners are facing tax bills based on market values that are double or even triple their 2013 assessments. The sticker shock is especially dire in gentrifying neighborhoods that have experienced the biggest spike in home sale prices. For example, Alda Ballard's brownstone was recently assessed at $420,000, vs. $27,100 in 2012.
"They grin and say hi, because they have been promised that we will be gone soon."
Jerome Whack, pharmacy owner
Long-time homeowners say they are being unfairly taxed while those who buy newly constructed or substantially rehabbed buildings enjoy 10-year property tax abatements on their structures.
"They are being incentivized to replace us," Whack, the pharmacist, said in reference to the whites moving into the area. "They grin and say hi, because they have been promised that we will be gone soon."
Philadelphia has put a handful of policies in place to provide property-tax relief for long-time property owners hit hardest by AVI. One of the programs is the Longtime Owner-Occupants Program, which provides a tax break for homeowners whose property assessments increase by 300 percent or more in the course of one tax year. There also is a Homestead Exemption that reduces the taxable value of qualified owner occupied homes by $30,000.
"We feel the people who held on deserve our support," said Council President Darrell L. Clarke. "If we had not done some of these AVI relief measures, a lot of people probably would be forced to sell their homes."
This year, Clarke, who also represents the city's 5th Council District, joined with six other Council members to spearhead passage of legislation to create 2,000 units of affordable housing in gentrifying areas. This will be more difficult than it was during the '90s, when the federal government funded a bevy of affordable housing programs. Over the past decade, federal funding has dried up and the city's Community Block Grant has been whittled to $49 million, compared to $85.5 million in 1996. Cities now mainly rely on Low-Income-Tax Credits to support development of affordable rental and for-sale housing. Council's plan would help projects take advantage of those credits, as well as money for the city's Housing Trust Fund, to build 1000 units each of rental and for-sale housing close to job centers.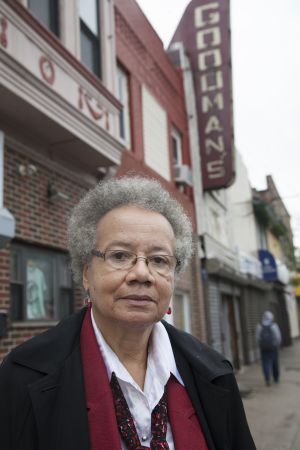 Claudie S. Sherrod, of Point Breeze, is executive director of South Philadelphia Homes. (JESSICA GRIFFIN / Staff Photographer)
The Council plan relies in part on the city's new Land Bank, which will kick off next spring with a cache of 9,000 properties to be reserved for affordable housing.
"It is important that we provide homeownership opportunities for our firemen, cops, and teachers," Clarke said.
Non-profit developers, hamstrung by a slow-moving bureaucracy, always will be outnumbered by more nimble, privately financed developers moving at a faster pace. But the fastest agents of change by far are individuals like Devernis eager to buy fixer-uppers in neighborhoods on the rise.
So, it is imperative for the city to continue encouraging market rate development and reinvestment. At the same time it must find new ways to prevent long-term neighborhood residents—owners and renters — from being shoved aside.
The city's future lies in creating neighborhoods that are racially and economically diverse. No easy lift for a city with so many racially segregated neighborhoods.
"Gentrification is a very charged word that means a lot of different things to different people" said Alan Greenberger, deputy mayor for economic development and director of commerce. "At their core, cities are organic and they change over time. That is a very hard process to get in the way of. If someone offers you money to buy your home for much more than you ever thought it would be worth, you have a right to sell it. You also have the right to stay put."
For her part, Alda Ballard, isn't waiting on City Hall or Congress to ensure there will be black families in the neighborhood going forward. She refuses to say exactly how many, but Ballard has bought and sold a number of properties over the years. When she does sell, the buyers typically have long-standing ties to the area.
"I don't want to live in a lilywhite neighborhood, so I do what I can to try and not let that happen," Ballard said.
Ultimately, how gentrification plays out in Philadelphia will depend on how well the city's residents—both old and new—learn to live with each other's differences.
Something as simple as the failure to say hello to a passing neighbor can cause friction. Older residents like Ballard are used to being greeted by their neighbors, but newcomers walk past without so much as a nod. "It's like we don't exist for them," Ballard said.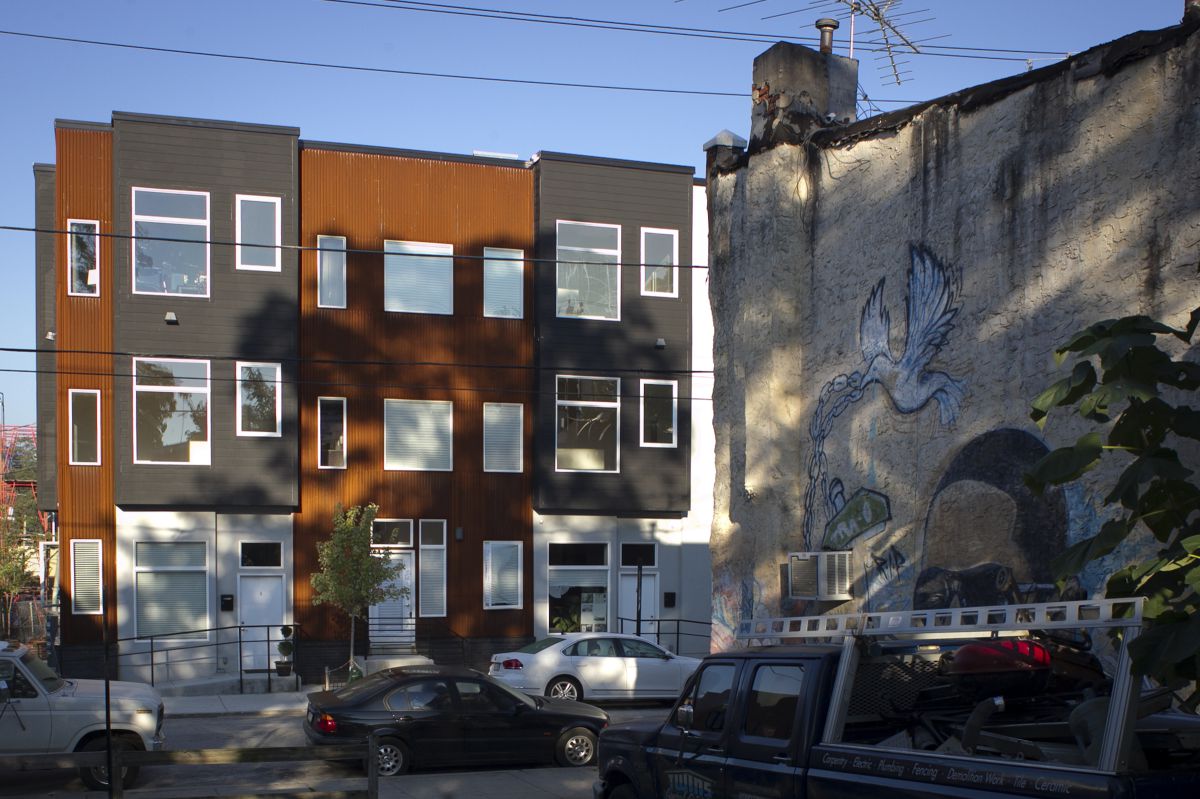 ALEJANDRO A. ALVAREZ / Staff Photographer
The view at N. 30th and Baltz Streets in the Brewerytown section of Philadelphia.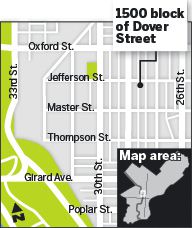 Up and down the 1500 block of North Dover Street, handwritten notes on yellow legal-size sheets of paper were tucked inside the storm doors of every house.
"My name is Danielle...My husband is Kyle," the notes began. "We would like to buy your house. Please call or text me at (516)... It then gives a number for the couple in Long Island, NY.
Miss D, who lives in the middle of this tidy block of brick rowhomes -- just east of 29th Street between Jefferson and Oxford streets -- shows the note at her front door.
"I'm not interested in selling my house to nobody," said Miss D, who asked that her full name not be published. "I've been here 40 years."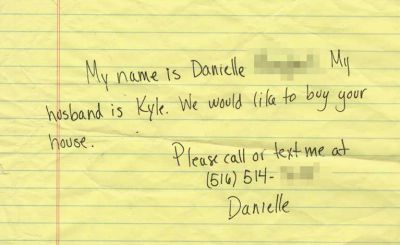 Letter received by homeowners on North Dover Street.
With its proximity to both the SEPTA 48 bus and East Fairmount Park, this block of Dover Street in Brewerytown is primed for gentrification.
"People want to live here because you can park your car and take the 48 bus downtown. You've got the park nearby, and it's close to the zoo," said longtime resident William Freeman.
But on this block, gentrification is not simply a matter of white people moving into a black neighborhood and forcing blacks out. There are also African-American professionals, college-educated people, moving into homes inherited from parents and grandparents and fixing them up to live in or rent out.
Currently, there is only one white resident on the block.
There had been a few others -- renters who moved out in recent months, neighbors said. But everyone said they get along just fine with Mary Morrison, the one white homeowner.
"She's a very nice lady," Freeman said.
Darren Pryor agreed, adding that when he goes out to clean up the trash spilled by city workers on trash day, Morrison, who lives next door, comes out to sweep.
Two years ago, Pryor, a social worker, moved into the house that once belonged to his grandmother. He remembers visiting her as a child and said, "It's always been a nice block, where the neighbors look out for each other."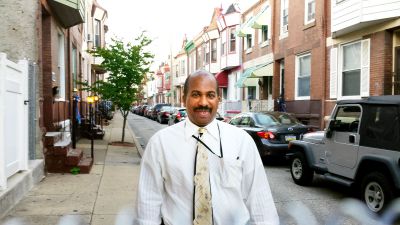 VALERIE RUSS / Daily News Staff
Darren Pryor lives on N. Dover Street in a house his grandmother owned.
Miss D said neighbors receive unsolicited notes to buy their homes at least once a week.
But Freeman, a retired airport custodian who lives in the house he and his brother inherited from their mother, said he's not worried about being bought out or priced out by higher taxes as new residents move in.
"If you've got the means, you're going to stay if you want to," said Freeman, 66.
He said it's up to each family to decide whether to keep the home or sell it.
One of the oldest and longest residents on the block, Adele Caldwell, 87, has lived on Dover Street for 60 years.
She said her family was the first black family to buy a home on Dover Street in the 1950s. So, she finds it ironic that while white homeowners fled to the suburbs in the 1960s as more African-Americans moved in, now another generation of white residents is moving back.
It will be a new era of black and white neighbors living together in this part of North Philly/Brewerytown, Caldwell said, because the longtime residents don't plan to leave.
Contact Valerie Russ at russv@phillynews.com, 215-854-5987 or @ValerieRussDN
ALEJANDRO A. ALVAREZ / Staff Photographer
Renters are the first to know
If you want to zero in on real-estate hot spots or pinpoint which neighborhoods are either becoming gentrified or are headed in that direction, economist Kevin Gillen says look at property-rental prices -- not home sales.
Gillen, a senior research consultant at the Fels Institute of Government at the University of Pennsylvania, is an expert on urban economics and the Philadelphia real-estate market.
Recently, the Daily News caught up with him at his Walnut Street office to ask about his research on rental prices in the city. Using rental-price data from 2010 to 2014, Gillen compared the top 10 neighborhoods, where rents have skyrocketed, with the bottom 10 neighborhoods, where rents have remained relatively flat. Here's what he had to say.
Q: What do rental prices tell us?
A: Well, rents reflect the willingness to pay to live in a certain area, whereas house prices represent a willingness to invest in an area. So rents tend to be a bit more of a leading indicator than house prices because they can change more quickly, whereas buying and selling homes is a rather lengthy process.
Q: What do the top 10 highest-rent-growth neighborhoods have in common?
A: It's simple: proximity to Center City. These neighborhoods are either close to Center City or they have transit accessibility to Center City, where you can walk to [SEPTA's] Broad Street Line.
Q: What do the 10 neighborhoods at the bottom of the rental market have in common?
A: The bottom 10 are either far-flung and/or it's a long commute to Center City. For instance, Mount Airy is a nice area, but you have to drive or it's a 30-minute train ride into Center City.
Q: So the farther you get away from Center City, the lower your rent is likely to be?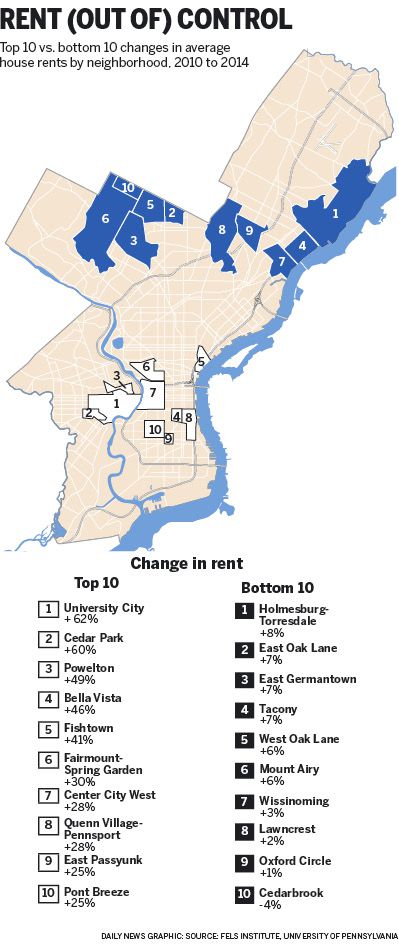 Daily News Graphic
A: Absolutely. The whole gentrification issue is really the story of the outward spread of Center City. The rest of the city is still stuck in the 1970s. I would say proximity and accessibility to Center City is not just the primary thing driving gentrification in Philadelphia, it's the only thing. The main thing that is driving it is how quickly and easily you can get to Center City, because that's where the good-paying jobs are.
Q: What do the top three rent-appreciation neighborhoods -- University City, Cedar Park and Powelton -- have in common?
A: They are all located in greater University City. They reflect a lot of the investment that Penn and now Drexel are making in the neighborhoods. University City is kind of an employment center that is an extension of Center City, and accessibility to employment is the key factor.
Q: OK, what is going on with rent increases in neighborhoods like Fishtown and Point Breeze?
A: These are neighborhoods where, again, as Center City has become more and more expensive, people can't afford it, so now they are moving out to the next neighborhood. As the core becomes more and more expensive, people move to the next neighborhood -- they bid up rents and then house prices there, and it becomes more expensive to the next wave of people and then they move out to the next neighborhood.
Q: What does gentrification mean for renters? Will some renters get forced out because of increasing rent prices or landlords who decide to sell?
A: With gentrification, the rents go up, and if the rents go up and the tenants can't afford to pay that rent, then you either get new tenants or you sell the place, and that's just the market at work.
Wendy Ruderman can be contacted at rudermw@phillynews.com, 215-854-5924 or @wendyruderman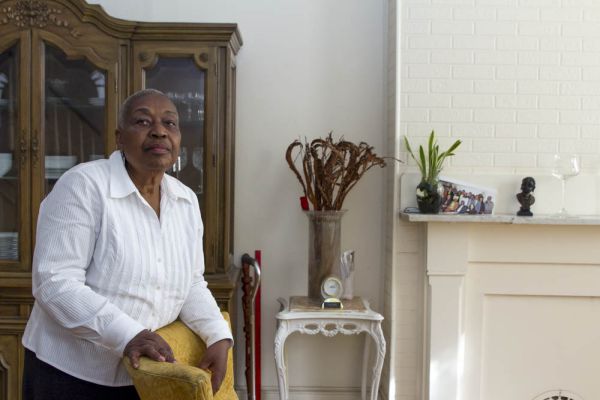 CHANDA JONES / Staff Photographer
A holdout in Francisville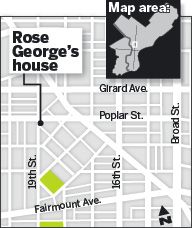 Rose George has seen gentrification turn her block of Poplar Street near 19th into a seller's gold mine.
She doesn't care.
The old three-story rowhouses that passed from one family member to another decades ago for a symbolic dollar or two are now selling from around $200,000 to nearly $500,000.
The house on one side of George's sold for $440,000 last year. The house on the other side sold for $265,000 in 2012. But George, 79, is staying put.
She bought her three-story row house in 1965 for less than $4,000.
In 2013, under the Actual Value Initiative, the city's new system for assessing property at full value, George saw her property's taxable worth suddenly balloon from $8,864 to $223,500.
"My taxes went up from under $1,000 to over $3,000," George said. "I'm an old woman on a small pension."
Unlike thousands of Philadelphians who don't know how to access the city's tax-relief programs, George had worked as state Rep. Curtis Thomas' chief of staff and the late City Councilman Joseph Coleman's community-development staffer.
She appealed the AVI assessment, and when that process just kept dragging on, she knocked her more-than-tripled tax burden back down to reality through the city's new Longtime Owner Occupants Program.
"My grandmother lived here," George said, looking around her high-ceilinged living room and at the dining room just beyond it, both rooms flooded with daylight from huge front windows and memories.
"One of my sisters got married here," George said. "My father died in this house."
She paused for a moment, then said quietly: "One of my brothers was murdered. After we put the headstone on his grave, we came back to this house."
She remembered so many family gatherings, including Thanksgiving 2003, when she had a heart attack and no one, including her, noticed.
"I made a big Thanksgiving dinner for my whole family," George said. "I put it on the table. And I went to bed."
She laughed so hard, it took her a moment to continue. "After a while, my niece said, 'Where's Aunt Rose?'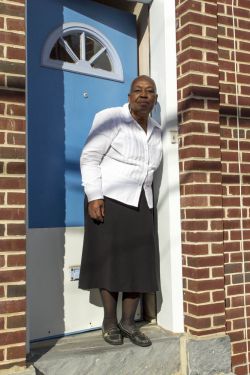 CHANDA JONES / Staff Photographer
"Until my niece spoke up, they all sat around the table, they knew I cooked the dinner, they all ate well — and nobody thought to ask, 'Where's the person who cooked all this food?'"
George treasured her post-election "reverse coffee klatches."
Leading up to elections, George held fundraisers at her house. After elections, the winners returned for "reverse coffee klatches where no one asked for money, and no one made a political speech," she said.
"They all just came back to say, 'Thank you.' Bill Gray, Ed Rendell, Gussie Clarke, Marian Tasco, Babette Josephs. Because I had this house, I was able to do this."
George said the block's real-estate boom took her by surprise in 2006, when Teen Haven, a neighborhood youth-services agency, was cleaning up Opal Street, which intersects Poplar Street across from George's house.
"I was sitting on my front steps, watching," George said. "My neighbor Barbara, who lived two doors down, was a little nosier and much more social than I am, so she joined them."
Out of the blue, a woman who was helping with the cleanup told Barbara that she wanted to buy a house in Francisville. Did Barbara know of any for sale?
George laughed, remembering: "Barbara said, 'I'm going to sell mine but I'll tell you right now, I'm asking $300,000.' The woman said, 'OK.'
"That was wild!" George said. "I don't think Barbara believed it herself. That was the first house on this block to be sold for that kind of money."
In the years since, George has watched many neighbors sell their houses for hundreds of thousands of dollars and move on, but she has never been tempted to join them.
"I will not be motivated by money," she said. "If I had $200,000, where would I go? If I was paying $2,400 a month for a two-bedroom apartment around here, that $200,000 wouldn't last long. They can't give me enough to live the quality of life I have here."
Moving to the suburbs, she said, is out. "I don't care for grass," George said. "I love the city. I like convenience. Here, I don't need a car. I can get public transportation to any place and not have to walk more than one block."
She turned to look up the stairs that lead to the six bedrooms that once housed her six siblings.
"We moved here in the '50s, and we rented for years because my father always said, 'Why buy this raggedy old house?'" George said.
"African-Americans were moving to Wynnefield then. He said he wasn't going to buy this raggedy old house in this raggedy neighborhood."
George disagreed and bought the house in 1965. "My philosophy was, this is not going to be any more raggedy to own than to rent," she said, laughing.
"I've lived in this neighborhood since the late 1950s. I've never lived anywhere else. I will stay here until I cannot go up and down those steps anymore."
Dan Geringer can be contacted at geringd@phillynews.com, 215-854-5961 or @DanGeringer
Scams flourish during changing times
CAVEAT venditor.
For homeowners who haven't brushed up lately on their Latin, the phrase means, "Let the seller beware."
And if you own a home in a Philadelphia neighborhood where gentrification is all the buzz and real-estate investors are circling like buzzards, then you might want to heed that warning. Especially if you've come home to find postcard-size green or yellow cards shoved under your front door or in your mailbox.
The postcards typically blare, "URGENT NOTICE," and then go on to say, "I urgently need to speak with you about your property....If you are looking to sell, we would be interested in making you a fair cash offer. I am looking for houses in Philadelphia and am looking to buy 'AS IS' with cash and close ASAP."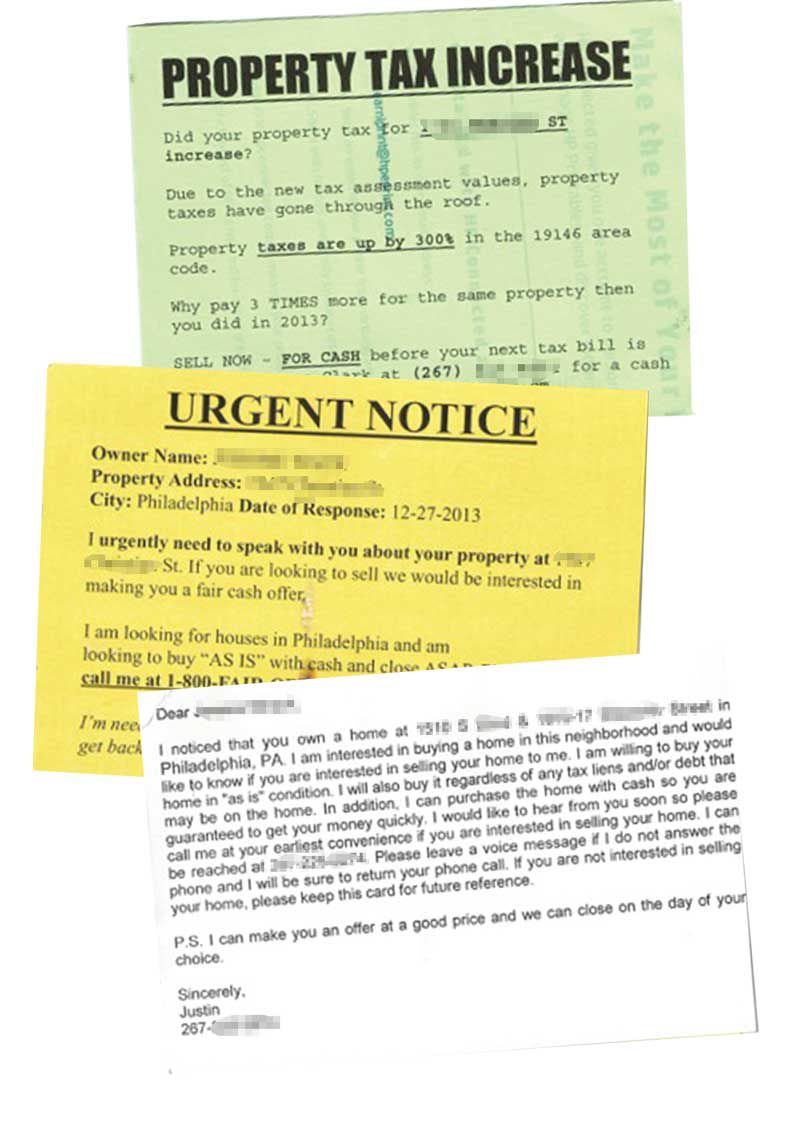 Before you dial that 1-800 number, here's what you need to know. First off, "fair" is a relative term, and by fair, the buyer likely means unfairly cheap, like $25,000 for a house worth more like $100,000, according to real-estate experts.
"A person who would put that kind of information under your door is looking to get the home for a very low dollar amount," said longtime real-estate broker Julie Welker, of Coldwell Banker-Welker Real Estate in Fairmount. "It's people who are trying to, in many cases, to steal the property for as low as they can get it for."
Welker strongly advised that homeowners should never respond to any "urgent notice" without first knowing the true value of their home.
Welker and Allan Domb, president of the Greater Philadelphia Association of Realtors, agreed that homeowners should arm themselves with information.
Domb, of Allan Domb Real Estate in Center City, recommended a comparative market analysis, which shows: the sale price of three comparable homes in your neighborhood that sold within the previous six months; the asking price for three homes on the market — again, nearby and similar to your house; and finally, the asking price of three homes that have been on the market for more than six months, but haven't sold.
The Realtor association in your area will provide a comparative market analysis free of charge, as long as you have an interest in possibly selling your home, according to Domb.
He said homeowners should consult a "professional local Realtor who subscribes to a code of ethics" and "has an interest in your community and in the city of Philadelphia."
"Why would you let a stranger give you a value for the most valuable asset you own?" Domb said. "No one putting a notice under your door is willing to pay market price."
The cards likely come from out-of-town investors.
The Daily News called 1-800-FAIR-OFFER and asked to talk with someone about the notices. A woman who answered the phone said the company, Solutions Homebuyers, is run by Alex Joungblood. When asked where the company was located, the woman said she didn't know. "The company does not provide me with their address so I'm not 100 percent certain," she said.
Joungblood called a reporter back from a phone number with a Virginia area code. He said he licenses the 1-800-FAIR-OFFER brand to investors in the local market. When asked for the name and contact information for a local investor, Joungblood said he would look into it, but did not immediately get back to the Daily News.
To contact the Greater Philadelphia Association of Realtors, city residents may call 215-423-9381.
Wendy Ruderman can be contacted at rudermw@phillynews.com, 215-854-5924 or @wendyruderman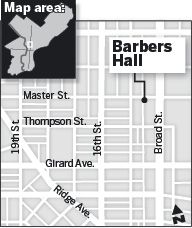 In the shadow of Temple University, where the buzz of electric drills spawning the latest development is everyday white noise, the old and new stand brick to brick.
On Oxford Street, just a kiss from Broad Street, is New Barber's Hall, a restaurant/bar owned and run by Jacob Adams since 1978.
On weekdays, the down-home bar finds longtime customers munching on everything from cheesesteaks and wings to butterfly shrimp and crab legs, and playing pool over Bud Lights on draft.
On weekends, the well-dressed fill party rooms and dance under a disco ball to celebrate birthdays, retirements, weddings.
The back of Adams' property abuts Masters, a sleek, trendy restaurant/bar on Carlisle Street that just opened in July.
"Pride has a lot to do with it. Why would I leave here? There are no black businesses here in this part of town. Ninety percent of people who support this business look like me."
Jacob Adams, owner of New Barber's Hall
Owner Waylon Nelson, 36, picked voguish decor like leathered granite, recycled barnyard wood, chalkboard paint, old books from vintage stores and aluminum stackable stools.
Students eat hipster food including roasted tomato hummus, black bean roasted corn veggie burgers and roasted wild mushroom flatbread. The over-21 crowd sips on faddish cocktails like Moscow Mules.
At night, students flock upstairs to "The Study," where ceramic, wood, mirrored and aluminum owls line bookshelves to go with the collegiate theme. Some nights they come to play Quizzo; other nights they swarm around the DJ and dance to the latest hits.
This is today's Cecil B. Moore neighborhood, or what some refer to as TempleTown.
Each year the neighborhood, from Montgomery Avenue to Jefferson Street and from Broad to 22nd streets, becomes more gentrified. Although it's not unusual to have pricey modular, compact apartments replacing broken glass and crumbling bricks, it is startling to have old and new living side-by-side or back-to-back, like Barber's Hall and Masters.
Developers continue to offer the 72-year-old Adams, one of the few black business owners in the Cecil B. Moore neighborhood, big cash to sell New Barber's Hall. A developer once affiliated with Masters tried to entice him.
"You thinking about selling?" Adams said the developer asked him.
"No," Adams replied.
"Well, think about it," Adams said the developer told him.
Each bid gets better.
Just a couple of months ago, Adams, who bought New Barber's Hall with his brother 36 years ago for $70,000, was offered $2 million for the three-story, circa-1808 building in a neighborhood with a rich African-American history.
ALEJANDRO A. ALVAREZ / Staff Photographer
Boarded-up home at 2020 N. 18th St.
Again, without hesitation, he said no thanks.
"It's a matter of principle," the 5-foot-5 Adams said with a determination-laced smile.
"Pride has a lot to do with it. Why would I leave here? There are no black businesses here in this part of town. Ninety percent of people who support this business look like me.
"If they didn't come, Barber's Hall wouldn't be here. I owe them my success. If I close the door, I'd be letting them down."
Adams, married for 50 years and a father of three, grandfather of four, was a longtime school district employee when he bought the building, which used to be a national barbers club.
Hence the name.
It's remained a neighborhood staple and family business he runs with his niece, Charlotte Adams, as the friendly bar manager.
Adams said he's seen his insurance and taxes climb over the years and watched the surge of granite-countertop student apartments and mod restaurants.
"You feel safer in the community than before," he said. "You can walk around the neighborhood. There's much more security than there used to be."
Just to be sure it stays that way, he posts a sign in the window of New Barber's Hall: "No weapons allowed."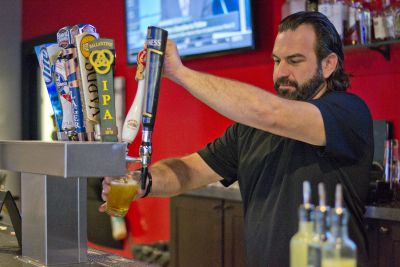 RANDI FAIR / Daily News Staff
Waylon Nelson pours a beer at Masters, a bar and restaurant on the Temple campus.
Adams gets frustrated, however, that developers now often qualify for tax abatements, and he doesn't, and never did.
"I'm not entitled to anything," he said, shaking his head. "I resent the fact that since I've been here, they're treating me like I'm nobody....What am I supposed to do, sell out? This is my country, too."
Waylon Nelson, who has been in the restaurant-management business for years, thought TempleTown was the perfect spot to launch Masters.
The property on Carlisle Street used to be an abandoned garage. Nelson designed the place, and when asked about a chef, he said, "It's kinda me."
He created the menu, came up with the recipes and often whips them up himself. His wife of two weeks, Francesca, offered to help out behind the bar for the short term when Masters opened July 11.
She hasn't left.
Nelson, a native of Maine who lives a half-mile from the restaurant, said New Barber's Hall appeals to longtime residents of the Cecil B. Moore neighborhood.
"He wants the older crowd," Nelson said. "I can always tell when he has events. You'll see people driving around looking for parking and they're all dressed up."
Meanwhile, Nelson said Masters draws the student crowd. Although Nelson's working so much he barely sleeps, Masters is packed nightly.
He said he understands why Adams won't sell.
"He's a neighborhood nice guy....He's been there forever and he's done good for himself," he said.
"That's his life. Money isn't everything."
Contact Barbara Laker at lakerb@phillynews.com, 215-854-5933 or @barbaralaker
ALEJANDRO A. ALVAREZ / Staff Photographer
The problem of tangled titles
After living since 1968 in the Logan house owned by her mother and her stepfather, and raising her children there, Deborah Sharper nearly lost it in a sheriff's sale last year because of a tangled title.
Her mother died shortly before her stepfather in 1998, so even though Sharper lived in the house and paid the bills, the only legal heir was her stepfather's natural daughter, who had a house of her own.
"I was scared to death because I've lived here since I was 13," said Sharper, 60, whose name has never been on the title.
"This is the home I raised my children in, and I am now the legal guardian of my 5-year-old grandson, Nyier, who lives here with me," she said. "I was at the point where I thought, 'If I lose this house, where am I going to go?'"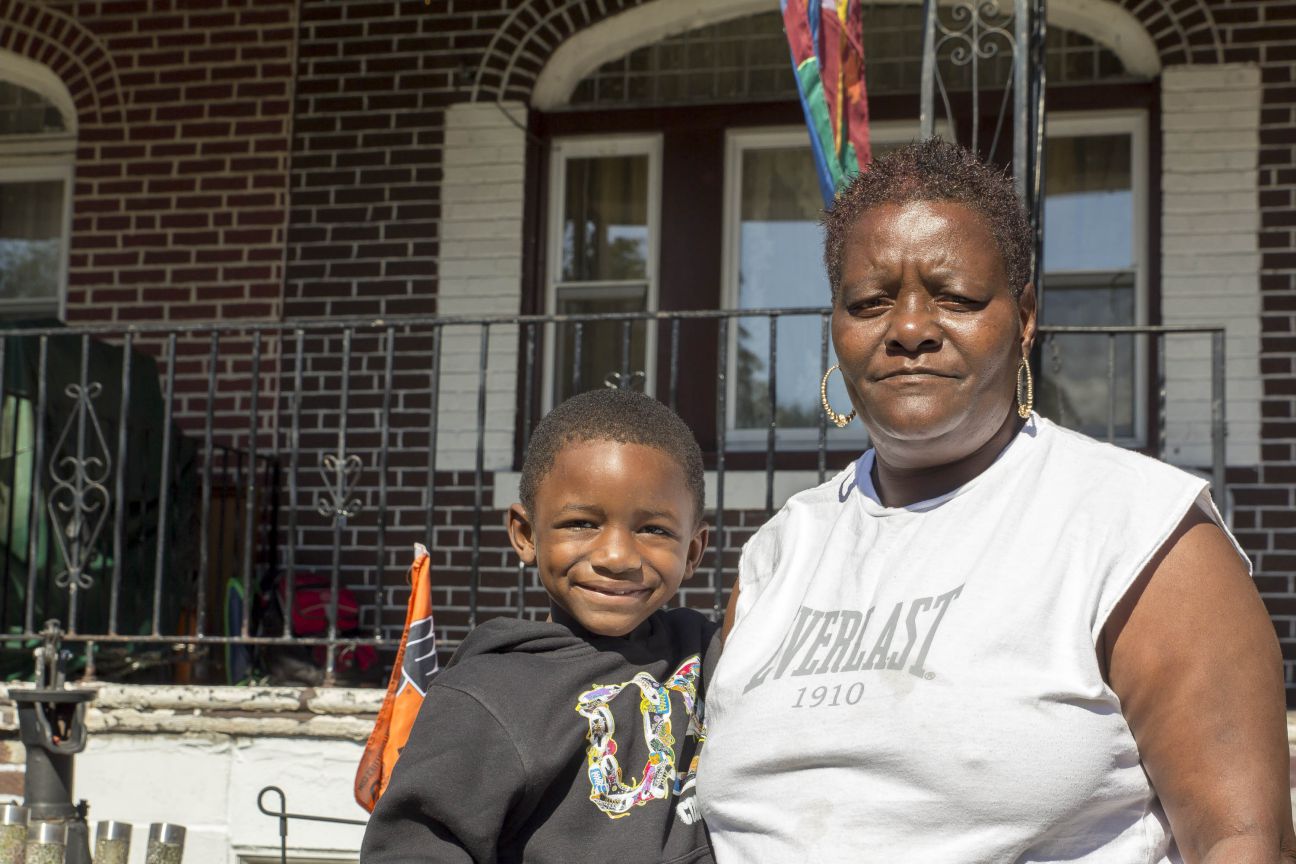 CHANDA JONES / Staff Photographer
Deborah Sharper and her grandson, Nyier.
A person has a tangled title if he or she resides in and maintains a home — usually purchased by a family member who has since died — but is not the recorded legal owner on the title to the property, and so cannot take advantage of tax breaks such as the Homestead Exemption and Senior Tax Freeze or city-subsidized home-repair programs designed to help homeowners.
Tangled titles threaten the homes of 14,000 residents throughout the city, according to a 2007 survey by the Philadelphia VIP law firm, which has saved hundreds of low-income residents from losing their homes by connecting them with pro-bono lawyers.
Roxane Crowley, a longtime Philadelphia VIP homeownership lawyer, said Sharper's tangled-title case is typical.
"Family members are living in the house for a long time, and an event happens," she said. "They lose their job, they get sick, and they can no longer pay grandma's mortgage or real-estate taxes.
"They don't know they have a tangled-title issue until there's a crisis," she said.
That's what happened to Sharper, who became chronically ill, could no longer work and couldn't keep up with the real-estate taxes that were still on city records in her dead parents' names.
"The dead owner will get sued," Crowley said. "Maybe a notice will be posted on the property."
And with the notice comes the looming threat of losing the house through sheriff's sale.
Crowley said that is when low-income residents who can't afford a lawyer go to Community Legal Services, Philadelphia Legal Assistance, the SeniorLAW Center or a City Council member's office — all of which refer the cases to Philadelphia VIP.
Sharper was referred to VIP in 2013, after receiving notice that her house was scheduled for sheriff's sale because of nonpayment of $9,443.48 in back taxes.
"My mother and father worked hard for this house, so that if anybody in the family needed to come back home, they would have somewhere to come to," Sharper said.
For many years, before she was afflicted with a debilitating disease, Sharper worked hard, too.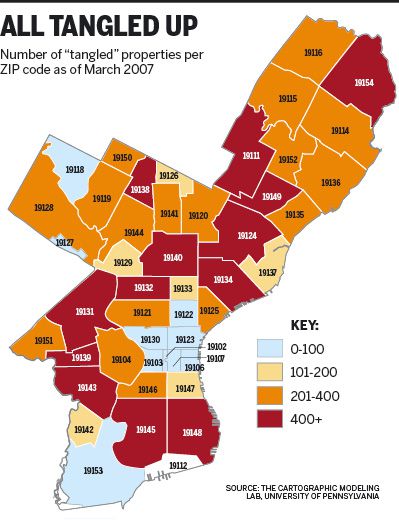 Daily News Graphic
"I was packing at Tastykake, making circuits at Philco Ford, housekeeping at Holiday Inn, doing house care for the elderly, doing child care — anything I could do to make a dollar. I didn't have a problem with working."
When she became physically unable to work, the unpaid taxes mounted.
Fortunately, when Sharper came to VIP last year, the city had just passed a law agreeing to delay foreclosure proceedings if a resident, who has a legal right to a house but does not have his or her name on the deed, enters into a low-income plan to repay back taxes.
Sharper's half sister, the only heir with a legal claim on the house, signed the deed over to Sharper in August.
So if Sharper does not miss a single payment on her back-taxes agreement, she can become the legal owner within three years.
Sharper's monthly Supplemental Security Income allows her to make the small back-tax repayments and keep up with current taxes.
After years of stress and fear, Sharper held her newly registered deed last week.
"I'm so happy, I don't know what to do," she said.
And then she defined the feeling that had eluded her since her tangled-title crisis began.
"I feel safe," she said.
Crowley said some tangled-title cases arise when "Grandma didn't write a will. Mom didn't write a will saying, 'I want my daughter to inherit.' What we see happening a lot in low-income properties is no will."
She said tangled-title cases also surface when there is a will that names family members who are scattered geographically and hard to find.
Home-repair emergencies are another major trigger of tangled-title crises, Crowley said.
"Granddaughter's got buckets all over the second floor of the house because it needs a new roof," she said.
"Granddaughter applies to the Philadelphia Housing Development Corp.'s home-repair program for low-income folks, and is denied because her name isn't on the deed."
Tyrone Alexander's mother lived in her West Oak Lane house from 1969 until her death in 2006. Her husband, Alexander's stepfather, predeceased her. He had put his nephew's name on the deed for reasons that are unclear to Alexander.
The nephew lived in Winston-Salem, N.C. — never in West Oak Lane.
Alexander moved into the house in 2006 and has lived there ever since. For years, he tried unsuccessfully to find the nephew.
"I never could find him in eight years," Alexander said. "I even went to his mother's house in Winston-Salem. They said they couldn't find him. I said, 'What do you mean you can't find him? He lives here!'"
Alexander said his mother had suffered from dementia for years before her death, and the back taxes ballooned to $30,000 while the house deteriorated.
"I need a new roof because it rains in here as hard as it does outside," said Alexander, 68. "And the electric is a mess."
When he went to PHDC to access its home-repair program for low-income residents, his tangled title stopped him.
A VIP lawyer helped Alexander get the deed to his house in 2012 and enter into a low-income tax-repayment plan with the city.
Now, he's trying to get PHDC to fix the roof and repair the electrical system. "The house is falling apart," Alexander said. "I'm trying to hang on."
Crowley said that whether they require tracking down far-flung relatives or trying to save a resident's house from sheriff's sale when no will exists, "These tangled-title cases can take several years to resolve."
She added: "They are not sprints. They are marathons."
TANGLED-TITLE HELP
If you live in and maintain a house that belonged to a deceased relative but your name is not on the title to the property, you have what is known as a tangled title. This means that you are not the legal owner of the property and cannot sell or refinance it, take advantage of programs to reduce property taxes or assist with home repairs, or enter into an agreement to pay back taxes.
If you have a tangled title, here are some numbers to call to get legal help:
* Community Legal Services, 1424 Chestnut St.: 215-981-3700
* Community Legal Services, 3638 N. Broad St.: 215-227-2400
* Philadelphia Legal Assistance, 42 N. 15th St. (fifth floor): 215-981-3800
* SeniorLAW Center (age 60 or older), 100 S. Broad St., Suite 1810: 215-988-1242
All these agencies can refer you to Philadelphia VIP, which will match you with a pro-bono lawyer. Philadelphia VIP works only through referrals.
Dan Geringer can be reached at geringd@phillynews.com, 215-854-5961 or @DanGeringer
If you're a homeowner or renter who is struggling to meet monthly mortgage and rent payments, pay property taxes, make home repairs or cover monthly utility bills, help is here.
Philadelphia is teeming with agencies that offer an array of programs and services to help residents retain and maintain their homes and businesses.
To access them, check out our resource list below.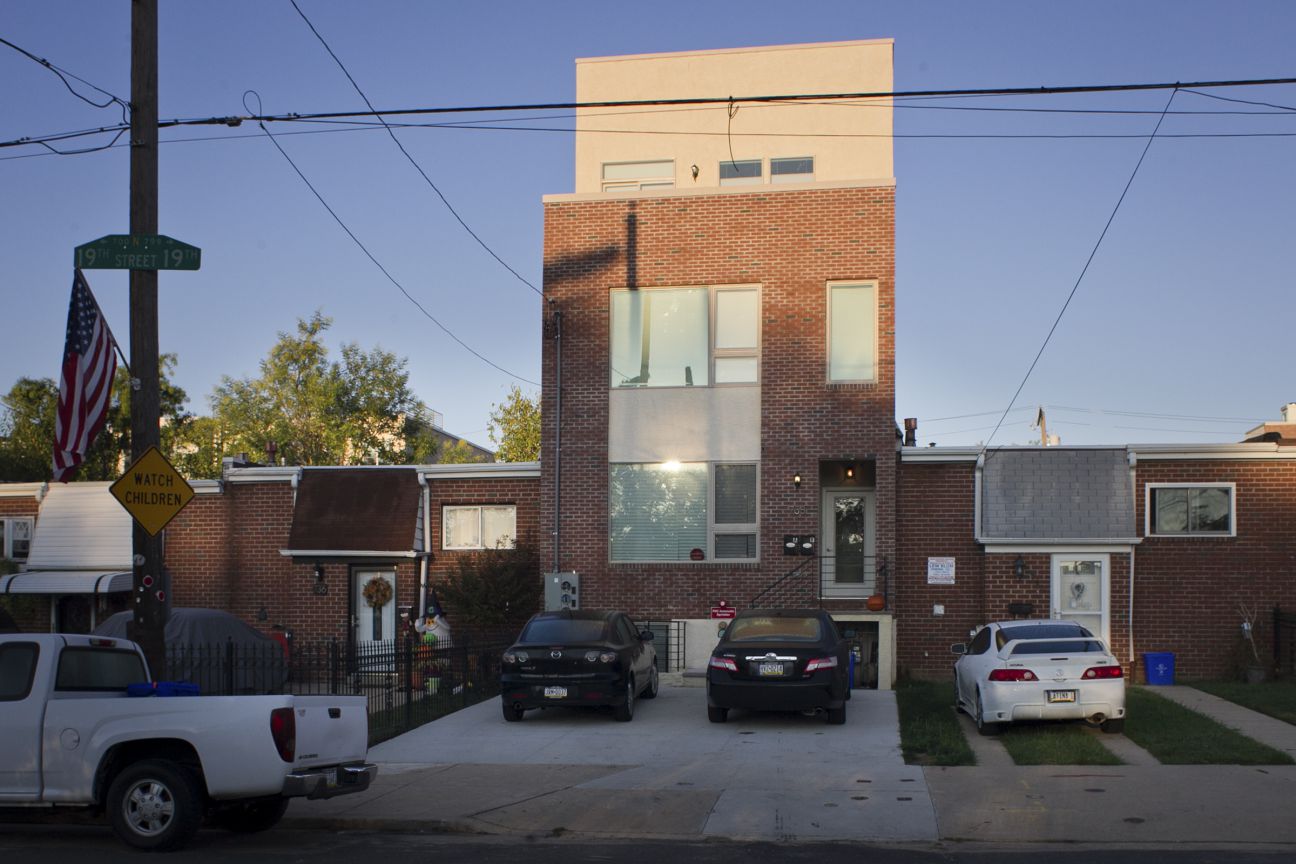 ALEJANDRO A. ALVAREZ / Staff Photographer
A home on the 700 block of N. 19th Street in Francisville.
Help for homeowners
1) Property-tax programs
For Philly homeowners, the city has key programs to help reduce or manage property-tax bills.
The Longtime Owner Occupants Program offers relief to homeowners who have lived in their properties for 10 years and meet certain criteria. Contact the Office of Property Assessment to apply.
215-686-9200
The Homestead Exemption reduces the taxable amount of homeowners' property assessments by $30,000. It is available to all homeowners on their primary residence. The deadline to apply for 2015 has passed, but the OPA will accept applications received by Dec. 1. Call the Homestead Hotline or apply online.
215-686-9200
The Low Income Senior Citizen Tax Freeze caps property owners' taxes at the current rate. Applicants must meet income requirements and be 65 or older or 50 and the widow or widower of someone who was at least 65 when they died. Call or go online for an application. The deadline is Jan. 31.
215-686-6442
The Low-Income/Hardship Payment Agreement allows struggling homeowners to pay their taxes in installments and may reduce penalties or interest if they've fallen behind on paying their taxes. For more information, call or visit the Revenue Department's website.
215-686-6600
revenue@phila.gov
The Disabled Veterans Exemption gives vets who have a 100 percent service-related disability or their surviving spouse a full exemption from property taxes. For more information, call the Philadelphia County Veteran Affairs office.
215-686-3256
2) Foreclosure assistance
Housing-counseling agencies can help homeowners who have fallen behind in their mortgage payments and may be facing foreclosure. They offer free services that include credit counseling, mortgage assistance and foreclosure-avoidance planning.
SaveYourHomePhilly is the city's hot line for foreclosure prevention. Free legal services are available. They can get you started with the city's Residential Mortgage Foreclosure Diversion Program and refer you to the appropriate housing-counseling agency.
215- 334-HOME (4663)
The Office of the Sheriff of Philadelphia City and County has information on avoiding foreclosure and lists of approved housing-counseling agencies.
100 S. Broad St., 5th floor
215-686-3565
officeofphiladelphiasheriff.com
The Urban Affairs Coalition's Foreclosure Prevention Resource Center also has a wealth of information and resources to help homeowners save their homes.
1207 Chestnut St., 5th floor
215-851-0110
foreclosureguide@uac.org
3) Home repairs
For homeowners experiencing problems with their home heating, plumbing or electric systems, or in need of structural repairs, there is help, too.
The Heater Hotline provides emergency heater repair for homeowners.
215-568-7190
The Basic Systems Repair Program offers plumbing, electrical and structural repairs for low-income homeowners.
215-448-2160
4) Homebuying assistance & home-improvement loans
First-time homebuyers may receive assistance with a down payment for a house, while property owners looking to fix up their homes may access loans to help.
The Homebuyer Assistance Grant offers up to $10,000 toward the down payment and closing costs for first-time homebuyers in Philadelphia.
215-686-9749
Home-improvement loans — PHIL-Plus and Mini-PHIL — are offered through the city and the Urban Affairs Coalition and provide two types of fixed-interest, home-improvement loans of up to $25,000 with attractive borrowing terms for qualified homeowners.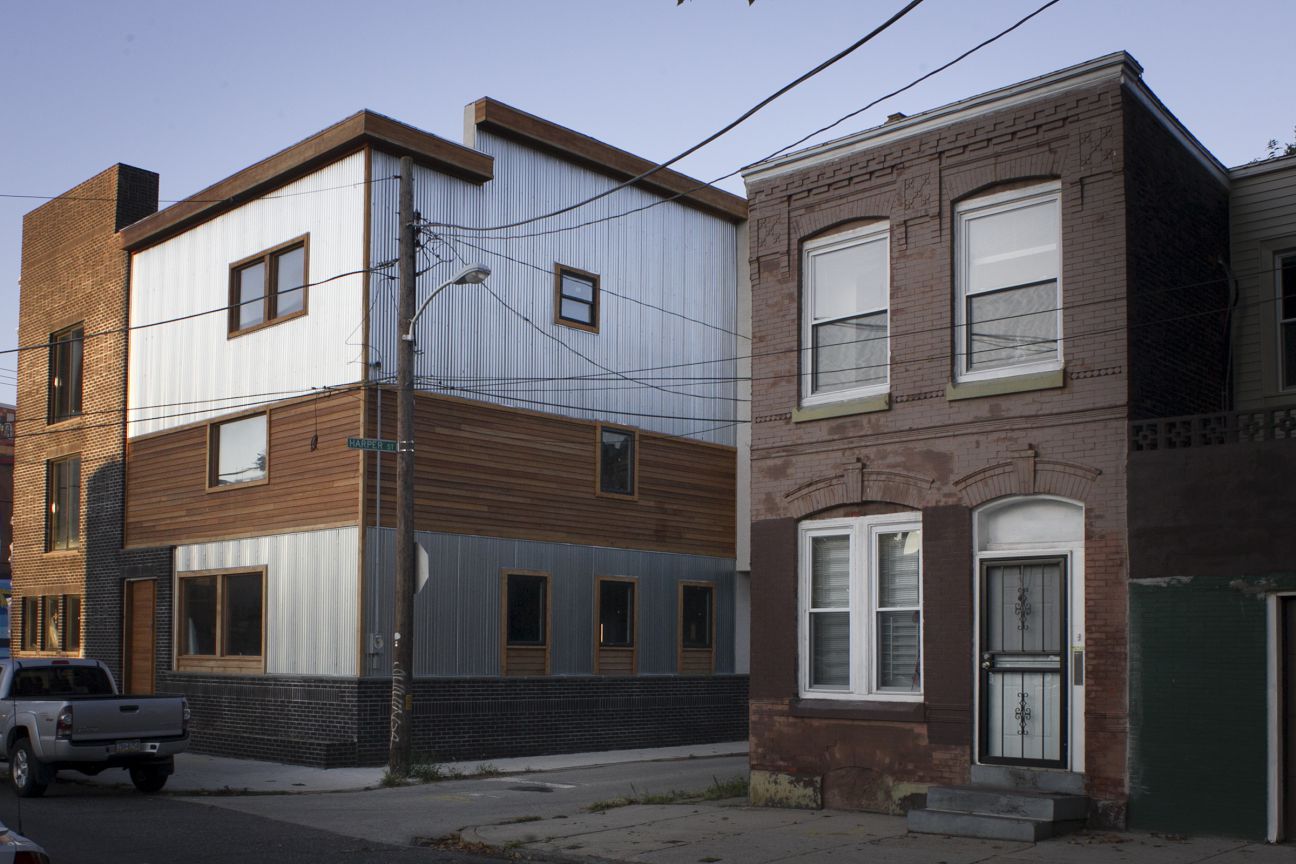 ALEJANDRO A. ALVAREZ / Staff Photographer
Home on the corner of N. 17th and Harper Street in Francisville.
Help for homeowners & renters
1) Utility-assistance programs
Assistance is available for homeowners and renters who need help paying their gas, water and electric bills. In most cases, applicants must meet income requirements and other criteria to qualify.
The Energy Coordinating Agency of Philadelphia's Neighborhood Energy Centers are one-stop shops for energy-assistance programs: Contact your nearest energy center to access the following:
— The Low Income Home Energy Assistance Program, or LIHEAP, helps pay primary or secondary heating bills.
215-560-1583
— Crisis Grants assist with heat-related bills in emergencies.
215-560-1583
— The Utility Emergency Services Fund is used after all other public sources have been exhausted. UESF can be used for any utility and has a special program for veterans and their families.
215-972-5170 (general number)
215-814-6888 (veterans' line)
The Philadelphia Water Revenue Assistance Program offers credit and grants on water bills, and assistance in completing LIHEAP, Crisis and UESF applications, plus gives referrals to the Water Revenue Bureau for payment agreements.
215-686-6880
PECO Energy Co.'s Customer Assistance Program aids those who have an inability to pay their electric bills. Customers can receive special payment agreements for less than their current bill.
800-774-7040
Philadelphia Gas Works' Customer Responsibility Program is a payment plan for low-income customers. Apply at a PGW Customer Service Center.
2) Low-income conservation programs
Energy-saving efforts that can help reduce heating and cooling bills for renters and homeowners are also available. But applicants may have to meet income requirements and other criteria to qualify.
The Weatherization Assistance Program provides free weatherization for low-income homeowners and renters, including roof insulation, heater retrofit and air sealing. To apply, call your local Neighborhood Energy Center or the Philadelphia Housing Development Corp.
215-448-2160
PECO's Low-Income Usage Reduction Program is an energy-conservation program for electric customers.
800-675-0222
The Water Department's Low Income Conservation Assistance Program helps customers reduce water use to save on water bills. To apply, call your local Neighborhood Energy Center.
PGW's Enhanced Low-Income Retrofit Program is an energy-conservation program for gas-heating customers who are in the Customer Responsibility Program. Apply at a PGW Customer Service Center.
Help for small-business owners
Loans & tax incentives
The state and city revenue departments have a number of loans and tax incentives to help new and existing small businesses, including forgivable loans and a wide variety of tax credits. Businesses must meet eligibility guidelines.
newpa.com/find-and-apply-for-funding
Small Business Development Centers are state-funded and provide free consulting services and educational programs to small businesses to guide them in all business-related issues.
Assistance agencies for everyone
For those with special needs or those who belong to or identify with a certain group, there are agencies that offer home and rent help and energy assistance, often in one location.
Below, each agency is followed by an H for "Housing Counseling Agency"; R for "Rental Assistance Agency" and or E for "Neighborhood Energy Center." The letters indicate which services are offered by that agency.
ActionAIDS Inc. (H, R)
1216 Arch St., 6th floor
215-981-0088
HIV/AIDS-related housing counseling only
Affordable Housing Centers of Pennsylvania (H)
846 N. Broad St.
215-765-1221
Asociacion Puertorriquenos en Marcha (H)
600 W. Diamond St.
215-235-6070
Center in the Park senior center (H, E)
5818 Germantown Ave.
215-848-7722
Clarifi (H)
1608 Walnut St., 10th floor
215-563-5665
Concilio (H)
705-709 N. Franklin St.
215-627-3100
Congreso de Latinos Unidos (H, R, E)
216 W. Somerset St.
215-763-8870
Diversified Community Services — Dixon House (H, R, E)
1920 S. 20th St.
215-336-3511
Esperanza (H)
4261 N. 5th St.
215-324-0746
Friends Neighborhood Guild (E)
701 N. 8th St.
215-923-1544
Germantown Crisis Ministry (E)
35 W. Chelten Ave.
215-843-2340
germantownavenuecrisisministry.org
Greater Philadelphia Asian Social Services (H, E)
4943 N. 5th St.
215-456-1662
Hispanic Association of Contractors & Enterprises: Central Office (H)
167 W. Allegheny Ave., Suite 200
215-426-8025
Hispanic Association of Contractors & Enterprises: Frankford Office (H, E)
4660 Frankford Ave.
215-437-7867
Hunting Park Neighborhood Advisory Committee (E)
3760 N. Delhi St.
215-225-5560
Intercommunity Action senior center (H)
403 Rector St.
215-487-1750
Intercultural Family Services (H)
4225 Chestnut St.
215-386-1298
Korean Community Development Services Center (H, R)
6055 N. 5th St.
215-276-8830
Liberty Resources (H)
714 Market St., Suite 100
215-634-2000
Mt. Airy USA (H)
6703 Germantown Ave., Suite 200
215-844-6021
New Kensington Community Development Corp. (H, E)
2513-15 Frankford Ave.
215-427-0350, ext. 0
Nicetown Community Development Corp. Community Center (E)
4300 Germantown Ave.
215-329-1824
Norris Square Community Alliance (H)
149 W. Susquehanna Ave.
215-426-8723
Northwest Counseling Service (H)
5001 N. Broad St.
215-324-7500
Office of Supportive Housing - (R)
5252 N. 13th St.
215-685-9087
Philadelphia Council for Community Advancement - (H)
PCCA Center City
1617 JFK Blvd., Ste. 1550
215-567-7803
PCCA West - (H)
5218 Master St.
215-796-9979
Philadelphia Senior Center - (H)
509 S. Broad St.
215-546-5879
Southwest CDC - (H/E)
6328 Paschall Ave.
215-729-0800
Strawberry Mansion NAC, Inc. - (E)
2829 W. Diamond St.
(215) 235-7505
The Partnership CDC - (H)
4020 Market St., Ste. 100
215-662-1612
TURN - (R)
21 S. 12th St.
215-940-3900
Unemployment Information Center - (H)
112 N. Broad St., 11th Fl.
215- 557-0822
United Communities Southeast Philadelphia - (H/R/E)
2029 S. 8th St.
(215) 467-8700
Urban League of Philadelphia - (H)
121 S. Broad St., 9th Fl.
215-985-3220
We Never Say Never - (H/E)
4427 Lancaster Ave.
215- 452-0440
West Oak Lane CDC - (H)
2502 W. Cheltenham Ave.
215- 549-9462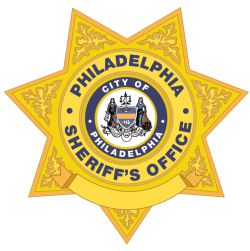 The Philadelphia Sheriff's Office sponsored the special section that appeared on October 23rd in the print edition of the Philadelphia Daily News.