Death of
a feisty diner
MICHAEL BRYANT / Staff Photographer
Little Pete's may yet live, but in an increasingly upscale city, the eatery may fall to a boutique inn.
Maria Panaritis / Inquirer Staff Writer, mpanaritis@phillynews.com
Sunday, Jan. 4, 2015
Little Pete's has not yet fallen to the wrecking ball, but mourning has begun for one of Philadelphia's last all-night diners, a throwback that has said, "No thank you," to the fancy-food revolution of a downtown gone upscale.
The rich, the poor, the young, the old; the man with the eye patch, the waitress who still smokes Marlboro Reds, the executive who knows the overnight waitress by name. All lament the imminent demise of a go-to greasy spoon that has served burgers 24 hours a day for 36 years beneath a concrete parking garage at 17th and Chancellor Streets.
From its inconspicuous corner in one of the city's most exclusive neighborhoods, Little Pete's has withstood decades of change.
But a plan to build a 12-story Manhattan-style boutique hotel could be the death blow to the feisty eatery beloved by many, one that fells the Greek-immigrant owners whose unpretentious old ways have been popular with celebrities, tycoons, and everyday folk.
Fans are not taking it well.
"They e-mail me. They tweet about the diner," said City Councilman Kenyatta Johnson, whose constituents greeted his proposed rezoning bill for the Hudson Hotel a few months ago with a #savelittlepetes Twitter campaign.
"People think that Little Pete's is a staple," said Johnson, who says he would like to see the Hudson go up and Little Pete's stay, somehow.
"The [Little Pete's] brothers have been feeding just about everybody in this town as long as I know," said their lawyer and longtime customer, John DeVirgilis. "I don't know anybody who hasn't eaten at Little Pete's."
In an increasingly upper-crust downtown, Little Pete's stands out as a magnet to the tired and hungry of all social classes. The trick: dated decor, no frills, and a soothingly ordinary menu that includes chips with an affordably priced sandwich.
A horseshoe-shaped counter crams 19 people shoulder-to-shoulder. Signs posted above its seven booths forbid customers from dining alone. The cashier takes only cash. And a 1970s-era cigarette machine requires $10 cash to dispense a pack to anyone hankering for a drag.
RANDI FAIR / Staff Photographer
"This was a place," said co-owner John Koutroubas, prematurely invoking the past tense in a thick Greek accent he shares with his siblings, "a poor person could walk in and eat, and a rich person could walk in and eat.
"From a taxi driver to the mayor of Philadelphia," he said, "to a Hollywood movie star, to a judge."
Koutroubas, 54, says his brother Peter, 56, is the "brains" behind the eatery. A man so short he almost became a jockey, and so fast he can clear a ton of dirty plates in no time.
"The last day," said Pete, a guy who rides horses bareback and barefoot and has a big, devilish laugh, "I'm going to cry."
If Pete is the brains of the joint, then John is the soul. A man who believes Little Pete's is more than a place. More than a hangover hangout. More than a family business where he and his three peasant-farmer siblings came of age in a shiny new city.
It is the embodiment of the American dream. Because for all its grubby fixtures and unrefined ways, it is one of the few places left where high-rise janitors chow down next to lunching lawyers. An oasis of egalitarianism in a city losing its 1970s grit as affluent newcomers wipe away its dowdy past.
"I know how it feels to be poor, too," John said. "I came to this country with nothing."
Peter Koutroubas arrived in Philadelphia on June 16, 1972. He had just turned 14.
He came with his two brothers, Chris and John, his sister, Peggy, and his mother and father, Kostas and Vasiliki (Bessie).
Greece was under military dictatorship. The family lived in a house near a river and grew cherries, raspberries, walnuts, chestnuts, apples, and pears - sowing the fields with animal-drawn plows.
Kostas and Bessie would work the farms from 4 a.m. till 10 p.m., leaving Pete and his big sister to do the cooking at home, surrounded by goats, sheep, horses, cows, a small river, and with no electricity.
Still, landing in the city's Fairmount section was a shock.
"It was hot, humid, no air-conditioning, nowhere to swim," Pete recalled. "I said to myself: 'This is America? Or is this hell?' "
One day, several boys invited him to swim in the Schuylkill. Pete was horrified.
"My river, you see the fish," he lectured them. "The water is blue."
"Get me a job," Pete told his father, "or send me back."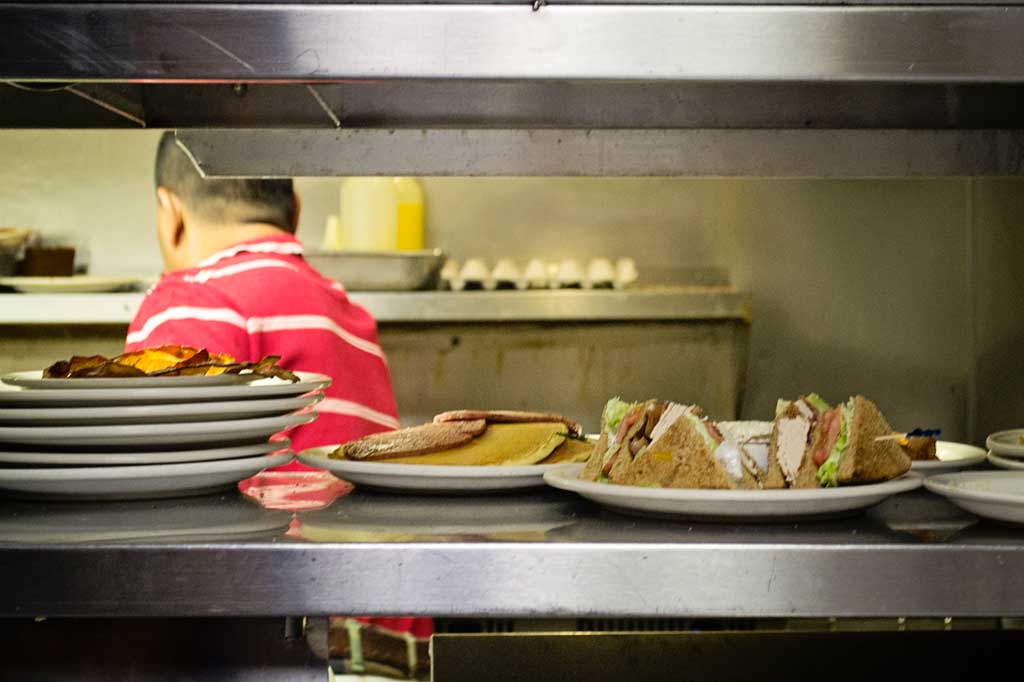 RANDI FAIR / Staff Photographer
Little Pete's serves breakfast all day.
It was the seedy Seventies. Suburban flight had hollowed out the once-bustling city. But 24-hour eateries, many run by once-destitute Greek immigrants, remained hot spots.
Pete's first job was washing dishes at Day's Deli, at 18th and Spruce. Barely tall enough to do the job, he stood on a milk crate and shoveled dishes like a hulk.
"Ten minutes," Pete said, "I had them cleaned. Boss said, 'You're hired.' " He worked from 4 p.m. till 4 a.m. for $1.50 an hour.
In 1973, Pete talked himself into a $3-an-hour overnight gig at the Eagle II at Broad and Locust. There, Barry Manilow would meet with Billy Joel and Bruce Springsteen one night in 1974 and boast that he would become the most famous of the three budding megastars.
Pete worked 15-hour days. But on the side, he trained at Philadelphia Park to become a jockey - a passion from his childhood.
By June 1978, that dream had faded. Pete instead signed a lease at 17th and Chancellor to a vacant, onetime outpost of the defunct Dewey's burger-and-shakes chain.
Kostas and Bessie washed dishes. Pete and Chris were cooks. A couple of waitresses came on board.
And Little Pete's was born.
"Lot of movie stars passed through," Pete said, rubbing his nubby fingers while trying to remember big names who have eaten what he cooked.
"Dustin Hoffman. He had steak and eggs."
After a long pause, he continued.
"Football players, basketball players - Dr. J used to come in and get, like, 20 burgers, milk shakes."
"This was a place a poor person could walk in and eat, and a rich person could walk in and eat. From a taxi driver to the mayor of Philadelphia to a Hollywood movie star, to a judge."
John Koutroubas, co-owner of Little Pete's
Bruce Willis. Pete Sampras. Joey Bishop. Musician Todd Rundgren, who is said to make a Little Pete's pilgrimage whenever he passes through Philly.
"Mayor Nutter used to come every morning for breakfast, until he became mayor," said John, in charge of running the diner since 1989.
Some of Philadelphia's wealthiest citizens have been among its most devoted patrons, too, including philanthropist and Inquirer owner H.F. "Gerry" Lenfest and the tycoon-founder of Comcast Corp.
"Mr. Comcast himself, Mr. Ralph Roberts, he always used to come for breakfast and for dinner," said John, ordering oatmeal for breakfast and baked chicken at night for decades until just a few years ago.
"Every Christmas, he used to give an envelope to all the waitresses who worked there," John said. "Very generous."
One night, John took a call from someone asking that a table be cleared for actress Joan Collins.
"We don't take reservations," he said, panicking.
Moments later: "I see the limousine pull up outside - but I've got no tables open."
John laughed as he retold the tale. Yes, he found her a table.
It is after midnight one Sunday morning in November, and Little Pete's flickers with energy.
Several workers speak Greek to each other while counter waitress Linda Holzer presides over a small, quiet crowd - sheep compared with the herd of waiters, bartenders, and others who will stream in after last call, at 2 a.m.
RANDI FAIR / Staff Photographer
A doppelganger for Pretenders vocalist Chrissie Hynde, Holzer is tall, with long, dark hair, and a way that oozes understated cool.
"The milkshakes - I hear they're awesome?"
Holzer does not so much as look up from her pad.
"Yeah," she says. "We have milkshakes."
She serves up a black-and-white so thick it requires a spoon to start and a straw to finish.
Customers chatter about the possible closing of their hallowed haunt. A man at the counter tells Holzer he is skeptical about the record-breaking pace of upmarket construction in town.
"Linda," he says. "There's apartments going up everywhere."
Holzer doesn't get it, either. Doesn't sense the demand supposedly fueling hundreds of millions of dollars of big-time real estate transactions in 2014.
"Where's the jobs at?" Holzer says. "That's what I want to know."
When Little Pete's opened in 1978, central Philadelphia teemed with overnight eateries of its ilk. The Savoy. The Midtown, with multiple locations. The Eagle II.
Today, almost all are gone as the city has taken on a new identity as a big-time restaurant mecca.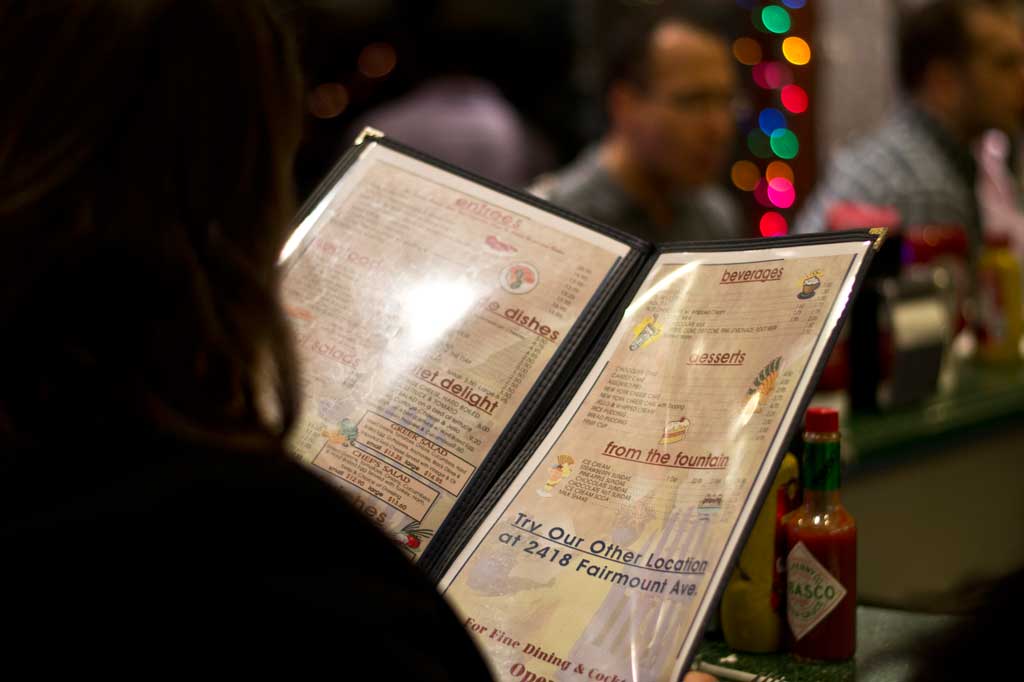 RANDI FAIR / Staff Photographer
The menu at Little Pete's offers timeless diner fare,
Childless young professionals and affluent empty nesters are clamoring to live in central Philadelphia and neighborhoods that increasingly resemble a manicured playground rather than the messy melting pot of yore.
Out of favor: $9.95 Reubens and $7.50 cheesesteaks.
In: $15 martinis, handcrafted cocktails, and $2,000-a-month, one-bedroom apartments branded "Brooklyn style."
For this reason, the company that owns Manhattan's boutique Hudson Hotel has decided its second outpost should land on the block of Chancellor Street home to Little Pete's.
For the Hudson to go up, two-thirds of the south side of the 1600 block of Chancellor Street must come down. That includes a Depression-era multistory parking garage and Little Pete's.
Situated just a block from Rittenhouse Square, it is seen by developers as a great spot for a hotel looking to lure young travelers and local cognoscenti with a rooftop terrace, a sky lounge/bar, and underground parking.
City officials support the plan, which would require a zoning change to allow for such a tall building.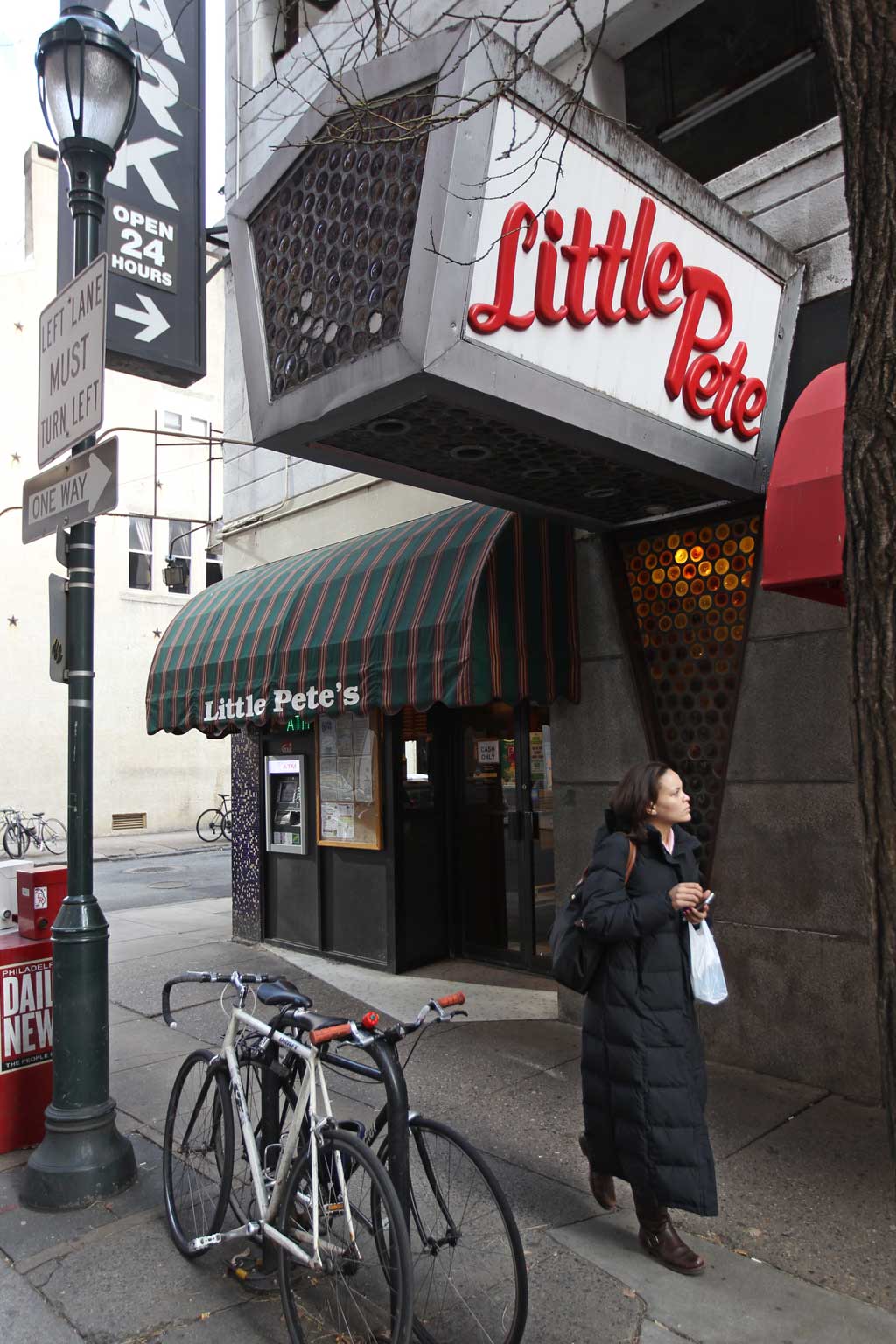 MICHAEL BRYANT / Staff Photographer
The 17th and Chancellor Little Pete's is one of three the Koutroubas family has run. One near the Art Museum remains
The last time Pete renewed the lease, he accepted a provision giving the landlord one
Alan Greenberger, deputy mayor for economic development, said DAS Architects Inc. had "smartly designed" the hotel, which would be consistent in scale with buildings around it.
DAS founder Dave Schultz is enthusiastic about the project. "There's great potential to make this hotel like nothing else in Philadelphia."
The only "hitch," in Greenberger's words, is that its current zoning does not allow for the proposed use.
City Council is expected to take up a bill to change the zoning in late January or early February, amid support from policymakers and planners.
"We knew one day it was going to happen," Pete said.
The last time Pete renewed the lease, he accepted a provision giving the landlord one year to end the lease or make a payout if a redevelopment proposal were to emerge.
In August, the family was told that the landlord planned to end the lease.
In late October, word of the rezoning measure went out.
Customers were so shocked, John Koutroubas said, "I couldn't get my jacket off when I walked in."
They all had one question.
"Is this true?"
Kostas Koutroubas died in 1998, Bessie in 2003. And their children opened as many as three Little Pete's diners, only to close one on Chestnut Street after a long spell. If Chancellor dies out, one near the Art Museum would be all that is left.
"The last day, I'm going to cry"
Pete Koutroubas, co-owner of Little Pete's
The siblings hope to negotiate a spot inside the new hotel, something their lawyer said is not assured.
There is a chance the hotel plan fizzles. But the family is bracing for the end.
"I know, when I lock the door on that last day, I'm going to cry," John said. "I got old in there."
Pete: "We all grew up in there."
John: "There's nobody else in the city like Little Pete's.
"A lot of restaurants," John said, "but nothing's going to be like Little Pete's again."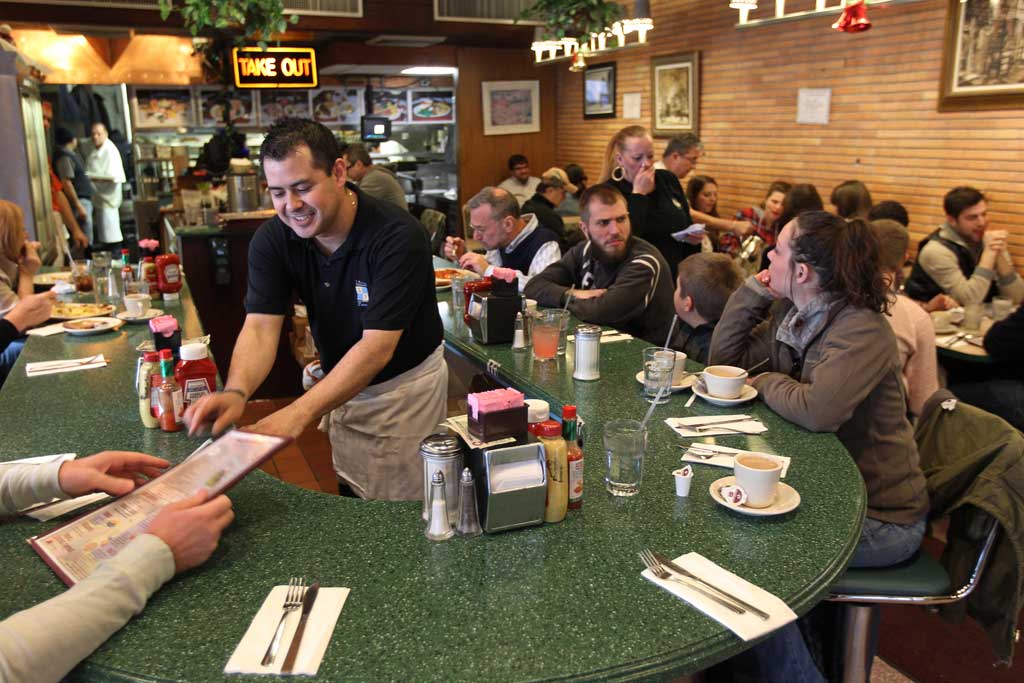 RANDI FAIR / Staff Photographer
Pablo Asain puts fresh silverware on the counter as a new customer sits down for lunch