No-bid bargains
CHARLES FOX / Staff Photographer
Workers on a construction project at 20th and Wharton Streets in Point Breeze.
In Point Breeze, developers bought low and sold high — with the help of City Councilman Kenyatta Johnson and his legislative prerogative to veto deals in his district.
Felton Hayman wanted in on the South Philadelphia real-estate boom.
He was eying a trio of city-owned lots in Point Breeze, where gentrification is fueling skyrocketing property values.
But first he needed a letter of support signed by City Councilman Kenyatta Johnson, due to "councilmanic prerogative" — the unwritten tradition that gives Council members veto over development in their districts.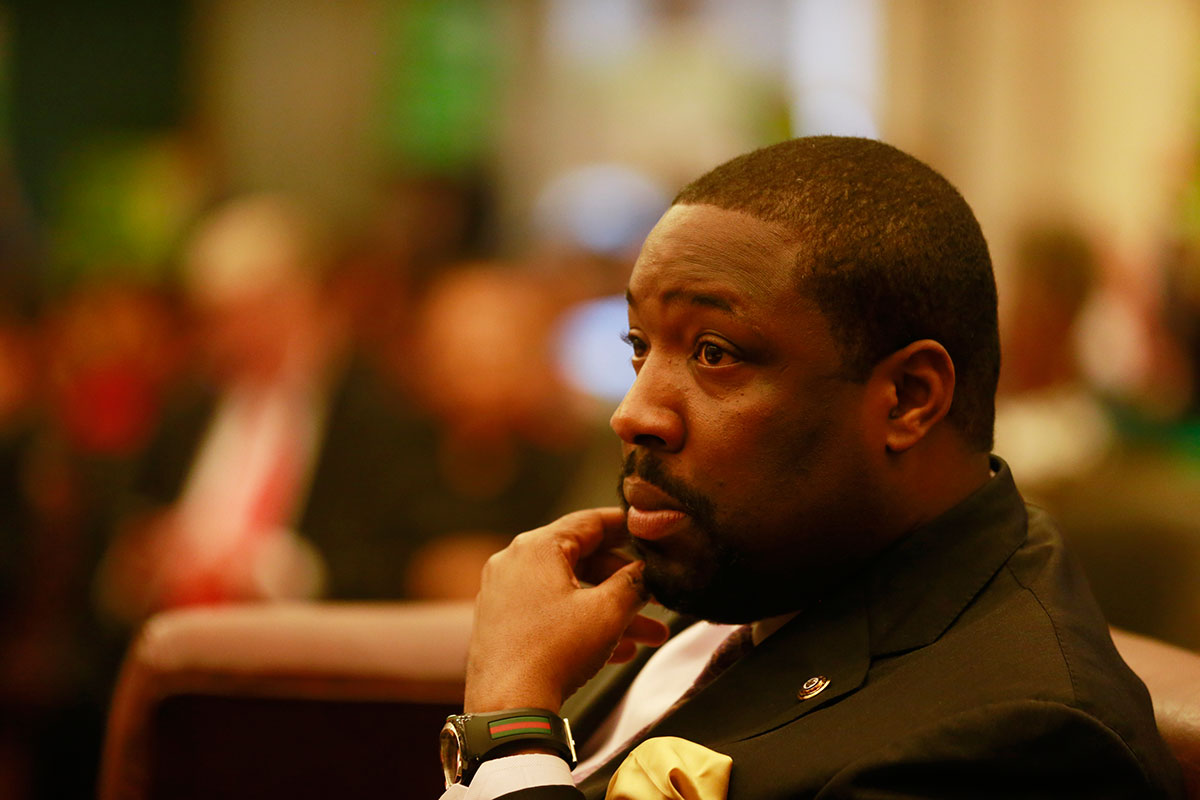 DAVID SWANSON / Staff Photographer
Councilman Kenyatta Johnson.
Hayman, 48, a longtime friend of Johnson's, had little experience as a developer. He had recently lost a home to foreclosure and was on parole for a third-degree murder conviction.
Also, several developers had notified the city they wanted to buy the three lots. But Johnson's August 2014 letter effectively cut them out of the process and allowed Hayman to buy the land at a bargain in a no-bid sale.
In the past two years, more than two dozen city properties in Johnson's Second District were sold through similar no-bid sales, shortchanging taxpayers and violating city policies that require competitive bidding or appraisals for sought-after lots, records show.
And rather than leading to affordable housing, one of Johnson's stated priorities, the below-market sales have resulted in new homes priced at $400,000 and up.
Johnson said no developers received favorable treatment and that his office had followed the direction of city land-holding agencies, which set the prices.
CHARLES FOX / Staff Photographer
Dyedrea Hicks, who lives next door to the Manton Street lots purchased by Felton Hayman, helped tend the block's fruit-and-vegetable garden and picnic area on the property for 11 years.
"The city's pricing model quickly became outdated in Point Breeze" and in other gentrifying areas, he said in a recent statement.
Once he and his staff realized this problem, Johnson said, he withdrew support last year of some upcoming no-bid sales and asked that scores of vacant parcels in his district be transferred to the city's new Land Bank. There, the lots could be sold by competitive bid or with fresh appraisals.
Johnson's moves came as the FBI was investigating how the city sells its land. Last summer, its agents visited the Philadelphia Redevelopment Authority, whose board gives final approval for such sales. More recently, agents have been looking at some of Johnson's campaign contributors, in what sources say appears to be an investigation into "pay-to-play" over sales of vacant lots and Johnson's support for zoning variances.
Felton Hayman no-bid property purchases in Point Breeze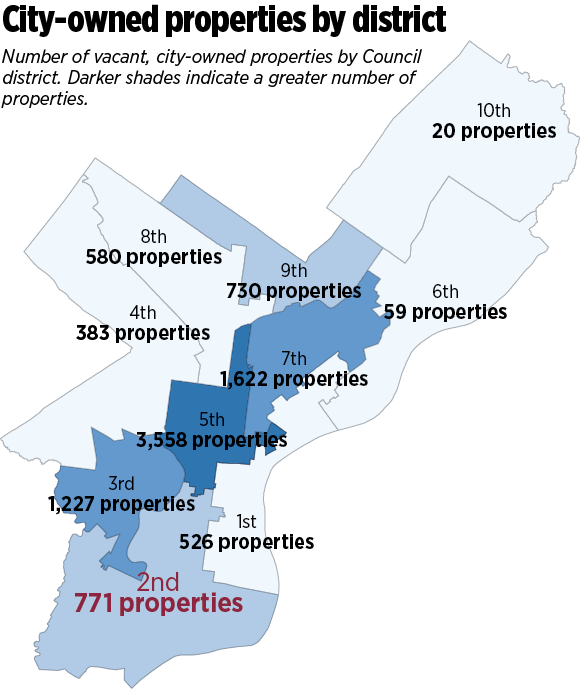 As of August 4, 2016 / City of Philadelphia
With veto power over public land sales in their districts, Council members here have one of the strongest legislative courtesy traditions in the country, according to a 2015 Pew report. Philadelphia owns nearly 8,000 vacant lots.
The Pew report, citing developers, says this situation "creates opportunities for unethical behavior and at least a sense that campaign contributions are part of the price of doing business."
It also notes that of the six Philadelphia City Council members convicted of wrongdoing since 1980, their control of city land played a role in each of the criminal cases.
Johnson's August 2014 letter would turn out to be a golden ticket for Hayman, who between 2012 and 2015 contributed $6,200 to the councilman's campaign fund — his only donations to any Philadelphia candidate.
CHARLES FOX / Staff Photographer
A foundation for new construction at 1927-1929 Manton Street.
Two months after Johnson's letter, a proposal by Hayman's construction company came up before the Vacant Property Review Committee, whose chair is appointed by the Council president's office, and includes other city officials. Sales of city land must pass muster with this group before going to the redevelopment authority for final purchase.
At the committee's monthly meeting in City Council's caucus room, a man identified in a meeting transcript as "Mr. Hayman" said he planned to build "affordable housing" on the three lots on Manton and Ellsworth streets.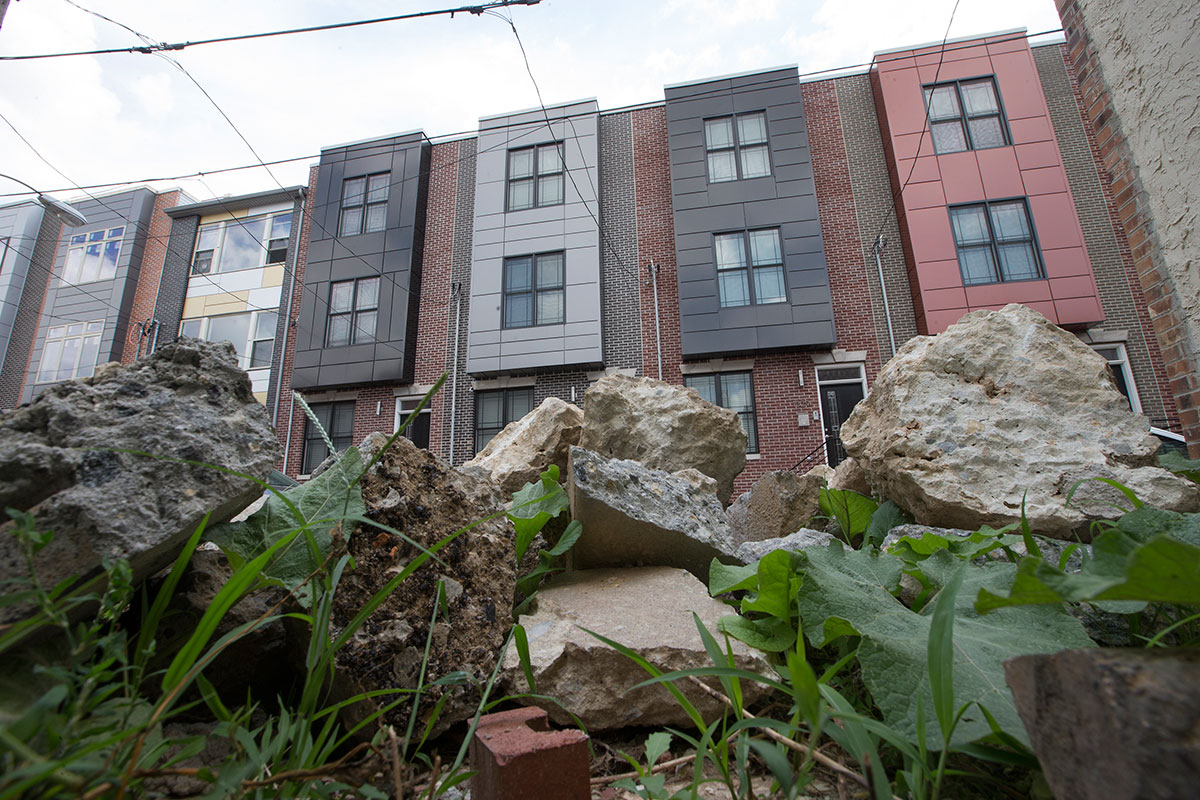 CHARLES FOX / Staff Photographer
New homes shot from a vacant lot on S. Cleveland Street, where developer Ori Feibush said Councilman Johnson blocked his land purchases as political payback.
Hayman fielded two quick questions from the committee about the cost of the proposed homes, which he said would be sold for "under $250,000."
"That's affordable?" a committee member asked.
"In that area," Hayman responded.
The committee immediately moved to sell the three lots to Hayman for $70,488 — less than half the fair-market value at the time. It passed without dissent.
The three homes under construction on the lots are expected to be listed for $450,000 to $469,000 each, according to real-estate agent Nick Giganti.
Reached by the Inquirer and Daily News last month, Hayman said he couldn't remember if he attended the October 2014 vacant property review committee meeting. Asked about his purported plan to build affordable housing, Hayman said he'd have a lawyer call to explain.
No lawyer ever called and recent requests for comment went unanswered.
At the time, Philadelphia's written policy required the city to use an "Open Market Sales approach to obtain the best offer for the property" when more than one person wanted to buy a lot.
But in such circumstances, the vacant-property committee repeatedly okayed no-bid sales of vacant lots to developers with letters of support from Johnson.
Partial list of "no bid" properties with support from Johnson
Address
Purchase Price
Home Sale/Market Price
Developer
1927 Manton
$19,628
$450,000
HAYMAN CONSTRUCTION LLC
1929 Manton
$19,523
$450,000
HAYMAN CONSTRUCTION LLC
1914 Ellsworth
$31,337
$469,000
HAYMAN CONSTRUCTION LLC
1415 S. Chadwick
$22,965
$420,000
KUMAS HOMES LLC
1531 S. Dorrance
$7,864
$2,750/month rent
KUMAS HOMES LLC
2032 Wharton
$16,606
$450,000
CITYSCAPE INVESTMENT GROUP LLC
2034 Annin
$23,644
$399,000
KI PARTNERS
2038 Annin
$23,644
$402,250
KI PARTNERS
2042 Annin
$22,200
$396,500
TRINITY REAL ESTATE
2416 Manton
$11,552
$415,000
SSA ACQUISITIONS, LLC
1315 S. Dorrance
$10,314
$425,000
ALDORIC POUGH
Michael Pollack tried to bid on one of the Manton Street lots that went to Hayman.
"It's incredibly frustrating," the developer said. "We're trying to play by the rules, then things go different ways."
If bid competitively, Pollack said, he might have paid as much as $75,000 in 2014 for one of the Manton Street properties the city sold to Hayman for $19,628.
Other developers said the Ellsworth Street lot Hayman bought for $31,337 likely would have sold for $80,000 through competitive bidding.
The more than two dozen no-bid sales in and around Point Breeze likely cost the city hundreds of thousands of dollars, if not more.
"We're told it's going to be low-income housing, but nine times out of 10, it's three stories, $300,000, $400,000."
Dyedrea Hicks, Manton Street resident
Dyedrea Hicks, who lives next door to the Manton Street lots purchased by Hayman, said she had helped tend the block's fruit-and-vegetable garden and picnic area on the property for 11 years and added a new fence last year.
"We had everything growing there," she said. "We even had built a fire pit."
Builders recently were pouring concrete for new foundations there. The neighborhood is changing by the hour, to a soundtrack of nail guns, electric saws, and air compressors.
Hicks said she had heard the city sold the lots cheaply for affordable housing. But she wasn't surprised to learn that there was nothing affordable about the new homes.
"We're told it's going to be low-income housing, but nine times out of 10, it's three stories, $300,000, $400,000," she said.
Most of the no-bid sales appear to have been at the lots' "LAMA" — shorthand for "land management" — value, a figure generated by an automated system for establishing property values in Philadelphia. The LAMA value of a property can be close to fair-market value in stable neighborhoods, but in gentrifying neighborhoods like Point Breeze, that value can lag well below market value.
Paul Chrystie, a spokesman for the city's landholding agencies, said agency heads decide how to sell properties and at what price, although Council members are also consulted to determine if they will introduce the resolution to transfer the property.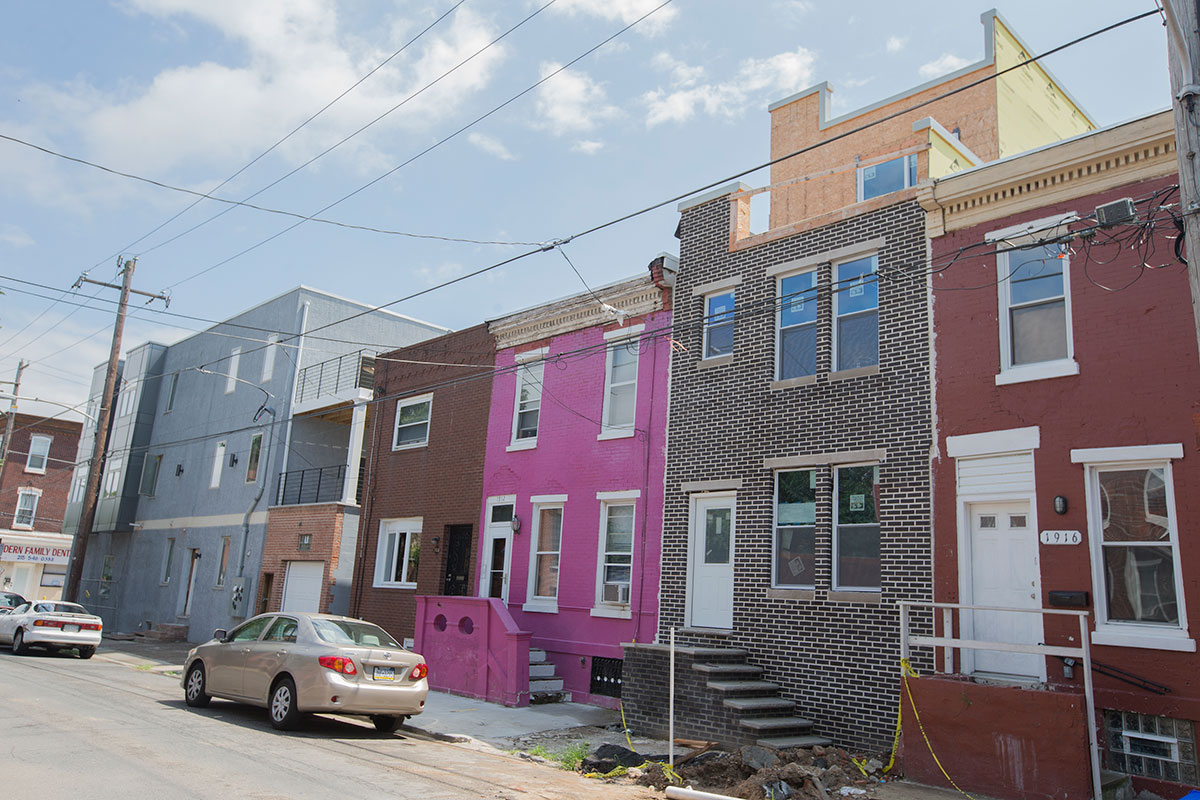 CHARLES FOX / Staff Photographer
A new house, second from right, on the 1900 block of Ellsworth Street. It is being built by Felton Hayman, a friend of Johnson's.
For his part, Johnson has said that he wants to preserve city-owned vacant lots for affordable housing. City policy does allow for discounted sales for projects that include affordable housing or other community benefits. But the lower-priced, no-bid sales he endorsed were used for market-rate housing.
For example:
• In May 2015, Frank Kumas, a developer from Cinnaminson, N.J., was able to purchase a lot on Chadwick Street for the LAMA value of $22,965, despite expressions of interest filed with the city by eight developers. He built a home — with a Jacuzzi, roof deck with water and electric lines, and built-in living room speakers — that sold in April for $420,000.
News of the no-bid sale and its low price surprised a competing developer who noticed it on the October 2014 vacant-property committee agenda.
"There was no notification," said the developer, who asked that his name be withheld out of concern that criticizing the sale would hamper his ability to do business with the city. "I was interested in that property and trying to get it for years."
Kumas and his firm have contributed $8,500 to Johnson since November 2014. They have not contributed to any other Philadelphia elected official since at least 2005, according to campaign finance records.
Kumas did not respond to requests for comment, but Kumas Homes marketing director Clifford Lasky said, "We never contracted to build any homes at below market value."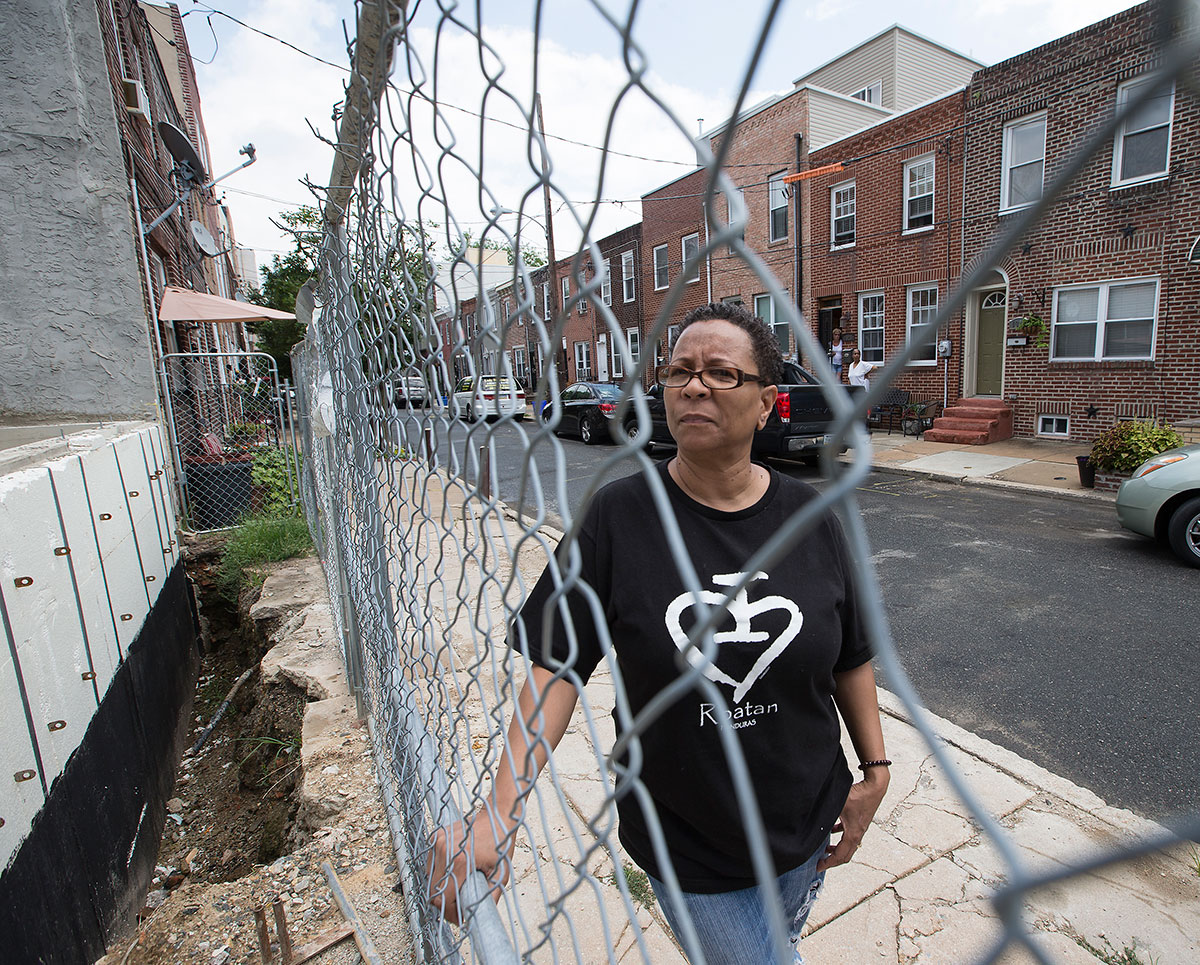 CHARLES FOX / Staff Photographer
"We need affordable housing, some of it," said Manton Street resident Kim Wilkins. She's standing beside the foundations of two $450,000 homes being developed by Felton Hayman. The site was previously a neighborhood garden and picnic area.
• In January 2015, with Johnson's support, developer Anthony Merlino paid $16,606 for a city lot on Wharton Street. The following week, Merlino contributed $5,000 to Johnson's campaign fund, election records show. Eight days later he exchanged emails with Steve Cobb, Johnson's director of legislation, about purchasing additional properties in Point Breeze.
Merlino has not donated to any other Philadelphia politicians for at least a decade.
At his Wharton Street property, Merlino is constructing a $450,000 home with "two large walk-in closets and a conveniently placed wet bar with granite countertop and wine refrigerator for all your roof-top necessities," according to a description on Zillow. (Merlino did not respond to requests for comment.)
• With Johnson's support, employees of real-estate firm Streamline Solutions acquired three lots on Annin Street in 2013 for about half the price of nearby properties, records show. Streamline built $400,000 homes on the lots.
"[Neighbors] can't even afford the first floor."
Lillian Wyatt, Cleveland Street resident
Streamline also built Johnson's $312,500 Point Breeze home on Ellsworth Street, which is across from the Annin Street properties, the councilman has said. (Streamline president Sean Schellenger did not respond to requests for an interview.)
"All I see is these $300,000 and $400,000 homes," said Lillian Wyatt, a longtime resident on nearby Cleveland Street. She's worried that other residents will get priced out of the gentrifying neighborhood.
"They can't even afford the first floor," she said, referring to the new homes around her. "It's not right, especially when there's talk of taxes going up."
Johnson ended up in federal district court here after Pollack and a fellow developer in Point Breeze, Ori Feibush, sued him, arguing they had been unfairly locked out of purchasing vacant lots.
Feibush, who had run unsuccessfully against Johnson in last year's Democratic primary, also claimed the councilman blocked his land purchases as political payback. Johnson defended his actions, saying they were part of his affordable-housing strategy for Point Breeze.
In May, the jury agreed that Johnson abused his prerogative and awarded Feibush $34,000.
The lawsuits resulted in a trove of emails, public records, depositions, and testimony that reveal some officials were just as confused and frustrated as developers trying to navigate the city's disjointed land-disposal bureaucracy, a process made more complicated by Council members with veto power over land sales.
At one point, emails show, Susie Jarmon, chairwoman of the vacant property review committee, seemed unsure on how to reconcile Johnson's prerogative, city policy, and the 42 "expressions of interest" by developers in the Point Breeze vacant lots. The city would later agree to sell the lots to Hayman, Johnson's friend, without competitive bidding.
CHARLES FOX / Staff Photographer
Moving-in day at a new house on the 1300 block of South Dorrance Street.
"I feel like a sitting duck," Jarmon said in a January 2015 email to Brian Abernathy, executive director of the redevelopment authority at the time, and two other city officials.
"Honestly, some of these transactions shouldn't have gotten this far," Abernathy replied in the email chain discussing the Hayman sales. He offered to tell Jarmon how she could "protect" herself.
When Jarmon was questioned this May at the trial over the land sales, she had a better understanding. Since April 2012, she testified, city owned lots that had received multiple expression of interests would be competitively bid "if the councilperson in the particular district wanted the competitive bidding."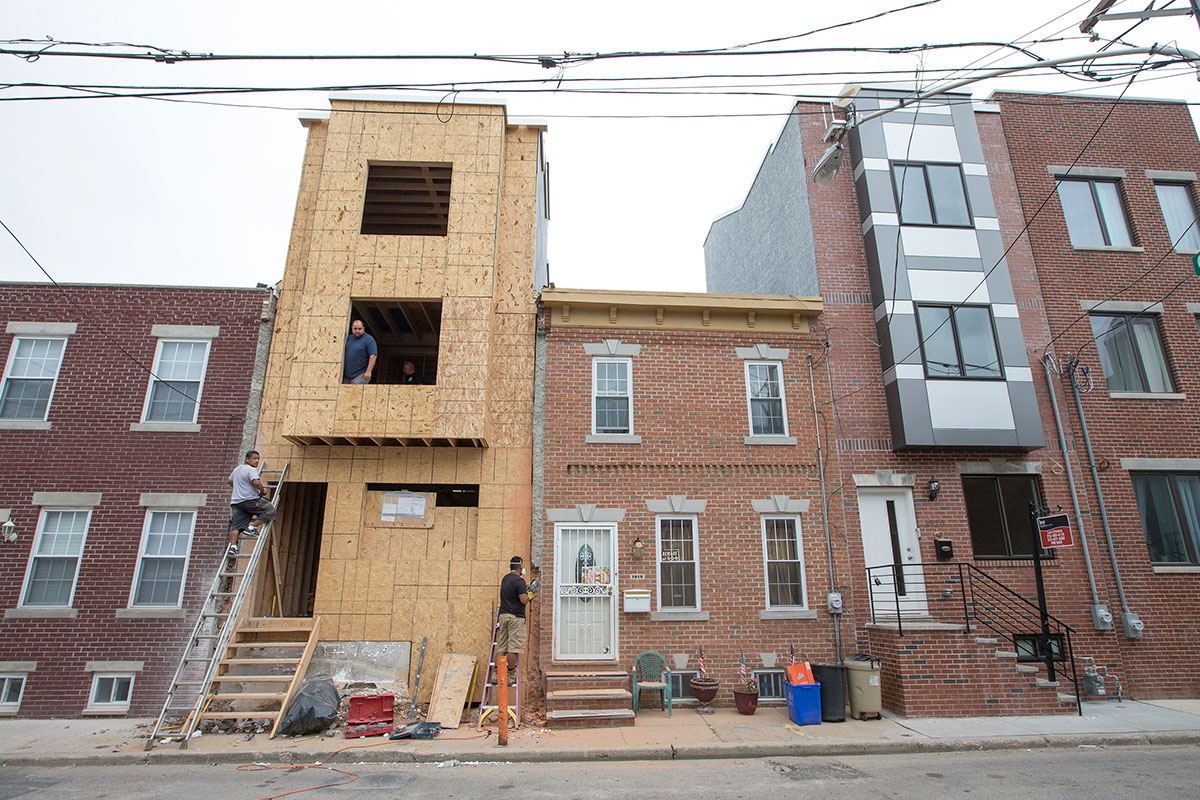 CHARLES FOX / Staff Photographer
A new home going up on Earp Street.
"So, really, the process starts with the Councilman and ends with the Councilman?" Feibush lawyer Wally Zimolong asked her.
"Yes," Jarmon replied.
Steve Cobb, the Johnson staffer who dealt directly with developers, said Johnson typically granted letters of support to people who asked for them.
"It quickly became a gold rush," Cobb said, referring to the sudden uptick in requests for support letters to purchase the city's Point Breeze lots not long after Johnson took office in January 2012.
Cobb said no one in Johnson's office ever pressured city officials to sell land below market value. Rather, they relied on the guidance of Jarmon's committee and city landholding agencies to determine how to sell the land.
In a recent statement, Johnson said Council and the city's landholding agencies are now "acutely aware" of the need to monitor the rising value of some city lots and are working to ensure that "undervaluation will never happen again."
Abernathy acknowledged last year that the no-bid land sales in Point Breeze violated city policy. He does not believe Johnson or other officials took "any nefarious actions," he said recently.
"The system had flaws," Abernathy said, "and had flaws for a long time."
Staff writer Dylan Purcell contributed to this article.
CHARLES FOX / Staff Photographer
New construction on the 1300 block of South Dorrance Street.