Survival, in verse
YONG KIM / Staff Photographer
Edison High School slam poet Zaire Douglas performs May 13 at The Gershman Y.
Edison High's poets use gut-wrenching verse as an antidote to adversity.
Sunday, June 26, 2016
As hundreds of teenagers thump into their folding seats in the cavernous downtown theater, the poets of Edison High huddle under the dim lights backstage.
Turn in a pitch-perfect performance today and make the finals. Otherwise, season's over.
The odds are not with them.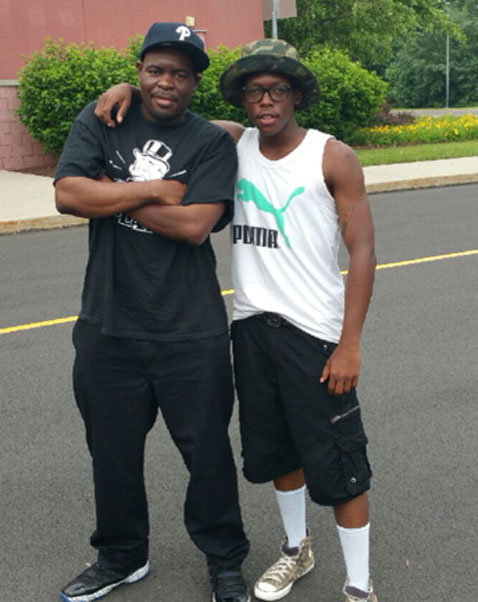 Tyrone Tillman with his father, Tyrone Tillman, Sr.
Since February, when this citywide slam poetry competition started, the team from the North Philadelphia school has not once won. While the poets' desire is palpable, their verses are raw, their delivery sometimes halting.
But every Friday they have showed up anyway, battling much more seasoned, more confident, poets from schools across the city — all because of a promise, made the summer before and mired in the kind of grief that has become a rite of passage where they're from.
Zaire Douglas, a senior and one of the team's leaders, reminds them of one thing before they go onstage at the Gershman Y.
"We are doing this," Zaire says, "for Tyrone."
July
They had only known him for about a year, but he had worked his way into everyone's life with astonishing speed. In abandoned lots and dark classrooms, over rap beats and Chinese takeout, they had told each other their deepest secrets and spun them into poetry.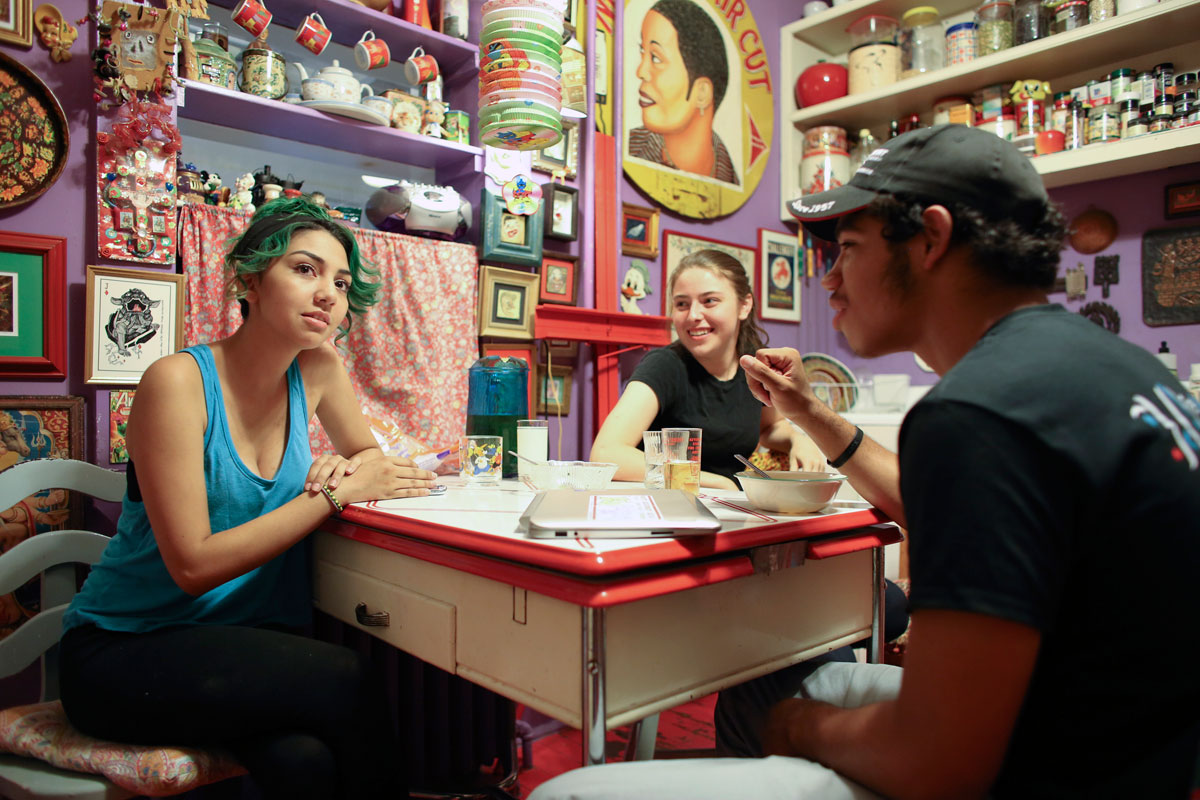 JOSEPH KACZMAREK / For the Inquirer
Teacher Freda Anderson, center, talks with Brandon Melendez, right, and Nahja Martinez.
And then, just as suddenly, Tyrone Tillman was gone at 17.
Thomas Alva Edison was Tyrone's third high school in as many years, and he treated it like a fresh start — joining the football team and befriending kids in the hallways, taking a front-row seat in Sydney Coffin's English class and peppering him with questions.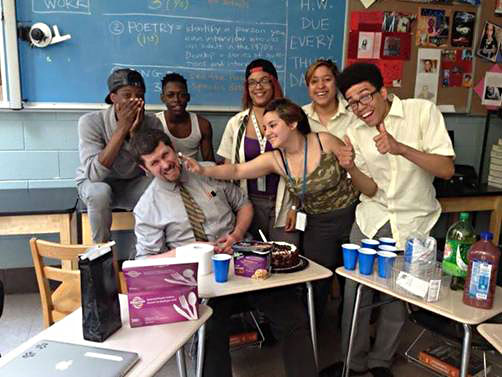 COURTESY FREDA ANDERSON
Edison teacher Sydney Coffin and his slam-poetry team.
When Coffin said he was starting a poetry club — one that would compete in the Philadelphia Youth Poetry Movement's slam poetry league — Tyrone showed up at the first meeting and declared himself captain. That was Tyrone. He started persuading his new friends to sign up.
Brandon Melendez, with his marbled notebook full of rap lyrics, just like Tyrone's.
Nahja Martinez, all bright green hair and sweetly irreverent jokes.
Quiet Christian Cherry, with his precise handwriting and meticulous drawings in the margins.
Zaire, an A student who howled poems onstage but suffered panic attacks in the wings.
MICHELLE GUSTAFSON / For the Inquirer
Brandon Melendez recites a poem written in honor of Tyrone Tillman at the Gravers Lane Gallery.
Kids from the neighborhoods around Edison, where 11 people have been killed in the last half-year and more than 150 assaulted. Places where you grow up fast.
"They will tell me the most terrifying things in the most nonchalant way," said Freda Anderson, the poetry team's co-coach.
They mixed verses about teenage love with rhymes about dying young. Tyrone had a name for the students the city had lost:
"Divine kings after dust."
"They will tell me the most terrifying things in the most nonchalant way."
Freda Anderson, the poetry team's co-coach
In 17 years of teaching across Philadelphia, Coffin has gone to 15 funerals. He never expected to attend Tyrone's.
The teenager was biking home July 12, 2015, when a woman driving an SUV hit him a few blocks from school and drove away. It took a few days for the police to identify the body — Tyrone had no ID on him. But Edison's poets recognized his pink and black backpack on the television news. They knew.
After the memorial service, they gathered at Christian's, a tidy, bright pink rowhouse just south of Edison, on what he blithely once described as "probably one of the worst heroin blocks in the city." They sat around the dining room table and spoke, haltingly, about how funny Tyrone was, how hard he worked on his poems, how the team had made it, unexpectedly, to finals that year, based on their perfect attendance, how Tyrone had come up with a motivating chant for them: "Who got your back? I got your back!" They decided they wanted to win it all this season for Tyrone. But when they tried to write about him, they struggled. At the vigil on Tyrone's block, Zaire planned to recite a poem about his friend and couldn't get the words out. It was not yet time.
November
Coffin watches his poets seated in a circle in his darkened classroom, hunched over their desks, scratching out lines on loose-leaf paper.
"The energy created by this many people coming together to write!" Coffin exclaims. It is the first time the poetry club has met at the school in a few weeks. End-of-the-day fights have forced Edison administrators to cancel after-school activities, so the club has been meeting at a Dunkin' Donuts and a Taco Bell down the street.
Coffin can recite the names of all his students who have died. He knows how a death can bring people together or pull them apart.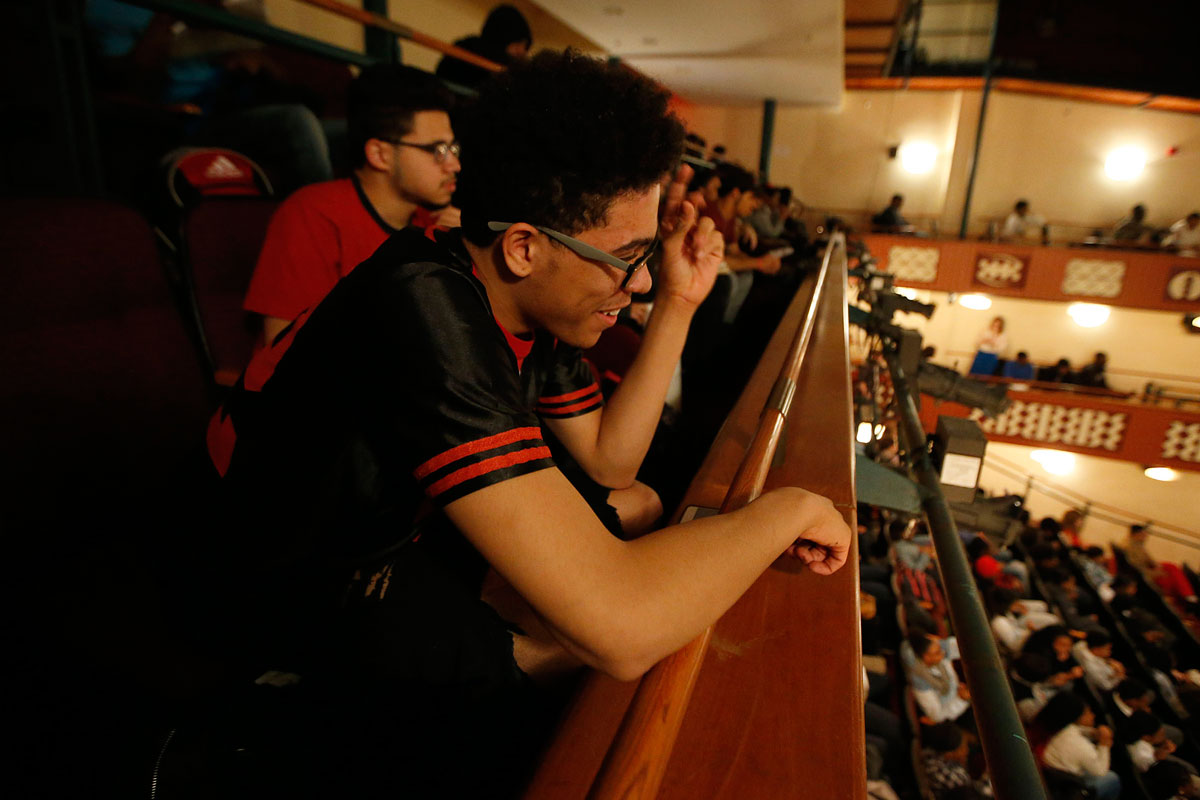 Edison High School senior Christian Cherry snaps his fingers while listening to poetry at the Freedom Theater in North Philadelphia on Friday, February 19, 2016. The Philadelphia Youth Poetry Movement hosts a series of poetry slams where high-school kids from all over the city perform and compete against each other. YONG KIM / Staff Photographer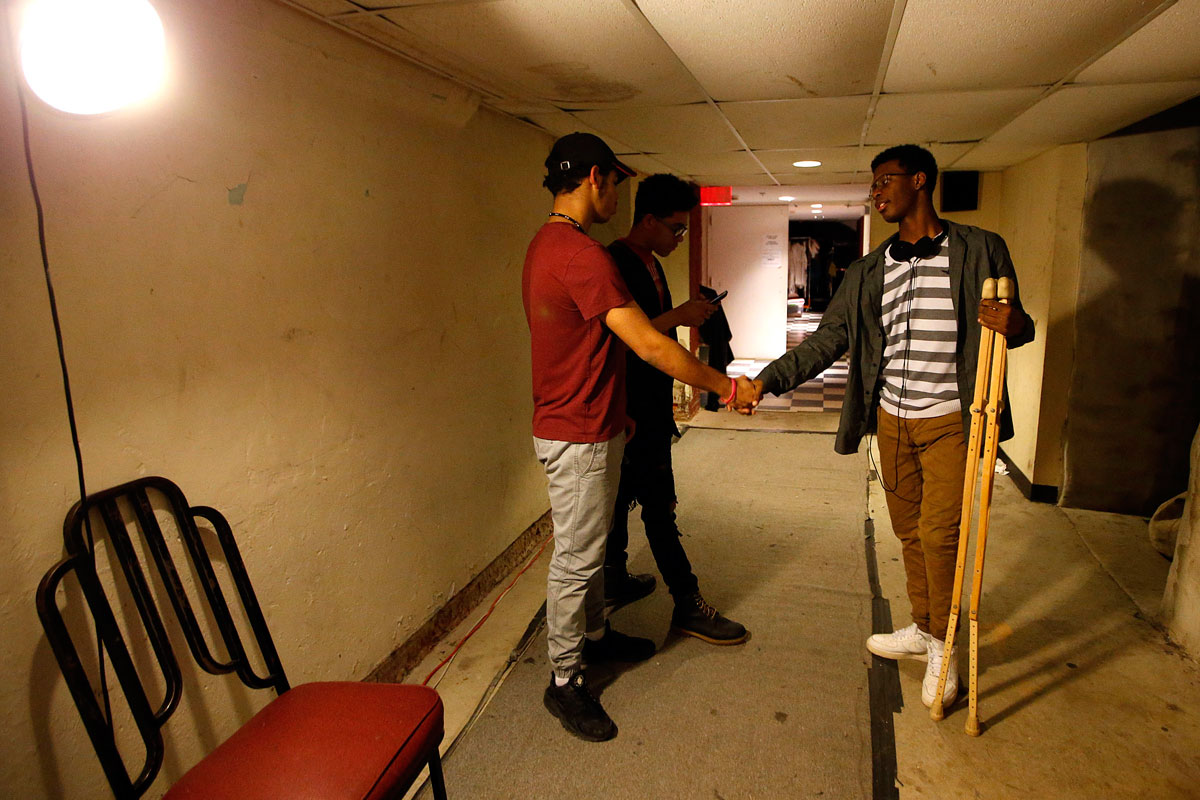 Edison High School seniors Brandon Melendez (left) shacks hand with injured teammate Zaire Douglas (right) with Christian Cherry before Melendez and Cherry performed their poem at the Freedom Theater in North Philadelphia on Friday, February 19, 2016. The Philadelphia Youth Poetry Movement hosts a series of poetry slams where high-school kids from all over the city perform and compete against each other. YONG KIM / Staff Photographer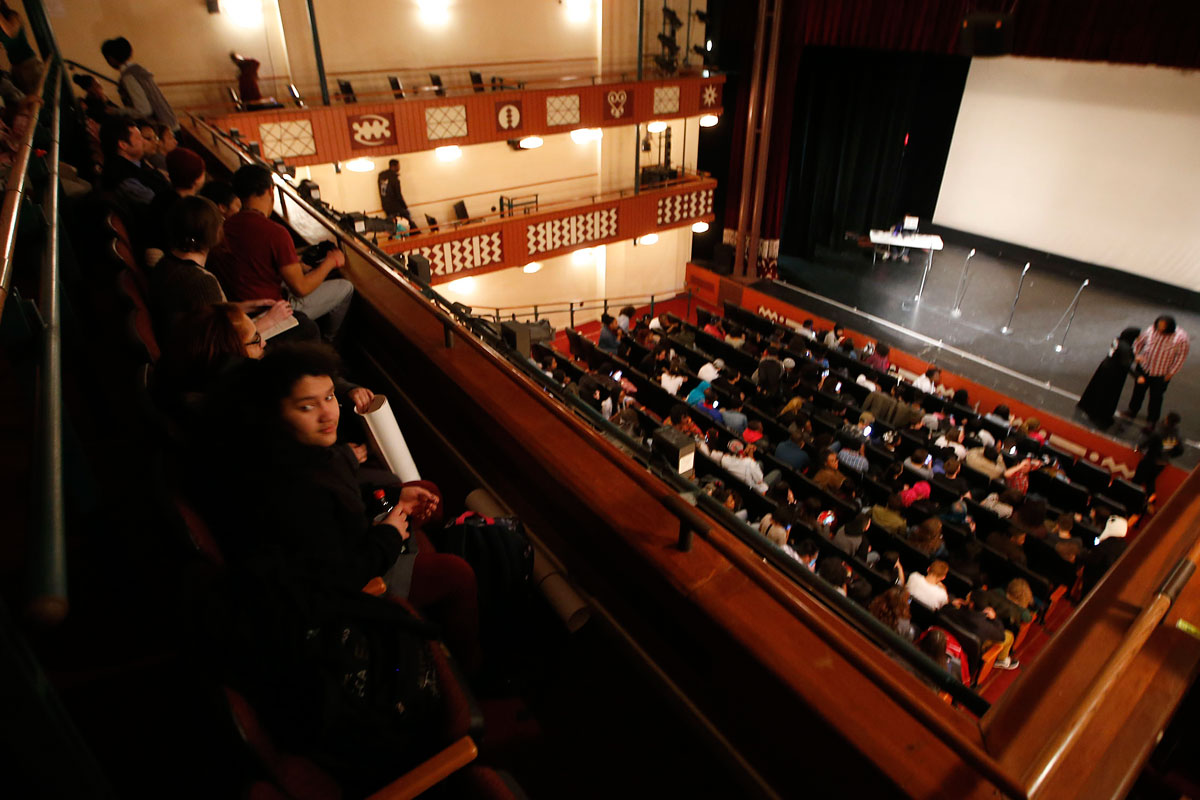 Members of the Edison High School poetry team wait to perform their poem at the Freedom Theater in North Philadelphia on Friday, February 19, 2016. The Philadelphia Youth Poetry Movement hosts a series of poetry slams where high-school kids from all over the city perform and compete against each other. YONG KIM / Staff Photographer
Previous
Next
The Edison slam-poetry team competes at the Freedom Theater.
"I want the kids to use poetry — I want them to have this notebook and have it as a tool, as a cathartic process," he says later. "They are like my kids. I don't feel right doing it halfway."
Brandon strokes a peach-fuzz mustache, opens his marbled notebook, and reads a poem over a rap beat he pulls up on his phone.
Some of the younger members of the group tentatively read a few lines of their own. Brandon screams in approval, falls out of his chair, pumps a fist in the air. Everything's a performance.
There's a poem in that marbled notebook that he doesn't read out loud, not yet. "Father incarcerated, birthday never celebrated," it goes. "Brandon, the kid with the serious face."
Christian Cherry and Alex Fernandez performing in the semifinals.
He needles Nahja until she begrudgingly recites a poem she has been picking at for weeks. Nahja, barely five feet tall but louder than half the group put together, is always quick with a joke or a bit of juicy gossip or a peal of laughter. But now she covers her writing with her hands.
She has never performed in public — Tyrone's death, she says, is the one thing pushing her onstage.
Zaire looks up from an essay he's writing to get into college, drums his brightly painted fingernails on his desk, and tries out two poems of his own. He is 19 and on his ninth foster home. He tells people he lives with his grandmother.
"Don't tell me there's no room for an angry black boy poem," he begins. "A pissed-off dead boy poem." He says it is hard now to "hold his smile."
For Zaire, performing has become addictive. He's spent most of the year angling for a spot on a team of elite poets who will compete at this year's international slam poetry championships, an Atlanta-based competition called Brave New Voices. Those poets are terrifyingly good.
YONG KIM / Staff Photographer
Brandon Melendez (right) hugs Christian Cherry after they perform their poem at the Freedom Theater.
Zaire made it to the final round of the Brave New Voices slams and decided to read the poem about Tyrone that he couldn't get out at the memorial.
From the stage he looked into the audience, saw coaches Coffin and Anderson looking back at him, and began. Three lines in, Anderson started to cry. Coffin covered his face in his hands. Zaire stopped cold, and toppled to the floor. He didn't make the team.
February
Edison's poets are shivering on the sidewalk outside the Freedom Theater on North Broad Street.
Coffin doles out subway tokens for the ride home and tries to make sure that all have at least attempted to memorize their work — a requirement for performing at the Philadelphia Youth Poetry Movement (PYPM) slams. Other rules include: no swearing, no poems longer than three minutes or so, and no speaking about certain topics without giving a trigger warning.
Poets whose voices have barely dropped deliver into the mic with studied cool.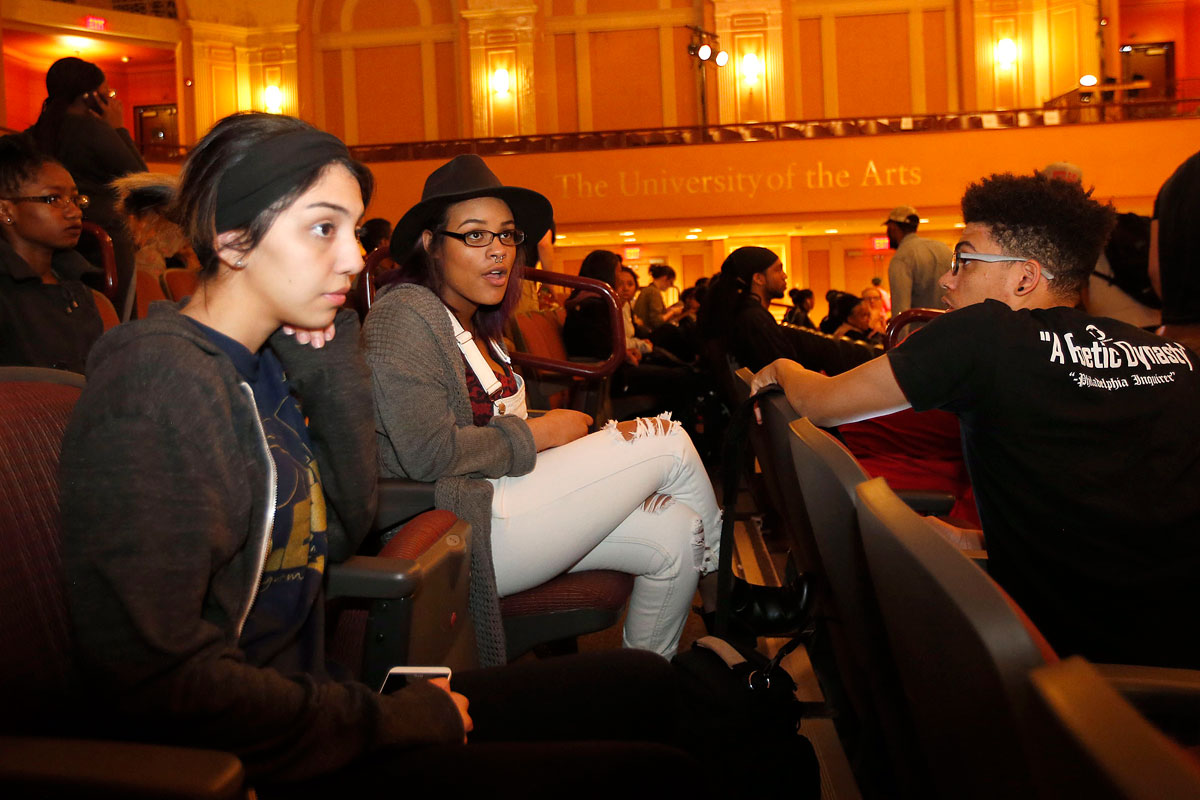 Edison High School poetry slam team member Nahja Martinez (far left) sits with her teammates during event at The Gershman Y on Friday, May 13, 2016. YONG KIM / Staff Photographer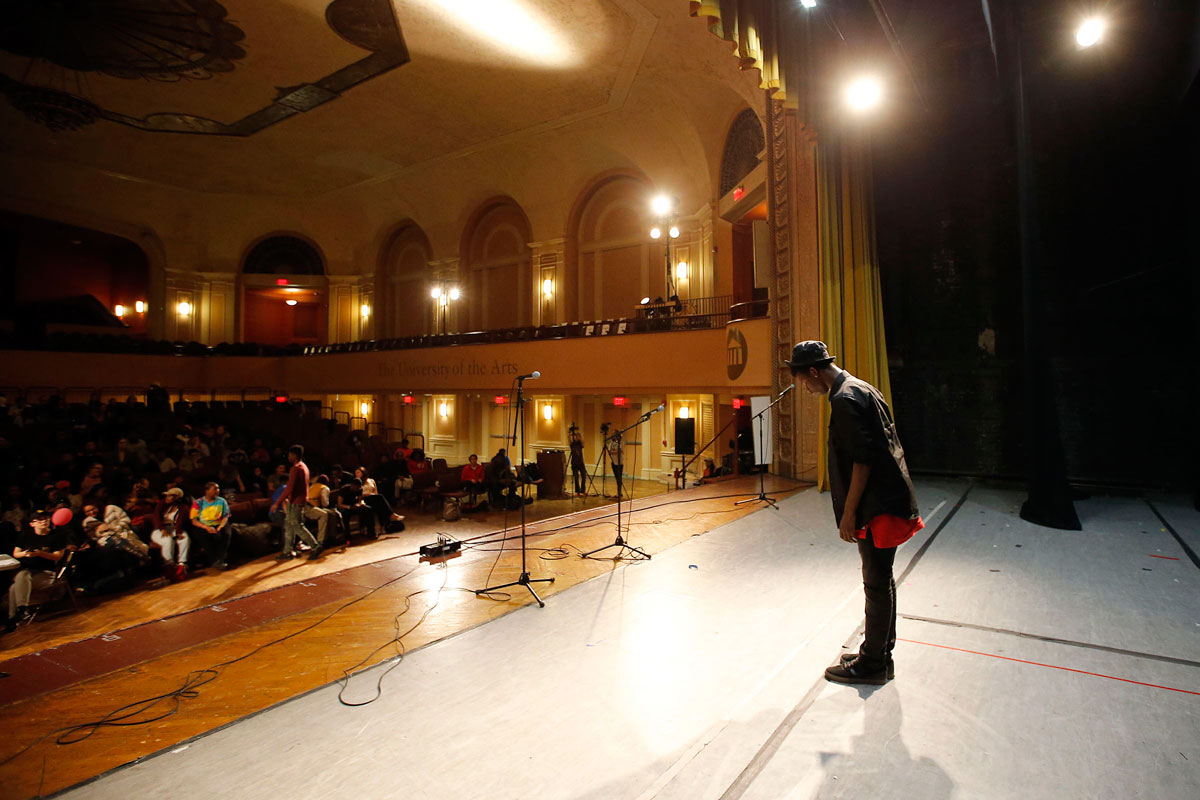 Edison High School poetry student Zaire Douglas prepares to perform during a poetry slam team event at The Gershman Y on Friday, May 13, 2016. YONG KIM / Staff Photographer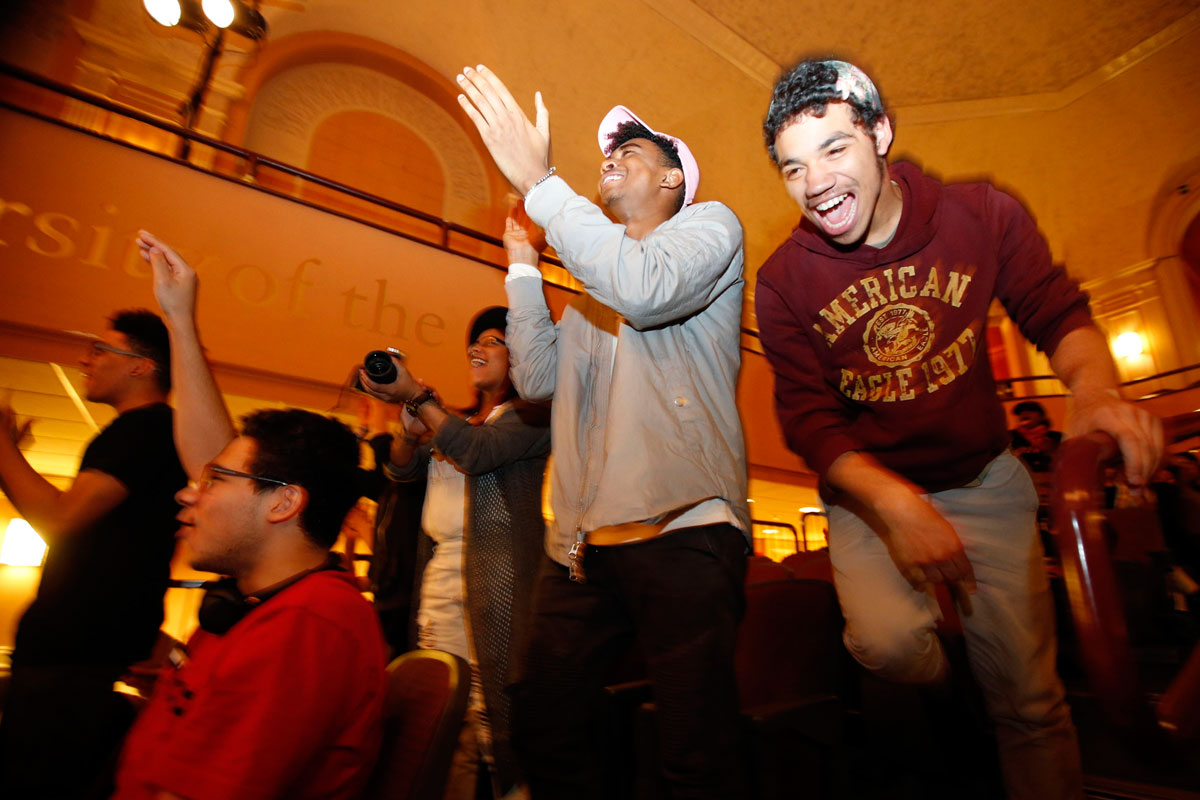 Edison High School poetry student Brandon Melendez (far right) runs to the stage with other teammates cheering after teammate Zaire Douglas performed his a poetry slam during a team event at The Gershman Y on Friday, May 13, 2016. YONG KIM / Staff Photographer
Previous
Next
The Edison slam-poetry team competes at the Gershman Y.
Trigger warning: sexual abuse. Trigger warning: drug addiction. Trigger warnings: racism, sexism, gun violence, homophobia.
The PYPM staff keeps a therapist on hand at slams.
For every poem about abuse or violence, there's another about trying to get that boy to text you back, trying to graduate, trying to fit in.
Reciting poems for the Friday afternoon crowd has become "the closest thing a lot of these kids have to a loving, supporting family," says Matt Kay, the Science Leadership Academy English teacher who founded the slam league in 2010.
"Reciting" is a tame way to describe what Edison's poets do onstage. The word they use is "slamming," which gets closer to the explosive, expressive, gut-wrenching things said at Freedom Theater. Slam poetry has a particular cadence, something halfway between a poem and a rap. Your voice rises, your arms wave, your hands grasp at the air or curl around your middle as if you are pulling the words out of yourself.
Brandon Melendez and Shante Fortson perform at the semifinals.
The performance is physical as much as spoken, a community effort as much as an individual expression. When poets pause in the middle of performances, trying to remember lines, the audience snaps and whispers and urges them on.
Tyrone had been desperate to get onstage, begging Coffin to let him perform at every slam.
For their first poem performed onstage after Tyrone's death, Coffin had each of Edison's poets write exactly one line, beginning with "I am."
"We can announce so much in this piece," Zaire had said. "Edison is notorious as hell. Use that to our advantage."
But Edison's poets were not interested in trading on their school's alleged infamy, at least for the time being. They'd rather talk about themselves.
The student body is the kind that outsiders, sympathetic or not, tend to turn into symbols: of Ruthless Budget Cuts, or the Ravages of Inner-City Poverty, or Teenage Delinquency, or Children Who Need Saving.
But onstage, Edison's poets become "fire and ice, the shadow that hits the mic." That's Christian, who worked all week on enunciating.
"A six-legged tornado, swaying in the gale." That's Zaire, tall, lanky and electric.
"I am a poet," Nahja says, hands outstretched and shaking. "I am the gift."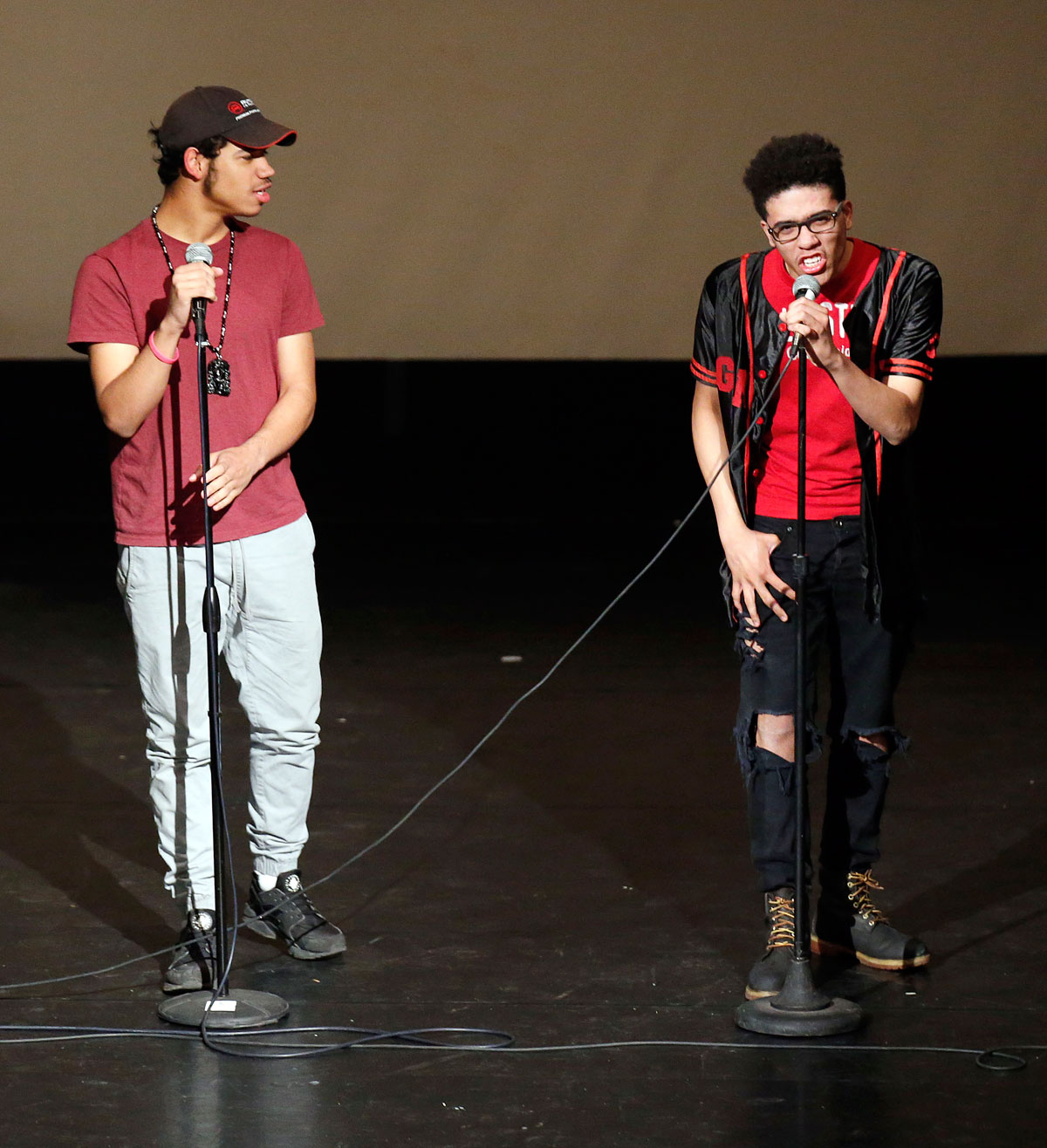 YONG KIM / Staff Photographer
Brandon Melendez (left) and Christian Cherry perform their poem at the Freedom Theater.
Together, they roar the final line of the poem.
"Who has our back? Tyrone has our back!"
March
Nahja arrives unexpectedly at the Freedom Theater one Friday; she's been out of school for days.
Since she turned 18, she's been bouncing from house to house. She's been staying at a friend's place lately, where she won't eat the food for fear she'll be accused of overstaying her welcome. She chatters nervously in breaks between poems. Then a performer from Strawberry Mansion High School steps onto the stage.
"Daddy," the poet begins, "I hate you."
Nahja falls silent. Normally she gives each poet a standing ovation. When this poem is finished, she claps, almost as an afterthought, takes a deep breath, and pulls out her own notebook. She begins to write.
April
Edison's poets are slouched in the seats at the Freedom Theater. Zaire, eager to shake Edison off, and getting pushed onto college waiting lists, has not shown.
Zaire Douglas performs at the semifinals.
The team had been counting on him. Whispering frantically, Christian and Nahja write a poem together on an iPhone, 15 minutes before showtime.
Anderson sighs. Coffin sees the poetry club as catharsis, a tool to help kids process their lives in a city that can seem determined to swallow them whole. Anderson, raised by a single mother in Kensington, gets that. But sometimes she just wants to see her kids win something. Have something to celebrate.
May
The sun is shining through the clouds, and Edison's poets gather at the Gravers Lane Gallery in Chestnut Hill, where Anderson's mother, the artist Rachel Bliss, sells her work.
They have wrangled a room in the gallery to display the Edison kids' art — paintings for Tyrone. Everyone has brought a poem to read. No competition, Anderson hopes. Catharsis.
Tyrone's father shows up. It has been a long year of court dates and missed milestones. "For them to still remember — to still keep his honor," Tyrone Sr. says. "It shows he was on the right path."
Shoppers with quilted handbags and yoga pants peer inside, see the paintings, and crease their brows. An older woman purchases Brandon's effort — a bicycle perched on a heart-monitor line — and he grins in delighted surprise. He has written a poem and a song about Tyrone.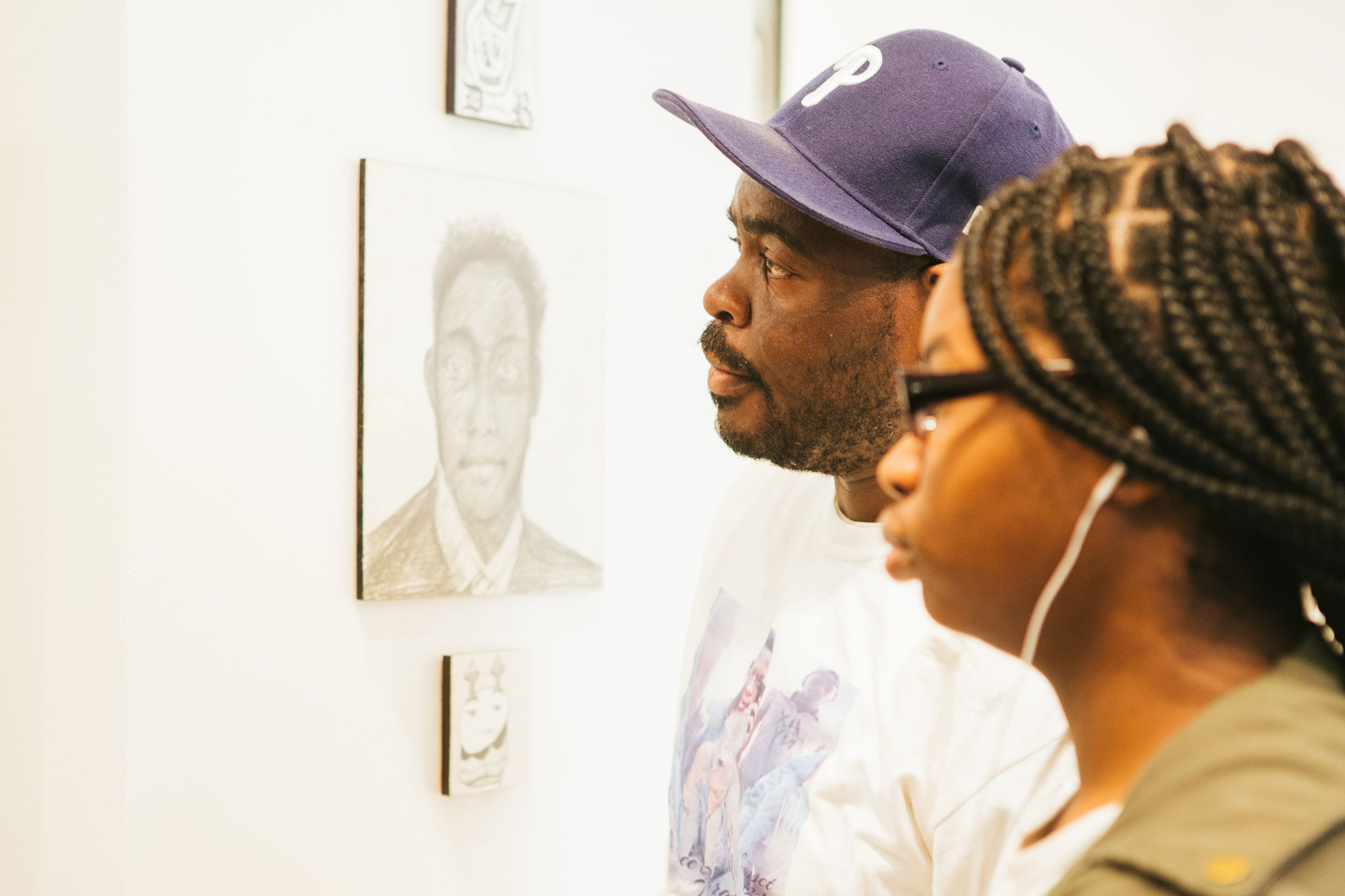 MICHELLE GUSTAFSON / For the Inquirer
Tyrone Tillman, Sr., listens to Edison students recite poems in honor of his son, Tyrone, Jr., at the Gravers Lane Gallery.
The two of them wrote raps together, played with words together, freestyled with teenage braggadocio about being kings and prophets, the voices of their generation.
"I feel like he's here now," Brandon says. "Standing right here, looking at all this."
Zaire tries, again, to read his poem about Tyrone, which sets the fatal crash in the cosmos, imagines his friend's absence as a black hole and his last cries as exploding stars.
This time, Zaire makes it all the way through:
"In the distance, his voice yelling, 'Who got your back?' We will always have your back. You can't kill divine kings."
The final verses
It's one week later, and Edison's poets break the circle backstage at the Gershman Y. Ten minutes until they battle, maybe for the last time.
Christian bounces in his seat, mouthing words. Nahja, who's been sick, has dragged herself out of the house to cheer her friends on.
"We're doing this for Ty!" Brandon shouts. Zaire is called onstage and bursts into his poem. Finally he is reading something about notorious Edison High.
"Our schools are covered in soot, and Edison still smells like charred bodies," he growls. He is referencing the Edison 64 — former students killed in the Vietnam War, the most fatalities of any high school in the country.It is his last salvo — by August, Zaire will be off to leafy Sarah Lawrence College. A writer's college. Class of 2021. (How did he feel when he got the news? "Like someone had finally gotten it right.")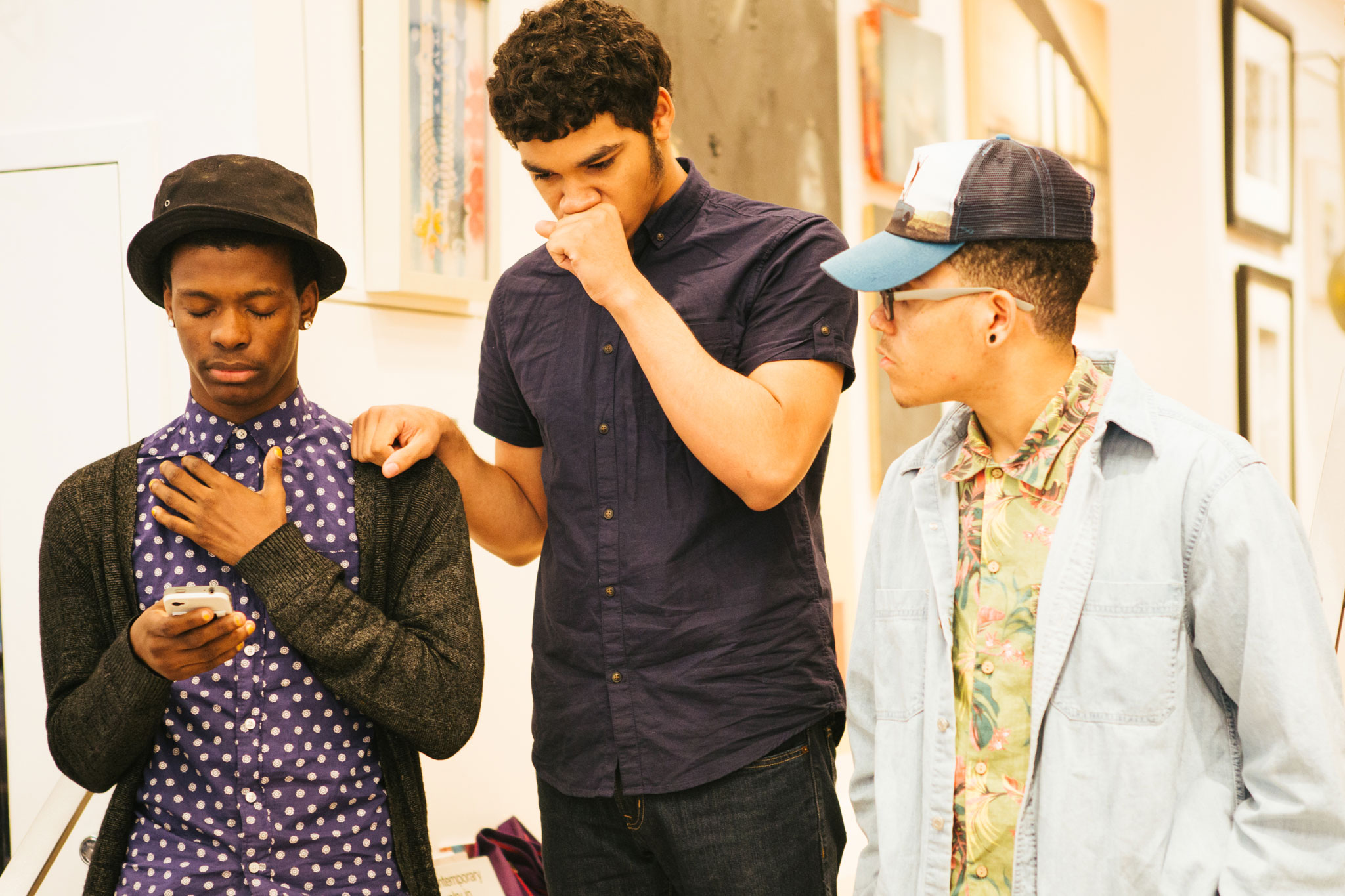 MICHELLE GUSTAFSON / For the Inquirer
Zaire Douglas, Brandon Melendez, and Christian Cherry recite a poem together written in honor of their teammate, Tyrone Tillman, at the Gravers Lane Gallery.
Christian and Alex Fernandez, a junior, make their way onstage.
Trigger warning: depression. "People have sucked my strength hollow," Christian recites, voice rising. "I'm tired of being people's prey / tired of being prey for play / food for people's dark desires."
He returns to his seat. "Did I sound good?" he asks. He's not long for his block. After graduation he's got an IT job lined up.
Brandon and one of the younger kids, Shante Fortson, go on last. Trigger warning: suicide. "I feel like you should feel the coldness of your casket," Brandon hisses, hulking and malevolent. Coffin is trying to get him into acting classes this summer. Another way out.
Brandon Melendez and Christian Cherry perform earlier in the season.
The Edison poets are self-assured, clear. It is their performance of the year.
"That might just do it," Anderson whispers.
Four teams out of the six that perform here will make it to the finals. A judge hands the emcee a slip of paper. He reads the finalists to thunderous applause.
"Central High School."
"Mathematics, Civics and Sciences Charter."
"Cristo Rey High."
Edison's poets wait on the edge of their seats. Anderson clutches her hands together.
"Science Leadership Academy."
And that's that.
The poets shake hands, hug friends on the winning teams, and spill out onto the sidewalk, where they stand, uncertainly, in late-afternoon sun.
Brandon sees their faces. He gathers everyone in a circle, wraps his arms around his friends.
"Tyrone," he says, "would be proud right now."
The poets of Edison High link arms, lock eyes, breathe deep.
"Who has our back?" they yell, one last time.
awhelan@phillynews.com, 215-854-2961, @aubreyjwhelan
Praise in the Night
Praise to the 173 stanzas of ill written nighttime poetry.
Every poem that has made contact with the bottom of the trash bin
Sounds like the empty howling of wolves.
They continue to live in my poetry.
Conjuring canonized Paper Clips they will always be "phase" like the moon.
This is an after dusk worship, a prayer to lines that manage to find their way into every black sky.
Master piece, uncrumple the mona lisa and rename her hyperbole, personification, shape her figurative language.
This is what happens when poetry is written with the intent of being worshipped like a "Victorian Era Hurricane."
Black ink will bleed out of grey paper based clouds, skies have never been this Holy! So I will give praise to every poem that has been thrown in the trash, and rejoice, that in the mists of the night they have created this.
-Zaire Douglas
Wolf
I Wake Up When The Sun Goes Down Whether A Full Moon Or A Half
One Side Of My Ego
Created In The Twilight Zone

Feasting On The Feasters Of The Night
Rather Have Meat Then The Blood
Howls Towards The Moon To Call Upon My Brothers Hot Tempered
Sharp Dentured
Tribal Marks Only Can Be Seen In The Dark
To Be So Different From The Other Side
This Dark Side
My Most Aggressive, Dangerous, And Intelligent Something So Small Can Be So Big
My Right Shoulder
He Howls
My Moon Night Conscious
Wolf
-Brandon Melendez
YONG KIM / Staff Photographer
Brandon Melendez (left) and Christian Cherry walk to the stage to perform their poem at the Freedom Theater.