Getting Away With Murder
MICHAEL ARES / Staff Photographer
Terrance Webster, 2, was shot and killed in the summer of 2010 in Chester while being carried by his father. His gravestone at the Chester Rural Cemetery bears his picture.
Chester has the highest homicide rate of any city in America. But only about a third of the killings ever get solved.
When the shots rang out on Chester's west end on a cool, rainy night in May, Eunice Durnell paid the noise no mind.
Twenty swift blasts, in barely a minute. Gunfire is so frequent in Chester, Durnell had trained herself not to care.
So she went to bed.
By the time she woke, another family member was dead.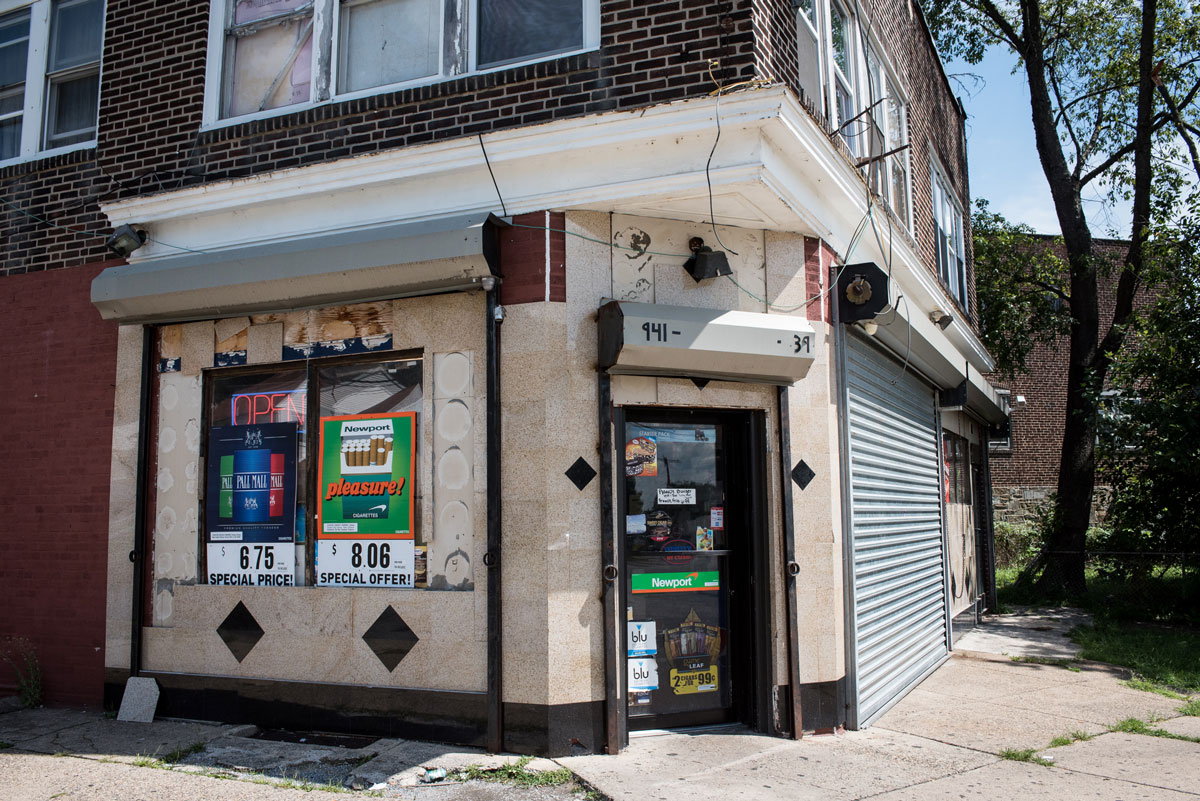 MICHAEL ARES / Staff Photographer
Zenas Powell, 14, was killed by a stray bullet outside a store where he had stopped to buy candy .
This time, it was her 14-year-old godson, Zenas Powell, struck by stray bullets outside a corner store where he had stopped to buy candy as he biked to a relative's home.
Powell was not the target, police say. He wasn't a troublemaker, gang member, or prone to violence.
But the shooter sprayed the corner anyway before speeding off. Police canvassed for hours but made no arrests. Not that night - or any night since.
Powell became the fourth member of Durnell's extended family slain in Chester in two years: Her 51-year-old sister, stabbed in the chest. A 31-year-old nephew gunned down. A cousin, 17, shot execution-style, two bullets to the head.
None have been solved.
"That's how it is [in Chester]," said Durnell, a 56-year-old nurse. "You can end up dead at any time . . . And the [killers]? Well, they're still walking around."
That's more than just a streetwise assessment. An Inquirer analysis of every homicide shows Chester police have closed about one-third of its 323 slayings since 2000 -including one of an officer- a rate half the national average and among the lowest in the nation.
And it's getting worse.
Homicides in Chester
SOURCE: Chester Police Department
The rate is magnified by the pace of homicides in the four-square-mile city: Measured for every 100,000 people, Chester's homicide rate averages 53 a year between 2000 and 2014, outranking all U.S cities in that span, according to an analysis of available data.
That rate is more than double Philadelphia's 21 per 100,000, and slightly more than Camden's 52 and New Orleans' 47. (Excluded from the analysis are cities that failed to consistently report their homicide data to the FBI.)
Cold-case experts say the rate of solving homicides - the "clearance rate," defined by arrests, not convictions - has slipped nationally over decades. They say other cities facing similar obstacles have found ways to improve.
Chester's surge in the opposite direction reflects a community in crisis. Once among the region's prosperous places, the Delaware County city spiraled into joblessness and poverty after its manufacturing base collapsed.
Demographics of Chester homicides
SOURCE: Chester Police Department
From a teetering economy sprouted drugs, gangs, and not enough money to keep a robust police force, one with the time or staff to build trust. Add in a pervasive "no-snitch" culture, and police say their job has become even harder.
"The vast majority of homicides, we have a real good idea who did it," said Joe Ryan, chief of the county's Criminal Investigation Division. "We just don't have the evidence or the cooperation."
Some killers inevitably get locked up on unrelated or lesser crimes, or flee to other towns or states. Still, there's no way to know for certain, or to ensure that justice has been served.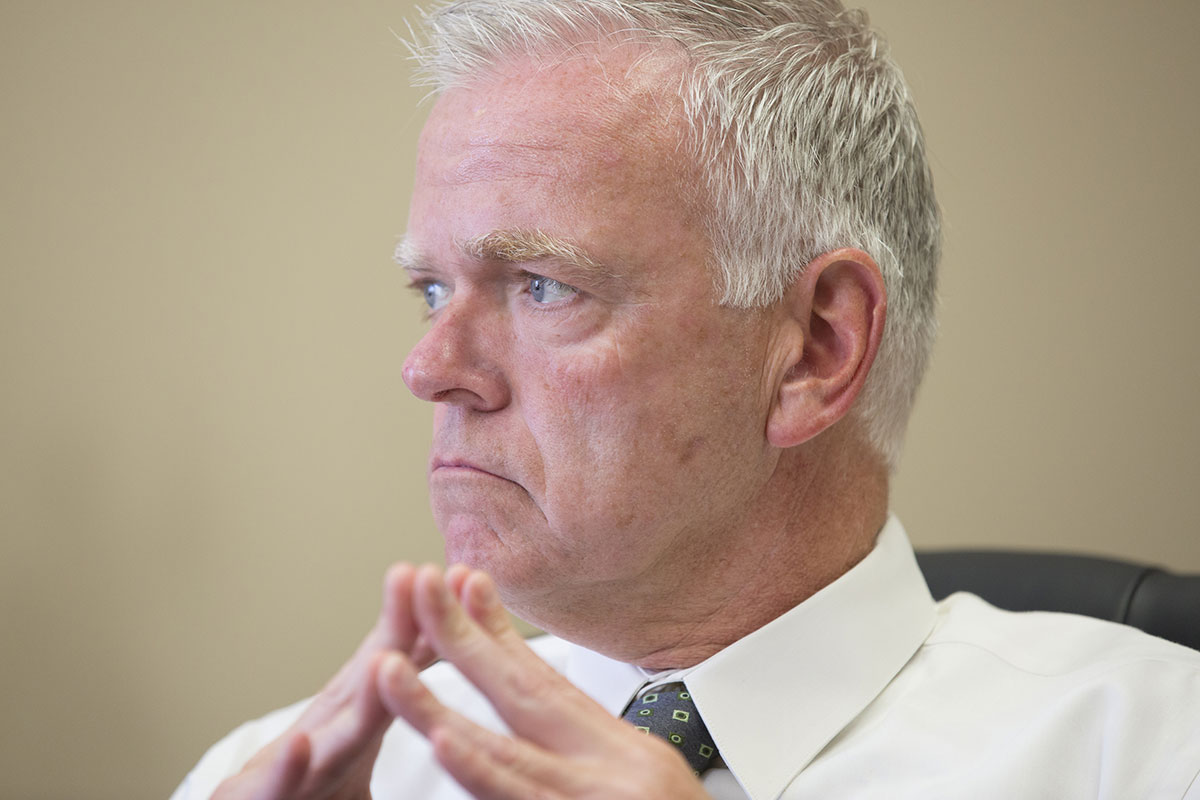 "The vast majority of homicides, we have a real good idea who did it," says Joe Ryan, chief of the Delaware County's Criminal Investigation Division. (JESSICA GRIFFIN / Staff Photographer)
In that way prosecutors and police brass are left acknowledging a new reality: In Chester, it's not that hard to get away with murder.
"It's murder, murder, murder - like a bad TV show," Durnell said. "And then nothing happens."
More than 2,200 days
Nestled inside Chester Rural Cemetery, an army figurine, two pinwheels, and a stack of toys rested atop a headstone in August.
The grave was manicured, the flowers fresh. The marble slab that bears the name "Pop" was clean.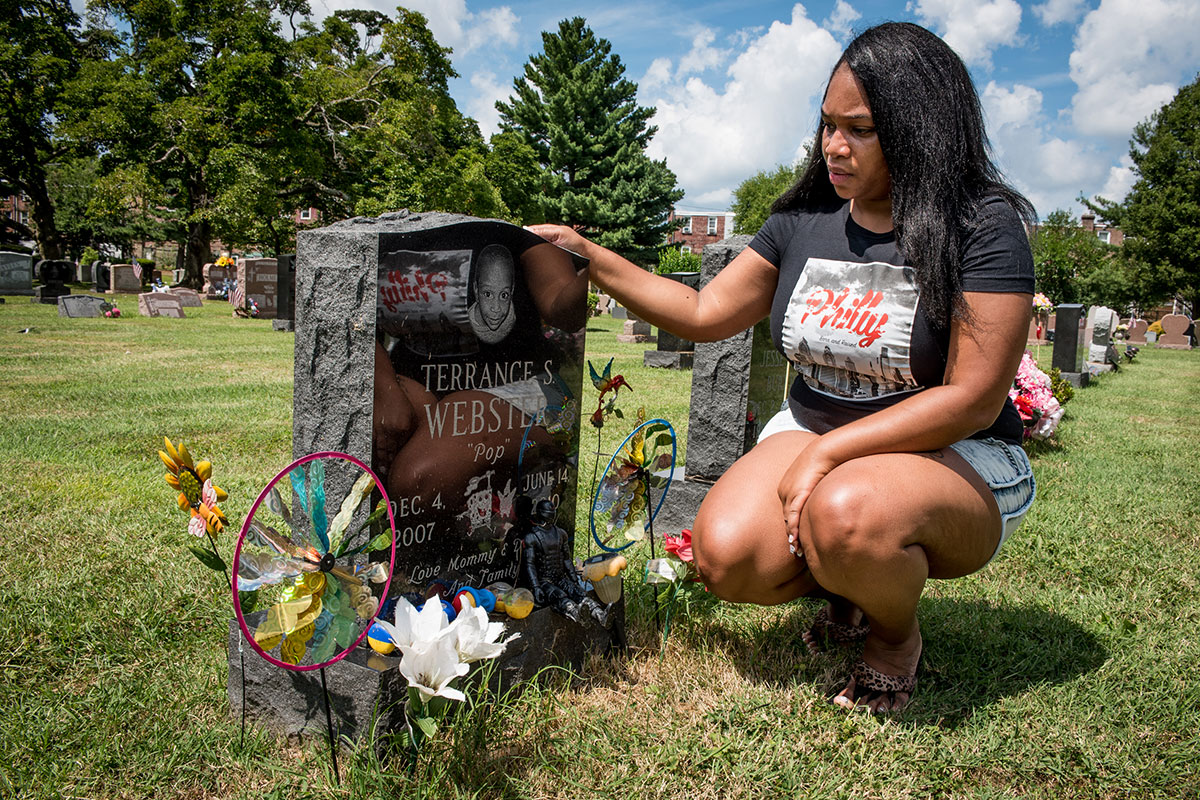 The nickname is deceptive: Pop was just 2 years old when he died.
From the start, little Terrance Webster had been different. More mature. When he began talking early, his mother, Tisheta Green, 31, nicknamed him "Pop-pop" for his old soul.
Six years ago, Green was walking with the boy and his father into their Chester home at around 3 a.m. when shots rang out.
Cradled against his father's chest, Terrance was almost inside when the gunfire began - but it followed him in.
Bullets ripped through the door and hit the couple and their son. One struck Pop in the head. He died hours later.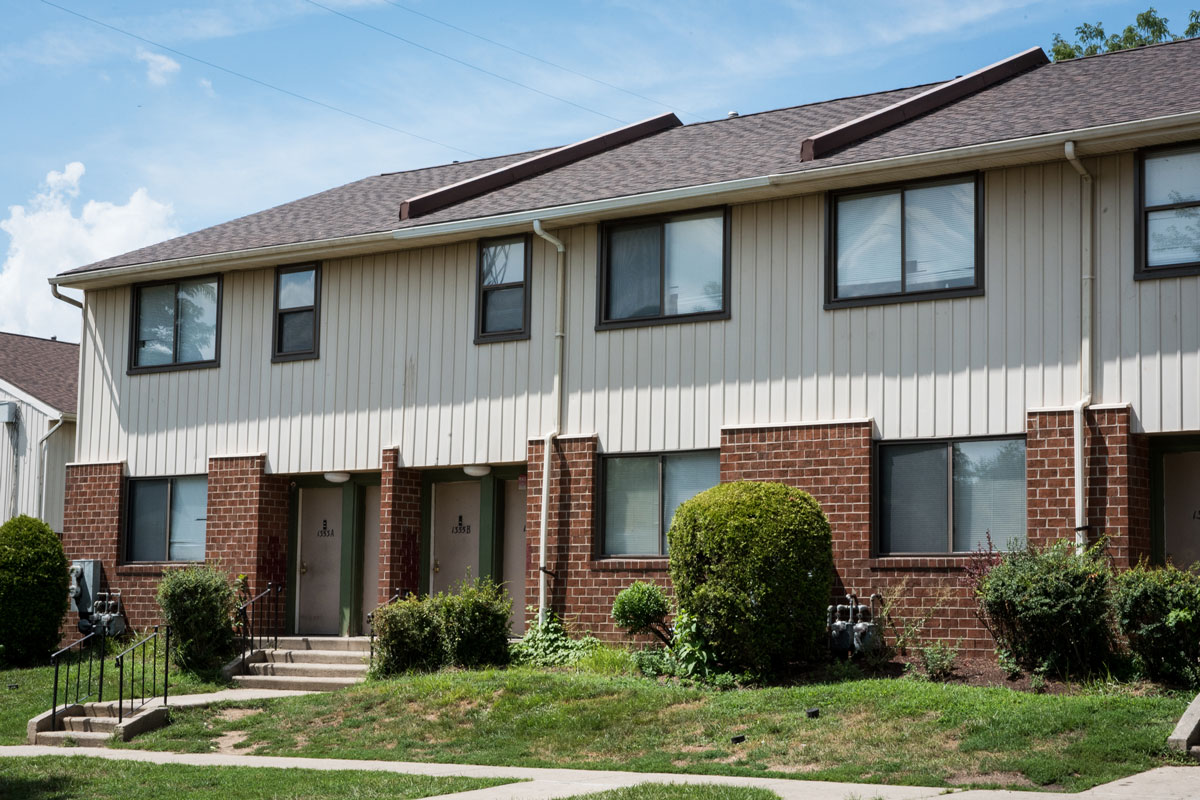 Police believe the shots were meant for the boy's father, Thomas Webster. But they say he refused to cooperate. And they found no other witnesses or evidence.
So the case remains unsolved - for more than 2,200 days.
"It's torture. It feels like [police] have given up," said Green, a nursing student. "Are they just going to let us kill each other?"
"They say all the time it's not as easy as it seems and we have to have people who are willing to testify," said Green, who is no longer with the boyfriend. "But I don't know … I really believe that [the police] could have tried harder."
A city in decline
Situated on the banks of the Delaware River and encircled by railroads, Chester, Pennsylvania's oldest city, once served as the region's financial epicenter.
In its heyday, more than 66,000 residents filled the city, many with jobs on the docks or at employers such as Ford. Between 1965 and 1975, the homicide rate hardly topped 15 a year. Police solved 91 percent of them.
But just as quickly as it prospered, Chester collapsed. With the decline of manufacturing in the 70s, wealthy residents left. Drugs and poverty soared.
At first, police staffing stayed the course. But when Chester built its first paid fire department in 1978, the police force was slashed. Then again in the 1980s. Once more than 150 strong, Chester's department eventually fell to around 100, where it remains.
The consequences were swift: By 1993, and despite a shrinking population, homicides spiked to 28, a modern high. Ever since, the clearance rate has been spiraling downward.
In 1995, Chester enrolled in the state's Act 47 program, a last resort plan for distressed cities that makes it eligible for state funding and other assistance. It's still in the program, with a third of residents in poverty and 3,000 vacant homes.
SOURCES: FBI; U.S. Census Bureau; Murder Accountability Project
This year, Chester has recorded 19 slayings. Three have been solved.
Snitches in ditches
One hot Monday last month, Officer Ricci Pyle drove his patrol car around Chester's west side, his cap on the dashboard, his window down.
"You're supposed to be able to hear someone yelling for help," said Pyle, an officer for more than two years. "Anything can happen here in Chester."
A man flagged him and Pyle jumped out, recording a complaint of a reckless driver. On the next block, he traded jokes with pizzeria owners.
Pyle said he tries to make himself visible, but there's only so much he and other street cops can do. Too often, residents shut them out.
"They don't talk to the police," Pyle said.
With six to eight officers patrolling from 8 a.m. to 8 p.m., and six to 12 officers at night, the police are limited, even when they have dozens more working back at the office. Especially when on an average day, Chester police field nearly 160 calls.
"I might not see this place for the rest of my shift," Pyle said as he drove along the 1100 block of Pine Lane, where five people have been killed since 2005, including Zenas Powell in May.
For a typical homicide, Chester police follow a routine, dispatching two to three city detectives, and two to three from the District Attorney's criminal investigation division. A team scours social media. In some cases where detectives worry crowds may get out of control, police said, they can send more.
More than 60 percent of Chester slayings occur between 7 p.m. and 3 a.m. - forcing detectives who typically work day shifts to scramble to scenes at night. Sometimes, an hour passes before they arrive.
SOURCES: FBI; U.S. Census Bureau; Murder Accountability Project
Chester's staffing operates in striking contrast to Philadelphia, which has around 70 detectives. And while its volume is bigger - Philadelphia logged 280 slayings last year - police there were still able to dispatch around 12 or 13 detectives for the first two days in each case, said Philadelphia Homicide Capt. James Clark.
"They didn't make the show 48 Hours for no reason," he said. "That's when you get the critical witnesses, video and critical evidence."
It makes a difference: Philadelphia's clearance rate is nearly 70 percent. Part of it, Clark knows, is resources. Better technology. Recognizing how crucial witnesses are - and working to protect them.
In Philadelphia, police offer witnesses $20,000 if their help leads to an arrest and a conviction, though it hasn't happened often. This year, Chester started offering $5,000 for the same kind of cooperation, but has not yet handed out any reward.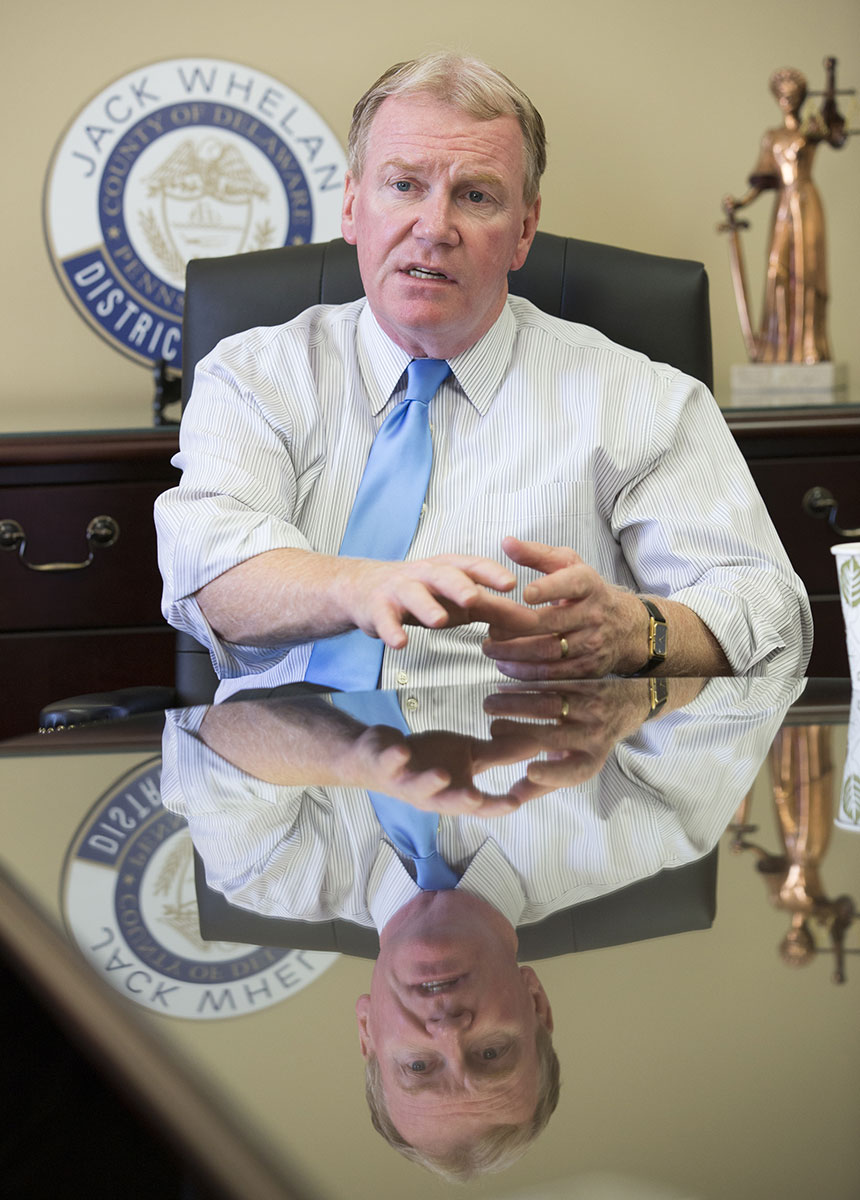 JESSICA GRIFFIN / Staff Photographer
Delaware County District Attorney Jack Whelan says a voucher program for informants would be expanded, if there was any interest.
Both cities work to protect witnesses during the investigation and prosecution, with Chester police, for example, offering hotel stays as witnesses take the stand. Clark said Philadelphia police have gone as far as extending financial support beyond trial to permanently relocate witnesses, something never done in Chester.
In Chester, they have helped transfer federal housing vouchers for informants, District Attorney Jack Whelan said, and they would be willing and able to expand the program - if anyone was interested.
But often, Chester police say, residents don't take it. They fear retaliation, or could already be caught up in drugs or gangs. In a small city, the no-snitch culture prevails.
"The biggest problem," said Chester Police Commissioner Darren Alston, "is that everyone knows everyone."
Retaliation isn't just a theory. Craig Gibson, 36, was fatally shot two days before Christmas 2011 - not long after he had testified for prosecutors in a homicide preliminary hearing.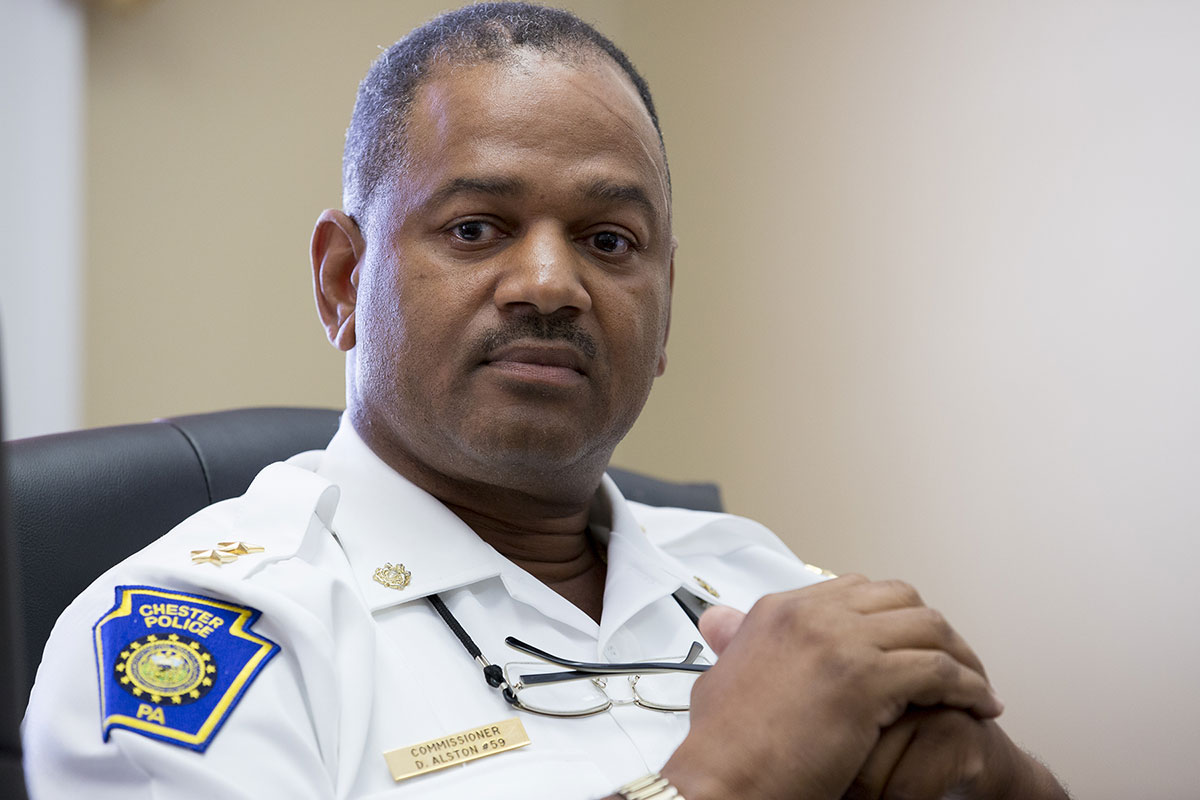 JESSICA GRIFFIN / Staff Photographer
"The biggest problem is that everyone knows everyone," says Chester Police Commissioner Darren Alston, so witnesses fear retaliation.
The case remains open, but police believe the killing was payback.
Durnell understands the mentality.
"We have a rule in Chester," she said. "Snitches end up in ditches."
Police stretched thin
Most homicide victims in Chester are black men between 20 and 35, according to the data since 2000. Many had brushes with the criminal justice system.
Only 8 percent of the victims were female. Ten were 15 or younger. The youngest victim was 2 months old, Christian Santiago in 2004.
Often, Police Chief James Nolan said, the volume means homicide detectives' are stretched thin. Most handle five cases at a time. By the time leads are exhausted on one, a new slaying happens.
The exception may be the kids' cases.
When Terrance was killed, then Mayor Wendell Butler established a 9 p.m. curfew, cancelled police vacations, and arranged state and county help.
And after Powell was gunned down in May, Nolan said, close to 40 local and state investigators helped knock on doors and scour for witnesses. "A kid getting killed gives you reason do an operation like that," he said.
In the end, and despite identifying a suspect, they found no witnesses. And there was no surveillance to help.
Video cameras in the city remain sparse. County prosecutors and city police are looking to boost technology to help in homicide investigations but with Chester's police budget strapped at $22 million, "all of that can cost a lot of money," said Whelan, the district attorney.
The police are also awaiting results of a review they requested this year from the U.S. Department of Justice, citing the need to improve community relations.
Cities 'trapped'
When it comes to homicide experts agree: Police response is paramount, more so than cooperation.
Chester By The Numbers
Population

34,092

Black/AfricanAmerican

75%

White

15%

Hispanic or Latino

9%

Asian

0.6%

Median household income

$28,607

Below poverty level

33%

Bachelor's degree or higher

9.5%
SOURCE: U.S. Census Bureau
In a study of nearly 800 homicides in four cities, University of Maryland professor Charles Wellford concluded that the likelihood of solving a slaying increases if a detective arrives within 30 minutes, measures the scene, quickly attempts to find witnesses, and runs suspects and guns through a database.
"Few homicide cases, given the right initial response, the right timing, and the right dedication of resources, cannot be cleared," the study said.
In an interview, Wellford said departments that are financially strapped juggle too much. Homicides often slip as a priority.
That can leave cities "trapped," said Thomas Hargrove, founder of the Murder Accountability Project, a nonprofit that tracks unsolved killings.
"It's scary how few resources police have," Hargrove said.
But many cities have faced the same storm of factors as Chester, he said.
"Drugs and gangs are often blamed for out-of-control murder rates," he said. "It comes down to a failure of political will of leaders. ... When they make solving homicides the priority, generally, clearance rates improve."
Hargrove points to Santa Ana, Calif.
In the 1990s, Santa Ana looked a lot like Chester, beset by poor finances and a no-snitch culture. Then, chief Paul Walters took charge.
His force was out of money and the city population was growing. So he found efficiencies: The police teamed up with the FBI and prosecutors throughout investigations. He turned to technology to help track firearms, created a homicide unit for gangs specifically and formed a DNA task force to pair cold cases with new science. And they gained the help of anonymous donors, such as one who gave a half-million dollars to boost the department's rewards program.
And throughout, Walters said, they prioritized community engagement.
From his start as chief through 2013, the solve rate jumped from around 39 percent in 1988 to nearly 100.
"The message we wanted to get to everyone," Walters said, "[was] 'If you commit one of these crimes, we're not going to rest until you're brought to justice.' "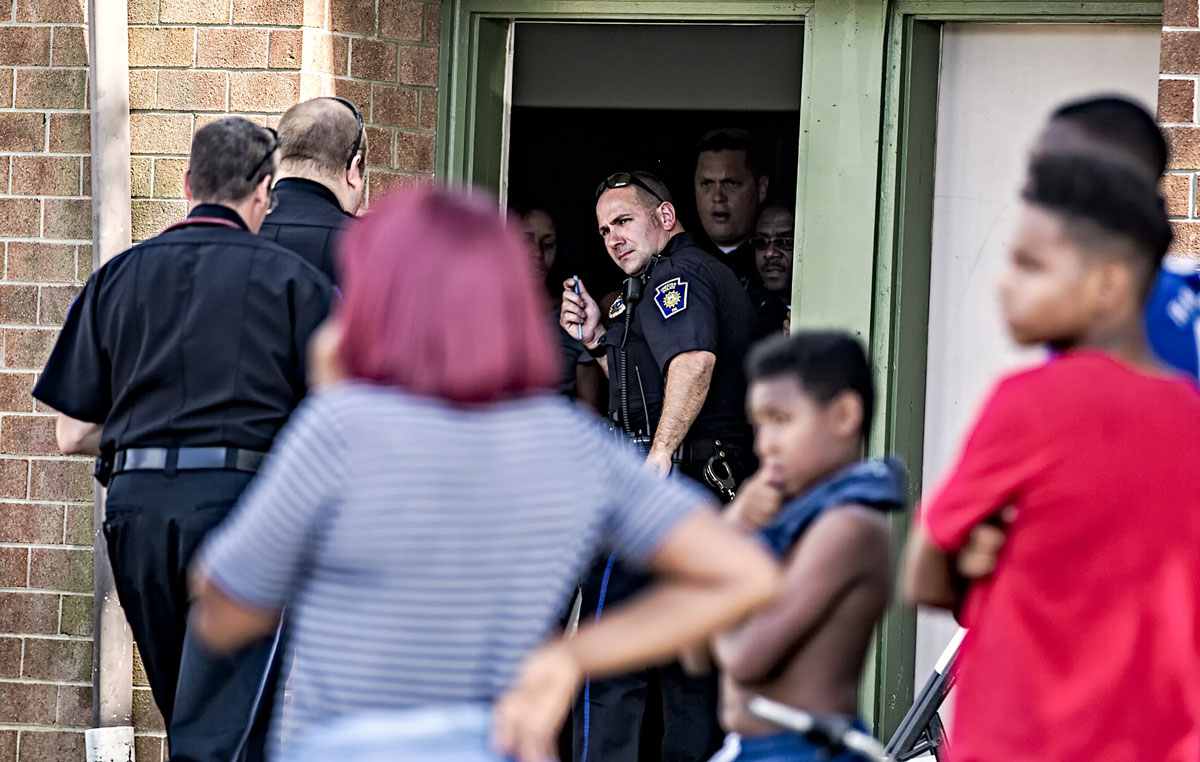 A feeling of surrender
In a city of 34,000, Chester residents often complain it feels as if police, county and state officials have given up.
"They talk about the heroin overdoses. They ran right out and got a cure for it with [Narcan]," said Calvin Williams, pastor of Chester's Temple of Brotherly Love Church. "It just feels like, we're an African American community, so it's not important."
Williams knows the ache of unsolved killings: He's lost two nephews and his son to homicide in Chester. Only one case is closed.
"It's not easy," said Williams, who regularly dashes to homicide scenes to comfort families. "When you look at a baby crying and you know it's because she no longer has her father."
Chester police say that's one of their largest challenges - getting people to know they understand.
"I sit across the table from someone, and I say, 'I know how you feel,' " said Chester Homicide Capt. Anita Amaro. "And they say, 'No you don't.' "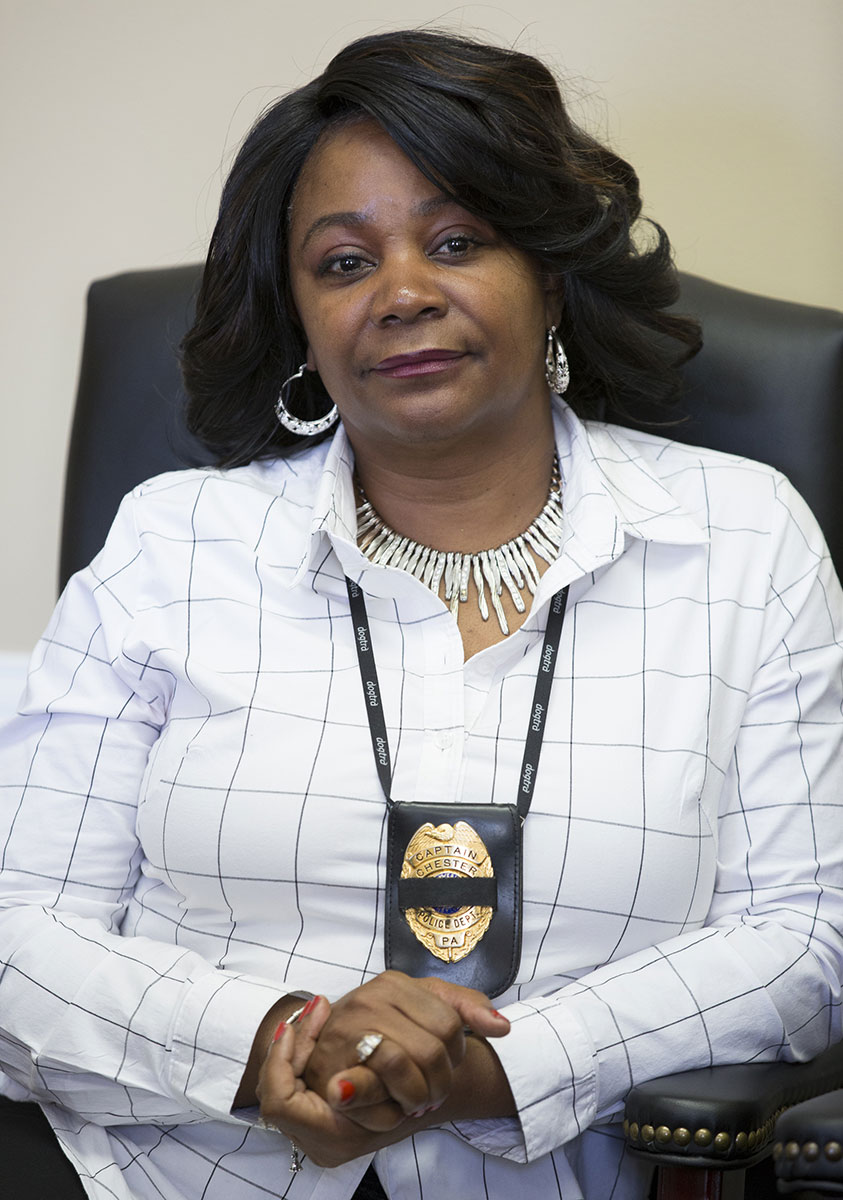 JESSICA GRIFFIN / Staff Photographer
Chester Homicide Capt. Anita Amaro, whose brother was killed in Detroit, says she takes every Chester killing "personally."
Then she tells them her story: "I have an older brother who was killed in Detroit, and we didn't hear a lot from detectives."
Her brother's killing remains unsolved.
"I take every one of them personally," Amaro said. "And to see a mom after you have arrested the person who killed her son and you get to tell her, it really affects the detectives."
"You can't do this and not have any kind of feeling behind it."
610-313-8113
@mccabe_caitlin
ED HILLE / Staff Photographer
Chester police officers search for evidence in a shooting incident in the 1200 block of West Eighth street in August 2016.