ED HILLE / Staff Photographer
James Colimore's World War II momentos include a glider's pin, ammunition and dog tags.
D-Day memories of one of the first to land.
By Edward Colimore / Inquirer Staff Writer, ecolimore@phillynews.com
Friday, June 5, 2015
He held the memories of that deadly day in 1944 deep inside, and wouldn't share them without persistent prodding from the family.
Then, in his 80s, a few years before passing, my father, James Colimore, sat down at his desk at home to write about — and relive — what happened on D-Day.
In a small book he gave to his three children and wife of 53 years, Lucille, he described the view from the cockpit of his glider, 2,000 feet over an armada of warships, unleashing "awesome and devastating" fire on the Normandy beaches.
He recalled flying through a gauntlet of flak and tracers on the way to Ste.-Mère-Église — with a copilot, three soldiers and a communications jeep.
And he remembered hitting the release switch, peeling off from the C-47 towplane, then dropping into a small field where other gliders had smashed into cows, and an elderly French woman was screaming at the invaders "with bullets flying everywhere."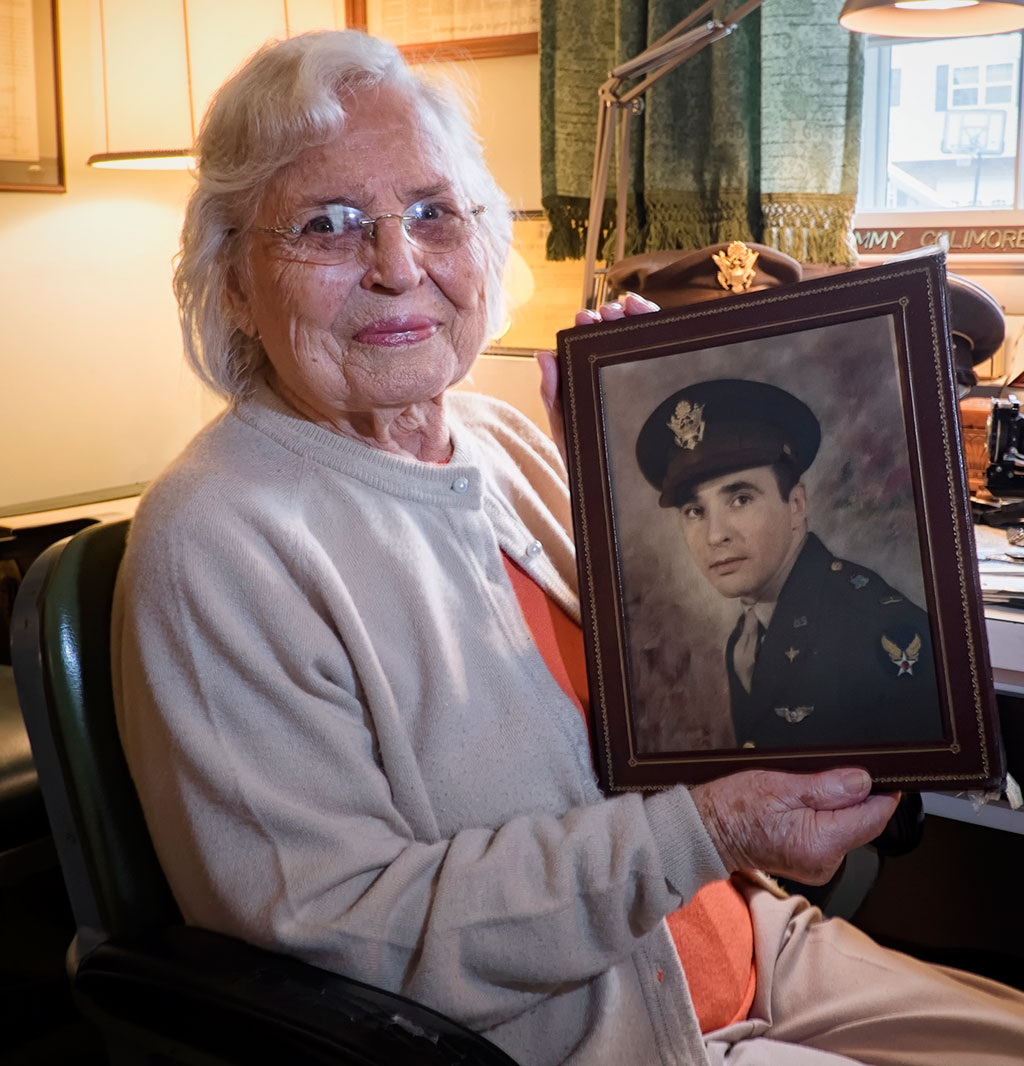 ED HILLE / Staff Photographer
Lucille Colimore, 94, holds portrait of her husband, James, a World War II glider pilot.
"Several gliders were machine-gunned by the Germans as they landed their airborne troops," he wrote. "After inspecting one of them later, we found all of the men dead inside, still sitting with their rifles between their legs and safety belts on."
June 6, 1944 — 71 years ago Saturday — was the beginning of the end for Hitler's Third Reich, and my father, then a glider pilot, was among the first in the invasion to land on French soil.
If he ever talked about that time, it was in hushed, almost prayerful, tones around the kitchen table at our Lutherville, Md., home. The memories of lost comrades such as the squadron commander, First Lt. Raymond Darling, still seemed fresh.
But after retiring in the 1970s — he worked for decades as a columnist for the Baltimore News American and a restaurant owner — he had time to reflect and process D-Day, which cost the Allies more than 10,000 casualties.
On James' desk
Click on the numbers to view his WWII mementos in detail.
Tap on the numbers to view his WWII mementos in detail.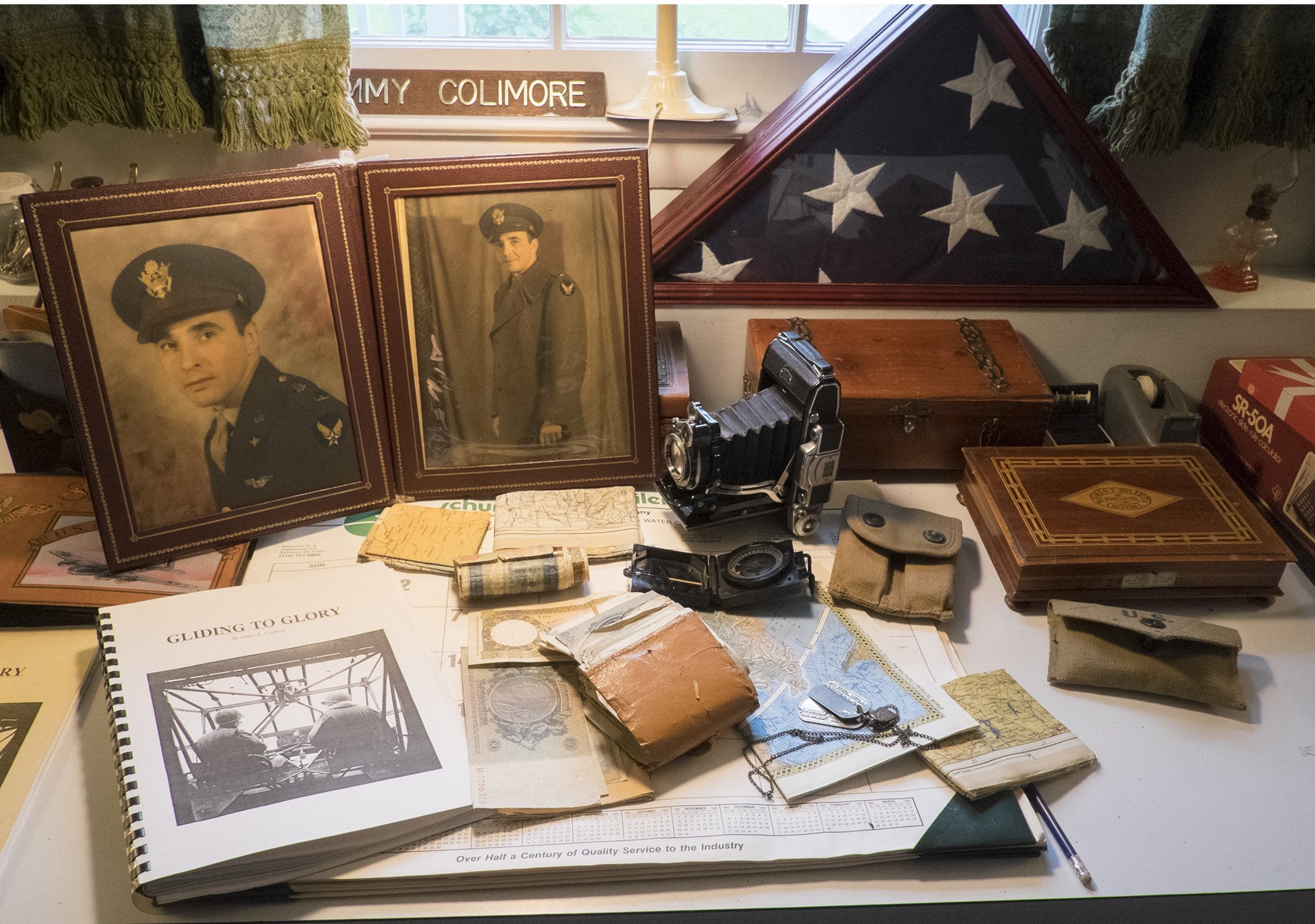 1
2
3
4
5
6
7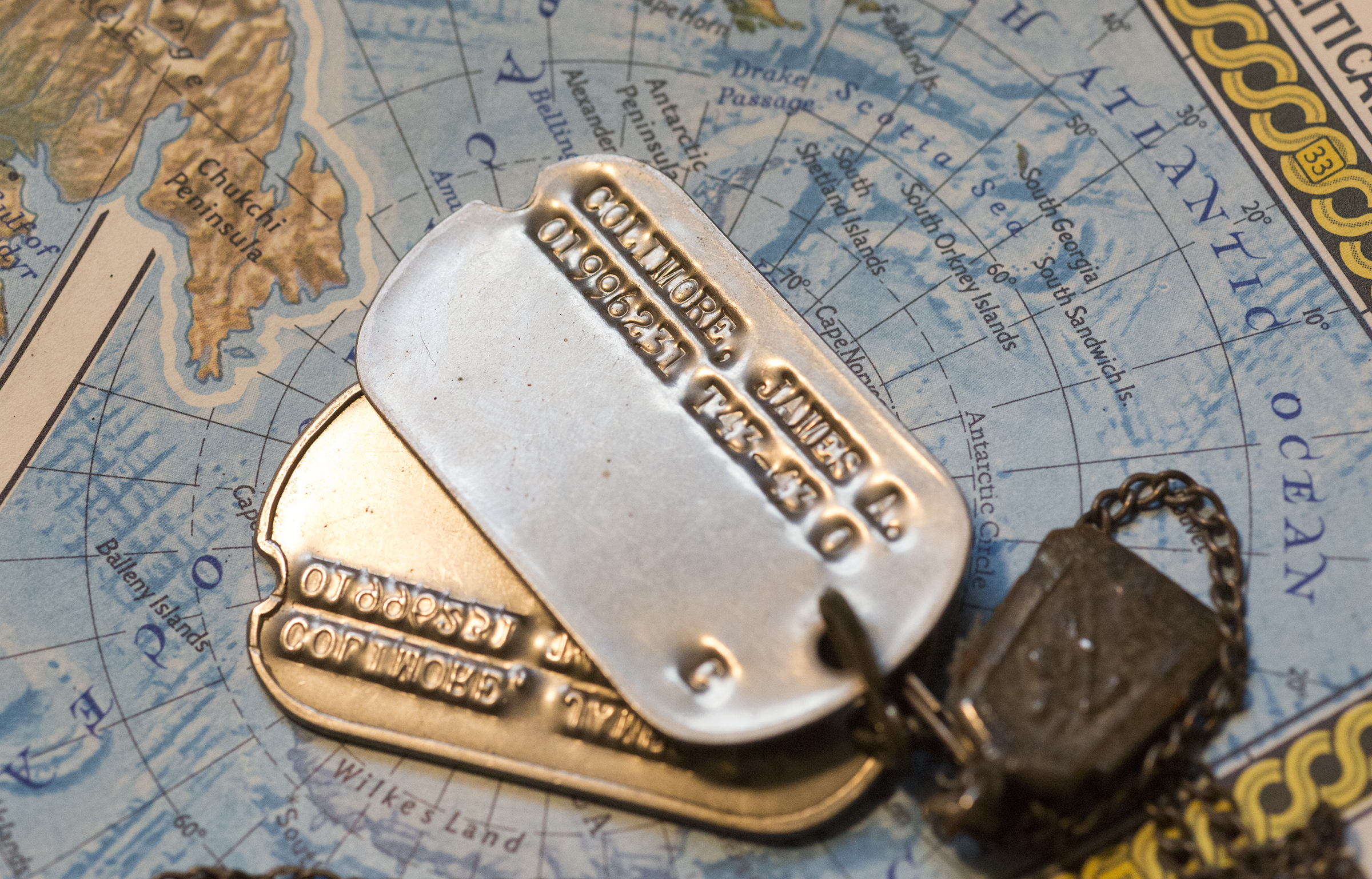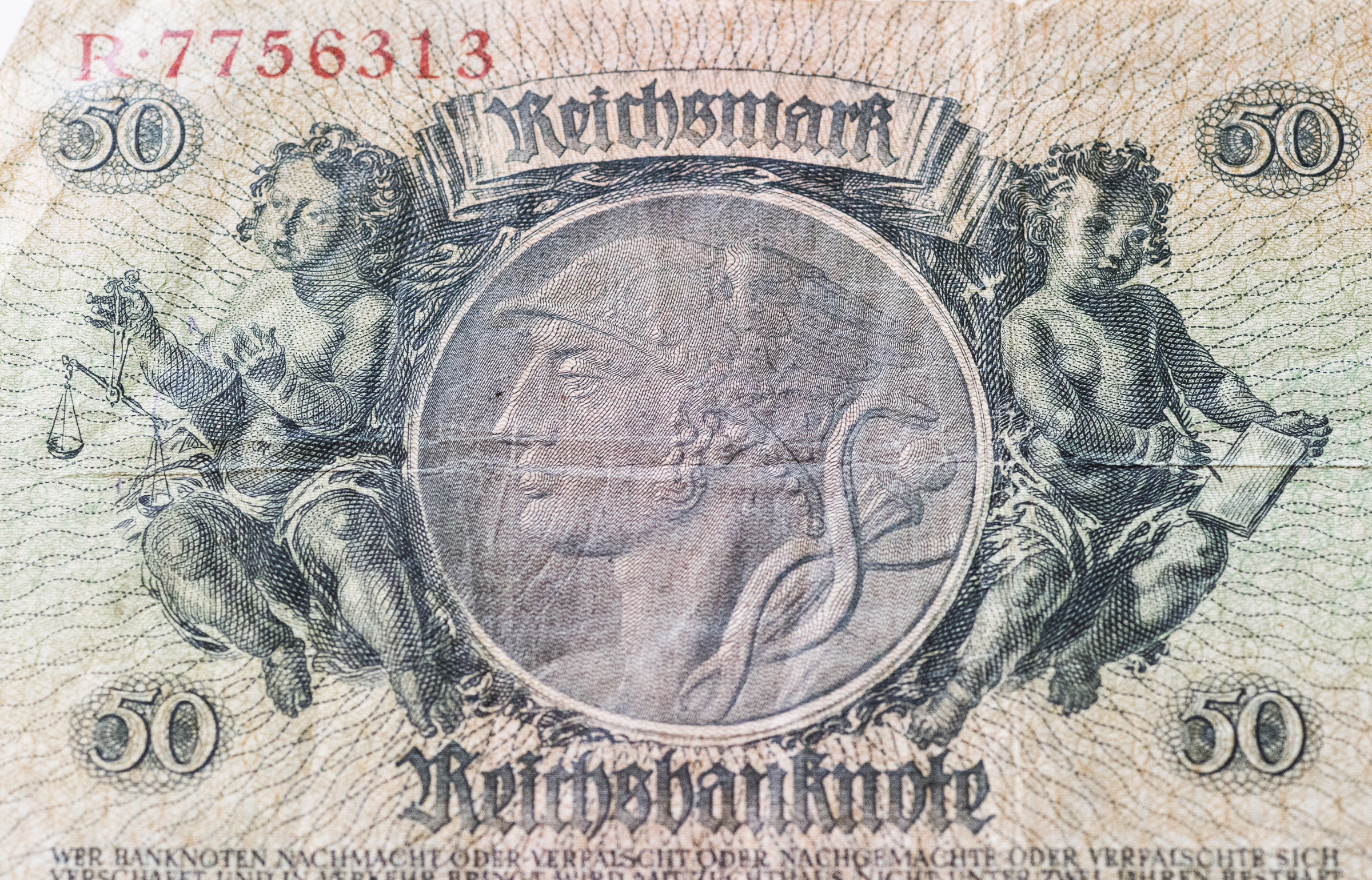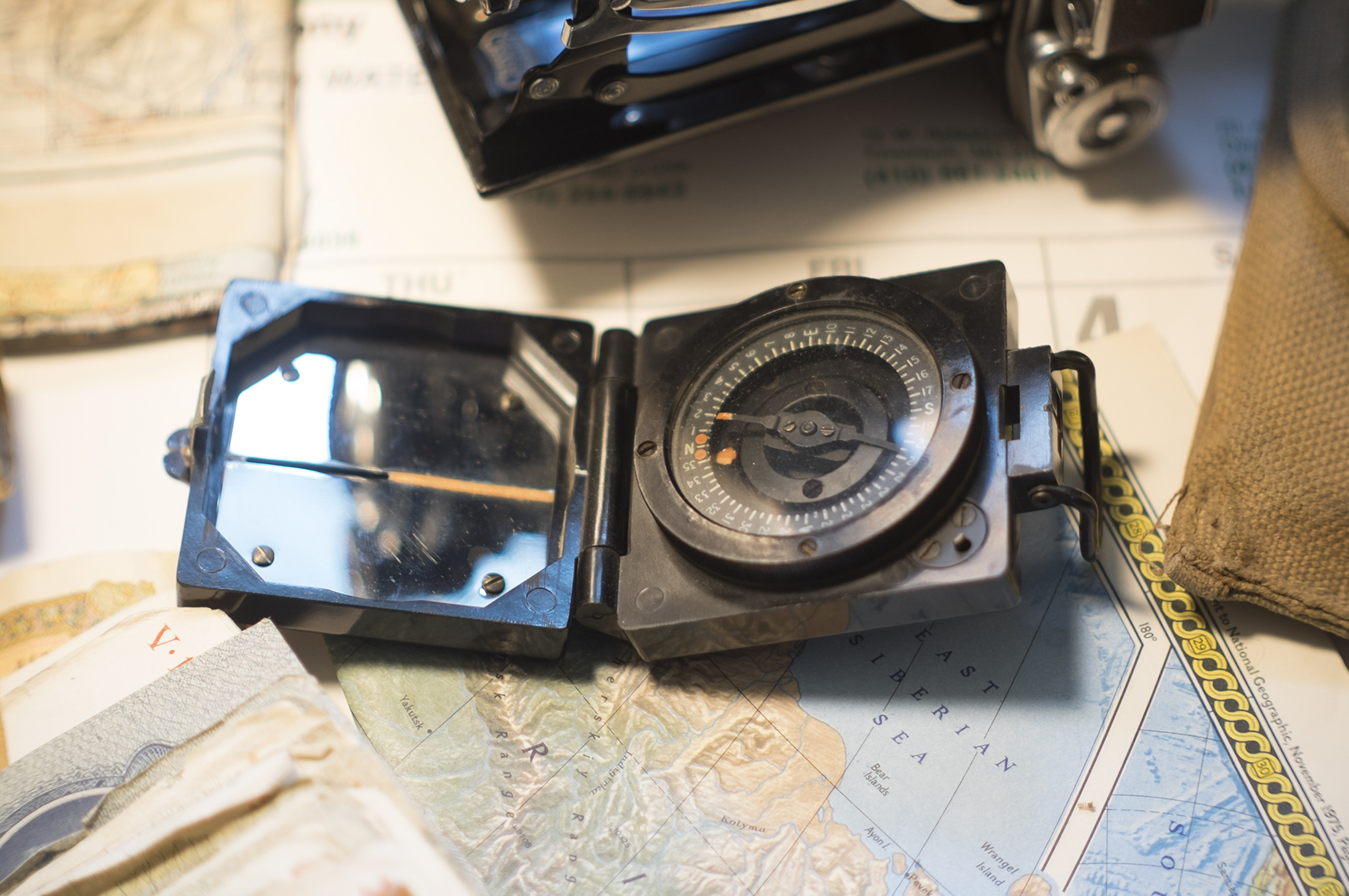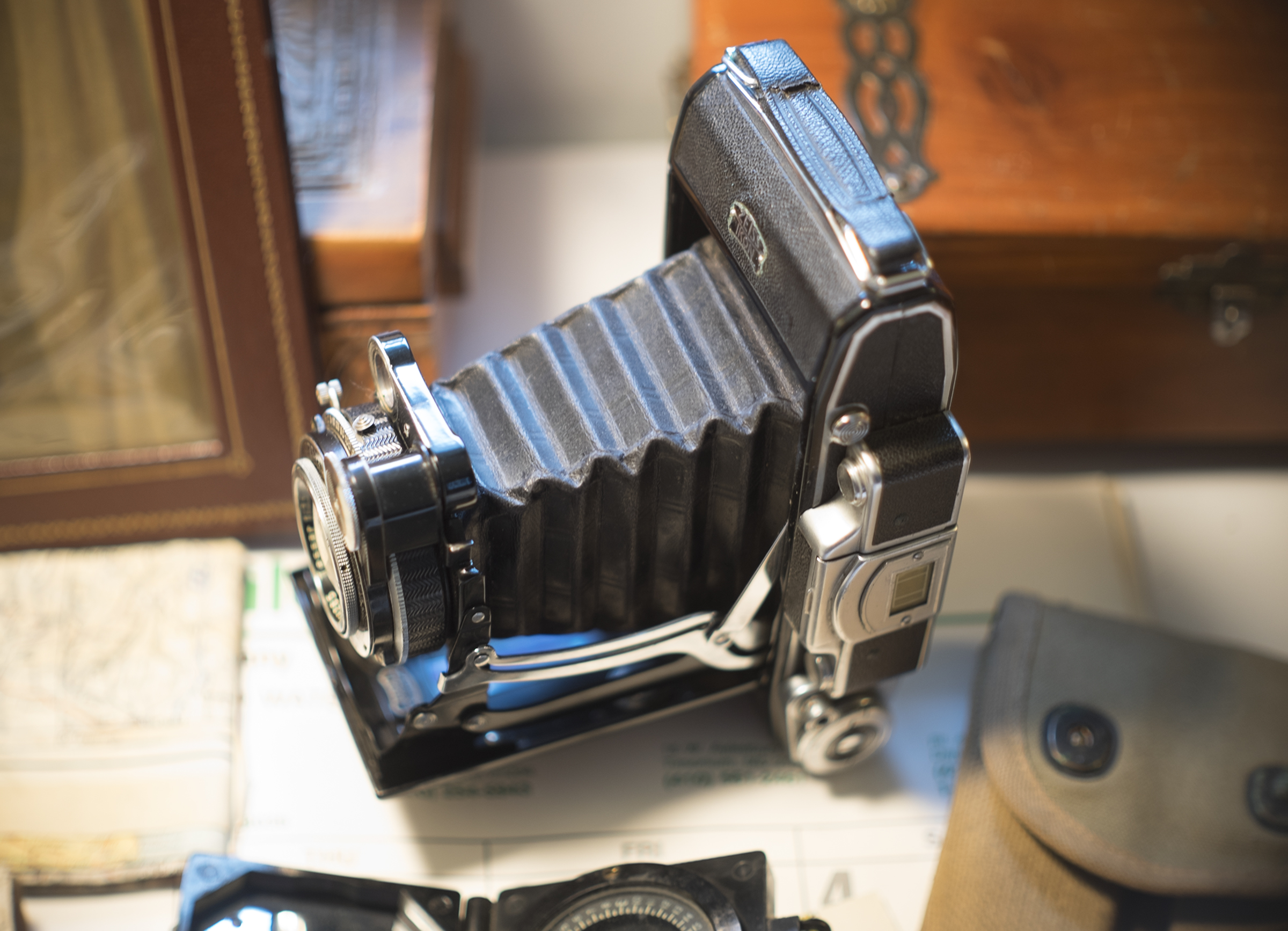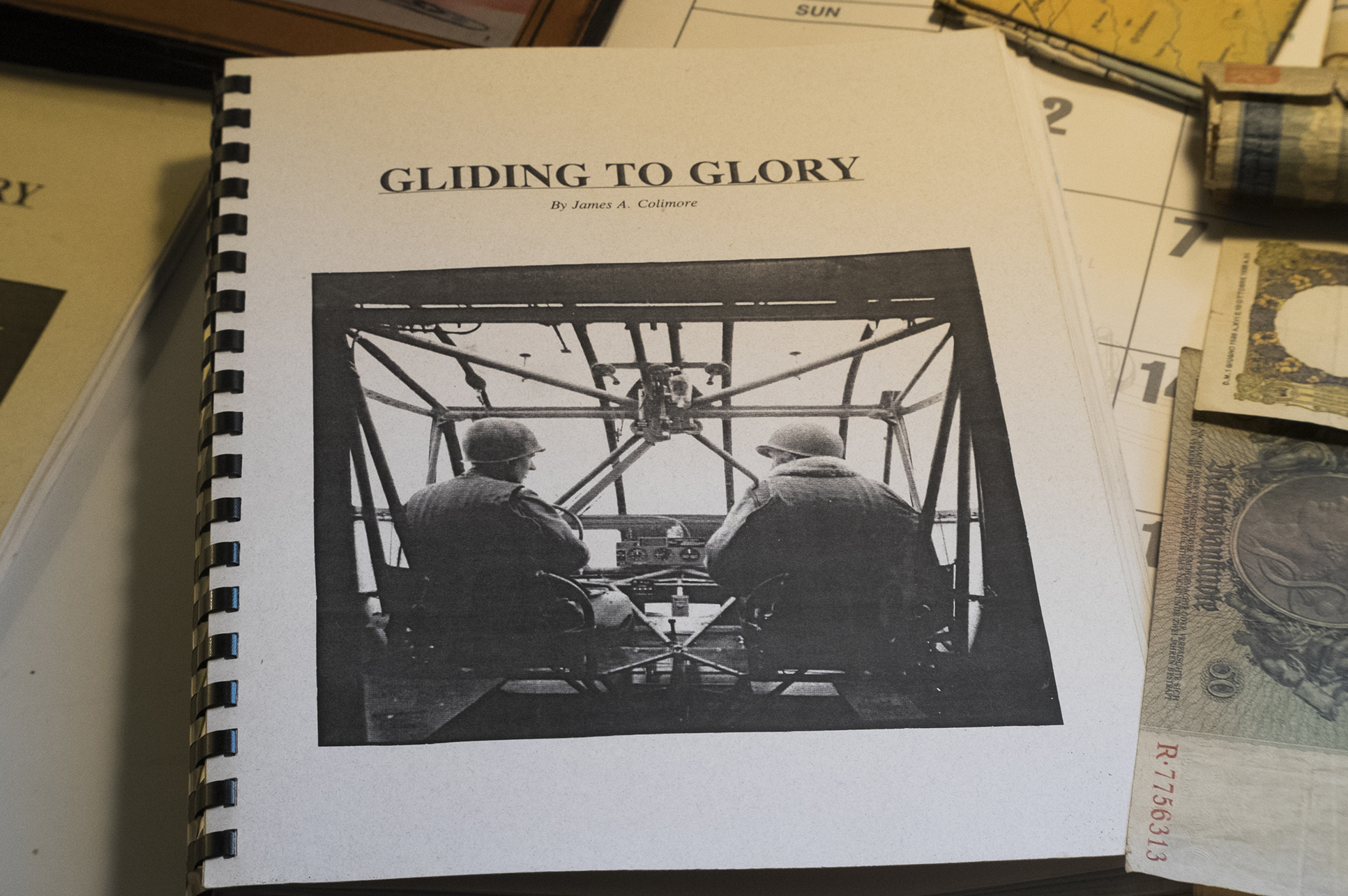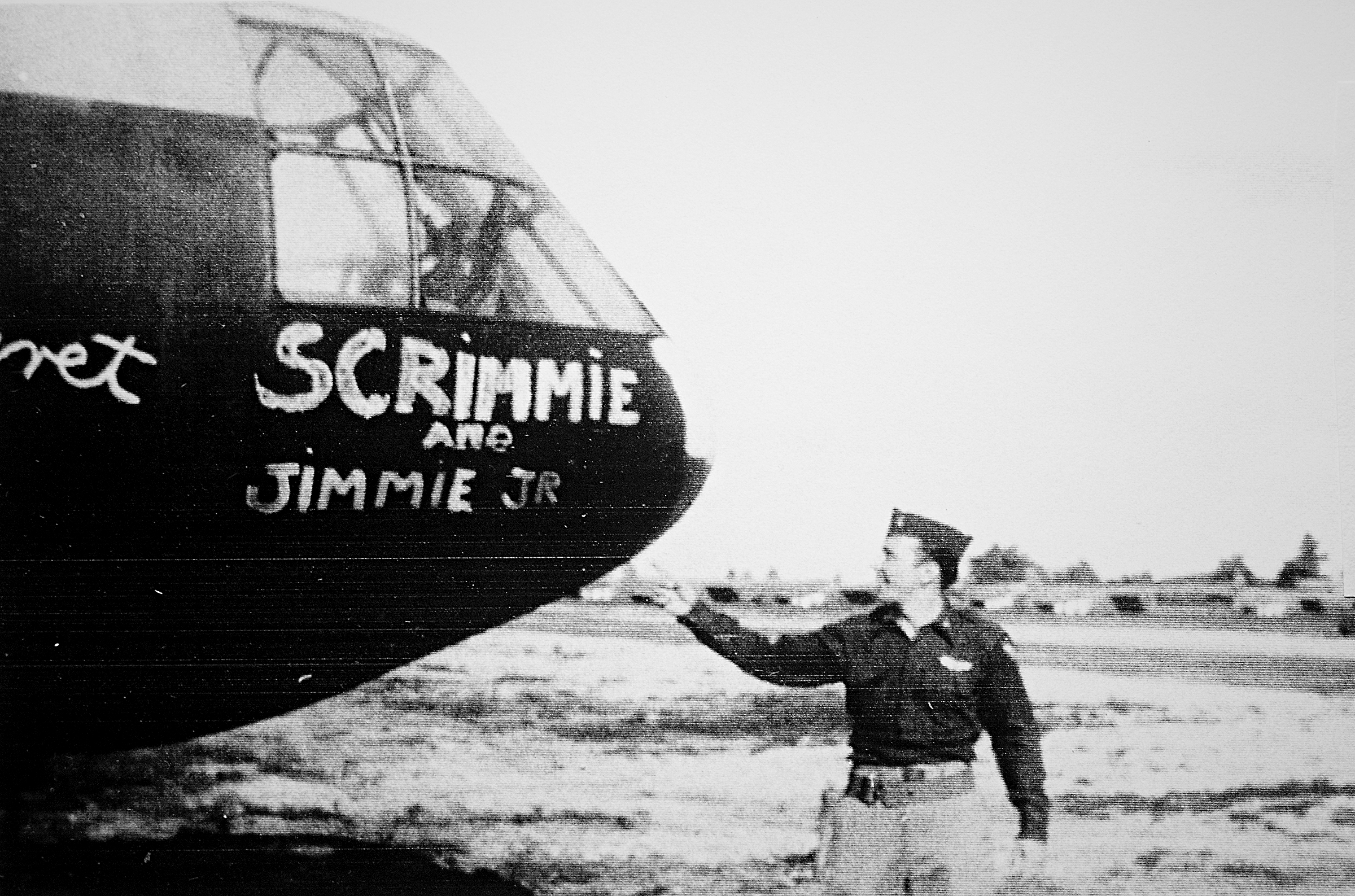 Photos by ED HILLE / Staff Photographer
OLIVIA HALL / Philly.com
He looked again at the haunting Nazi patches and medals — emblazoned with swastikas — that he confiscated from German prisoners, the enemy officer's hat, the sniper's sighting scope, and the many black and white photos he took of war-torn Europe.
He picked up his leather flight jacket and hat, his radio headset, silk invasion maps, combat boots, and invasion kit, still containing a pack of chewing gum and chocolates.
Then, after being pushed by our family, especially me, he sat down at his desk nearly 50 years later to write Gliding to Glory. Over months, he described chilling events that had stayed with him until his final moments in 1996, when — though a haze of medications — he imagined himself back in his glider on D-Day.
"I'm trying to land," he said in the summer of 1996, "but there are too many rocks." They were among his last words before he passed away at age 86.
ED HILLE / Staff Photographer
The Greenham Common air base outside of Newbury, England, became off-limits in late May and early June 1944. "No one was allowed in or out the field," my father wrote. "And we busied ourselves learning the terrain of Normandy, how to escape if captured, how to survive.
"…The real invasion of Europe — Operation Overlord — was on," he wrote. "We were not told when it would occur and where we would land on D-Day until the invasion date was set."
"There weren't many words, just a clasp of hands and a deep look into each others' eyes."
James Colimore
As a member of the 88th Squadron, 438th Troop Carrier Group, Flight Officer James Colimore knew he'd be among the first to land in France. "We were told to get our battle gear in perfect condition — and if we wanted to, make peace with the Lord," he said.
On June 5, Maj. Robert Gates, the commanding officer of the squadron, "shook hands with each glider pilot," and the chaplain of the 438th told them, "I can only promise to pray for you."
"There weren't many words, just a clasp of hands and a deep look into each others' eyes," Colimore wrote. "…A short time later, we were out the door and heading for the flight line where gliders and towships were arranged for takeoff.
"Then, I knew what each of the glider pilots was feeling in his heart," he said. "The confusion, courage and fears that built up since we landed in England were now magnified."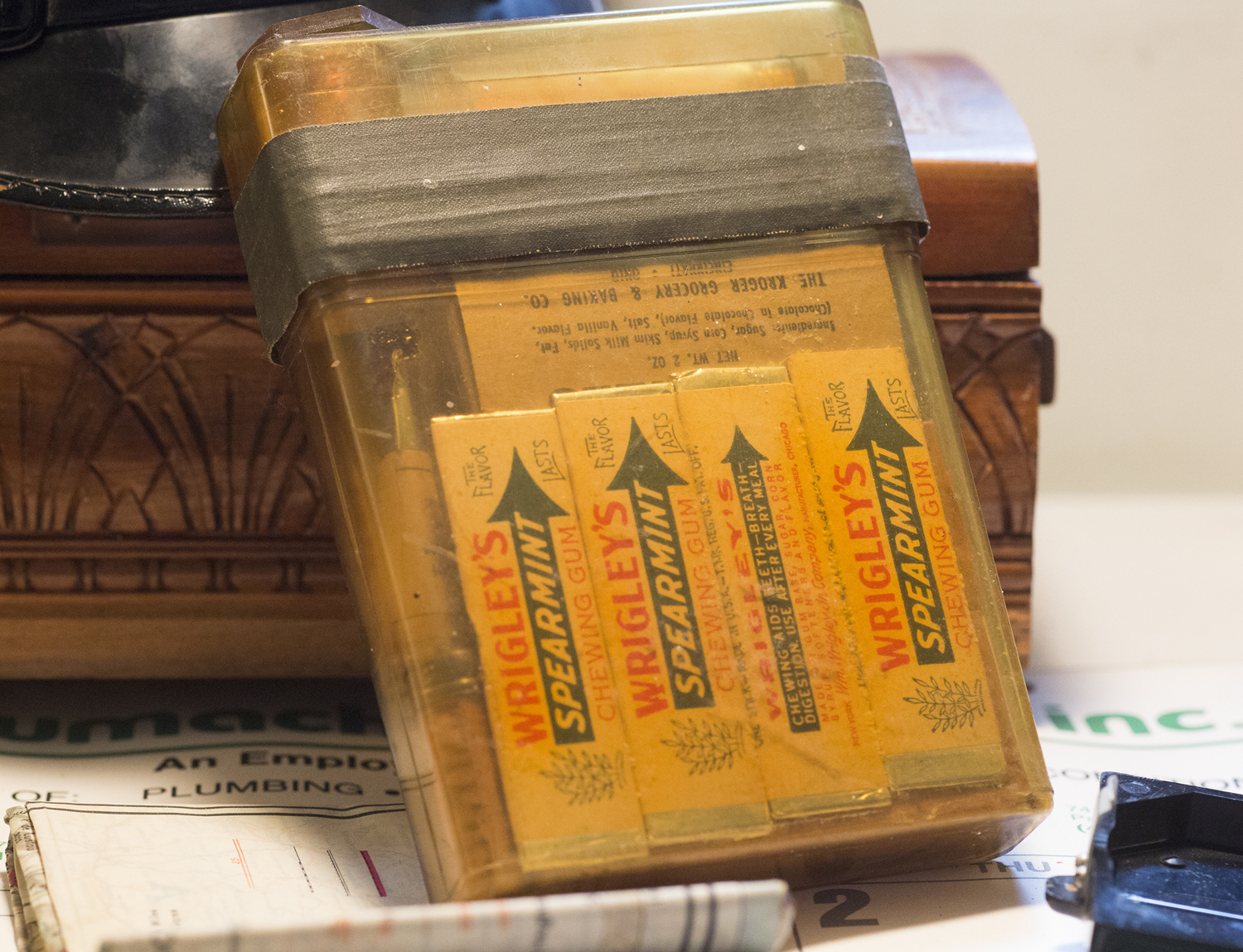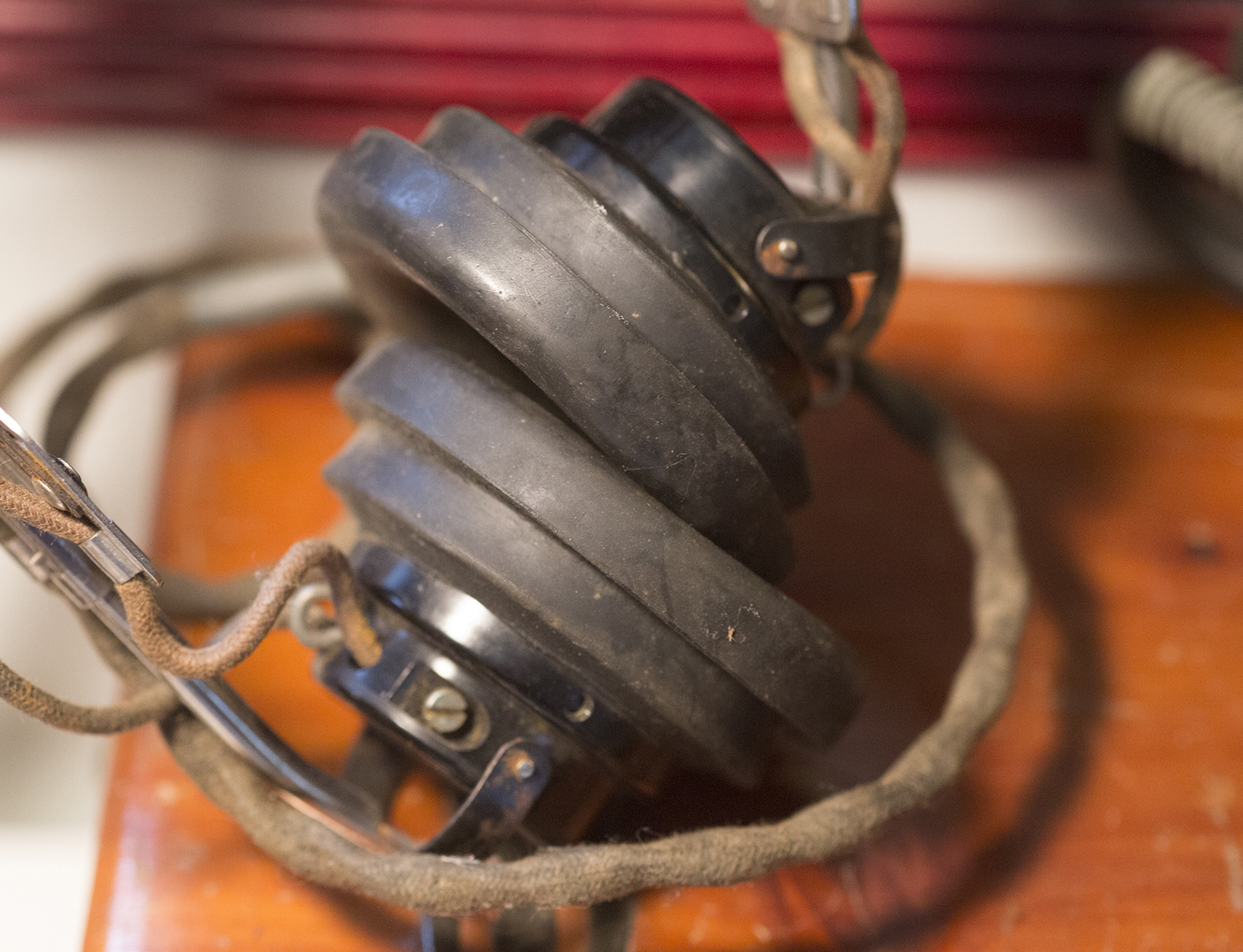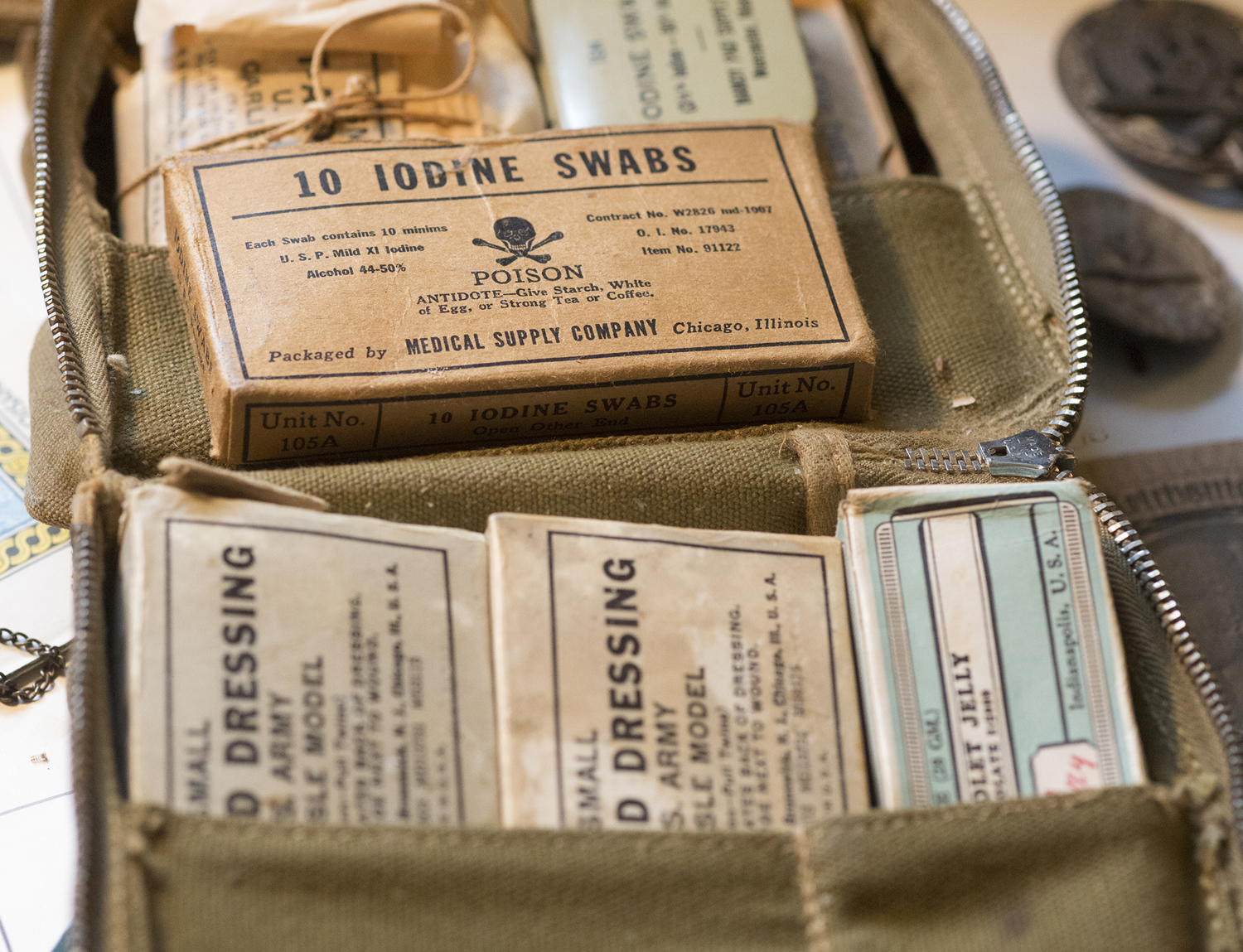 1. D-Day invasion kit, still containing packs of Wrigley's Spearmint gum and chocolate from 71 years ago. 2. A pair of headphones Colimore used in his communication with the tow plane that towed his glider to Normandy. 3. A medical kit that Colimore carried with him on D-Day. (ED HILLE / Inquirer Staff Photographer)
Waiting on a cool, dark, windswept airfield, the pilots and troops were in for a surprise: Gen. Dwight D. Eisenhower mixed among them, offering a few encouraging words.
"You are going on a mission to win the Battle of Europe and put an end to Hitler's reign of terror," he said, according to Colimore. "…I am confident we will be successful in landing enough troops behind enemy lines to hold security until more troops arrive. You are the spearhead invasion. God bless you."
Colimore checked his glider and his battle gear. "The only armor I had was a flack helmet and vest," he wrote. "…The only firepower I had was a .45 automatic in my shoulder holster, a carbine and two hand grenades."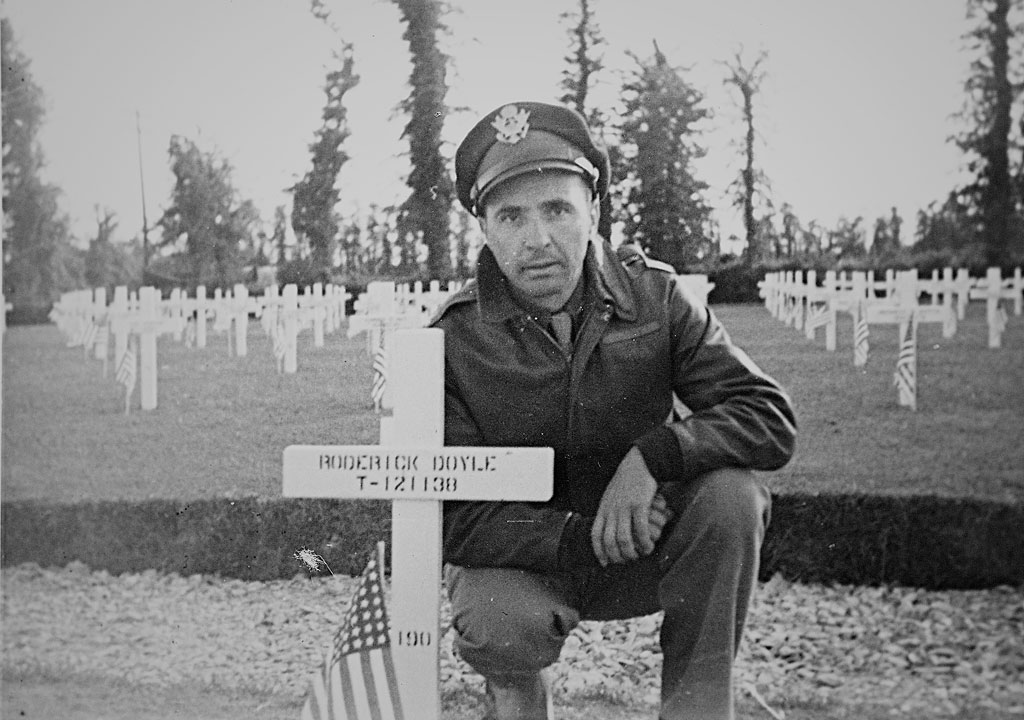 Colimore visits the grave of a fallen comrade killed in the D-Day invasion and buried in a cemetery in Cherbourg, France.
Then he reached into his "left upper chest pocket and took a good bite of a large Hershey chocolate bar," he wrote. "I always made sure I had one on each mission."
The huge engines of the C-47s roared to life."Within minutes, the tow rope tightened and the signal was given to the tow ship for more power and takeoff," he wrote. "Up, up, up we go into the darkness of the night skies.… This was the real thing."
My father was flying one of hundreds of flimsy CG-4 Waco gliders that day, carrying anti-tank guns, jeeps and hundreds of troops intended to stop the enemy from reinforcing beach defenses.
Landing near Ste.-Mère-Église, "I saw Germans running like hell through the hedgerows," he wrote. "Several cows were lying dead after being hit by gliders trying to land safely.
"In the midst of the battle … a short old lady was pulling a donkey hitched to a milk cart," he wrote. "She looked befuddled and scared as she yelled at us in French."
"You are the spearhead invasion. God bless you."
Gen. Dwight D. Eisenhower
At a barn that became a temporary headquarters, the glider pilots and troops were ordered to prepare for a German counterattack. "I want two men every 75 feet to guard the area we are now in," a colonel said, according to Colimore. "You will guard it with your life. No one leaves his post."
The night of June 6 was frightening. The Germans sent up flares to locate the Allied troops and fired machine gun bursts but "never attempted to charge our position. Still, we were very shaky because we didn't know what was coming next," Colimore wrote. "It was do or die if the Krauts came upon us."
Everywhere, "I saw a lot of dead paratroopers," he wrote. "Many of the soldiers were stacked one on top of the other on a large flattop wagon."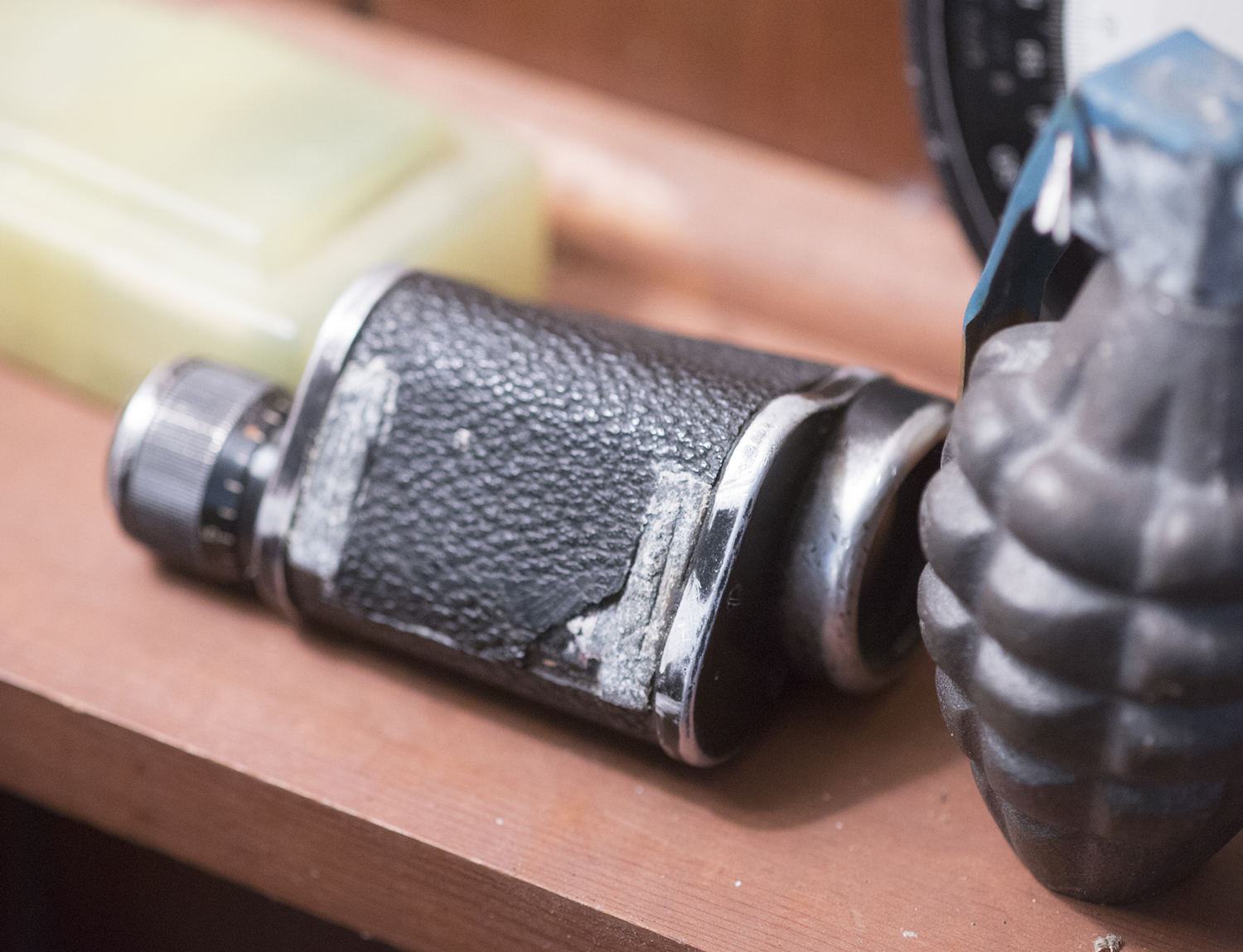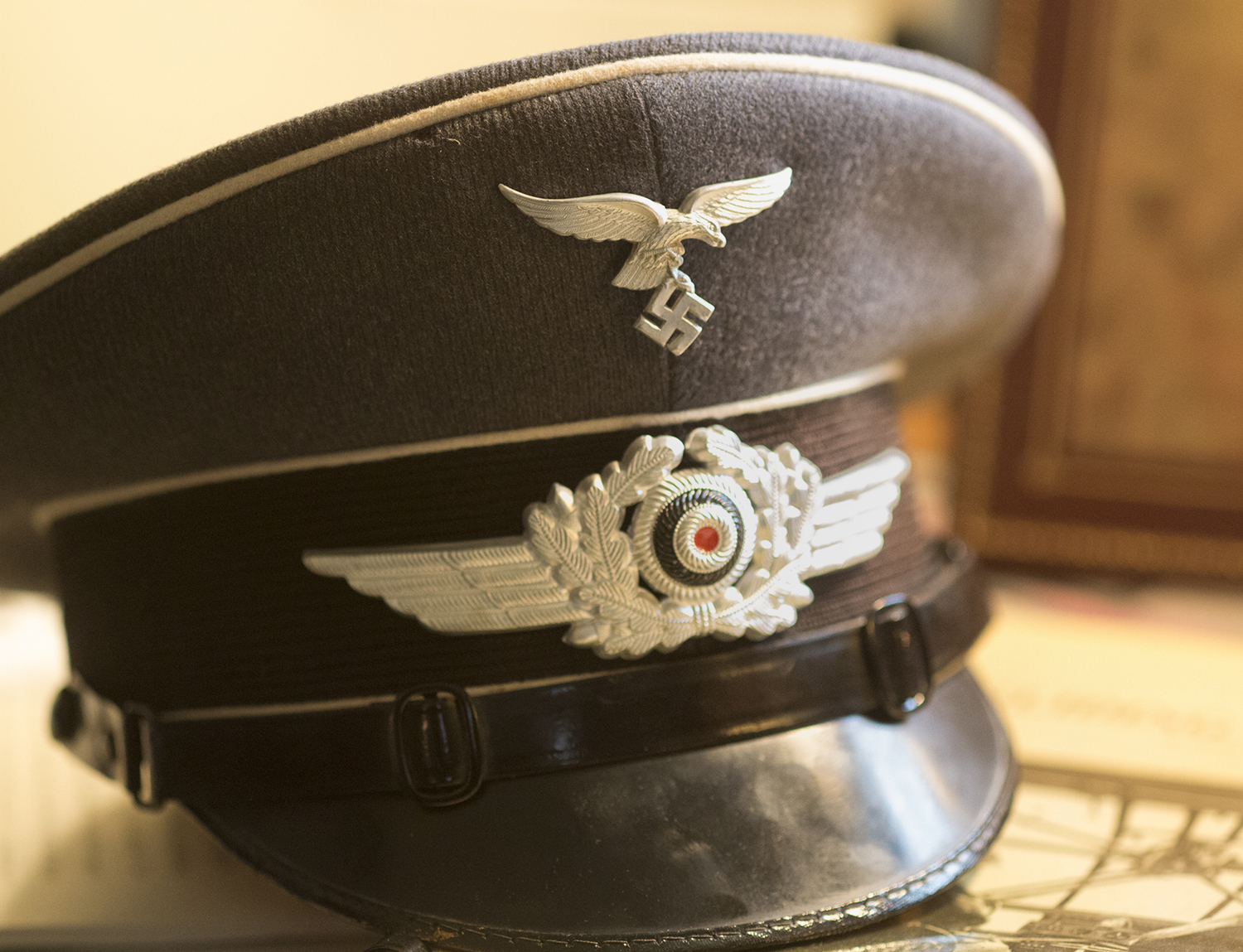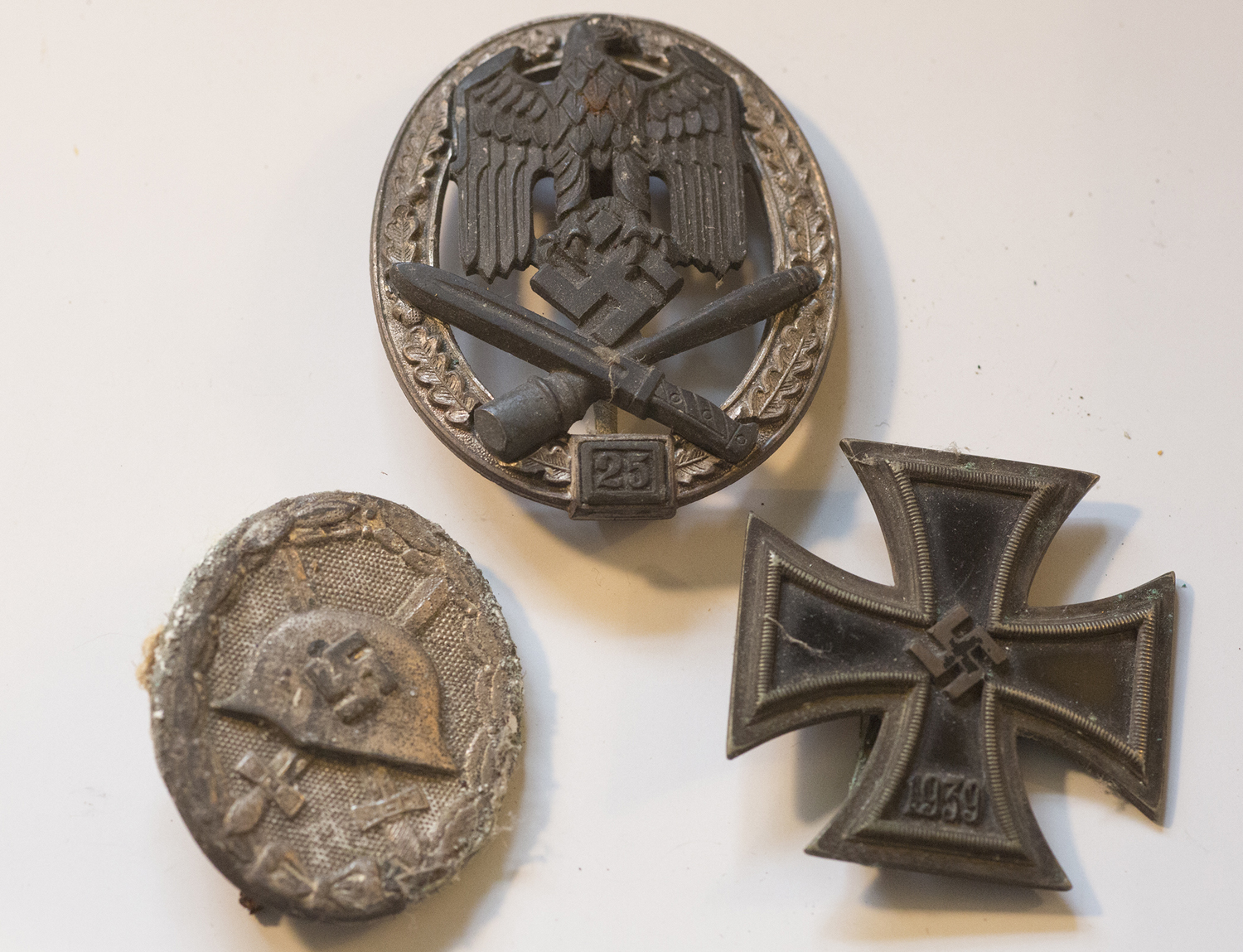 1. A sighting scope - half of a pair of binoculars - used by a German sniper to target American soldiers, confiscated by Colimore. 2. A German officer's hat, also taken from a POW. The officer's name is still inside of the hat. 3. A collection of eerie Nazi medals, taken from the uniforms of German POWs. (ED HILLE / Inquirer Staff Photographer)
Colimore and others "tried to help some of the wounded and injured airborne troops," he said. "The wounds were almost overpowering. There were not enough medics to care for them."
By June 9, my father saw the first American tanks lumbering up from the beachhead. The glider troops and paratroopers had done their job.
After a 12-mile march through sniper-infested areas, he lay exhausted in the sands of Utah Beach, roused only by a German fighter plane strafing the area.
Later, while still laden with combat gear, he waded and swam out to a landing craft that would take him to a ship headed to England. It was filled with captured Germans, and he began collecting the first of many war souvenirs from their uniforms.
They would come home with him to Baltimore — to the city where his father had owned a restaurant on Pratt Street frequented by longshoremen, and where he lived within earshot of the lions at the Baltimore Zoo. It was where he had worked in the circulation department of the newspaper, and where he had enlisted in 1942 at age 32, a ripe old age for a pilot.​
After the Normandy invasion, my father was awarded a presidential citation and air medal, and flew two more combat missions, Operation Market Garden into the Netherlands, where he was injured during a glider crash landing, and Operation Varsity into Wesel, Germany, as the Allies closed in on Berlin. He also was promoted to second lieutenant and received the Purple Heart. Those memories were included in his book, too.
But D-Day — and the dark early-morning hours when he flew a mission to liberate France — would always stay with him. "I shall never forget that historic night," he wrote.
ecolimore@phillynews.com 856-779-3833 InkyEBC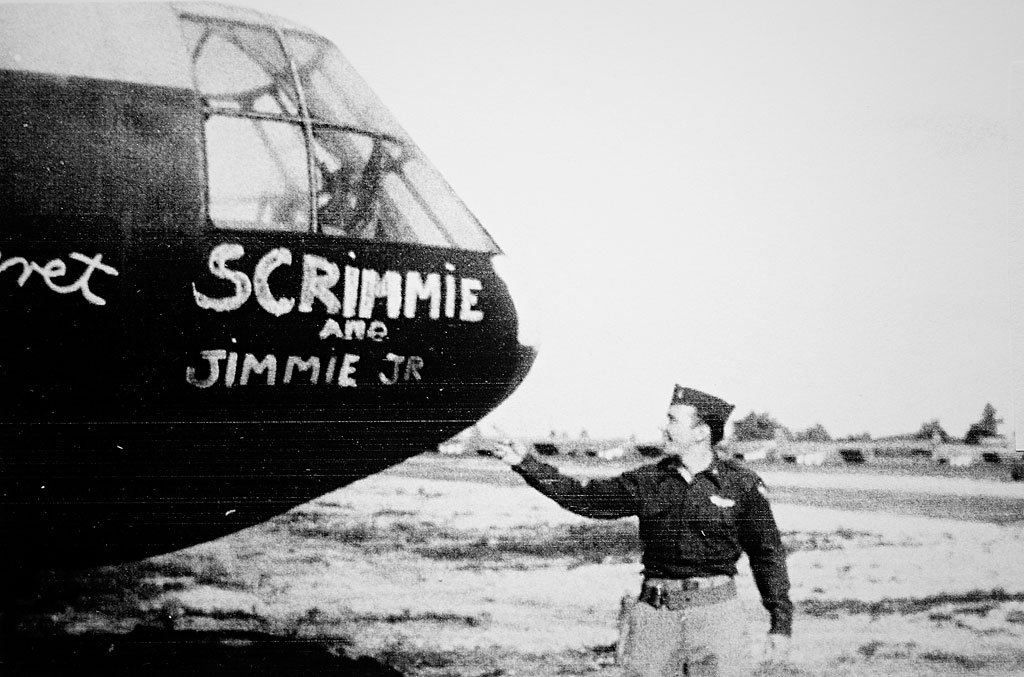 Colimore stands next to his glider, which is emblazoned with his wife's nickname "Scrimmie" and his son Jimmie Jr.