DAVID SWANSON / Staff Photographer
Students practice their moves at the Wrestle Factory.
Inside the ring at Philly's premier pro wrestling school.
After graduating from high school last year, Tom Bente packed his belongings into a car, said his goodbyes to Chaska, Minn. (pop. 23,000), and set off across I-80 to chase the only dream he'd ever had.
The dream is exactly what he's doing now: getting drop-kicked and clotheslined and catapulted around a wrestling ring in the middle of a repurposed garage in Northeast Philadelphia.
"This," says the pride of Chaska, sweaty and beaming and blue-eyed, "is the only thing I have ever loved."
This is the Wrestle Factory — Philadelphia's premier pro wrestling school. Every weeknight, men and women gather here, just off Torresdale Avenue, under blazing stage lights, to learn how to perform bumps and tiger rolls, how to fall without falling, and, equally important, to adopt fanciful stage names and don ornate costumes.
Find your Philly wrestler name!
Generate my wrestler name!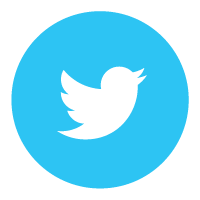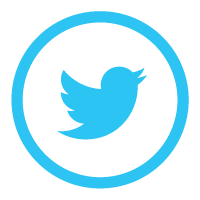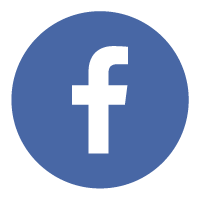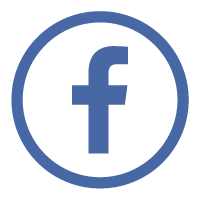 Start over
The Factory's founder is a former grappler named Mike Quackenbush — in real life, Michael Spillane — for whom professional wrestling is less a job than a calling, less cheap entertainment than performance art.
For 14 years he has been training wrestlers, after a career on the sport's independent circuit, the WWE's smaller, weirder cousin. He grew sick of what he called "tremendous monotony" in the ring — the same old matches and characters wherever he went. He and partner Tom Carter — Reckless Youth in the ring — figured they could do better. They started the school and their own troupe, Chikara, in 2002.
DAVID SWANSON / Staff Photographer
Students stretch in yoga-type poses on the mat before running drills.
Chikara's high-flying matches, populated with wild, over-the-top characters who fight at arenas in and around the city, have become cult favorites in the wrestling world. But the Wrestle Factory never had more than a dozen students at a time until last year, when the company moved to the garage. At last, in their own space, they started offering classes every night. There are 48 would-be wrestlers now on the roster.
"We don't really recruit," Quackenbush said. "But people just find us."
Many of his students didn't know wrestling schools existed (there are several dozen across the country, and about a half-dozen in the Philadelphia region), or that there was even a way to learn to professionally wrestle, until they found the Factory.
"What we're doing is a form of theater. Well, a very self-destructive and harmful form of theater."
Ophidian the Cobra, Wrestle Factory instructor
Half of the Factory's classes are spent learning how not to hurt yourself in the ring. The other half are spent playing improvisation games that wouldn't be out of place at a Second City class.
"What we're doing is a form of theater," an instructor in a mask emblazoned with a silvery cobra explained to a class the other day. He paused. "Well, a very self-destructive and harmful form of theater."
The instructor in question is a man whose stage name is Ophidian the Cobra, who has gone to such lengths to protect his real identity that he wore his mask in his wedding photos.
DAVID SWANSON / Staff Photographer
Ophidian the Cobra even wore his mask in his wedding photos.
"I make a living off of dressing up and acting like an anthropomorphic snake," he told students in a beginners class, warning them that their new hobby might be difficult to explain to outsiders. "It doesn't get more ridiculous than that."
Then he made sure all had signed an injury waiver and told them to take turns jumping over another student crouched in the center of the ring.
"I'm sorry if I squish you," one woman said.
There were 13 students in this class, including a Drexel University professor, a truck driver from Bensalem, an office manager from New Jersey, and a group of women who work together on a food truck and have decided to start their own all-female pro wrestling league. (First, they figured, they should probably learn how to wrestle.)
The truck driver, 21-year-old Devin Nitsche, was on his third beginner class: He broke his collarbone in a flip bump the first time, and failed the second. But he has a character already picked out — Danny Hax, a kind of fighting computer hacker — whom he is desperate to get into the ring.
"It's the dream," he said. "The dream."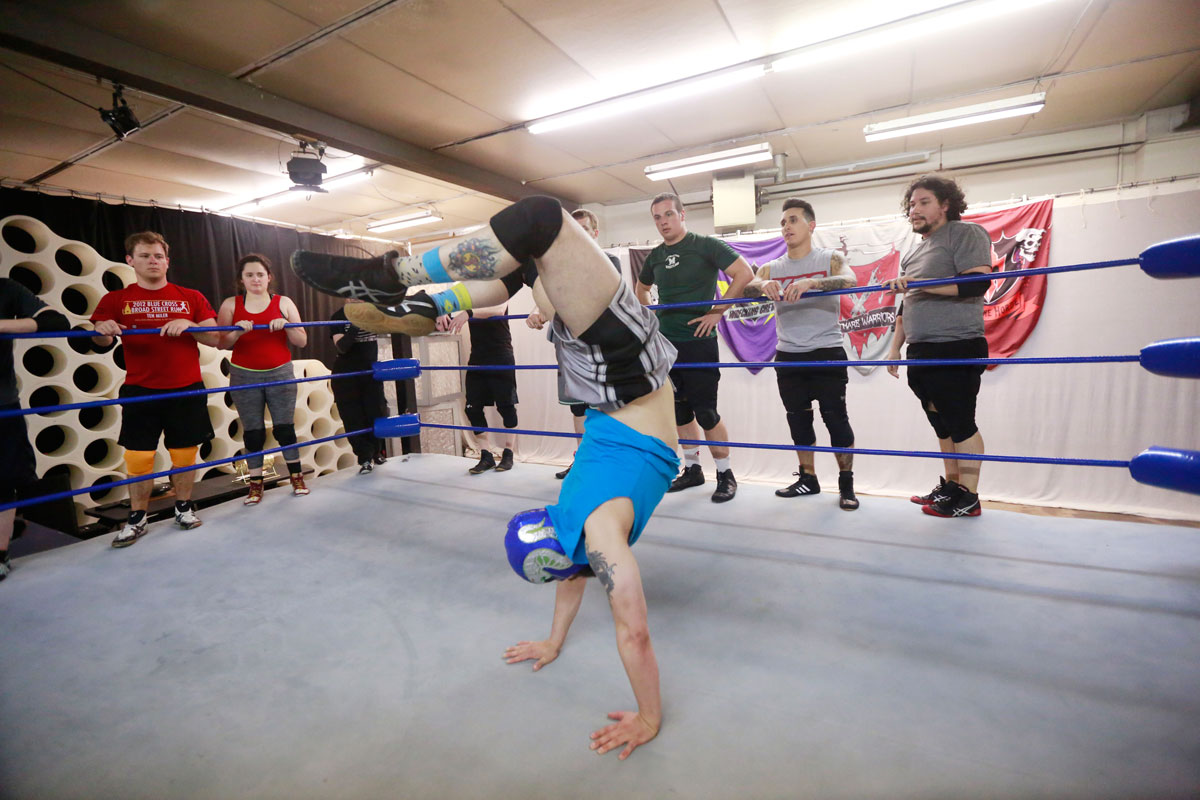 DAVID SWANSON / Staff Photographer
Ophidian the Cobra demonstrates a backward handstand.
That's not an uncommon sentiment at the Wrestle Factory — some who train here are just out to have a good time with a singular hobby, but others attend class as if it's a church where suplexes are sacraments. At 15, Bente persuaded his mother, herself a rabid wrestling fan, to drive him to Philadelphia to meet Quackenbush.
"He and his mother were legitimately considering pulling him out of school to wrestle," Quackenbush said. He told the kid to finish high school.
A week after graduation, Bente showed up at the garage. He's delivering pizzas by day now and wrestling by night. He hasn't seen his mother in a year. At class on a recent Monday, Quackenbush put him and about a dozen others through pinning drills and tumbling exercises late into the night.
"Smother 'em!" Quackenbush yelled as Bente dropped to his belly in the ring to let another student leap over him.
Later, Ophidian and Quackenbush led the students in an exercise that, at first, seemed purely physical: they had to learn how to get thrown out of a wrestling ring convincingly. Quackenbush demonstrated the move, flipping himself over the ropes and onto the floor. Then it was the students' turn.
DAVID SWANSON / Staff Photographer
Anya Corazon flips back into the ring in a rolling ring entrance, "Tigre" style.
"Come in, arms up — give me an easy, open zone to strike you — and I'm going to pitch you right out of the ring," he said, grinning. They ran at him, over and over again. They flipped over the ropes and slid neatly underneath them. Quackenbush told them to start approaching him differently — to come at him with their chin up, or their arms waving, or their elbows bent toward him. Then, to start making noises. And finally, to create a backstory for a character who'd move and sound like that.
One student charged with his nose in the air, making an odd, whining noise. (He explained, later, that his character was a nerd called the President of the Science Club.) A tiny young woman let out a bloodcurdling scream as she ran at Quackenbush. A man in a GO VEGAN T-shirt, covered in tattoos, started hooting like an ape. Bente announced he was "a baby with a knife collection" and offered no further explanation.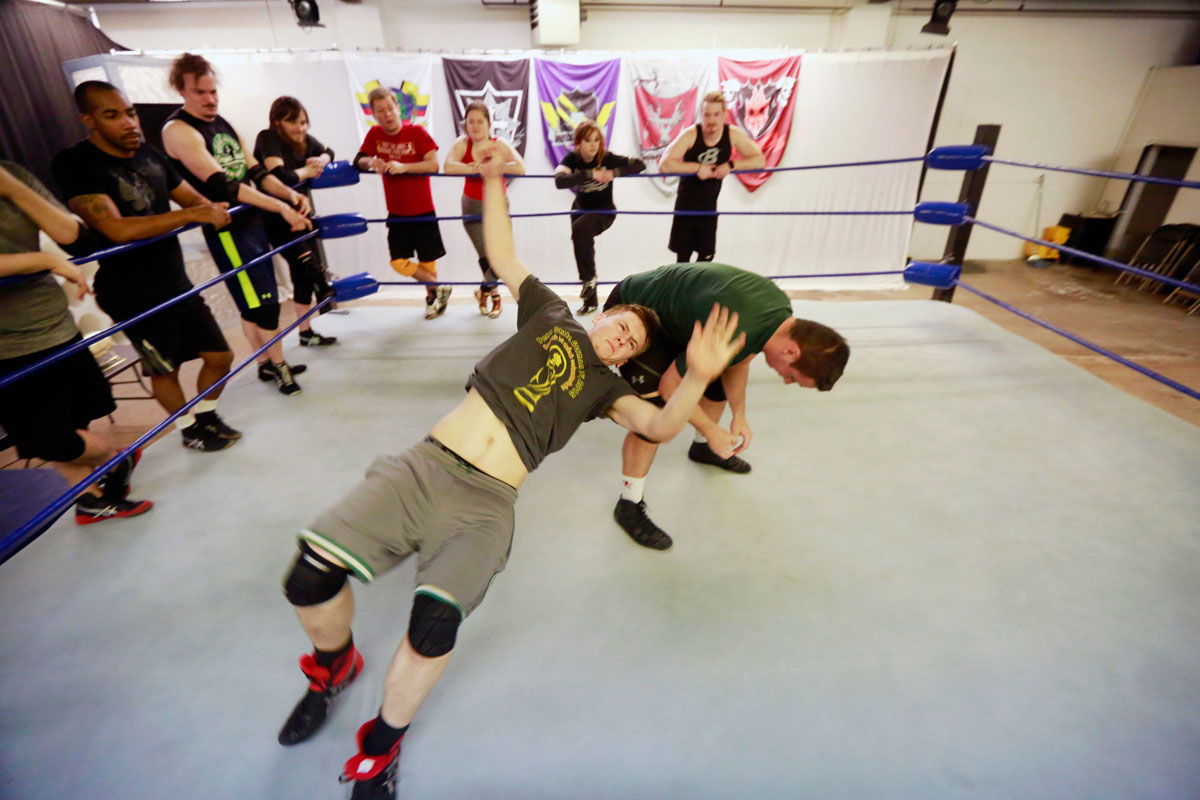 DAVID SWANSON / Staff Photographer
Brandon Williams flips over James Jones in a resorte.
"What I like about these characters is that there's not a lot of ego behind them," Quackenbush said later, pleased. He travels around the country often, performing and teaching. He sees a lot of wrestlers who perform under their own names — who tell him their gimmick is simply to be a stronger, crazier, better version of themselves.
That's not Quackenbush's speed. His Chikara lineup includes a team of fighting ants, someone who wrestles covered with a mat of swamp moss, and a grand champion dressed like a video-game damsel named Princess KimberLee. He wants his students to become someone else entirely in the ring.
That, he says, deadly serious, is when wrestling becomes art — art that happens to involve the occasional instance of grotesque bodily harm.
"You will have so much more fun in professional wrestling," he told the class, "if you can get past your ego."
The nerd, the monkey, and the baby with the knife collection nodded. Then each unlaced his wrestling boots, zipped up his coat, and headed back out into the real world, to be someone else entirely.
awhelan@philly.com, 215-854-2961, @aubreyjwhelan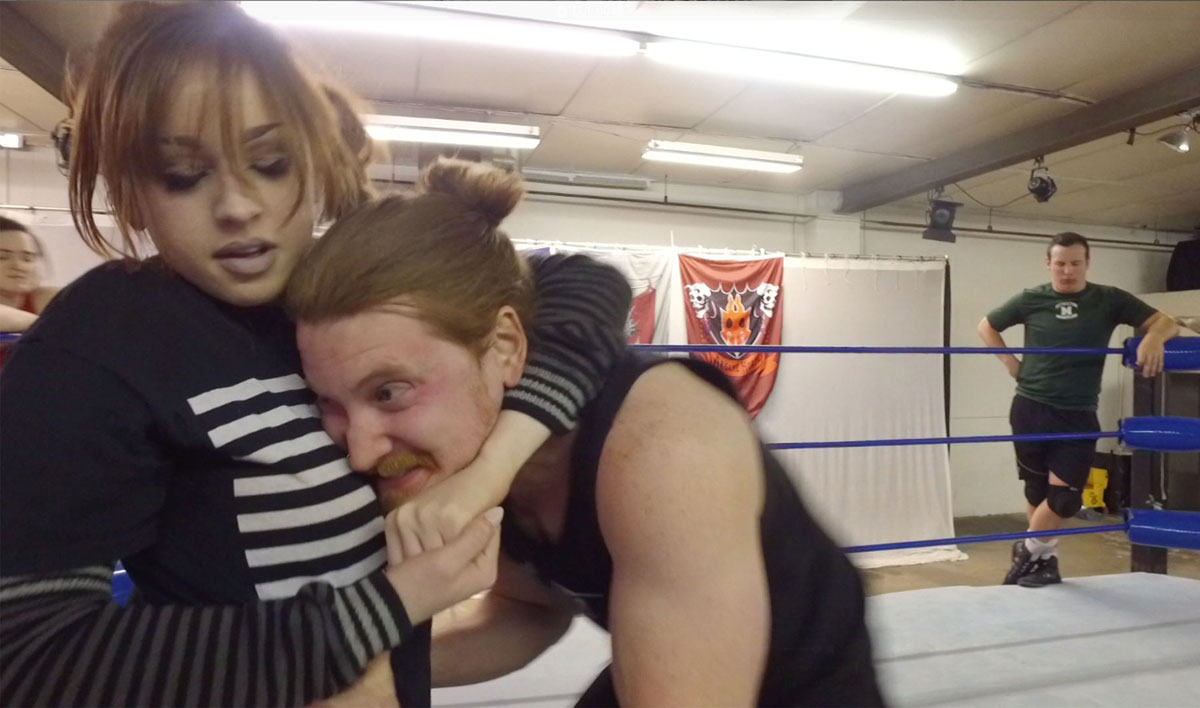 DAVID SWANSON / Staff Photographer
Anya Corazon has Kirk Huffnagle in a headlock.