DAVID MAIALETTI / Staff Photographer
Philadelphia Police Officers Jackie Ryan (left) and Courtney Hamoy (right) check on Todd on Potter Street near Allegheny Avenue in November. Todd is homeless, and like so many who live on the streets in Kensington, battling addiction.
Philly's overdose epidemic

70 deaths in 30 days
Stories from a record-breaking year of loss.
Dec. 28, 2017
So young, the forensic investigator thought.
The body in front of him had arrived at the city morgue on a Monday in November. Another one: heroin overdose. Found on the streets of Kensington, brought to a hospital, and the Narcan didn't take.
The young man looked new to the streets.
Seth Ditizio, an investigator for nine years in the Philadelphia Medical Examiner's Office and before that a veteran of the Army infantry in Iraq, knows death. And the polite 36-year-old with a bushy beard and iron grip has come to know his role in the crisis that has shaken his city and doubled the workload of his office. He is a bridge.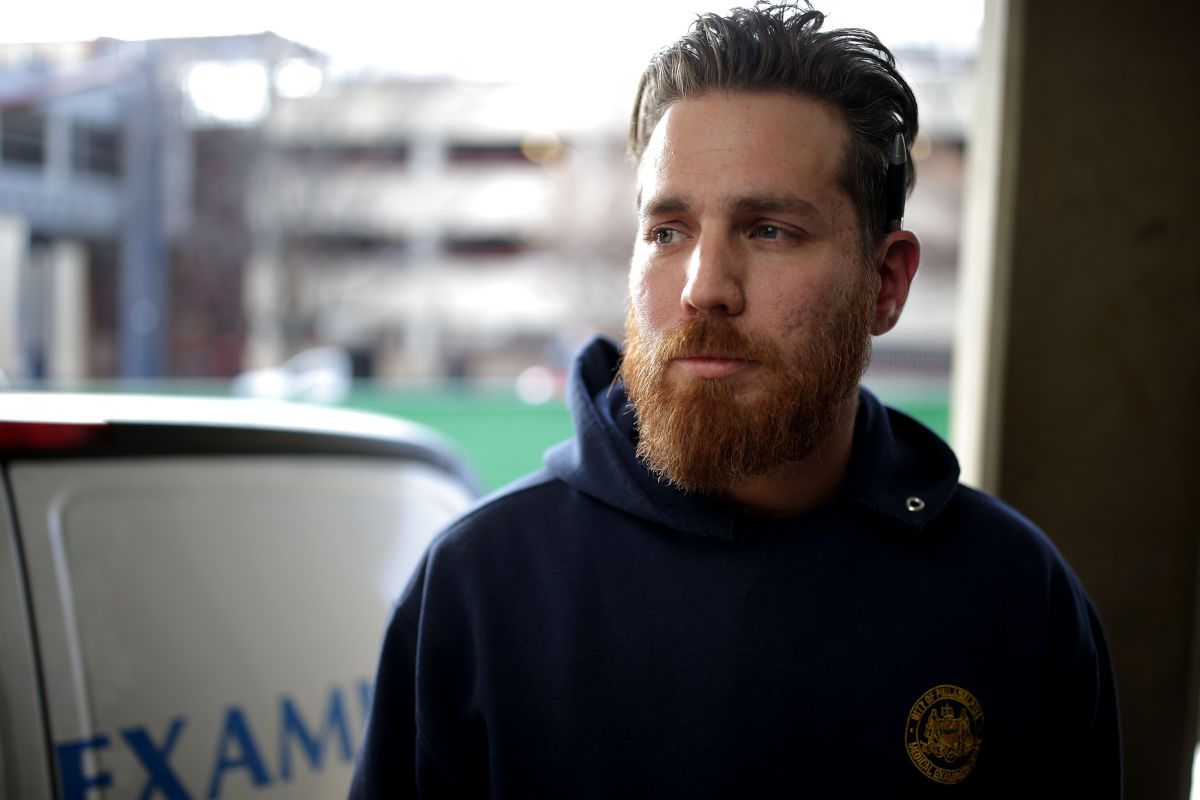 DAVID MAIALETTI / Staff Photographer
Seth Ditizio has been a forensic investigator for the Philadelphia Medical Examiner's Office for 10 years. It's his job to notify the families of people who pass through his office, and increasingly that includes overdose victims.
His is the voice on the other end of the line, shepherding a family from one kind of anguish to another: from seeing a loved one struggle in addiction to losing the person to it. "I don't deal with people that have addiction issues," he said. "All I deal with is their families. All I see is that pain."
Some of the dead arrive at his office with just a name, like the young man whose case crossed Ditizio's desk in November. The investigator would learn that his instincts were right: The man was in fact new to the avenue, from Delaware County.
Some come in with stories that manage to shock even during an unbearable crisis — like the two brothers, inseparable in life, whose family found them dead in their bedroom in early December.
DAVID MAIALETTI / Staff Photographer
Philadelphia Police Officers Jackie Ryan (center) and Courtney Hamoy (right) check on Hakeem near Somerset Street.
On the beat in Kensington
Officers Jackie Ryan and Courtney Hamoy of the 24th District patrol the streets around Kensington Avenue, the heart of the city's heroin crisis. Since the city closed down the heroin encampment in the railroad gulch on Gurney Street this summer, other encampments have sprouted under railroad bridges, on street corners, and in vacant lots. Read more
Officers Jackie Ryan and Courtney Hamoy of the 24th District patrol the streets around Kensington Avenue, the heart of the city's heroin crisis. Since the city closed down the heroin encampment in the railroad gulch on Gurney Street this summer, other encampments have sprouted under railroad bridges, on street corners, and in vacant lots. City cleanup workers move the encampments weekly, to the chagrin of the young people who sleep there – and, increasingly, the beat cops.
"We go down and chat with them," Hamoy said, "but we don't move them. Where are they going to go? Where are they going at this point?"
Their day-to-day reality includes treating overdose victims with Narcan, patrolling the camps that fill the sidewalks now, or arresting small-time dealers. They know, now, the limits of policing in a public health emergency. It defines their beat.
They've developed relationships with some of the people in addiction that they encounter.
"The most we can do is try to talk to them and convince them: This isn't your life," Hamoy said. "We sit out here and tell people to get help, and most of them are like, 'I'm on this waiting list.' There's just not enough resources."
Some come in having hid the secret of their heroin use, like the auto mechanic who died in a rented room in Kensington that was decorated only with a photo of his late mother.
The John Doe cases make Ditizio's job harder. And they are increasing. Like the man in the breezeway found with no ID, not even shoes, identifiable only by the insignia of the Army's 10th Mountain Division inked on his back. Those are the cases Ditizio takes home with him.
At least, for the young man in front of him now, there was a name: Christian. Someone had shouted it to the paramedics. Sometimes that's all you can ask for in Kensington.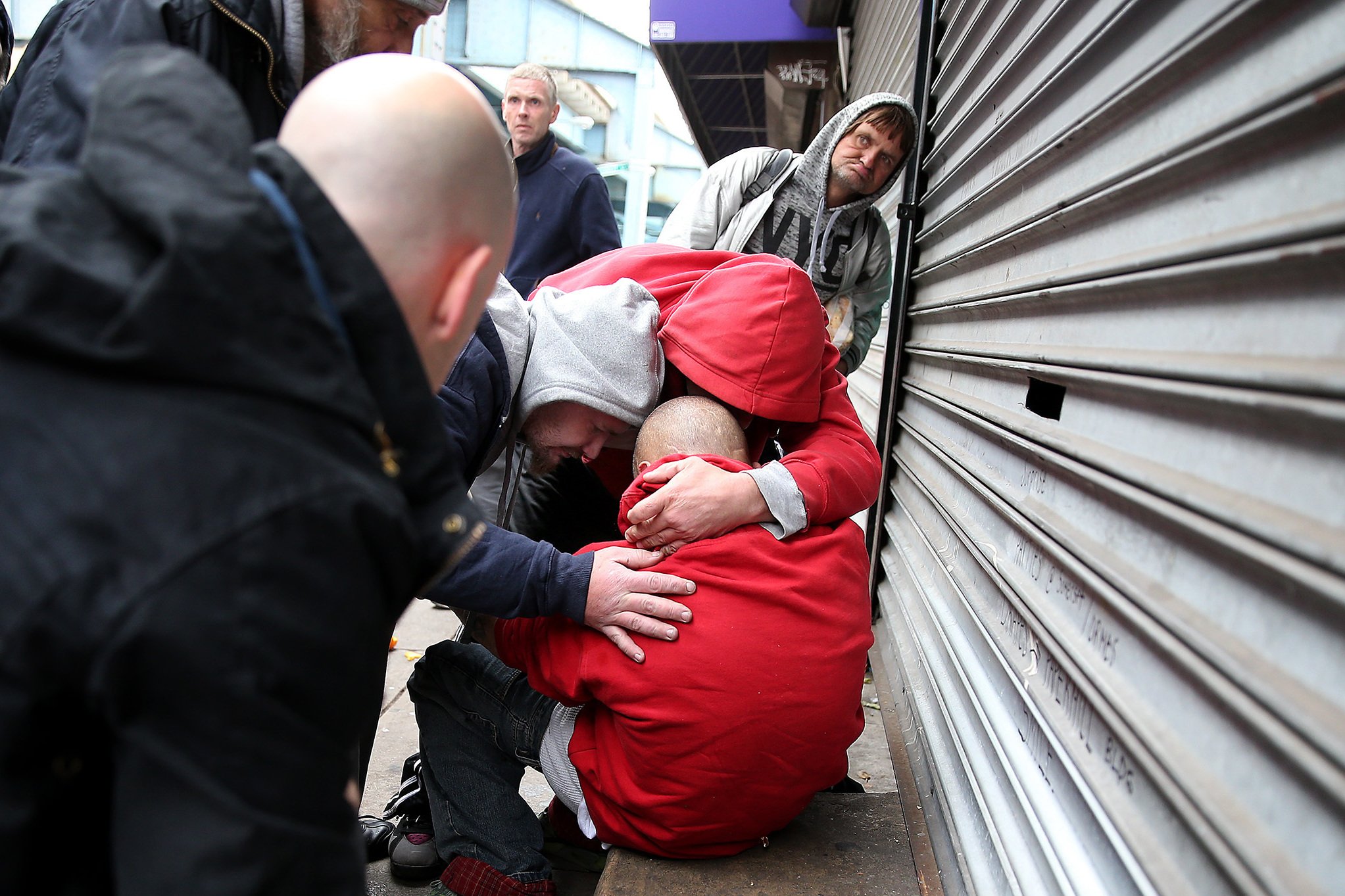 DAVID MAIALETTI / Staff Photographer
A man's friends hug him after he was revived from a heroin overdose on Kensington Avenue in November. He declined to go to the hospital.
Three stories from a record-breaking year of loss
By September, 953 people had died of overdoses in Philadelphia, about 85 percent of them from opioids. A final count is pending; the Medical Examiner's Office is still awaiting toxicology reports from the last three months of the year. But it expects the total will surpass 1,200. That's quadruple the murder rate.
The city's plight has drawn national attention, for the depth of the crisis and the efforts of its citizens to meet it — from frontline workers in Kensington, where the epidemic is most visible and the misery most acute, to City Hall, where officials mull harm-reduction efforts that once seemed radical.
"If we can avoid going up to 1,500 deaths that will be a victory in itself."
Sam Gulino, city medical examiner
At the end of a year with a record-breaking death toll, the Inquirer and Daily News spent a month accessing police records and data from the Medical Examiner's Office, and interviewed beat cops, paramedics, outreach workers, those in addiction, and the families who crossed that bridge — whose journey led them to the Medical Examiner's Office.
Between mid-November and mid-December, 70 people died of drug overdoses. An additional 10 deaths in those 30 days were suspected overdoses awaiting testing.
Those are staggering numbers to begin with — but here they represent a brief respite from the spring and summer, when nearly 100 people were dying from opioid overdoses each month.
"If we can avoid going up to 1,500 deaths," Sam Gulino, the city medical examiner, said earlier this year, "that will be a victory in itself."
Christian Cozzone, 24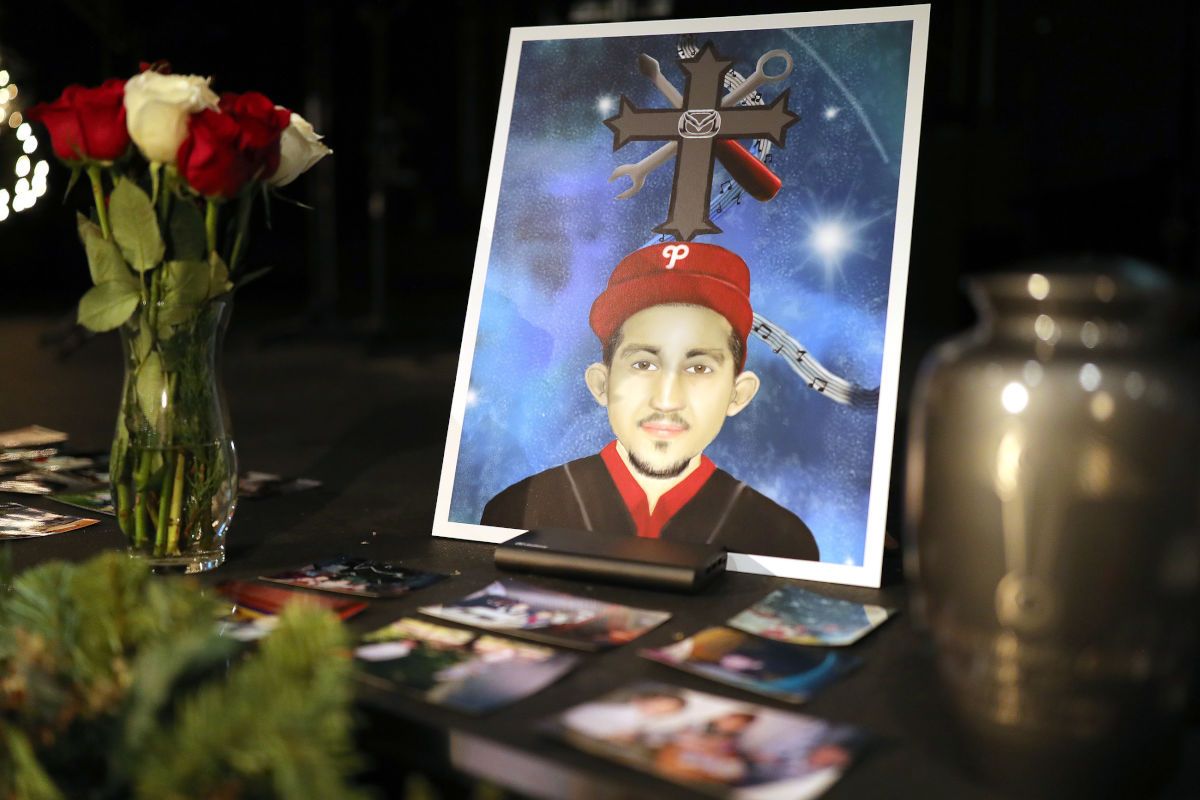 DAVID MAIALETTI / Staff Photographer
A painting of Christian Cozzone, 24, is displayed at his memorial service in December. Cozzone died of a heroin overdose in November, and his sister Brittany who had always been proud to show him her art, painted his portrait for the service.
On a Saturday night in November, Christian Cozzone finally told his mother that he could not hold out any longer. He was going to Kensington. And Danielle Lepori cried as she folded his laundry in the basement.
He was 24, still babyfaced, with sad, sweet eyes, and he had two babies of his own. He'd always been sensitive, prone to depression, and drawn to the drugs that eased it. He wrote long letters to his mother from prison that summer, for stealing tools to sell for drugs. He was trying to figure out what had gone wrong. "I avoided withdrawal at all costs. I would do insane things to make myself un-sick," he wrote. "I lost everything."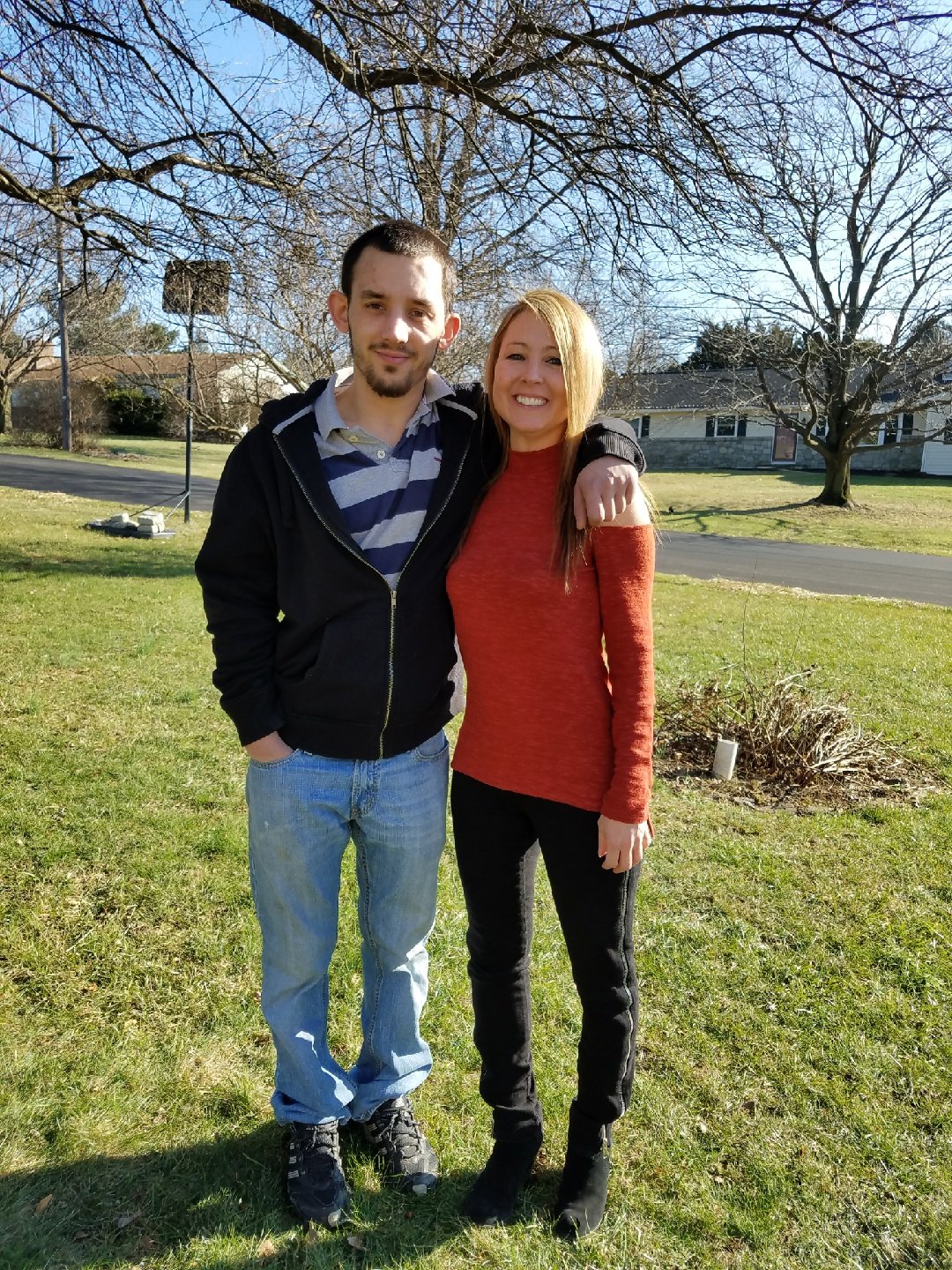 Family photo
Christian Cozzone poses with his mother, Danielle Lepori, on Christmas Eve last year in front of the family home. Danielle had helped her son through a years-long struggle with addiction.
And by November, he had lost so much. His father, whose battle with addiction had played out all Christian's life, and who was now in prison. His mechanic job and another as a handyman at a Philadelphia monastery. A piece of his skull, in a car accident that nearly killed him. His apartment in a trailer park, and the chair and the space heater that by the end were all that was left inside it. His Pomeranian, Rocky. His top-of-the-line tools, sold for a pittance. His girlfriend, to an overdose, while he was in jail.
In the car, driving him home from prison the day after Halloween, Danielle was optimistic, Christian was realistic. He worried he wasn't ready, but she promised him help anyway, as she always did. She turned up the radio, loud — they liked it that way. And she did not want to cry in front of him.
She took him to see his toddler sons and filmed them playing in the November leaves. He fixed up an old Honda with his younger brother, who cherished nothing more, and took it for a spin in the rain. Step on it, he said at the top of a hill. He visited his younger sister Brittany, who would go stretches without talking to him because of the drugs. But she always took him back, and she hugged him on her front steps and told him she loved him.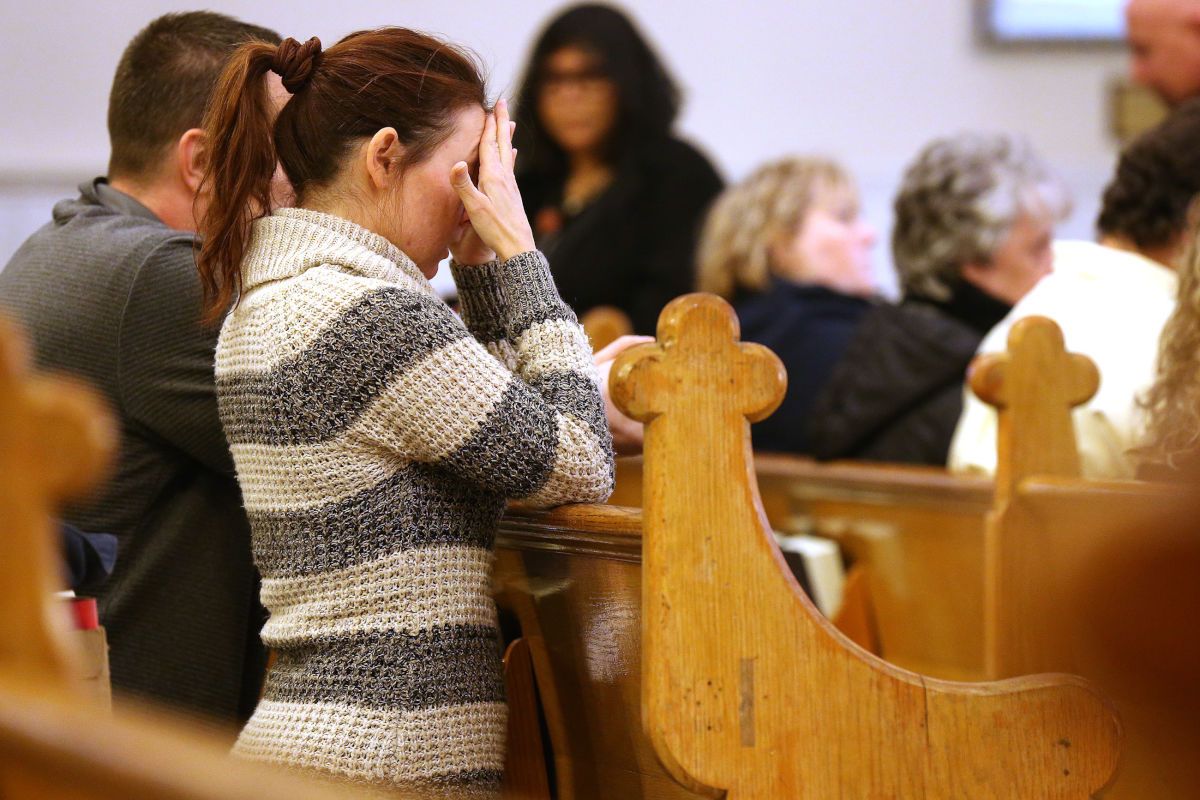 DAVID MAIALETTI / Staff Photographer
Danielle Lepori buries her face in her hands at the funeral of her son, Christian Cozzone, in December. Cozzone died of a heroin overdose in Kensington the month before.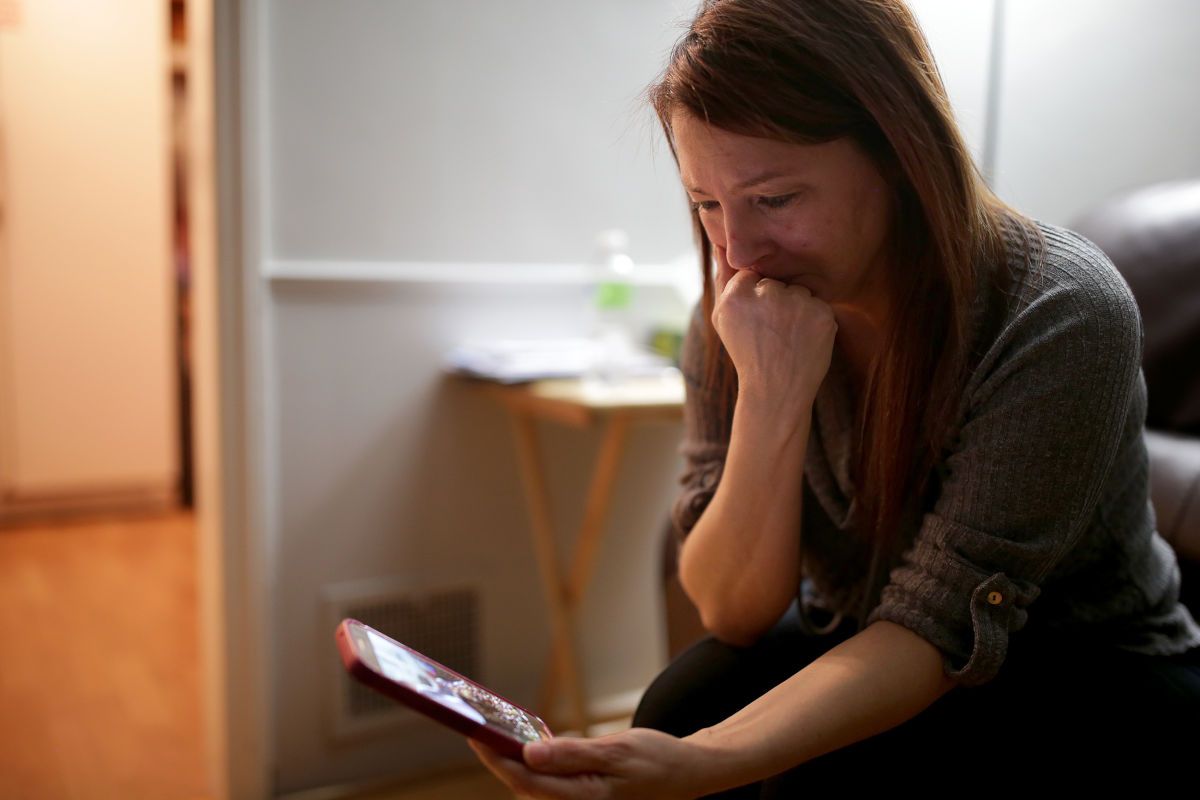 DAVID MAIALETTI / Staff Photographer
In her living room in Prospect Park, Delaware County., Danielle Lepori cries as she watches a video of her son, Christian Cozzone.
And now the Lyft to Kensington was waiting, and Danielle didn't care anymore if her tears upset Christian, and he was promising that he'd come back, that he knew how much to take.
Danielle knew that she had lost. That the pull of the drug, the pull to Kensington, had outweighed all she'd done, and when she ran outside to say one last goodbye, the car was gone. She texted and called him until his phone ran out of power. "All I want to know is if you are OK, Buddy."
By Sunday, Christian was gone, too.
The crisis by the numbers
He died in a neighborhood buckling under the weight of an epidemic, blanketed by heroin and fentanyl, the even deadlier synthetic that is the biggest killer.
Demographics of a Crisis
Approximately 86 percent of Philadelphia's 800 opioid-related drug deaths from January through September of this year were residents of the city. Here are breakdowns of the deaths for the first nine months of the year. Rates are annualized based on census estimates for Philadelphia for 2016.

Note: The age of one overdose death could not be determined.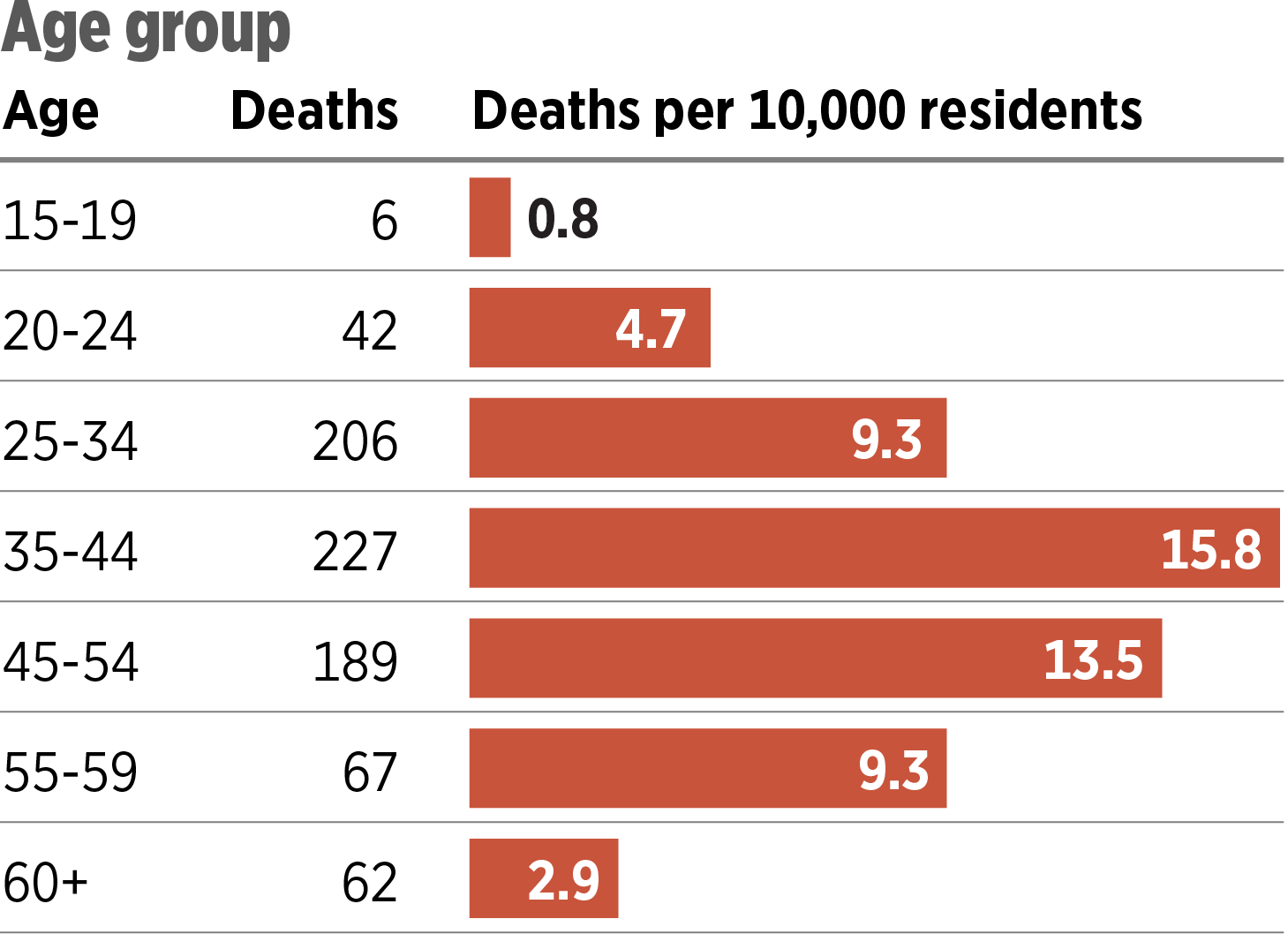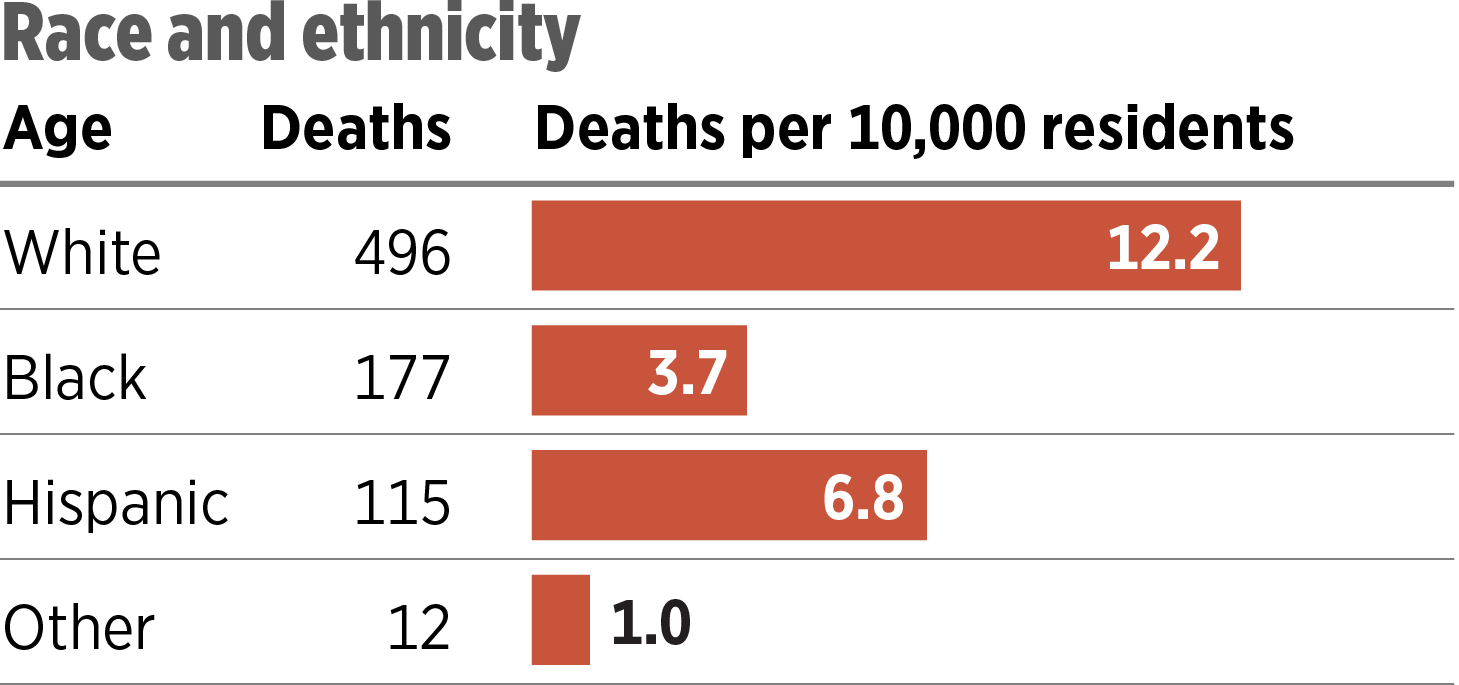 Staff Graphic
SOURCES: Philadelphia Medical Examiner's Office; U.S. Census Bureau
This year, fentanyl was present in 70 percent of overdose deaths. "The landscape of drugs has changed," said Gulino, the medical examiner, who hangs the molecular diagrams of heroin and its synthetic cousins on the wall of his office. Keeping the killers close.
Overdose Deaths in Philadelphia
In only the first nine months of this year, drug-overdose deaths in Philadelphia surpassed the total for all of 2016. Deaths in which fentanyl was detected have risen sharply, being present in seven out of every 10 overdoses.
Total unintentional drug deaths
907
953*
Prescription opioids
211
184
Fentanyl positive and cocaine positive
162
314
*Carfentanil was detected in one death in December 2016 and six in 2017 (the six deaths were in June and July).
**Includes deaths with heroin or morphine detected.
***Drug categories are not mutually exclusive as multiple drugs can be detected.
SOURCE: Philadelphia Medical Examiner's Office
In his office, Gulino is cataloging a crisis. He can tell you that 86 percent of the people who die of opioid overdoses in Philadelphia lived in the city. The rest are mostly from the suburban counties in Pennsylvania, New Jersey, Delaware and Maryland. Most of them are white, most of them men, most between the ages of 25 and 44 — though nationally, death rates among black heroin users are spiking. And there is horror in the margins: the six teenagers between the ages of 15 and 19, for example, who died of opioid overdoses this year.
It could have been so much worse. The city has handed out 19,000 packs of naloxone, often called Narcan, over the last six months, and the numbers alone show what the toll could have been without the overdose-reversing spray: 298 saved by police officers in East Division alone, which includes Kensington. That's almost double last year's saves.
Naloxone Administration by the Philadelphia Fire Department has Doubled since 2014
The Philadelphia Fire Department administered naloxone to more than 4,500 individuals this year as of Sept. 30. Here are the number of individuals receiving a naloxone administration by quarter from 2014 to 2017.
Note: Data reflect the number of individuals receiving naloxone and not the number of doses administered.
SOURCES: Philadelphia Department of Public Health
Startlingly, the transit police who patrol the El, the artery that delivers so many from around the region to the heart of the drug epidemic, were equipped with Narcan only in September, after deaths skyrocketed in the summer. They have since used the spray to revive 72 people on trains and near stations. People trained by the neighborhood needle exchange reported saving nearly 1,000 people with Narcan. Paramedics had used it nearly 5,000 times by September, reviving 1,000 more victims than in all of last year. But their Narcan numbers actually fell in recent months: Civilians in the neighborhood are administering it to friends and strangers, perhaps one of the crisis' silver linings.
Footage courtesy of SEPTA
Two SEPTA police officers revive a man overdosing at the Millbourne station on the Market Frankford Line in November. Transit passengers helped the officers to treat the man and move him from the car.
On SEPTA, Narcan is beginning to save lives
SEPTA polices the main artery into Philadelphia's opioid crisis: the Market-Frankford El, where people from all over the region disembark each day to buy and use heroin. But until September, the transit police were without a tool most consider essential when working in and around Kensington: Narcan. Read more
SEPTA polices the main artery into Philadelphia's opioid crisis: the Market-Frankford El, where people from all over the region disembark each day to buy and use heroin. But until September, the transit police were without a tool most consider essential when working in and around Kensington: Narcan.
A Bucks County official gave the agency the go-ahead to use the spray statewide in September.
By Dec. 5, the transit authority's officers had saved 72 people.
SEPTA Police Chief Thomas J. Nestel III said he'd been trying to get the overdose-reversing spray for his department for about a year. Officers had already been carrying Narcan in Delaware County provided by the district attorney but needed authority to use it all over the transit system. A Philadelphia Fire Department spokeswoman said that because SEPTA was not a city department, the city's EMS medical director could not oversee the program. So instead, Nestel went to Bucks County.
In a single week in November, officers administered Narcan to seven overdose victims on trains and in the bathrooms of Jefferson Station and Suburban Station — two of the city's biggest transportation hubs, and where Nestel said his officers respond most often to overdoses.
Before, Nestel said, officers would often speak of the fear and frustration they felt when they encountered overdose victims and had no means to save them. He's been encouraged by the lives his officers have saved, and also by the response of people who use the transit system. In a harrowing video taken in November on an officer's body cam, El riders rallied to help police treat an overdose victim who had passed out on the train. Watching the video, Nestel was struck by the looks of concern on the riders' faces — their desire to pitch in.
"People want to help," Nestel said. "Before, they would walk by." The difference, he thinks, is Narcan.
But the lifesaving antidote is far from a catchall. Three people have overdosed on trains this year, Nestel said.
"Narcan isn't the answer. It's a temporary lease on life. We need to be able to focus on something more long-term, too," he said.
While still at record highs, the death toll has slowed this fall. Narcan made a difference. So, likely, did the Drug Enforcement Administration's seizure of 40 kilograms of fentanyl destined for sale in Pennsylvania earlier this year. That's millions of bags of the deadly drug.
But city officials are waiting to see if the numbers hold. Or if the deaths skyrocket again, as they did last winter. In the meantime, the city is moving forward. It has hired a harm-reduction expert, a first for Philadelphia, and is considering a safe-injection site, long advocated by workers on the front lines.
The city is installing recovery specialists in the ER at Episcopal Hospital, which takes the bulk of the city's overdose cases and is sending a mobile outreach van to the trio of Kensington bridges where people in addiction sleep outside. It is dedicating a paramedic team to respond only to overdoses. In a sign of how desperate the crisis is, the city is giving residents blue light bulbs for their porches — which, in addition to lighting the neighborhood, supposedly make it harder for heroin users to find a vein.
And Gulino has made three new hires: a doctor and two chemists, to handle the crush of toxicology tests. "The numbers are insane," Ditizio said. "But we're doing it."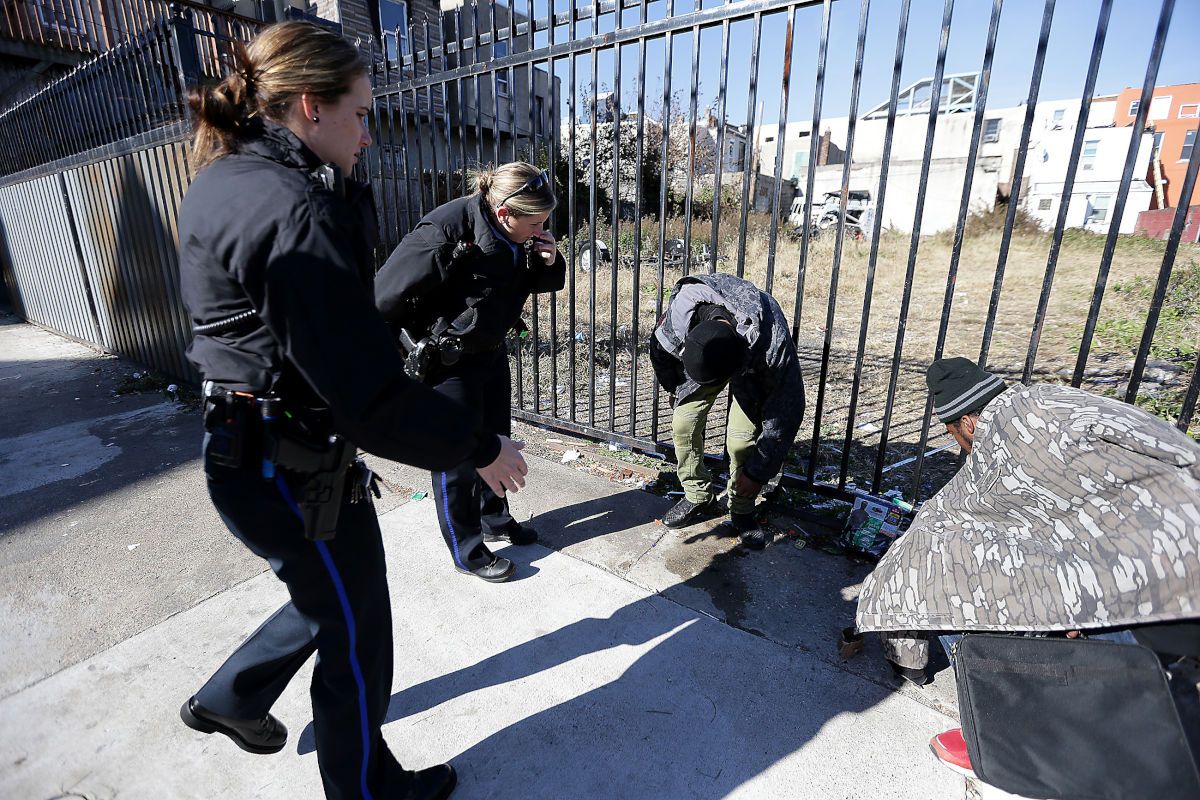 DAVID MAIALETTI / Staff Photographer
Philadelphia Police Officers Jackie Ryan (left) and Courtney Hamoy check on Hakeem, whom they met near Somerset Street in Kensington in November, while his friend Nick picks up used needles from the ground. Ryan and Hamoy's beat is centered on Kensington and much of their job entails patrolling heroin encampments, administering Narcan, and arresting small-time dealers.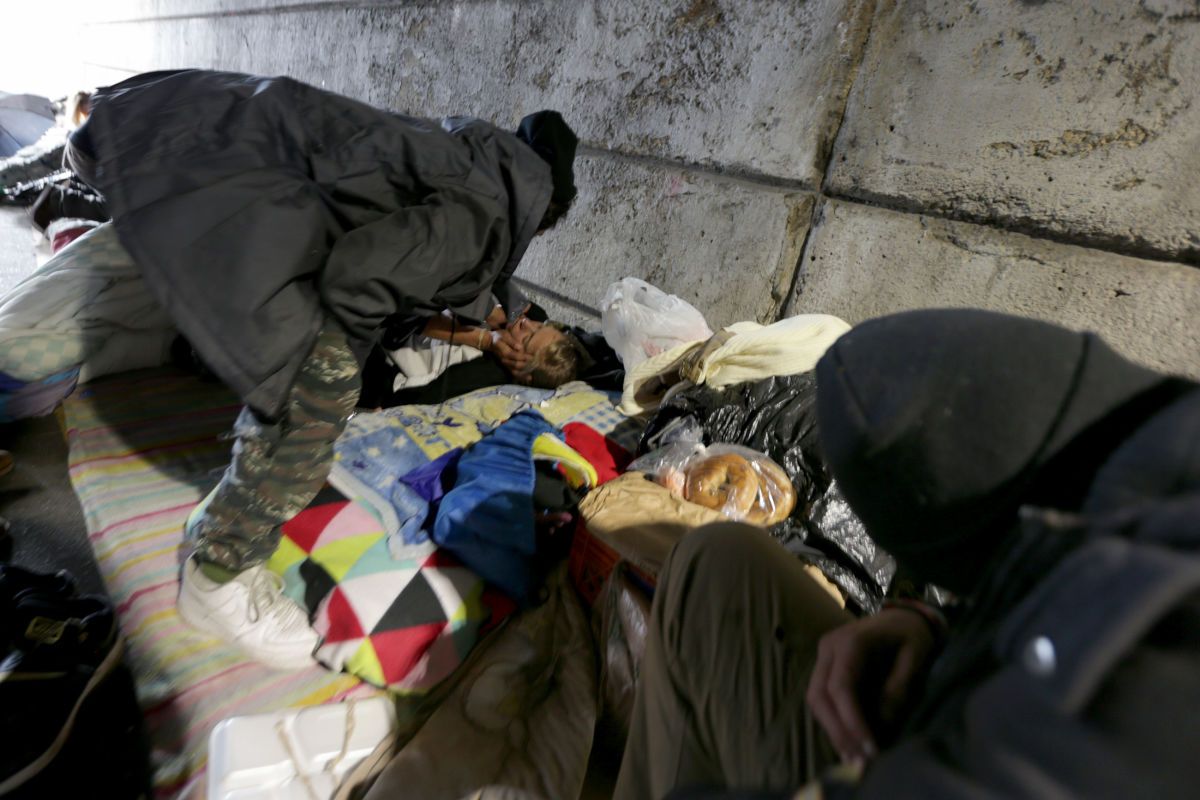 DAVID MAIALETTI / Staff Photographer
A young woman overdoses under the bridge on Kensington Avenue near Lehigh Street. Bystanders helped revive her.
Jake Hicks, 25
and
Randy Hicks, 22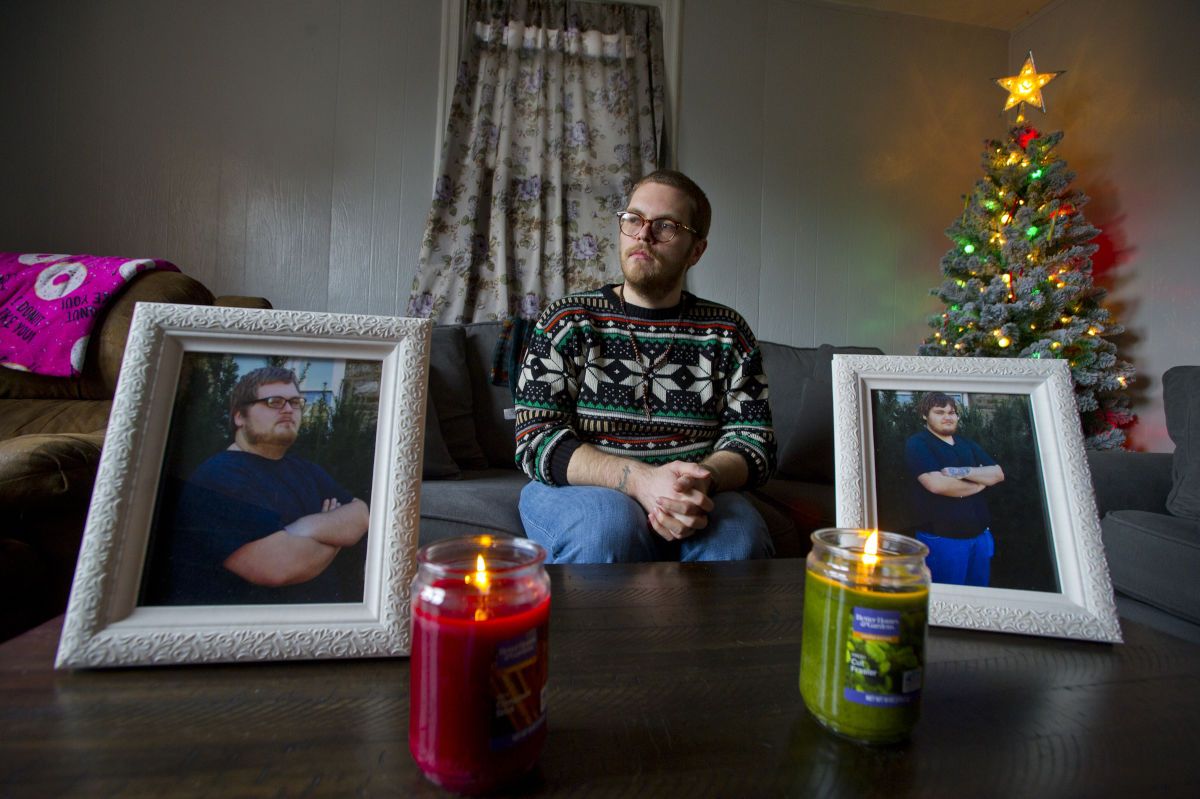 Avi Steinhardt / For the Philadelphia Inquirer
Timothy Hicks, 26, sits in his Northeast Philadelphia home with pictures of his younger brothers Jacob, 25, (left) and Randall, 22. Both brothers died in their room of heroin overdoses on Dec. 7. Their family is now struggling to pay for the funerals.
The Hicks family didn't get a call from Ditizio. They didn't need one. They knew something terrible had happened to their sons when they battered down the bedroom door in their Crescentville rowhouse Dec. 7 and found Jacob, 25, and Randall, 22, blue on the floor.
Jake and Randy had shared the room. Big kids with big beards and big personalities. But their family saw a sensitivity they hid, like most things, from everyone else. Jake was a self-taught guitarist and pianist who scored top grades at Bodine High School for International Affairs but whose talents competed against the undertows of depression and anxiety. Randy was the outgoing one, who idolized his brother but fought the same battles against mental illness.
They were so close people assumed they were twins. They had each other. They had their video games and their YouTube channel and their odd jobs around the neighborhood. No one knew what they had been doing in their room until their brother, Tim, kicked the door in.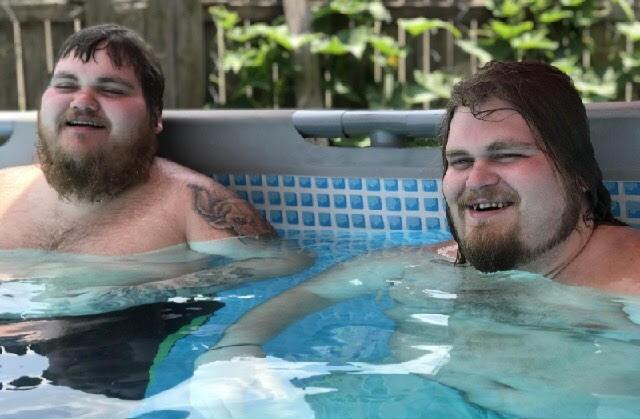 Courtesy of the Hicks family
Brothers Jacob and Randall Hicks died of fentanyl overdoses on the same day in December. Their family found them unresponsive in their bedroom.
Their mother, Donna, thought she'd already saved her kids: She'd helped Jake kick Percocet dependence in his teenage years. And they left their house on Emerald Street in Kensington 10 years ago, as drugs began to consume the neighborhood.
On the couch six days after their death, she and her husband, Randall Sr., talked about the room upstairs. How she couldn't go in anymore. How she wanted to leave. The Hickses were searching for meaning, and maybe it was there in the fact that their sons had died at home, in the place they loved, together. Their death certificates bore the same time, 8:48 p.m.
But now, Donna could not bear to stay.
"You can't run from your problems. That's what I've always heard."
Randall Hicks Sr.
"Where would we go?" Randall asked from the chair by the window, where the Christmas decorations were already up. "You can't run from your problems. That's what I've always heard."
But certainly Donna had never expected this. People on heroin were supposed to lose weight, she thought. The boys didn't do that. People on heroin were supposed to steal, she thought. The boys didn't do that, either. People on heroin nodded out. But her sons were on Xanax and Ambien, prescribed by a psychiatrist. When they were drowsy, she blamed it on the prescriptions.
The Hickses just didn't know, and now they have to know everything — about what happened to Jake and Randy, about the crisis that killed them. They scour the text messages the brothers had sent to their dealers, hungry to try out the free bag that killed them. They research fentanyl, which was found in their systems, and consider the viability of treatments their sons will never use. Their brother drained his savings for the funerals. The cost of just one was high enough. They are trying to raise money online.
And they wait, at night, in a house that's now too quiet, and listen for the footsteps of someone in the back driveway or on the path in the front yard. For the dealer who showed up in the days after the brothers' death, and asked Tim if he understood how much money they owed.
Abraham Castro, 35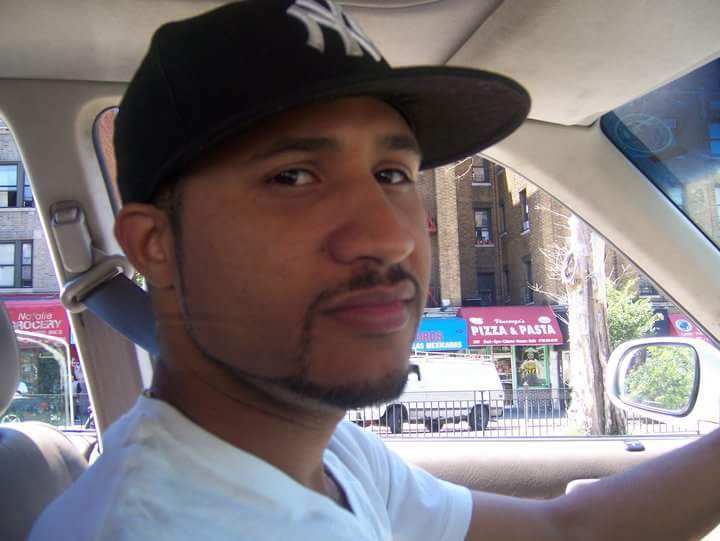 Family photo
Abraham Castro died of an overdose in the room he rented in Kensington in early December.
Abraham Castro had a secret. And he tried to hide it in a place where few are able: on Emerald Street, up the block from one of the most entrenched heroin encampments in the city. What he didn't try to conceal was his grief: the one he had carried with him for 20 years, the one that still felt like an open wound. His mother, Frances, had died of a brain aneurysm when he was 16. Loved ones said it was the defining moment of his life.
When he arrived on Emerald Street from New York City a month ago, to take a job at a family friend's auto body shop on Venango Street, he hung a framed photo of his mother in the bare room he rented from Olga Nunez, his mother's best friend. And though he carried himself with a playful swagger and seemed outgoing, his eyes were the tell of a deep trauma.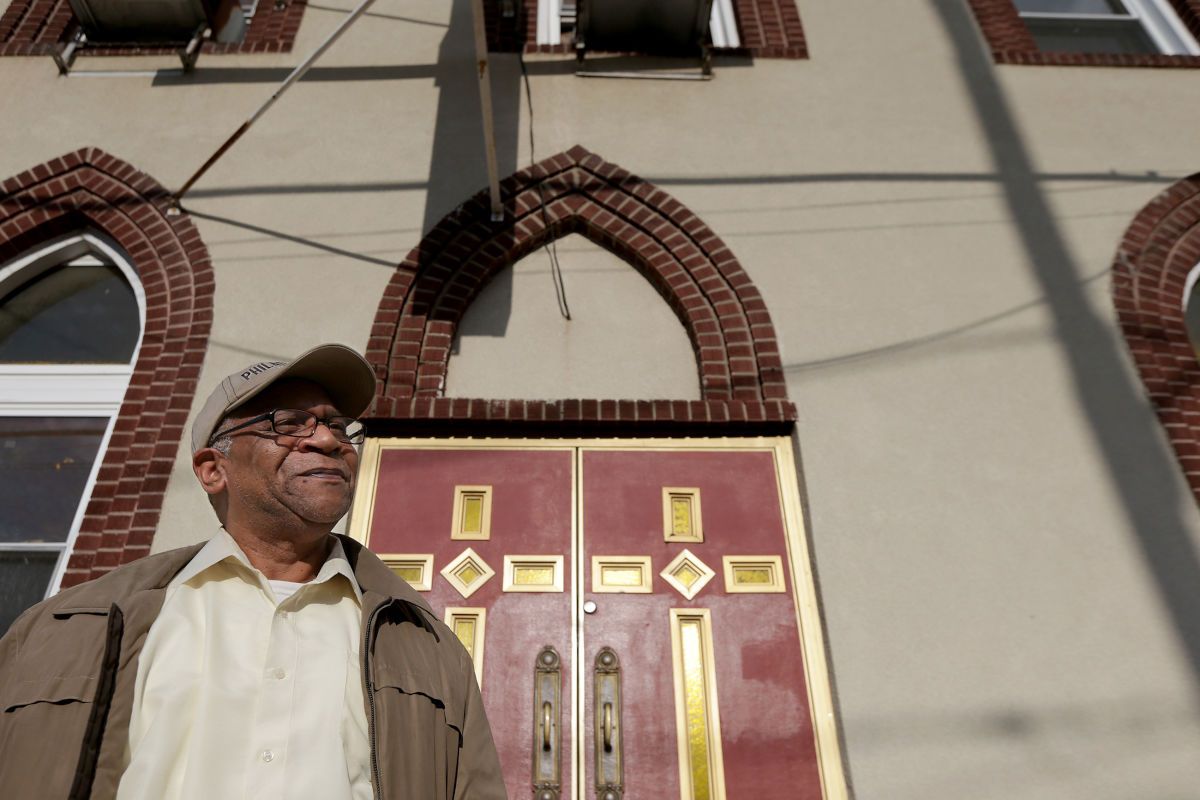 DAVID MAIALETTI / Staff Photographer
The Rev. Richard A. Harris, talks outside his church, Firm Hope Baptist Church in Philadelphia.
As opioid crisis spirals, Kensington neighbors take action
The heroin epidemic in Kensington didn't start this year. But 2017 was the year it became most visible, as a long-entrenched problem in a long-neglected neighborhood moved out of the shadows and onto the avenue — in part, ironically, because of the city's efforts to stem the crisis. Read more
The heroin epidemic in Kensington didn't start this year. But 2017 was the year it became most visible, as a long-entrenched problem in a long-neglected neighborhood moved out of the shadows and onto the avenue — in part, ironically, because of the city's efforts to stem the crisis.
The closure of largely isolated heroin encampments like the Gurney Street train gulch has pushed people in addiction out onto Kensington Avenue, under train bridges and into abandoned lots in never-before-seen numbers.
Residents are advocating for long-term solutions that could help stop the death in their neighborhood. But they're also passing more people living on the streets every day — and trying to maintain a quality of life for residents in a place that for decades fell victim to disinvestment and institutionalized racism, and is now the epicenter of another crisis.
That's why, at the Firm Hope Baptist Church on Auburn Street, the Rev. Richard Harris has joined nine other community organizations in a comprehensive neighborhood cleanup effort: "Kensington Clean." It's just picking up litter and reclaiming abandoned lots and parks. But it's something residents can control in a crisis that has presented unprecedented challenges and complex questions for national officials, let alone neighborhood leaders.
The groups are partnering with the local revitalization organization Impact Services, Rock Ministries, and the New Kensington Community Development Corp. to clean the entire neighborhood — and then to keep it going, assigning ongoing cleanup duties, block by block, to interested neighbors. "Cleaning our streets is something we can control together and make a difference," said Casey O'Donnell, Impact's president.
Harris' group, Somerset Neighbors for Better Living, also holds motivational meetings and serves food at a number of recovery houses in the area. They hold monthly meetings on the crisis at which the conversation, community leaders say, is slowly shifting. With the suffering more visible, O'Donnell says, people in the neighborhood are talking more about shelter and treatment, and less about arresting the problem away.
Still, tensions remain, Harris said. Some of his neighbors simply want people off their steps, by any means. For his part, Harris wants round-the-clock outreach focused on getting people into treatment. Kensington needs consistency, he said. And his neighbors have to see results.
Other residents, like Laura Tepper, have been petitioning the city for an additional winter shelter and respite center, where people sleeping on the street can take refuge inside. She and her neighbors who live south of Lehigh Avenue became increasingly vocal earlier this year, when the sidewalks under the train bridges there filled with young people. In addition to advocating for the winter shelter, they're fund-raising to expand a street-sweeping project on Lehigh Avenue, and, increasingly, coming to support a safe injection site in the neighborhood. Tepper herself "made a total 180" on the issue this year and now supports a site.
And the petition she's circulating about the respite center has garnered nearly 2,000 signatures. "People want to assume that it's sort of the oldest neighbors vs. the newest," she said. "And I've seen all types of people opposing and supporting it."
Despite the groundswell of support and a meeting with the city, there's real opposition to the shelter. "People ask, 'Why are we doing something that allows [people in addiction] to stay here?' " Tepper said. "And we've been trying to help people understand: They're already here. And this is the way that's viable to get them to go somewhere that's safe, and clean, and gets them help."
He talked with Olga and her 18-year-old son, Jason, and his new coworkers about how the loss had shaped him. How he didn't want to bring a child into the world himself. He didn't want one to suffer like he had. But he took to the teen, and taught Jason how to fix his car. At Lenny Ysquierdo's garage, Abraham was known as a whiz with electronics. He was a man of simple tastes: He liked a good nap, and a good meal. He liked to fix what couldn't be fixed, his friend Dauiry Rodriguez said.
He and Dauiry, also new to the city, would drive back and forth to work together, and pass the people on Kensington Avenue. Abraham would talk about how he felt bad for them.
"To my surprise, he was doing the same thing," Dauiy said.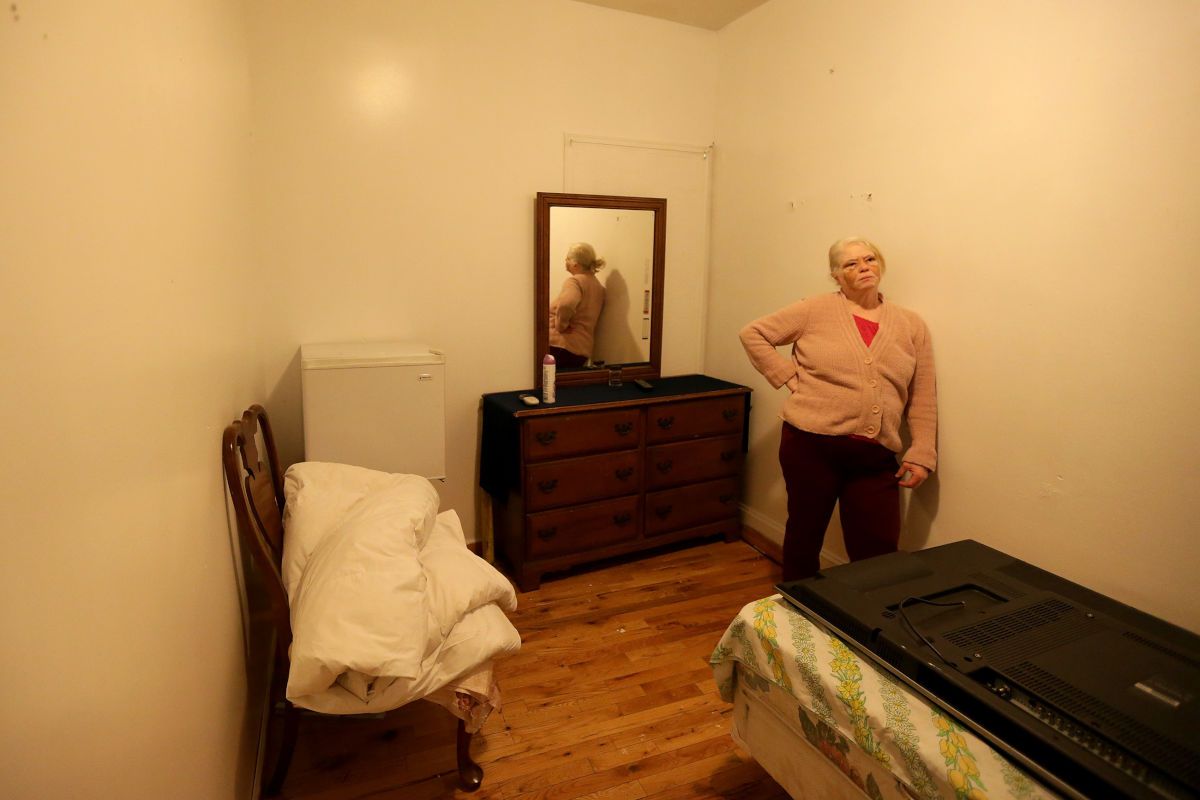 DAVID MAIALETTI / Staff Photographer
Olga Nunez pauses in the upstairs room of her house where her tenant and longtime family friend Abraham Castro overdosed in December. She said Abraham was like a son to her.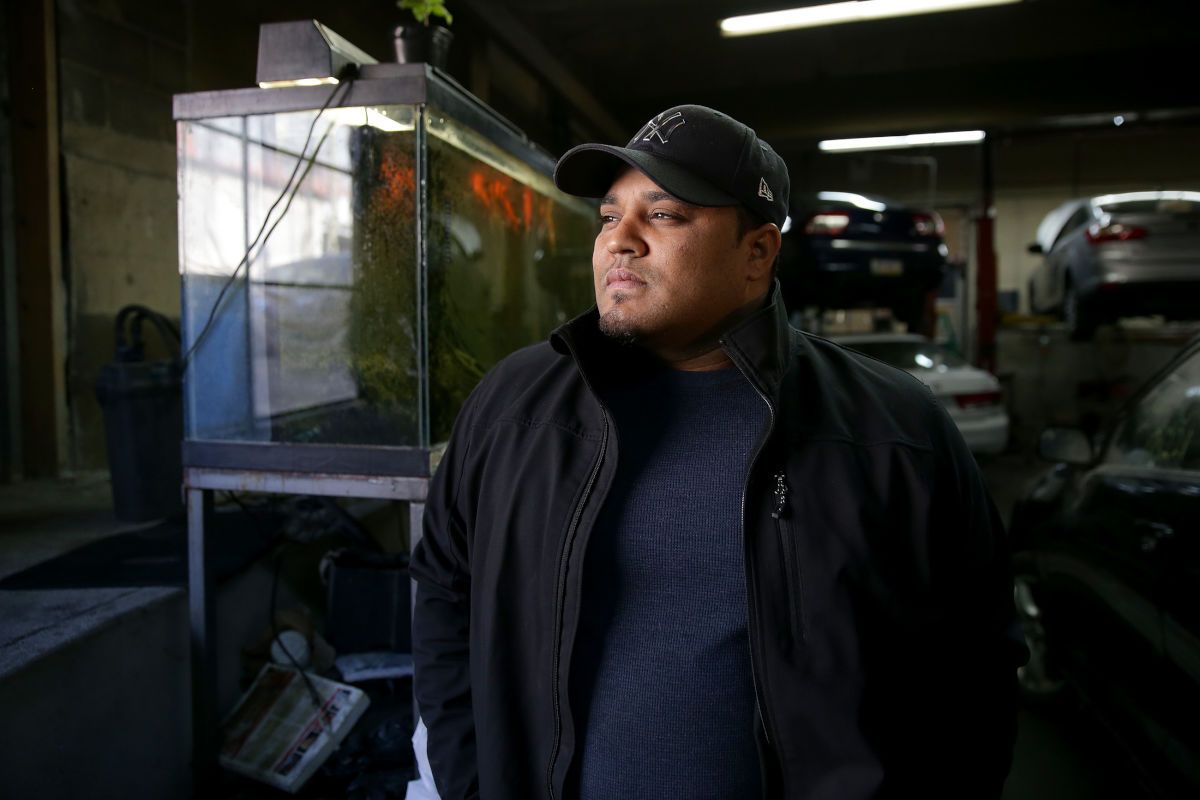 DAVID MAIALETTI / Staff Photographer
Lenny Ysquierdo in his auto repair shop in North Philadelphia. His friend Abraham Castro, who recently died of a heroin overdose, worked at the shop, where he kept a tank of fish that he loved to watch during downtime in the shop.
It was Jason who found Abraham, in the middle bedroom of the house on Emerald Street. He hadn't come out of his room for hours. They found him motionless on the twin bed. Jason had never seen a dead person before. But he had seen the crisis up close for so long: people using heroin on the street corners around his house, people overdosing, the ambulances flying by. "I got used to it," Jason said, "seeing everybody, and how they fall apart." Olga worried for her son: a handful of people had overdosed on one of the nearby side streets in recent months.
And now Abraham had slipped out of the world as quietly as he moved through it. When the mechanics found out he had died, they made a pilgrimage to Emerald Street. Dauiy and Lenny cried along with Olga and Jason and remembered the man who carried such a great grief with him. Who had done something that he never wanted to do to anyone: left them grieving. "He was my only friend," Dauiy said.
His father came and took his son home to the Dominican Republic, to be buried next to his mother.
And while his friends and family mourned in Philadelphia, the crisis wore on down the street and in the bridge tunnels where the crowd of tents and mattresses and cardboard shelters thickened. Where people show up with luggage that holds the last of what they own, and where outreach workers show up with hot dogs and Narcan and coffee and Christmas cards from schoolchildren. Where Seth Ditizio, the forensic investigator, went earlier this week, showing a photo of another John Doe. He had work to do.
He had returned Christian Cozzone, 24, to his family. His sister, Brittany, set about planning the funeral and tried to draw his portrait. She'd always been proud to show him her art. At first, her hand wouldn't work. But she kept at it and when it was finished, people said it looked like she'd made a photograph.
Danielle took the call from the funeral home two days before Thanksgiving: Her son was ready to be picked up. She was beginning to see how grief borne out of a crisis, and visited upon so many, forces you to wrap your head around the unimaginable. Consider things no parent should.
Like now, as she lifted her son's ashes for the first time.
So heavy, she thought.
---
Staff writers Helen Ubiñas and Alfred Lubrano contributed to this article.
Reporters:

Mike Newall & Aubrey Whelan
Editors:

Daniel Rubin & Cathy Rubin
Visuals editor:

Frank Wiese
Photo editor:

Alejandro Alvarez
Graphics editor:

John Duchneskie
Photography:

David Maialetti
Design:

Jared Whalen
Project Manager:

Ellen Dunkel
Copy editor:

Gina ESPOSITO
DAVID MAIALETTI / Staff Photographer
Danielle Lepori cries in her basement in November after the death of her son, Christian Cozzone, to a heroin overdose.