TOM GRALISH / Staff Photographer
Sean Schellenger was stabbed to death on Chancellor Street between 18th and 17th Streets during a July 12 confrontation with Michael White, who was delivering food on his bicycle.
---
Michael White navigated his red bicycle toward Chancellor Street, a narrow cut-through between 18th and 17th Streets, where trucks idled with deliveries of freshly starched table linens, dumpsters stank of rancid food, and kitchen staff in hairnets smoked cigarettes on break from the finest restaurants in Rittenhouse.
The night was unusually pleasant for July so outdoor restaurant seating was at a premium. Michael, wearing red sneakers, dark shorts and a white T-shirt that accentuated his muscular, lanky frame, struggled to steer his bike past sidewalks crammed with alfresco diners and the after-work crowd strolling in clumps. The streets were aglow with the brake lights of stop-and-go traffic, and drivers laid on the horn.
Michael toted an insulated food bag with Popeyes chicken and, slung over his shoulder, a black backpack. Inside, Michael had stashed a knife with a 7-inch serrated blade he kept for protection while juggling late-night orders for three different food delivery apps — Uber Eats, Caviar and Postmates.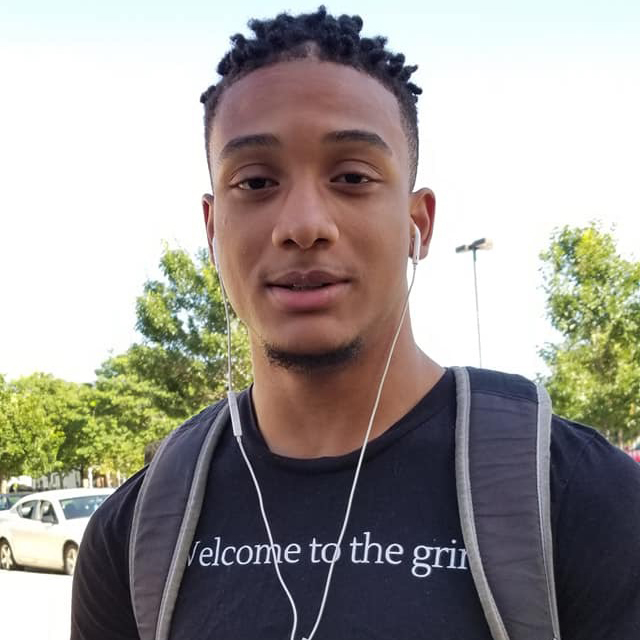 Courtesy of the White family
Michael White, 21, attended Morgan State University and wrote rapid-fire raps about poverty and violence.
It was nearly 11 p.m., and Michael had been delivering take-out food for hours when he turned down Chancellor. He was exhausted and long sick of the job.
"That s — ain't for me. It's just not," he wrote on his Facebook page several months earlier. "I get exhausted delivering food to people all damn day on a bike/walk … I'm tired. 100%. I don't have s — left in me."
What the 20-year-old really wanted was to be in a studio, recording his rap songs and getting paid for his music.
It was July 12 — a Thursday. And for real estate developer Sean Schellenger and his carousel of friends, Thursdays were a Rouge night. With its velvet curtains and marble bar, the Parisian-style bistro on Rittenhouse Square served as their drawing room. Sean had a high-voltage smile that could "take down an angry person" and a face so handsome that female restaurant staff in Rittenhouse referred to him as "Hot Sean." With his shaved head and big arms, the former Penn State quarterback had a distinctive strut that a friend called his "baller walk," his broad shoulders powering him forward.
Dressed in a blue-striped shirt, jeans and brown loafers, Sean was celebrating. He had been drinking since 3:30 p.m. The day before, the 37-year-old had closed a big-money deal with an investor at Parc, the Stephen Starr stylish bistro that shared the stage with Rouge, both facing Rittenhouse's iconic garden square.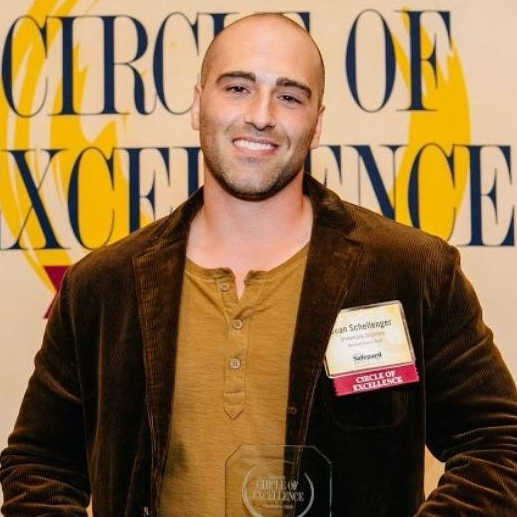 Courtesy of the Schellenger family
Sean Schellenger, a real-estate developer, was celebrating a big-money deal by drinking with friends at Rouge.
Sean was another step closer to his dream. He didn't want to just build and sell houses in Philadelphia but transform entire neighborhoods.
Just before 11 p.m., Sean left Rouge with two friends. They climbed into a black Mercedes owned by one of them and headed down Chancellor Street toward 17th. At the corner, a light-colored Taurus was parked in the middle of 17th blocking their way. The driver stood outside. Sean's friend stuck his head out the window and shouted at the man to get back in the car and move. When the man ignored him, Sean got out and yelled at him to get out of their way.
Michael arrived with his bike and interjected himself into the dispute. He took issue with Sean's tone. "Why you gotta be such a tough guy?" he asked. Michael and Sean stood face to face and their words grew heated, as the driver of the Taurus got back in his car to pull away.
Moments later, a wealthy white developer lay face down in a pool of his own blood and a young black man with a knife in his hand was seen running into the night.
The death of Sean Schellenger in Philadelphia's most vibrant and ritzy neighborhood rocked a city long divided by racial tension. And for the city's new district attorney, it became the first test case of his progressive approach to criminal justice.
The high-profile killing became a screen on which people projected their fears and mistrust. In the absence of facts, many invented narratives: Sean was an aggressive, entitled racist who, with his friends, attacked a young, low-paid deliveryman. Michael was an angry thug who resented in-your-face wealth and set out to hurt someone.
Neither of these narratives is accurate.
In fact, the two men had much in common: athletic, impulsive, abandoned or emotionally abused by birth fathers, a strong work ethic, a fierce determination to succeed.
What separates them is what divides the city itself — race and money, opportunity and despair.
For Sean, second chances, support of family and friends who believed in him, access to capital — all lifted him up. He became an embodiment of the city's rebirth, building homes, eliminating blight.
For Michael, opportunity was an illusion. The specter of imminent violence haunted him. He had little family support, emotional or financial. Despite his talent and will, he could not escape the trauma of growing up black and poor in a dysfunctional family.
And then they collided by chance in a crowded alley where their instinct to survive ended with one life gone, the other in ruins.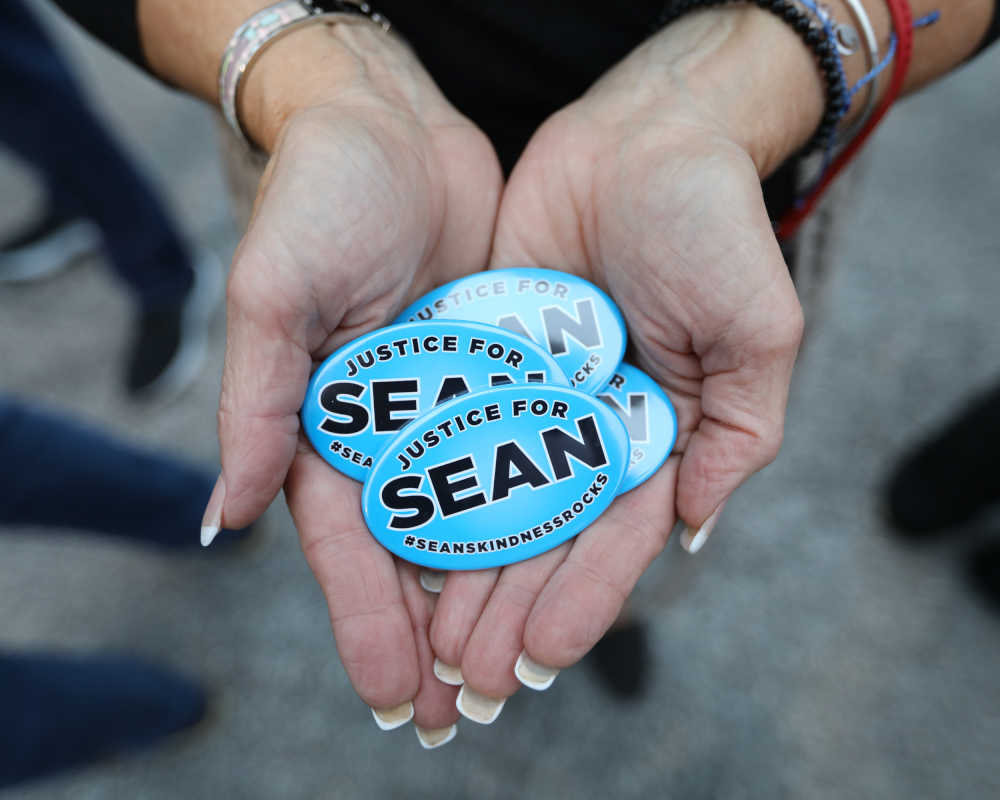 DAVID SWANSON / Staff Photographer
Linda Schellenger, mother of Sean, holds buttons for her son at a Coatesville High School football game. Sean played quarterback and wrestled for the Red Raiders.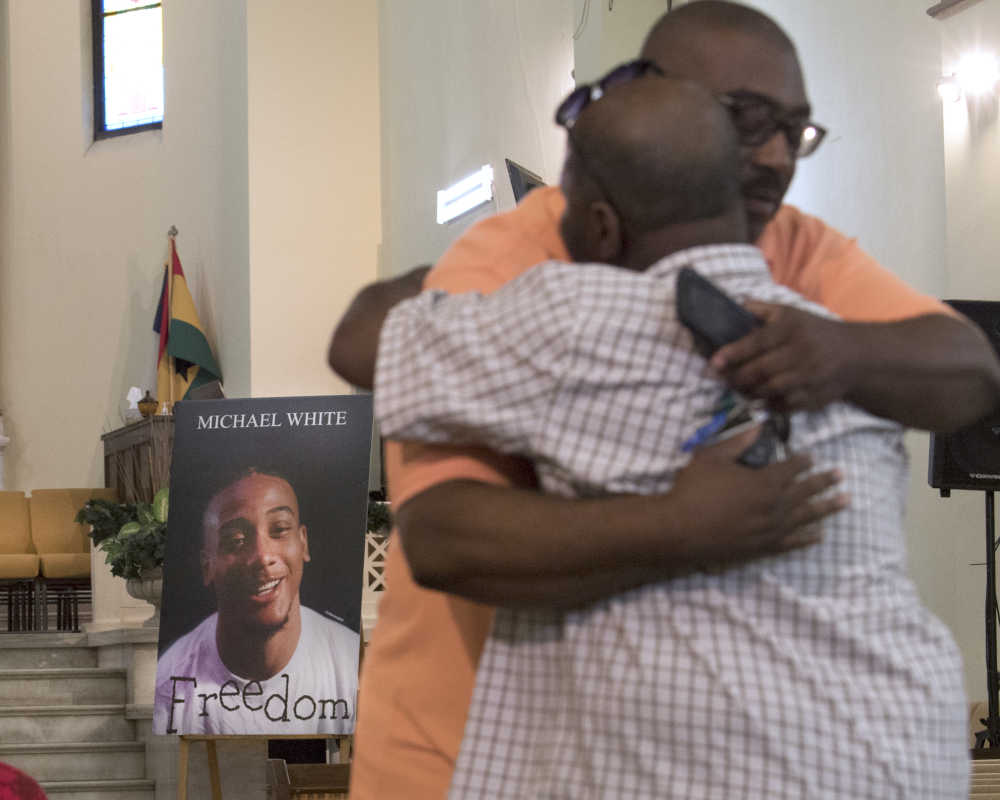 JOSE F. MORENO / Staff Photographer
Family and friends gathered for a July 31 vigil at True Gospel Tabernacle Church. Charges were reduced to third-degree murder the next day and White was released on reduced bail.
The 4-year-old boy pedaled full speed on his bike, its training wheels rocking against the sidewalk grooves. Each time Sean zipped past his grandparents' brown twin in Malvern, he glanced up at his mom as she watched from the porch.
A young man named Mark, who lived across the street, would come out with a stopwatch to time him. Sean was thrilled, each time wanting to break his record.
Linda was only 17 when she had him. She met his father at Great Valley High School, but he didn't stick around. After high school, she lived with her parents and paid them $25 a month in rent. She worked as a legal secretary during the day and went to school at night to become a paralegal.
When Mark asked Linda out for a drink, she politely declined, dismissing him as too geeky to date.
About two years later, Linda and her son settled into a small condo in West Chester.
Sean was happiest when sweaty from any kind of sport, so Linda signed him up at the Great Valley Wrestling Association. It turned out Mark from the old neighborhood would be Sean's coach. He didn't look geeky to her anymore, and they started dating. She thought she'd never marry because no man could love her son the way she did. She was wrong. In 1989, when Sean was 7, Linda married Mark Schellenger, who raised Sean as his own. Two years later, their son Justin was born.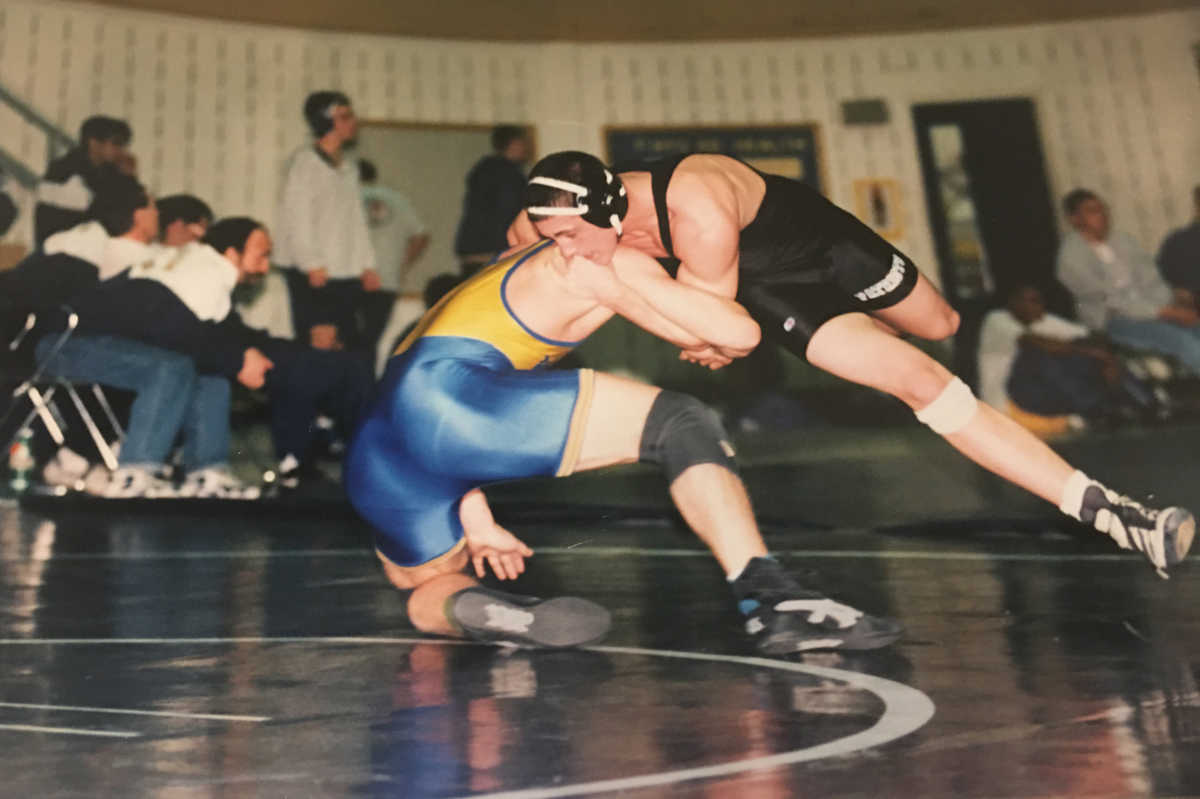 Courtesy of the Schellenger family
Sean made state finals in wrestling three years in a row. His father, Mark Schellenger, was his wrestling coach.
The family lived in a four-bedroom Colonial with a manicured lawn set back from the road in Malvern, in Chester County, 25 miles west of Philadelphia. Ambitious and determined, Linda would become an executive in human resources and later was named president of a Merck subsidiary. Mark Schellenger, a high school teacher and coach, later became principal at Radnor High School.
One of Sean's closest childhood friends was Melvin Cook, whom he met while in third grade at Sugartown Elementary School. They played Pop Warner football and Little League together, and after Saturday games, Sean often invited Cook for a sleepover.
The two used to sneak out of Sean's house at night armed with the family's TV remote. The two boys ran around, peering into windows of finished basements until they found some unsuspecting Schmo in a recliner watching TV. With a click, they changed the channel, looked for the confused reaction, and erupted in hand-smothered laughter. Then hit the next house.
Cook grew up poor and lived with his grandmother in Malvern because his dad got addicted to crack cocaine. But Sean and his family never made him feel like a charity case. "I never felt judged," Cook said.
Sean had to be the best at everything. He was captain of the football and wrestling teams. Mark Schellenger spent hours training Sean, who made state finals in wrestling three years in a row. He favored in-close combat moves to quick, one-shot leg sweeps. The "cement mixer" was his signature power move. He'd wrap his arms under his opponents, roll and flip them hard to the mat.
At the same time, he excelled as a football quarterback. His junior year, he transferred from Great Valley High School to Coatesville High School, which had a better team and where his dad, Mark, was head wrestling coach. Sean convinced his Great Valley teammate Eugene "June" Cooper Jr. to transfer with him because together, they would win.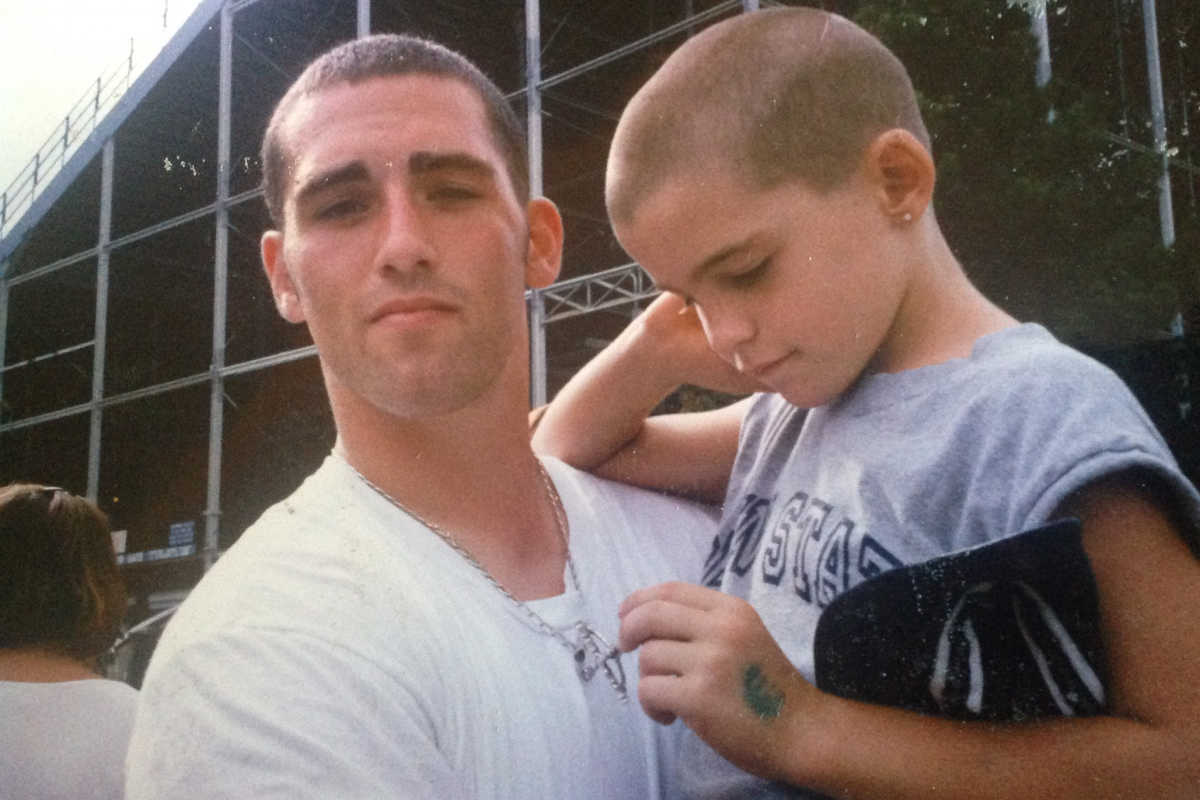 Courtesy of the Schellenger family
Sean with his younger brother, Justin, in 1999.
Both Cooper and Melvin Cook, who are black, said the fact that people have painted Sean as a racist is preposterous.
"That's crazy. That's like laughable to everybody who knows him," Cooper said. "Being black, I can't sit here and say that racist things don't happen — I've been on this planet for 38 years. But I know Sean from the ground up. I know him."
Cooper told a story from high school when he invited Sean to a party at a friend's house in West Chester and Sean was the only white kid there. "Everyone started giving us the ice grill," Cooper said.
Cooper asked if he wanted to leave. "For what?" Sean said.
Two girls asked Sean his name. Before he could answer, a teenage boy spat, "His name is 'white boy.'" Cooper got angry, but Sean placed a hand on his shoulder and said, "Don't worry about it."
Later that evening, when a few teens started rapping to the 1994 hit "The World is Yours" by Nas and couldn't remember all the lyrics, Sean jumped in — and nailed every word. The teen who had called him "white boy" was impressed. "He's black," Cooper recalled him saying.
His senior year, Sean, at 6-foot-2 and 205 pounds, was offered a full ride to play fullback for the University of Delaware. Brown University courted him for both wrestling and football.
Sean would have none of it. He wanted to play Division 1. In 1999, he took one of the coveted 10 walk-on spots for Penn State University's Nittany Lions.
On the first day of kindergarten, Michael White didn't want his mom to leave. "Will you be right back to get me?" he asked.
Juanita White, now 55, recalled a child always under foot, trailing her around the house.
In those early boyhood days, Michael often sat, peering through eyeglasses, on the front steps of their two-story, red brick rowhouse with a book propped open in his lap.
The home abutted a bodega on 22nd Street in Point Breeze, less than a mile from the house that Sean Schellenger would build for himself on a vacant lot on Ellsworth Street and is now worth roughly $600,000.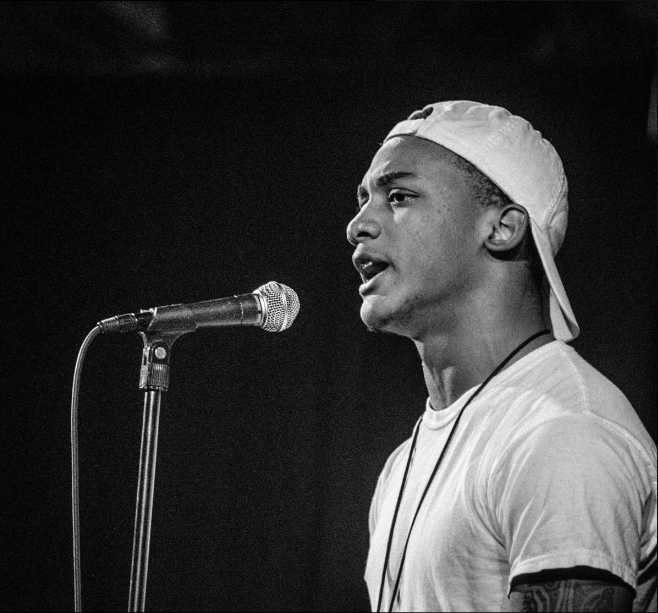 Corey McDonough
Michael, who graduated from the Academy at Palumbo in 2015, participated in poetry slams with Philly Youth Poetry Movement.
One of Michael's older brothers has autism, and the other learning disabilities. His mother mainly focused on them, while Michael's dad, William White, worked for the School District of Philadelphia. He maintained discipline and safety in hallways and cafeterias as a low-paid "nonteaching assistant."
On Sundays, for a time, Michael and his family took a church van to services in West Philadelphia, a seemingly pleasant, devout family.
But from inside the house, neighbors could hear Michael's dad screaming at his children. "You. Don't. Listen," he boomed, sometimes invoking the Bible during rants.
When Michael was 5, an older half-sister, Ashleigh, came to live with them after social workers had removed her from her mom's home and a judge agreed to place her with her biological dad, William White.
Even though she had her own bedroom, White insisted his daughter sleep downstairs on the living room floor next to him on the couch.
He raped her almost every night. It started when she was 11 and Michael was 5. If she resisted, White whipped her with an electrical cord.
He warned her that if she told social workers or police, he'd kill her and her brothers. Her father continued to rape her until she told police when she was 17. William White has been in prison ever since.
Ashleigh refuses to call him "Dad." "There's nothing else to call him but a monster," she said.
Michael, who was 13 when his father went to prison, has told close friends he still blames himself for being unable to protect her.
Years later, on Instagram, Michael posted a photo of a brick wall with the words scrawled in black: THE CREATIVE ADULT IS THE CHILD WHO SURVIVED.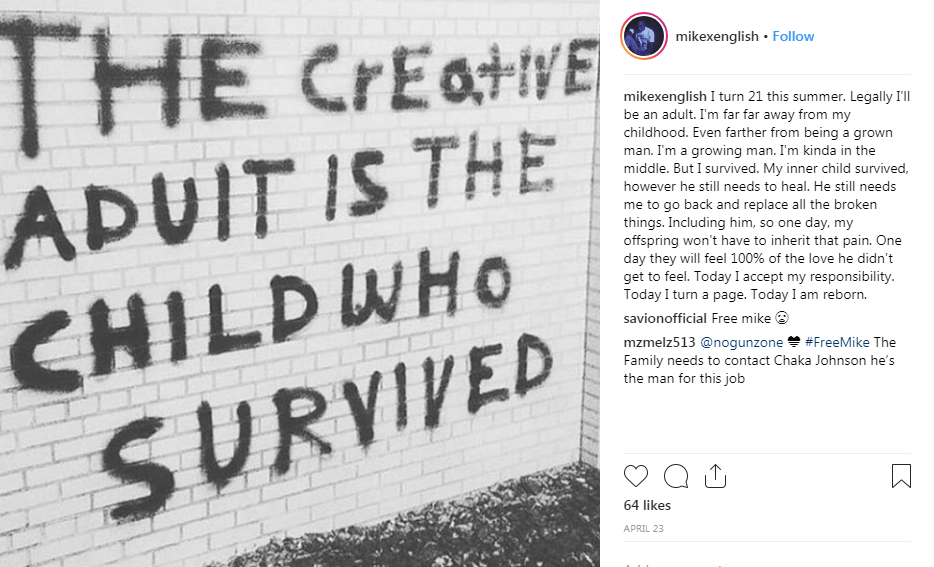 Instagram
Michael, who was 13 when his father went to prison for raping Michael's sister, shared his pain with an affirmation on Instagram.
Next to the image, he wrote, "My inner child survived, however he still needs to heal. He still needs me to go back and replace all the broken things. Including him, so one day, my offspring won't have to inherit that pain. One day they will feel 100% of the love he didn't get to feel."
Michael got into the Academy at Palumbo, a selective magnet high school. Michael's high school friends recalled a "goofy jokester," who could do spot-on impersonations of President Obama, Will Smith and Steve Harvey.
Michael idolized hip hop artists like Kendrick Lamar, Meek Mill, Biggie Smalls, and Tupac Shakur who used music to make social statements on poverty, oppression and racism. He started writing his own poetry and rap songs.
His English teacher saw something in him and recruited him for the Philly Youth Poetry Movement and its student poetry slams.
With "long arms" and "good reach," Michael, at 6 foot and 165 pounds, played both defense and offense on Palumbo's football team. "Definitely had some talent," his coach, Scott Pitzner, remembers.
But in August before his senior year, while biking to practice, he was struck by a hit-and-run driver. Michael was hospitalized with a concussion, head trauma and asphalt burns, and unable to play the entire season.
About that time, Juanita White and the kids got evicted and moved into a rundown rowhouse in the city's Kingsessing neighborhood. Sometimes the electricity got turned off. There was seldom enough food. So he cut grass, helped people move and did other odds jobs for money so he and his brothers could eat.
Many nights, Michael came home just to sleep and left early the next morning. Sometimes he slept on a park bench or under a tree, and started to carry a knife for protection.
After dark with friends, he was always jumpy. "Calm down," his friend Shirmina Smith kept telling him. "It's OK."
He told her he couldn't help it. He had to make sure no one was coming up on them.
Smith, a friend since high school and teammate on the competitive poetry team, said his hardships didn't make him bitter. He is passionate, she said, and wants to use his rap to change the world.
"Despite what he's been through, he's always looking toward the future," she said. "He wants to be better than his past. He's big on lessons. A lot of what he goes through, he uses it to make him a better person."
One day in early September 2001, Sean faced his angry and disappointed mother in a courtroom in State College. Linda Schellenger had driven three hours to the hearing to learn why her 20-year-old son was charged with burglary, criminal trespass, resisting arrest, theft by unlawful taking, criminal mischief, unlawful possession of alcohol, and possession of a controlled substance without a prescription.
Nothing made Sean more miserable than knowing he'd let down his mom. They spoke or texted nearly every day, and he shared details about his dates and trips with friends to the shore.
"Just remember, youth is a disease that can be cured."
– the late Joe Paterno
But he could not bring himself to call her after he had gotten drunk and crashed her Mustang. That night he and a friend hatched a wild, impulsive plan to get cash for repairs: burglarizing a drug dealer's house. Still drunk, Sean broke into the wrong house. The family was home and called 911.
When police arrested him in the basement, he had a bottle of whiskey and a small plastic bag of Xanax pills.
At the court hearing, the judge scanned police reports that said Sean had worn bright orange shorts during the burglary. "You better pick another occupation," he said, "because you're not very good at it."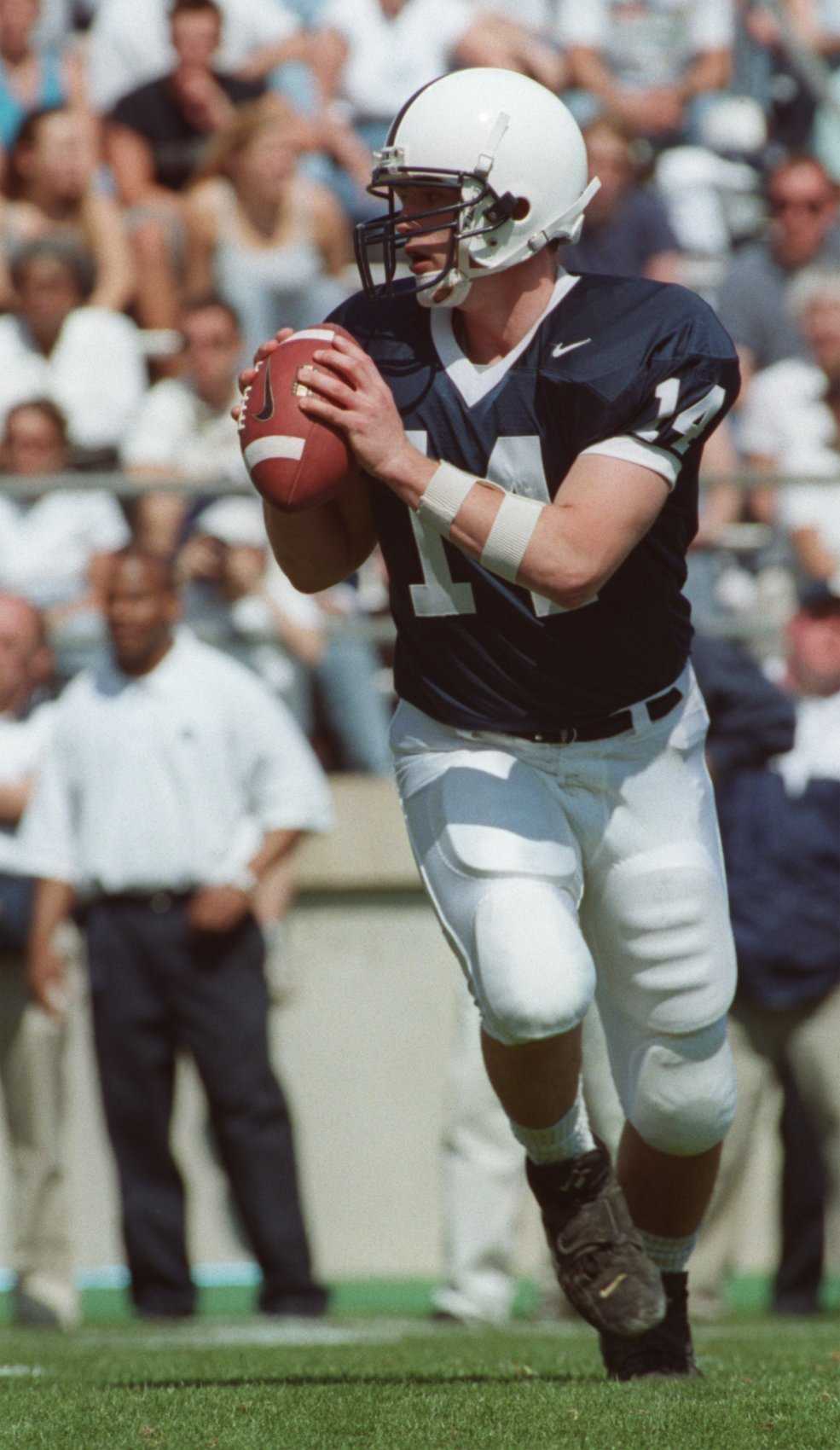 Centre Daily Times
Sean, Penn State's No. 3 quarterback, took a few snaps during a blowout in 2000.
The previous season, Sean had impressed head coach Joe Paterno enough to hold onto the No. 3 spot as quarterback and even took a few snaps running out the clock in a blowout victory.
But now he had destroyed his dream to become Penn State's starting quarterback.
Sean served 82 days at a county jail. In lockup, he became instantly popular, something that struck his friend Melvin Cook as go-figure funny. They spoke on the phone while Sean was in jail, laughing about how Sean ran the show "as far as jail politics go." Inmates came to Sean for advice. "He was like the go-to guy, like if you wanted to do something, you had to go through Sean first," Cook said.
Sean liked to cook for fellow inmates, putting together "the spread" — boiling up Ramen noodles and throwing in potato chips, hot dogs, or whatever he could get his hands on.
Sean had to reapply to Penn State and, according to Sean's parents, Paterno agreed to help, putting in a good word. Sean made the most of the second chance, graduating from Penn State's Smeal College of Business with honors.
A few years later, Mark, Sean's dad, ran into Paterno at a sports dinner where he lamented his son's short run on the Nittany Lions. Paterno grasped Mark by the lapel and offered hope: "Just remember, youth is a disease that can be cured."
At the age of 27, Sean got arrested again after a night of heavy drinking, this time at a Florida restaurant and bar. Bouncers repeatedly warned him to calm down. At about 2 a.m., he stripped off an outer shirt, leaving only an undershirt, violating the dress code. Asked to leave, he refused and brawled with two bouncers, punching one, biting the other.
Authorities charged Sean with battery, disorderly conduct, and trespass. It's unclear whether authorities knew of his previous felony, but Sean, using a private attorney, was given the chance for a "deferred prosecution," met the terms, and avoided a conviction.
One bouncer said he still bears a C-shaped scar on his arm where Sean bit him.
In 2016, Michael got accepted into the college of his choice. He enrolled as an engineering major and was due on campus to start the fall semester in little more than a month. But he had no way to pay for it.
Asking for help was asking for disappointment. Something Michael had learned early in life. Yet he wanted this — badly. So he opened up GoFundMe.com and created a page, "Help Michael Get to Morgan State."
" … I've been surviving, and doing that on my own, proudly, for about 7 years now," Michael wrote in the July 10, 2016 post. "I am not one to lay down when a challenge approaches me. I realize I need help and I'm asking for it. I just want to better my life and I fully believe a college education will do that for me."
Michael set a modest fund-raising goal: $1,600, but raised more than $4,000.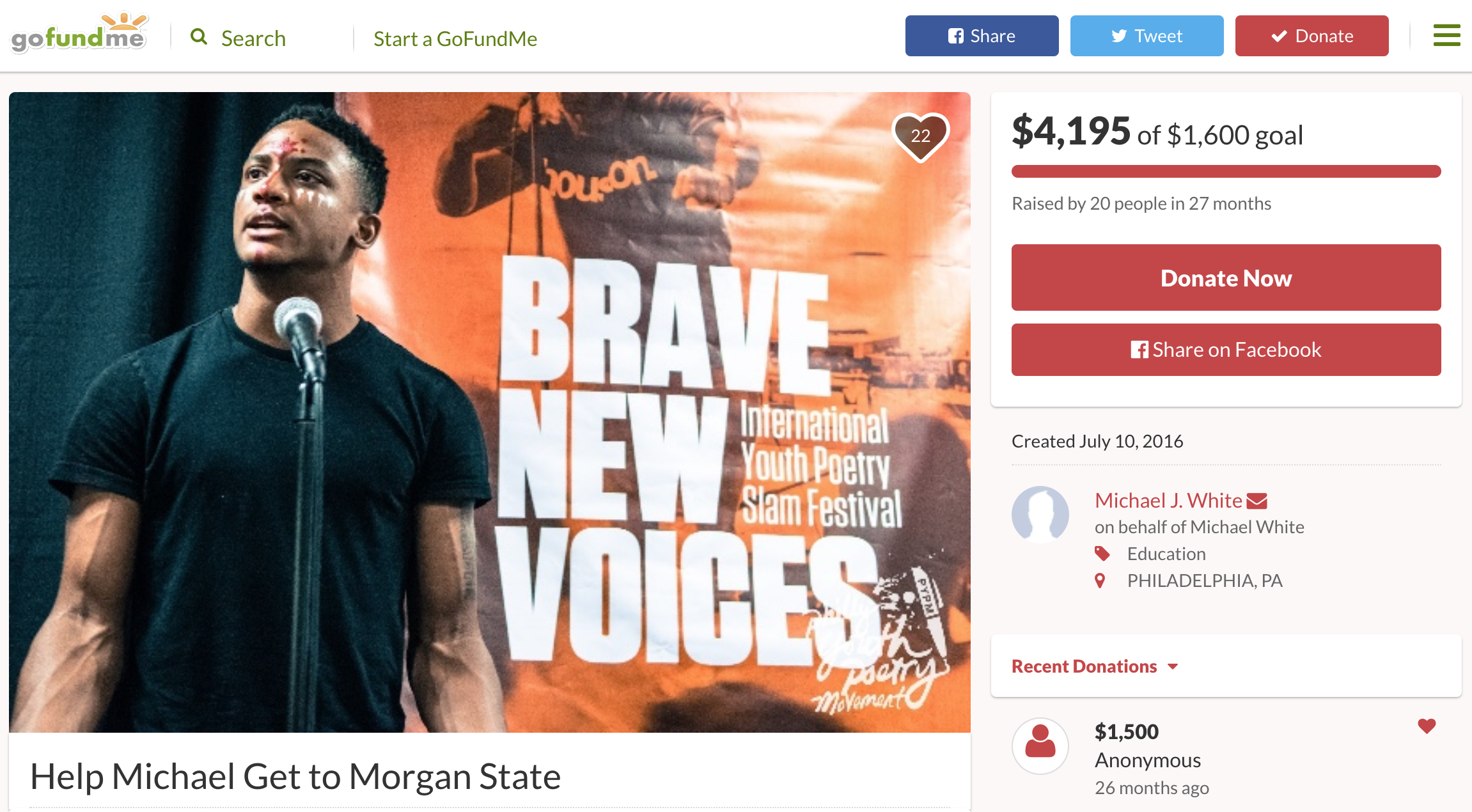 GoFundMe
Michael's GoFundMe campaign enabled him to attend Morgan State University in Maryland.
Marc Lamont Hill, a social justice activist, Temple University professor, and best-selling author, donated $2,000. He knew Michael well through poetry circles. "If someone would have asked me, 'How would you describe Mike White?' the first word that would have come out of my mouth is 'gentle,' both in spirit and in practice …. Kids like him have the possibility to do anything — all they need is an opportunity."
A month later, Michael moved into a freshman dormitory at Morgan State University, a historically black university in Baltimore.
"I've been surviving, and doing that on my own, proudly, for about 7 years now."
– Michael White
Michael clicked instantly with 19-year-old fellow freshman Jonathan "Johnny" Tobash, a brainy industrial engineering major. Like Michael, Tobash graduated from a selective magnet high school, Baltimore Polytechnic Institute. Tobash admired Michael's ability to turn words into rapid-fire raps about poverty and violence.
In his song "Mean It," Michael raps about getting off the trolley where neighborhood toughs confronted him looking for a fight. " … start somethin', we finish somethin', don't start, there won't be none."
Like Michael, Tobash was a city boy, growing up on Baltimore's gritty east side, where much of HBO's The Wire was filmed, and carried a pocket knife for protection.
During winter break, Michael took the stage during a poetry slam youth night on Penn's campus to take on newly elected president President Trump. He adopted Obama's persona.
"Thanks to this outdated Electoral College bulls —, a racist, xenophobic, weak, thin-lipped, walking, breathing Cheetos, will be our next president," Michael said in Obama's slow, rhythmic speech pattern. "But this is a time when we must love more than we ever have before, because he will make America hate again. He will divide this country by race."
That spring, Michael, who switched his major to sociology, finished the year at Morgan State, but onetime donations from friends and strangers were gone. He had to drop out. He worked a series of restaurant jobs, including at Marathon Grill, at 16th and Sansom Streets, popular with the business lunch crowd.
He began to write rap lyrics that reflected his unrelenting want to be something more: "Southside, Miami Beach, that's where I'm tryin' to be. Shades on, Maserati with the leather seats. I got big dreams. Hard work, dedication — that's the recipe."
When his friends were down, he tried to pull them up. "Love yourself like you'd love the person of your dreams. You're beautiful, smart, funny, fun to be around," he wrote in July 2017 to high school friend Aaliyah Harris when she was depressed. She called him "her number one motivator."
But he would stumble himself. One night months later, at a poetry slam on Penn's campus, he and friends got caught cutting the lock to a $1,000 mountain bike owned by campus police. Authorities charged Michael, then 20, with theft, receiving stolen property, possession of an instrument of crime, conspiracy and possession of marijuana. The case is pending.
The following month, on Dec. 18, 2017, Michael learned from Morgan State friends that Johnny Tobash had been murdered. On that night, Tobash stumbled into a robbery outside a Baltimore corner store and was gunned down.
"I'm tired of death. I'm tired of mourning," Michael later wrote on Instagram. "I'm tired of looking on @nogunzone page and seeing a n — I just made eye contact with yesterday, or seeing a n — who I went to school with, or ran a couple of games of basketball with, shot dead, with info on their memorial services and candlelight vigil."
If people don't come together and "put the guns down," their communities will continue to unravel. "We making it easier for them to gentrify the neighborhoods."
"I NEED YOU TO HEAR ME," Michael wrote. "STOP KILLING EACH OTHER."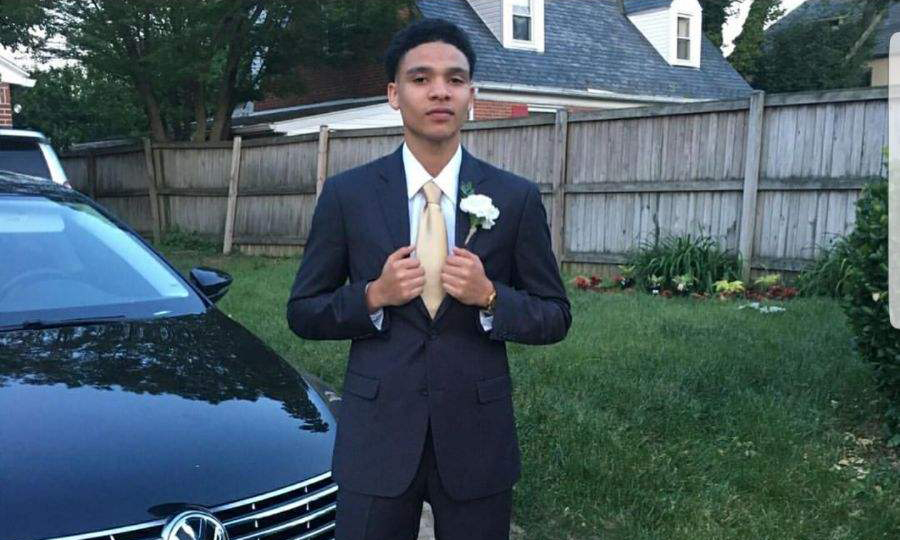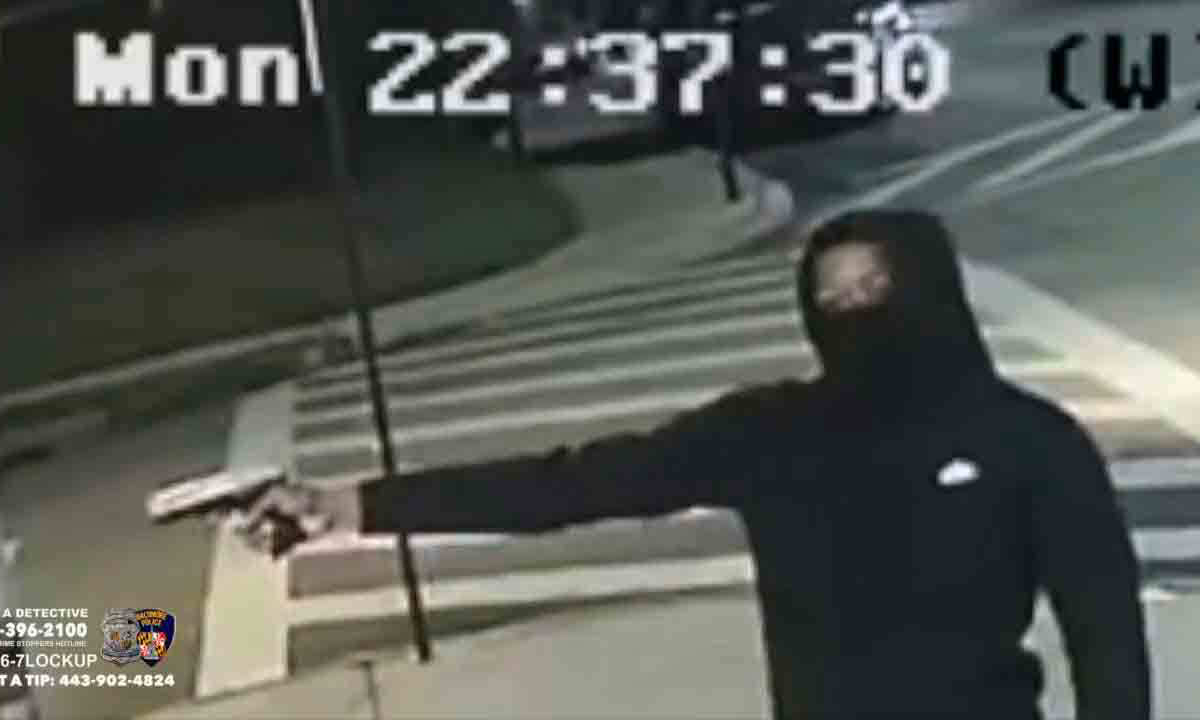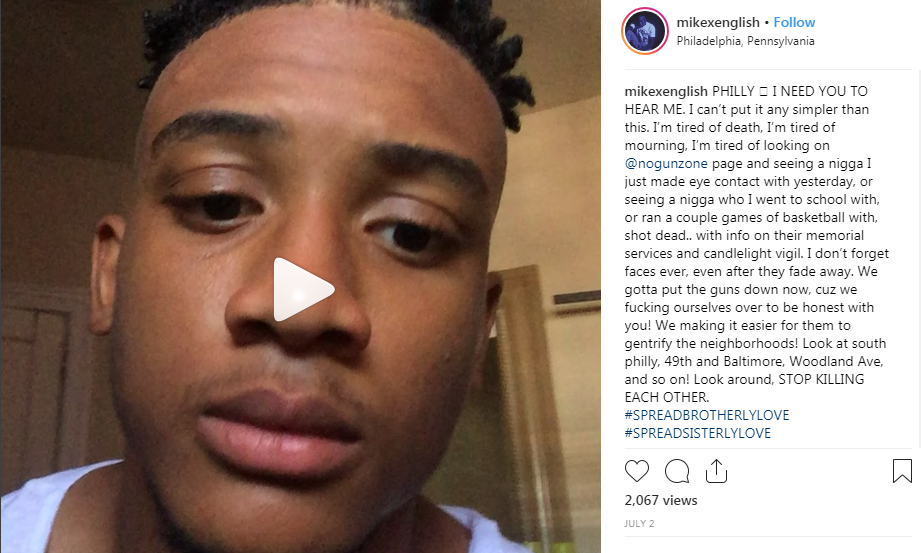 Instagram; Baltimore Police Department
Jonathan "Johnny" Tobash, left, a brainy industrial engineering major, was gunned down outside a Baltimore corner store. Michael mourned his Morgan State friend on Instagram.
When meeting with potential investors for the first time, Sean often started his business pitch with raw candor, prompting dinner companions to suddenly look up from their plates or pause, mid-sip, while holding a glass of Chardonnay.
"You know, look, I'm a felon," Sean said, before explaining what he'd done at State College and why they could trust him now.
His childhood friend Melvin Cook, who recalled sitting in on one such business meeting, said he cringed when Sean told a banker about the burglary. After they left, Cook chided Sean. "Why are you telling these people that you have a felony? They didn't even ask you."
Sean dismissively waved a hand and said to Cook, "That's who I am. I made my mistakes. I paid my debt and now I'm moving forward."
Sean was a big believer in second chances, in not letting bad choices define a person forever.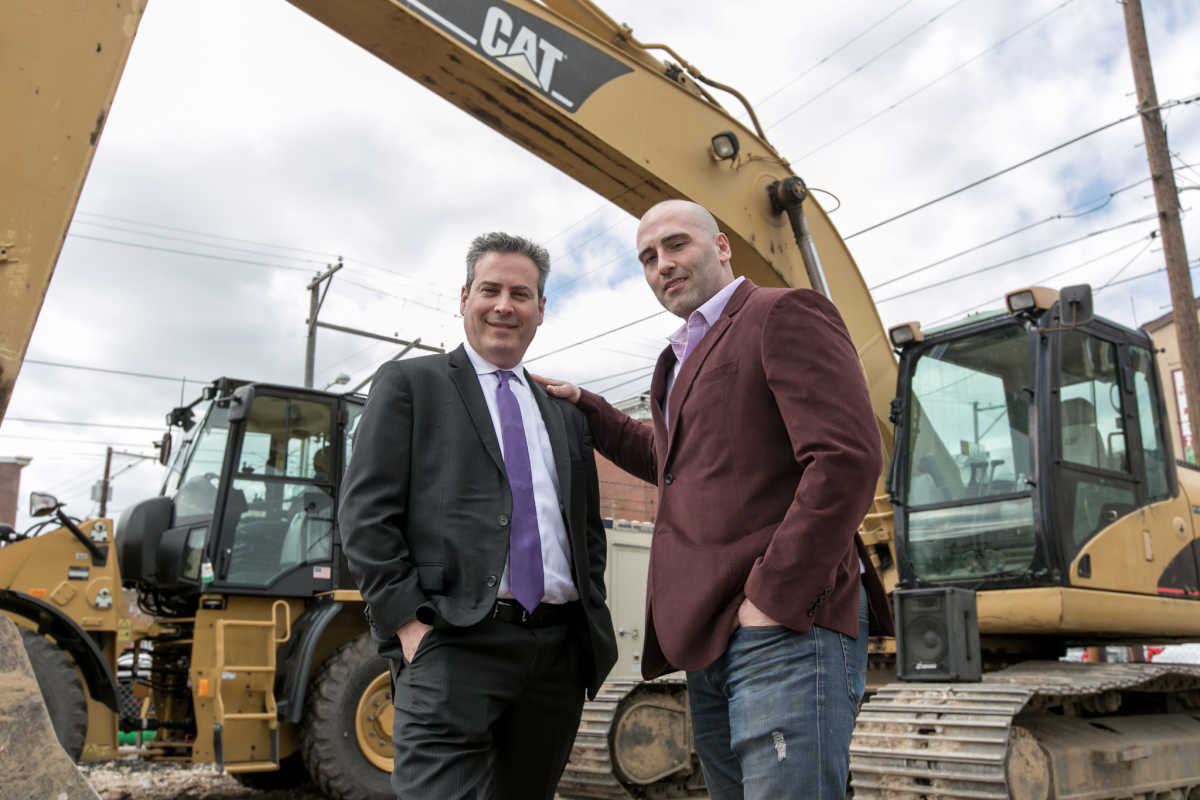 ED NEWTON / For the Inquirer
Sean Schellenger of Streamline and Sean Frankel of Frankel Development break ground in April 2016 at the site of a project to build homes in Kensington.
He set up a nonprofit to assist the needy in his Point Breeze neighborhood. He bought a new heating system for an elderly friend and routinely handed out big bills to numerous homeless people he knew by name.
When Sean's friend Mario Rincon got out of prison after serving nine years for dealing cocaine, he took him in and gave him a job in property acquisitions in his real estate company.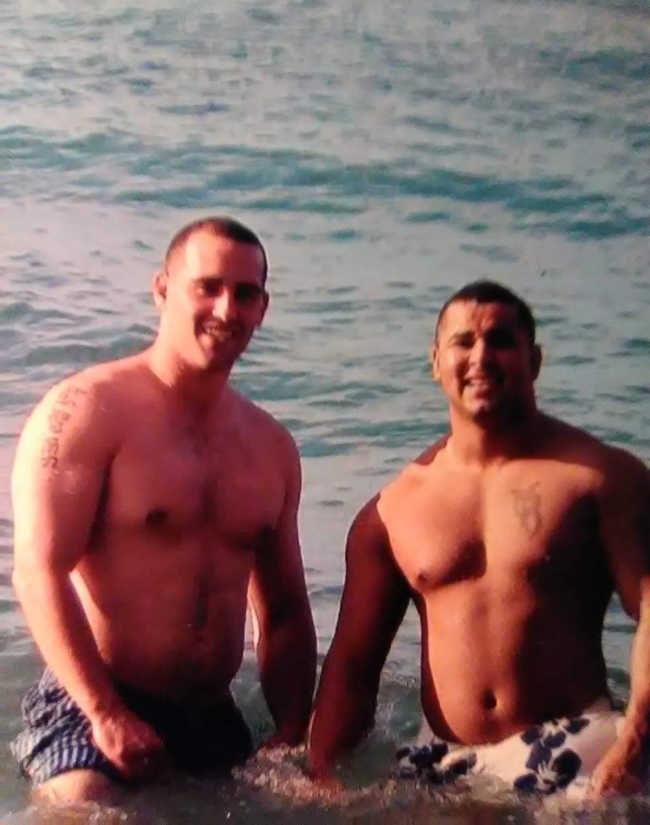 Coutresy of Schellenger family.
Sean (left) and his friend Mario Rincon at a beach in the Dominican Republic. Mario kept this photo with him while he was in prison.
Sean had met Rincon years earlier while lifting weights at a gym in State College. Sean was in business school; Rincon was a local who worked for a moving company and later, hustled drugs.
Sean was one of only two or three friends who stayed in touch with Rincon while he was in state prison. Sean wrote him letters and mailed him self-help books and real estate how-tos. He put money in Rincon's prison commissary account.
When Rincon moved in with Sean in April of this year, Sean gave him the entire third floor to himself. In the evenings, Sean cooked dinner, grilling steaks and vegetables, for his live-in girlfriend, Iryna Iryk. Rincon joined them. Afterward, Sean mentored Rincon on how to talk to people to get them to sell their properties.
"You gotta grind it. You gotta want it. I know you have it in you," Sean told him. "You're going to be all right."
In those early years after the housing market imploded in 2008, Sean walked up and down the streets through some of Philadelphia's worst neighborhoods. Where some saw blight, Sean saw potential.
He knocked on doors of shabby homes and kept an eye out for vacant lots, asking who owned them and trying to cut deals.
Sean had started a company called Streamline with partner Mike Stillwell, a quiet guy from Delaware County, a budding construction pro who knew his way around a worksite.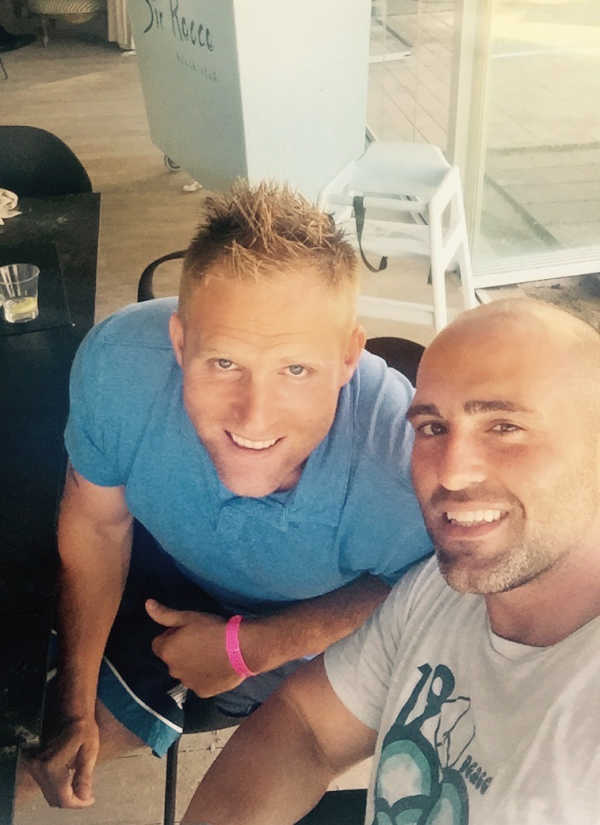 Courtesy of the Schellenger family
Mike Stillwell (left) and Sean started a company called Streamline and built houses together.
After scouting properties in North Philadelphia, Sean and Stillwell seized upon a string of blighted properties on the 2200 block of Camac Street, near Temple University, and left the area studded with new homes. "They developed it, sold it, and pretty much created that market over there," said real estate broker and investor Chirag Patnaik.
Tired of going block by block, Sean wanted a faster way to find properties that were easy pickings. He came up with the idea to build a computer program that could analyze property data, sales research, tax delinquencies, ownership records, and demographic trends to identify the city's most profitable real estate. Sean called it his "acquisition tool."
But as good as the software was at picking out properties, Sean and his partner quickly realized that the tool was useless without investor cash or money of their own to buy them. They struggled to turn a profit.
But their fortunes turned after Stillwell's cousin married one of Spain's most prominent business figures, Abel Matutes Prat, whose family's Palladium Hotel Group owns hotels and resorts in Southern Europe, Latin America, and the Caribbean.
Prat grew close to both Stillwell and Sean and had just made money on a Northern Liberties condo project with Streamline when Sean pitched him on the acquisition software. He invited Sean and Stillwell to Madrid to present the concept to the private equity firm he had launched, Mabel Capital. Sean needed to convince these high-stakes guys to put money into rowhouses in blighted Philadelphia. And he did.
The Mabel-led group, which includes tennis champion Rafael Nadal and basketball star Pau Gasol, has poured some $30 million into Philadelphia real estate vetted by the software. Through Streamline, investors have acquired 1,000 properties all over the city, from Grays Ferry to Fishtown.
Nine days before the July 12 stabbing, Michael posted a stone-faced selfie on Instagram, "This is the most accurate representation of me most of the time. blank face, while my mood on the inside changes rapidly."
That same day Michael used the Notes app on his cellphone and wrote that he would "cut" anyone who messed with him. A later note appeared to be rap lyrics. Sean's family would interpret the "cut" note as a sign that he was violent.
On July 5, Michael posted a poem on Instagram, hoping to help someone who was depressed and contemplating suicide.
"We walk around broken as a measure of toughness, like the reward of success, can overpower the bitter taste of self harm. This is a reminder, that the only way to see the light, is to endure the tunnel. If you are struggling with suicidal ideation, it is OK. You are still normal. You are still worthy of an open ear and an open mind. Therapy may not be comfortable for some, but healing starts with you and ends with you. Regardless. In between, what you do is what counts."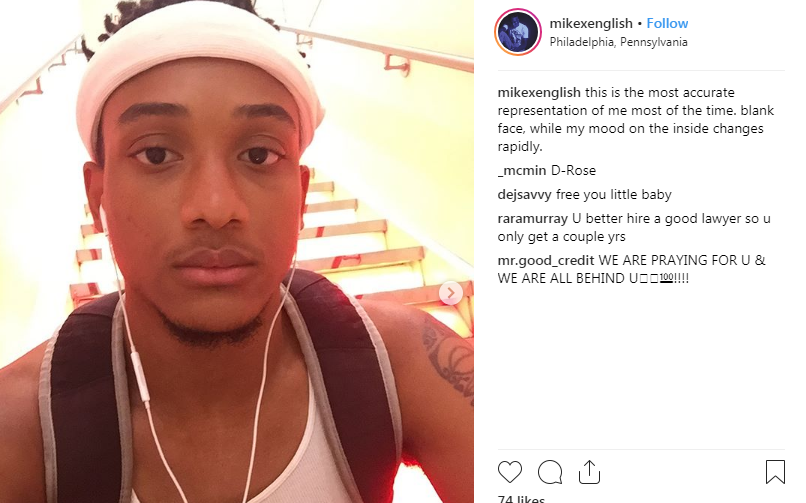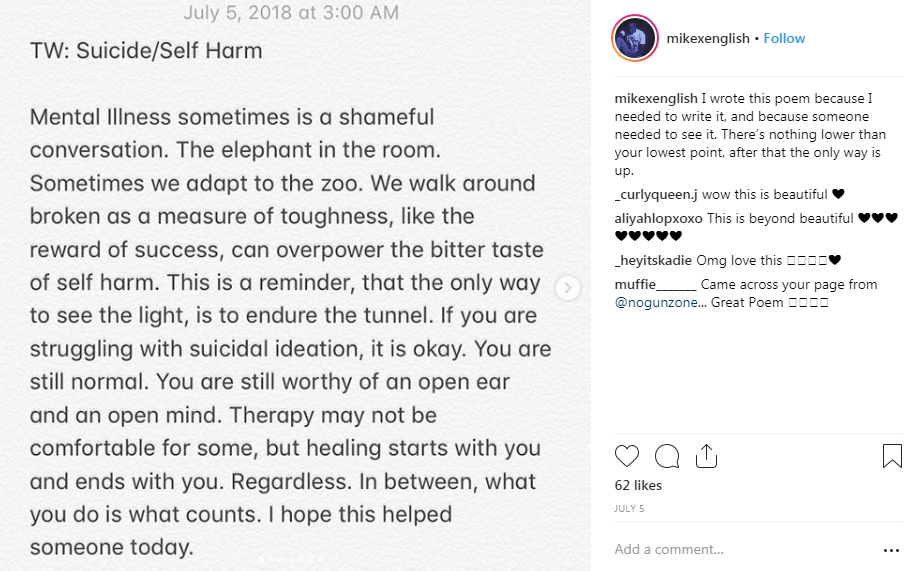 Instagram
Michael's Instagram posts reflected a young man whose moods and thoughts turned to serious subjects.
On July 11, Sean closed an investment deal at Parc, which he used as a kind of second office. Carol Serena, Parc's general manager and Sean's good friend, knew he got nervous about closing deals. She had saved his lucky table — No. 74, near the restaurant's expansive front windows.
The following morning, on July 12, Sean texted Serena, "Well, that went awesome, thanks for always making Parc feel like home. I feel comfortable there, which helps me close."
Serena texted back, "Well that's great. Mi casa, su casa. What was the deal?"
"The guy has big funds," Sean wrote.
"Well done, my friend," she replied.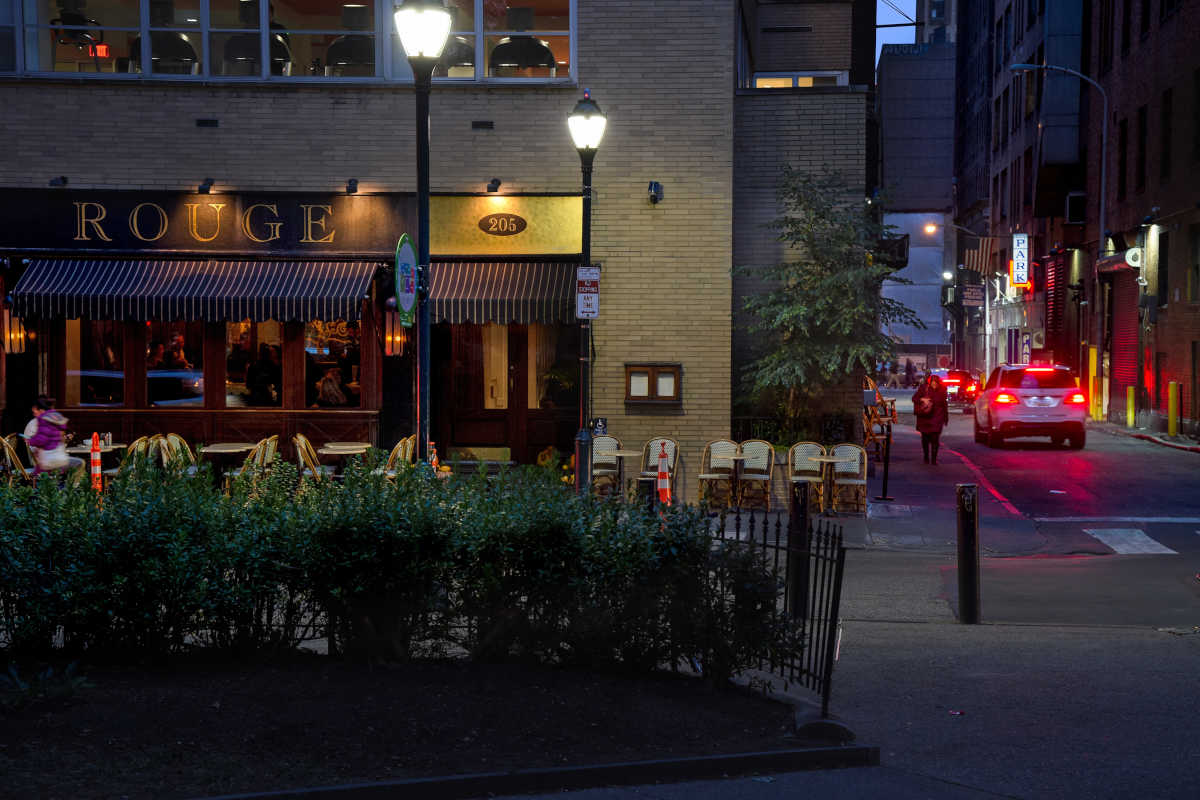 TOM GRALISH / Staff Photographer
On his last night, Sean shared drinks with friends at Rouge, a favorite gathering spot on Rittenhouse Square.
Later that evening, Sean and his friends were drinking at Rouge, where they spotted Alshon Jeffery, the Eagles wide receiver.
After Sean's group moved to an outside table, he saw his friend Norris Jordan heading into the restaurant. "Hey! Norris! You too good to hang out with your friends?" Sean called out. He squeezed Jordan in a bear hug, lifting him off the ground and planting a kiss on his cheek. "Norris, do you know how much I love you?"
Jordan had just come from Lou Bird's, the restaurant he owns on 20th and Lombard Streets. He didn't plan to stay long. His Mercedes was parked illegally around the corner on Chancellor Street. He set a half-finished vodka cranberry on Sean's table and said he was headed over to the Happy Rooster, the bar and restaurant his wife owns at 16th and Sansom Streets.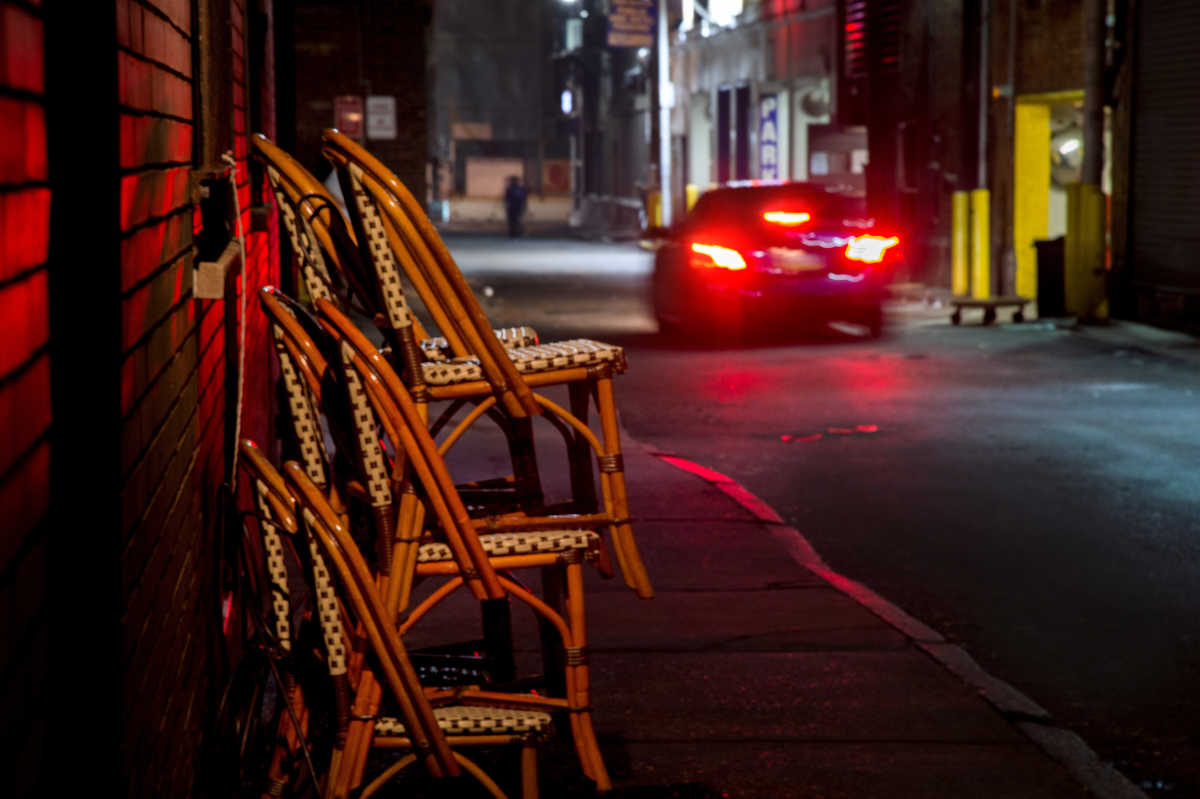 TOM GRALISH / Staff Photographer
Chairs from Rouge are stacked along Chancellor Street between 17th and 18th Streets, the block where Sean was killed.
Sean said he'd come along, leaving the rest of the group behind. It was uncharacteristic for Sean not to say goodbye to friends, so they assumed he would be back shortly. Uri Jacobson, an acquaintance and Rouge regular, joined Sean and Jordan.
The three climbed into Jordan's car just before 11 p.m. They quickly got stuck at the corner of Chancellor and 17th Street, where a car blocked their way. Throngs of pedestrians milled about.
It was opening night for the much-anticipated restaurant, Spice Finch. The last lingering patrons made their way to the restaurant's glass doors on 17th Street after congratulating Jennifer Carroll, the homegrown celebrity chef who competed in several seasons of Top Chef. Just across the way on Chancellor, a bouncer at Stir checked IDs as people queued up outside the popular gay lounge. A Jersey barrier on 17th Street forced drivers to merge into one lane. Cars weren't moving and horns were blasting.
Jordan poked his head out of the driver's side window. "Buddy, you see me? You see us? You've got to move," he shouted to a man standing outside his car, parked in the middle of 17th. When the man didn't budge, Jordan said, "Look, I know this isn't your fault, but you've got to tell the people in front of you to move so you can move up, so everyone can move."
Sean and Jacobson exited the Mercedes, and Sean told the driver to move. By then, Michael was there with his bike.
Jordan heard voices escalate. Michael confronted Sean, asking why he had to act like such a tough guy. Jordan, seated in his Mercedes, looked out the back window. Near the bumper, Michael and Sean stood inches apart. Jacobson was several feet away.
Jordan saw Michael fumbling with the zipper on a backpack. Then he pulled out a silver knife. "You want this?" Michael asked Sean, then warned, "You don't want this."
Jordan jumped out of his car and screamed: "Stop! Stop! Oh my God, he's got a knife!"
Sean grabbed Michael around the waist, and put his head under Michael's armpit, a kind of standing cement mixer. He lifted Michael off his feet, trying to take him down. He was too slow.
In a swift, vicious move, Michael drove the blade 6.5 inches into Sean's back. It pierced Sean's aorta. He collapsed face down.
Michael leaned over Sean and ripped the knife out of his back.
Michael stood up and Jordan locked eyes with him. "He was right there. And you could see, he didn't know what to do. He didn't know what to do," Jordan recalled.
Then, the young man turned and ran towards 18th Street. "That's the guy! That's the guy!" Jordan yelled. "Someone watch him! Someone follow him! Something!"
Jordan got down on his hands and knees next to his dying friend. "Hang in there. Hang in there," he said.
"I was just holding his face, looking at his eyes, looking into his eyes and he was looking at me, but I don't know if there was anything there."
Sean lay near the curb, motionless, a pool of blood under his stomach. A crowd gathered, and people frantically dialed 911. Others rushed out from Spice Finch with towels, and held them to Sean's wound. The towels turned a deep red.
An ambulance siren wailed above the din of traffic. Once it arrived, paramedics moved him inside. Through the two back windows, Jordan watched paramedics do chest compressions on his friend.
"I was out of my mind," Jordan said. "I was just shaking and a mess."
Jordan looked up and saw a young black woman walking towards him. She had a cellphone in her hand.
"Sir, sir. I have it all on video," she told him. "Listen. I saw what happened."
The seven-minute video starts after Michael has the knife in his hand. (Inquirer and Daily News reporters have not seen the video, but have interviewed several people who have.)
Police have yet to find the driver of the Taurus, but believe that he is black.
Jordan and his wife, Debbie, rushed to Jefferson Hospital. They were the first of Sean's friends to arrive at the ER.
"Is he alive? Is he alive?" Jordan asked a police officer.
"No. He's dead," the officer replied.
Jordan fell to his knees and sobbed.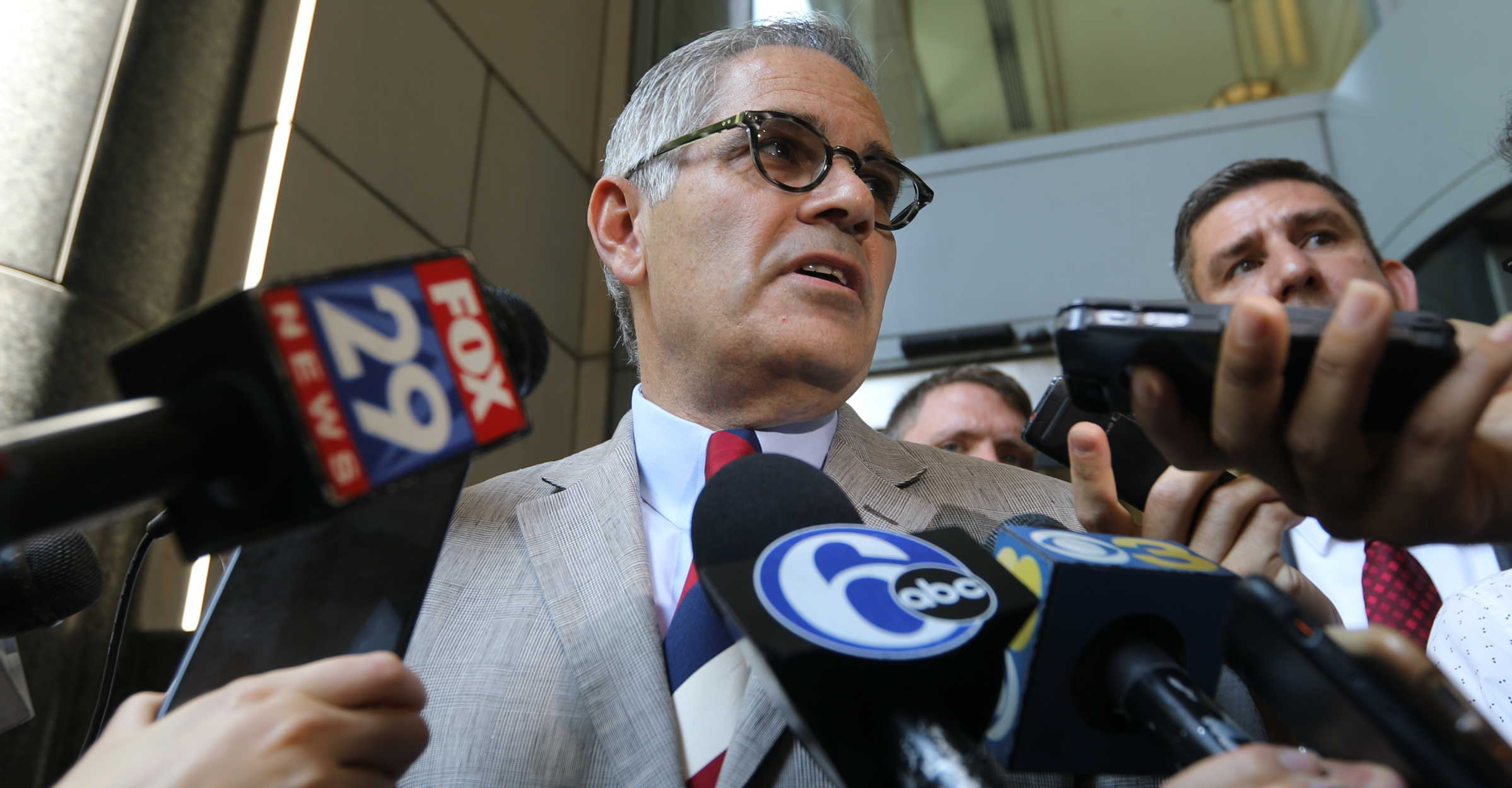 DAVID SWANSON / Staff Photographer
District Attorney Larry Krasner, speaking outside the Criminal Justice Center on Aug. 1, decided to reduce the charge to third-degree murder and asked that bail be set at $150,000, a move that infuriated the Schellengers.
On a Monday night, two days before Michael's court hearing, Linda, along with her son, Justin, and brother-in-law, Jeffrey Schellenger, sat around a conference table in the District Attorney's office to learn more about how Sean had died. Sean's dad, Mark Schellenger, who was overseas, was looped in by phone.
Krasner and his top aides read them portions of witness statements.
The Schellengers were incensed most by one part of Michael's statement to detectives. "I'll beat the black off of you," he said Sean had warned him, according to Jeffrey Schellenger. Michael's allegation was not backed up by any other witness statements, the Schellengers said.
"I know I'm biased but I guarantee he never said that," Mark said. "It's like a Klan statement."
Do you find this story valuable? Support journalism at The Philadelphia Inquirer, Philadelphia Daily News and Philly.com by subscribing.
Krasner asked the Schellengers if they wanted to see the video. Jeffrey was the only who could bear it.
Before being elected DA, Krasner was a political outsider who had worked 30 years as a criminal defense attorney, specializing in civil rights cases. Now he was spending much more time with the families of distraught crime victims. He thought they deserved to know what happened.
Days before he met with the Schellengers, Krasner also talked for two hours with Michael and his attorney. "There should be an effort to get at the facts," Krasner said.
Krasner got elected on a promise to shake up a deeply flawed criminal justice system, arguing that it discriminated against poor people, especially minorities. He said his DA's office would be fair, less punitive and not overcharge.
Now he was being put to the test. Krasner was concerned the case could be "potentially divisive" and result in "public unrest." He wanted to try to avoid that.
Krasner had inherited the hard-charging legacy of former top prosecutors who, almost without exception, charged defendants like Michael with first-degree murder, meaning bail was off the table. If the outcome at trial's end was vastly different, so be it, their thinking went.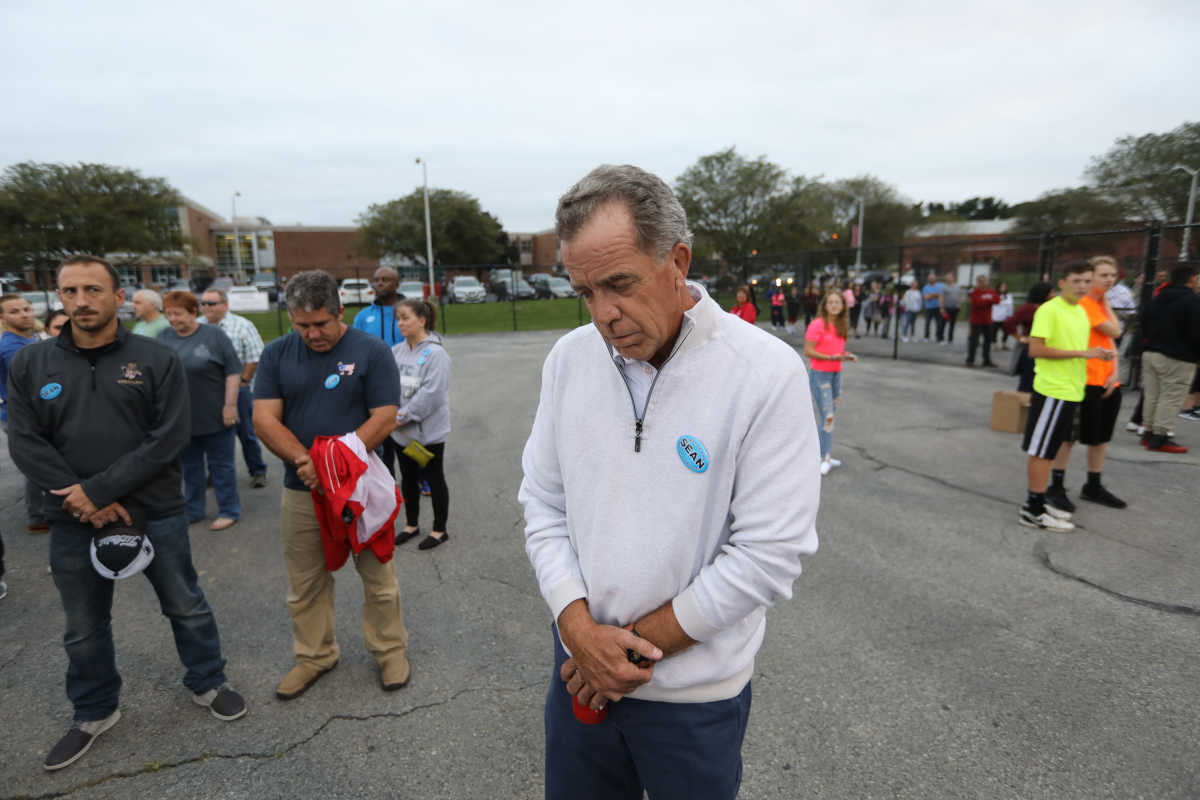 DAVID SWANSON / Staff Photographer
Mark Schellenger observes a moment of silence for Sean during a Coatesville High School football game in September.
To the Schellengers, this was murder. To them, Michael was an angry, bitter young man who had violence on his mind. He inserted himself in an argument that had nothing to do with him and stabbed an unarmed man in the back. Then he ran, tossed the knife and hid while Sean bled to death.
To Michael's supporters, it was self-defense. To them, an arrogant man made racist comments, then rushed Michael, grabbed him around the waist and threatened to hurt him. Michael did run from the scene, but a day later turned himself in and then directed authorities to the rooftop where he had thrown the knife.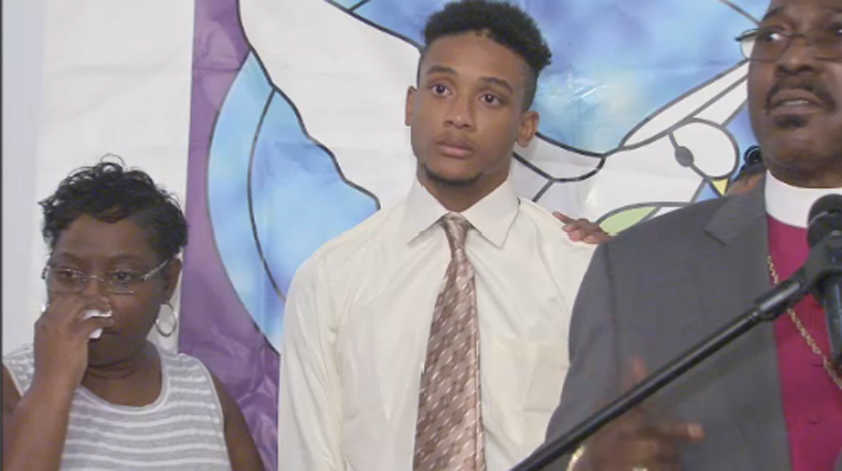 WPVI/6abc
Michael White prepares with family to turn himself in to Philadelphia police officers, with help from Bishop Ernest McNear (right) of True Gospel Tabernacle Church and the Philadelphia Peaceful Surrender organization.
When Sean died, his blood alcohol level was .199, more than twice the legal driving limit. Blood tests for cocaine, opioids and other illicit drugs all came back negative, a Medical Examiner's report would later show.
But a vitreous test, which samples fluid in the eyeball, turned up a trace of cocaine, less than 200 ug/L. Because experts say cocaine can be detected in eyeball fluid for a month or more, the trace result doesn't indicate when Sean may have used cocaine.
At the court appearance August 1, Krasner decided to reduce the charge to third-degree murder and asked that bail be set at $150,000, a move that infuriated the Schellengers. "My son is not a political pawn for you," Linda told Krasner after the short hearing. "He was murdered." Krasner did not believe evidence supported first-degree murder, which requires intent to kill
His decision made it possible for Michael to be released before trial. If Michael's case was just another criminal docket number, he most likely would not have had money to make bail. But Michael caught the attention of two community groups in the "stop cash bail" movement, and they raised $15,000. Michael is now under house arrest, living with his aunt and uncle in their Overbrook rowhouse.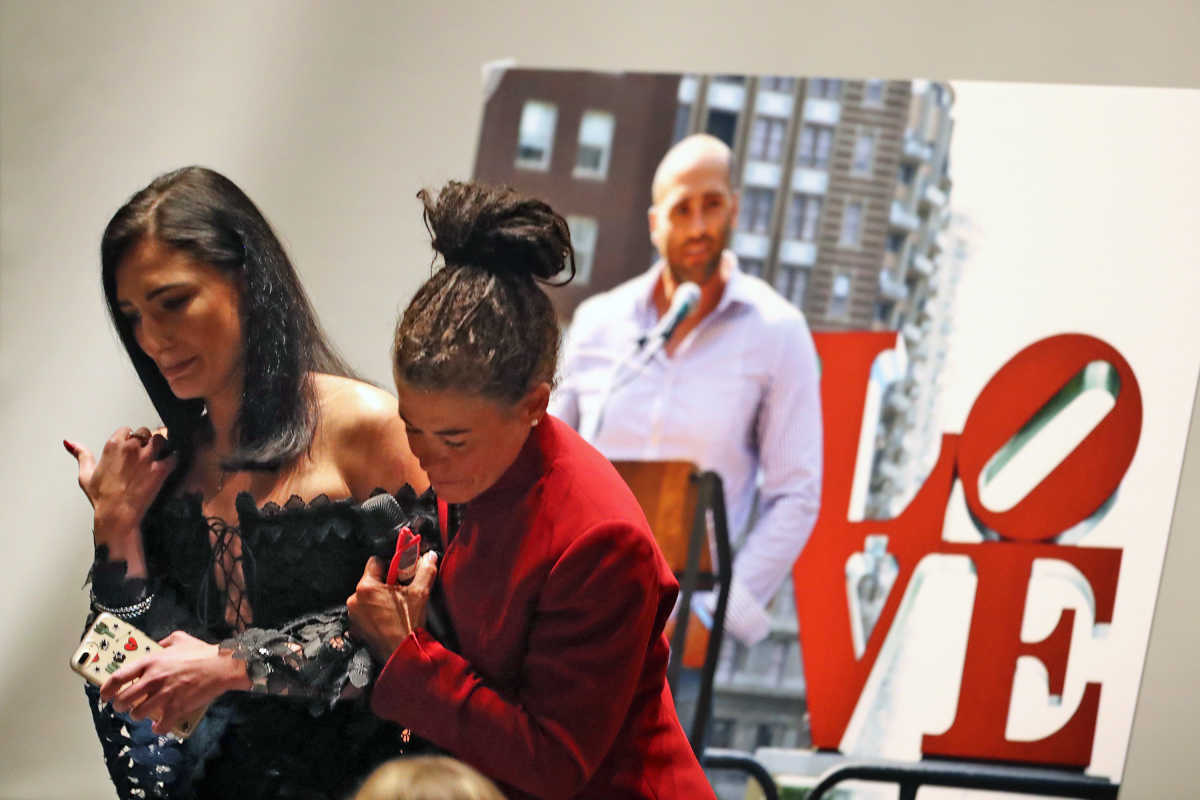 DAVID SWANSON / Staff Photographer
Sean Schellenger's mother, Linda, helps his live-in girlfriend, Iryna Iryk, off the stage at a Radnor High memorial service on July 17.
The crime has since taken on a narrative of mythic proportions, a blend of truths and rumors, facts and interpretations.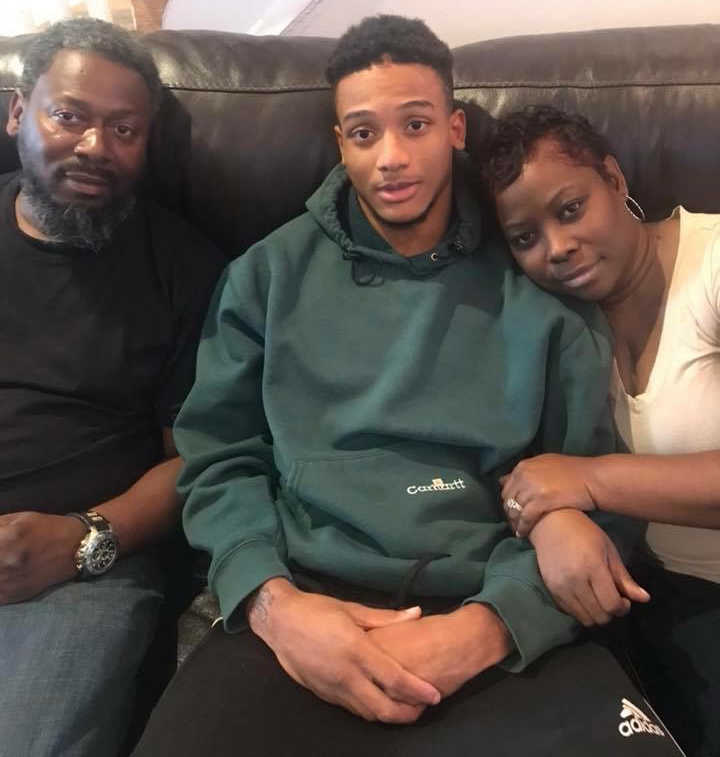 Courtesy of the White family
Michael, released on bond, has been living with his uncle Quinnell James and his aunt Tanya James under house arrest in their Overbrook rowhouse.
Since on house arrest, Michael has been working on new songs and hawking his music on social media. "IM LETTING YALL KNOW RIGHT NOW AFTER TOMORROW THE PRICE GOING UP I SPENT TOO MUCH TIME DOUBTING MYSELF CAUSE OF FEAR …"
Michael will be back in court Oct. 30 for his preliminary hearing. Any trial is likely months away. If convicted of third-degree murder, Michael faces a maximum sentence of 20 to 40 years.
In the meantime, Linda Schellenger has taken the helm of her son's real estate company. She retired last year, sick of the global travel. "I wanted to teach yoga, work at Trader Joe's, and get dreadlocks," she said. She got two of the three. Perhaps one day, she'll work at Trader Joe's.
For now, she feels like she's living day to day in a fog, like the world stopped July 12.
"Life is moving," she said. "I am not."
---
How We Reported this Story
This story is based on interviews with more than 50 people close to Sean Schellenger or Michael White, and multiple sources familiar with the investigation of the July 12 stabbing death. Reporters relied on court records from five counties in Pennsylvania and Florida. They also reviewed the available social media accounts for the two men. Among the interviews:
Michael White's family: Juanita White, Christopher White, William White Jr., Tanya James, Quinnell James, Tanine Jones, Ashleigh White, Charlene Williams and Perry Williams.
Close friends: Shirmina Smith, Juwan Seaton, Tivon Barriner, Ruja Ballard, Aaliyah Harris, Jayana Wakefield.
Others: Johnny Tobash's father, Michael Tobash; former neighbor Hattie Burrous; Erica Atwood, executive director of the Philly Youth Poetry Movement; former Palumbo football coach Scott Pitzner; former neighbor Kareemah Robinson; author and professor Marc Lamont Hill; Rachel McRae, youth leader in his church; family spokesman Greg Thompson.
Sean Schellenger's family: Linda Schellenger, Mark Schellenger, Justin Schellenger, Jeffrey Schellenger, Jamme Romanoff, Donna Woolfrey, Andrew Woolfrey, Lisa Archie, and live-in girlfriend Iryna Iryk. Close friends: Eugene "June" Cooper Jr., Michael Rand, Mario Rincon, Carol Serena, Ramy Shraim, Christopher Wolfington, Pat Strickland, Matt Kranchik, Melvin Cook. Professional associates and friends: Mike Stillwell, Chirag Patnaik, Sean Frankel, Mitchell Ripkin, Manuel Campos Guallar, Bill Zandi.
Crime eyewitnesses: Norris Jordan, former Spice Finch server Josh Harris, Larry Giuffra.
Law enforcement officials: Philadelphia District Attorney Larry Krasner and several others who spoke on the condition of anonymity.
Reporters also interviewed several people who have seen the crime scene video, toxicologist and expert witness Dr. Michael Whitekus, Allegheny County Medical Examiner Karl Williams, and Florida bouncer Phillip Bouchfield.
DAVID SWANSON / Staff Photographer