A screen grab from a video camera at Vince Beverage on Ridge Avenue shows Officer Saniyyah Jones discharging her weapon at Thomas Hennelly, a suspect in a hit and run accident. Hennelly, who can't be seen in the video, was killed by Jones, who fired 10 shots. Statements from Jones and her supervisors conflict as to whether Hennelly's actions indicated he might have been armed. He was not.
The inquiry into the shooting and killing of Thomas Hennelly by an officer raises questions about how police investigate deadly force cases.
Tommy Hennelly was in North Philadelphia to buy cocaine. It was 10:45 a.m. on a Thursday in April 2012, and the 26-year-old masonry contractor from Delaware County was on a dangerous binge.
He was leaving a Rite Aid parking lot near Temple University, having scored three baggies of coke bearing the Superman logo, when his blue Dodge Ram pickup jumped onto the sidewalk.
Pete Eckerson was walking up Broad Street to Paley Library. The 21-year-old Temple senior had time before class and needed to study. With graduation fast approaching, the criminology major had applied to join the Philadelphia Police Department.
Officer Saniyyah Jones was 30 years old and a year and a half on the job. She had come to the Police Department with an unusual resumé; she had worked at Abington Hospital for seven years, handling admissions and patient charts.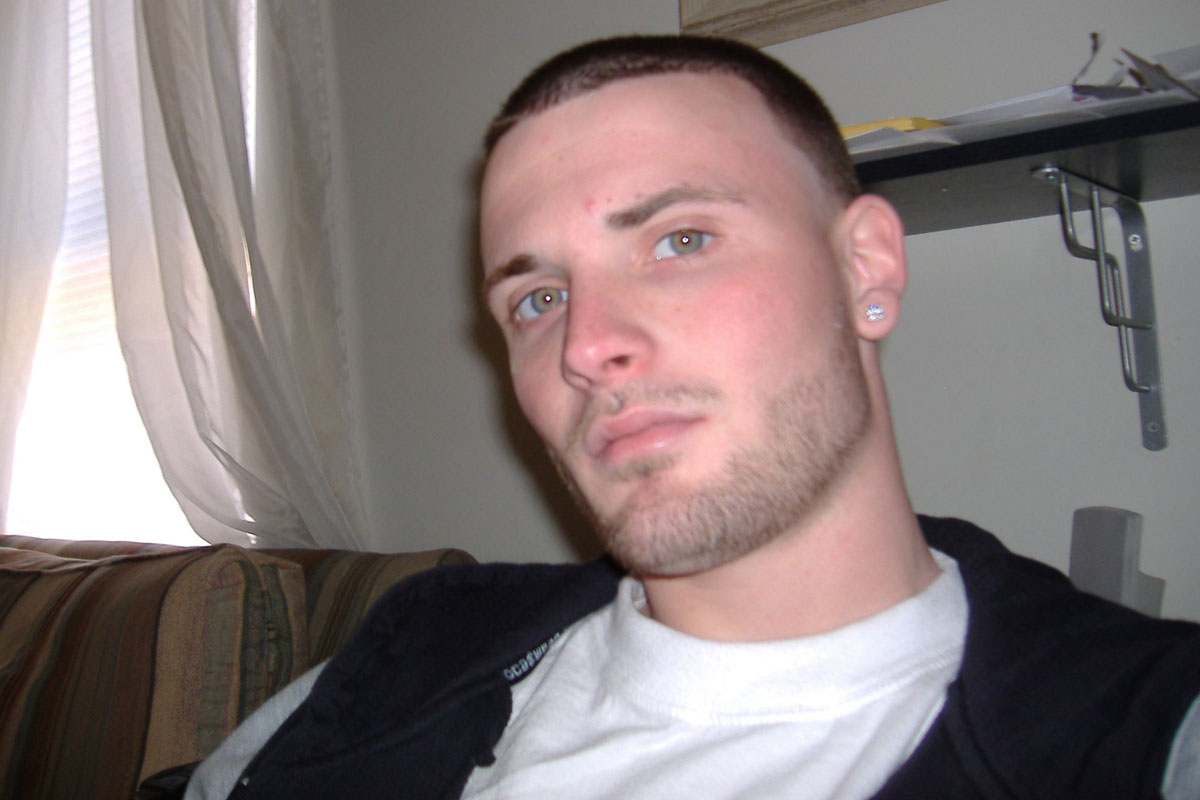 Thomas Hennelly 3d was shot fatally by police in April 2012.
Early in Jones' career as an officer, her supervisor observed that she was struggling to adjust to the work, but her performance improved, and her boss took note: "I believe this is just the beginning of a promising career within our department."
Jones was driving her patrol car along Ridge Avenue that morning, when she heard the call to assist a fellow officer:
Shots fired.
She hit her lights and siren and sped down Ridge Avenue.
That year, while responding to reports of crimes, Philadelphia police would shoot 48 suspects, killing 16 of them, prompting Commissioner Charles H. Ramsey to invite a Justice Department review of the city's police-involved shootings.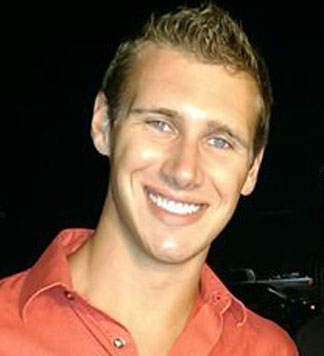 Pete Eckerson was a Temple student when Hennelly struck him on April 12, 2012. Injuries from the accident left him unable to run.
The federal Office of Community Oriented Policing Services issued 91 recommendations in March to reform the department's deadly force practices, and Ramsey pledged to make changes as soon as possible.
At a time when police shootings are capturing national headlines, the investigation into the death of Thomas Hennelly 3d highlights a multitude of weaknesses identified by the Justice Department. One of those is a lack of transparency.
If you go to the department's website today to read about the shooting of Hennelly, a 2003 Cardinal O'Hara grad who loved playing basketball and writing rap lyrics, you find three terse paragraphs. They report that he was killed after verbally threatening a police officer, then turning to her with clasped hands, as if he was about to shoot.
But that is not what happened.
Eckerson was walking on the sidewalk at Oxford Street when he glanced over his shoulder in time to see Hennelly's two-ton pickup bearing down on him.
"Shots fired!"
Click on the Next button to see why shots were fired.
SOURCE: Police Department records obtained through civil rights lawsuit
OLIVIA HALL / Philly.com
The impact knocked the student to the concrete, breaking his left leg. Then, while he lay helplessly, Hennelly backed up and broke his other leg.
Hennelly pulled back into the lot of the Rite Aid, striking two parked cars. As he tried to escape onto Broad Street, a police cruiser blocked his way.
He plowed straight ahead, into the front of the police cruiser, locking the two vehicles together. Officer Richard Rivera jumped out of the car.
The officer ordered Hennelly to turn off his engine, and fired three shots from his .45-caliber Glock at the pickup's tires. But Hennelly hit the gas, popped loose, and escaped up Broad Street.
Police regulations bar officers from shooting at moving vehicles unless they are in imminent danger.
"Shots fired!" Rivera shouted to the police dispatcher. "I got one white male down. I'm going to need rescue."
A witness called 911, saying erroneously that a police officer was under fire. That call was broadcast to every officer in the area.
All available officers raced toward the scene as an ambulance team scrambled to help the Temple student.
Rivera radioed in a description of the driver — white male, late 20s, early 30s, red hoodie. The blue pickup, he said, had two flat tires and was traveling west on Cecil B. Moore Avenue.
Nearly two minutes after shooting, Rivera clarified his first report: No one had been hit by gunfire, and it was he who had discharged his weapon.
By then, Officer Jones was heading solo down Ridge Avenue. She had been driving a patrol car for less than six months, having spent a year walking a North Philadelphia beat, where her work drew praise. Two months out of the academy Jones chased down a suspect, winning her a commendation from Ramsey for her "alert and aggressive patrol."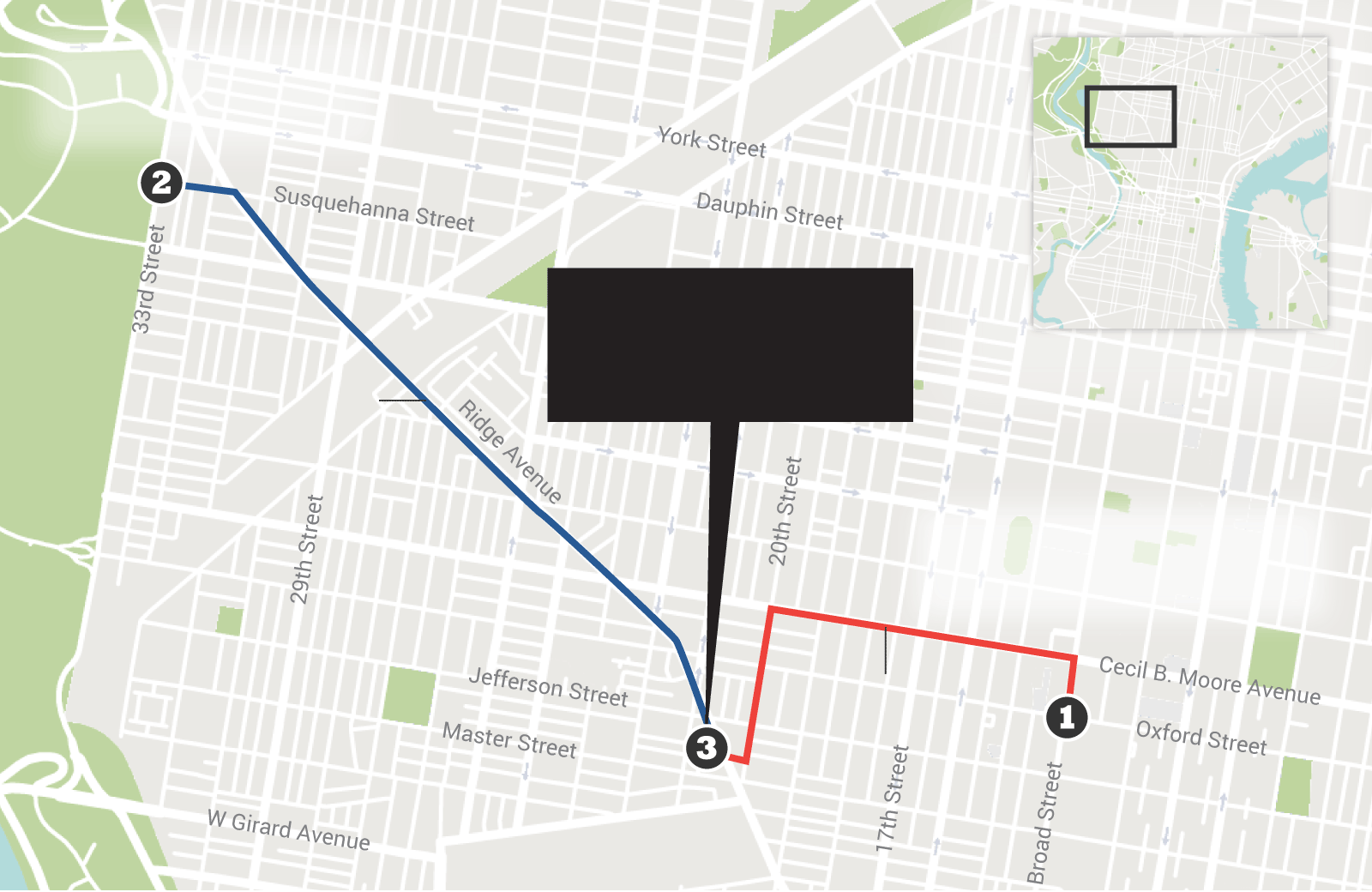 Officer Jones' location
when hears call for assist
33rd and Susquehanna Streets
Officer Jones fatally
shoots Hennelly
1400 block of Lambert Street
Hennelly hits pedestrian,
patrol car and several vehicles
SOURCE: Police Department records obtained through civil rights lawsuit
OLIVIA HALL / Philly.com
As she headed south on Ridge, a man darted in front of Jones' squad car, running so close to her car that his hand brushed the hood. He was wearing a red sweatshirt. To her left, she saw a blue pickup parked in a weedy lot.
She made a quick U-turn.
Braking on the sidewalk by Vince Beverage, Jones saw Hennelly running toward the back of the beer distributor.
The 4-foot, 11-inch officer ran after him.
A garbled 10:47 a.m. transmission from Jones was audible on the dispatcher tapes as she neared Hennelly.
Twenty-five seconds later, another officer radioed: "More shots fired."
A minute later, Hennelly was dead — killed, the coroner would rule, by a 9mm bullet that ripped into the top of his left shoulder and pierced his heart.
A supervisor took the Glock from Jones' hands. He could tell she was "visibly shaken," a police report stated.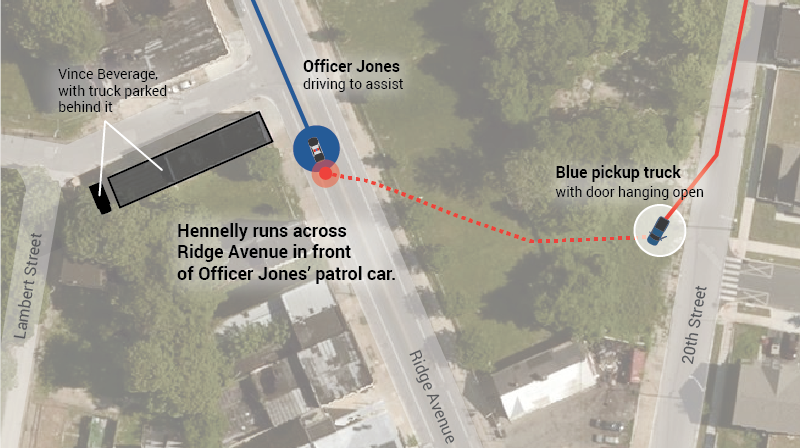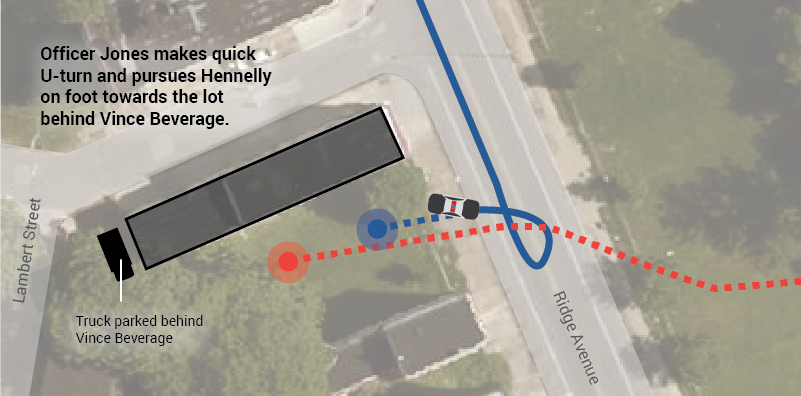 SOURCE: Police Department records obtained through civil rights lawsuit
OLIVIA HALL / Philly.com
Different in Philadelphia
The events after an officer shoots someone are carefully prescribed. Swarms of police mill around as evidence is found and logged, statements are taken.
But what happens next is different in Philadelphia from in most other big cities.
Sgt. James Grone, the first supervisor on the scene that day, checked the clip of Jones' pistol and returned it to her. Grone asked her why she had fired her weapon.
He then escorted her to the office of the police Internal Affairs Division in Northeast Philadelphia, where investigators took her gun but did not interview her.
In Philadelphia, Internal Affairs officials do not talk to officers who discharge their weapons until months later. Instead, investigators see only a secondhand "public safety statement" that officers must promptly give to a supervisor to help guide the preliminary investigation.
The Justice Department called for Philadelphia to interview the shooters within three days. In Philadelphia that year, it took an average of 112 days for police who discharged their weapons to be cleared of criminal charges so they could talk to Internal Affairs.
Days to complete an officer-involved shooting investigation in Philadelphia
The Justice Department's Office of Community Oriented Policing Services recommends that officers who shoot suspects be interviewed within three days of the incident. Officer-involved shooting investigations in Philadelphia take well over that, with time split between the District Attorney and Internal Affairs Division. Once the District Attorney reviews the case for potential criminal liability, Internal Affairs Division takes over. The investigation concludes when IAD closes the case. Since 2014, the District Attorney's office has reduced the average length of their investigations by five weeks.
Hover over the bars to see how many days the average investigation lasts.
District Attorney investigation
Internal Affairs Division investigation
SOURCE: Office of Community Oriented Policing Services
OLIVIA HALL / Philly.com
The federal reviewers found fault with the department's public safety statements — the way investigators took those reports lacked "structure and consistency."
For instance, Philadelphia police supervisors do not have set questions to run through as they transport officers to Internal Affairs, so no standardized information is gathered.
During an hour-long interview in Internal Affairs, a lieutenant asked Grone if other officers had witnessed the shooting. The sergeant said he was "not sure." Grone also said he also did not know in what direction Jones shot.
Grone was more clear about the threats Hennelly leveled.
"———, if you come any closer, I am going to shoot you," he quoted Jones as relating.
"Officer Jones said he began to raise up and turn his body in her direction," Grone told the Internal Affairs investigator. "She said he moved his hands away from the truck area as he moved and had his hands together."
Believing the suspect was going to shoot her, she fired first, Grone said. Ten times.
Prompted by the investigator, Grone provided more detail. "She said he began to raise his body up and turn toward her with his hands clasped together, while moving his arms in her direction," Grone told the investigator.
This became the official version of the shooting.
That same day, Ramsey visited the shooting scene.
"From what I've seen so far, it looks to be a justifiable shooting," Ramsey said. He declined The Inquirer's requests over the last several weeks to comment further about the incident.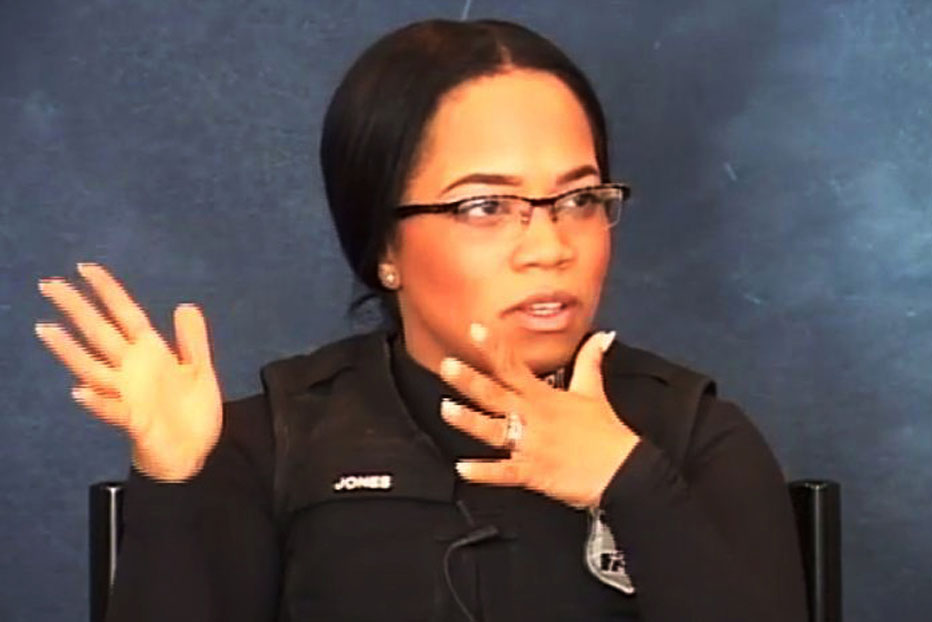 Officer Saniyyah Jones was not interviewed about the shooting by Internal Affairs until she was cleared of any criminal liability, 316 days after the shooting.
The next official to look into the shooting came from the District Attorney's Office. Edward McCann, a first assistant district attorney until his retirement in November, said his office usually depended almost entirely on police to investigate what happened.
Prosecutors here do not have a team of investigators for police shootings. Ramsey has said he would like an independent agency to look into deadly uses of force.
One of the first pieces of information McCann's office received was Sgt. Grone's statement, relaying what Jones told him about the shooting.
But the account of her direct supervisor, Sgt. Joseph Wilson, differed slightly: Hennelly threatened Jones verbally and "did swing his upper body area towards police as though he was armed, placing the officer in fear believing he was armed."
Wilson, who went to the scene and wrote the incident report, made no mention of Hennelly clasping his hands together.
Officer Robyn Gee offered yet another detail: The day after the shooting, Jones told her she had shot Hennelly after he "reached into his waist area."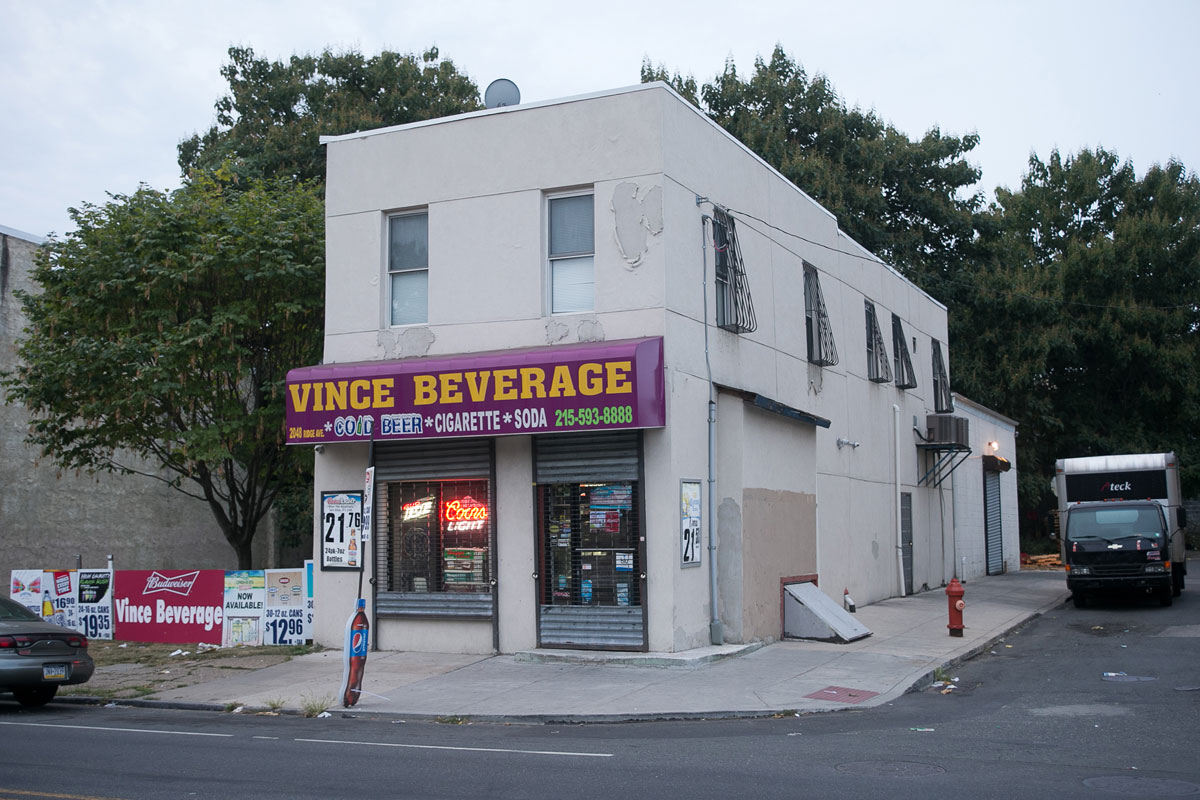 ALEJANDRO A. ALVAREZ / Staff Photographer
The fatal shots were fired near Vince Beverage, at 2048 Ridge Ave. Officer Saniyyah Jones saw Thomas Hennelly 3d running toward the back of the beer distributor.
Surveillance cameras fixed on the south side of Vince Beverage and from the back of the store captured video that made its way to the District Attorney's Office.
McCann allowed Inquirer reporters to view the tapes from the Hennelly shooting, though he said he would not release them to the public. That, too, sets Philadelphia apart.
Many other cities release videos and other evidence after investigations of shootings by police are completed. In Philadelphia, the files and videos are kept secret unless public officials opt to share them.
The best camera angle, from the back of the building, gave the clearest picture:
First Hennelly enters the frame. He steps behind a delivery truck parked in back of the distributorship. The truck obscures the camera's view of what he does next.
Thirteen seconds later, Jones appears. Within seconds of her entering the camera's view, her left hand can be seen recoiling as she fires.
As Jones finishes shooting, Officer Jaliyla Muhammad appears next to her. The officers are nearly touching.
The shooting done, Muhammad and Jones start walking around the truck, toward the spot where Hennelly's body is hidden from the camera's view.
Within seconds, more officers arrive. That's when they discover Hennelly is unarmed.
Fatal shooting
Officer Jones parked her patrol car and ran after Hennelly to the parking lot behind Vince Beverage. Surveillance cameras on the beer distributorship captured video of the pursuit. Camera 2, fixed on the south wall, shows Officer Jones running to the back of the building, followed by Officer Muhammmad. Camera 3 shows Officer Jones approaching the truck with her gun drawn.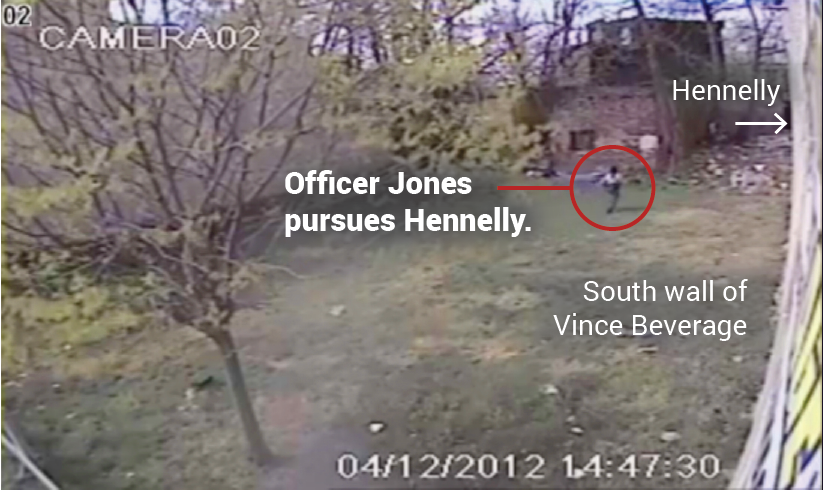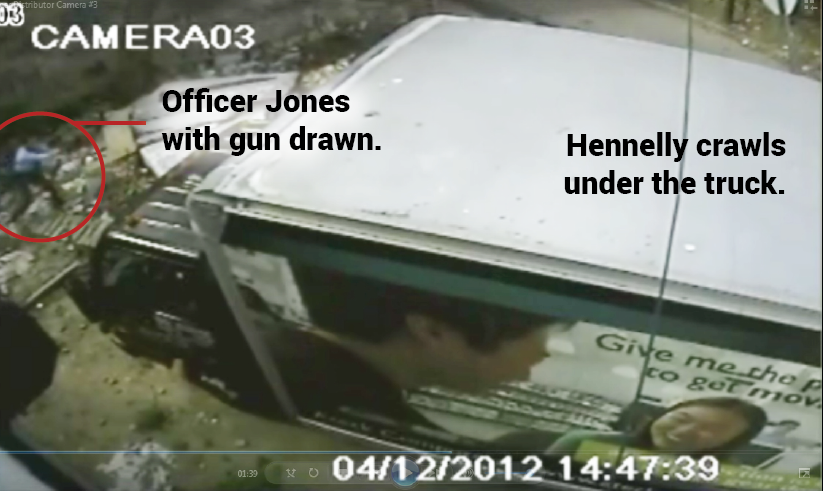 3
3 seconds after Officer Jones arrives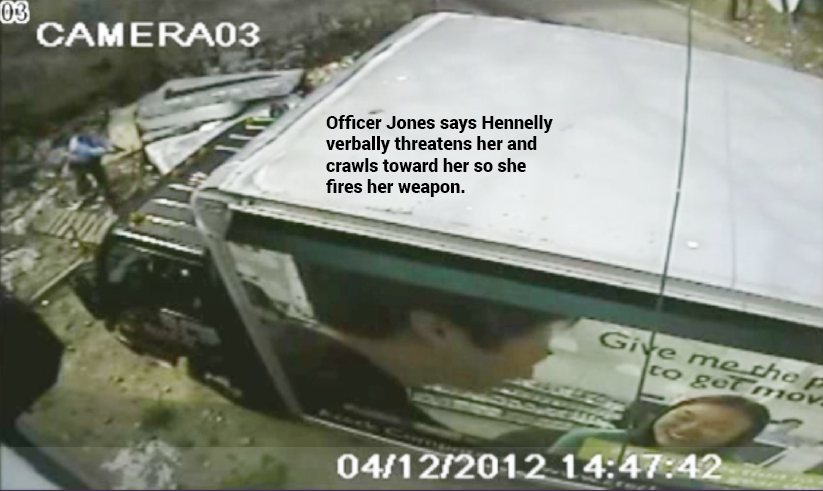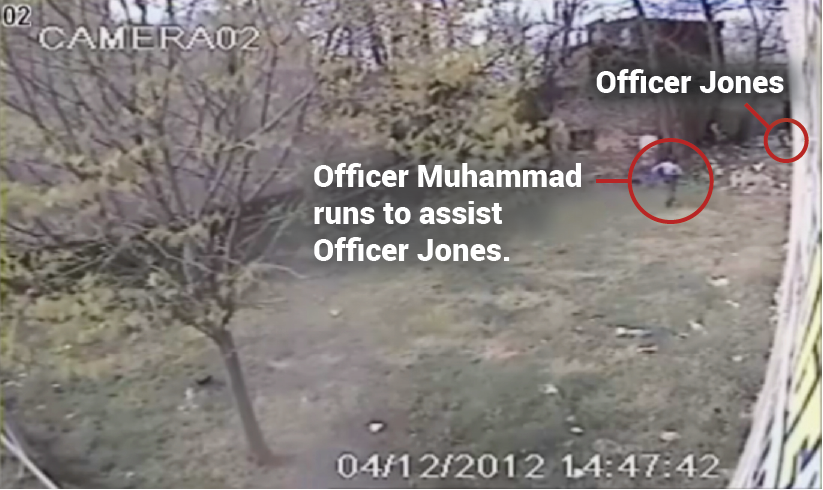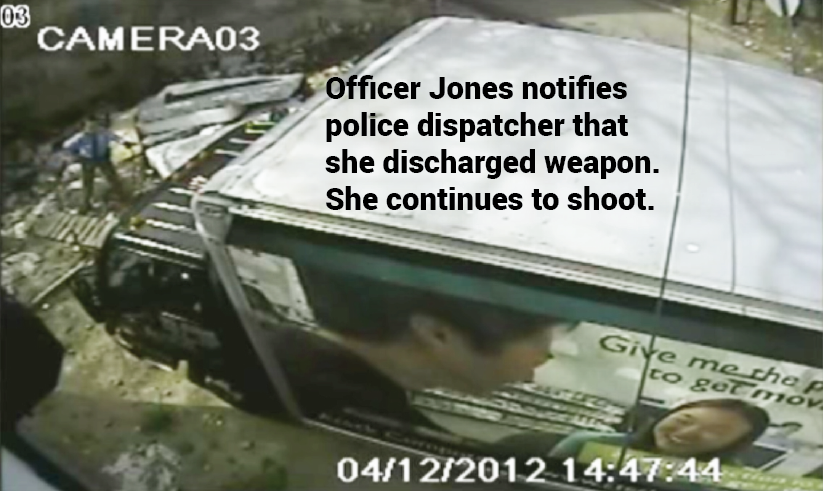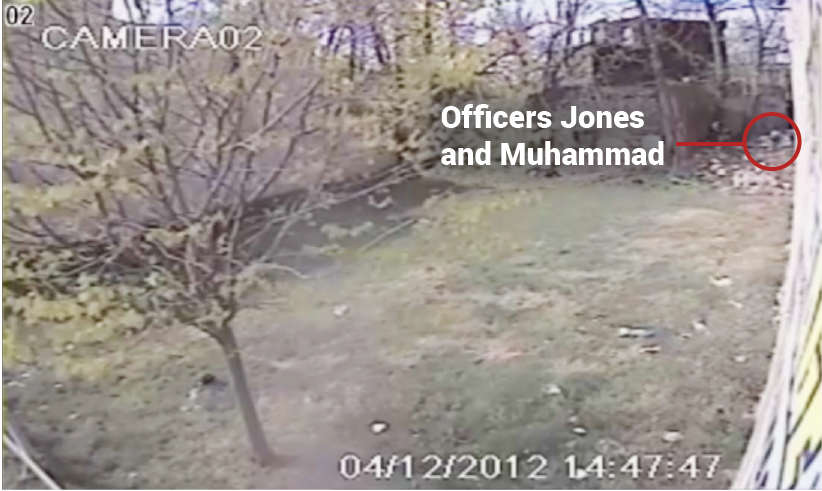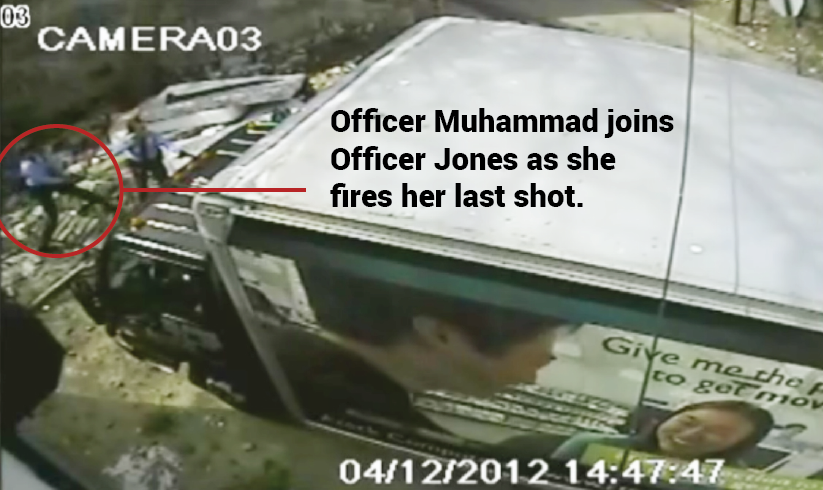 time-stamps are not accurate. Hennelly was shot around 10:47 a.m.
SOURCE: Police Department records obtained through civil rights lawsuit
OLIVIA HALL / Philly.com
'I saw her pull out her gun'
Six days after the shooting, Henry Glenn, a police detective, questioned Muhammad about Jones' actions.
"I saw her pull out her gun and start shooting," she told Glenn. "She was aiming down. She shot like 10 shots."
Muhammad said she heard no words from either Jones or Hennelly.
Glenn never asked her if she was within earshot of Jones. He didn't ask if Jones said anything about why she opened fire or whether Muhammad was friendly with Jones. The two were friends and socialized, Muhammad later testified.
And he didn't ask Muhammad any questions about the video.
In all, Glenn asked Muhammad eight questions, including what shift she was working that day, where she had parked her police cruiser before the shooting, and if she could describe Hennelly's pickup.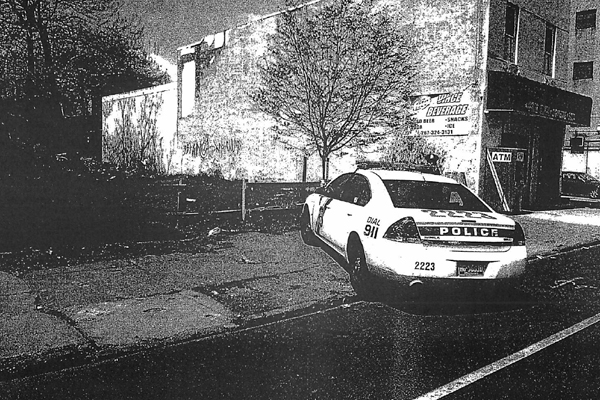 Evidence photo of Officer Jones' patrol car parked on the scene.
Paul Messing, a criminal defense lawyer who also teaches at Temple University Law School, reviewed Glenn's questioning of Muhammad at The Inquirer's request.
He said the questions Glenn asked Muhammad were in no way comparable to those a homicide investigator would ask a witness in a case that did not involve police.
"In a homicide investigation where the subject is not a police officer, the interviews are long, detailed, and probing, not eight silly questions," Messing said.
The Inquirer provided statements from police interviews and screen shots from the video to Kelvyn Anderson, executive director of the city's Police Advisory Commission, and, since September, the independent representative on the police department board that reviews shooting investigations.
He expressed surprise after reviewing a transcript of Glenn's questioning of Muhammad.
"Wow! That's it?" he said. "Definitely we want some more detail. … We want to make sure that we're asking all the questions we should be asking."
He said he was particularly troubled by investigators' failure to ask Muhammad about the video.
"If we had the video, it's hard to understand why we aren't questioning officers about it," he said.
On Oct. 24, 2012, more than six months after the incident, District Attorney Seth Williams weighed in on the Hennelly shooting. His letter to Ramsey concluded: "The officer's actions were justified."
Hennelly had verbally threatened Jones and he was "abruptly turning his body toward her with his hands clasped together as if holding a gun," Williams wrote. "Believing he had a gun, and he was going to make good on his threat, P/O Jones shot Hennelly."
On the fundamental question of whether any criminal charges were warranted, McCann said he was confident the decision to clear Jones was correct.
Under state law, the use of deadly force by police is justified if the officer "reasonably believes it is necessary" to prevent death or serious injury. That includes officers who are defending themselves or others.
In retrospect, McCann said, the letter his office sent to Ramsey should never have been written the way it was.
In preparing the document, he said, his staff "just kind of took that paragraph out of the first sergeant's statement and grafted it into the letter and didn't really analyze the case in terms of it being more murky in terms of exactly what happened."
McCann said the contradicting statements about what Hennelly was doing with his hands at the time of the shooting were "significant, and it should have been noted."
The inconsistencies grew when Jones was finally questioned under oath.
Four months after the district attorney cleared her of criminal liability, police interviewed her about what happened April 12, 2012.
This was 316 days after the shooting — 313 days longer than what the Justice Department urges.
Jones appeared at Internal Affairs headquarters in Northeast Philadelphia on Feb. 22, 2013, accompanied by a police union lawyer.
Lt. Thomas F. McDonald, of Internal Affairs, asked the questions.
Jones described the events before the shooting.
"It looked like he was trying to crawl under the truck," she said. Jones yelled repeatedly for Hennelly to show his hands, she said.
She said Hennelly warned her he would shoot if she came any closer.
"At that point," she said, "the male began to move toward me while on all fours, and I discharged my weapon until he stopped moving toward me."
She offered that she never saw Hennelly's hands.
Why did she fire? "I was scared," Jones said, "and believed my life was in danger."
McDonald did not ask Jones about the differing accounts of the event — that Hennelly had clasped his hands or had gone to his waist, as if to grab a gun. The investigator did not ask anything about his hands.
Nor did he ask a question about the video or about Muhammad standing next to her at the time of the shooting.
On March 21, 2013 — 343 days after Hennelly was killed — Internal Affairs closed the investigation with a memo to Ramsey.
McDonald wrote that Jones and Sgt. Grone gave statements about the event that were "similar."
In conclusion, he wrote, "Officer Saniyyah Jones discharged her firearm within the guidelines of the Philadelphia Police."
But based on Jones' statement, McDonald added a caveat.
"It would have been much more prudent for Officer Jones to delay and seek the available cover, notify Police Radio of her situation, and await backup officers that were mere seconds away, instead of confronting Mr. Hennelly alone and directly," he wrote.
As for Rivera, McDonald found that the officer may have violated department rules when he shot out the tires of Hennelly's truck.
And had Rivera stated clearly that he was the only person who fired shots during the incident outside Temple, McDonald wrote, "Officer Jones may have approached Mr. Hennelly and the situation differently."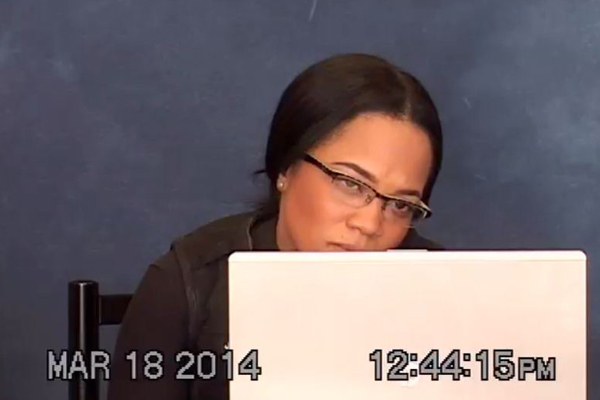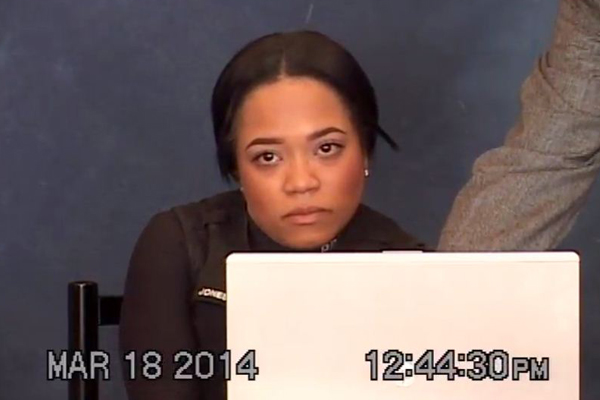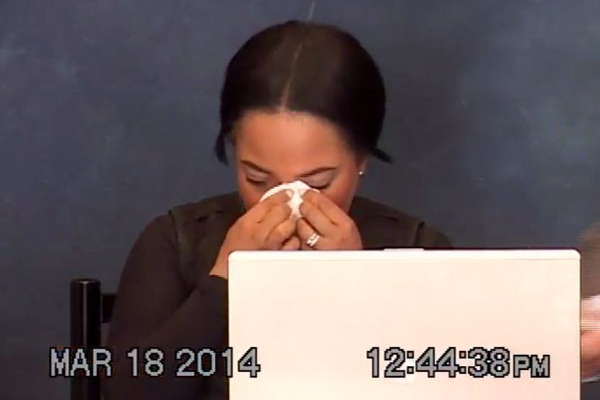 Officer Saniyyah Jones testified about Thomas Hennelly 3d's death nearly two years after his fatal shooting, in a federal civil rights lawsuit filed by Hennelly's girlfriend. It was the first time Jones was questioned under oath about a video of the shooting. Jones testified that she had never seen the video before that day.
Testimony two years later
There was one more time to testify about what happened. On March 18, 2014, nearly two years after the shooting, Jones sat for a two-hour deposition in the federal civil rights lawsuit filed by Caitlin Knecht, the girlfriend who served as executor of Hennelly's estate.
It was the first time Jones was questioned under oath about the video. She testified that she had never seen it before that day.
Still wearing a bulletproof vest from street duty, Jones cried quietly as she watched the events caught by the cameras.
Knecht's attorney, Thomas Hurd, asked her to identify the exact moment when she could see herself shooting Hennelly.
After taking a brief break to compose herself, she identified a six-second period when she was firing. Hurd repeatedly asked Jones about Hennelly's hands — something police investigators had not done.
"Did you ever see his hands before you started firing?" Hurd asked.
She answered: "No."
Two months later, the city entered settlement talks with Hurd. The payout was $325,000, approved by a federal judge, to establish a trust fund for the daughter of Hennelly and Knecht.
Knecht is raising the child. She has a copy of the video and has watched it over and over, so she knows what happened that day.
"It's important to have the truth out there for when I have to tell our daughter the whole story or when she finds out when she's older," Knecht said.
At the same time, she says she wants to put the tragedy behind her and focus on raising the child, who is now 5.
Pete Eckerson, the Temple student, is now 25. He gave up his dream of being a Philadelphia police officer. Because of the damage to his legs, Eckerson no longer can run. He became an accountant.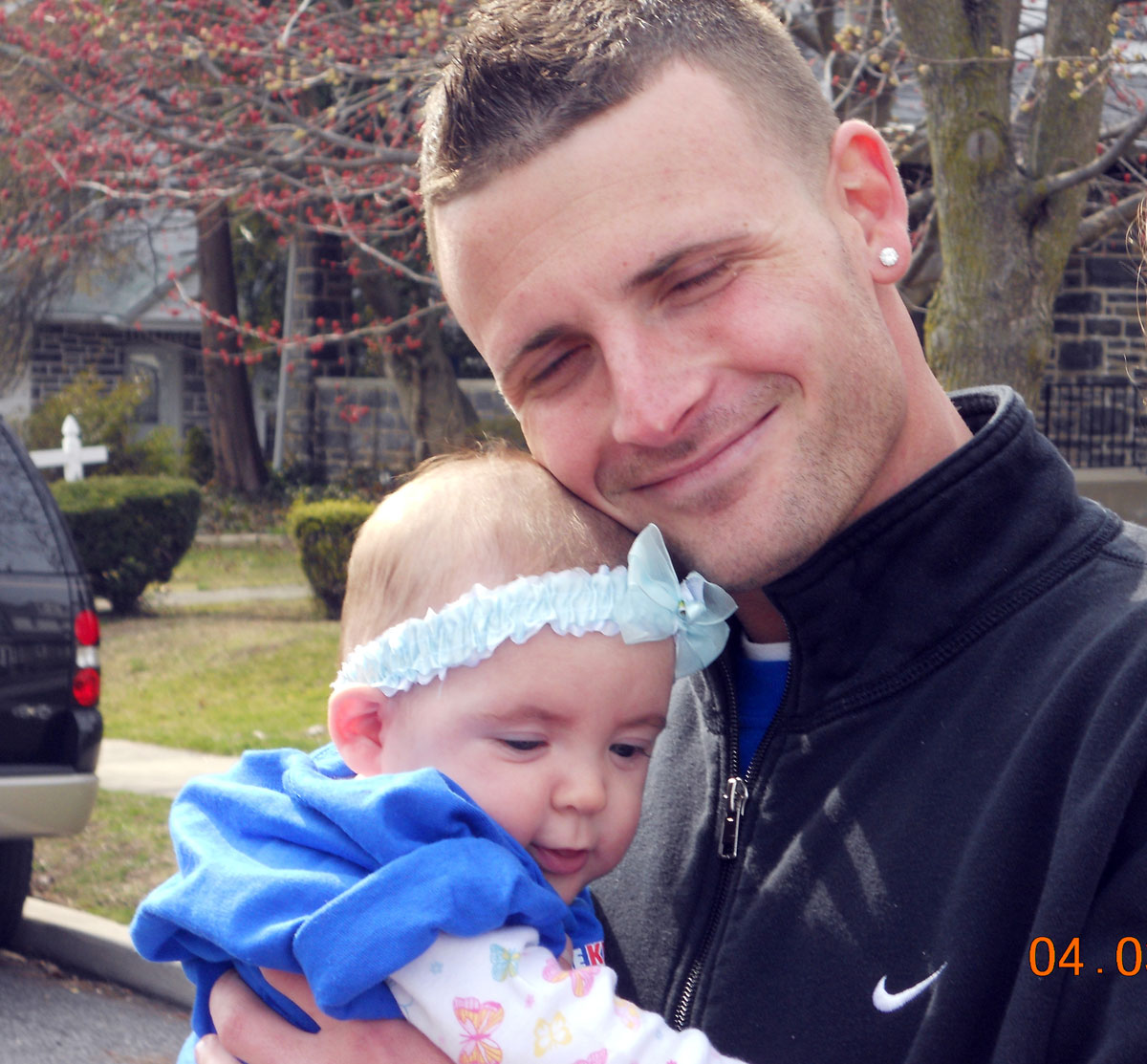 Thomas Hennelly 3d, who was shot fatally by police in April 2012, with his daughter. The daughter is now 5 years old.
Hennelly's father, Tom, is still angry about the shooting, which he calls unjustified. He said the death came at a difficult time. It was the same week he made the decision to lay his son off from the family construction company.
Tommy was a third-generation stonemason who had grown up in the Westbrook Park section of Clifton Heights, where he first got into drugs. "He was a great kid," the father said. "He got back on the junk again."
Several weeks after the shooting, Tom Hennelly checked Officer Jones' record and saw she was back on the street — she had written a traffic ticket. That upset him. Since then she has been assigned to the Intelligence Unit.
Jones did not respond to letters mailed to her work and home. Lt. John Stanford, a police spokesman, said neither Jones nor anyone involved in the department's investigation of the Hennelly shooting would comment on the case.
He said the department was "looking forward, not back" to improve police policies regarding officer-involved shootings.
On Tuesday, the Department of Justice is expected to release a progress report on issues it raised with the police department's use of deadly force.
Anderson, of the Police Advisory Commission, said that as police try to reform their practices in response to the federal probe, they must learn from past mistakes.
The Hennelly case, he said, is a perfect example of the type of police shooting that should undergo an intense review, as recommended by the Justice Department.
"This stuff is there to learn from," Anderson said. "If we just lock it away, we're not going learn from it."
Anderson said the department ought to make investigative files public after the close of each probe of a police shooting. Citizens, he said, deserve to understand whether investigations are done properly.
He pointed to a stack of documents that would have remained secret had it not been for the lawsuit filed in the Hennelly shooting.
"This," he said, "is why."
To this day, the Philadelphia Police Department's website still reports the initial claim that Hennelly made a threatening motion with his hands before Jones opened fire on him.
"The officer indicated that the offender verbally threatened to shoot her and turned his body with his hands clasped together in the officer's direction," it said. "The officer discharged her 9mm pistol."
Published police account differs from Internal Affairs investigation
Click on the
highlighted text
to see one of the discrepancies between what is published on the police department's website about the incident, and what was revealed after Internal Affairs investigation two years later.
PS#12-27
4/12/12
On 4/12/12, at approximately 10:45 A.M., a uniformed officer observed a pick-up truck driving south on the west sidewalk of Broad Street near Oxford Street. The officer observed the pick-up truck strike a pedestrian. The pick-up truck then drove onto a parking lot and struck several parked vehicles. The officer stopped his patrol car in the entryway of the parking lot, at which time the pick-up truck rammed the patrol car. The officer exited the patrol car and ordered the operator of the pick-up truck to stop the vehicle. The offender reveresed the vehicle and then drove forward crashing into the patrol car several times. The officer drew his 9mm pistol and discharged at the tires of the pick-up truck. The offender drove the pick-up truck out of the parking lot, north on Broad Street and west on Cecil B. Moore Avenue and continued to flee. The officer notified Police Radio that he discharged his weapon and provided descriptive information on the pick-up truck and the offender.
Several minutes later, a second uniformed officer observed the offender of the pick-up truck on foot, running across Ridge Avenue onto an open lot that led to the 1400 block of N. Lambert Street. The officer exited her patrol car and pursued the offender on foot into the lot. The officer lost sight of the offender when she ran to the passenger side of a truck, which was parked in the rear of the lot. The officer drew her weapon and approached. The offender was lying perpendicular to the passenger side of the truck. The officer observed the offender and gave him verbal commands to show his hands. The officer indicated that the offender verbally threatened to shoot her and turned his body with his hands clasped together in the officer's direction. The officer discharged her 9mm pistol striking the offender.
The offender was transported to the Hahnemann Hospital by police, where he was pronounced. Three baggies with a Superman logo, containing cocaine, were recovered from the offender at the hospital. No weapon was recovered from the offender.