Victim 1
finds
his voice
CLEM MURRAY / Staff Photographer
Aaron Fisher speaks at the Prevent Child Abuse conference in Layton, UT, October 29, 2014, alongside his mother, Dawn Hennessy, and counselor Michael Gillum.
Aaron Fisher, "Victim 1" in the Sandusky sex-abuse case, now lectures to help others.
Jeremy Roebuck / Inquirer Staff Writer, jroebuck@phillynews.com
Sunday, May 3, 2015
LAYTON, Utah — There are days when Aaron Fisher believes he has finally put the past behind him.
Days when his chief concerns are the new friends he met at a party or a truck axel he snapped during an off-roading trip in the foothills of the Allegheny Mountains.
Days when he hardly spares a thought to the aging man he helped put in a prison cell hundreds of miles away.
But those days tend to be fleeting. Even now, Fisher is still growing up in Jerry Sandusky's shadow.
Seven years ago, Fisher, then a scared 15-year-old, first publicly accused the former Pennsylvania State University coach of sexual abuse, launching an investigation that would shake the state and its flagship college to its core.
The story he told as "Victim 1" would end careers and propel others. It would prompt seismic reversals in fortune — for Penn State's storied football program and for Fisher himself, who received a multimillion legal settlement from the university.
But while most of Sandusky's victims have receded into anonymity — back to college, jobs or families — Fisher has run in the other direction.
He has chosen to make Sandusky a central and ongoing part of his life.
He cowrote a best-selling book and has marketed himself as a public advocate on behalf of child-sex abuse victims. He donated $30,000 in book proceeds to a nonprofit aimed at raising awareness and has hit the speaker circuit.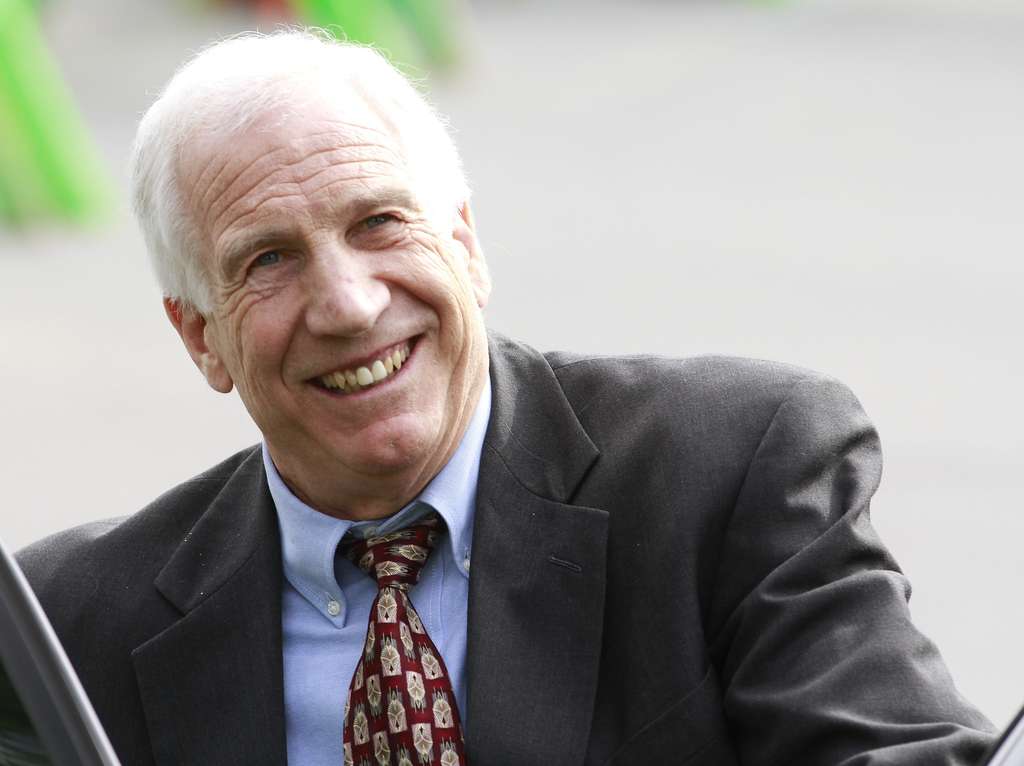 DAVID SWANSON / Staff Photographer
Jerry Sandusky and his lawyer Joe Amendola leave the Centre County Courthouse in Bellefonte, Pa. after trial selection began Monday June 5, 2012.
For Fisher, now 21, "Victim 1" is no longer just his courtroom label. It has become a vocation.
"I'm here to open the world's eyes to the epidemic of sexual abuse," he told about 70 social workers, child advocates and sex crimes investigators who gathered to see him in Utah. "I'm here to tell my story — the one everybody wants to hear, the one I couldn't tell myself."
In some ways, leaving it all behind was never an option. He remains a subject of small-town gossip in his hometown of Lock Haven and a prime target for conspiracy theorists and Penn State fans who continue to question his motives.
And he recognizes the quandary: How do you move on when the thing for which you are best known is also the one thing you are trying to forget?
His answer — for now — is: "You don't."
The most striking thing about the presentations Fisher gives with his mother Dawn Hennessy and psychologist Mike Gillum in cities like Dallas, Spokane and Sioux Falls, Iowa, is how freely he now speaks about a point in his life he once could barely bring himself to discuss.
"It's therapeutic for me. I can explain my story, in my words, how I want to," he said in an interview. "I didn't have any say in what I went through, but I did have the decision of what to do after."
CLEM MURRAY / Staff Photographer
Fisher (right) gets a hug from a woman after speaking at the Prevent Child Abuse Utah conference in Layton, Utah, in October.
As he took the stage at the Utah conference last fall, the gulf between the man approaching the lectern — emboldened with the take-on-the-world cockiness of a youth in his early 20's — and the scared, 120-pound Q-tip of a boy who testified in a Centre County courtroom two years earlier could not have appeared wider.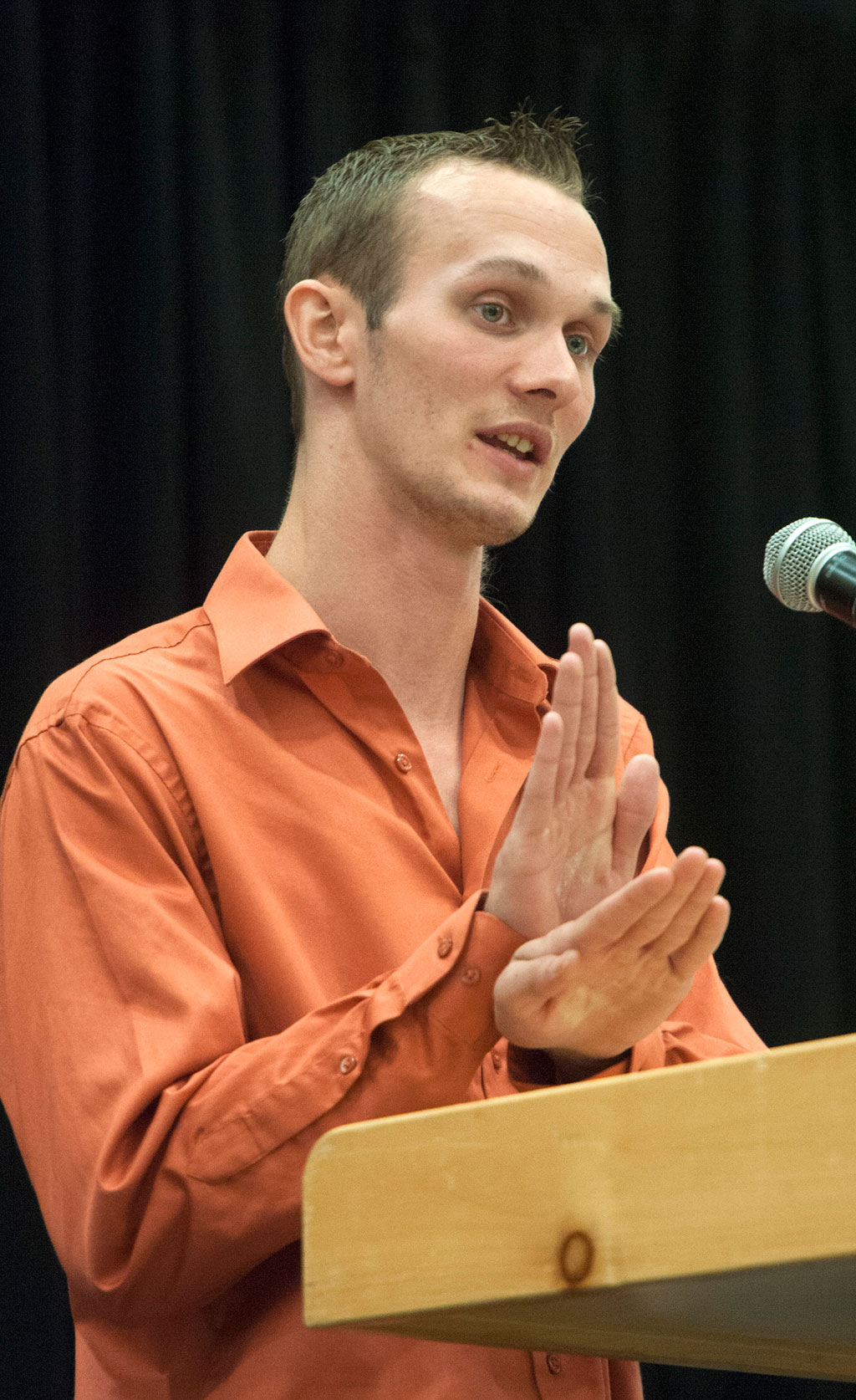 CLEM MURRAY / Staff Photographer
Aaron Fisher, 21, "Victim 1" in the Jerry Sandusky scandal, is on a mission to tell his story and help others.
Back then, Fisher nearly crumbled on the witness stand when asked to recount his abuse. Feet away from Sandusky in court, he haltingly walked jurors through the history of their three-year relationship:
Their first meeting in 2005 at a summer camp for the former coach's nonprofit, The Second Mile. The frequent invitations to Penn State football games or sleepovers at Sandusky's State College home. The nights spent in the older man's basement, where what began with seemingly innocent thigh pats and forehead kisses eventually grew into groping and demands for oral sex.
Now, on stage, Fisher — tall, lanky and practically swimming in an oversize, salmon-colored dress shirt — breezes through the story with a confidence and nervous energy that can't keep the words inside.
Off stage, the words continue to flow.
He boasts about a new truck and the home he is building in Mill Hall, Pa.
He tells total strangers intimate details of his personal life, like a split with the mother of his children — Nikolai, 1, and Mia, 4.
He pauses occasionally to spit tobacco juice into a soda can — a habit he describes as his only vice.
Fisher wasn't always so open.
Not long ago, he wanted nothing more than to push it all to the back of his mind and start life fresh.
The eight accusers who testified against Sandusky in his 2012 trial were each identified in court documents only by pseudonyms. This allowed most to resume life after the trial, just where they left off.
Victim 1's identity, however, became one of the case's worst-kept secrets.
"I didn't have any say in what I went through, but I did have the decision of what to do after."
Aaron Fisher
In Lock Haven, a rural outpost about 40 miles from State College, small-town gossip quickly pinpointed Fisher as the boy who brought down Sandusky. Media trucks camped out in his yard and news reports spilled out the details of his life, including his status as a Central Mountain High School track star.
The scrutiny only got worse as beloved head coach Joe Paterno was fired and state prosecutors charged three Penn State officials with covering up Sandusky's crimes.
The uproar prompted by those developments in Fisher's community, with its long-held ties to the university, made attending Central Mountain impossible, he said. He transferred to another campus midway through his senior year of high school.
He struggled with suicidal thoughts. He used a razor to slice his arms and once — in a moment he now recalls at speaking engagements — tried to hang himself with a rope.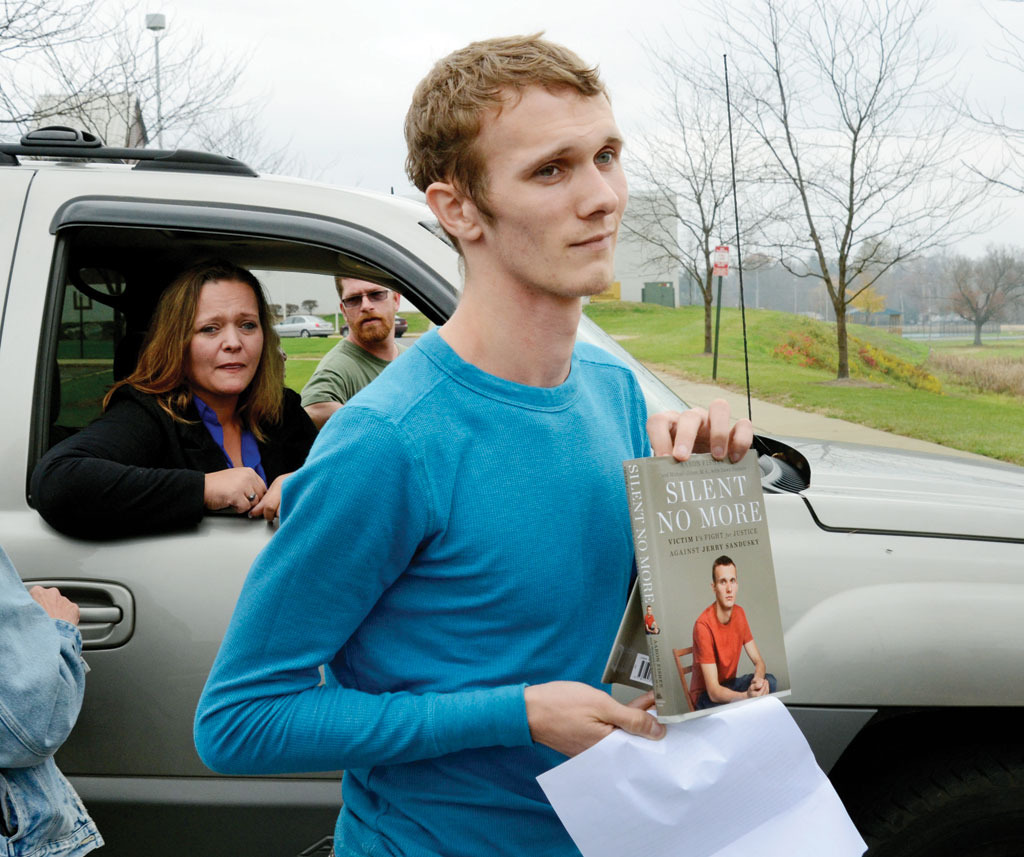 RALPH WILSON / Associated Press
Aaron Fisher, along with his mother, Dawn Hennessy, poses with his book "Silent No More" at a 2012 gathering outside Central Mountain High School in Mill Hall, Pa.
"If it weren't the fact that I'm so tall," he jokes, "I probably wouldn't be here."
When he agreed to co-write Silent No More, his account of his contact with Sandusky, he thought it might serve as his final word on the matter.
Cowritten with Hennessy and Gillum, the 2012 book features Fisher alone on its cover. The image of a stone-faced young man, leaning out toward the viewer with a steely look in his eyes, seemed to declare a statement of purpose for the book. Tired of gossip traded by others, here was Fisher, casting off pseudo-anonymity to detail his story in his own words.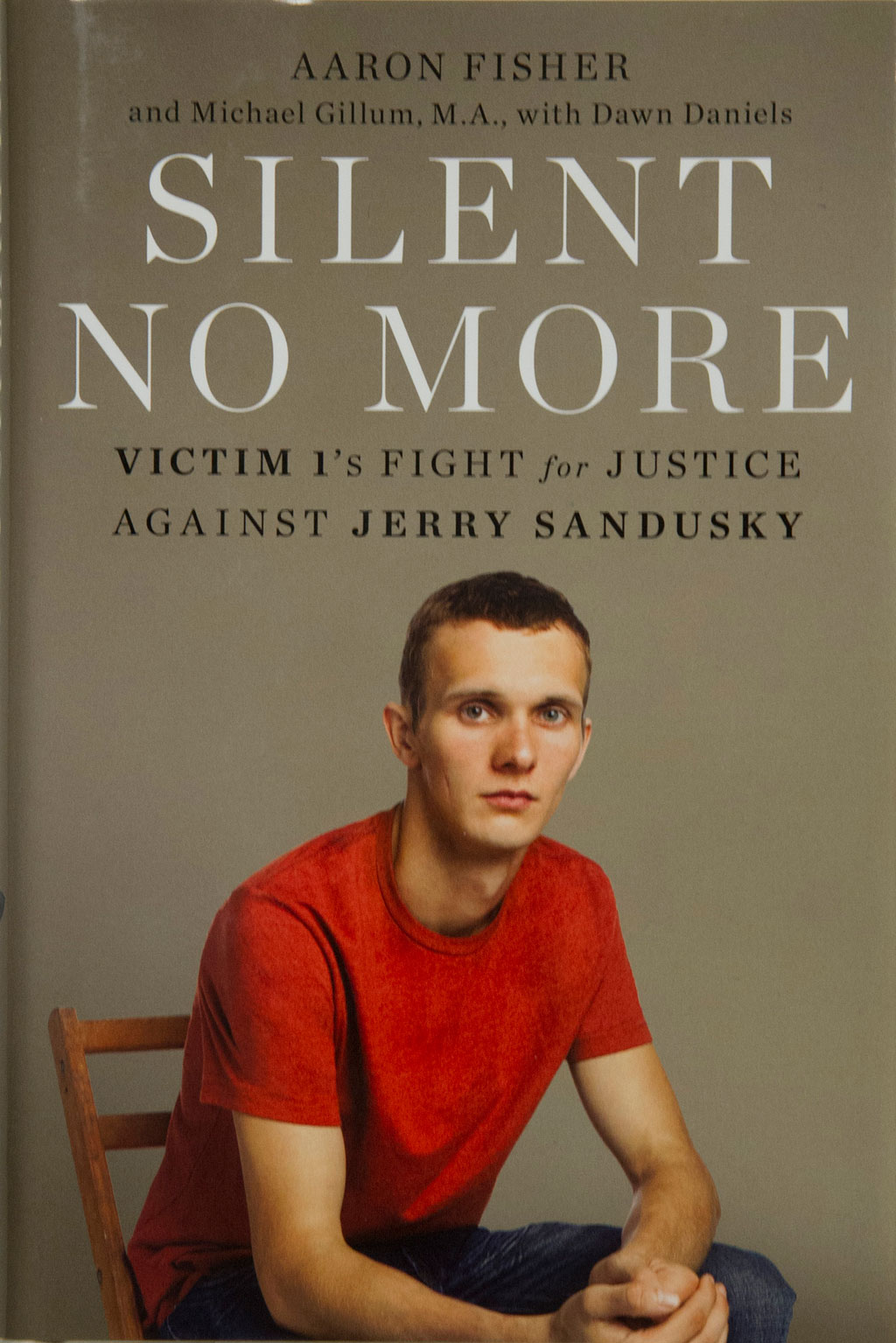 CLEM MURRAY / Staff Photographer
Fisher cowrote a bestselling book about his experience.
"I didn't like the classification of being a victim," he said.
He intended, after publication, to head to college. He enrolled in St. Bonaventure University with dreams of studying criminal justice and one day becoming a state trooper.
"It wasn't like Pennsylvania, where people recognized me," he said. "Everybody knows who you are in Lock Haven."
And yet, after one semester, Fisher had dropped out and moved back home.
Recalling that decision later in an interview in Gillum's Williamsport office, Fisher cited a variety of reasons for his return.
The university cut his major. He had split up with the mother of his children. He felt like he needed to be closer to them.
In the end, his reasons for coming back all seemed to mirror the reasons he left in the first place: It's home and "everybody knows who you are."
That decision, however, brought its own set of problems.
Fisher's family received a substantial settlement from Penn State in 2013 — part of roughly $60 million the university agreed to pay 26 victims that year.
Though he won't specify the amount, citing the terms of a confidentiality agreement, he doesn't shy away from discussing his spending on the latest phones, flashy cars or the three-bedroom house he is building on 42 mountainside acres.
Sandusky's defense at trial was largely centered on such payouts. His lawyers alleged the accusers colluded to invent tales of sexual abuse so they could later sue Penn State.
Fisher, whose family then lived in Clinton County public housing, became a particular target.
As a defense strategy, the theory failed. But two years into Sandusky's prison term, an active online community — led by conservative talk show host John Ziegler — has kept such conspiracy-minded thinking alive.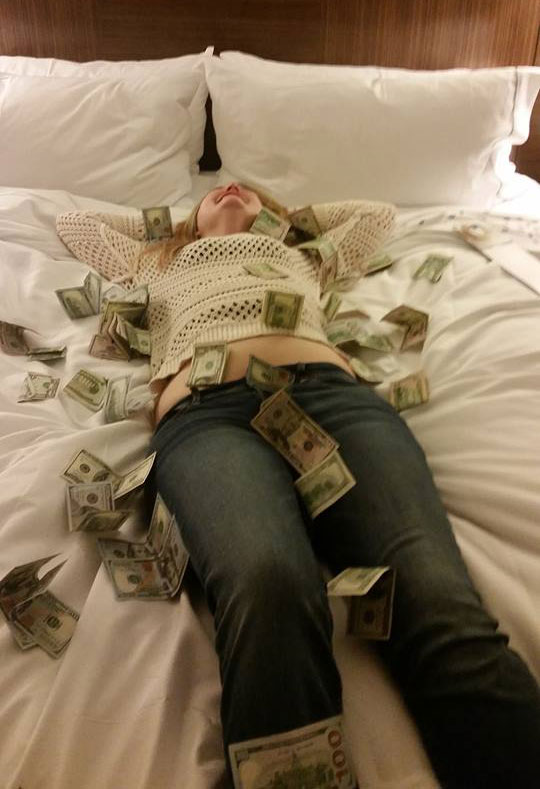 Fisher posted a photo to Facebook of his girlfriend lying on a hotel bedspread covered in cash.
"They have gotten no scrutiny for their story," Ziegler said. "I would go away in a heartbeat if Aaron answered just a couple of questions for me."
Ziegler's website, FramingPaterno.com, features interviews with Fisher's ex-girlfriend and some childhood friends, questioning his testimony and delving into years of past slights and offenses. Most have nothing to do with Sandusky.
Ziegler meticulously monitors Fisher's public Facebook page to fuel blog posts like one in December in which he questioned photos Fisher posted of himself wrestling shirtless with his younger brother.
"He claimed that a large part of how Sandusky 'groomed him for abuse' was through pretending to coach him to wrestle," Ziegler wrote. "You would think that ... wrestling, especially while almost naked, might bring up bad memories for him."
When Fisher's former stepfather, Eric Daniels, was sentenced to prison in Georgia last year for sexually exploiting young girls, Ziegler concluded that Daniels must have molested Fisher, not Sandusky.
Asked about Ziegler's baiting, Fisher tries to appear nonchalant.
"If he has questions about me, he should just ask them directly — reach out and shake my hand like a man," he said.
Still, there are times when Fisher and Hennessy appear to leave themselves open to attack.
After a February trip to Nashville, Fisher posted to Facebook a photo of his girlfriend lying on a hotel bedspread covered in cash.
Ziegler responded: "Here is Penn State's money being put to good use."
Hennessy threw herself into the fray. After a lengthy back-and-forth, she eventually offered to have Fisher take a lie-detector test if Ziegler would back off and apologize. That test never happened.
"You think you know everything and I've had enough," Hennessy wrote in their Facebook exchange. "I know what really happened. Sandusky molested my child."
Despite the scrutiny, Fisher keeps talking about Sandusky.
In his speaking engagements, he stresses the importance of a more open conversation surrounding sex abuse.
"I didn't see this type of crime on TV as a kid," he told the Utah crowd. "It was always murder, a car crash, a convenience store robbery. I didn't know how to talk about it."
"You think you know everything and I've had enough. I know what really happened. Sandusky molested my child."
Dawn Hennessy, to conservative talk show host John Ziegler
And with upcoming appearances scheduled in South Dakota and Virginia, it is clear others continue to listen.
Looking back, Hennessy still can't quite believe they are still talking about it all seven years later.
"It's nuts," she said. "It's something I really never expected. Maybe I was naive."
Of his own role, Fisher is less sure.
He demurs when asked whether the speeches he now gives might have helped that 15-year-old version of himself who was too terrified to talk to anyone about his abuse.
"If I would have known about the struggles to get through this up front, no way would I have done it." he said. Still, he added: "I feel great knowing that what I am doing might help some other kid."
It's not that Fisher wants to keep talking about Sandusky forever.
He dreams one day of moving his family to the mountains of Tennessee. He hasn't given up on his goal of working in law enforcement, either. Maybe he will become a state trooper there, he muses, or an FBI agent one day.
But for now, he has a serious girlfriend, two kids he is crazy about and more money than he knows what to do with — more than most 21-year-olds can say for their lives.
And with his advocacy, he feels like he is making a difference.
After the Utah speech, a woman approached Fisher in the conference center lobby to thank him.
"That was so empowering," she said.
Fisher joked in response: "Stop, you're going to make me cry."
They hugged. Looking on, Hennessy smiled.
"He is no longer a victim," she said. "We are no longer victims. Aaron is a hero — a survivor — who is maturing into an awesome young man."
215-854-2608