RYAN HALBE / For the Inquirer
In April, several dozen dancers and drummers performed in Atlantic City at the International Child Assault Prevention conference.
Fame without fortune
Over 30 years, Tawanda Jones has led her Camden drill team to national acclaim — a symbol of hope and promise, an oasis of safety. But financial stability hasn't followed; the team still struggles even to find rehearsal space.
The little girl appeared out of nowhere, materializing at Tawanda Jones' side so suddenly that she drew Jones' attention away from the members of her drill team, the Camden Sophisticated Sisters, as they rehearsed in the low-ceilinged union hall.
"Hi, honey," Jones said, startled. "Did your mom bring you? Did she come in?"
"She just dropped me off," the girl said softly.
"OK," Jones said, resting her hand on the child's shoulder. "Well, let's take off your jacket."
Jones had not seen her in eight months. The girl's mother, a drug user who often picked her daughter up from practice hours late or not at all, had stopped bringing her sometime last year. Jones wasn't sure she'd see the child again, but there she was on that February evening, cautiously following along with the other dancers.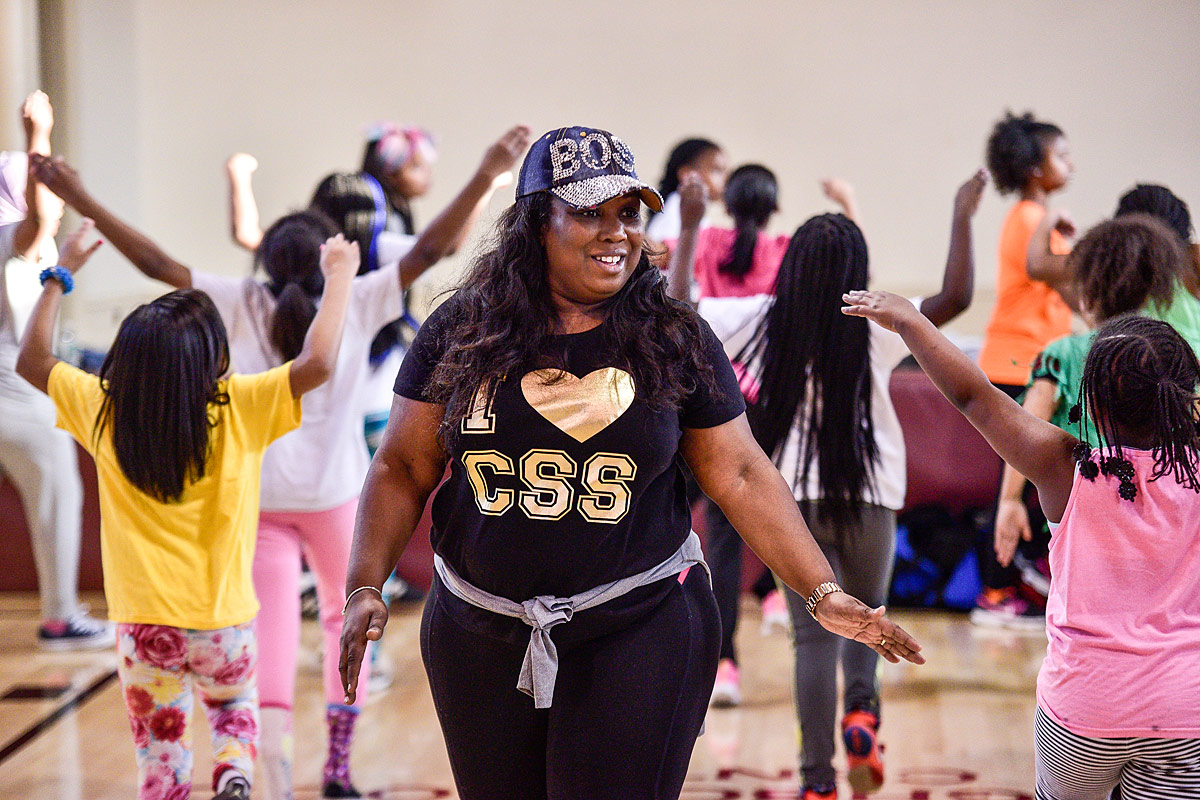 CHARLES MOSTOLLER / For the Inquirer
Tawanda Jones, founder of the Camden Sophisticated Sisters, began coaching while a teenager when the city's drill team lost its funding.
"I guess her mom knows she's in good hands," Jones said.
Almost 30 years after she started mentoring Camden's kids, the 43-year-old Jones, known as "Wawa," is one of the most beloved safe havens available for the city's young people. As she seeks to empower them with dance she also feeds them, drives them home, and finds them places to sleep.
Under her leadership, Camden Sophisticated Sisters has drawn national acclaim, performing on Dancing With the Stars and Good Morning America, and earning praise from Oprah Winfrey and Beyoncé. Jones was interviewed by Brian Williams and starred in a Ford commercial. The troupe wins contests, and some members become professional dancers.
Camden Sophisticated Sisters on Good Morning America.
To some, Jones and the 300-plus members of Sophisticated Sisters symbolize the hope and promise of Camden, a city desperate to emerge from decades of devastating crime and poverty.
But despite big companies moving to town and plans for high-rises on the waterfront, Camden remains among the poorest and most violent cities in the nation, and signs of prosperity have yet to reach residents like Jones and her team. Fame has not translated into financial stability for members of Sophisticated Sisters, who spent last winter rehearsing in an unheated room with no mirrors, and in the street when summer heat drove them outside.
Last year, Jones bought a 25,000-square-foot warehouse she hopes to transform into a rec center for the dancers. A 501(c)3 that runs on contributions, volunteers and corporate sponsors, Sophisticated Sisters has received a handful of major donations and grants, but Jones said the project will cost at least $1 million.
At times Jones wonders if the spotlight has glossed over the reality of the drill team's struggles. Some parents don't understand that she can't just buy whatever is needed.
"It's great to be on TV," Jones said. "But people think we're millionaires."
CHARLES MOSTOLLER / For the Inquirer
Deyonna Jackson, 17, performs a solo during a practice.
A mother of four kids who range from 25 to just under 2, Jones was a teenager when the city's drill team lost its funding and she began coaching her peers. Now one of Camden's most lauded youth groups, Sophisticated Sisters includes male dancers — the Distinguished Brothers — as well as TAPs, a drum line run by Jones' husband, Robert "Bam" Jones.
Before making the unit her full-time job, Jones worked at a group home for children with autism and developmental disabilities. Thanks to a scholarship to Strayer University from the entertainer Steve Harvey, she's working on a bachelor's degree in business management.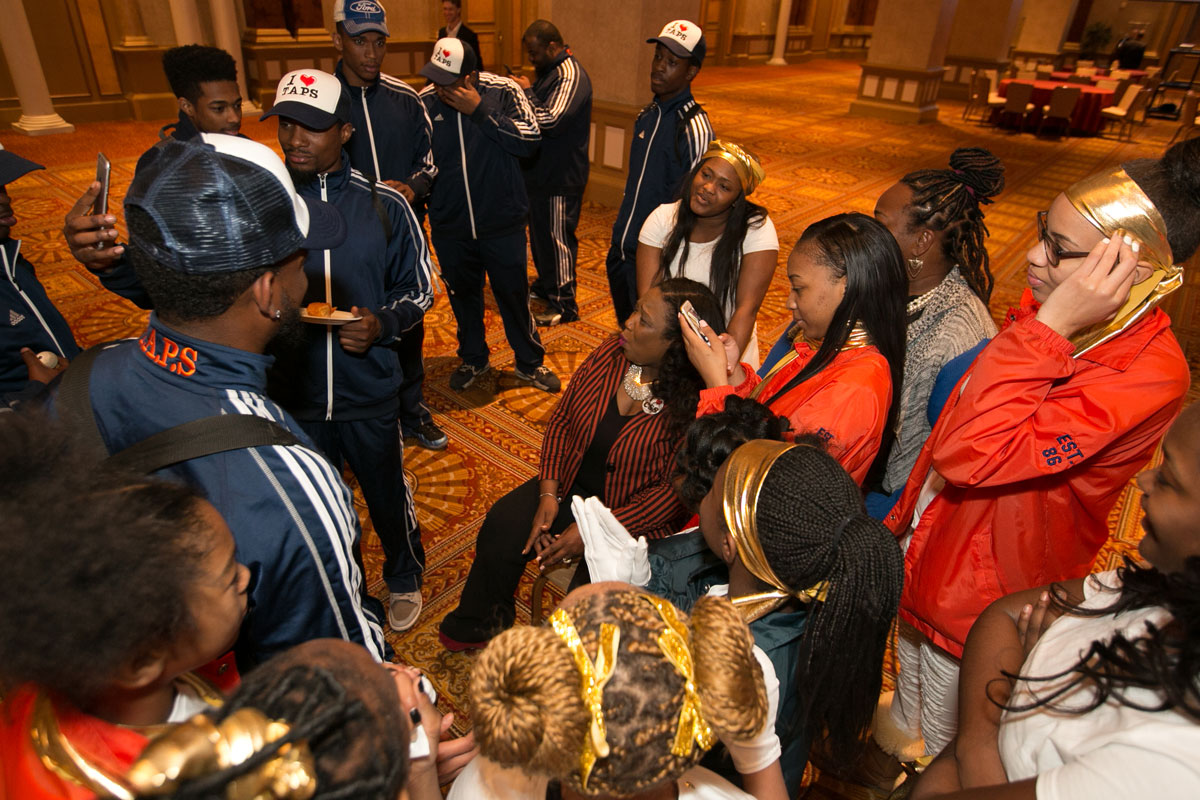 RYAN HALBE / For the Inquirer
Tawanda Jones, with the Sophisticated Sisters and Mighty Men of Percussion, after their performance in Atlantic City.
Sophisticated Sisters provides structure and discipline beyond rehearsals. Members must get Cs or better, and Jones says that as a result, they all graduate from high school. She monitors their Facebook pages for signs of gang activity.
On one night last February, 15 girls practiced for an forthcoming performance as Jones' 25-year-old daughter, LaQuicia, a Sophisticated Sisters coach, called out the steps. The girl who had reappeared that night was dancing hesitantly, so Jones asked an older girl to help her catch up.
Over the next few months, the girl's mother would become reliable, picking her daughter up on time and reconnecting with Jones. But that first night, she never came. Jones looked after the girl until 2 a.m., when a cousin showed up at Jones' house to get her.
People tell Jones that she invites trouble by taking kids to her home without permission. Jones asks: What's the alternative?
"I think about that kind of stuff a lot, to the point where it's sleepless nights," she said. "I just feel like that one time I say no, something terrible will happen."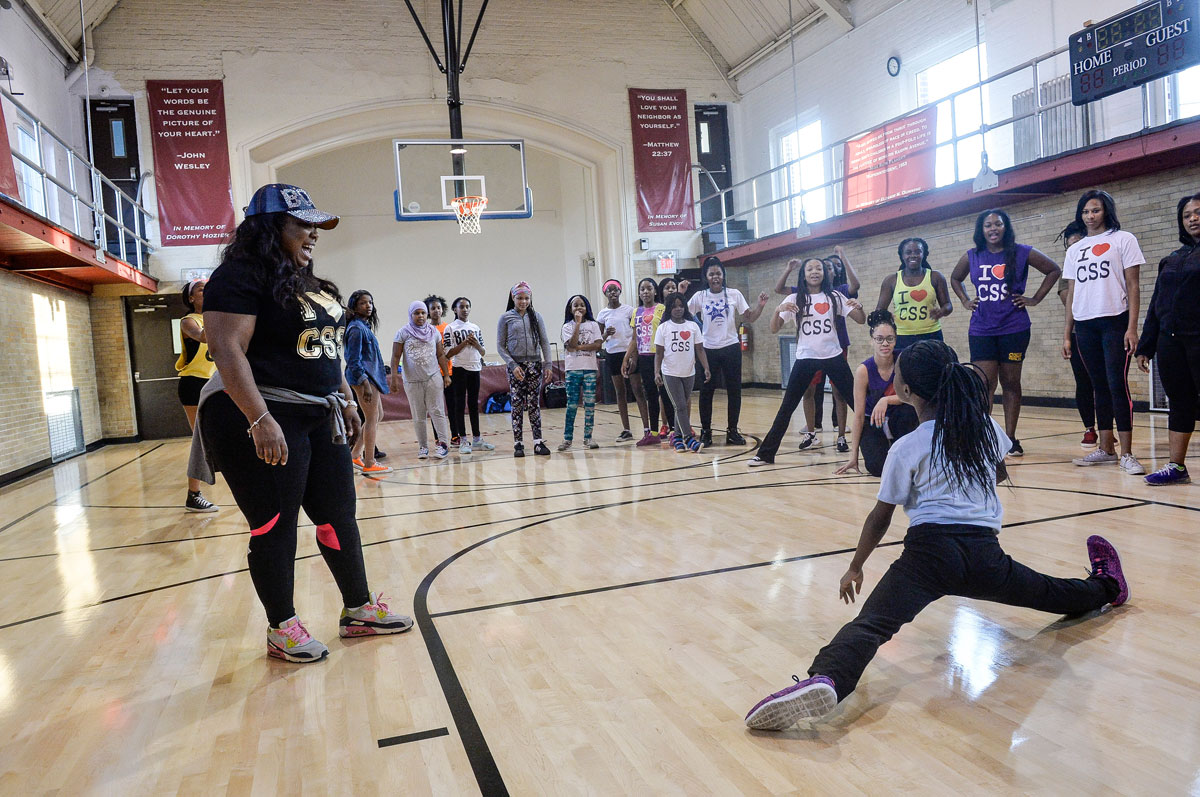 CHARLES MOSTOLLER / For the Inquirer
Tawanda Jones and her Camden Sophisticated Sisters watch a dancer perform a solo move at the Neighborhood Center on Kaighn Ave.
By March, Sophisticated Sisters was rehearsing in a clean, sunny gym in the Neighborhood Center on Kaighn Avenue. The center, owned by a nonprofit that hosts after-school programs, invited the group to use the space free. Then, Jones was awarded a grant that covered the cost of rent.
Though the troupe is one of Camden's greatest sources of civic pride, City Hall has offered little financial support. In order to acquire the warehouse that is the future home of Sophisticated Sisters, Jones had to pay an $80,000 lien on the site.
The group ended up in the firefighters' union building known as Buff Hall after it was evicted from the city-owned water tower in Whitman Park. The dancers practiced there free until one day in summer 2014 when they found it locked, closed for renovations.
In the end, Jones blamed herself.
"We got too comfortable," she said. "It was an important lesson for me."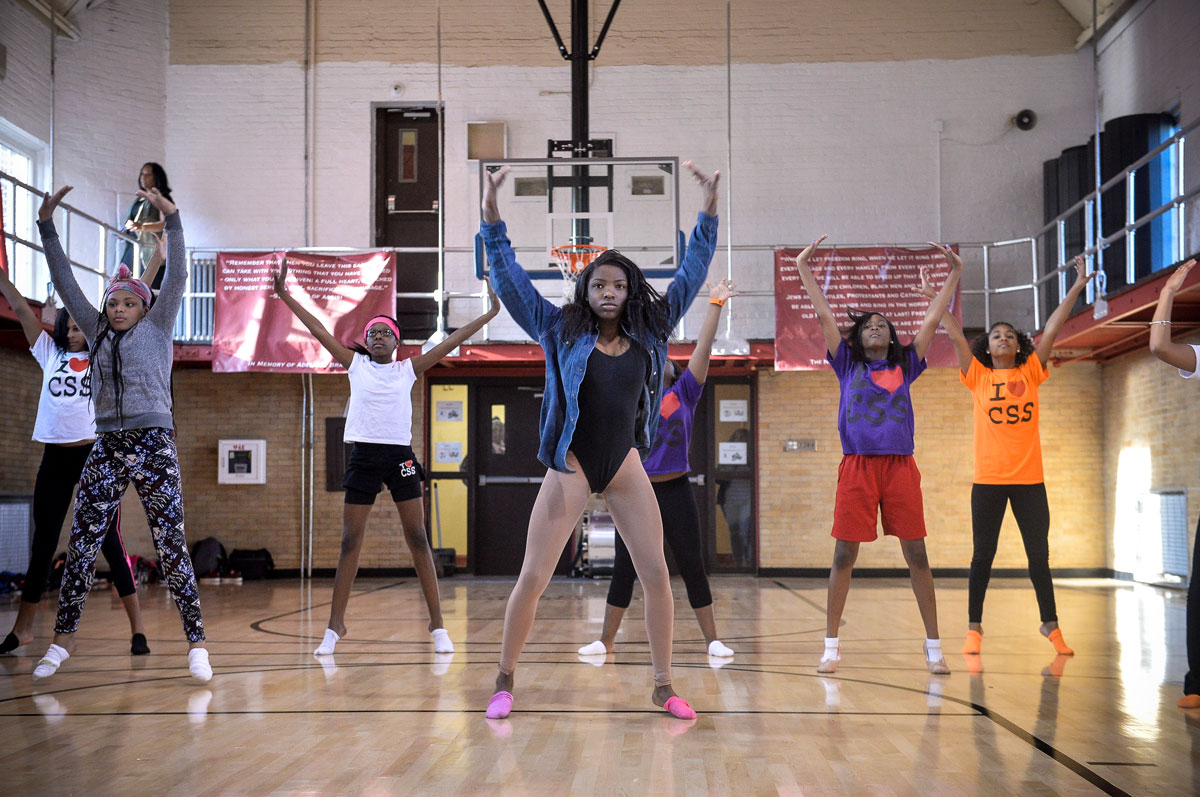 CHARLES MOSTOLLER / For the Inquirer
Nyari Pitts, 17, leads a section during practice.
Even the Neighborhood Center is not ideal. When other teams book the gym, the dancers have to practice in a hot downstairs room. Jones is already thinking about the next step.
"My babies will never again be without a place to go."
Tawanda Jones
"My babies will never again be without a place to go," she said.
Twice this year, members have learned routines to perform at funerals for brothers of members: Michael Burrell, 24, shot in March, and Nathaniel Plummer, 13, shot by another Camden teenager in January. This year 24 people have been killed in Camden, eight of them males under 25.
"They're not afraid of being around death," Jones said. "It's so normal to them at this point."
Jones starred in a Ford commercial.
Daisanay Green, 12, said dancing helped her express grief for her father, who died in a motorcycle accident when she was three. A member for about five years, Green encourages friends to join and hopes the group will get its headquarters soon.
"We can adapt to anything," Green said. "But I think it's really mandatory to have a building. We need more brothers and sisters, and we need room for them because we need to save more lives."
Shaniya Birch, a senior at Creative Arts Morgan Village Academy, will attend Benedict College in South Carolina this fall. She started dancing at 3, when her mother started sending her to gymnastics, cheerleading, and anything to keep her busy.
Last year her mother was laid off from a longtime job with the state-run Camden School District, a victim of budget cuts that have meant lost jobs for a handful of Camden residents each year.
"It's been hard," said Birch. "She's struggled."
Camden's unemployment rate last year was 11 percent, double the national average. Many of the Sisters kids have parents who are out of work, or have several jobs and are rarely home. Many grow up without fathers, as Jones did. Jones tries to fill the gaps, but she worries about the kids who hide their pain, or the ones who are hungry and won't speak up.
The group performs throughout the year and around the state. On June 25, it hosts its annual showcase at Camden's Cooper B. Hatch Middle School, a ticketed show with full costumes and routines exploring themes of redemption.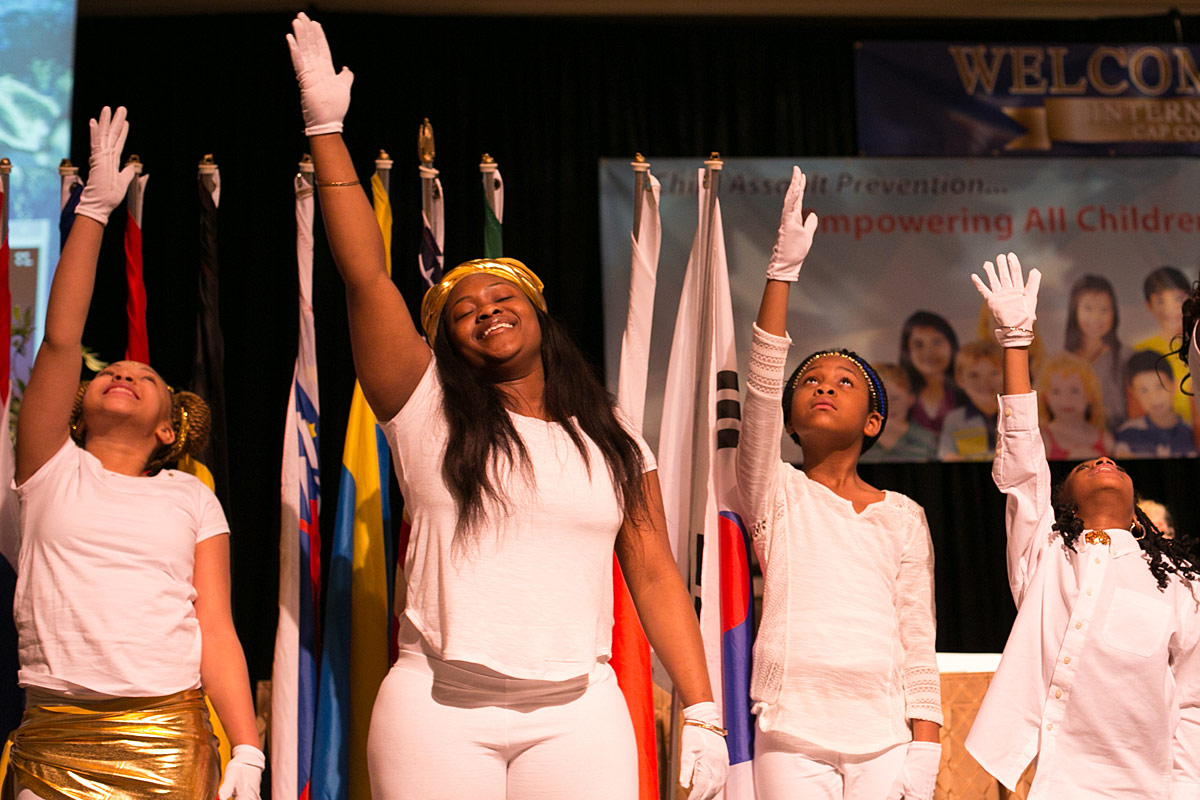 RYAN HALBE / For the Inquirer
From left: Amirri Wearing, Esiyah Waheed, Toriyanah Harper, and Danira Red performing in Atlantic City.
In April, several dozen dancers and drummers took a bus to Caesars Palace in Atlantic City to perform for a room of social workers and child advocates at the International Child Assault Prevention conference.
"They're being judged on where they're from. Forget that they're kids being kids."
Tawanda Jones
Walking through the lobby, kids snapped photos as Jones herded them along. Though most are unfailingly well-behaved, she keeps a close eye on them in public. She knows what some people think when they see "Camden" listed on a program. Once she heard someone in an audience say, "They're either going to twerk or rap."
"They're being judged on where they're from," Jones said. "Forget that they're kids being kids. I tell them they're always under a microscope."
The girls took the stage, arms and legs moving in precision to the boys' thunderous beat, then danced to a pop song with a gospel chorus. The performance lasted only a few minutes but got the audience moving and clapping.
Before heading back to Camden, Jones sat and told the members how proud she was, how she loved each of them. They wanted a group photo, and Jones, tired, stayed in her chair. "Just Photoshop me in later," she joked.
The drummers and dancers surrounded her, perching in her lap and crowding around so Jones would be in the middle.
asteele@phillynews.com, 856-779-3876, @AESteele
CSS Showcase"Redemption," the third annual CSS Showcase, is June 25 at 1875 Park Blvd in Camden at 4:30 p.m. Tickets are $15 or $20 at the door. For more information, call 856-383-7984.
To Support CSS
To learn more about CSS or to donate to or volunteer for the group, go to camdensophisticatedsisters.org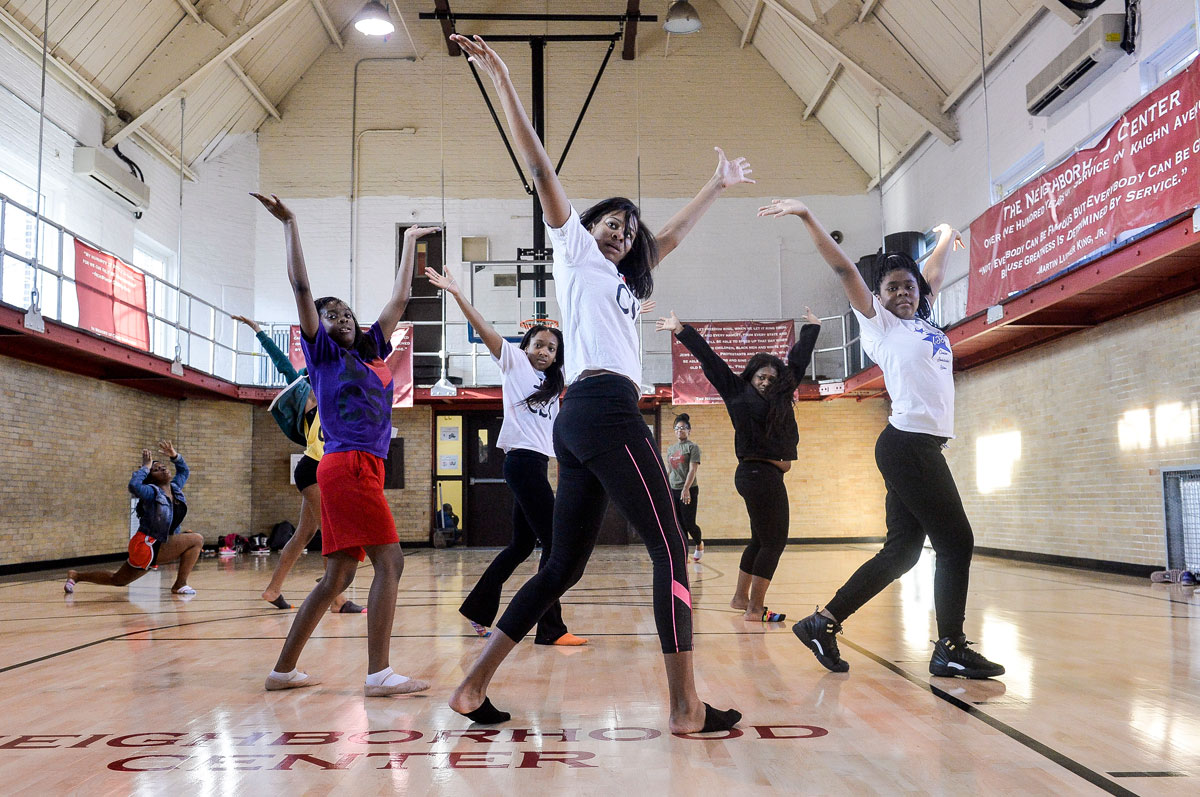 CHARLES MOSTOLLER / For the Inquirer