No Man's Land, Atlantic City
A seaside prairie, worth millions yet empty
By Brian X. McCrone
Photos by Stephanie Aaronson
Philly.com Staff
Thursday, Nov. 20, 2014
Tucked into northeast Atlantic City, where ocean meets inlet, is a two-by-six block expanse of undeveloped land that in other shore towns would be carved up by wealthy outsiders to build $2 million homes.
Instead, the few surviving, decades-old houses dot hundreds of empty lots like jagged teeth at the mouth of a yawning ocean in this sleepy part of town. Some call it North Beach; others South Inlet. Bill Terrigino, 69, lives at one end, his home one of those visible teeth.
An empty Revel casino shimmers in the background, emblematic of the mirage Atlantic City has become. Terrigino, a laid-off casino banquet server who resembles a Jersey Shore version of Hemingway, has a two-story home on South Metropolitan Avenue.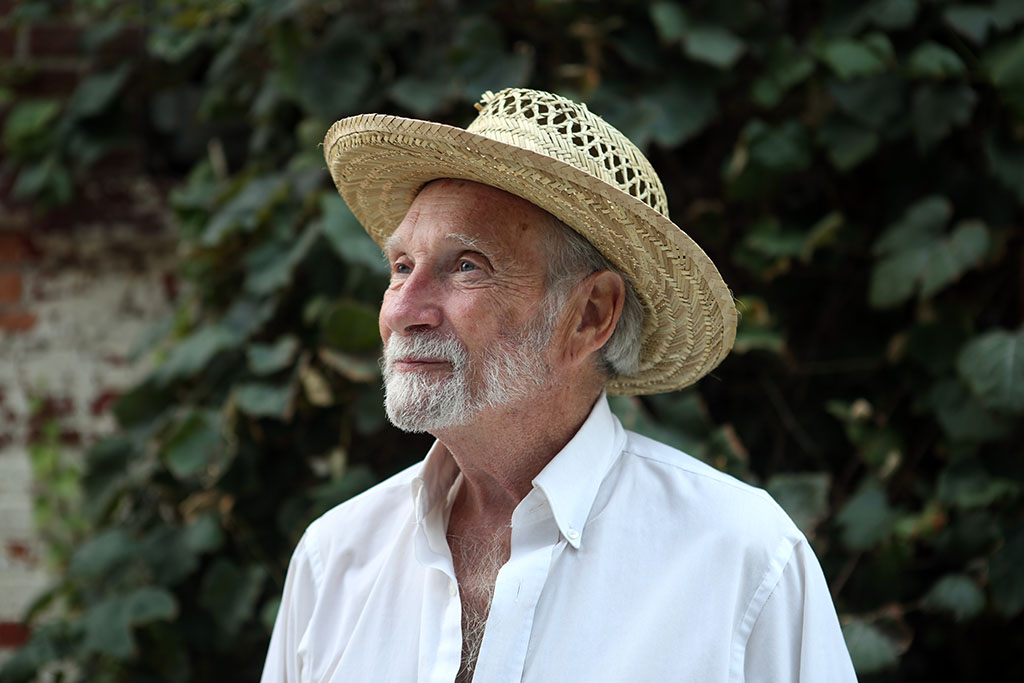 His house boasts an unobstructed waterfront view - but not by design. It's just that nothing stands between it and the Atlantic Ocean.
"There's a lot of things in Atlantic City that we've neglected, badly, especially around this way," Terrigino said, sipping from a can of beer, sitting on his second-floor porch across the street from Revel.
The hitch? Even if you wanted to build a nice home in North Beach next to Terrigino's you can't. Restrictive zoning prohibits it.
Atlantic City is once again in a bind: People can't build single-family houses on prime seaside property because it's reserved partially for hotels and casinos - but no one is building any more casinos or hotels there. Multi-unit residential construction is permitted, such as condominiums, but any new structures would have to house three or more units.
Rezoning the neighborhood is being discussed by the state authority in charge of Atlantic City's waterfront, the Casino Reinvestment Development Authority (CRDA), according to a spokeswoman. She did not give a timeframe for such a change.
So Terrigino seems destined to live without neighbors -- at least for a while -- in the no-man's-land that spans north from Revel to Absecon Inlet, and west from the Atlantic Ocean through to Oriental Avenue.
Terrigino once bought into the promise of Revel's success.
"I was hoping the best for them. I mean, naturally, because they're my closest neighbor," he said wistfully.
The disappearance of homes
Despite the stagnation, a few remaining residents like Terrigino are still hoping for Atlantic City's success, something people have been dreaming of almost since it was first named.
As with much of the worn-down city, the North Beach neighborhood is rich with tales of the good-old days: long-forgotten exhibitions featuring the "Father of Surfing" Duke Kahanamoku, and the early-20th century, indoor (and heated) Hygeia Pool at South Rhode Island Avenue and the Boardwalk.
"It was a very diverse neighborhood," says lifelong Atlantic City resident Tom Hulme. "But house-by-house, the neighborhood underwent a slow death over the years."
Hulme, who now lives at the southern end of the city in Chelsea Heights, grew up near the neighborhood, close to the Absecon Lighthouse a few blocks away.
"There were Jewish, Hispanic, black residents," he said. "It's been sad to see."
The disappearance of the homes over the last couple decades, real estate observers say, is due to visions big and small: past developers with ideas of another casino or hotel and resort, combined with residents' migration out of the city.
The casino-and-resort idea now seems an outdated dream, considering the recent closures of four of them in Atlantic City. The inability to build single-family houses in the beachfront section is something local real estate broker Jerry Barker calls "mind-blowing."
"Almost anything but residential is allowed there, which to me is strange," said Barker, of Weichert Realty's Atlantic City office. "I look at places like Ventnor and Margate, where there are these big, gorgeous, beautiful homes that pay tremendous taxes and are only occupied a few months a year."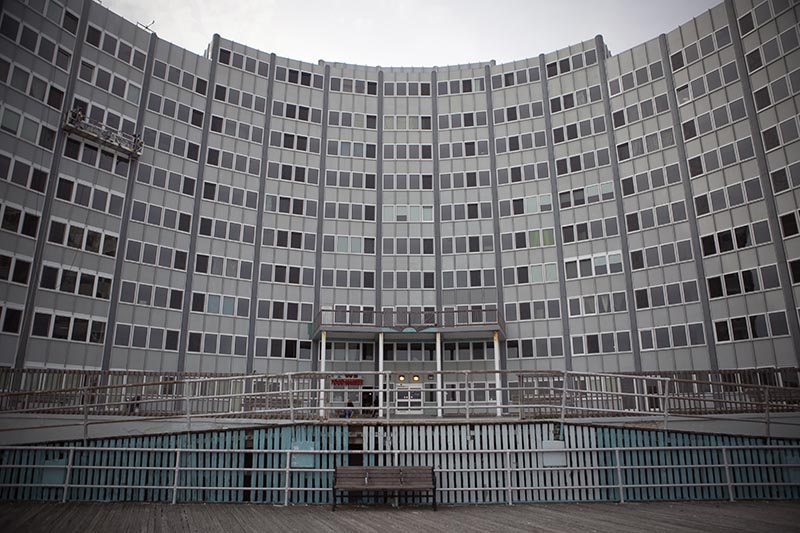 The Ocean at 101 Boardwalk in Atlantic City, N.J.
Hulme played pick-up football on the land where a high-rise apartment building now called The Ocean at 101 Boardwalk stands. In yet another iteration of ownership, the once-glamorous curved structure looks out upon the Atlantic Ocean at the bend in the boardwalk.
Built a few decades ago when the neighborhood - and Atlantic City, overall - was at its pre-casino heights, The Ocean recently pulled out of bankruptcy. The building's new owners are fixing it up to a level it hasn't seen in years, longtime residents say.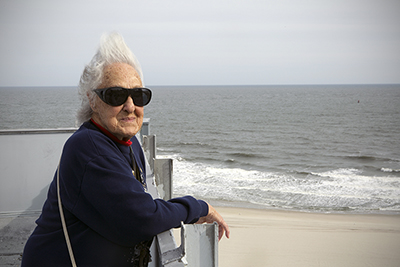 Trudy Burton, on the roof of The Ocean.
Trudy Burton, a retired nurse who has lived at The Ocean for three decades, said living next to the water has always prevented her from leaving.
"I credit it for my longevity," Burton, 90, said as she looked out across the Atlantic Ocean from the building's rooftop, which is undergoing renovations. Fourteen stories below, it's the ocean that commands one's gaze, pulling your eyes away from the empty lots and Revel beyond.
"I love the ocean. I come out to look at it every day," Burton said, "even if it's just for five minutes."
For Sale signs dot the nearly uninterrupted expanse that stretches from Revel Casino north to the inlet.
One reads:
North Beach Atlantic City
second only to
South Beach Miami
Lot for Sale
$345 per sq. ft.
John Mycek, who owns three lots on South Rhode Island Avenue just feet from the boardwalk, said he was particularly proud of the "second only to" slogan when he erected the sign — in 2007. The per-square-foot asking price, he said, is now negotiable.
"Someday, it'll be worth something," said Mycek, who bought the land earlier last decade because he thought the location was perfect for real estate investment. "I may not be on this earth when that happens. But at least my daughter will be.
The expanse is proof against Mark Twain's muse of real estate: "They're not making it anymore."
'Why not allow residential?'
Another reads:
BANKRUPTCY AUCTION
Wednesday, May 21st
48 mostly-contiguous building lots, 160,000+ SF
Buy One, Several or entire Assemblage!
The May 21 auction was the result of SPE Reality and GMAB Reality, two limited liability companies that owned the 48 parcels, going bankrupt. The parcels consist of contiguous blocks on one side of South Vermont Avenue, both sides of South Seaside Avenue, and one side of South New Hampshire Avenue, according to those familiar with the land.
Tax records presented at one of the bankruptcy proceedings show a big problem the LLCs faced: The lots remained assessed at values in the $200,000s and $300,000s, even though the land was long vacant. The owners spent years amassing the land, say those familiar with local records.
James Maggs, a lawyer in Brielle, N.J., and the would-be developer behind GMAB Realty, said he still owns other parcels in North Beach. He is eager to see what comes next from city officials and the CRDA.
"Why not allow [property owners] to develop residential properties there?"
Real estate broker Jerry Barker
"The CRDA was quite content with my buying up property and trying to accumulate land to get rid of the blight," Maggs said. "They were quite happy with Revel doing the same thing. Now that I've stepped out and Revel has stepped out, I'm interested to see what they do next."
All 48 parcels were bought at auction by SE Inlet Properties, LLC, whose principals were unnamed. Attorney Arthur Sklar, who submitted the winning bids for SE Inlet Properties, did not return calls for comment.
Taxes aside, the other significant problem facing those who speculate in North Beach, is that zoning prohibits single family homes, reiterated Barker, the real estate broker.
Barker believes residential beachfront construction could usher in Atlantic City's post-casino era.
"Why not allow [property owners] to develop residential properties there?" he asked.
The slow disappearance of houses in North Beach didn't occur in one fell swoop, as it did in another section of Atlantic City now known as Pauline's Prairie. That desolate region two blocks west of Revel — between Atlantic and Pacific avenues and Delaware to New Jersey avenues — got its name from a 1960s city planner, Pauline Hill, who envisioned destroying a neighborhood to rebuild a newer, better one. The former part of her plan came to fruition. The latter did not.
Further north, the changes were gradual.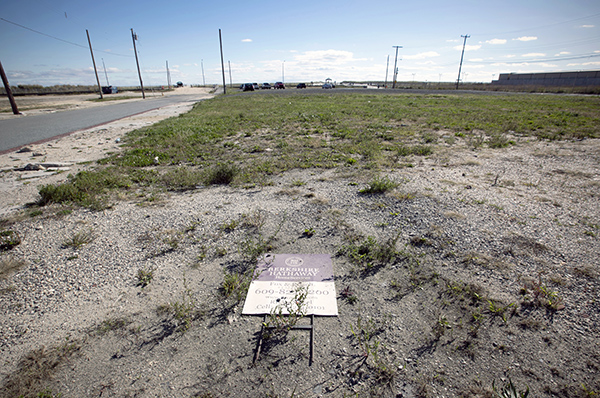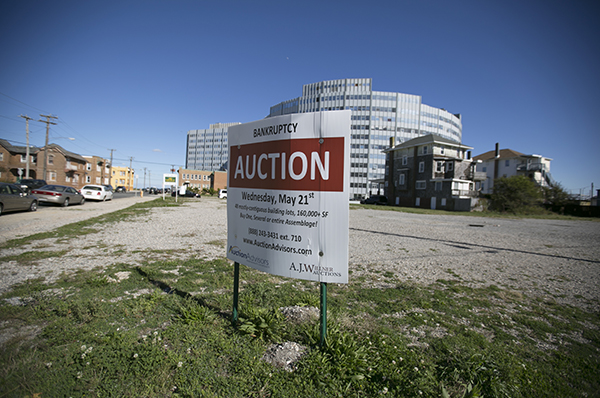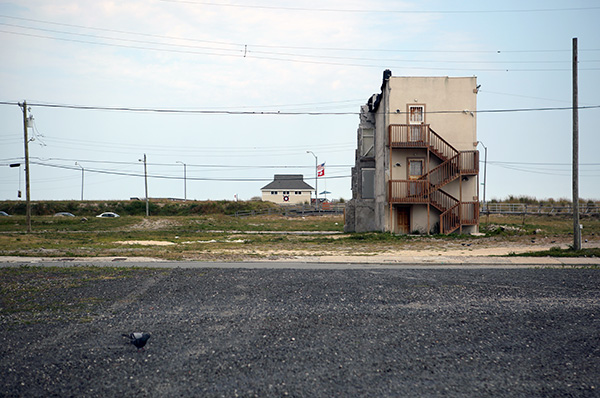 As residents disappeared, so did their houses. Many vacant houses became blighted over the years and ultimately razed by property owners who came to expect an eventual windfall from a resort or casino developer, those familiar with the area said.
For North Beach, Keith Mills, the city's supervisor of planning and land use, said rethinking the current zoning could mean allowing residential construction in what he described as "a diamond in the rough."
"That zoning has been in place since 1979 and was put in place because it was thought those [beachfront areas] would have hotels, casinos or other resort development," Mills said. "There has been a lot of discussion about allowing second homes and beachfront homes."
For now, developers come and go, casinos get built and go belly up, and John Mycek waits. He said initial interest in his lots, which never reached formal discussion of a sale, dissipated in the last few years
"When I first put the [for sale] sign up, I got my first call before I got back to (a friend's home in) Ocean City," said Mycek, a travel agent in Pennsylvania. "Now, I'm going to sit on it and hope things get better."
Terrigino, the former casino worker living in the shadow of Revel, isn't going anywhere either. He recently received some grant money to replace his roof. He shares his home with two sons. He was among the initial casino workers to be laid off when The Atlantic Club became the first of the great gaming halls to close.
The South Philly native, who will be 70 this month, first visited Atlantic City with his parents decades ago, when the garment factories of North Philadelphia would close for two weeks each summer.
Now, Terrigino doesn't know what's going to happen to the great, open expanse of land behind his house. But he doesn't mind the space.
"My sons, they love having get-togethers here," he said, standing in a grassy lot next to his house where tables, chairs, and a fire pit of sorts are set up. An old lifeguard's rowboat filled with flowers decorates one end.
"It's a great place to hang out," Terrigino said, sipping his Busch Light, leaning on the boat's peeling, wooden side.