MICHAEL BRYANT / Staff Photographer
H.F. "Gerry" Lenfest, 88, who substantially remade the educational, cultural, and media sectors of the city and well beyond to become one of Philadelphia's most dynamic civic leaders of the last century, died Sunday morning, a spokesperson for the family said.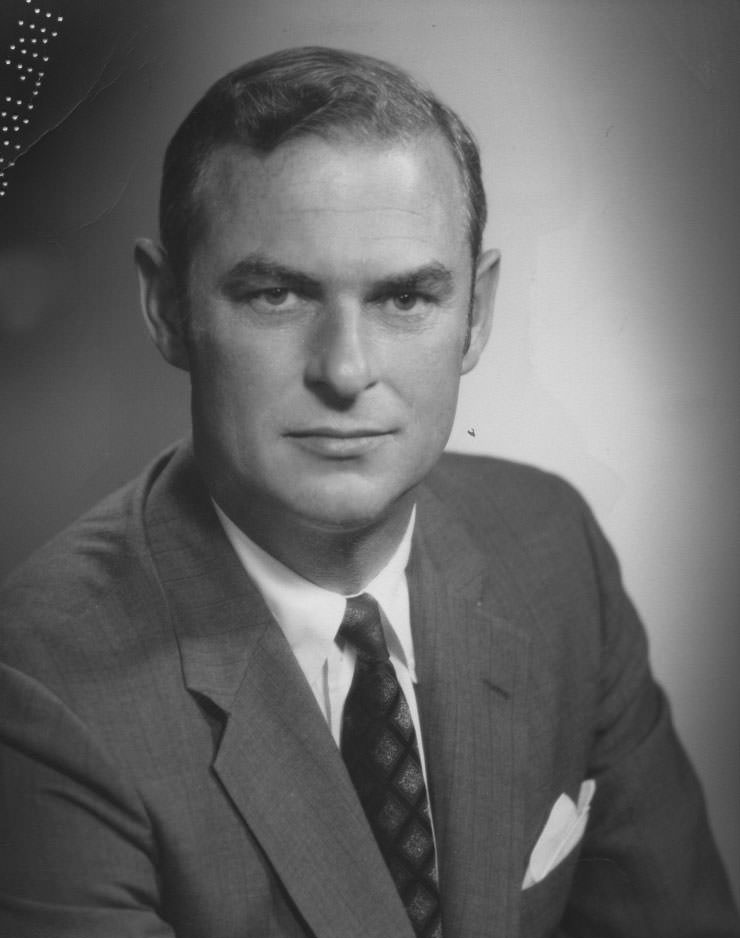 Courtesy of the Lenfest family
Gerry Lenfest in 1973.
Mr. Lenfest, who had been in declining health in recent months, parlayed the sale of the family cable business into a second act as the area's leading philanthropist for nearly two decades, giving away more than $1.3 billion.
The dimming of the Lenfest era leaves no obvious successor of similar ambition on behalf of the city and region.
"Gerry has had a huge impact on the renaissance and renewal of Philadelphia and all of its institutions," said Philadelphia Museum of Art president and chief operating officer Gail Harrity. "I don't think it's a stretch to say that he has shaped Philadelphia for the future."
Said David McCullough, the author and historian: "I think he was one of the most memorable and lovable men I've ever known. A devoted Philadelphian if ever there was one. His love of that city and its history, and his willingness to be not only generous with his philanthropy but to work hard to attain a worthy objective, is something we could all take a lesson from on how to go about life. He was a terrific man."
"We've lost our greatest citizen, there's no doubt about that," said Ed Rendell, former Philadelphia mayor and Pennsylvania governor. "He impacted the lives of Philadelphians at every level, in the city, in the neighborhoods." Rendell said that whether he was appealing to him to assist a growing arts group or to fund a program for a vulnerable population, "he almost never said no."
In this video made in 2016 for the Museum of the American Revolution, H.F. "Gerry" Lenfest, philanthropist, former owner of Philadelphia Media Network, and founder of the Lenfest Institute for Journalism (the current owner of the Inquirer, Daily News, and Philly.com), talks about his upbringing, influences on his approach to leadership, marriage and family, law and business career, and philanthropy, while others, including historian David McCullough and former Pennsylvania governor Ed Rendell, describe his efforts in making the museum a reality.
Mr. Lenfest was born neither to wealth nor the social status enjoyed by some of his fellow philanthropists. A lawyer by training, Mr. Lenfest and wife Marguerite built up their cable business over several decades, selling Lenfest Communications Inc. in 2000 and undertaking a philanthropic spree that put the Lenfest name alongside those of Girard, Widener, Curtis, Annenberg, Pew, and Haas – the city's historically most generous families.
He was "one of the greatest philanthropists the city has ever seen," said Comcast Corp. chairman and CEO Brian L. Roberts, who had several close dealings with the businessman before Comcast ended up taking over Lenfest Communications. "He has changed our city and so many institutions."
Pennsylvania Governor Tom Wolf said in a statement: "Gerry and his wife, Marguerite, took their incredible success and offered the full energy of their lives in service of their fellow citizens and the city and state that they loved. There is likely not an organization or charity in Philadelphia that didn't benefit from the Lenfest family's generosity in some way."
Former Pennsylvania Gov. Tom Corbett, speaking for himself and his wife, Sue, said: "Gerry and Marguerite Lenfest are among the finest Pennsylvanians we ever met."
He was soft-spoken, except when facing resistance; generous, unless negotiating across the table from a balky union official; and prone to taking a hard-nosed business approach to giving – though he could be a soft touch if you knew just where to scratch. He raised considerable dismay in the cultural community by donating $5.8 million to the SS United States as it sat idle and rusting on the Delaware River, but explained himself by saying he believed that his father had once worked on the once-luxurious ocean liner, and calling it "an icon of American pride."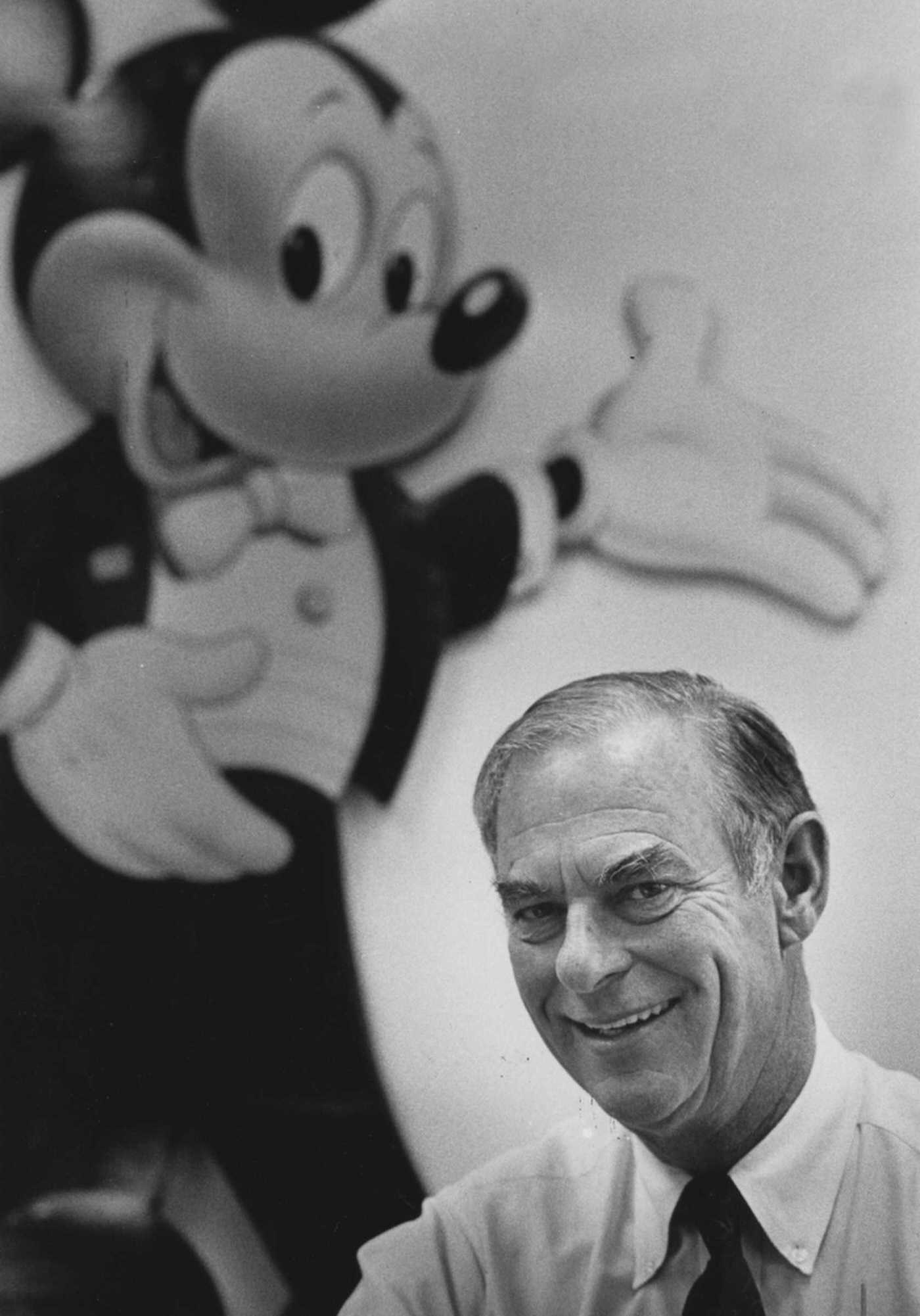 KIM WEIMER / For the Inquirer
Gerry Lenfest in 1987, when he was president of Suburban Cable, in his Pottstown office.
After making plans to donate all his wealth, Mr. Lenfest became an éminence grise to the city's arts groups. He was chairman of the board of old-line institutions like the Philadelphia Museum of Art and Curtis Institute of Music, successfully convincing other supporters that even great traditions needed to be expanded upon and brought up to date.
And he willed new ones into existence. He established the Lenfest Ocean Program, and believed in the new Museum of the American Revolution to the tune of more than $63 million in cash donations, becoming its largest donor. He lived to see it become a reality, greeting guests from a wheelchair when the museum opened its doors in April 2017.
Even late in life, he was taking on projects as risky as they were critical. Mr. Lenfest became a newspaper owner as the industry was contracting, buying the company that publishes the Inquirer, the Daily News, and Philly.com. In January 2016, at age 85, he blended his business acumen and civic heart to launch an experiment in journalism, donating Philadelphia Media Network to a new nonprofit, the Institute for Journalism in New Media, now called the Lenfest Institute for Journalism, to allow it to stump for donations.
A portion of the additional revenue thrown off by a new endowment – on top of traditional sources like advertising and circulation revenue – is being spent on enhancing the journalism and speeding the transition to full digital integration for the newspapers. The goal is to develop a business model that can preserve for the city its prime newsgathering operation.
"What would the city be without the Inquirer and the Daily News?" asked Mr. Lenfest at the time of his gift. "Of all the things I've done, this is the most important. Because of the journalism."
It also was among his most generous gestures. The estimated total worth of the donation (including the original purchase price of the property and subsequent donations to the endowment) exceeds $129 million. Said PMN publisher and CEO Terrance C.Z. Egger: "His mantra was that as important as the Art Museum is, as worthy as the orchestra is in the community, journalism is easily as important or more. He said all the time, 'There is nothing I could think of as important as keeping journalism alive in the city I love.'"
A Powerhouse Couple
Love it he did. Mr. Lenfest relished his public role, bringing a frisson of quiet cheer and warm wit to parties, art openings, and concerts. "When you saw him at whatever it was, there was a gleam in his eye," said lawyer Richard A. Sprague, who represented Mr. Lenfest in matters relating to the purchase of the media company, "and there was a sort of bearing that he had, that he was enjoying what he was doing, and you felt it."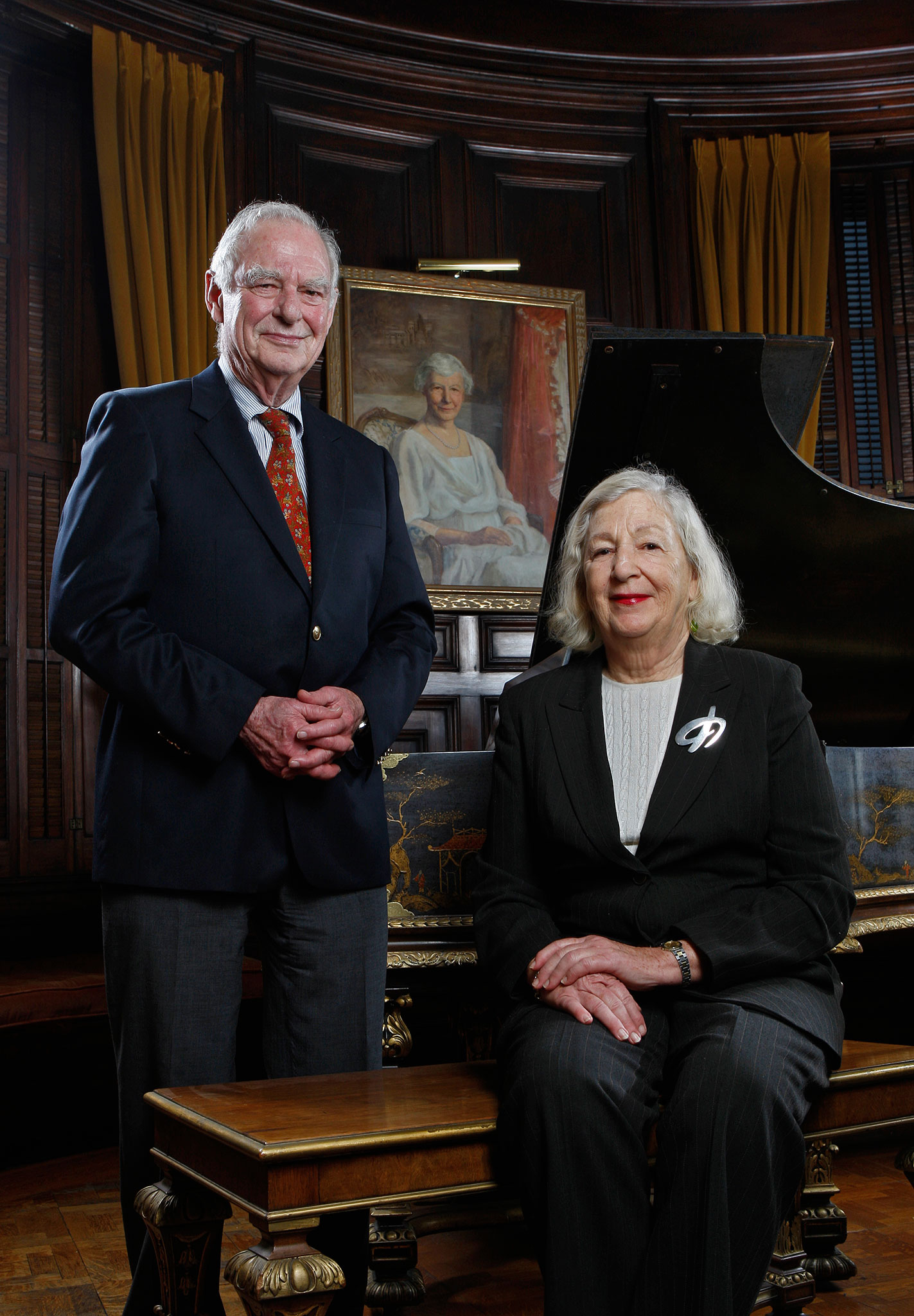 MICHAEL S. WIRTZ / File Photograph
Gerry and Marguerite Lenfest at The Curtis Institute of Music in front of a portrait of Mary Louise Curtis Bok, the founder of the institution.
"In Spanish we call it duende, a presence around someone," said Roberto Díaz, who started as president and CEO of Curtis as Mr. Lenfest became board chairman. "There's a very quiet strength there."
But unlike some other philanthropists who drove a hard bargain for being recognized with naming rights on buildings in exchange for relatively modest sums, he and his wife gave freely and worried less about getting the credit than finding ways to encourage others to follow their example.
"There is a great amount of satisfaction involved in this," Lenfest told the Inquirer in 2004 about the couple's decision to dispense with all of their wealth. "There is a lot of pleasure in life just to have your funds go the way you feel it will provide the most good."
The important thing in life "is not how much money you've made, how many cars you have, how many yachts you have, but how you feel about yourself. And I feel pretty good," said Lenfest in a video produced for the Museum of the American Revolution.
Just as he and his wife of more than six decades were partners in building their business, plotting its path at the kitchen table of their suburban home, so it was with philanthropy. He was the more public face – sociable, eager and open – while she waved away publicity and provided much of the thought and questioning behind the scenes. They were jointly given the Philadelphia Award in 2009.
"Often in a partnership, there's one person who puts on the brakes and another who puts on the gas. They complement each other extremely well," Pew Charitable Trusts president and CEO Rebecca W. Rimel once said.
"I don't think any of it would have happened without Marguerite's blessing. She is a force," said Curtis' Díaz. "Some of the most consequential conversations we had about the needs of the students actually were with Marguerite as much as with Gerry, and sometimes with her first."
The way they structured their generosity heightened its impact. Other philanthropists placed their billions in foundations to exist in perpetuity, giving out grants each year paid essentially out of investment income. The Lenfests, however, chose to spend down the entire endowment, and the effect on the nourishment and growth of hundreds of recipient institutions over a dozen and a half years was exhilarating.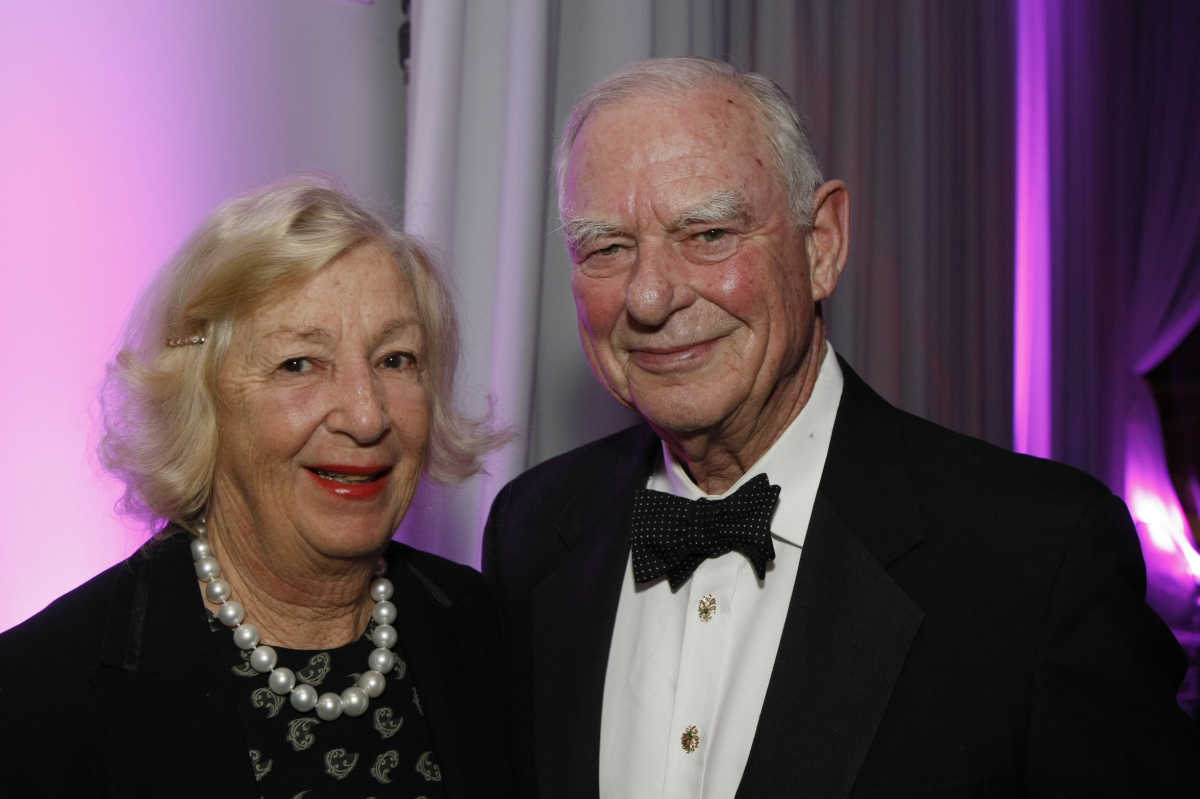 MICHAEL S. WIRTZ / Staff Photographer
Marguerite Lenfest and her husband H.F. "Gerry" Lenfest
The Lenfests gave away more than $1.3 billion to 1,100 organizations – providing scholarships to high school students in rural Pennsylvania, contributing to pay off the Kimmel Center's construction debt and keep Curtis tuition-free, supporting career assistance for youth, underwriting new buildings at Columbia University and Abington Hospital-Jefferson Health, giving free billboard and TV advertising to arts groups, helping to save the Temple University rowing program, and on and on.
"His decision to not create a permanent foundation but instead to give away his wealth in his own lifetime – the impact of that decision is just unbelievable," said Michael C. Quinn, president emeritus of the Museum of the American Revolution, which owes its existence to Mr. Lenfest. "And of course, from Gerry's point of view, that means he is there to enjoy that impact, to see the results, and that I think has really made his giving have a leveraged impact both for the institutions and for the city as a whole."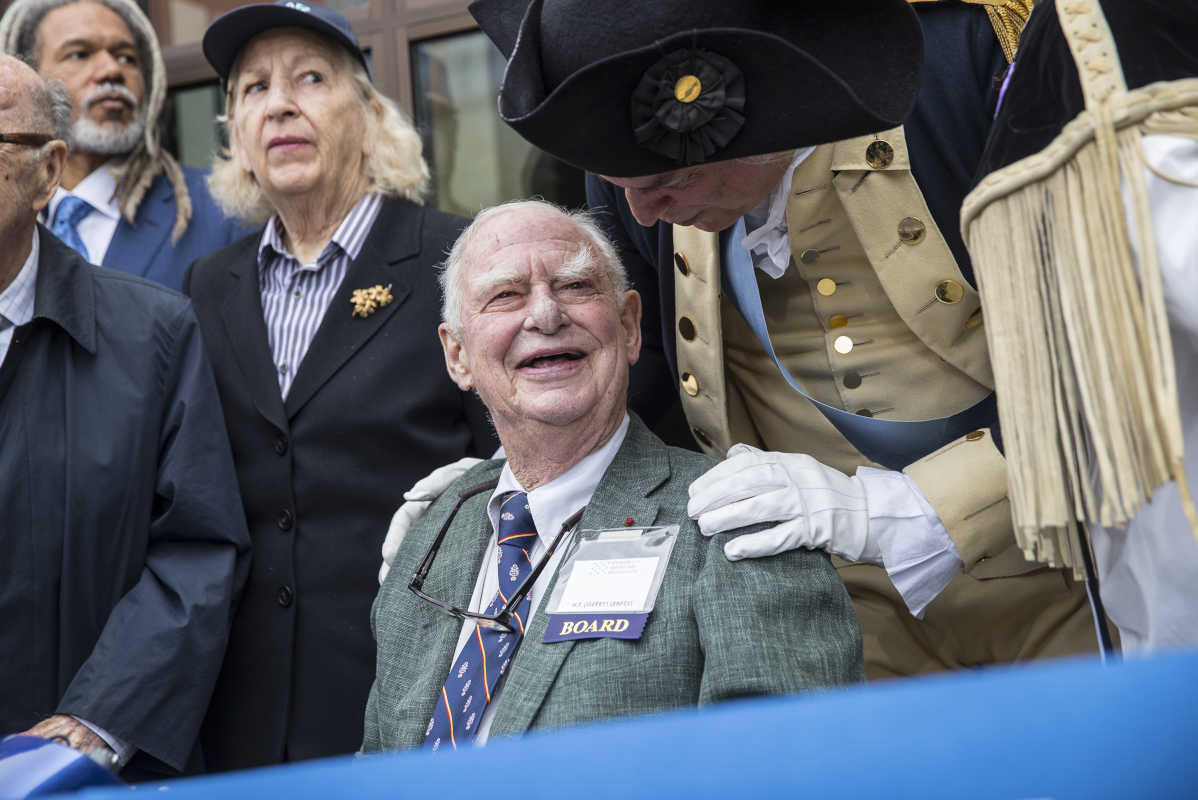 MICHAEL BRYANT / Staff Photographer
"Gerry" Lenfest (center) with Dean Malissa, portraying Gen. George Washington, after Malissa cut the ribbon with his saber for the Museum of the American Revolution's opening in April 2017.
His arrival on the philanthropic scene was unusually well-timed. The decision to start awarding hundreds of millions of dollars in grants was soon followed by the recession and a fading from the local scene of the Annenberg and Pew foundations.
"It was a life-saver," said Rendell. "Talk about the right place at the right time. Gerry became everyone's go-to. I'll never forget, the Barnes project was about $25 million short, and they asked Gerry to finish the project. He came in with $25 million, and I gave $10 million more from the state."
In addition to Lenfest being the single-largest donor to the Museum of the American Revolution, he was responsible for raising at least $20 million from others, Rendell said, "so he's responsible for at least half the money." For a comparable philanthropic force, Rendell said, you'd have to go back to Inquirer and Daily News publisher Walter H. Annenberg and his wife, Leonore.
The Lenfests' giving interests extended far beyond Center City and its cultural core. According to its 2015 tax returns, the Lenfest Foundation awarded $250,000 to the Chesapeake Bay Foundation; $2 million to Drexel University for children's programs in Mantua and Powelton Village; $300,000 to Franklin and Marshall College for the Pennsylvania College Advising Corps; $2.5 million to the Fund for the Philadelphia School District for after-school programs; and dozens of other grants to programs for youth and under-served communities. In October 2017, the Lenfests accepted the Carnegie Medal of Philanthropy.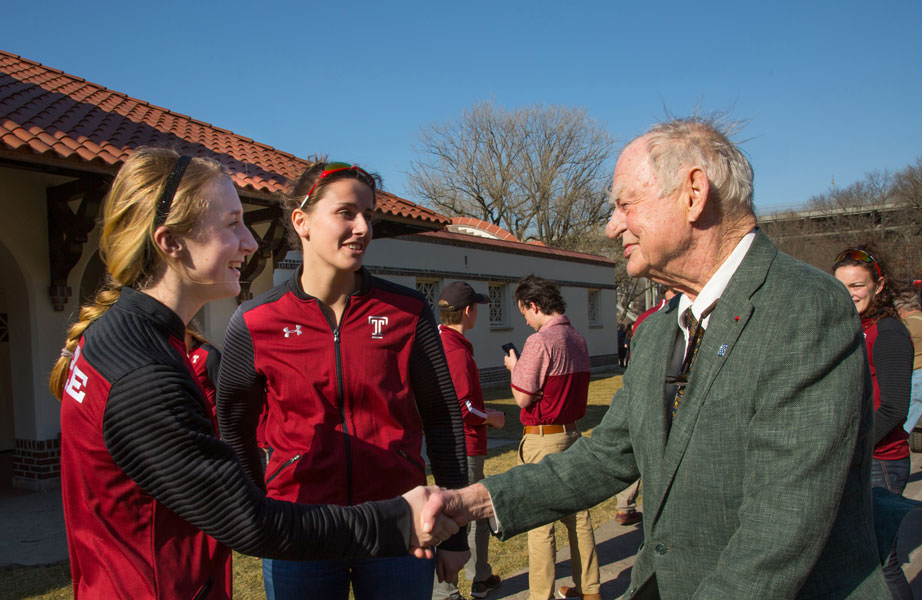 JESSICA GRIFFIN / Staff Photographer
Temple rowers Madison Weiss (left) and Charlotte Forman thank Gerry Lenfest for his contribution to the renovated East Park Canoe House, at the dedication ceremony on March 9, 2017.
Mr. Lenfest was decidedly not the sort of philanthropist to write a check and then not show up again until ribbon-cutting time for the opening of a new dorm or arts center. If supporting a project meant having to make big changes, he made them happen.
At the same time, he had an unusual quality, said Columbia University president Lee Bollinger. "It was much more a kind of partnership with the institution than is often true with philanthropists," he said. "They have their own views, and the organization is almost an instrument of their beliefs. That was not Gerry. It was, 'What can I do to support you?' In that sense, there was no better person to be part of your institution. That is why everyone wanted him to be part of their institution."
At Columbia, Mr. Lenfest's giving started at the law school, of which he was a graduate. "But there again," said Bollinger, "he was willing to follow the lead of the institution as to what was important. When we wanted to build the center for the arts in West Harlem, he was right there with that gift. When we wanted to build out the Earth Institute and worked with improving conditions for impoverished people, he was right there."
Not that he hesitated to exercise his influence when he wanted to do so. He was deeply involved in the controversial campaign to move the Barnes Foundation's priceless collection of impressionist, post-impressionist and early modern works to central Philadelphia so a new museum building could become a star on the cultural tourism map. When plans to build the Museum of the American Revolution in Valley Forge National Historical Park hit legal headwinds, Mr. Lenfest agreed to a land swap that brought the project instead to Third and Chestnut Streets, though he credited the idea to others. All the while he kept the project going with money of his own matched with funds from the state.
Video testimonies
Brian Roberts
Chairman and CEO of Comcast Corp., which took over Lenfest Communications in 2000
Elizabeth Warshawer
Former executive vice president and chief operating officer of the Curtis Institute of Music at the time when the school was expanding under Mr. Lenfest's guidance.
Gail Harrity
President and chief operating officer, Philadelphia Museum of Art, where Mr. Lenfest was chairman of the board.
Michael C. Quinn
President Emeritus, Museum of the American Revolution, which Mr. Lenfest guided from its early development to completion.
Roberto Diaz
President and CEO, Curtis Institute of Music, where Mr. Lenfest was chairman of the board.
Terrance C.Z. Egger
Publisher, Philadelphia Media Network, which Mr. Lenfest owned and donated.
Keith Leaphart
Chair, the Lenfest Foundation
Stepping in at Critical Moments
Often, he provided broad strokes for his vision of how a new project should look or feel, while imbuing others with a sense of trust and authority.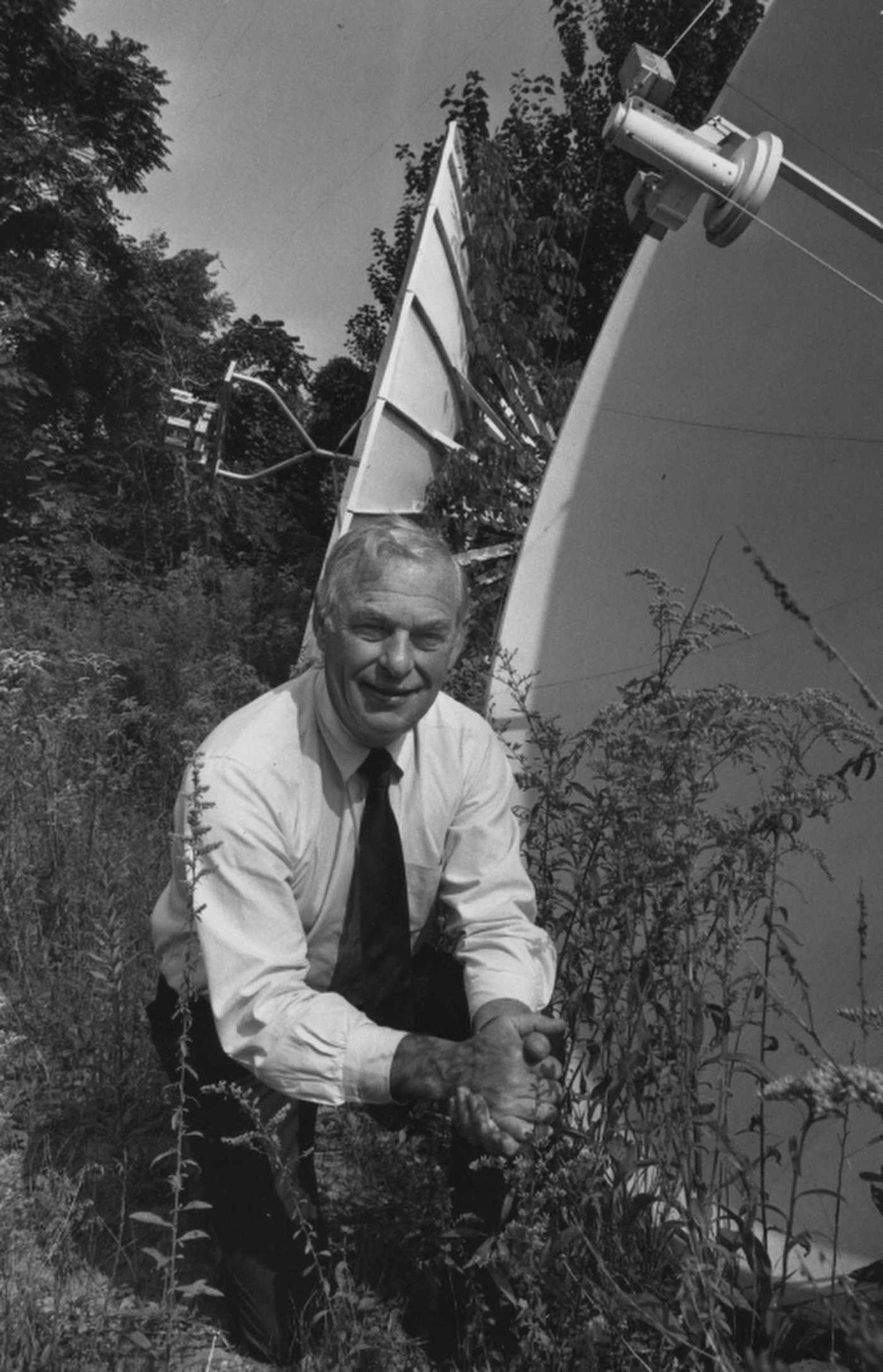 BOB WILLIAMS / For the Inquirer
Gerry Lenfest as president of Suburban Cable with the satellite dishes and decoding equipment for the Pottstown area, circa 1989.
This kind of generosity made a big impression on Roberts when he was a young businessman. He got to know Mr. Lenfest first when the two cable companies were competitors, when "Comcast was trying to grow and Suburban Cable was trying to grow, and he and my dad [Comcast founder Ralph J. Roberts] were doing battle over every acquisition."
But when Comcast and Mr. Lenfest got together to purchase the New York Times Co.'s cable systems, Roberts recalled, he felt the shine of the elder businessman's confidence. Talks to finalize the transaction were going late at the Times office in New York. "It was 1 o'clock in the morning, and he said, 'OK, your dad and I are going to go home. You stay with the lawyers, Brian,' and he handed me his signature and said, 'You have my proxy.'
"Now, that's one thing for my own dad to do that to me and say I trust you with hundreds of millions of dollars, the biggest deal his company had ever done, one of the biggest deals we had done at the time with a major company like the New York Times. But for him to say, 'I trust you' – what more could you as a young person in business want than for someone to give you that vote of confidence?"
Mr. Lenfest also knew when to deploy drama to great effect.
During another negotiation, Roberts recalled, when he and Mr. Lenfest were trying to buy out a partner, talks reached an impasse and grew ugly. "Gerry turned beet red and veins were popping out. He slammed his hand on the table, and it was an eruption. And eventually those guys knew they had hit the line," said Roberts.
Everyone agreed to break and let things cool off. The two sides separated, and Mr. Lenfest gave Roberts a wink.
"It was not fake, it was just raw emotion erupting, but a little bit of drama," Roberts said.
When they came back into the room, they reached an agreement. "And that is what Gerry had – that sense of the moment and the ability to get it done."
Lenfest Communications was sold in 2000 in a complex deal in which Comcast became owner, netting the Lenfests $1.2 billion.
Roberts said he "never got the sense that [Mr. Lenfest] loved cable the way I think he loves philanthropy, helping others and Philadelphia. After he sold his business, he became a different person, and I don't know that he planned it, and I think he was a better philanthropist than maybe even businessman."
"Gerry had a unique style of leadership," said Elizabeth Warshawer, Curtis' former chief operating officer. "He was not proscriptive, but he had a way of letting you know what level he expected from you. So he would support initiatives as long as he believed they were the right ones taking the institution in the right strategic direction at the right time, and you knew that he counted on the fact that you would implement with excellence. And rarely did you hear about it unless you didn't."
Warshawer recalled one time she did hear about it. He had been intimately involved in the creation of Lenfest Hall, Curtis' major new building with dorms and rehearsal rooms, and during construction he and Marguerite were walking by the building at dusk when he noticed stone going on the façade – a red sandstone quarried in Cumbria, in Northwest England.
"He saw the stone and stopped in front of the building, and he called me on my cellphone to tell me that he hated it – that it looked pink, and that he didn't want his name on a pink building," said Warshawer. "That was a time when I knew he was really unhappy."
After conversations with the architects, he agreed to look at the stone again the next day. Reconsidering, he said: "Oh, maybe it was just the light."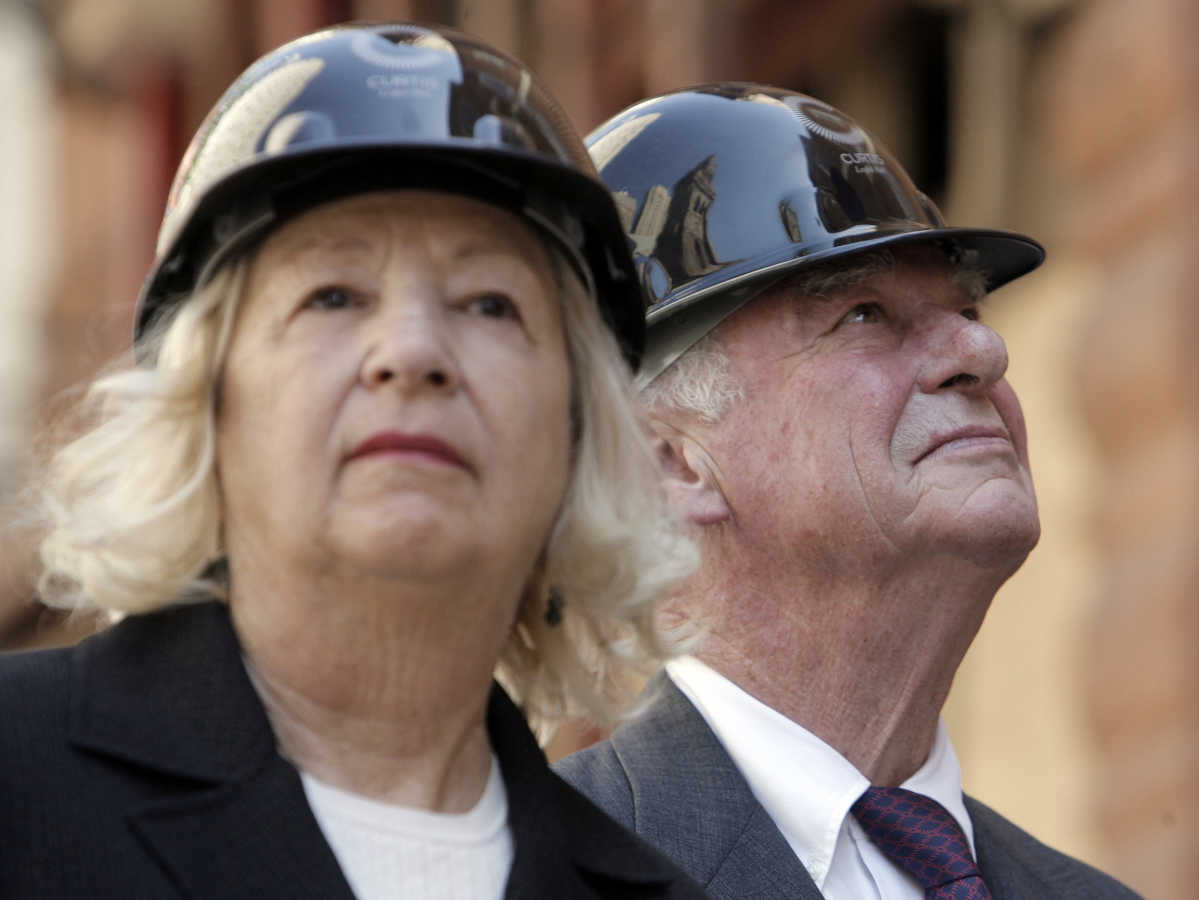 AKIRA SUWA / Staff Photographer
Marguerite and Gerry Lenfest, Chairman of the Curtis Board of Trustees, at the groundbreaking ceremony for a new Curtis Institute building on Locust Street in 2009.
More than once, fate called upon Mr. Lenfest to provide leadership well beyond his philanthropy. He was board chairman at the Art Museum in 2008 when its beloved director, Anne d'Harnoncourt, at home recovering from surgery, died unexpectedly. He tightened his reins on the institution, not only extending his own term and putting interim leaders in place, but also providing salve to the museum's shaken staff.
"I'll never forget that moment when the two of us stood before the staff the following morning, and he was terrific," said the museum's Harrity. "You couldn't have asked for a more empathetic and genuine and loving response." And yet, "he continued to chart the course ahead."
He spent the last few years planning for his own exit, winding down his philanthropy in an orderly fashion. The Lenfest Foundation has approved a plan to spend the next decade handing out the last of its assets – about $100 million – to projects like those supporting youth, education and career development, and then it will close up shop.
"A leader and a salesman who could sell you the Brooklyn Bridge."
The man who lived mostly in the small suburban home in Huntingdon Valley he bought with his wife in 1966 for $35,000, and on Rittenhouse Square, remained proudly modest in some ways, flying coach and often spending as little as possible. "There were times when Gerry would show up for an event in a sports jacket that looked like he had purchased it in 1962, and he took great pride in that, because he was giving away tens of millions of dollars rather than paying attention to whether he had a new sports jacket," said Warshawer.
He did splurge. He owned Jaguars and loved to sail. Over time, the couple collected the works of Pennsylvania impressionists. But even there, they made sure others would become the beneficiaries. In 1999, they made a bequest of 59 paintings to the James A. Michener Art Museum in Doylestown along with $3 million in endowment, and later sweetened the gift by helping the museum acquire three more works at auction. The bequest became an outright donation in 2004.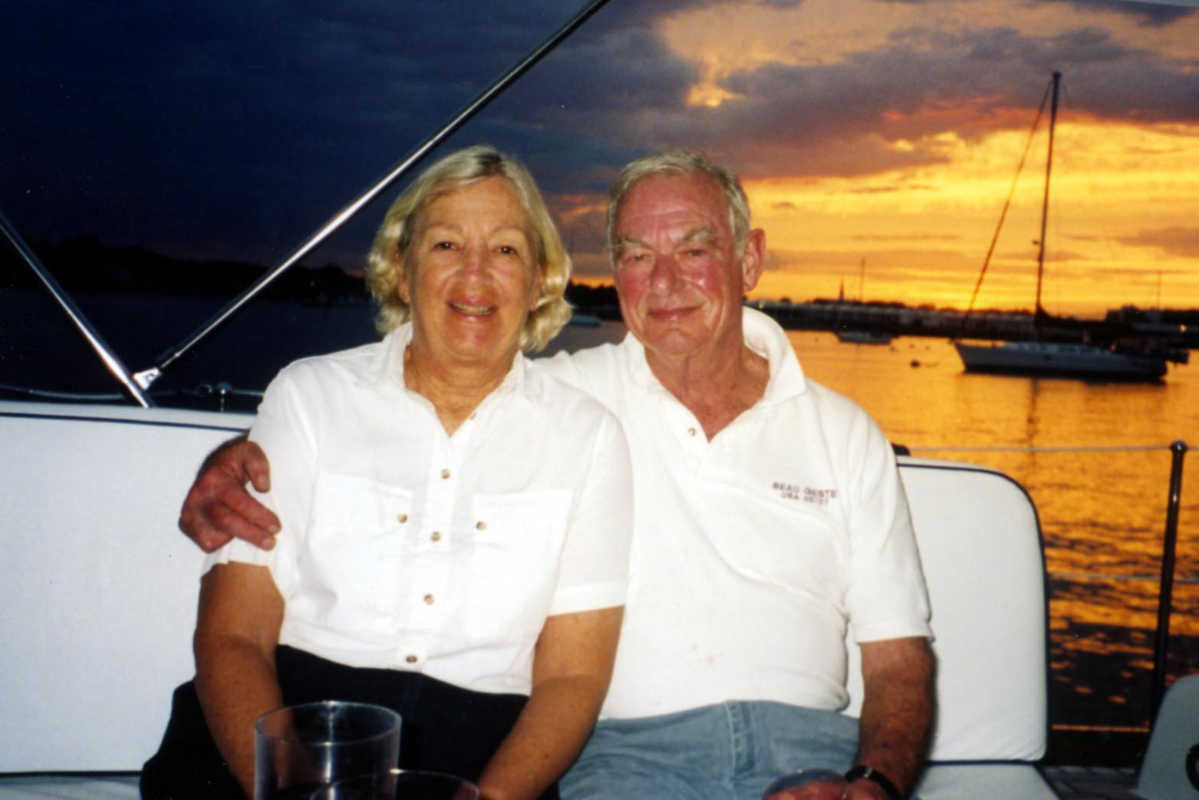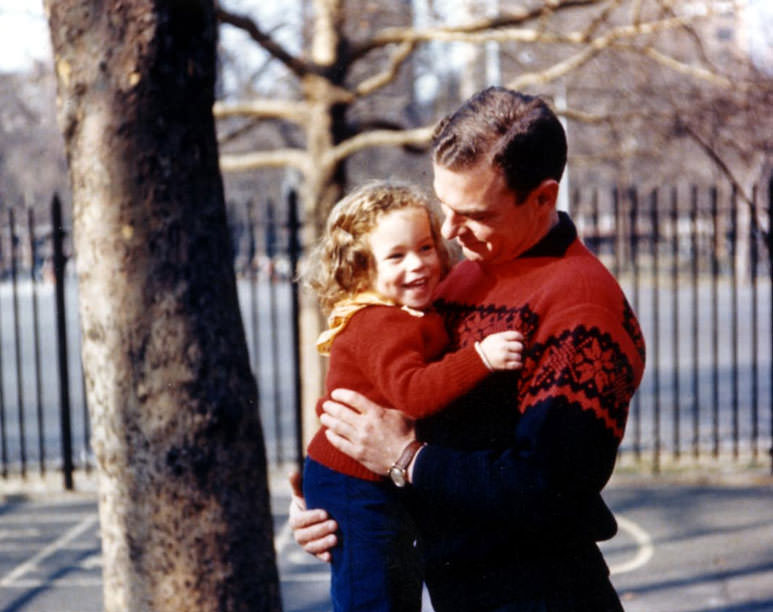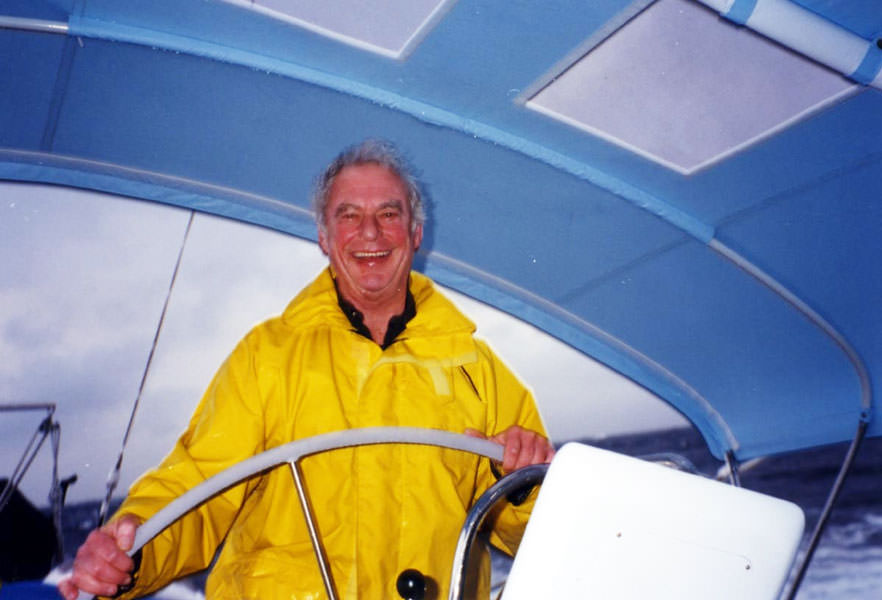 Courtesy of the Lenfest family
Gerry Lenfest with his wife Marguerite (left); with his daughter Diane (center); and at the helm.
Some of the oils – snowy scenes by Edward W. Redfield, rolling hills in saturated autumn colors by Daniel Garber – captured landscapes not far from where Mr. Lenfest spent a significant part of his childhood.
Born May 29, 1930, in Jacksonville, Fla., raised in Scarsdale, N.Y., and then on the family farm in Hunterdon County, N.J., Harold FitzGerald Lenfest liked to describe himself as something of a juvenile delinquent. Mr. Lenfest's mother died of a cerebral hemorrhage when he was 13, and his father, a Brooklyn-bred naval architect, sent him off to George School, whose dean of students suggested, after one year, that young Gerry not return. He played hooky from his next school, Flemington (N.J.) High School.
He was bitter about his mother's death, he said.
His father eventually sent him to Mercersburg Academy, "which really turned me around," he told the Inquirer in 2009. His father knew Mercersburg "because my mother had a cousin, Jimmy Stewart, the actor, who had gone to Mercersburg, so I went there," Mr. Lenfest said in a 2013 video interview.
His twin sister, Marie Lenfest Schmitz, once recalled her brother as a budding entrepreneur, selling eggs from the family farm around the neighborhood: "He was a leader and a salesman who could sell you the Brooklyn Bridge."
After high school, he was accepted to Washington and Lee University, but because Mr. Lenfest didn't know what he wanted to do in life, his father refused to send him to college, and he had spells as a roughneck in North Dakota, a farm hand, and aboard a ship that carried oil between Venezuela and Europe. Returning to Philadelphia after one journey, he was greeted by his father, who had changed his mind, and told him he had enrolled his son at Washington and Lee. He went, and graduated with a degree in economics.
He served in the Navy - rising to captain and serving in the Navy Reserve for 24 years - and married Marguerite Brooks in 1955. While he attended Columbia Law School, she became an elementary school teacher, supporting them until after he graduated in 1958 and landed a job at the august New York firm of Davis Polk & Wardwell. They raised three children together: Diane Lenfest Myer, H. Chase and Brook J.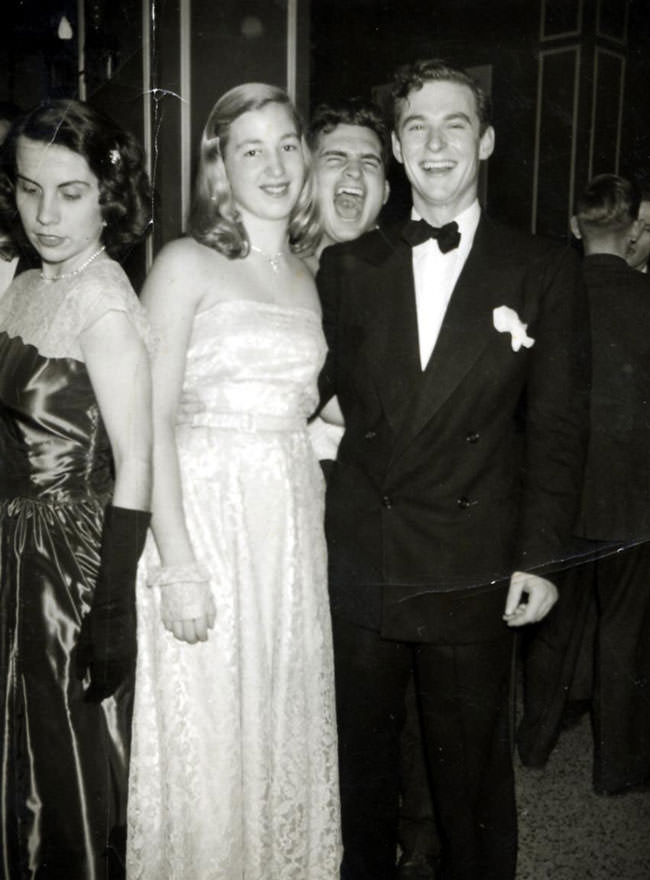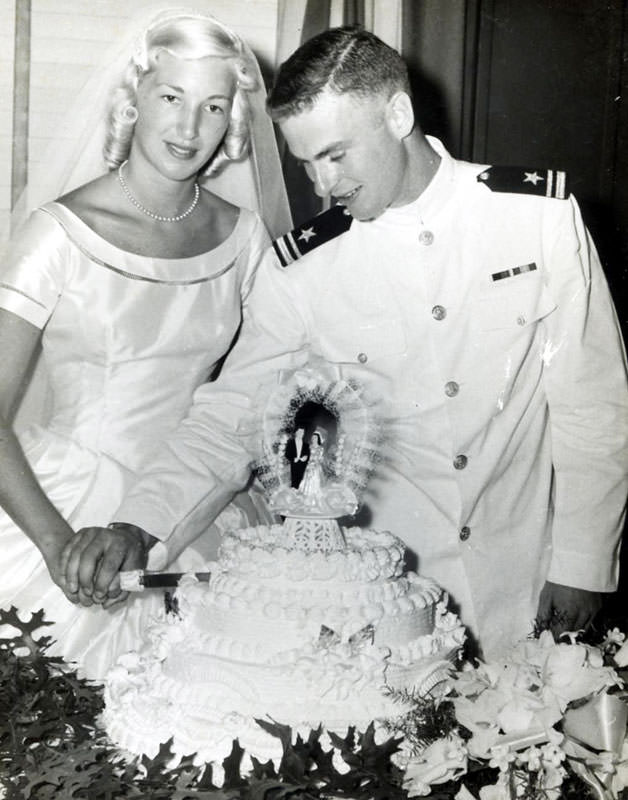 Courtesy of the Lenfest family
Gerry and Marguerite Lenfest
In 1965, Mr. Lenfest went to work for Walter Annenberg and Triangle Publications Inc., owner of TV Guide and Seventeen magazines and TV and radio stations and several cable properties, as well as the Inquirer and the Daily News. After five years, Mr. Lenfest became editorial director and publisher of Seventeen and president of cable. In 1974, with the help of loans and two investors, he bought from Annenberg two cable systems with 7,600 customers, which became the start of Lenfest Communications.
After selling the privately held company, Mr. Lenfest made an unusual move: he took $60 million in proceeds, and distributed half to middle and top management and half to rank-and-file staff. "They had built the company," he explained.
Critical of foundations in perpetuity, the Lenfests decided they would give their entire fortune to charity. Often, they teamed up with other local foundations to tackle a big, nagging problem, like the Kimmel's unfinished fund-raising campaign.
Although Mr. Lenfest always felt a tremendous debt to Annenberg, he long resisted becoming involved with the Inquirer, the Daily News, and Philly.com even as the hometown papers were sold and bought repeatedly in a quick series of transactions, saying he would never be drawn into owning a news company. "I'm not interested," he said more than once.
But at a certain point, the city's major news enterprise was clearly in jeopardy, and Lenfest, heeding a sense of responsibility, stepped in.
His entrance came in 2012, when, at age 81, he agreed to be one of six investors who bought PMN for $55 million from a group of hedge funds and financial firms. That partnership quickly soured, and after considerable acrimony, Lenfest once again stepped in – and up. He and businessman Lewis Katz formed a partnership, and bid for the news operation at private auction in 2014. Their $88 million offer prevailed, and they became the company's two owners.
Four days later, Katz was killed along with six others as his private jet was attempting to take off at a Massachusetts airfield. Katz's share in the company passed to his son. Mr. Lenfest bought out the younger Katz less than three weeks later, becoming sole owner of the company he once said he would never own.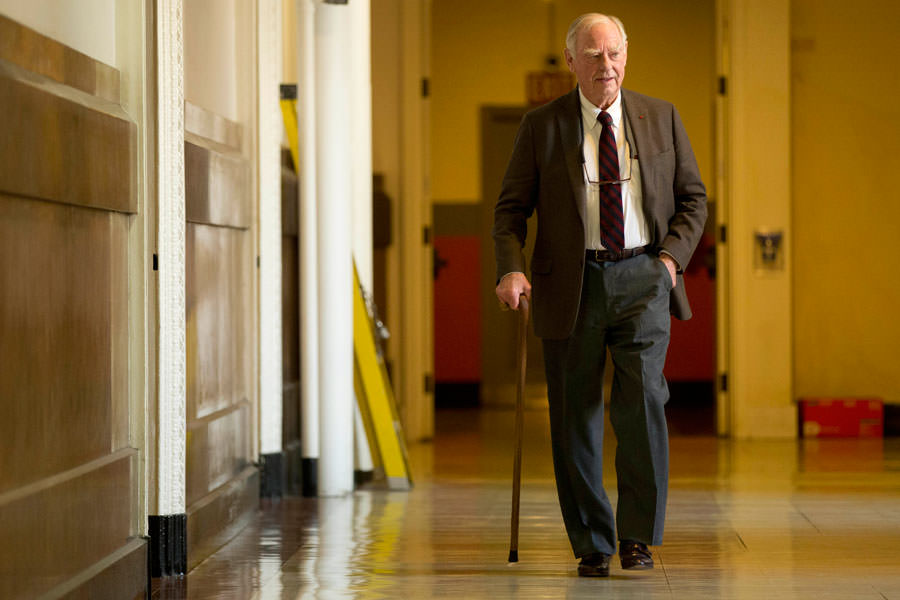 MATT ROURKE / AP
Gerry Lenfest walks to a City Hall courtroom during the legal battle over the Inquirer, Daily News, and Philly.com in 2013.
At age 84, Mr. Lenfest began setting up a structure that would outlast him, and then turned over the entire enterprise to a media institute under the auspices of the Philadelphia Foundation – an unusual, if not unique, solution in American journalism.
Said Egger: "The biggest piece of the story of what Gerry has done with the mission and conviction and size of the effort is creating the conversation about what is at stake here. The average person assumes someone is going to hold City Hall accountable. If we don't find a business model for what we do, there are consequences for society."
"His vision of local journalism as an essential public trust — as worthy of philanthropic and community support as hospitals and libraries — has been groundbreaking," said David Boardman, chair of the Lenfest Institute for Journalism and dean of Temple University's Klein College of Media and Communication.
Said Roberts: "If you had to pick one mission that he wanted to get right…I think it would be the freedom of speech and the free press in a country that is constantly being challenged every day with that question and revisiting that value."
Big Public Gifts – and Small, Quiet Gestures
Mr. Lenfest liked putting his money to work by leveraging gifts from others – requiring matching grants in order for groups to get his – which buoyed total giving in the area by untold hundreds of millions since 2000.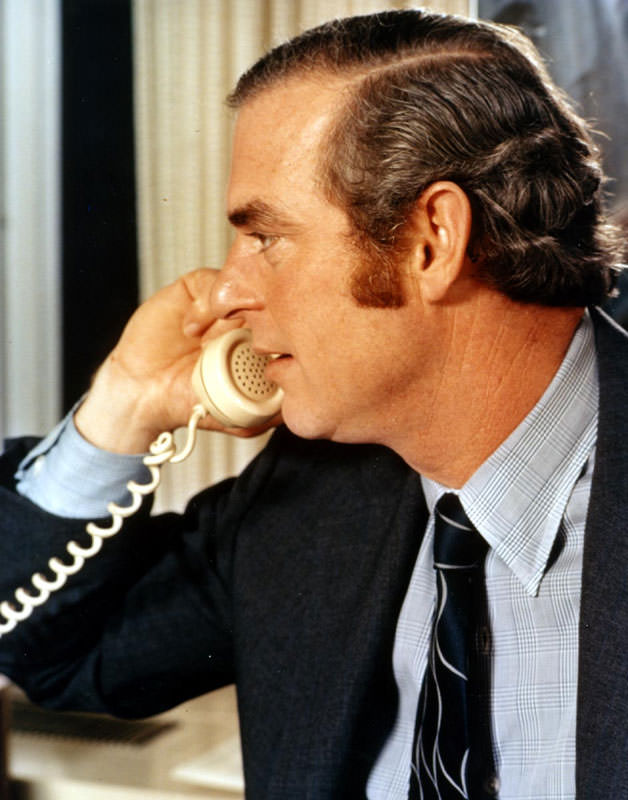 Courtesy of the Lenfest family
Gerry Lenfest at work.
"Often people give to people as much as they give to worthy causes and institutions, and it's hard to say no to Gerry," said Harrity, speaking about the Lenfest Challenge at the museum that he established to underwrite the positions of curators, conservators, educators and others.
"He has influenced my own philanthropy, the amount but also more how I give, in trying to give more with a sense of humility," said Sheldon M. Bonovitz, the lawyer and art collector, who served on several of the same cultural boards as Mr. Lenfest. Indeed, he deployed some of his largess quietly.
Mr. Lenfest was having a martini at a bar in Abington in the mid-1970s when he found just one other person there. "He just started talking," said Lance Balderson, an architect and city planner who was then making a transition to being an artist. The two hit it off, and Mr. Lenfest ended up buying dozens of Balderson's paintings over the decades. He gave many away – to his children, and to recipients of his money like Curtis, Mercersburg and Columbia. He also donated Balderson's work to museums, including the Art Museum, where Mr. Lenfest was chairman of the board.
"I did painting as a hobby, but never thought about having a painting in a museum," said Balderson. "When we went to the museum in 2009, I walked in with my ex-wife and two daughters and five grandkids and they opened up the gallery – I tell you, you don't know what that feeling was like, walking into the Philadelphia Museum of Art in the American gallery and seeing your painting there. It sends chills up my spine.
"Meeting Gerry changed everything. He encouraged me to continue, he started buying my artwork. He's been my biggest follower."
Relationships mattered enormously. In 1999, Mr. Lenfest took notice of a man emptying the trash bins in his office, became curious about his story, and struck gold with an enduring and mutually beneficial relationship.
Gerry Lenfest Tribute from Drexel 2015
"I was in medical school and business school, but I had a commercial cleaning business, and I was dumping Gerry's wastebasket," said Keith Leaphart, "and only Gerry would tell the janitor to sit down in his office to talk, and that's literally how we became connected. He said, 'Something is different about you. I need to know your story.' I think he recognized my grit, my determination, I was an entrepreneur, some of the things he saw in himself at a younger age. Gerry wasn't a silver-spoon kid, he worked really hard to get where he went as a billionaire philanthropist. I think it was mutual fondness."
A few years later, in 2007, when Leaphart was considering a run for Congress, he approached Mr. Lenfest for support. Mr. Lenfest agreed (Leaphart eventually decided not to run), but before he left, Mr. Lenfest asked Leaphart for something in return.
"He said, 'Sit back down, Keith, I have some things I need you to help me with,' and it was really about making an impact here in the city, some ideas about putting kids to work, employment, and what we said was we would work together."
Leaphart became involved with issues like ex-offender reintegration, and today chairs the Lenfest Foundation board.
Philanthropy has been for both Lenfests often an act of retracing steps and paying back debts – with interest. As of 2017, they had given Mercersburg, which he said taught him to love studying, $109 million. Wilson College, her alma mater, received $40 million. Washington and Lee got $81 million. He has given Columbia gifts totaling about $155 million – to arts, libraries, student housing, athletic programs and to endow faculty positions for the core curriculum. The 60,000-square-foot Lenfest Center for the Arts at Columbia's Manhattanville campus opened in April 2017.
The Lenfests' three children, who also benefited from the sale of Lenfest Communications, are all engaged in philanthropy, but not on the scale of their parents. The Lenfest Scholars program, started to provide college scholarships for students from rural Pennsylvania, has been funded in perpetuity.
As for a successor to Lenfest philanthropy in Philadelphia – someone with both the vision for change as well as the money to make it happen and the charm to loosen the purse strings of others – the city and region await.
Said Sprague: "There are always people who rise, and probably there are people who have not yet stepped into his shoes. Although my own feeling is, as I see the world around us, that I see less and less of what I call real leadership. Gerry represents what was good, and let's hope there are more Gerrys to come."
Of course, few saw the Lenfests coming. Bonovitz remembers finding himself seated near them on a flight just after the windfall from the sale of their cable company. "I asked him what he was going to do with the rest of his life, and he said, 'Figure out how to give all my money away.'
"I think he figured it out."
In addition to his wife, children, and his twin sister, Mr. Lenfest is survived by another sister, a brother, and four grandchildren.
Services will be private, and a public celebration of his life is being planned for the fall at the Academy of Music.
Donations in his name may be made to the Lenfest Institute for Journalism, 801 Market Street, Suite 300, Philadelphia, PA 19107; Museum of the American Revolution, 101 S. Third St., Philadelphia, PA 19106; Curtis Institute of Music, 1726 Locust St., Philadelphia, PA 19103, Attn: Lenfest Memorial; the Philadelphia Museum of Art, P.O. Box 7646, Philadelphia, PA 19101-7646; and the Pennsylvania Academy of the Fine Arts, 118-128 N. Broad St., Philadelphia, PA 19102.