"I hope to see the sun today."
A Pa. couple's anniversary cruise turned into a month-long nightmare when coronavirus infected more than 600 people. This is their diary.
Bill Smedley, For The Inquirer, February 28, 2020
Bill and Colette Smedley of York County, Pa., were celebrating their 33rd wedding anniversary and Colette's 65th birthday when their cruise to Japan, Vietnam, Hong Kong, and Taiwan was placed under quarantine for confirmed cases of coronavirus. Bill has been chronicling the experience for family and friends on Facebook. A version of his daily dispatches has been edited for length and clarity.
The cruise and ship quarantine
February 3
This was last day of a 29-day cruise. We were supposed to depart for home today. Instead, all the ship's passengers are getting health checks and having our temperatures taken by Japanese officials. This started last night. We went at 1:30 a.m. and the officials said at that time that they were about 60% done. After getting tested, we waited at least five hours for a decision about our health. So here we sit for now.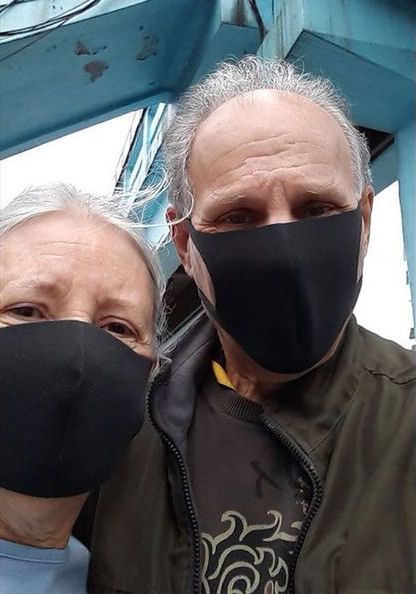 Courtesy Bill Smedley
February 5
This is day two of our quarantine in a 10 x 20 cabin with no windows. The ship is at port in Yokohama.
Things are getting organized now. There's been plenty of food — much more than we need.
There's no streaming entertainment like Netflix, but we get eight TV stations — two Japanese, one Indian, five English. It's all news except one sports station with Aussie repeats. Cricket is a bit hard to watch.
Who knows what the weather is like from inside this cabin?
February 6
The highlight of my day: clean shorts! Also, we may get some fresh air today. Last night, a group got to go outside. If they didn't screw up the Japanese mandates, we should be able to go out today.
I'm not angry at the ship. They are doing all they can for us and providing all they can think of to help us keep busy. Sudoku games, cards, puzzles, origami paper, workout videos, improved TV, and internet. They're also bringing in mental health professionals.
Later in the day: We got outside for an hour and a half. We wore masks and gloves. There was a news helicopter circling. So far 41 people have tested positive for coronavirus and have been evacuated by ambulance to the hospital. We've been instructed to monitor our own temperatures and report if it's 37.5 degrees Celsius or above.
February 7
It's our 33rd anniversary. We are back at sea. The captain reported that Feb. 19 should be our final day of quarantine on the ship. We're doing as well as can be expected. The president of the cruise line has addressed us via television. She said they are doing all they can and I believe they really are trying.
February 8
Early wake-up call today. It takes the crew three hours to feed us all so we think they're rotating the schedule. Yesterday, the Coast Guard dropped off medicine by helicopter for people and off-loaded the virus tests that have been done on the ship. We haven't gotten any of our medicines yet, but the captain says they're doing their best. I can't imagine how tough it is to figure out the needs of 2,600 people.
I hope to see the sun today.
"It's getting scary here. The staff seem to be very concerned with our mental health, especially the inside cabin guests. Now, we're going to get extra outside time."
February 9
We got outside today for the second time since last Wednesday. We could only walk on one side of the ship. The ship was facing away from land. (Maybe they think we will jump? Or maybe press is on the other side?) Fifteen more people were taken off the ship, six of them positive for coronavirus.
We got some of our medicines today and laundry service has begun. The captain and the crew continue to be great. They aren't charging for food, but they are charging for alcohol.
Boy, did Princess cruise line step up! The president of the cruise line sent a letter that stated that all fees for this cruise will be fully refunded — and we're getting a cruise credit for the amount paid for this cruise, which can be applied to a future cruise.
February 10
The captain announced 65 more infected and removed to local hospitals yesterday — five were crew members.
It's getting scary here. The staff seem to be very concerned with our mental health, especially the inside cabin guests. Now, we're going to get extra outside time.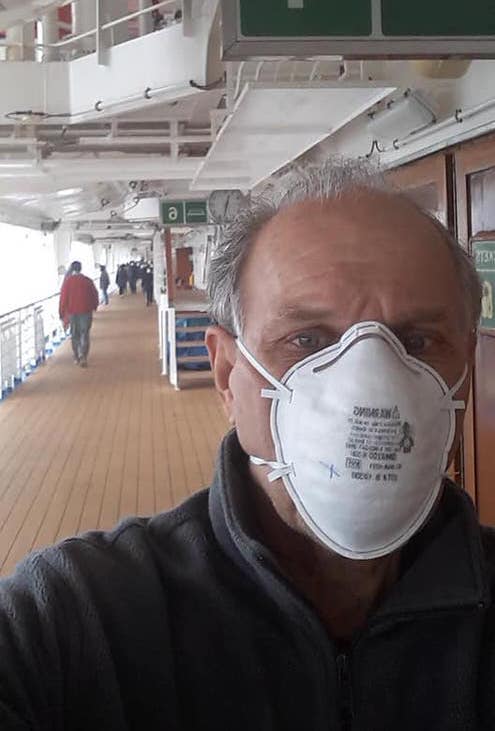 Courtesy Bill Smedley
February 11
We're back inside after a one-hour sunshine walk on the deck. We've been outside for three and a half total hours since last Tuesday. All those who have not had a temperature over 37.5 degrees Celsius and no cough are allowed out. Masks are required. Two meters of space is recommended between guests.
We heard today that 39 more are sick.
February 12
Stress is rising. The number of sick people is up to 175.
The worst news for me today is that our live TV went down. I miss my cricket watching.
As we get closer to Feb. 19, our release date, more people are getting sick. Will they let us go? I want a cheesesteak on a homemade roll with fried onions and sauce.
February 13
Today we saw 28 skids of compacted trash shrink wrapped on the docks and getting sprayed with disinfectant. They've moved the press even farther away from the ship. Our TV is still messed up. I'm blaming the press and their satellites.
We heard that they are going to test inside cabin folks who are 80 years old and over and if they test negative, they can quarantine on shore. That will probably be offered to us eventually, which creates a dilemma: Do we stay with what we know or leave? What we currently know gives us individual rooms, private bathrooms, no medical staff, boxed meals. What we don't know is everything else.
There were 41 more positive tests today.
Later that day: The TV works better. This morning, a Japanese official said we are getting iPhones and a survey to fill out in preparation to quarantine on shore in a government facility. They used this system during the last big weather emergency.
"We keep telling each other that all be OK but being at the epicenter of a possible pandemic, hearing the death count rise — it has affected us significantly."
February 14
Yesterday, 22 old folks were able to leave the ship for on-land quarantine. Only 11 chose to go. We got no details about their accommodations. More people will get to choose, oldest to youngest. If we get a choice, we are staying put unless we get more information. We have everything but a window and when we want to see outside, we have a video feed.
They went overboard on Valentine's Day: a red rose, candy, health and beauty items, special meals, and desserts. The captain said the items were donated by some local people. How nice. We also saw a moving video made by some elementary school kids.
The internet is bad again and TV is in the tank again. Boo.
During our walk today, people seemed much more relaxed and optimistic. Maybe it's Stockholm syndrome. Or resignation. Or Valentine's chocolate.
We had a health check. They tried to ask us about preexisting conditions, we think. Language was a real problem.
Later: The captain just reported that there may be plans for the U.S. government to fly us out. A Wall Street Journal article is saying that the government is planning to ship us to Texas or California for two weeks of quarantine. If so, why now? We have been exposed at least since Jan. 14. I will be happy to be on U.S. soil. But I want Pennsylvania soil!
Later: It's 1:46 a.m. here. I want to sleep but I'm unable. This nightmare seems to be ending. We keep telling each other that all be OK but being at the epicenter of a possible pandemic, hearing the death count rise — it has affected us significantly. Getting on that plane tomorrow cannot happen soon enough. Hopefully we'll be home in Dillsburg in early March.
February 15
U.S. Rep. Scott Perry referred to us in his weekly video update. His office has been in contact with us daily.
We took our last walk around the ship (hopefully) and saw ambulances loading up 67 more people. We all have new pep in our step. I won't miss our 10 x 20 home for the last 40 days.
The trip back to America
February 16
Just got screened by the USA team. All set to go.
Later: Luggage just left. We are on the second plane. They said we should dress warm as the plane will be cold.
Later: Finally off the ship. There was extreme scrutiny checking in. I guess they don't want anyone escaping. We've been sitting on a bus so far for 45 minutes. Cannot wait to see what's next.
February 17
It's Colette's birthday. We left the ship at midnight and were stuck for six and a half hours in between getting off the ship and taking off in the airplane. The passport system was horrible. Twelve buses with a police escort on blocked side streets with curtains drawn. We felt important.
It was a cargo plane which was extra spacious so it feels we are in the first-class section with extra legroom. There was no heat.
We're headed to Texas and then maybe to Nebraska. No one knows. It should be 12 and a half hours total.
Suited, hooded doctors are running around the plane. They took our temperatures once already and another is scheduled. One medic was in tears as he welcomed us on board. "All of America is praying for you," he said. The enormousness of this situation struck me pretty hard upon seeing his welcome.
We are sitting with some great new friends to help with the time. Talking is difficult with masks. Not sure what happens next.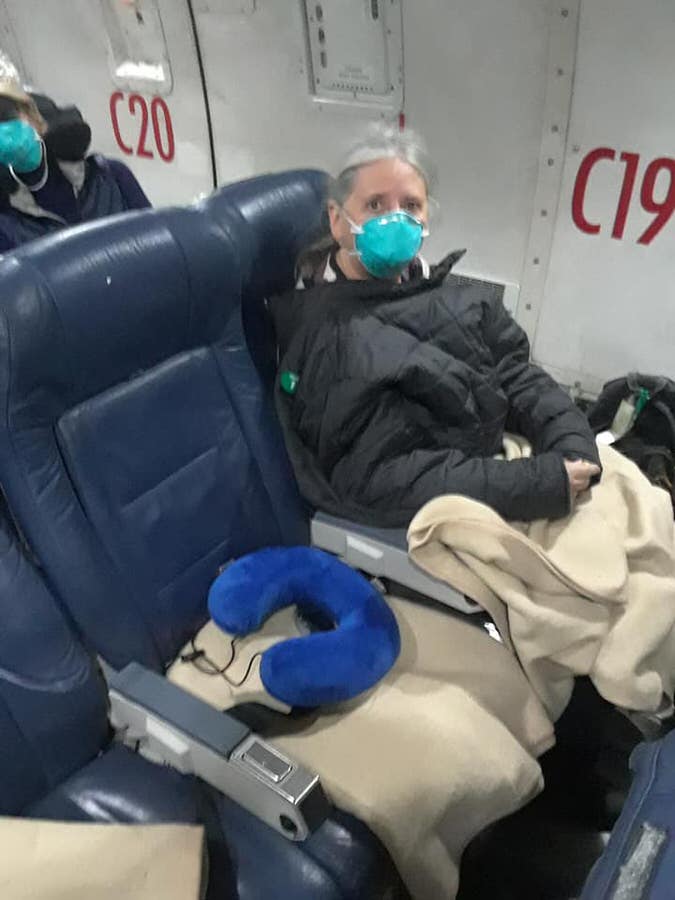 Courtesy Bill Smedley
Quarantine in Texas
February 17
Back back back in the USA! We're in San Antonio. We are housed in a hotel on a military base. We're still in total lockdown, but we will have two windows and a balcony.
February 18
Our Monday was 48 hours long because of time changes and we slept very little. The 14-hour time difference from Japan will take awhile to fix.
We arrived at Lackland Air Force Base and were medically screened. They took our temperatures and our photos. We got room assignments. Each step was "hurry up and wait." I was as close to "had enough" as I have been throughout this whole ordeal. Everyone was anxious and scared. Mass crowd syndrome was ruling and there was some pushing and shoving. We separated from the crowd and stepped back, making us one of the last couples to be processed.
We sat and waited for the last transport bus to take us to our new "home." When we finally got on the road, we drove around the base and passed fighter jets, which was cool.
Our room has a separate sitting area and bedroom, a kitchen nook and an adequate bathroom. There are clean windows that overlooks an empty field. I kept the door open all day — more sun. We were happy to be alone after so much traveling.
A temporary fence and a guarded armed compound has been established around us.
We feel much more protected from coronavirus now than we did on the ship. This is a good place to be until we get home.
February 19
It's so cool that the day starts with a reveille (a bugle call to signal to military that it's time to wake up).
Three people were taken to the hospital yesterday and news said one was confirmed positive for coronavirus. Later, news said no one was confirmed. Hard to know what's true.
We took a walk around the compound today. Then we saw ambulances and decided walking wasn't that important to us right then. Rep. Perry called to check on us. He listened and assured us that he and his office will continue to do everything within their power for all of us. His chief of staff, Lauren, has been in touch with us numerous times a day and has been a great comfort.
In the complaint department: Our first meal here was Chinese food! So was the second and third meal. Don't these people know where we have been?
The government employees caring for us are terrific. We made reasonable request for more towels and got nothing. Hoping that changes.
Later today we are getting a delivery from a local food store. Someone from the base will pick up and deliver to us. We're looking into other food sources, too. Popeye's won't deliver, but Domino's will. We're in Texas and I want ribs, brisket, and barbecue!
Later: Bloomberg ads here in Texas are totally dominating TV.
"I'm happy that we are under quarantine. The thought of being a source of transmission of this illness would be impossible to live with."
February 20
I'm happy that we are under quarantine. The thought of being a source of transmission of this illness would be impossible to live with.
Life goes on here. Laundry came back overnight. I got my extra blanket and towel service. No extra pillows yet. Food service is timely but still no Tex-Mex or barbecue.
We got our grocery delivery with some junk food — now all I need is my Lazy Boy recliner and HDTV. We ordered from Amazon. It's arrived but we have to wait for it to be inspected before they can give it to us.
Doctors continue to monitor our temperatures twice a day. We haven't yet gotten new throat cultures.
February 21
Last night the doctor in charge held a conference call. Quarantine will end on March 2 if we do not show any positive symptoms and have not been directly exposed to a positive person (like a roommate)! If we do, it's an additional 14 days of quarantine and the positive testing person will be isolated for treatment. We were tested yesterday voluntarily. The time table for results is unknown.
Some people here are unhappy with our apartments. It's possible we could be moved to more modern housing. My opinion is that we're considered high-risk and contact is discouraged, so this move is unnecessary. The apartment isn't home but it's adequate.
The food here is not good. We are not fussy eaters but we've gotten overcooked Salisbury steak and chicken thighs, dry white rice and no condiments. Plus more bad Chinese food, which is insulting considering where we've been.
We learned today that we can get mail, which is nice.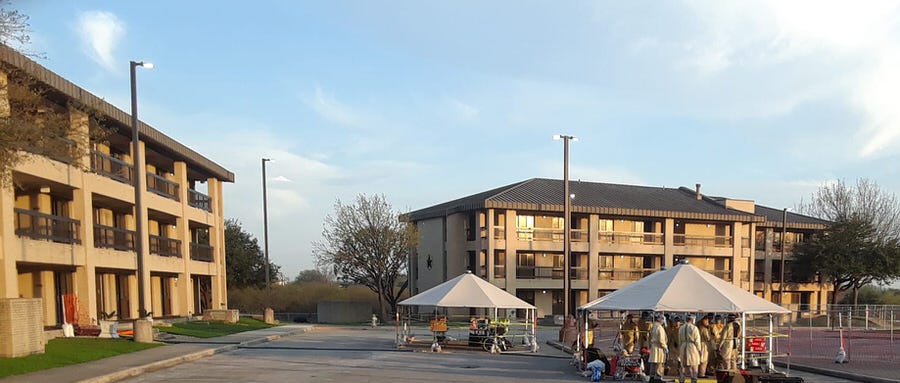 Courtesy Bill Smedley
February 22
We're still healthy but getting frustrated. We have been in the same small room together since Jan. 6 and in lockdown 22 days with the stress of this and the unknown. It's a lot.
I continue my quest to talk to the food service boss about our meals, but no luck so far. We see the Arby's two for $6 fish sandwich ad on as much as Bloomberg. And we like the fish!
February 23
Insomnia is a big part of this lock up. Neither of us can sleep at night.
The good news today is that my complaining must've worked. We have a new caterer and today got brisket, sausage, beans, and potato salad. Terrific Texas food and I'm taking credit for the improvement.
We think we were instrumental in stopping our move to new digs. We organized some folks to email the appropriate officials our opposition to moving. Now we're staying put.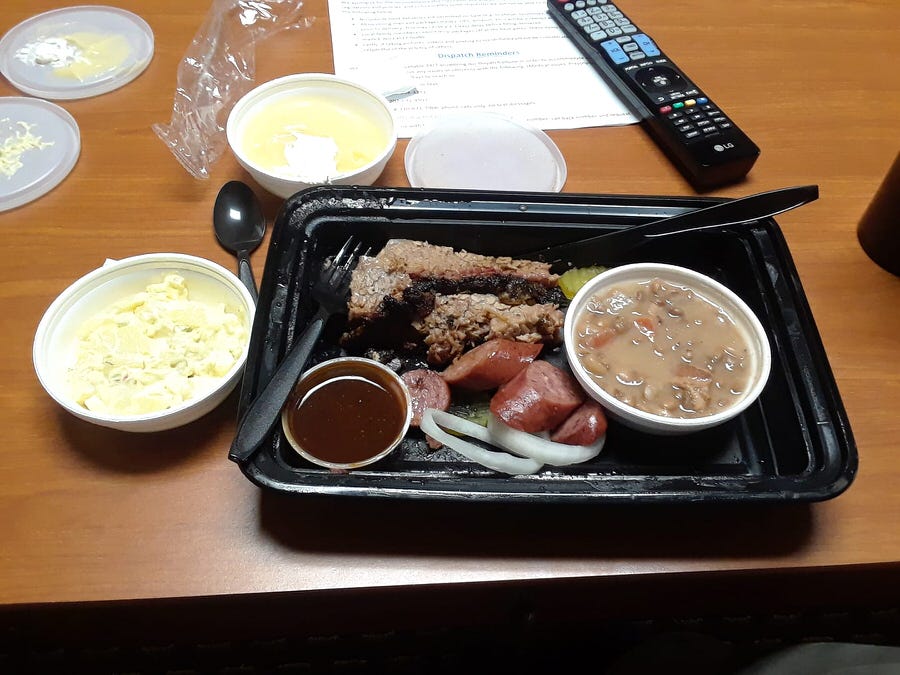 Courtesy Bill Smedley
February 24
Some members of our emergency response staff team surprised Colette with a belated birthday wish — flowers and cake. So nice of them! They're such a dedicated group of people.
We hear that up to 10 people here on the base are sick. Not good news.
The cruise line contacted us regarding our flight home.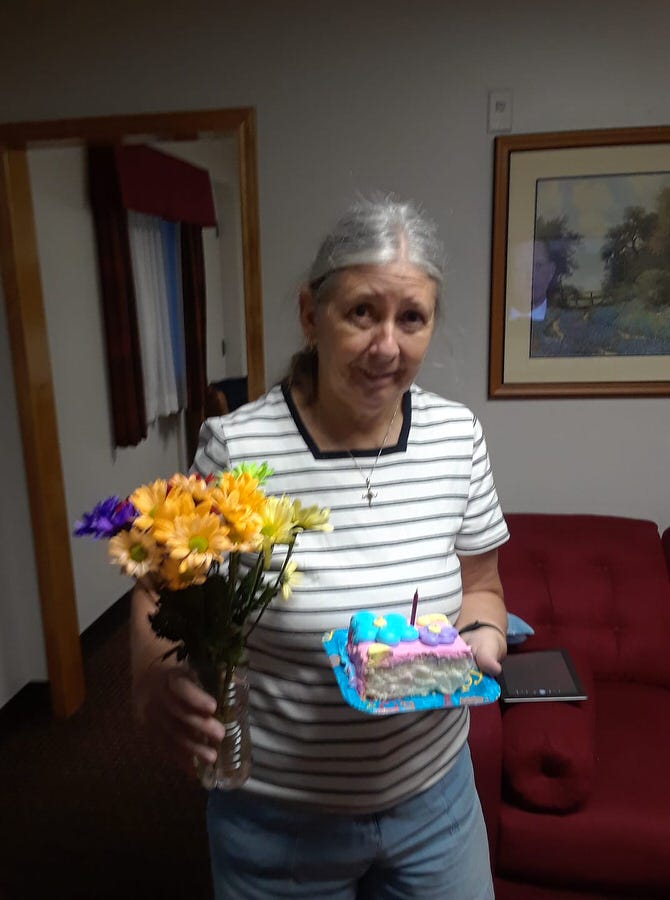 Courtesy Bill Smedley
February 25
We got our test results back today and they were negative. This is good news, but doesn't mean we're in the clear until they actually clear our quarantine on March 2.
I hope we stay healthy. We want out.
The Smedleys remain healthy and hope to return home to Dillsburg, Pa. in early March.