Part 1
Hope on the diamond
Part 3
Second chance at hope
Jairo Muñoz pitches in a game in Managua, Nicaragua.
OTTO MEJIA / For the Inquirer
Monday, Nov. 23, 2015
The scope of the project had exceeded John Durso's wildest hopes long before he met Jairo Muñoz, and his cellphone hummed like a harmonica because of it.
A friend of Durso's, a buddy he'd played baseball with since they were teenagers, had died in an accident in 2009, and to help the friend's widow and son, Durso had organized a fund-raiser, a home run derby at a Little League field, in their old Roxborough neighborhood. The event went so well and Durso's disposition — as welcoming as a TV-commercial insurance rep, with an easy smile behind a thick black beard — was so effective in persuading people to lend a hand that the momentum from the derby accelerated past the edge of his imagination.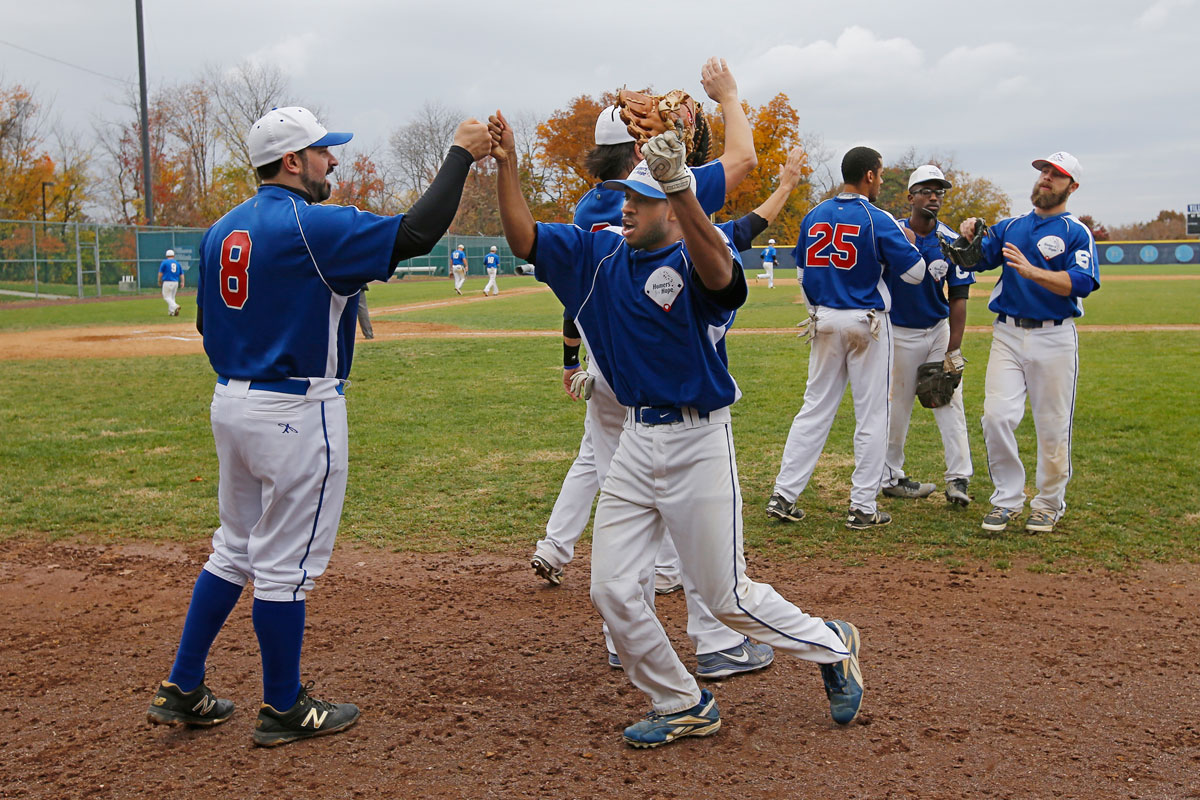 MICHAEL BRYANT / Staff Photographer
John Durso (left) fist bumps his Homers for Hope teammates after a good defensive inning against the Levittown Blueclaws.
Within five years, Durso; his wife, Katie; and dozens of other volunteers had created a nonprofit foundation, Homers for Hope, raising $68,000 for families struggling through a tragedy, a dire financial emergency, anything that required more money than they had. A mother and father need to buy a wheelchair for a son with a degenerative spine disease? A roofer falls from a ladder, breaks his leg, and can't work? Homers for Hope would hold a softball or hardball tournament, or a home-run contest, maybe rent out Campbell's Field in Camden for a day, and afterward the parents could afford the wheelchair, and the roofer's bills would be paid.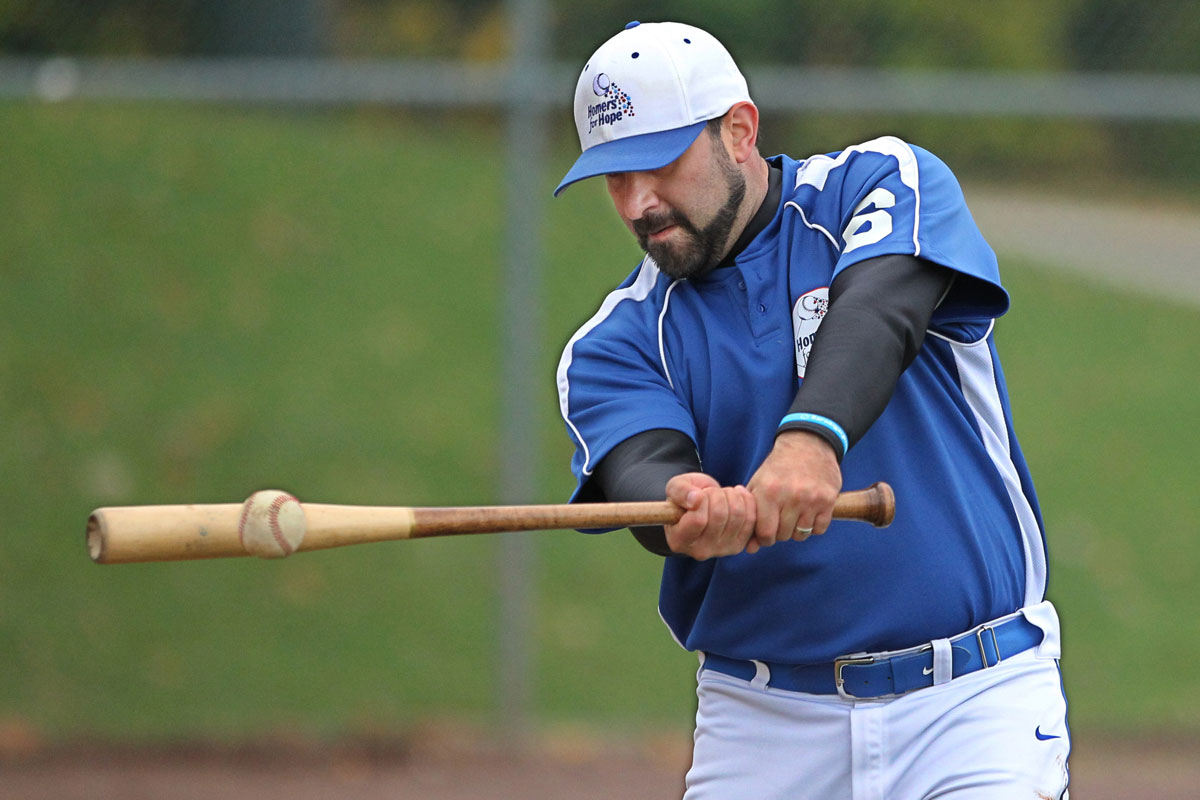 MICHAEL BRYANT / Staff Photographer
Durso hits a ball during fielding practice before a Homers for Hope game.
Durso was 36 and a banker, a good job that kept him busy, but the charity had come to consume most of his spare time. He had participated in weekend, knock-around baseball leagues for years, one of hundreds of guys in their mid-30s to mid-40s who had played in high school or college and couldn't let the game go. So it made sense to use his hobby as a vessel for the foundation. He created a Homers for Hope team in the Philadelphia Fall Baseball League. All that a prospective player or coach had to do was raise at least $200 as a donation to the charity, and Durso, as the de facto general manager, made sure there was a place for him on the roster.
"You've got guys like me on the team, and we have a chance to get someone with professional experience?"
John Durso, Homers for Hope
People, then, frequently left voice mails for Durso with questions about Homers for Hope or the team or both. But they didn't often leave voice mails like this:
My name is Jonathan Tilly. I'm a sports agent, and I have a 6-5, 190-pound kid from the Dominican Republic. He can throw in the low 90s. If you're interested in having him on your team, call me back.
"It was amazing," Durso said, "You've got guys like me on the team, and we have a chance to get someone with professional experience? I thought, 'We've got a good shot of winning the championship.'"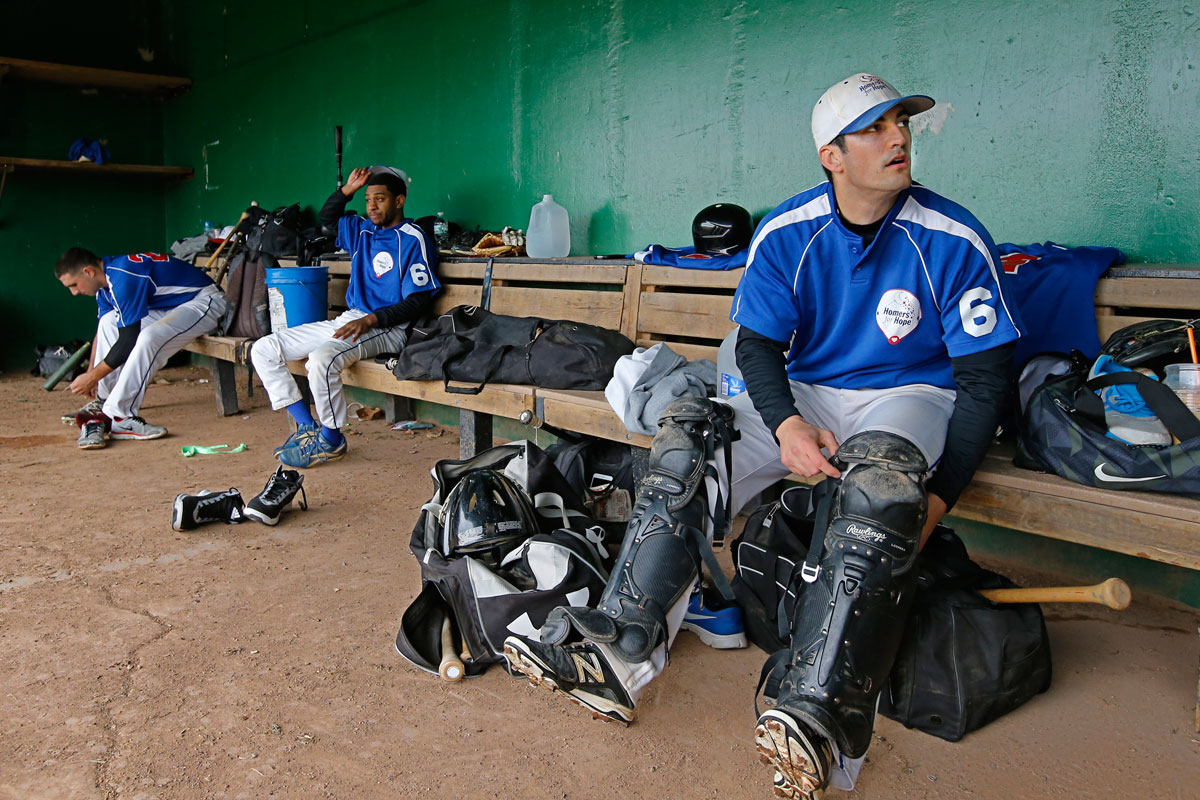 MICHAEL BRYANT / Staff Photographer
Nick Massaro puts on catcher's gear before a game against Levittown recently in the Philadelphia Fall Baseball League. Massaro also works on behalf of the charity the team is named after.
For Homers for Hope, a pitcher such as Jairo Muñoz would seem an unusual player-personnel acquisition. Because of its dual purpose, the team often drew its members for reasons deeper than a desire to play organized baseball. Nick Massaro, one of Homers for Hope's catchers and a student at Temple University, had been looking for a fall team when he did what Tilly had done: He contacted every club in the Philadelphia Fall Baseball League. Durso called him back and explained the purpose of Homers for Hope, the melding of the mission and the competition. Something about Durso's sales pitch touched Massaro. He could reach out to corporations on behalf of the charity. He could be there for the team or the foundation when Durso asked. He could play ball and be part of something bigger.
"John and Homers took their work and baseball very seriously," said Massaro, 22, a former standout at Avon Grove High School in Chester County. "That's really the reason I gravitated to them."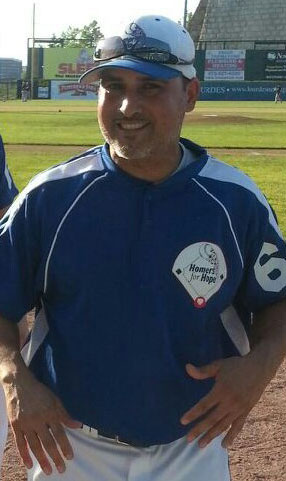 KATIE DURSO
David Olmo acted as Muñoz' unofficial interpreter while the Dursos taught Muñoz to speak English. Munoz came to call him "Uncle Dave."
David Olmo, a player/assistant coach, had perhaps the richest baseball heritage of anyone on the team. His great-uncle Luis Olmo was the first Puerto Rican to play in the World Series, spending two three-year stints with the Brooklyn Dodgers, making his major-league debut in 1943 — four years before the Dodgers, on opening day 1947, started a rookie second baseman named Jackie Robinson. Having lived in South Philadelphia all his life, David had been a middle infielder at St. John Neumann High School, the head baseball coach at Community College of Philadelphia, and an adviser for the Anti-Violence Partnership of Philadelphia for 18 years. He counseled teenagers in the city's public- and parochial-school systems until the organization laid him off in 2012. He had been a longtime friend of Durso's, meeting him through summer and fall baseball, and he spoke fluent Spanish.
There was no one on the team, though, who had more embraced the culture and concept of Homers for Hope than its manager, Eddie Conrey. He had needed to embrace them for his own sake. During his career at Harry S Truman High School in Levittown in the mid-1990s, Conrey had emerged as one of the best teenage baseball players in the Delaware Valley and as a bona fide major-league prospect. A catcher at Truman, he hit .386 with seven home runs as a junior, earning an athletic scholarship to Duke University, where he set the school's single-season record for runs batted in with 76 in 1998.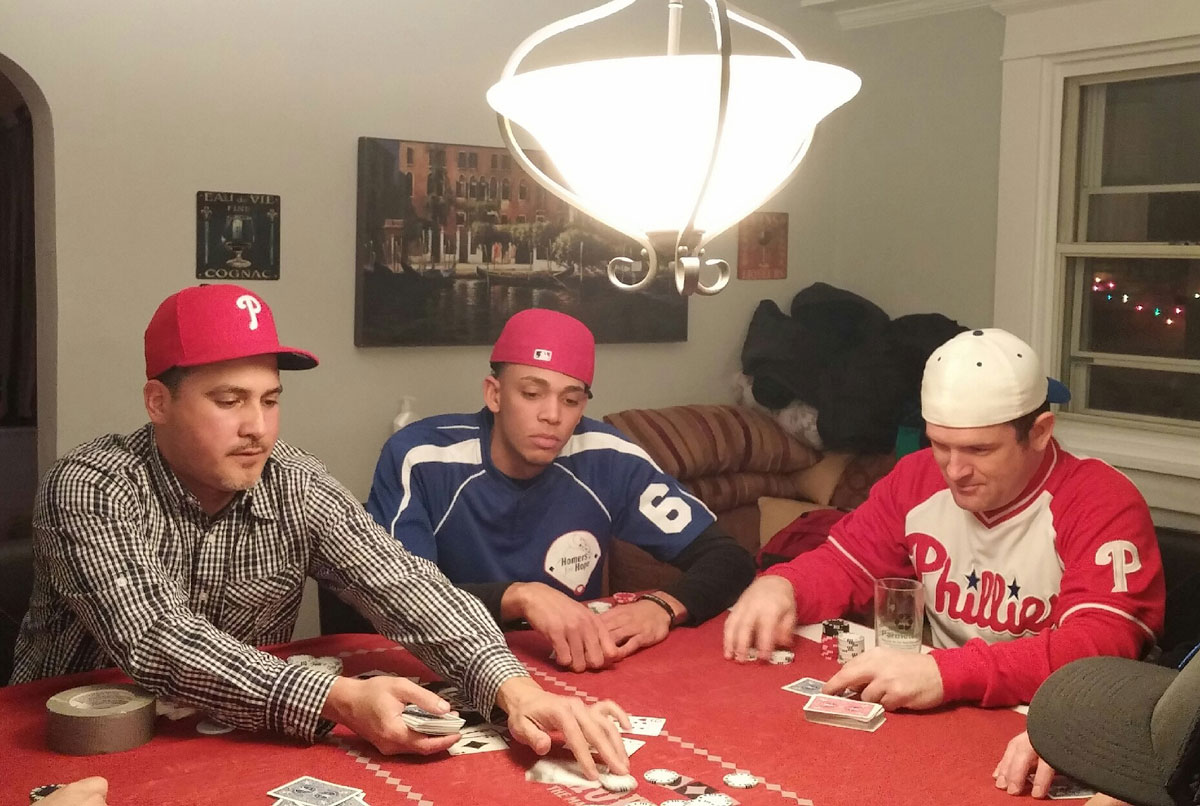 JOHN DURSO
David Olmo (left), Jairo Muñoz, and Eddie Conrey enjoy a game of poker. All three were part of the Homers for Hope team in the Philadelphia Fall Baseball League. Olmo was a player/assistant coach, Muñoz was a pitcher, and Conrey was the manager.
Duke was also where Conrey's life had fallen apart. He began drinking, began smoking pot before games, began using nitrous oxide and cocaine. He was kicked off the baseball team during his senior season, and when he returned to Levittown, the riptide of his addiction nearly drowned him. He drank as many as 12 beers and six shots of alcohol in a single day. He was involved in 12 car accidents and arrested five times for driving under the influence. He declared bankruptcy and, by age 32, was living out of his gym bag. Only after his family tricked him into appearing on A&E's Intervention, only when the reality-TV show laid the wreckage bare to millions of viewers and to Conrey himself, did he agree to enter a treatment program.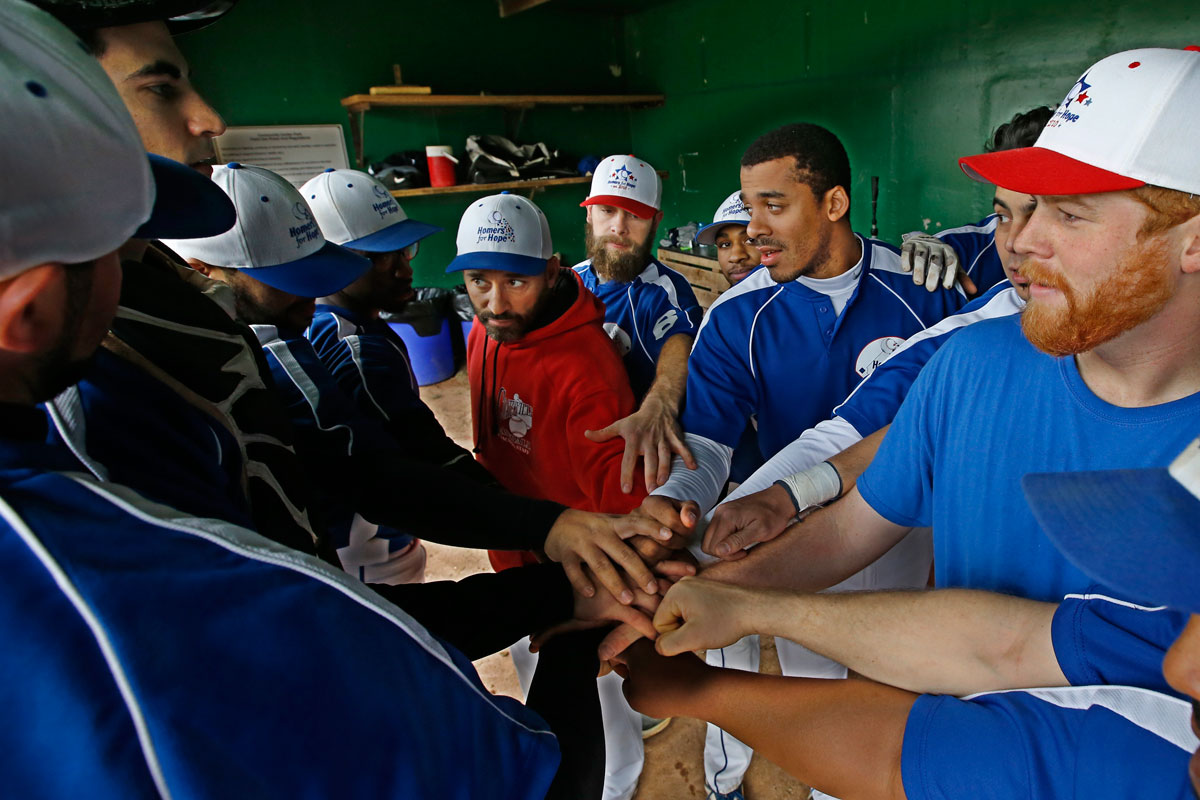 MICHAEL BRYANT / Staff Photographer
Members of the Homers for Hope team are all in it together before a game against the Levittown Blueclaws.
Conrey had been sober since January 2011, and his involvement with Homers for Hope had helped to refill a once-empty part of his soul with purpose. He could use his knowledge and experience to teach the game, just as he was doing as an assistant coach at Bucks County Community College. "It's a way back to baseball," he said.
These were the people at the core of one of the eight baseball teams that Jonathan Tilly contacted on a late-summer afternoon. After listening to the voice mail, Durso dialed Tilly's number. He was the first person affiliated with the Philadelphia Fall Baseball League to return one of Tilly's calls about Jairo Muñoz.
Durso and Tilly arranged to have Muñoz pitch, on a tryout basis, during three Homers for Hope practices at Northeast High School. Before the first, Massaro paired off with Muñoz to warm up. Because Muñoz didn't speak English and Massaro didn't speak Spanish, they didn't talk to each other over the 15 minutes they played catch. But Massaro could pick up easily on the difference between most pitchers in the league and Muñoz, who had spent recent time in a major-league farm system. "You could tell his stuff moved," he said.
Durso, who lived in Drexel Hill, became Muñoz's chauffeur, picking him up in West Philadelphia at 7 or 8 p.m. at his apartment or at the bodega where he worked and driving him to Clifton Heights, where the team practiced near a lighted football field until 10. Olmo became Muñoz's interpreter. When Olmo wasn't available, Durso, Conrey, and the other coaches and players used the Google Translator application on their phones to slog through conversations with Muñoz. They, too, learned his story — his upbringing, his newborn daughter, his tenuous immigration situation — one fragmented sentence, one charades-like guessing game, at a time.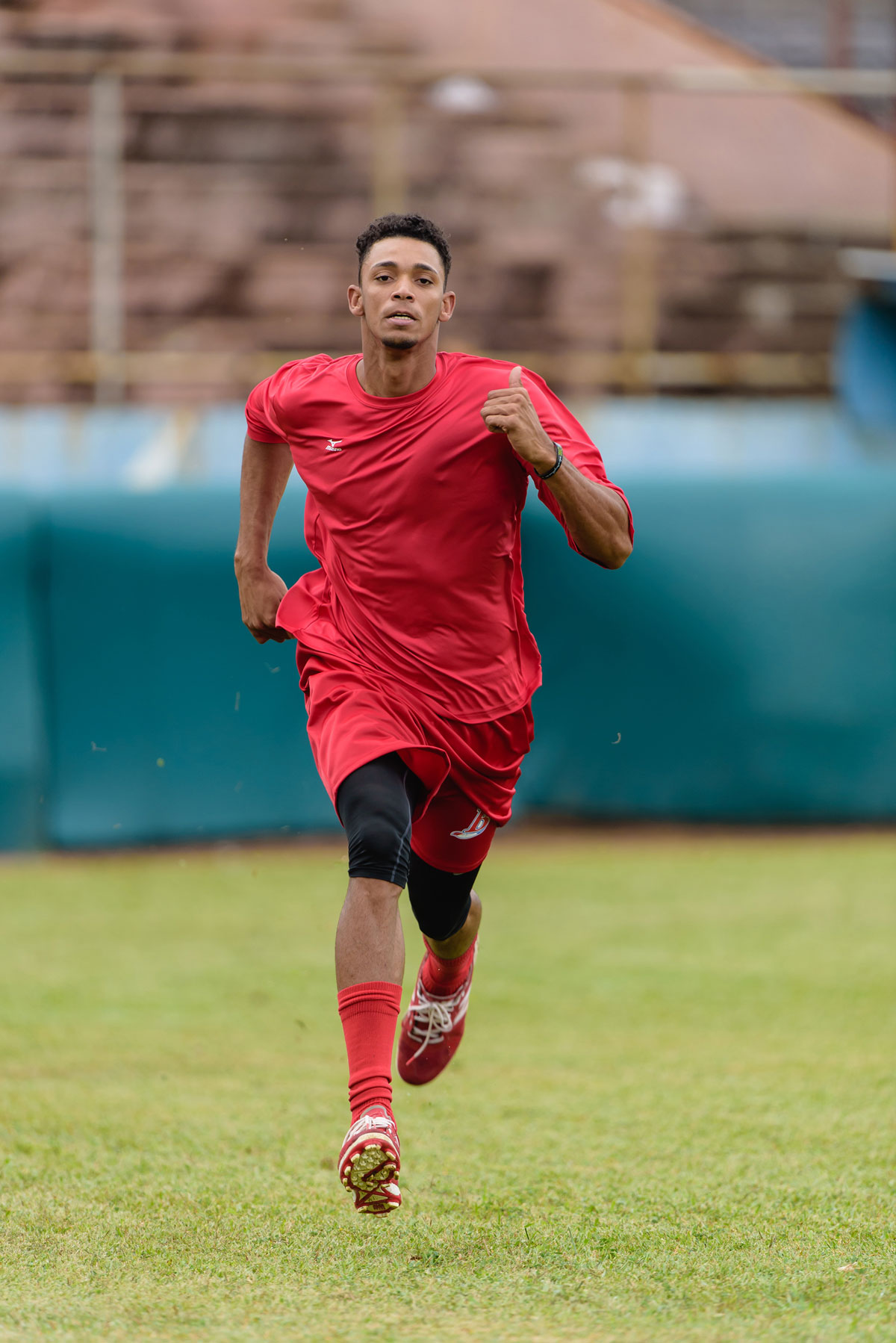 OTTO MEJIA / For the Inquirer
Jairo Muñoz warms up before a game in Managua, Nicaragua.
Within three weeks, though, the bodega's owner lodged a complaint: Homers for Hope played its games on Sunday mornings, and the owners needed Muñoz to work on Sunday mornings. Muñoz would have to choose: the job or the team.
The ultimatum acted as the first domino to topple in a chain of decisions. It frustrated Tilly, who had been trying to arrange tryouts for Muñoz with major-league clubs and who was finding the language barrier between him and Muñoz to be prohibitive. "I said, 'Give it two months. Give it a chance,'" Tilly said. "We still wanted to work with him. He had great potential. But we couldn't communicate with him."
It made Durso think. He hadn't spent more than a few hours with Muñoz, between the practices and the two games Homers for Hope had played since Muñoz joined the team, but there was something about the kid that Durso liked. During his first game, with the team in the midst of another fund-raising drive, Muñoz had grabbed a tentacle of raffle tickets from Durso and walked over to the opposing team's bench and motioned to the players to buy some. That gesture had impressed Durso. Helping strangers was one thing, but here was someone who had entered Durso's life, who must have spent every day at that store and every night inside that apartment feeling as if an anvil were dangling over his head, and Durso and his wife did have that spare bedroom that they had just stopped renting to one of their friends ...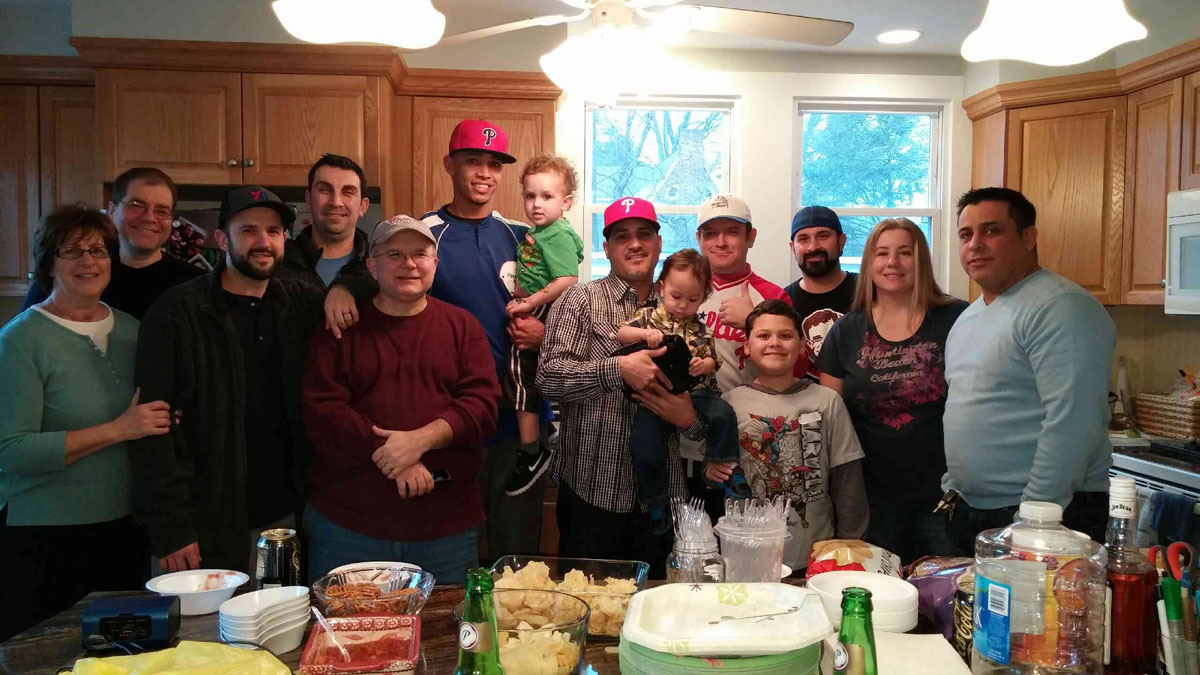 JOHN DURSO
The night before Muñoz returned to the Dominican Republic, a crowd gathered at the Dursos' home to say goodbye. From left to right: Eileen Durso (John's mom), Rob Burnham (family friend), Anthony Durso (John's brother), Sal Raie (Muñoz's agent), John Durso Sr., Jairo Muñoz, Nate Durso (Anthony's son), David Olmo, Xavier Olmo (David's son), Eddie Conrey, D.J. Olmo (David's son), John Durso, Katie Durso, Will Lopez (family friend).
OK, he asked Katie one day, what if Jairo moved in with us? He's helping the charity, and he seems sincere. I don't think he's going to rob us blind.
I'll trust your judgment, she told him.
"You couldn't leave somebody like that alone," Katie said.
Now, Muñoz had to weigh what he really wanted, and whether he could achieve it. If he moved in with the Dursos, he'd have to give up the job at the bodega — no more income, no more money to send to Nicole and Jairanni. But if he didn't move in with the Dursos, what then? What would have been the point of pursuing a pro baseball career, of being in America at all? Every option presented an overriding fear: Am I going to be a statistic like so many other guys back home?
Muñoz accepted the Dursos' offer. Then he told Tilly he wanted to have Sal Raie, an attorney and sports agent who played and volunteered for Homers for Hope, represent him instead. Tilly agreed. He was getting nowhere with the tryouts anyway. He figured that, in all likelihood, he would never hear of Jairo Muñoz again.
On the first night that Jairo Muñoz lived with the Dursos, John called David Olmo three times, peppering him with panicked questions. What was I thinking? What do I really know about Jairo? I let a stranger into my home. I gave him a room. Something bad will happen.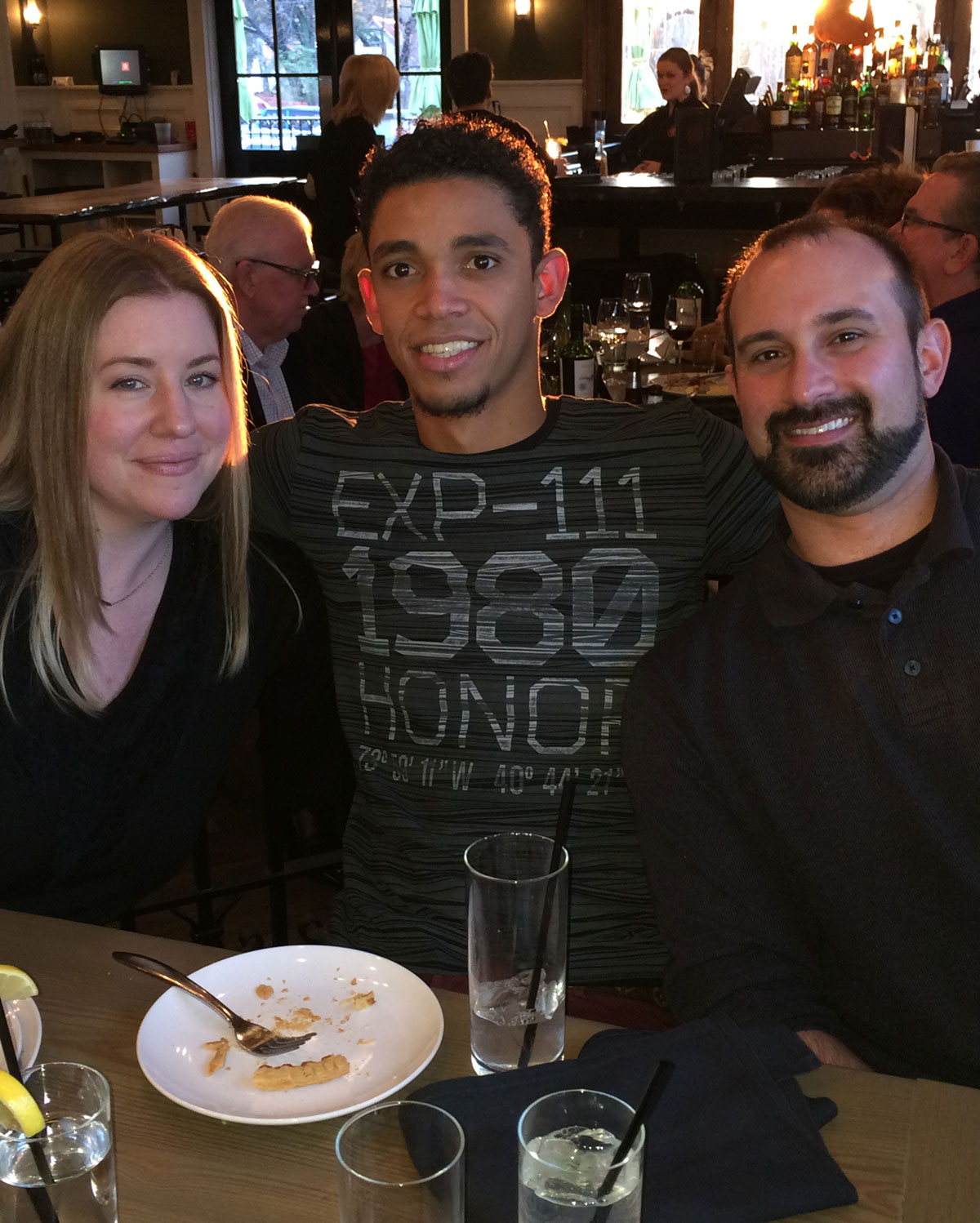 JOHN DURSO, SR.
The Dursos invited Muñoz to live in the spare bedroom of their Drexel Hill home. "You couldn't leave somebody like that alone," Katie said.
Nothing bad happened. The three of them settled into a daily routine. The Dursos left for work each morning, and Jairo might remain home all day to keep an eye on the family dog, read that dog-eared Bible he kept in his room, or head to a local gym — John and Katie had purchased a membership for him — to exercise. So he could continue sending money to Nicole and Jairanni, he eventually found a couple of under-the-table jobs, at a Mexican restaurant and with a commercial cleaning company.
On those nights that the Homers for Hope team didn't have practice, and even on some nights when it did, John and Katie sat down to dinner with Muñoz before spending a couple of hours teaching him English. Katie would print out a list of English words and their Spanish counterparts and review pronunciations with him. "He caught on really fast," she said. To add levity to the lessons, John and Katie rented movies through Redbox, and Muñoz grew more confident in his English as he watched subtitled versions of Nacho Libre, Moneyball, and Million Dollar Arm.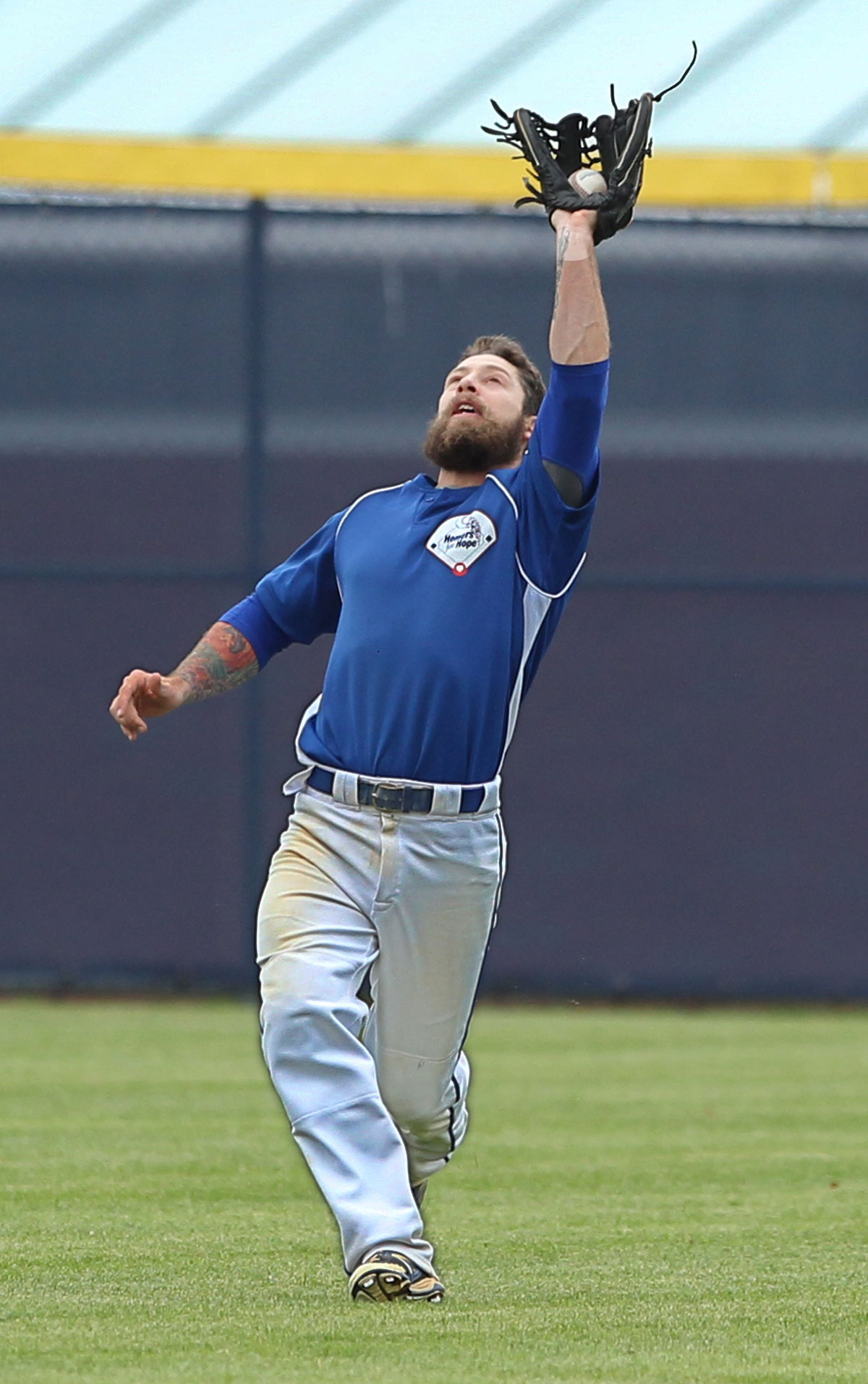 MICHAEL BRYANT / Staff Photographer
Vinnie Greer, centerfielder for the Homers for Hope runs in to grab a flyball against the Levittown Blueclaws.
The process had been slower and more cumbersome during practices and games. Having gone months without pitching in a formal setting, Muñoz struggled just to throw the ball over the plate, and Eddie Conrey, Homers for Hope's manager at the time, guessed that Muñoz's fastball reached just the mid-to-high 80s — excellent for a semipro league, average at best for an aspiring pro. His form and mechanics were out of sync, "all pretzeled up," Conrey said. "It wasn't talent. He just couldn't throw the ball over the plate. He couldn't throw a curveball for a strike."
As a former catcher, Conrey knew enough about pitching to re-teach the fundamentals to Muñoz to keep his windup as simple as possible; to balance and rest his weight on his right leg as he raised and kicked his left; to generate momentum toward home plate by pushing off that right leg, uncoiling like a cobra. The difficulty had lain in conveying those instructions to Muñoz. Using the Google Translator app, Conrey annunciated his jargon-laden directions into his smartphone, then read the garbled Spanish paraphrase to Muñoz in a stiff, affected manner, as if he were a bad actor reading a new script.
"Eddie would say, 'Break your hands early. Explode with your legs,'" Nick Massaro said. "We're like, 'Eddie, the phone is not going to translate that.'"
Nevertheless, Conrey was able to sand away enough of the rough patches in Muñoz's delivery that Muñoz dominated the Philadelphia Fall Baseball League over his brief time in it. He struck out 36 batters in 18 innings, and his teammates sometimes made bets among themselves on whether an opposing hitter would even foul off one of Muñoz's pitches during a half-inning. Without a radar gun, there was no definitive way for Conrey to know how fast Muñoz was throwing, but the weight Muñoz had added since moving in with the Dursos, thanks to the weight training and an improved diet, made it clear that his velocity had increased since he joined Homers for Hope.
It was time to learn how much. Nothing less than his future, in professional baseball and in America, depended on the answer.
More in this series
Part 1
Hope on the diamond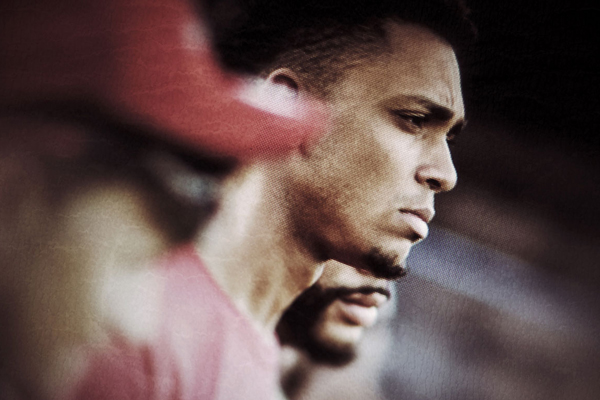 Part 3
Second chance at hope