Jairo Muñoz
Hope on the
diamond
Part 1
Part 3
Second chance at hope
Without baseball, Muñoz has no future beyond working in the rice fields.
OTTO MEJIA / For the Inquirer
A Dominican player's journey through Philadelphia poverty, back into baseball.
Sunday, Nov. 22, 2015
LAKEWOOD, N.J. — Children shuffled toward Jairo Muñoz. They knew nothing about him except what they saw: a 6-foot-5 pitcher, 24 years old, skinny as a snake and smiling at them shyly, his navy-blue-trimmed white uniform drooping off him like a limp flag from a pole. Each of them offered him a cap, or a baseball, or a sleeve of a shirt, and a pen. They said little. He said less.
They had watched Muñoz pitch for the Lakewood BlueClaws, the Phillies' single-A affiliate in the South Atlantic League, and he had pitched well, earning the win in a 12-3 victory over the Delmarva Shorebirds: five innings, six hits, two runs, four strikeouts, his fastball reaching 96 m.p.h., his curveball sharp. It was Labor Day. It was the last game of Lakewood's season. Fans could wander on to the field at FirstEnergy Park afterward to talk with the players, to get their autographs. It was an event made for kids, and one by one kids approached him.
Hi. Could you. Sign. This. For me?
Si. Hello there.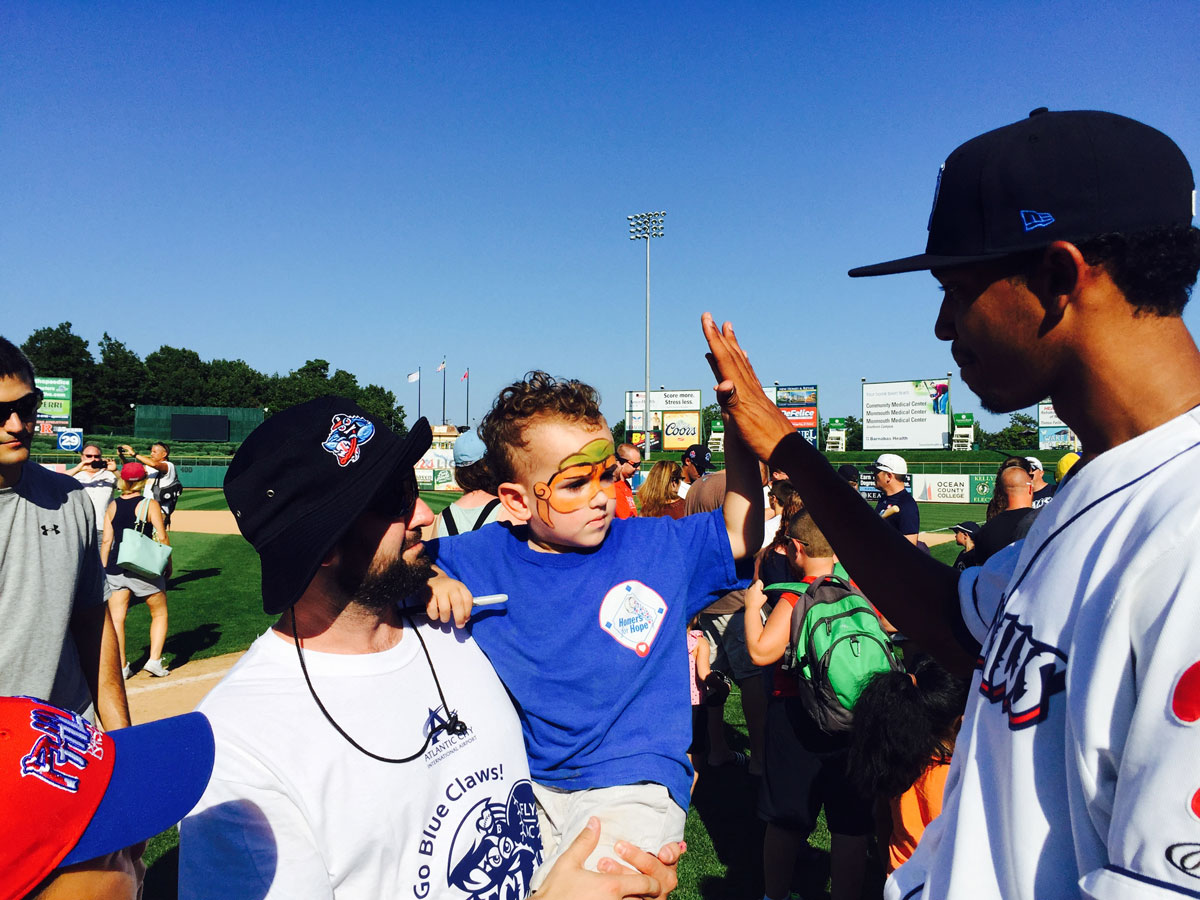 JOHN DURSO
Jairo Muñoz high-fives John Durso's nephew Nathan, who is held by his dad, Anthony, after the team's Labor Day season finale.
The boys and girls, none older than 10, might not have been mature enough to comprehend or appreciate what it had taken for Muñoz to be there, to turn each item into a child's talisman by scribbling his signature on it, to have the chance to pitch in the major leagues someday. The nights alone in that one-room apartment in West Philadelphia, nothing around him but a mattress, some prepaid phone cards, and a Bible. The days on which his only meal had been a bag of potato chips with a lapsed expiration date. The fear that it was only a matter of time before he would have no life in this country at all, that he would return to the Dominican Republic, to the wife and daughter waiting for him there, with nothing but a dream that had turned to dust here. These were grave matters, hard things for innocent minds and hearts to process.
Still, if you were the children's parents, you would want them to hear Muñoz's story, because there would be something valuable they might extract from it — a small lesson, perhaps, about the choices and risks and rules and consequences that structure a society and can define a single life, about straining to see light when everything appears dark, about being brave and generous and kind, about never giving up.
"This is the best day of my life," Muñoz said. "Not everyone gets a second chance."
It was fitting, then, that five of the people who had helped to give him that chance, who kept steering him along his twisting, oft-treacherous road when he might have careened into despair, were there on the field with him. They were standing in a semicircle around him in the late-afternoon sunshine, looking at him with pride and love as he signed his name again and again and gently shook each child's hand.
Every pitch I see him throw, one of them had said during the game, is a miracle.
Yes, you'd want a child to hear a story like that.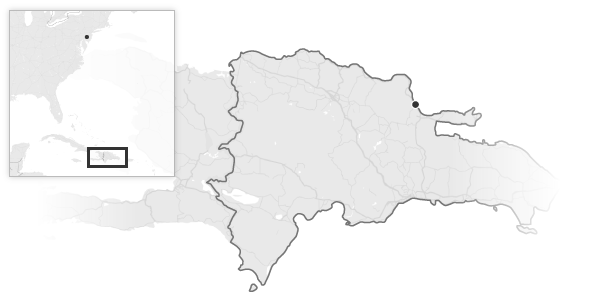 Nagua, the town where Jairo Muñoz was born, is nestled on the Dominican Republic's curving northeast coast like a pebble in the palm of a cupped hand. The rice fields there appear to reach the horizon, as if the world were nothing but endless green marsh penciled with dirt roads. Without baseball, Muñoz had no future beyond those fields. From the instant he dropped out of school at age 13, every day would be the same: He would drive a truck through the fields to harvest the rice, gather bundles of the grain into 125-pound sacks, sling those sacks over his shoulders, and stack them along the roadside. Without baseball, he might live in the same two-room, dirt-floor house he'd grown up in with his two brothers and two sisters, and he would cut rice until he died.
"Getting to the minor leagues can transform your life. Getting to the major leagues can transform a generation of your family."
Adrian Burgos, history professor, University of Illinois at Champaign-Urbana
Muñoz's background is similar to that of many who play or have played Major League Baseball. The number of major-leaguers from the Dominican Republic has averaged just above 10 percent for the last decade, the highest of any country outside the United States, and about a quarter of the 7,000 minor-league players here are Dominican, according to John Thorn, MLB's official historian. On the island, those statistics glow with hope. The poverty rate in the Dominican since 2009 is 41.2 percent, according to the World Bank, and the goal of playing professional baseball has long driven young men there to pursue the sport less as a pastime and more as a means to salvation.
"Getting to the minor leagues can transform your life," said Adrian Burgos, a history professor at the University of Illinois at Champaign-Urbana, who has written two books on the connection between Latin Americans and baseball. "Getting to the major leagues can transform a generation of your family."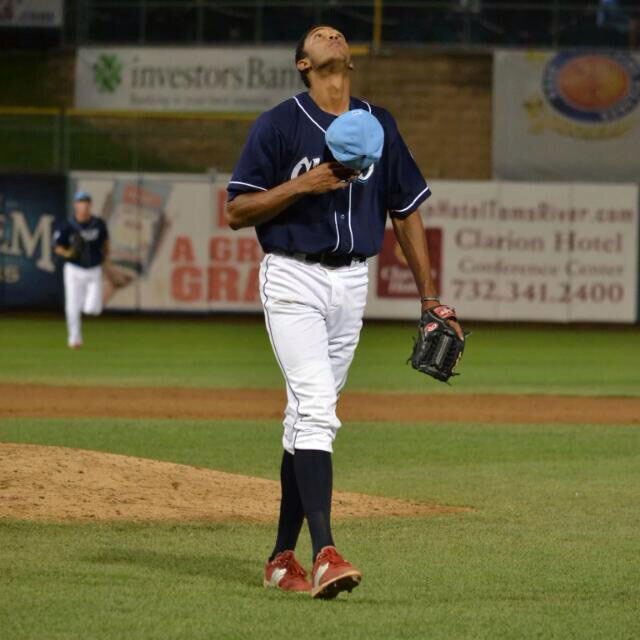 DAVID SCHOFIELD
Muñoz looks to the sky after a successful inning.
Muñoz's right arm offered him that possibility, though his development was slower compared with other talented prospects. He entered a baseball academy at 17, and in a country where thousands of 15- and 16-year-olds are angling for a chance to sign with a major-league organization, he was an old man. Still, his fastball reached 95 m.p.h., and in 2011 the Kansas City Royals signed him, giving him a meager $40,000 bonus, and assigned him to their team in the Dominican Summer League. He used the bonus to purchase a plot of land in Nagua for his mother, so she might build a house. ("The concept of motherhood," one researcher wrote, "is kept in very high regard among Dominicans.") Here, finally, was an opportunity for a better life for the Muñoz family, if things went well for Jairo.
Things did not go well.
Muñoz pitched a total of 48 innings in the Dominican and the Arizona Fall Leagues for the Royals, allowing 57 hits, walking 20 batters, and posting an unsightly 4.88 ERA. The organization's coaches and pitching coordinators had him adopt a sidearm throwing motion, an approach that would seem to neutralize his greatest assets as a pitcher: Because of his height, he could generate terrific leverage, drive, and pitch velocity by throwing directly over the top. The tweak to his mechanics didn't work. The Royals promoted Muñoz to their rookie-ball farm team at Burlington, N.C., in the Appalachian League. He pitched one game there, in June 2014. He lasted 1 1/3 innings. He faced nine batters. Five of them got hits. Two of them scored. After the game, the Royals released him. He was 22. He was, by all reasonable appearances, finished in professional baseball.
Sidearm delivery
Muñoz had difficulty throwing strikes when throwing sidearm. His elbow tended to drag, meaning that it fell below the height of his shoulder - a mechanical flaw that increased his chances of injury and decreased his ability to control his pitches. This throwing motion seemed to neutralize his greatest assets as a pitcher.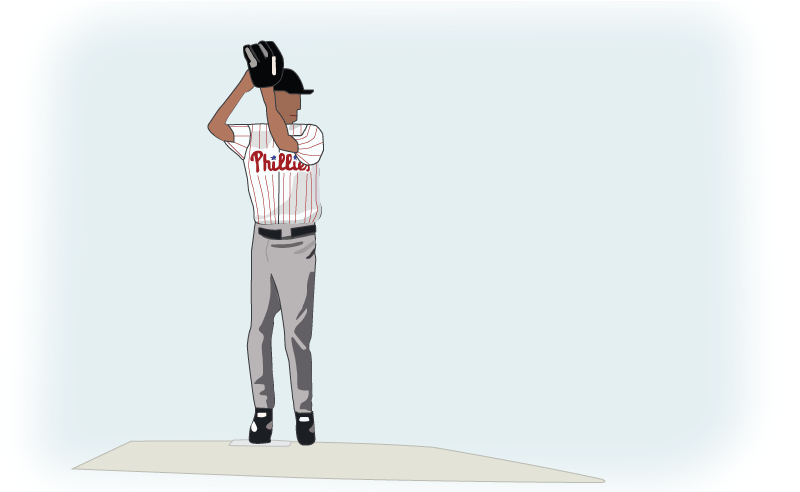 Over-the-top delivery
Because he was 6-foot-5, Muñoz could generate terrific leverage, drive, and pitch velocity by throwing directly over the top. By maintaining this arm slow and using his legs to drive his lower body toward home plate, he threw with a more streamlined motion and with better pitch control.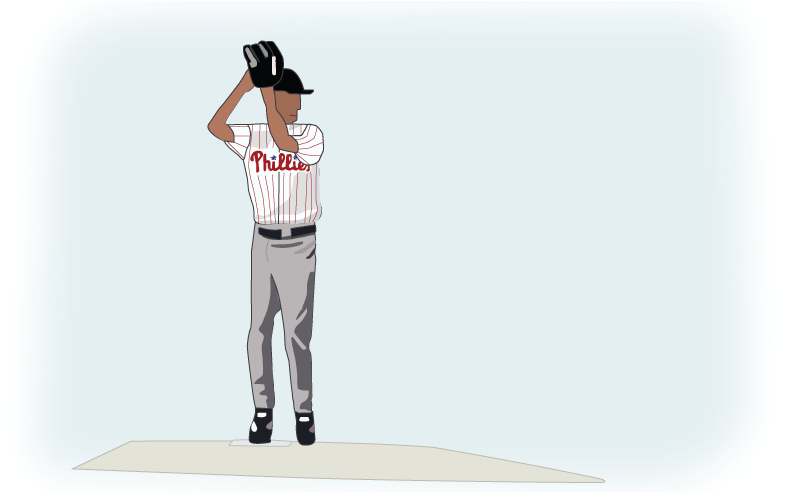 OLIVIA HALL / Philly.com
He was also, before long, a father. Days after the Royals cut Muñoz, his wife, Nicole, gave birth to their daughter, Jairanni. What should have been an occasion for joy was instead a catalyst for anxiety. Muñoz's P1 non-immigrant visa — which allowed him to reside in the United States while he was participating in athletic competition — was scheduled to expire on Dec.31, 2014. But once the Royals, having been his employer and immigration sponsor, released him, Muñoz was "present in the United States without authorization," immigration attorney Jonathan Grode said. It was likely that the U.S. government, if it learned of Muñoz's situation, would determine that he had violated the terms of his visa and deport him.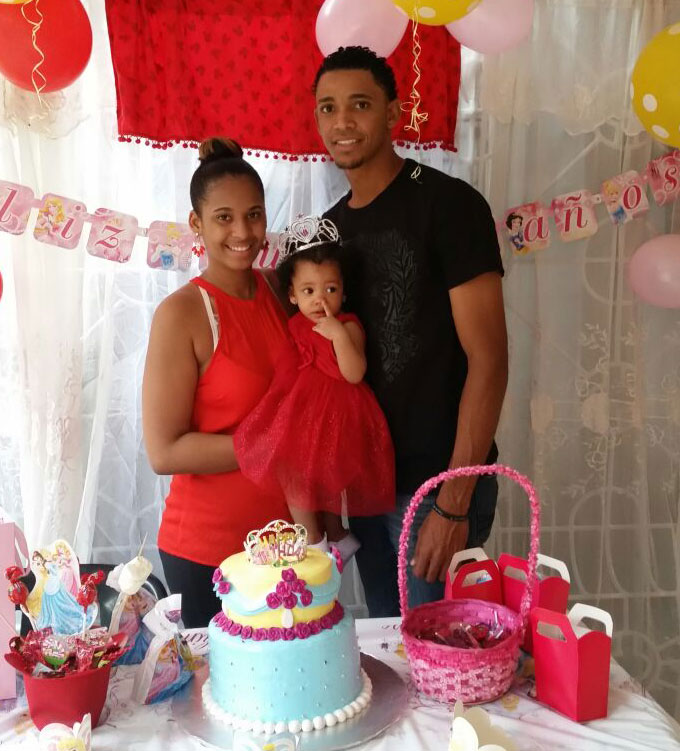 COURTESY OF JAIRO Muñoz
Muñoz celebrates his daughter's first birthday with his wife, Nicole.
As Muñoz's sponsor, the Royals were responsible for paying for his transportation back to the Dominican Republic. Once he returned home, the likelihood that another major-league organization would sign him was virtually nonexistent. But he did have one other option: a family friend who lived in West Philadelphia; who had a room he could rent to Muñoz and an inside track on a job for him, too; who had come to the city as part of the surge of Dominican immigration to the United States over the previous 15 years. From 2000 to 2010, according to U.S. Census records, the country's Dominican population had almost doubled, from 765,000 to 1.4 million, and by 2010 nearly 16,000 people of Dominican descent had settled in clusters throughout Philadelphia, including in the neighborhoods along Haverford and Lansdowne Avenues, near the western membrane separating the city from Delaware County.
Muñoz could live there, in the shadows.
"It's a safe haven," said Grode, who later represented Muñoz. "Because we have these pockets, they kind of grow on themselves. These individuals don't know where to go, and they say: 'I have family friends in Philadelphia. That's where I'm going to end up.' It's very typical."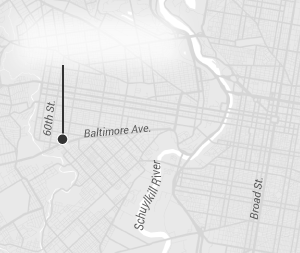 The Royals bought Muñoz a plane ticket to New York. From there, he could fly home. He didn't. The family friend picked him up and drove him to Philadelphia. For $200 a month, Muñoz rented a single-room, second-floor apartment on the corner of South 58th Street and Washington Avenue that, except for the mattress he slept on, had no furniture, no lamps, nothing.
The friend arranged for him to work off the books as a clerk at a bodega. Six days a week, including Sundays, Muñoz awoke at 6a.m. and walked a mile and a half on jagged concrete sidewalks, past decaying rowhomes, to the store, where he earned $50 for a 13-hour shift. There was just enough room inside for a grill — protected, as were the cash register and lottery machine, by a Plexiglas window — and two small aisles of goods, which meant there was barely enough room for Muñoz to stand up straight. "The job, I did not like it," he said. Nevertheless, it was preferable to restock racks of single-serve pound cakes for less than four dollars an hour in America than to give in to the grueling labor that awaited him on the island.
"If I go home," he said, "I have to do a job that's so hard."
His lunch might be a stale package of cookies — his dinner, too. "And cheesesteaks," Muñoz said. "Something American." He spoke no English. He sent money home to Nicole. He called her using the phone cards. He had not yet met his daughter.
June became July. July became August. He did not so much as grip a baseball. He spent $30 on a used bike so he no longer had to walk to work. August grew late. There was no way to ensure he would become a lawful resident of the United States, no reason for him to think anything would be different by Dec.31, no one who could help him.
Then one morning, one ordinary morning, a hungry customer entered the bodega. Muñoz was working. He was wearing a Kansas City Royals T-shirt, of all things, and he glanced toward the door. Sometimes, though, the moment that changes a life forever is impossible to see coming.
Baseball wasn't Stan Jones' game. He was a hoops guy, a coach in the know, with experience and connections everywhere. On the city's AAU circuit. With high schools, such as the now-defunct Lutheran Christian Academy, that had been nothing more than sheepskin factories, that had prepared kids for college basketball but not for college. With agents, including Jonathan Tilly of East Preps Sports Management.
Headquartered in Marlton, Tilly's firm represents basketball and football players, most of whom remain on the margins of the NFL or the NBA, trying to keep their careers going in the NBA Development League or the Canadian Football League. For a finder's fee, Jones bird-dogs talent for him. So when Jones walked into that corner store to get himself a breakfast sandwich and saw Jairo Muñoz — tall, lean, the perfect frame to be a shooting guard — he asked him the obvious question.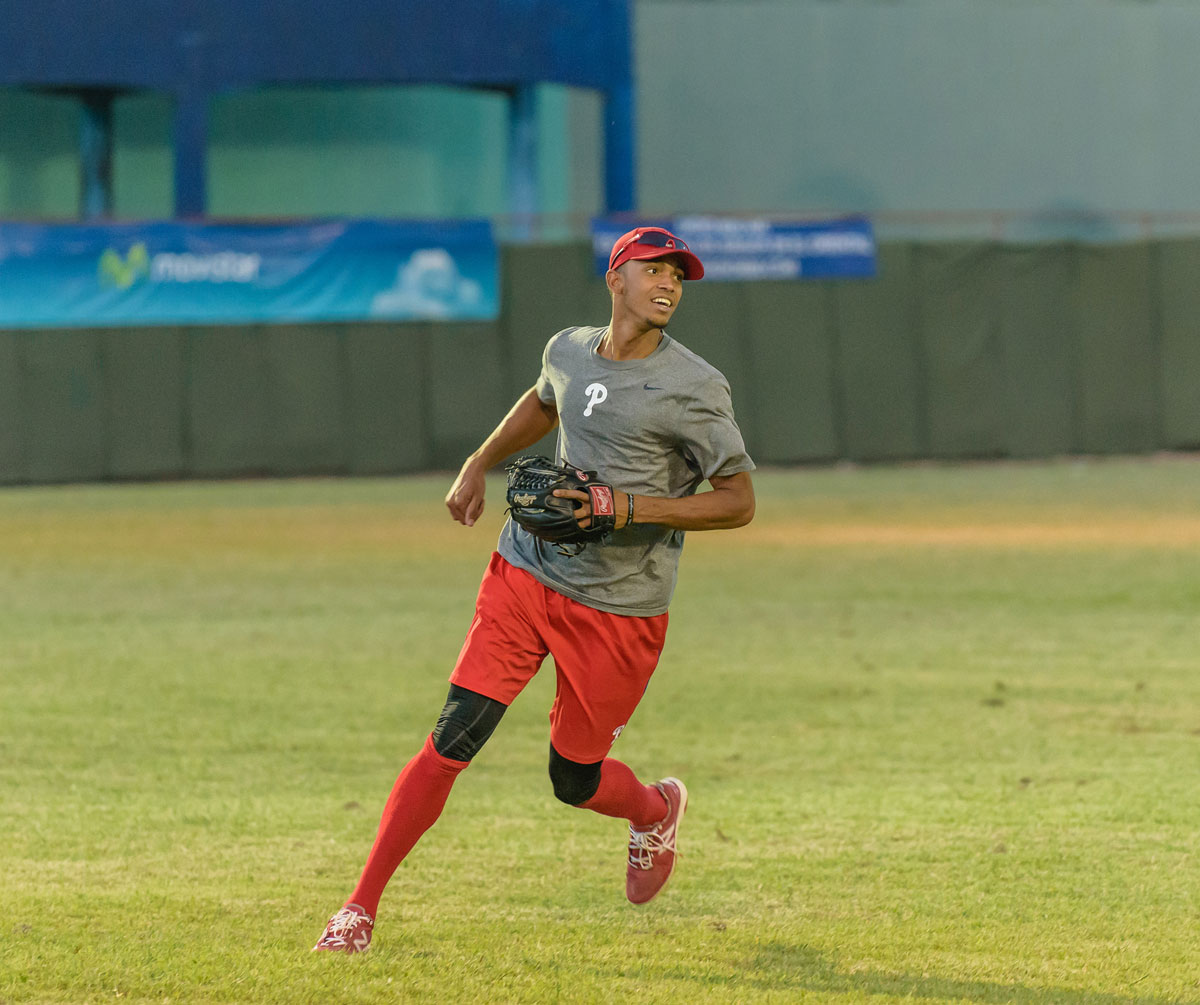 OTTO MEJIA / For the Inquirer
Muñoz warms up before pitching a game in Managua, Nicaragua.
Do you play basketball?
The other people in the store helped Muñoz to understand what Jones had said.
No, Muñoz finally replied, making a throwing motion. Beisbol.
I'm pretty sure, Jones said, I can help you out.
Jones called Tilly, who immediately drove to the market to meet Muñoz. Tilly saw the Royals shirt, the shape of Muñoz's body within the shirt, the possibilities within the body. He didn't want to wait. He called the Phillies that day and reached Rob Holiday, their director of amateur scouting. Holiday told him to get Muñoz into an organized league somewhere. There were semipro teams in and around Philadelphia. Start there.
Tilly ran a search on Google. He found a link to the website of the Philadelphia Fall Baseball League, including the contact information for each of its eight teams. He called all eight, leaving a message for each one. Whichever team got back to him first would have his newest client as its newest pitcher. He waited for his phone to ring.
More in this series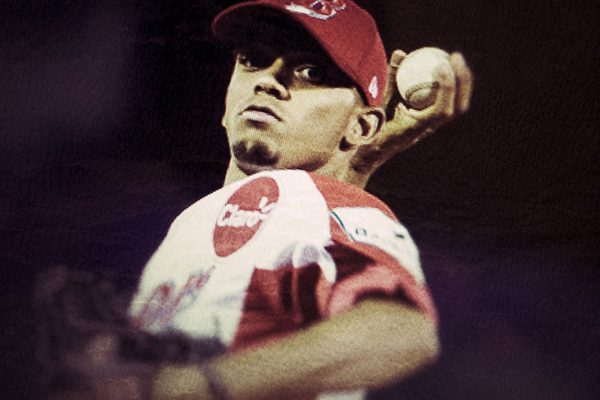 Part 3
Second chance at hope