Jairo Muñoz
Second chance
at hope
Part 3
Part 1
Hope on the diamond
Jairo Muñoz hoped for a second chance at the Major League.
OTTO MEJIA / For the Inquirer
Muñoz's path to the Phillies doesn't often happen.
Tuesday, Nov. 24, 2015
To John Durso, nothing could better demonstrate his devotion to helping Jairo Muñoz than those freezing November nights in North Philadelphia.
Durso had welcomed Muñoz on to the Homers for Hope baseball team, and into his home. He and his wife, Katie, had taught Muñoz some rudimentary English. He had done all of this under the tyranny of the calendar. Whatever hope Muñoz had of remaining in the United States, restarting his pitching career, and extricating his family from the pull of the Dominican Republic's poverty would run out come Dec.31, when his visa expired, unless a major-league organization threw him a lifeline.
If one did, he had to be ready to catch it. So as the Philadelphia Fall Baseball League's season wound down, Durso and two of his friends from Homers for Hope, David Olmo and Nick Massaro, volunteered themselves as Muñoz's personal pitching coaches and catchers. During afternoons, Muñoz often called Olmo to ask if they could play catch for an hour or two, just so Muñoz could get some work in. When Muñoz needed to long-toss to keep his arm limber, Durso took him to the football field at Bonner-Prendergast High School. Muñoz stood in one end zone and heaved the ball to Durso in the opposite end zone, and the field's artificial turf allowed Durso to skip his return throws, since he didn't have the arm strength to reach Muñoz on the fly. That exercise was easy enough. There was another that proved more challenging, and dangerous.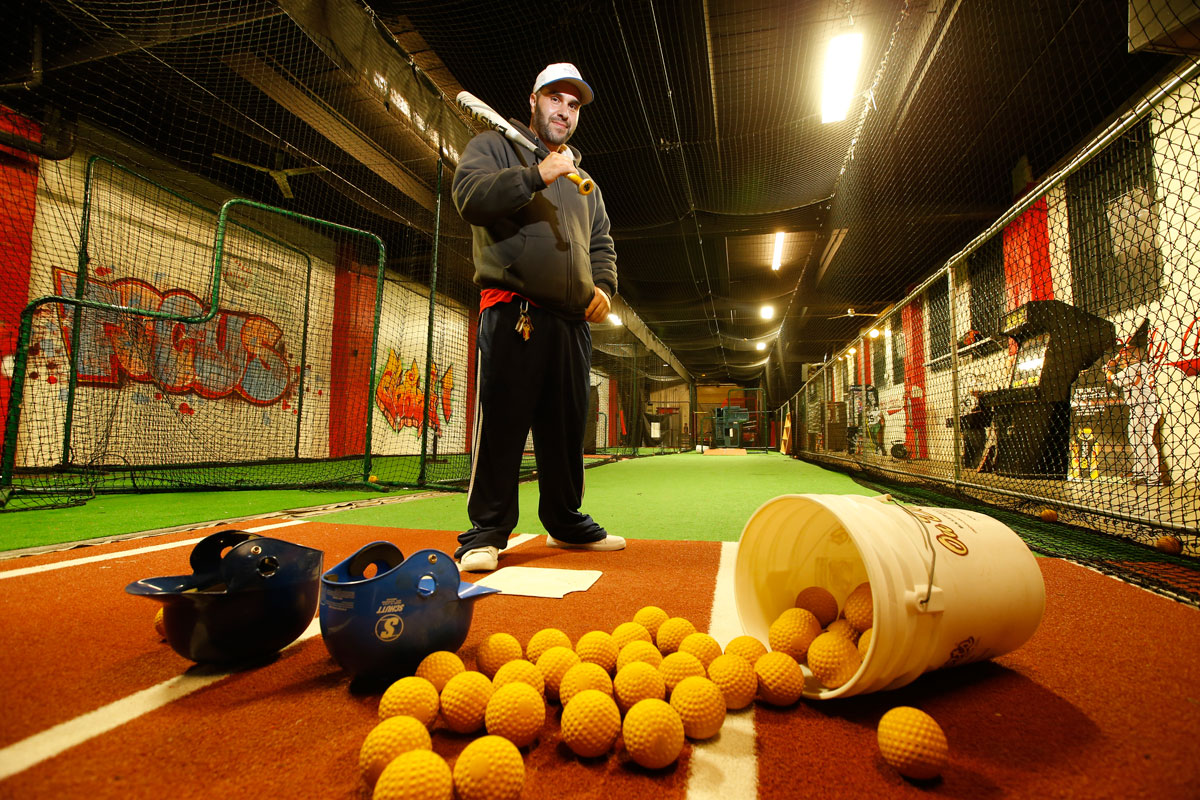 MICHAEL BRYANT / Staff Photographer
Tony Rafati, the manager at Philly Athletics, got to see Jairo Muñoz, who the Phillies signed after being impressed with him at a tryout, when the pitcher was trying to rediscover his game while working out there.
Three to four times a week, Durso and Muñoz met Olmo and/or Massaro at one of two area indoor baseball facilities so Muñoz could simulate pitching in a game and refine his mechanics. All-Star Baseball Academy in Broomall was relatively close to where Durso and Olmo lived, but it was easier for Massaro, who was living on campus at Temple, to swing by Philly Athletics Batting Cages, located a block off Lehigh Avenue on 6th Street, after one of his night classes. Muñoz preferred to throw there because the facility was so spacious. Durso and Massaro, though, hated catching him there.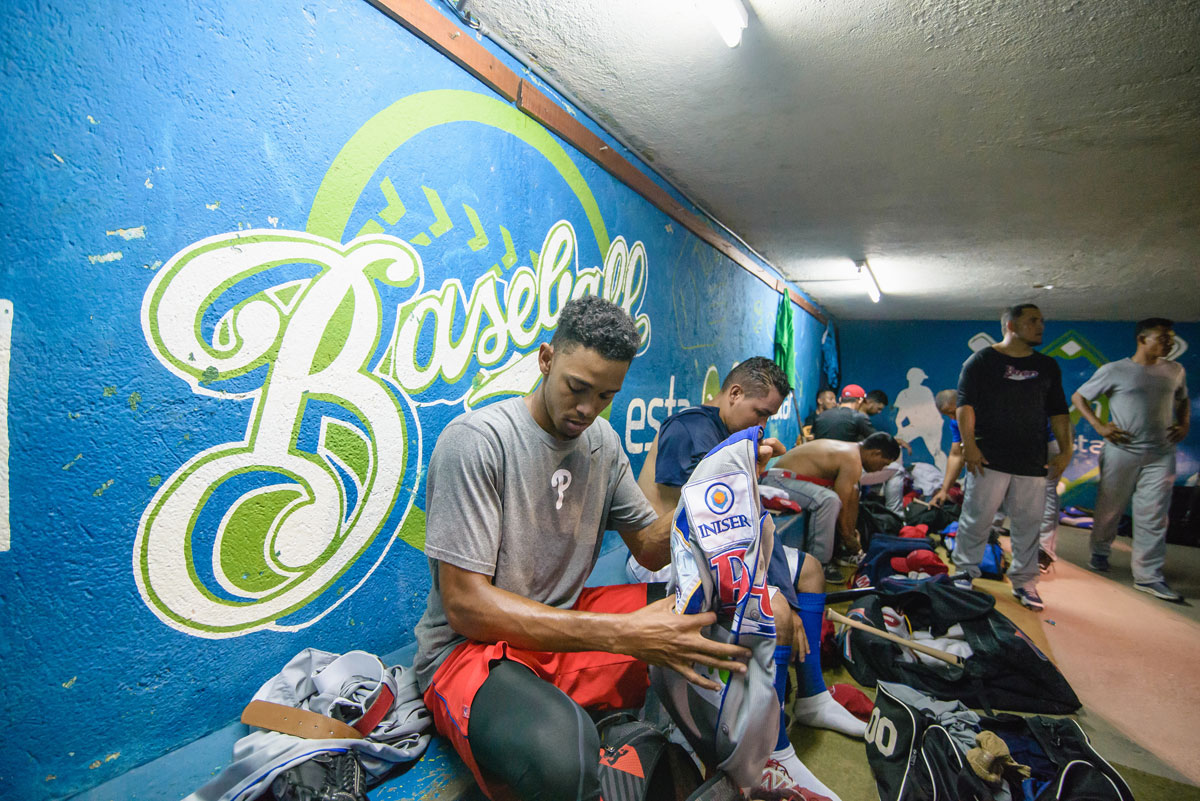 OTTO MEJIA / For the Inquirer
Muñoz was in top form again after training with friends from Homers for Hope.
Muñoz wanted constant feedback from them, but the lighting in the building was so poor that both Durso and Massaro, especially Durso, who had no meaningful experience as a catcher at any level of baseball, had trouble picking up the flight of the ball once it left Muñoz's right hand. Imagine squatting in a dark room, a mitt on your left hand, a spotlight shining straight into your eyes, and having someone fire a baseball at your face.
"He'd say, 'Watch my elbow,'" Durso said. "I'm like, 'I'm trying to stay alive.'"
Meanwhile, Homers for Hope manager Eddie Conrey and Sal Raie, Muñoz's agent, called the major-league scouts they knew to try to persuade them to see Muñoz pitch. Over the years he'd spent abusing drugs and alcohol, Conrey had used up most of his relationships in the sport. "But I would call scouts about Jairo," he said, "and say, 'If I'm wrong, I'll never call you again. That's how sure I am.'"
"He was worried: 'No one's calling. I don't know if they like me. I don't know if they have room for me.' Every night, we're like, 'Jairo, it's a process.' He was scared to death."
Katie Durso
Throughout November, Raie and Conrey managed to arrange individual workouts for Muñoz with the Cincinnati Reds, the Baltimore Orioles, the Seattle Mariners, and the Washington Nationals. Durso shuttled him to the auditions, and each of them followed the same template: Muñoz would throw, and he would fill out a generic information card — height, weight, background — and hand it over to the scout.
And all of the scouts would say goodbye. And none of the scouts would contact him or Raie or Durso. And Muñoz could see only one way that his story would end.
Katie Durso: "He was worried: 'No one's calling. I don't know if they like me. I don't know if they have room for me.' Every night, we're like, 'Jairo, it's a process.' He was scared to death."
John Durso: "I'm pushing him off on Dave. I can't deal with this anymore. 'Tell him in Spanish it'll be OK.'"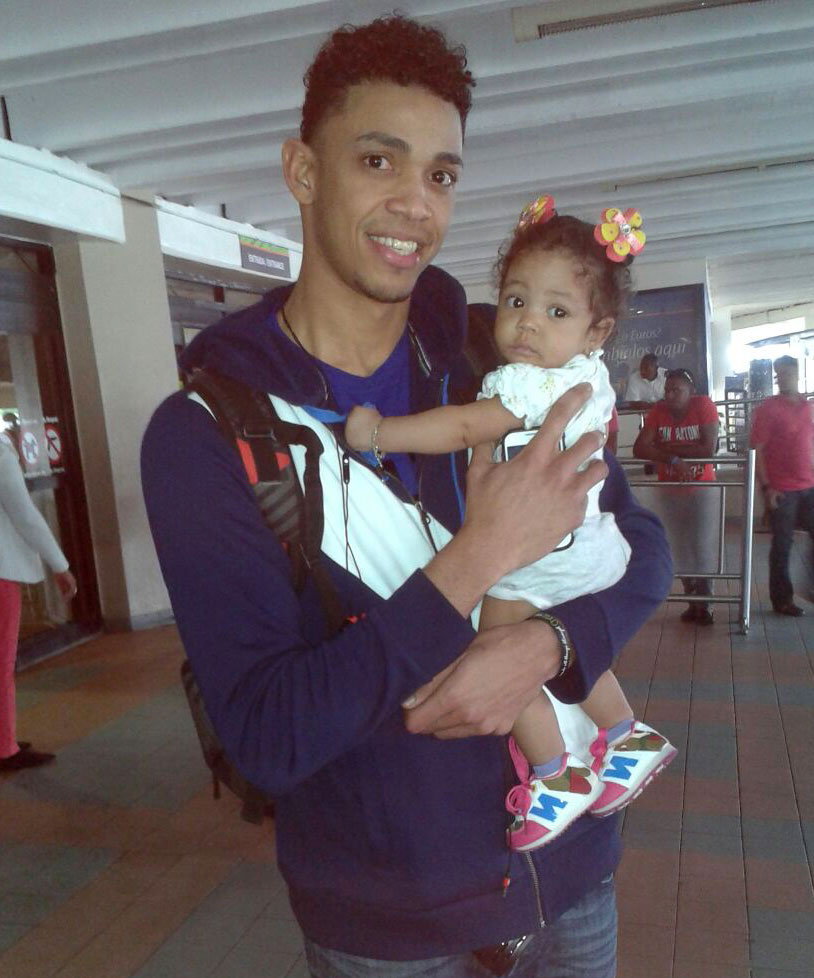 Photo courtesy of Jairo Muñoz
Home again in the Dominican Republic, Muñoz greets his daughter, Jarianni, at the airport after agreeing to a contract with the Phillies.
David Olmo: "Trust me when I say this to you: There were a couple of occasions when he came close to saying, 'I can't do it.' I had to say, 'Listen, this is your dream. You have all the time in the world to make this dream possible. Keep at it. Work hard. Show your worth by working hard.'"
November became December. Muñoz had less than a month before he would have to return to his home country, and return a failure. He would step off that plane and try to look his wife in the eye without shame, and his daughter… coming up on 6 months old… having spent not a second in her father's arms… when she was old enough to understand, to ask her daddy about why he had gone to America and what he had done there, what would he tell her?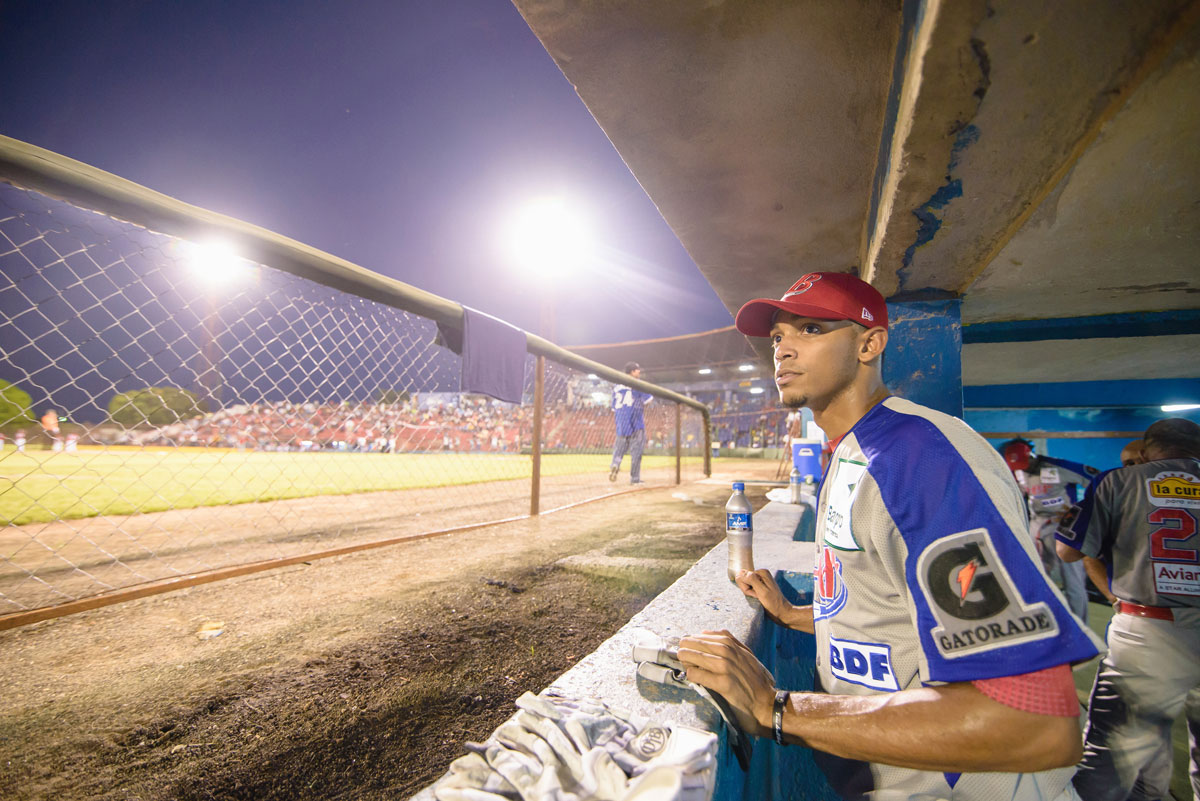 OTTO MEJIA / For the Inquirer
"If the kid fulfills his potential, maybe there's a made-for-TV movie in it," Rowland George said of Muñoz.
Rowland George had spent 30 years in amateur baseball scouting, a job that could be best described as searching for diamonds at the bottoms of breakfast-cereal boxes. A South Jersey native, a resident of Milford, Del., a former minor-league pitcher himself, he had scouted for four major-league teams before the Phillies hired him in 2014. He sometimes visited a prospect or shared tips with his brother Will, a longtime scout for the Colorado Rockies and another Milford resident, out of convenience and camaraderie more than anything.
In December, the two of them got a tip. As part of his desperate campaign on behalf of his client, Sal Raie gave John Durso the George brothers' phone numbers, and Durso called Will about Jairo Muñoz.
If you can get him to Milford High School in a couple of days, Will told Durso, we'll take a look at him. My brother will tag along.
On Dec. 18, Durso took a day off from work and drove Muñoz 90 miles during midafternoon traffic to the tryout. They arrived to a spartan setting. The school had a shed with a batting tunnel and a portable pitching mound that jiggled forward and backward every time someone threw from it. Outside, the temperature was lower than 30 degrees; inside the shed, it wasn't much warmer. Durso put on his catching gear and squatted behind home plate. The Georges — both built like retired NFL offensive linemen — unfolded lawn chairs and plopped into them behind a nearby screen, their radar guns poised.
The numbers flashed again and again: 93, 93, 94, 93, 94, the ball diving and tailing with natural movement and spin. Rowland George estimated that, had Muñoz been throwing in warm weather off a stable mound, his fastball would have been clocked at 96 or 97 m.p.h.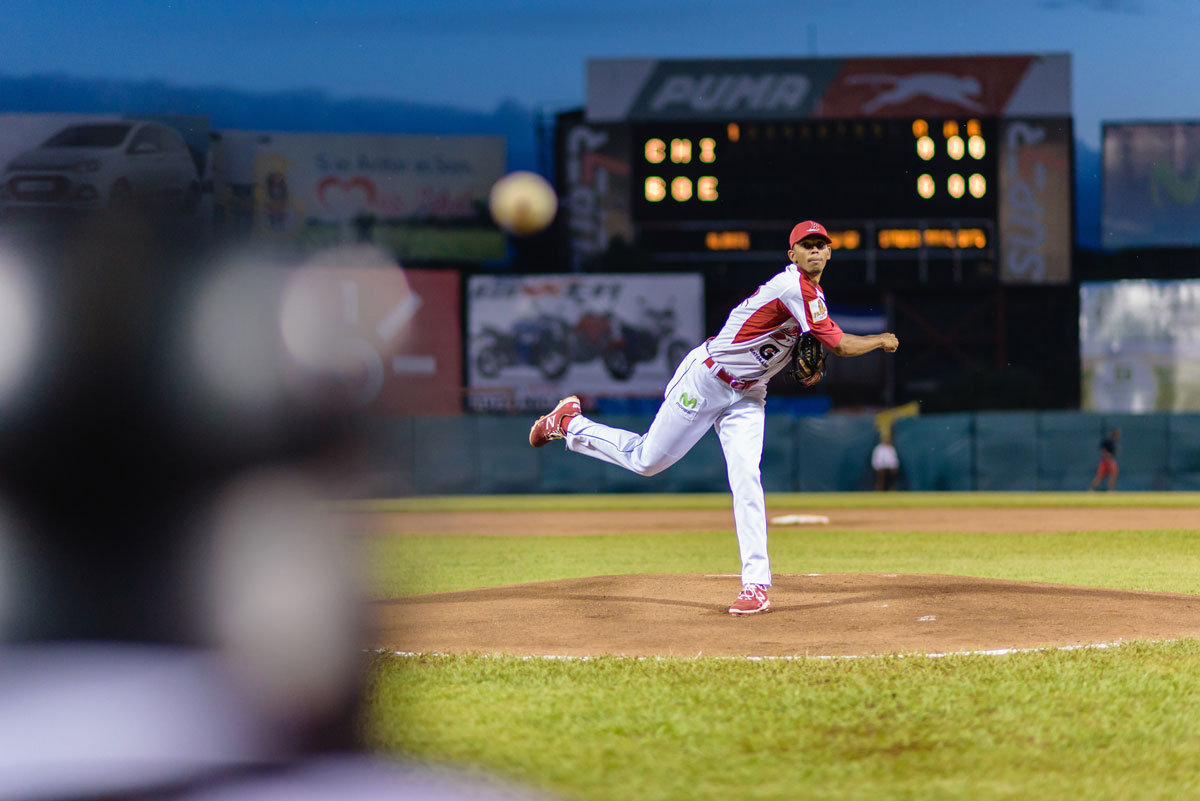 OTTO MEJIA / For the Inquirer
Jairo Muñoz impressed Phillies scouts enough that the team signed him. He is pitching winter ball in a league in Nicaragua.
Rowland wanted Joe Jordan, the Phillies' director of player development, to see Muñoz pitch, but between the holidays and Major League Baseball's winter meetings, December was a difficult month for an executive to make time for a scouting/evaluation session. Rowland told Durso that the Phillies could look at Muñoz again in January. Durso told Rowland that Muñoz's visa expired at the end of the year.
No way we're signing someone who's here illegally, Rowland said. You've got to figure it out.
During the ride back to Drexel Hill, Muñoz was practically jumping up and down in the passenger's seat, but with his limited Spanish, Durso struggled to make him understand that nothing was settled yet. They needed to find a lawyer to guide them through the process of getting Muñoz's immigration status on firmer legal footing, and they would have to wait until Jordan had time to see Muñoz pitch, and once Jordan made time, there was no guarantee that the Phillies would offer Muñoz a contract. Still, for the first time, really, there was hope, and there was little time to waste.
The Dursos hired Jonathan Grode, a Philadelphia-based immigration attorney, to represent Muñoz. Six months had passed since the Kansas City Royals, who had sponsored Muñoz's visa, had released him, and the government might determine that Muñoz had violated the visa's terms by remaining in the country after his sponsor had cut ties with him. "It happens all the time," Grode said, "just not for somebody who's a professional athlete, where normally there's more forgiveness. But he didn't know whether he was going to be a professional athlete."
"I was under the impression I could remain in the United States as long as my visa was valid."
Jairo Muñoz
Grode prepared a filing to allow Muñoz to change his P1 visa to a visitor visa, which would allow him to remain in the U.S. temporarily for business purposes, long enough, presumably, to try out for the Phillies. "I was under the impression I could remain in the United States as long as my visa was valid," Muñoz wrote in the filing, as a way to explain himself. "However, now that I've met with an attorney, I know that I should have applied for a change in my immigration status so I can legally pursue my future."
Muñoz could stay in the United States while the government reviewed his request. Grode submitted the filing on Wednesday, Dec. 24, seven days before Muñoz's visa was due to expire. The next morning, Muñoz woke up at the Dursos' home, prepared coconut rice for his new family's dinner that night, and, for all his worry about what was ahead, made sure to remember what was already behind him.
If I'd had to spend Christmas alone at that apartment in West Philadelphia, he told John and Katie in choppy English, I'd have cried.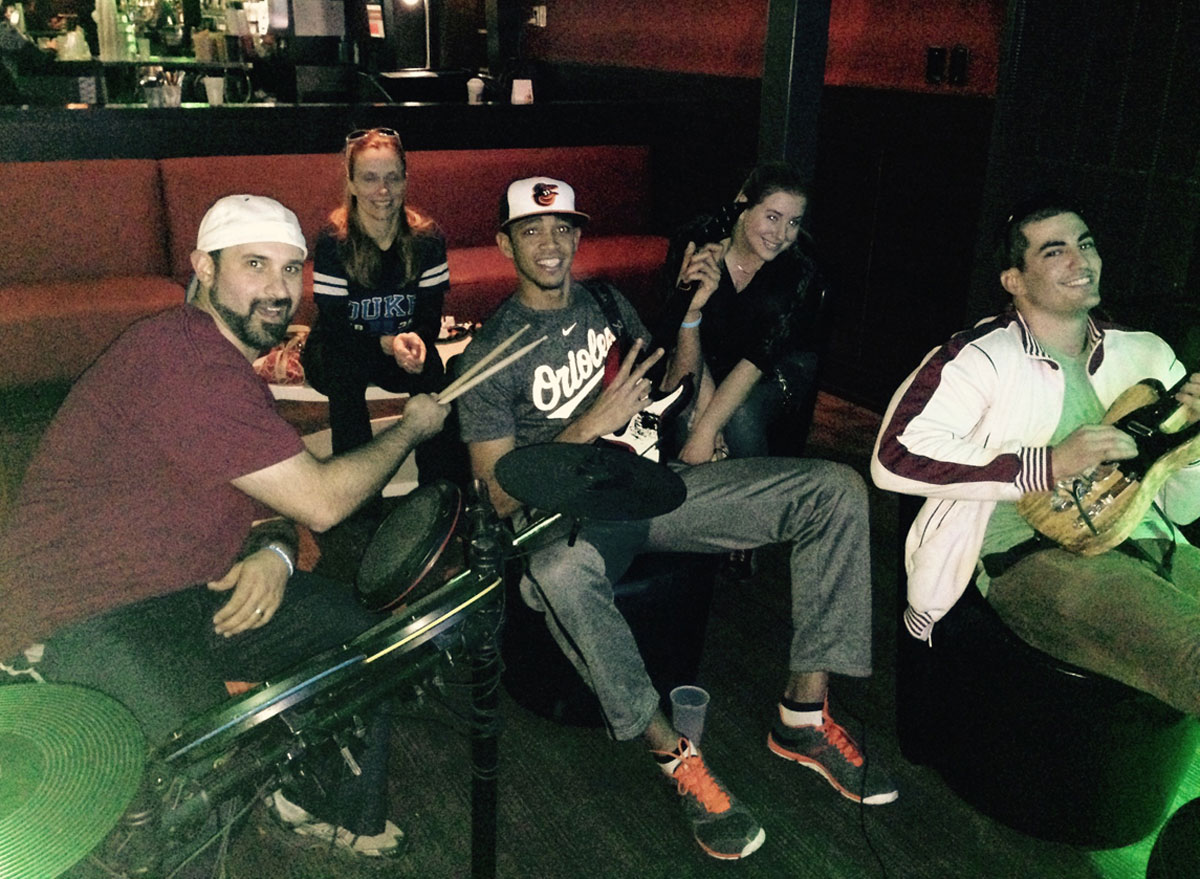 EDDIE CONREY
From left: John Durso, Lisa Conrey, Jairo Muñoz, Katie Durso, Nick Massaro enjoy a night out. John and Katie taught Muñoz how to speak English by showing him American movies, including Moneyball.
Snow and sleet pelted Cherry Hill throughout the afternoon of Wednesday, Jan.21. The high temperature was 32 degrees, eight degrees colder than the historical average for the area on that date, according to AccuWeather. The conditions were not ideal for baseball. At least Jairo Muñoz would be indoors, his body a little warmer, his arm a little looser, when he took the test that would chart the course of the rest of his life.

OTTO MEJIA / For the Inquirer
Muñoz's pitches are not only fast but have finish through the strike zone.
While the government was still processing Muñoz's application for a visitor visa, Rowland George had arranged an audition for Muñoz, with Joe Jordan on hand, at the AFC Baseball facility in Cherry Hill. John Durso, David Olmo, and Nick Massaro accompanied Muñoz there. Massaro donned his catching gear and crouched. Muñoz unfurled his herky-jerky windup, with more moving parts than a Rube Goldberg machine, and threw with that quasi-sidearm motion that the coaches in the Kansas City Royals' system had insisted he use.
"The pieces were all over the place," Jordan said. "He wasn't really using his lower half. It was arm, arm, arm."
It was also 96, 96, 96 on Jordan's and George's radar guns. Jordan wasn't much interested in the velocity of Muñoz's pitches, though. He'd been a scout and baseball executive for close to 20 years. He'd seen a lot of prospects who could throw hard.
"Joe is a great scout," George said. "He was worried about, 'Let's see what you can do when you try to put the ball down on a hitter's knees.' Then [Muñoz] slowed his body down and stayed within himself. And my goodness, his pitches had finish through the strike zone. He was literally handcuffing the catcher. The catcher literally could not catch his pitches because they were moving so late. That kind of stuff is not standard fare."
Once Muñoz completed his workout, Jordan and George stepped a few feet away to confer. Durso overheard one word: Lakewood. He knew it was a reference to the Lakewood (N.J.) BlueClaws, one of the Phillies' single-A affiliates. He knew what that meant. He whispered to Olmo, who whispered the good news in Spanish to Muñoz.
The Phillies were going to offer him a minor-league contract. As soon as possible, they would fly him back to the Dominican Republic for two reasons: to get him a new P1 visa through the U.S. Embassy in Santo Domingo, and to enroll him in the franchise's baseball academy there. Massaro watched Muñoz's face as Olmo spoke to him and as Jordan and George spoke about him.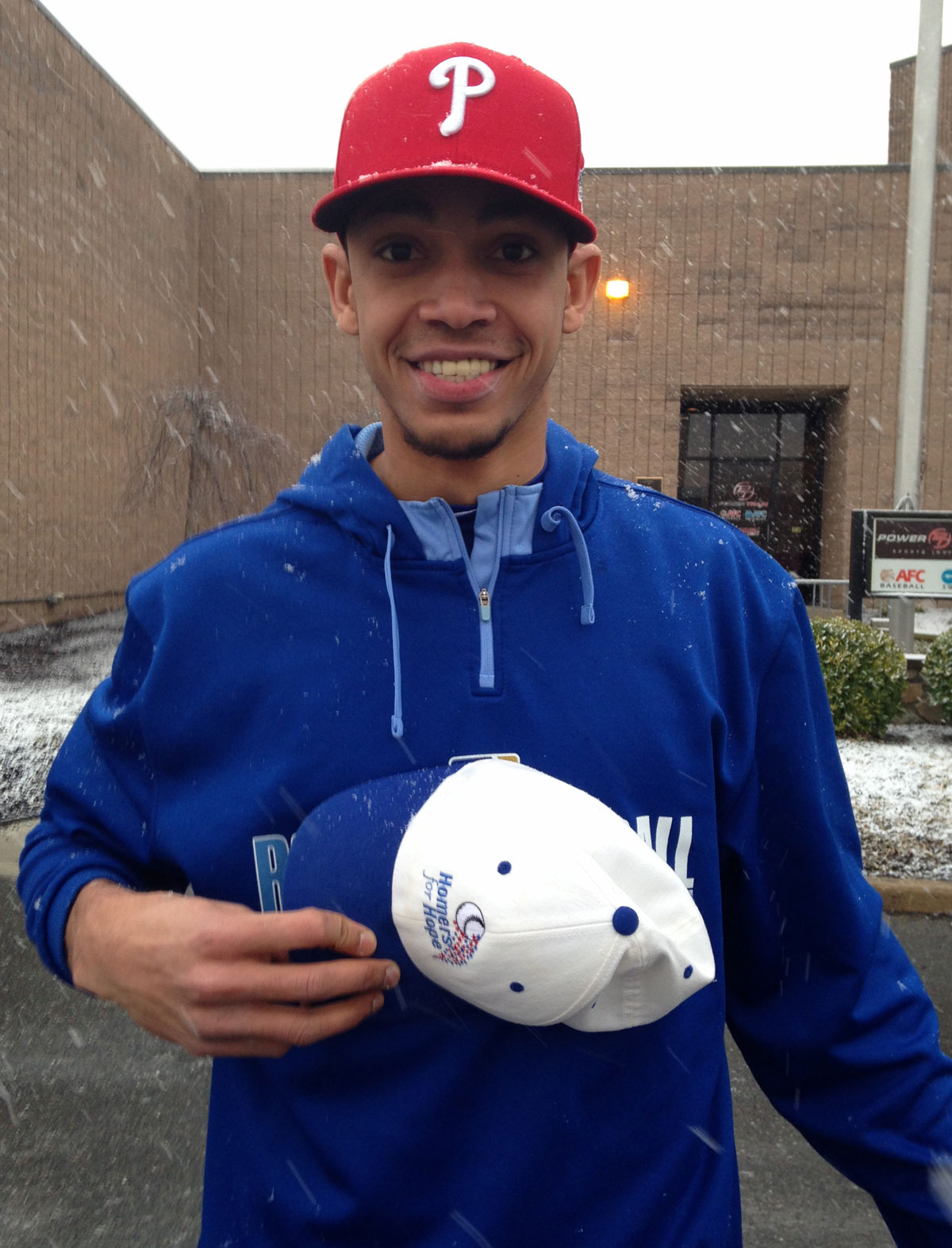 JOHN DURSO
Muñoz stood outside in the snow, removed the Homers for Hope cap he'd worn during the tryout, put on a Phillies cap instead, and posed for a photo.
"That was really incredible," Massaro said. "It was special to hear a major-league scout say to a player, 'You have it. All you have to do is harness it.' The best part was how happy Jairo was at the end. He was smiling, laughing, like a little kid being happy."
The Phillies gave Muñoz no signing bonus, and at the academy in the Dominican, he would earn just $15 (in American dollars) a week. No matter: Once Jordan and George had left, "we started jumping up and down," Durso said, "going berserk." Outside the facility, Muñoz removed the Homers for Hope cap he'd worn during the tryout, put on a Phillies cap instead, and posed for a photo, his smile stretching ear to ear, snow falling and settling on his shoulders in little piles. Nine days later, on Jan. 30, John and Katie Durso drove him to Newark International Airport. At the security checkpoint, he hugged each of them a long time, so long that John had to push him away and into the line of passengers for fear that Muñoz would miss his flight.
When he landed in the Dominican, he kissed his wife and met his daughter, cradling Jairanni in his arms for the first time. She wore two bows in her hair and a white frilled dress. The bystanders in the airport paid no attention. They leaned on railings and passed through sliding doors, not noticing the reunion in their midst, not knowing all that it had taken for a husband, a father, a professional baseball player to come home happy.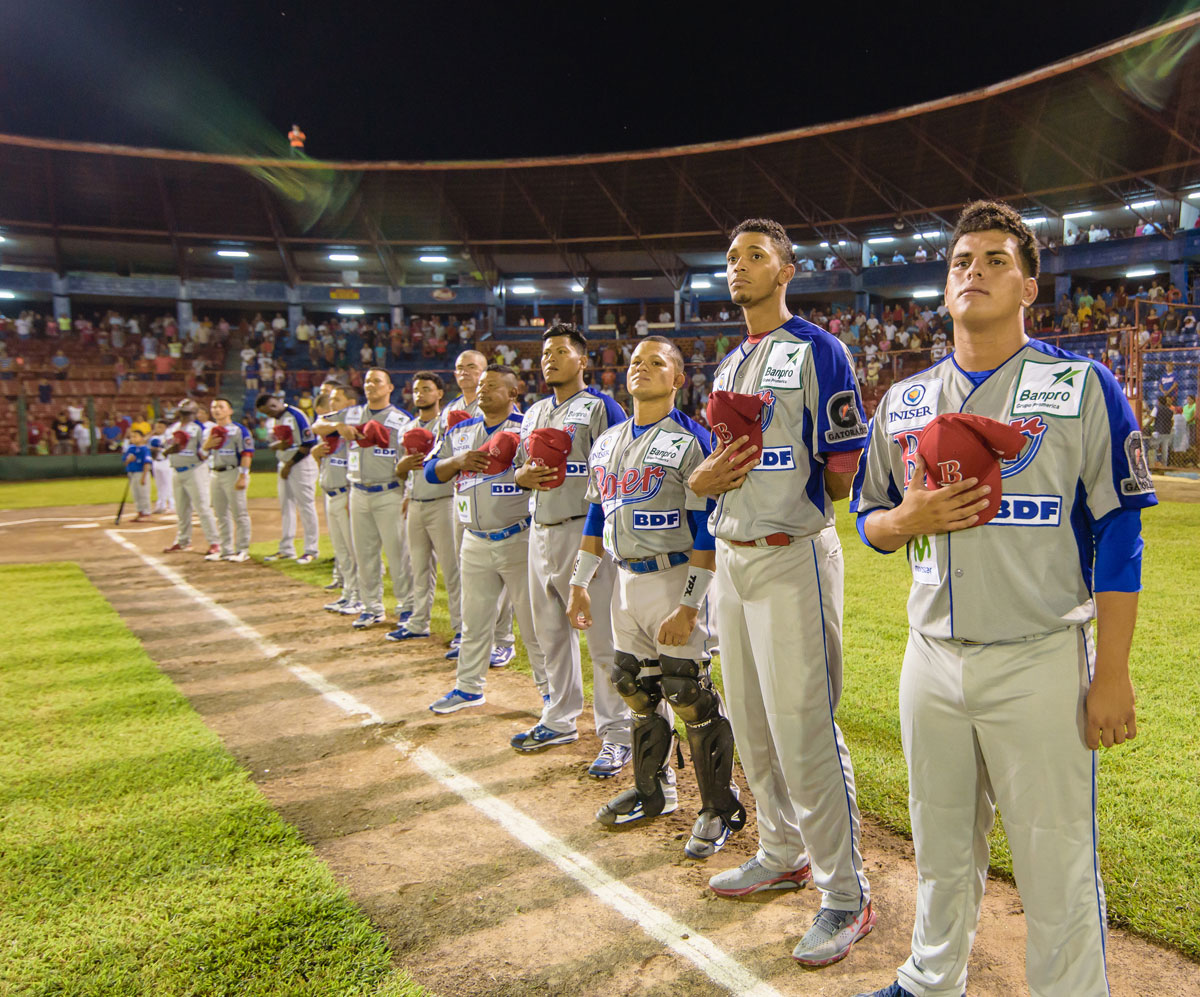 OTTO MEJIA / For the Inquirer
Jairo Muñoz and his teammates before a game in Nicaragua.
The five of them had been at the ballpark all day, sometimes mingling around a table on the main concourse, munching on nachos, sometimes slipping into seats behind home plate to get a good look at how Jairo Muñoz was pitching. It was Labor Day, and John and Katie Durso, Eddie Conrey, Nick Massaro, and David Olmo had made certain to spend it at First Energy Park in Lakewood. It was to be the last time they'd see their friend for a while.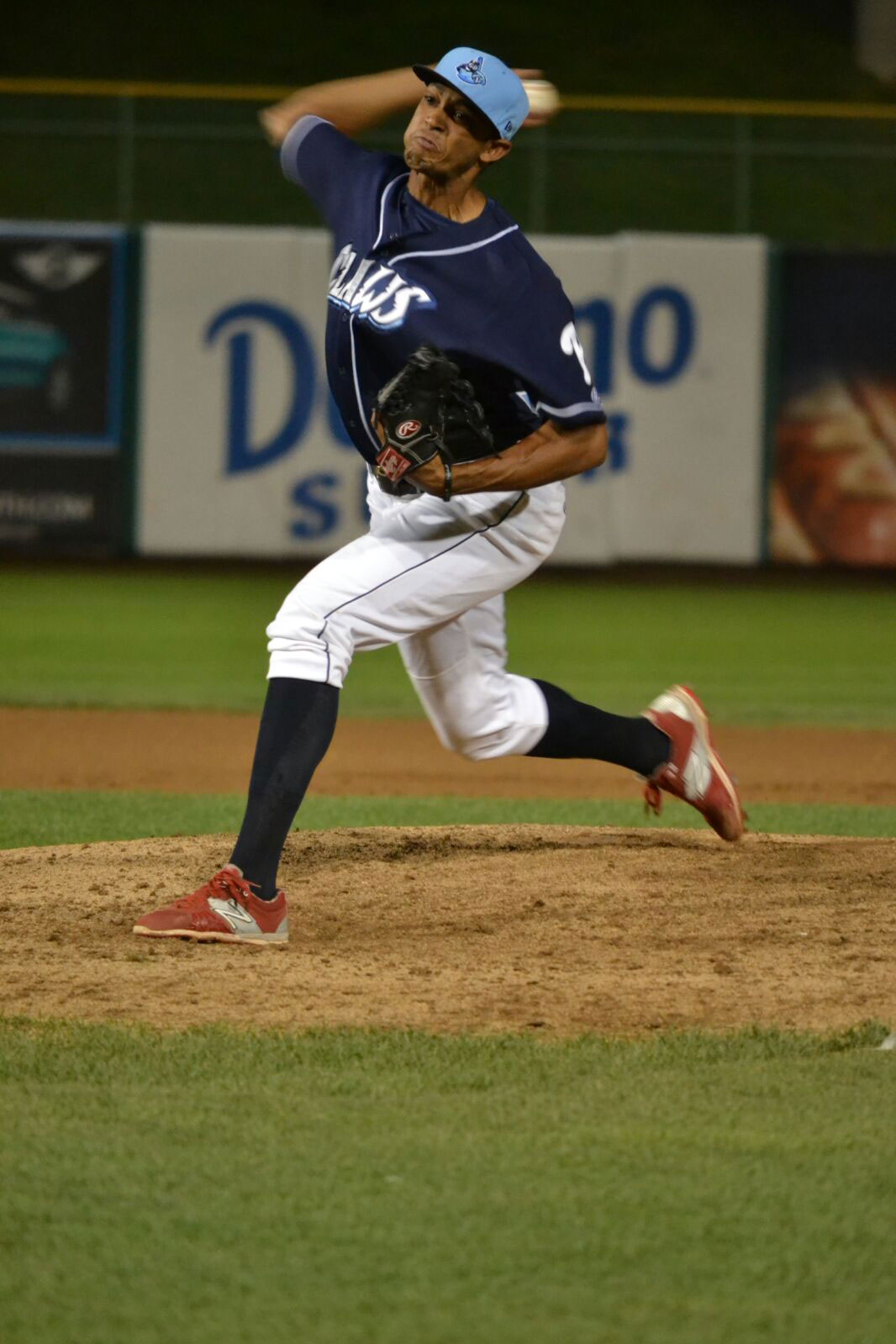 DAVE SCHOFIELD
In 33 2/3 innings with the BlueClaws, Muñoz struck out 28 hitters and walked just nine.
Once Carlos Arroyo, the Phillies' minor-league pitching coordinator, and other instructors changed his arm slot to get him throwing over the top again, Muñoz had risen quickly through the lower levels of the organization's system. He pitched 11 games in the Dominican Summer League, the Gulf Coast League, and the Florida State League, striking out 19 and compiling a 1.13 earned-run average over 18 innings as a reliever, before the Phillies assigned him to Lakewood. He continued his development there, transitioning from the bullpen to the BlueClaws' starting rotation for his final two appearances, earning — in comparison to his previous levels of compensation — a healthy gross salary of $300 a week, still sending money back to Nicole and Jairanni. His victory on Labor Day brought a solid season at Lakewood to a satisfying close: a 3-0 record, a 2.67 ERA, a curveball and a change-up that he could throw for strikes, the fastball that those nights in North Philadelphia had helped him find again.
"You watch him pitch, and it looks like he's not even throwing," Lakewood manager Shawn Williams said. "Then you look up at the board, and you're like, 'Ninety-six? Is it that easy?'"
After the game, after Muñoz had signed those autographs for the fans and children and had greeted his friends, the group drove him to a nearby Applebee's for a quick dinner of mozzarella sticks and quesadillas. Muñoz had to be back at the ballpark by 7p.m. so that he and the BlueClaws' other Latin players could catch a bus to Philadelphia International Airport. The following morning, he was scheduled to fly back to the Dominican Republic to spend 12 days at the Phillies' academy there, then head to the team's minor-league headquarters in Clearwater to pitch in the Instructional League. He is spending this month and most of December in Nicaragua, pitching in a winter league. The money is better there than in the Dominican.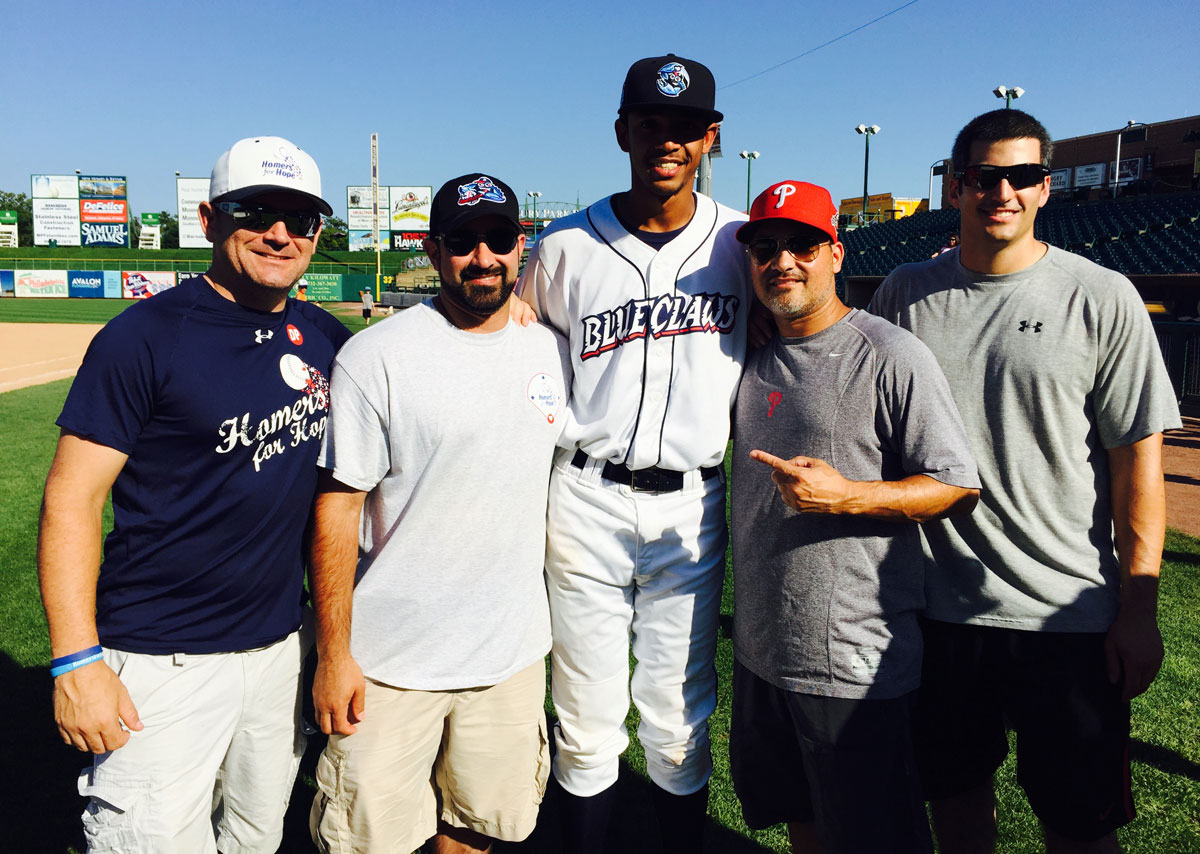 MIKE SIELSKI / Staff
Muñoz (center) poses with friends from Homers for Hope (from left) Ed Conrey, John Durso, David Olmo, Nick Massaro. Muñoz had pitched five innings on Labor Day to beat the Delmarva Shorebirds, 12-3.
The Phillies' ostensible plan for Muñoz, according to Sal Raie, Muñoz's agent, and people within the organization, is to have him begin next season at single A, with the hope that he would pitch well enough to move up to double-A Reading. By that timeline, the earliest Muñoz could possibly pitch in the major leagues would be 2017, when he turns 26, an age that would mark him as a late bloomer. "But the longer I've done this," Jordan said, "the more I realize some kids just mature later and figure things out a little later. This has been good so far. It's been a success story."
For Rowland George, Muñoz's story reaffirmed the value of holding on to some idealism in a profession that trends over time toward cynicism. A scout gets so many calls like the one George got from Durso, and the people on the phone tell him about a prospect he just has to see, and they're always so sincere and well-meaning. And then the scout shows up for the workout, and it turns out that the phenom isn't 6-5 and doesn't throw 94 m.p.h.; he's 6 feet and throws 84. You chase enough of those ghosts, and it's difficult not to become jaded, until ...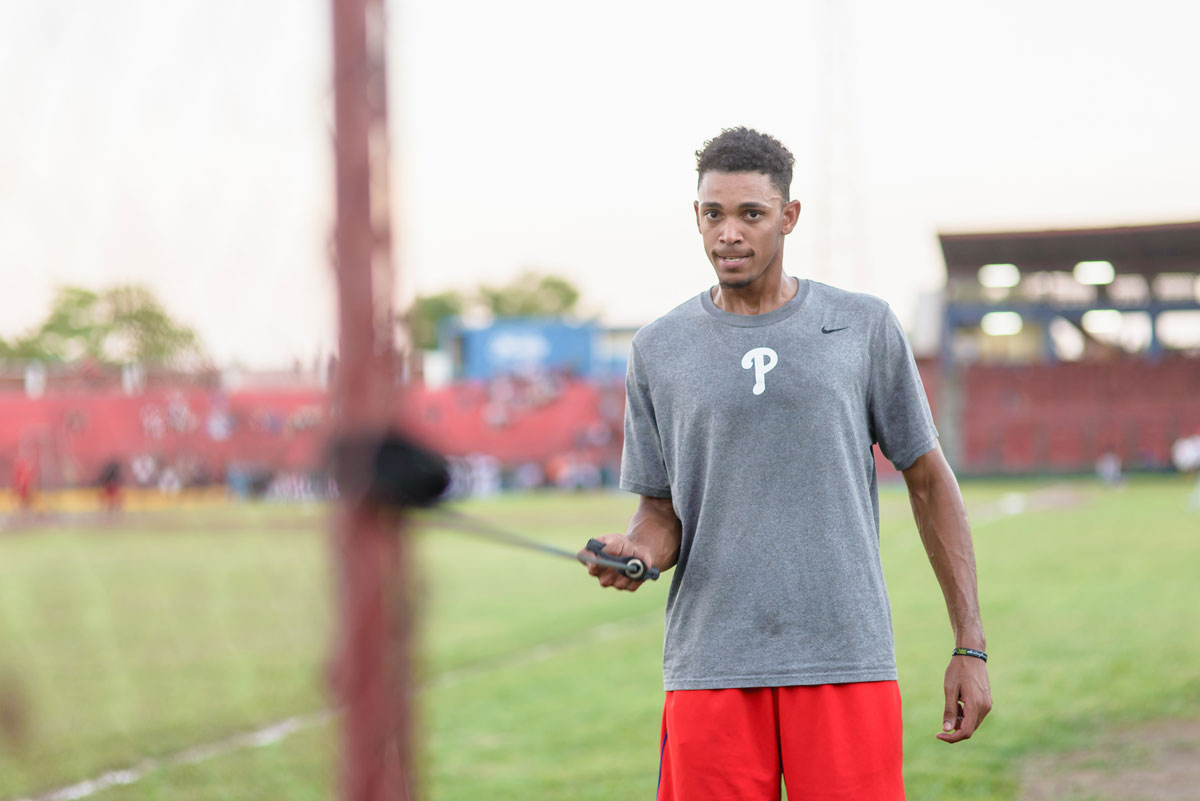 OTTO MEJIA / For the Inquirer
Muñoz got back in peak form with help from the Homers for Hope.
"In Jairo's case, it was, 'Oh, my gosh. This is the real deal,'" George said. "His case is off-the-charts rare. It's one of those needles in a haystack. It's almost like, down the road, if the kid fulfills his potential, maybe there's a made-for-TV movie in it. That's how eye-popping this is."
No one needed to tell Jonathan Tilly. The agent who had first learned of Muñoz's presence in the bodega and had introduced him to Homers for Hope, Tilly had cast him so far out of mind that, when told Muñoz was pitching in the Phillies' system, he was dumbstruck. "Are you kidding me?" he said over the phone. "You've got to be kidding me. You've got to be kidding me. Unbelievable. That is un ... bee ... leeve ... able."
OTTO MEJIA / For the Inquirer
The Phillies plan to start Muñoz in single A next season with the hope he pitches his way to double-A Reading.
Yet there was Jairo Muñoz, sitting at the head of a long table in a chain restaurant. And around the table were Eddie Conrey, Nick Massaro, and David Olmo. And to Muñoz's right, there were John and Katie Durso.
During the dinner, he looked over at the two of them.
"Angels," he said. "God sent them to me."
He paused.
"It's strange," he said. "Why did they do that for me?"
"You can tell here," Katie said as she tapped the left side of his chest, where his heart would be, "that you're a good person."
His story had ended. His story was only beginning. Jairo Muñoz listened to the answer to his question, lowered his head, and touched his thumb and forefinger to his glistening eyes.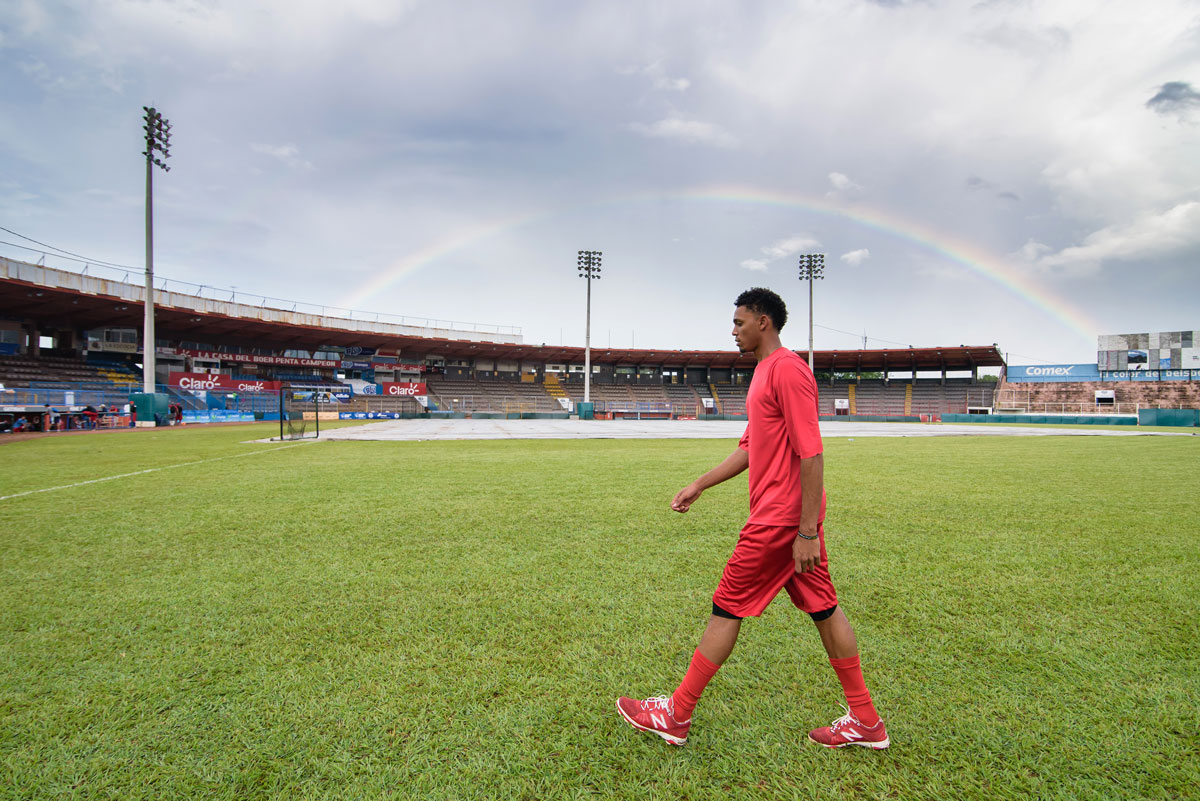 OTTO MEJIA / For the Inquirer
Phillies prospect Jairo Muñoz walks on the field before a game in a winter league in Nicaragua. He will pitch there well into December.
More in this series
Part 1
Hope on the diamond