The future
BRADLEY C. BOWER
The child of an athletic family, J.P. Crawford is already thought by many to be the cornerstone of the Phillies' rebuilding process. And he still isn't old enough to buy a drink legally.
By Ryan Lawrence / Daily News Staff Writer, rlawrence@phillynews.com
Tuesday, August 18, 2015
LAKEWOOD, Calif. — The only boy in the house would watch baseball games on TV for hours on end. But at the same time, he could hardly stand still.
"He was always pitching into the sofa or shooting (hoops)," Beth Crawford said.
The middle child and only son of Beth, a former college volleyball player, and Larry Crawford, a former Canadian Football League All-Star, John Paul Crawford, more widely known as "J.P." and as the top prospect in the Phillies' growing farm system, was in love with baseball at first sight.
When the family once made the short drive to the old batting cages by Long Beach Airport, so his older sister, Eliza, could get some practice swings in, they couldn't keep 3-year-old J.P. out of the cage. Even though the bats were bigger than the kid who didn't meet the age requirement, the employees couldn't say no to the boy who began connecting with almost every one of the machine's pitches.
Around that same time, Eliza, a future infielder at Cal State Fullerton, began playing on her first youth-league team.
"He was too young to play, like two or three years old, he would just cry and cry and say, 'I'm never going to be old enough to be on a team,'" Beth Crawford said. "He was just so ready to play."
Almost two decades later, J.P. Crawford is ready to play again.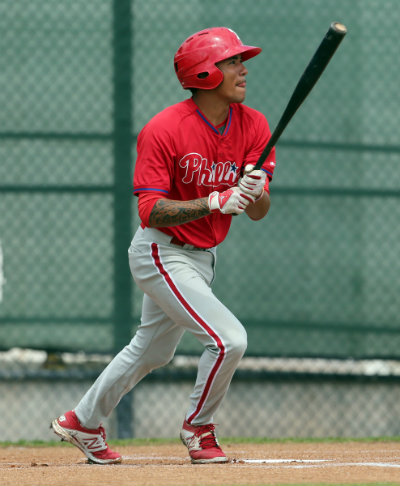 YONG KIM / Staff Photographer
Crawford, rated the fifth-best prospect by Baseball America last month, reached Double A Reading less than two years after the Phillies selected him in the first round of the 2013 draft. He's getting on base regularly as the two-hole hitter for Reading's offense, the best in the Eastern League, and he's dazzling onlookers regularly with his slick glove work at shortstop.
With Jimmy Rollins long gone, Cole Hamels traded away last month, and Chase Utley likely headed to a new team before the end of the month, the rebuilding Phillies are eager to find players that can lead the next core of a contending team.
Does Crawford have what it takes - physically and mentally - to be the player the Phillies can build around? Utley, who played back-to-back rehab games with Crawford earlier this month, offered his own scouting report.
"Good player. Confident player," Utley said. "I was only there two games, but he looked extremely comfortable defensively with a strong arm. His actions were what you'd expect from a top prospect shortstop. And he can swing the bat as well. You can tell he has an idea what he's doing with the bat."
So, not bad for a 20-year-old?
"He's only 20?" Utley asked incredulously.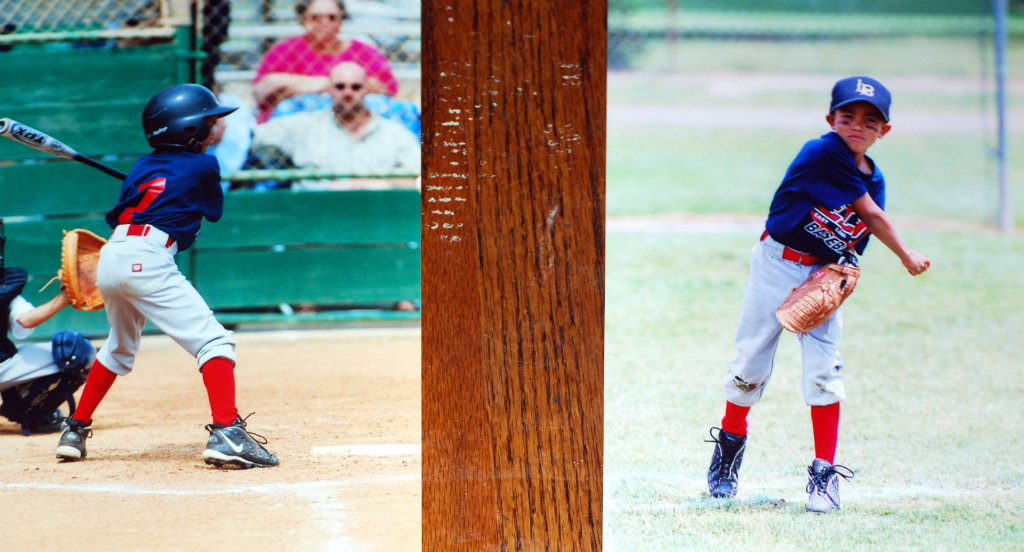 RYAN LAWRENCE / Staff
Childhood photos hanging in the Crawford family home.
J.P. Crawford won't celebrate his 21st birthday until the second week of 2016.
Crawford is the youngest player in the Eastern League. But the dream that hangs on the wall of his boyhood bedroom in Lakewood, Calif. - a poster of Citizens Bank Park - might not be that far away.
Jimmy Rollins began his major league career as the Phillies' everyday shortstop in September of 2000, when he was 21-years-old. Crawford, who told Rollins he was coming for his job shortly after he was drafted, was asked in mid-June, less than three weeks after being promoted from Class A Clearwater, where he expected to be in a year's time.
"Hopefully Citizens Bank Park," he said.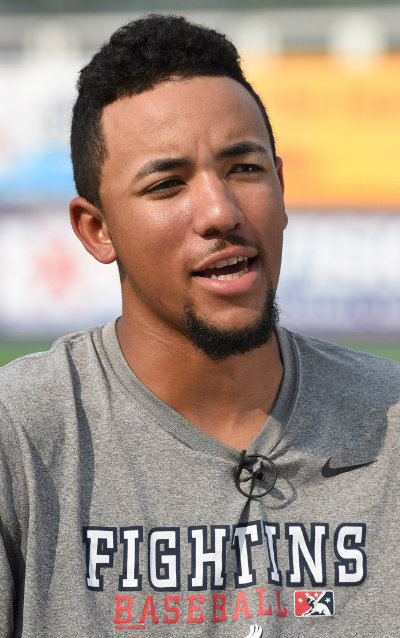 BRADLEY C. BOWER
Crawford's progress as an elite prospect was briefly stunted this spring, when he suffered an oblique injury. But after hitting .392 in 21 games at Class A Clearwater, he arrived in Baseballtown and the Reading Fightin' Phils.
The Double A level is very often the last proving ground for elite prospects. The major leagues are just a phone call away.
Crawford's numbers haven't been eye-popping at Reading, but he has been productive. He entered the weekend hitting .253 with a .347 OBP, five home runs, four triples and 15 doubles in 64 games; he also had eight more walks (38) than he has strikeouts (30).
"He definitely belongs here," Reading hitting coach and former Phillies All-Star infielder Mickey Morandini said. "He's one of those guys that's just got it. … He does all the things well."
What is "it?"
"It really is hard to explain," Morandini said. "Part of it is absolutely a mental thing. But his physical skills are really good. His hand-eye coordination is off the charts. Hands are great defensively. He's got the bat speed. He can run a little bit. The total package."
And, yes, he's only 20.
"Sometimes you forget how young is he because he is so mature," said Reading catching prospect Andrew Knapp. "The other thing is he's just getting better every day. And it's like, 'How is this kid getting better every single day?' But from one day to the next you can see his game advancing, and see him fine-tuning stuff, and getting a little bit (better). That's the thing - he just keeps getting better and he's not stopping."
STEVEN M. FALK / Staff Photographer
Perhaps as important as any of Crawford's tools as a budding professional athlete is his confidence. The Southern California kid can come off sounding brash when you get him talking about personal and team goals. Almost Jimmy Rollins-like.
"You have to (in order) to succeed in this game," Crawford said. "People always call me cocky, but I just call myself confident. You have to believe in yourself, you have to know you're going to do something. That's a big part of it - you have to know that you're going to do something well. Then you have to do it right."
It also helps to have the talent to walk the walk. That talent began to come to the forefront a decade ago.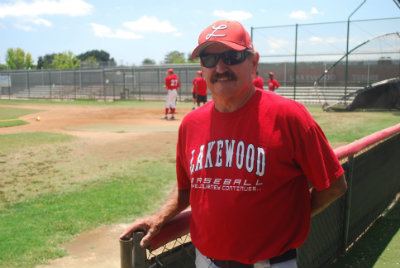 RYAN LAWRENCE / Staff
Spud O'Neil
On July 11, 2005 at Comerica Park in Detroit, a day before the All-Star Game, a 10-year-old Crawford advanced to the finals in his age group of Major League Baseball's Pitch, Hit and Run National Finals competition. A product of MLB's Urban Youth Academy in Compton, Calif., Crawford wasn't an unknown freshman when he arrived at Lakewood High School in the fall of 2009.
"The other coaches saw him more than I did in the Pony League," Lakewood head coach Spud O'Neil said. "I didn't know how special he was until the first day, and he was special."
Crawford became the first freshman not only to make Lakewood's varsity team from the outset of the season, but as a starter, too. The 15-year-old Crawford was so strong defensively at shortstop that O'Neil moved three-year starter Jeff Yamaguchi, the league's MVP who would go on to play at Long Beach State, over to first base to accommodate his freshman phenom.
"Let's put it this way, he was 6-2 and skinny as a rail, but, God, he could play," said O'Neil, Lakewood's coach since 1984. "He was a very, very good defensive player. And that's what we always talk about here: defense first. We had him eighth and ninth (in the lineup) and then real soon he was the leadoff guy. He was just so fast and athletic."
Crawford hit .404 as a freshman, fourth highest on his team. He'd hit over .450 in both his junior and senior seasons, leading his team.
Outside of high school games, Crawford was also selected to play for the Urban Youth Academy's Team USA, and in a Labor Day tournament against Japan at the beginning of his sophomore year, he led that team in hitting, too.
"He was a great ballplayer - the best we've ever had," O'Neil said.
Some of Lakewood's alums include Matt Duffy of the San Francisco Giants, a current Rookie of the Year candidate, Mets catcher and former Phillies draft pick Travis d'Arnaud, and former major leaguers Mike Carp, Chris Gomez, Damion Easley and Craig Grebeck.
"That's a good compliment," said Utley, who played in the same league while at Polytechnic High in Long Beach in the 1990s. "For that area, in Southern California, where guys play all year around."
JOHN MINCHILLO / AP Photo
Having coached in Southern California for more than three decades, O'Neil has been used to seeing scouts take over the seating and standing area behind the Lancers batting cage for games. He'll also see them sitting in their cars along Lomina Avenue beyond the leftfield fence.
"Just watching us practice," O'Neil said. "It's pretty interesting. They're watching how they act on the field. Are they goofing around? We encourage them to have fun, but some guys are just donkeys. And we've had some donkeys. And some that were pretty good."
J.P. Crawford does not fall into the donkey category. While some kids are glued to their cellphone screens, for Crawford "it was all baseball."
"His family did a good job with him," O'Neil said.
Just by scanning the future Phillies shortstop's Twitter feed, you can see how much family means to Crawford. His parents make cross-country trips to watch him play a few times a year, his longtime girlfriend is always by his side, his sisters inspire him to reach his goals. He even has a trio of Siberian huskies who he treats like kids, or, at the very least, his own personal wolf pack.
You can sense the strong family unit inside their Lakewood home. And all you have to do is glance at the basketball goal in the driveway to get a sense of where sports fits in to the Crawford family dynamic.
"We used to have a lot of battles," J.P. Crawford said. "My mom, she's out there to kill you. … And I'd destroy (my dad) now, but back in the day he'd beat me good."
"Senior year," the elder Crawford said of when he couldn't take down his son in a one-on-one game anymore. "It was tough to give in."
The most competitive member of the family?
"My mom, definitely her," J.P. Crawford said. "She goes all out to do anything."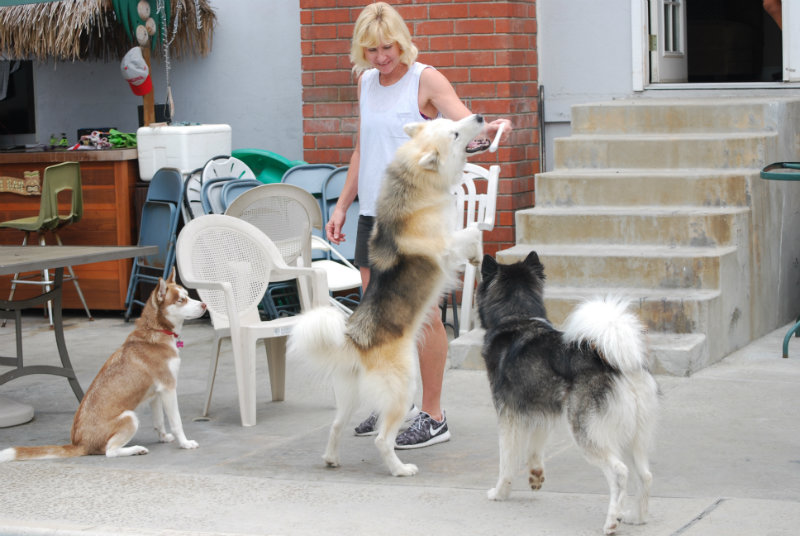 RYAN LAWRENCE / Staff
J.P. Crawford's mother, Beth, and his Siberian huskies
As Crawford's baseball life began to take off, shortly before the Phillies selected him with the 16th overall pick in the 2013 draft, and before he made the giant, cross-country leap as an 18-year-old, from the suburbs of Los Angeles to a brave new world of the Gulf Coast League in Clearwater, Fla., his family was dealt its toughest battle.
J.P. Crawford learned that his mom had been diagnosed with cancer.
"He was home for a lot of the radiation treatments," Beth Crawford said, "so he was able to take me."
As a teenager, Crawford was surrounded by tragedy. One of his best friends and baseball teammates, Brian Beato, was struck and killed by a car the summer before his senior year. One of his youth coach's kids, often the batboy for his teams, died of leukemia the year before. Another one of his teammates lost his mother at the 2011 Seal Beach mass shooting, and found out with Crawford when both were called off the field one day at practice.
The baseball diamond, and the scouts and the draft, according to his mom, became "a good distraction."
"When I go out onto the baseball field, nothing else matters," Crawford said. "I would deal with that stuff afterward. I would pray to God each night that (my mom) got better. And thankfully my prayers were answered."
Crawford still lives with his parents when the baseball season ends each summer. Maybe that will change when he makes the jump from the minor leagues to the major leagues. But maybe it won't right away.
"He's still a little kid," Larry Crawford said of his son, who has packed on 15 pounds of muscle since he was drafted as a teenager. "He has that face. He's still that little knucklehead kid."
"He's a good kid," Beth Crawford said.
Two weeks ago, J.P. Crawford played catch with Chase Utley before both took pregame batting practice with Reading at Trenton's Arm & Hammer Park. Afterward, they stood next to each other and chatted in between fielding ground balls.
Although he might be a little bit more bold with words than his doubleplay teammate that night, Crawford has gone about his work quietly and diligently in a little more than two years in the Phillies' minor league system. He's not "a rah-rah guy," according to his high school coach, but he is the kind of athlete who can simply lead by example.
It's not fair to crown a 20-year-old kid the future leader of a major league team, but Crawford appears to be outfitted with the same mental makeup that made Utley and Rollins successful.
"You just have to go out there and work hard every day, give something for other people to look up to," Crawford said. "If they see you working hard everyday, they're going to do the same thing. If they see you running balls out hard, they're going to do the same thing. They're going to play how you play and act like you act on the field."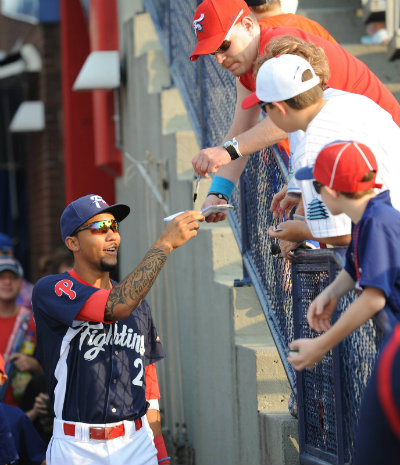 BRADLEY C. BOWER
Signing autographs in Reading
Crawford's physical skills can currently be seen on display in Reading. And perhaps, before long, in Allentown, where the Triple A IronPigs play. His range and arm strength at shortstop already appear to be plus big-league tools. He can hit and get on base regularly, and run well when he arrives. Although he hit 11 home runs in 123 games last year, and had six in his first 85 games this year, it's not crazy to think he could hit 15-20 in the big leagues as a still-developing hitter with quick hands.
But what may separate Crawford in the next few years, and not only get him into a Phillies uniform within the next year but also have him as the pillar the front office can build the next contending team around, is his unwavering ambition and drive. Like Cole Hamels before him, the Southern Californian kid expects success out of himself and his team, too. He can close his eyes and see himself winning a World Series in five years.
"I think we have a good shot with a lot of the new guys we just got and with that draft class we just got," Crawford said. "We'll see what happens."
If that happens, pleasing the sometimes impatient, always passionate Philadelphia sports fans shouldn't be a problem for J.P. Crawford.
"I don't think he's bothered by (expectations)," his father Larry Crawford said. "I think his personality fits in Philly."