COOL BREEZE AT THE SHORE (SOMETIMES)
The hardest part of our area to forecast is at the Shore. The Cape May area is the toughest of the tough. It's all about the wind direction, which can make the difference between 74 and 94 degrees on any given day - like Thursday of this week.
So, before I get to the forecast, a little bit of explanation.
(Below is a map of the coastal areas of New Jersey and Delaware)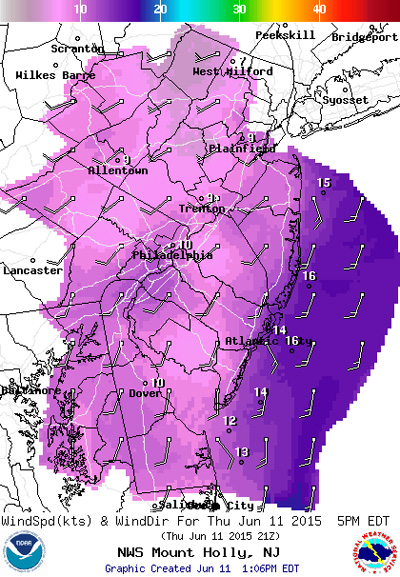 A typical hot summer day in this area overall features a wind from the southwest. If it's from the south, some of the wind blows over the cooler waters of Delaware Bay. And if it's from the southeast, east, or northeast, that's an ocean wind that will cool us off the most.
The latest ocean temperature is 64 degrees off Atlantic City - about average for this time of year. As the inland areas heat up, a sea breeze tends to develop, bringing some of the cool ocean air inland. But how far inland? And how much will the beaches heat up before the sea breeze kicks in? These are typical questions that forecasters ask themselves all the time.
That typical June map on Thursday led to the following temperatures from north to south in our area (at the very same time):
                                      TEMP               LOCATION
Beach Haven                 74                         beach
Beach Haven West        84                         just inland
Manahawkin                  93                         6 miles inland
Atlantic City Marina      76                         on the inlet
Northfield                      91                         inland
Stone Harbor                74                         beach
Cape May Point            78                         beach
Cape May Airport         90                         inland
Lewes, DE                     89                         on Del. Bay
Rehoboth Beach           90                         beach
Dewey Beach               86                         near beach
What HUGE differences! But notice the Delaware beaches - near-90 degrees, while the New Jersey Beaches were around 75. Look at the map closely. You'll see that a southwest wind is coming over land to the Delaware beaches, and is an ocean breeze for the Jersey Shore.
SO WHAT ABOUT THIS WEEKEND?
The southwest wind will be broken up Saturday as a cold front approaches. The Delaware beaches are most likely to see a west wind and should be much warmer than the Jersey Shore. On Sunday, all beaches should get a cooling ocean wind.
Phila. area: Sun & clouds. Hot and humid. High 91. Scattered PM t'storms. Chance of rain at any one spot: 40%
NJ Shore: Mostly sunny. Afternoon sea breeze. High 78. Chance of late t'storm. Chance of rain at any one spot: 30%
DE beaches: Mostly sunny, hot, and humid. High 92. Chance of late t'storm. Chance of rain at any one spot: 20%
Poconos: Mostly cloudy. High 78. Chance of a shower or t'storm. Chance of rain at any one spot: 30%
Phila. area: Partly to mostly sunny. Less humid. High 83. Chance of rain at any one spot: 10%
NJ Shore: Partly sunny with a cool ocean breeze. High 74. Chance of rain at any one spot: 15%
DE beaches: Mostly cloudy. Cooler. High 76. Chance of showers/t'storms. Chance of rain at any one spot: 30%
Poconos: Partly sunny and less humid. High 75. Chance of rain at any one spot: 10%
Glenn "Hurricane" Schwartz