Pitchers and catchers have arrived in Clearwater, and our friend Zoo With Roy gives you the top 13 storylines to follow, from Carlos Ruiz's attention span to Delmon Young's body mass index.
1. Chase Utley's Physical Location
Is he even in Florida, or at a rehab compound in the Arizona desert, or in a bunker with Pat Croce and Tim Kerr? If he's in Clearwater and actually participating in baseball-like activities before, say, April 1, that will likely be a good sign for the Phillies and their playoff hopes.
Update! Hundreds of pictures have surfaced of Chase taking ground balls in Clearwater since I originally wrote this, and Matt Gelb tweeted the following: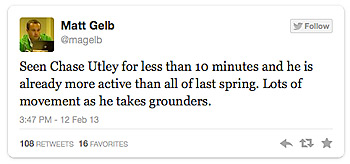 2. Delmon Young's Body Mass Index
The Phillies tilted a lot of heads when they acquired Delmon Young recently, and for good reason. I'm no statistical maven, but just a glance at the still-relatively-young Young's career numbers doesn't overwhelm. Also, he's been known to carry superfluous adipose tissue around his midsection, if you catch my drift, and I think you do. Immediately after Ruben Amaro Jr. inked Delmon, news started to break about weight incentives written into his contract. So will he show up to Clearwater in shape and ready to attempt to try and catch fly balls? Or will the abundance of buttered grouper prove too tempting? I can't wait to find out! I'm hoping I get to cover his scheduled weigh-ins and that they have all the fervor of an old Tyson fight.
3. Does Darin Ruf Even Know Where Left Field Is?
Actually, a better question may be whether anyone in the outfield other than Ben Revere can catch a pop fly? I'm not joking, I'm not sure they can. Wait … can Michael Young or Ryan Howard? And Chase Utley might be crippled! Holy butt, it's possible that our only two competent defensive starters are Ben Revere and J-Roll. Huh.
4. Ryne Sandberg Lurking in the Shadows, Peeking Around Corners
I can't wait until Cholly puts in Bastardo with two-outs in the eighth and the bases loaded against a six-hole hitter Papelbon has struck out 12 times in 17 appearances and he inevitably smacks a two-run double and Ryno fights with every fiber of his being to keep the "well, next season"s from his answers. Should be fun.
5. Jimmy Rollins' Swag 
6. Kyle Kendrick's Beard Progression and/or Seeming Ability to Pitch
Over the second half of last season, Kyle Kendrick had a 2.87 ERA and a WHIP of 1.060. He also cut his walks total by about a third. This is great fun, you see, because many of us are conditioned to HATE KYLE KENDRICK'S BIG DUMB FACE. I'm guilty of that, totally admit it. Where I am now is where I'd like to think I have always been: I want him to do well because he's a Phillies and when he succeeds we succeed. Where I also am: I love it when message board and Twitter dorks are infuriated by any semblance of accomplishment on his part (myself included).
7. Carlos Ruiz's Attention Span
8. Will Michael Young Successfully Field a Ground Ball?
There's one thing you're almost guaranteed to get with Michael Young, and that's fairly consistent if not superior contact between his bat and pitched baseballs. Unfortunately for him, though, and us, that's not all that it takes to be a starting third baseman in the National League for a team starting at least two to three groundball pitchers. If we're being honest with ourselves, and each other--and I feel that we should-- there may be a reason Young has started as a designated hitter 141 times since 2010. Compare that to his 65 starts at third base during the same span, and a fan might start get nervous about their 36 year old third baseman. No but for serious, is anyone else concerned that we have a lineup full of designated hitters?!?! Oh, and it's also possible he might be a serial killer.
9. Can Mike Adams Feel His Right (Pitching) Arm?
10. Can Ben Revere Keep Up This Pace!!
11. Domonic Brown's All Around Competence At Everything
 Did you know that it's now or never for Domonic Brown? That he must win his job? That it's make or break? Do or die? Will it finally click? Is the picture becoming clearer for the youngster? Is the game slowing down in front of him? Are the pieces of the puzzle starting to fit together? Has the challenge of professionalism been accepted? Will he answer the bell? Has the light switched on? Is the blue chipper ready to be blue collar? Can he handle the competition? Has he fixed all his flaws? Will he feel the weight of Delmon Young bearing down on him? Is this the year he finally lives up to his HYPE?
12. Chris Wheeler's Interpretation of the Delmon Young Outfield Experience
"Oh brother, here we go again. Bring out the dancing bears!"
13. Roy Halladay's Structural Integrity
Bwahahahahahaaha just kidding Roy has been ready for opening day since at least Black Friday 2012 and is most certainly primed and in the type of otherworldly physical form to ensure his return to face-breaking, league-dominating homeostasis.

Happy 2013 season, everyone!