Around The World:
Meet the women of power & politics
The U.S. has fallen behind in women's representation in politics.
Wikimedia Commons
Rankin's portrait, by Sharon Sprung, in the House of Representatives Collection
In 1916, Jeannette Rankin made history when she was elected to the House of Representatives. Four years before the 19th Amendment was ratified and the nation would recognize the vote of a woman the people of Montana elected her as their state's representative to Washington, making her the first woman to hold a seat in Congress.
On the day of her election, Rankin stated, "I may be the first woman member of Congress, but I won't be the last."
While Rankin's words held true, the progress of women's representation in politics in the United States has stagnated. Between 1980 and 2000, the percentage of women holding seats in Congress quadrupled, growing from 3 to 12 percent. In the years since, however, the percentage has not even doubled, currently coming in under 20 percent.
"I may be the first woman member of Congress, but I won't be the last."
Congresswoman Jeannette Rankin
Not only has the U.S.' rate of women in politics idled, it has fallen drastically behind those of most developed countries. The U.S. ranks 95th in terms of women in its national legislature, based on the number of available seats filled by women according to data provided by the Inter-Parliamentary Union. Countries at the top include Rwanda, Bolivia and Cuba.
Looking beyond Congress and toward the White House, America's progress barely registers. Not only has the U.S. never had a woman president, it was not until Hillary Clinton in 2008 that a woman was even considered as a leading candidate. Comparatively, more than 80 countries have had an elected female head of state or head of government, with the first, Chairwoman Khertek Anchimaa-Toka of Tannu Tuva, taking office nearly 80 years ago.
Use the charts and tools below to explore the United States' history of women in politics and see how it compares with the rest of the world.
AT A GLANCE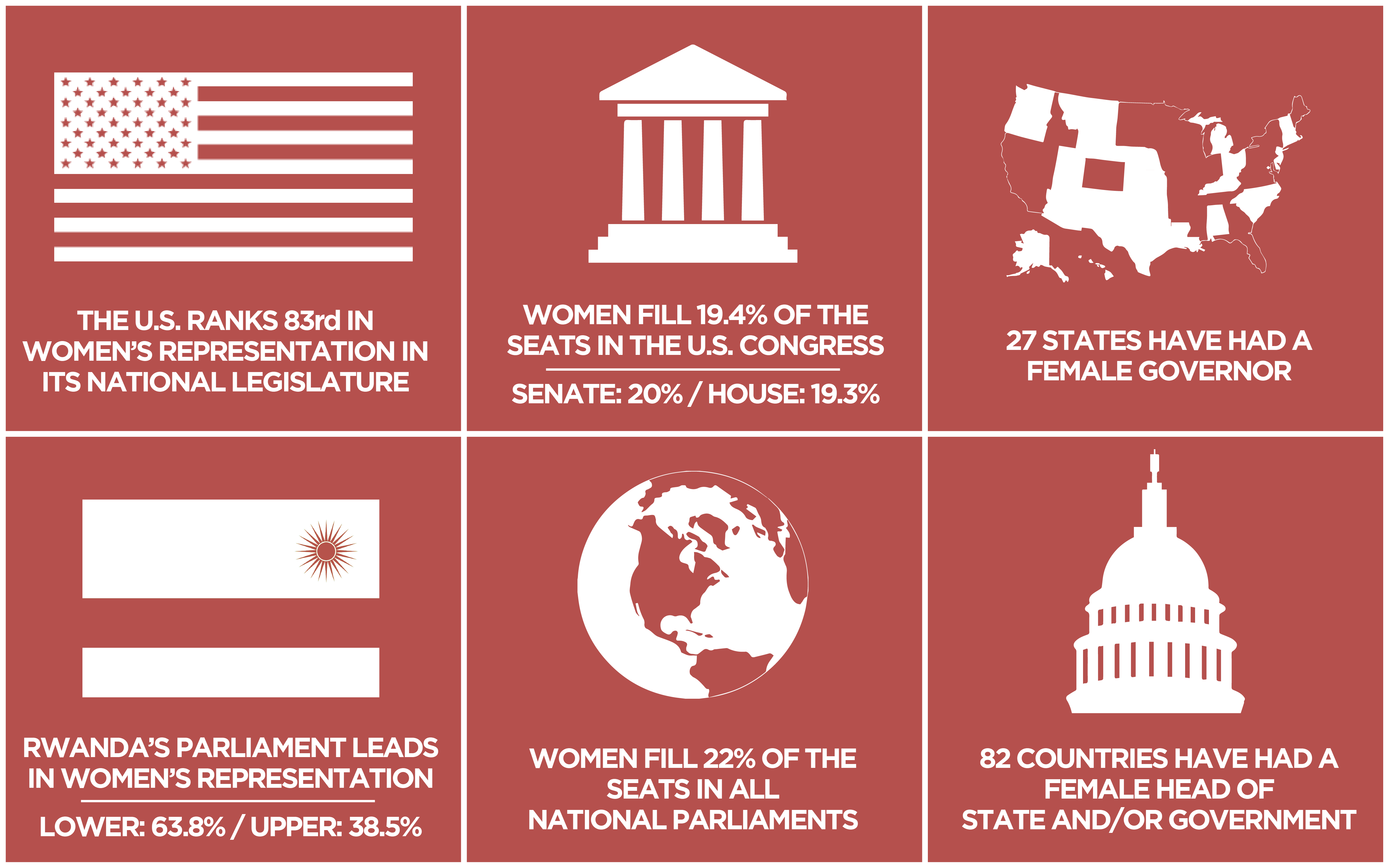 Women in Politics in the U.S.
---
The path toward electing women to political positions of any kind in America has not been smooth and has often met with resistance. For example, in 1917, Rankin's admittance into Congress was delayed a month while congressmen discussed whether a woman should be allowed in the House of Representatives. Prior to Rankin, several women ran campaigns for public office to call attention to the absurdity of being entitled to run for office while also being denied the right to vote.
The attitudes of Americans towards women's holding public office – or any leadership position – have drastically shifted throughout the country's history. A 2015 Gallup poll stated that nine in 10 Americans would vote for a qualified woman presidential candidate, up nearly 40 percent from a 1969 Gallup poll. Similarly, a 2015 Pew Research Center survey on women and leadership found that most Americans view men and women as equal in terms of intelligence, capacity for innovation, and other key leadership traits.
Despite a more progressive public opinion, that shift has yet to result in a proportional representation of women in politics. While lowest in Congress, the ratio of men to women has been fairly uniform across levels of government. Currently, the number of women in both state legislatures and statewide elective executive positions hovers just below 25 percent. While women hold a quarter of the 312 statewide elective executive office positions, there are only six female governors.
Current Women's Representation in Government

A Path Toward the White House
---
Though Hillary Clinton lost the Democratic nomination to Barack Obama in 2008, the then junior U.S. senator and former first lady came closer to winning a major party's nomination and sitting in the Oval Office than any woman before her. Once again, Clinton is the Democratic front-runner and is presumed to be the nominee at the Democratic National Convention, and move on to the general election in November.
While Clinton has been by far the strongest female presidential candidate, she was not the first. In 1872, women's rights and labor activist Victoria Woodhull ran for president under the Equal Rights Party, making her the first woman to do so. Since then, numerous women have run under both third and major party banners.
Around the World
---
Compared with many other countries, the United States is lagging in women representation in both legislative and executive branches of government. Rwanda, the only nation with a female majority parliament, goes as far as mandating that women fill at least 30 percent of the seats.
According to the United Nations, the percentage of women holding seats in parliaments around the world has nearly doubled in the last 20 years. Despite the growth, that still only translates to around 22 percent.
The representation of women in government varies greatly depending on the region, according to the Inter-Parliamentary Union. For example, across all chambers (single and lower and upper houses), Nordic countries rank high with around 40 percent. Europe (excluding Nordic countries) and sub-Saharan Africa are slightly more proportional than the United States, with just under a quarter of seats filled by women. Asia, the Middle East, North Africa, and the Pacific average below 20 percent each.
There are outliers, however. For example, both Iraq and Afghanistan have more than 26 percent female representation (6% more than the United States) in parliament.
More than 80 countries have had a women head of state and/or head of government. In a parliamentary form of government, the head of state and head of government are two different positions with different duties and responsibilities. In a presidential form of government, the roles are combined under the presidency.
While the roles and authorities of these women vary based on the constitution or parliament of each country, each of them holds significant power, was elected to that position and represents significant progress in global politics.
Even though the number of women heads of state and government has increased dramatically in the last half-century, the majority of countries have still not elected one. Currently, less than 10 percent of countries have a woman in either position.
In 1916, the first woman was elected to the U.S. Congress. One hundred years later, the role of women in politics both in America and around the world has changed. Use the interactive timeline below to compare the United States and the rest of the world in terms of women's representation in government.
HEADER PHOTO CREDITS: Hillary Clinton: Andy Katz/iStock; Aung San Suu Kyi, Claude Truong-Ngoc/Wikimedia Commons; Angela Merkel: Aleph/Wikimedia Commons; Kolinda Grabar-Kitarovic: Office of the President of Croatia; Park Geun-Hye: Korea.net/Wikimedia Commons; Sheikh Hasina: Russell Watkin/Wikimedia Commons; Dalia Grybauskaite: Aigustas Didzgalvis/Wikimedia Commons; Doris Leuthard: Bundeskanzlei/Wikimedia Commons; Michelle Bachelet: Government of Chile; Ellen Johnson Sirleaf: Antonio Cruz/Wikimedia Commons.