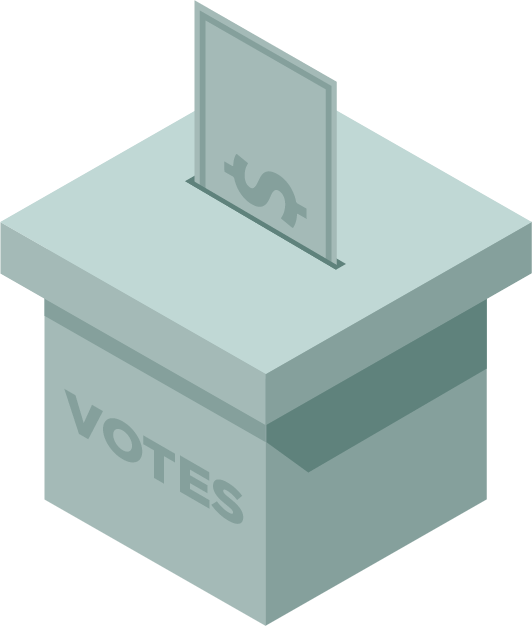 Money is power in 2018 Philly-area congressional races:
Who's giving, who's getting what in Pa., N.J.?
---
Follow the money.
It may be a cliché, but it is a reliable way to track power.
And this year, the Philadelphia region is home to some of the most important congressional races in the country — face-offs that could make or break Democrats' dreams of taking back the U.S. House.
To find out who's trying to influence politics in the area — and where candidates are spending their big bucks — the Inquirer and Daily News examined the most recent campaign finance data available in this year's congressional races.
Our analysis is based on data released this month by the Federal Election Commission, which covers the Jan. 1, 2017-June 30, 2018 period. We examined 19,163 contributions received by campaigns and a key super PAC in that 18-month period, totaling more than $25.5 million, as well as 6,626 campaign expenditures — nearly $16 million. The analysis covers 42 candidates in the region seeking nine U.S. House seats.
Want to know how much Comcast, defense contractors, and the soda industry gave to local candidates? We crunched those numbers. Want to know know which candidate has the most small-dollar donors? We figured that out. Want to know how much campaign money is spent outside the region? We calculated that, too. (Spoiler alert: Most of it.)
All of this reflects busy primaries. Over the next few months, the surviving campaigns will likely shell out millions more, especially in hotly contested races in Bucks and Burlington Counties.
Here are our major takeaways:
Labor unions, especially Johnny Doc's Electricians, are still the biggest political spenders
Two years ago, the FBI raided Philadelphia's powerful Electricians union and the home of its leader, John "Johnny Doc" Dougherty.
That little snag hasn't slowed down the International Brotherhood of Electrical Workers Local Union 98.
The labor union's PAC was the biggest donor to congressional candidates and a super PAC in the area — by far. It gave more than $480,000 in the last year and a half.
By comparison, the next-largest donor contributed $100,000. That came from another union in the city's building trades, Steamfitters Local 420. In fact, building trades unions made up half of the top 20 donors in the region.
"The Steamfitters are no different than any other labor group that gets involved politically because we want to be sure the voices of working men and women are heard," said Anthony Gallagher, business manager of Steamfitters Local 420. "What was different this year was the redrawn congressional districts that gave us more opportunities to ensure our issues were part of the discussions candidates were having."
Local 98 officials declined comment. The bulk of its spending — $464,500 — went toward supporting Rich Lazer, a top aide to Mayor Kenney with close ties to Dougherty who lost a race for U.S. House in the Democratic primary in Pennsylvania's Fifth District. Nearly all of that money was routed through a super PAC Dougherty set up to back Lazer. Because that group was officially set up to solely support Lazer, this analysis combines its fundraising and spending with his official campaign's.
Other area labor groups that have spent at least $30,000 on congressional races include teachers' unions, UNITE HERE!, the National Air Traffic Controllers Association, and the American Federation of State, County, and Municipal Employees Pennsylvania.
In total, labor organizations have given more than $2 million to Philly-area congressional candidates.
It's not just unions: Big Soda, Raytheon and other special interests are spending hundreds of thousands on local races
In this region, labor unions often get the most attention for their hefty campaign donations. But they're far from the only special interest groups looking to shape the region's elections.
Two of the top 20 donors in the Philly area are tied to New Jersey power broker and insurance executive George E. Norcross III: General Majority PAC and General Growth Fund gave a total of $100,000 to the pro-Lazer super PAC.
Soda mogul Harold Honickman, a leading opponent of Kenney's soda tax, and his relatives donated nearly $24,000 to congressional candidates. Their beneficiaries include Democratic U.S. Reps. Dwight Evans and Brendan Boyle, as well as Mary Gay Scanlon, the Democratic nominee in Delaware County's Fifth District, and Chrissy Houlahan, the Democratic nominee in Chester County's Sixth District.
Defense contractors were also big donors, with PACs for Raytheon, Boeing, and Lockheed Martin giving a total of $60,000. Every incumbent in the region running for reelection — U.S. Reps. Brian Fitzpatrick, Tom MacArthur, Boyle, Evans, and Donald Norcross, who is George's brother — enjoyed the largesse of the defense industry.
All three companies' PACs gave to Fitzpatrick, a Pennsylvania Republican on the House Committee on Homeland Security; and Norcross, who sits on the House Armed Services Committee. Lockheed Martin also has a large presence in South Jersey.
Comcast's PAC, as well as company senior executive vice president David L. Cohen and his wife, Rhonda, gave nearly $66,000 to local candidates in both parties, including Scanlon, Evans, Fitzpatrick, Boyle, MacArthur, and Norcross.
Other big donors include the American Bankers Association, End Citizens United, Philadelphia-based law firm Cozen O'Connor, and Ernst & Young accounting firm.
Pelosi, Soros and Scaramucci are giving, too
National — and even international — political figures contributed huge sums to the region's candidates. Donors include leaders of the national Democratic Party, criticized in recent years for putting their thumbs on the scales in primaries.
Two of the top 20 donors in the area were PAC to the Future, a group affiliated with House Democratic leader Nancy Pelosi, and AmeriPAC, which is chaired by House Minority Whip Steny Hoyer.
AmeriPAC gave $50,000 through June 30, including to candidates Jeff Van Drew, Madeleine Dean, and Evans during their contested primary runs.
Pelosi's campaign committee and PAC to the Future gave $53,000 to area Democrats Andy Kim, Chrissy Houlahan, Scott Wallace, Mary Gay Scanlon, and Dean. That money went only to candidates in uncontested primaries or after they won. (Notably, Kim later called for "new leadership" in the U.S. House.)
George Soros, the liberal billionaire philanthropist and Wall Street financier, and his family members gave $14,500 to Wallace, Houlahan, and Kim.
Former White House communications director Anthony Scaramucci donated $2,700, the maximum allowed for an individual, to Tom MacArthur's re-election campaign in New Jersey's Third District.
Kim has the most small-dollar donors
One way to measure a candidate's grassroots support is to look at small-dollar donations.
Andy Kim, whose campaign has attracted national attention, raised more money from low-level contributors than any congressional candidate in the region: $440,000. The cutoff for a small-dollar donation for our purposes is $200.
Of course, that didn't necessarily translate into victory in the primaries. Consider Rachel Reddick ($91,000), who lost to Scott Wallace ($70,000), or Ashley Lunkenheimer ($62,000), who lost to Mary Gay Scanlon ($57,000).
Wallace gave more money to himself than any other candidate
Scott Wallace, the multimillionaire Democrat running to unseat Fitzpatrick in Bucks County's First Congressional District, has self-funded his campaign to a degree unmatched by any other local candidate.
"Scott Wallace can't be bought. He is only beholden to the voters ... He isn't taking a dime in corporate PAC or lobbyist money," said Zoe Wilson-Meyer, communications director for the Wallace campaign.
Wallace lent his campaign more than $4.8 million and donated an additional $22,892. The next-highest self-funder was Ashley Lunkenheimer in her failed bid for the Fifth District. She loaned herself $327,000.
Wallace might have a huge war chest due to self-funding, but the fact that less than 10 percent of his money came from others could be a sign of weakness. He received $524,000 from other people and groups, including PACs.
Another potential red flag: He spent $117 per vote, more than any other congressional candidate in the region. The second-highest spender, Lunkenheimer, forked over much less than Wallace: $86 per vote.
Winners who received the most bang for their buck include Seth Grossman ($2 per vote), Dwight Evans ($12), and Madeleine Dean ($13).
So where is all the money going? To 14 companies, mostly
Campaigns do more than try to get people elected. They're a business sector all their own, feeding an ever-moving political ecosystem with millions of dollars flowing across the country.
Much of that money goes to a well-connected few: Of the $15 million-plus spent by area congressional candidates, more than half went to just 14 companies.
Topping that list: Shorr Johnson Magnus ($1.9 million) and The Campaign Group ($1.4 million), two top nationally active TV ad firms based in Philly.
In fact, nearly half of the money spent so far went to advertising, according to the Inquirer and Daily News' examination of records and campaigns' own categorization of spending.
Candidates and the pro-Lazer super PAC spent the most on TV advertising, followed by mail. Digital ad spending also far outpaced print, radio, and robocalling combined. Direct payments to Facebook alone were higher than print or radio spending.
The other largest recipients of local political spending are a mix of advertising and strategy consultants; employees, in payroll; and a few non-political companies such as American Express and the U.S. Postal Service.
Some candidates, especially incumbents and those drawing national attention, received large portions of their money from outside their state. About 73 percent of the $1.8 million received by incumbent Tom MacArthur, for example, came from outside New Jersey.
And while most money raised by candidates — 61.5 percent of it — did come from Pennsylvania and New Jersey, it doesn't always stay in the area. That's partly because, while candidates can work with local consultants, there's sometimes no choice — there's only one Facebook and one American Express.
In the end, slightly less than half of local political spending went to Pennsylvania and New Jersey.
How the money will affect the outcomes is impossible to predict.
But one thing is certain: The money will keep flowing.
---
An earlier version of this story misidentified the candidate with the second-highest total self-loan amount. It also misstated the amount Scott Wallace loaned himself; his self-loans total more than $4.8 million.
Reporters:

Jonathan Lai & Holly Otterbein
Graphics & Design:

Jared Whalen