The greatest?
Kobe's complex legacy
YONG KIM / Daily News Photographer
Nothing about Kobe Bryant is simple, including how he will be remembered. It might depend upon what generation you are from, and where you were when he first entered your consciousness.
By John Smallwood | Daily News Staff Writer

Friday, March 27, 2015
For Jule Brown and his teammates at Lower Merion High School, it started as a normal December practice during the 2012-13 season — one that would culminate in the PIAA state championship.
Obviously, the Aces knew who Kobe Bryant was.
Not only is the Los Angeles Lakers star one of the greatest players in NBA history, Bryant is Lower Merion's most famous alumnus, and the school's gymnasium, which he donated $500,000 to help refurbish in 2010, is named in his honor.
Bryant's emotional connection to his high school has not been a secret, and throughout his NBA career he has been known to sometimes drop in at Lower Merion practices to visit longtime coach Gregg Downer and sneak a peek at how the current generation of Aces was sizing up.
Still, even though the Lakers were in Philadelphia to play the 76ers, there was no guarantee he would be able to make it out to the high school.
So really, the Aces had not thought much about whether Bryant was going to show — until time froze and a basketball legend was suddenly in their gym.
"He just walked into the gym and everything stopped," said Brown, a 6-6 forward who has committed to play at Penn. "He was talking to all the coaches on the sideline and we just couldn't believe it.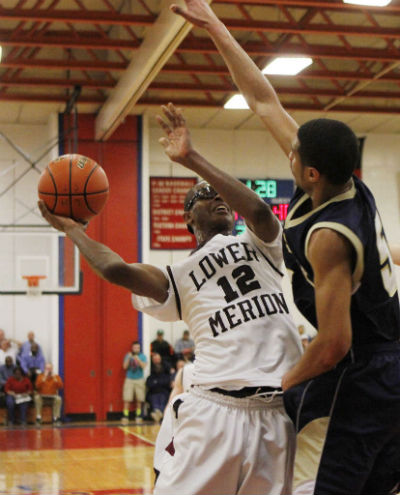 MICHAEL S. WIRTZ / Staff Photographer
Jule Brown
"Just his presence gave us this feeling that we wanted to work even harder. When you see a guy of that stature and you know his reputation for the all-out work he puts into being the best, it sort of puts you in a higher gear. We wanted to show him we had the kind of dedication and hard work ethic he had."
That was the only season Brown got to experience a Kobe Bryant visit to Lower Merion. In Brown's junior season with the Aces, Bryant did not make the Lakers' trip to Philadelphia because he was out with a knee injury.
This season, the Lakers do not visit the Sixers until Monday, and Bryant is out with another season-ending injury.
Given Bryant's work ethic and determination, one should not bet against him when he says he will return from surgery to repair a torn right rotator cuff and play in the 2015-16 season.
"The process of it," Bryant recently told NBA TV when asked why he will try to come back. "I want to see if I can. What I'm going to do is do what I always do. I'm going to break everything down to its smallest form, smallest detail and go after it day by day."
He also is battling an opponent with stronger conviction than him — Father Time. At 36 and after nearly two decades of NBA pounding, three successive long-term injuries show Bryant's body is breaking down.
Depending on next season's schedule, the appearance in 2012 may turn out to be Bryant's last in Philadelphia as an NBA player.
One of the most polarizing athletes in the history of Philadelphia may never return for a grand finale, either for another chorus of boos, or cheers as a grudging acknowledgement of being one of the greatest basketball talents this city has ever produced.
RON CORTES / Staff Photographer
Between stints with the Warriors and Sixers, native son Wilt Chamberlain spent just half of his 14-year NBA career playing in Philadelphia. He has a statue outside the Wells Fargo Center.
Rasheed Wallace, another Philly-born-and-bred NBA star, never played a game of his 16-season career for the Sixers. He is respected as one of the city's all-time greats.
If Bryant, who has spent half his life in the NBA, never plays another game, his on-court legacy will include five NBA championships, 17 All-Star Game selections, 15 All-NBA team selections (11 first-team picks), 12 all-defensive teams spots, two NBA Finals MVPs, an NBA MVP award and two Olympic gold medals.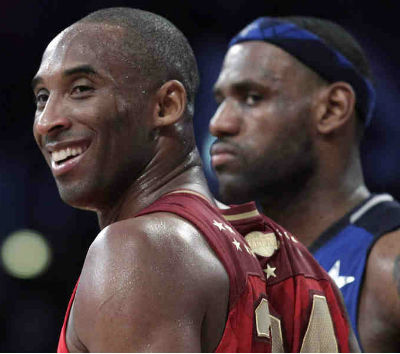 JAE C. HONG / AP Photo
Kobe and LeBron
He ranks third on both the NBA's all-time regular-season scoring (32,482 points) and postseason scoring (5,640) lists.
It is unquestionably the greatest career resume any Philadelphia-born athlete has ever put together — something that would normally receive universal respect as a testament to the hard-working mentality this city breeds.
Normally.
The reality is that Bryant is not universally revered. The public perception of him runs the full spectrum of love him, hate him, and everything in between.
Of all places, that range of emotion is most evident in Philadelphia, a place where Bryant is despised as much as he is respected.
Although he is an endorser for rival Nike, Bryant could be the poster player for the "There Will Be Haters" campaign currently running by adidas.
It has been nearly 20 years of hate for Bryant.
From the day during his senior year at Lower Merion when he announced he "was taking his talents to the NBA" to the venom spewed at him whenever he played in South Philadelphia, Bryant has been treated as one of the ultimate antiheroes by many in the Delaware Valley.
A few years ago, Comcast SportsNet ranked him as the No.2 Philadelphia sports villain, just behind the Dallas Cowboys of the Jimmy Johnson era.
Is that destined to be Bryant's legacy in the city where he was born?
"Honestly, a lot of people in Philadelphia need to stop hating on Kobe," said Malik Rose, the television color commentator for the Sixers who was a star at Overbrook High and Drexel before playing 13 seasons in the NBA and winning two titles with the San Antonio Spurs. "The truth is that those people are not true Philadelphia basketball fans.
"Those are just the haters, the people who just aren't happy unless they are upset. I'm proud to say that I am from the same town that a Kobe Bryant and Rasheed Wallace is from, and have the same connections to the Baker League and origin as a Philly basketball player.
"Kobe is Philadelphia. Yes, he is out in Los Angeles now, but he was born here and he got his basketball roots here. I think he represents a lot of what Philadelphia basketball is all about — that toughness, never-say-die attitude, competitive nature, all of the stuff we in Philadelphia are proud of. Kobe embodies all of it."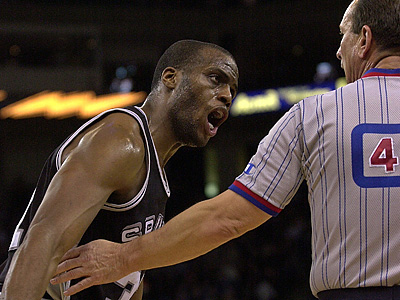 Malik Rose
That has never been good enough for many in the area.
Despite the fact that Bryant was born here on Aug. 23, 1978, and is the son of one-time Sixer Joe "Jellybean" Bryant, haters proclaim Kobe isn't authentic Philly because he spent much of his life in the Reggio Emilia region of Italy, where his father went to continue his professional basketball career.
When the family returned to live in the area in 1991, it settled in Bala Cynwyd, just on the outskirts of the city limits. Living on the other side of City Line Avenue has been enough for some to excommunicate Bryant from the city.
"Hey, if [former Detroit Pistons All-Star and NBA champion Richard 'Rip' Hamilton] can get respect by calling Philadelphia his home when he grew up in Coatesville, then Kobe damn sure can," Rose said.
Being so Philadelphia might be the biggest reason Bryant gets so much angst in the city. Some of the most respected traits of a Philadelphia player are used as arguments against him.
In the case of Bryant, having confidence means being arrogant. Demanding that his teammates work as hard as he does means he is a bully.
"You have to have some big stones to tell Shaquille O'Neal, who was arguably the best player in the game at the time, 'I'm not giving you the ball because you can't make free throws' or 'because you're not in shape'," Rose said of Bryant. "That's what Kobe is. He thinks, 'If I work this hard, everybody should be able to work this hard. I take this game seriously so everybody who plays should take this game seriously.'
"He holds everybody accountable to that standard."
Perhaps the reason for the angst is as simple as Philadelphia basketball savant Sonny Hill once said: "Kobe's regarded, justifiably so, as one of the greatest players out of Philadelphia. People in Philadelphia will always recognize his greatness. But they will identify the fact that he's not playing in Philadelphia and will see it from that point of view."
Still, the hating on Bryant started long before he infamously said the Lakers were coming to Philadelphia "to cut their hearts out" during the 2001 NBA Finals — something they accomplished by clinching the title in Game 5 in South Philly.
Bryant was criticized by the media and by much of the public once he declared for the 1996 draft.
The NBA culture was different back then.
Today, top prospects have to wait one season after their high school graduation to enter the draft. Current fans would bemoan the fact that a Naismith High School Player of the Year, such as Bryant was in 1996, would have to play a year in college before coming to the NBA.
Two decades ago, however, Bryant was savaged by fans and media for thinking he could make the jump from high school to the NBA.
Kevin Garnett began a wave of prep to pros when the Minnesota Timberwolves picked him fifth overall in the 1995 draft from Farragut Academy in Chicago. But Garnett was nearly a 7-footer, and size always has been a great attraction for NBA teams.
Bryant was a 6-6 swingman still growing into his body. His declaration was considered baffling, and the debate over his hubris overshadowed what he actually was as a prospect. There had been a buzz that Bryant did some practicing with the Sixers — who had rookie Jerry Stackhouse — and was the best player in the gym.
"I saw Kobe play in high school and during the summer," said former Sixers general manager Ed Stefanski, who at the time was a color analyst for Atlantic 10 games on ESPN. "There was no question he was special. I saw him handle himself quite well with pro players in the offseason and at times be the best player on the floor as a 17-year-old."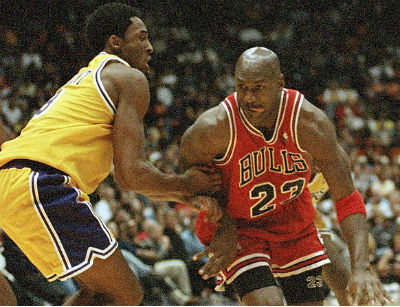 AP Photo
Kobe and MJ
The 1996 draft class was loaded with highly rated prospects like Allen Iverson, Marcus Camby, Shareef Abdur-Raheem, Stephon Marbury, Ray Allen, Antoine Walker and Kerry Kittles.
Those players had at least 2 years of experience in college. Where did Bryant fit?
"I know [former NBA GM] John Nash, a Philly guy who knew the entire background of Kobe, wanted the Nets to draft Kobe at No.8," said Stefanski, a Philly native and current executive vice president, player personnel for the Memphis Grizzlies. "He could not convince the organization to do it.
"People were afraid to take a chance and instead went for a safer pick. They didn't know Kobe's personality and maturity level."
The Sixers, who had the No.1 overall pick, gave Bryant a courtesy workout but were zeroed in on Iverson — a choice that worked out well.
Bryant slipped to 13th and was selected by the Charlotte Hornets, who quickly traded him to the Lakers for talented center Vlade Divac. Almost immediately after the draft, stories circulated that Bryant forced the trade by saying he would not play for anyone but the Lakers.
That added more fuel to the resentment of him.
While acknowledging that his dream was always to be a Laker, Bryant always has said he would have played for Charlotte or any team that drafted him. Former Lakers general manager Jerry West has said that while the team wanted Bryant, the primary reason for the deal was to move Divac's salary so the team would be able to sign O'Neal, who was a free agent.
Many dismiss those versions of the story and prefer one highlighting Bryant's arrogance.
What cannot be disputed, however, is how Bryant's success help orchestrate the flood of high school players declaring for the draft.
Looking back, it was one of the game-changing moments in recent NBA history.
"I have no problem with high school players coming directly into the pros," Stefanski said. "You hope they have proper advisers who can assist them in making prudent decisions.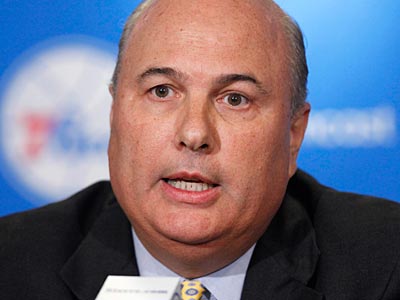 MATT ROURKE / AP Photo
Ed Stefanski
"Obviously it is harder to project their future impact and there will always be ones who make rash decisions, but the great ones always stand out. Scouting has adjusted to the younger players. It's just that back then it was new and people didn't know what to make of it."
Personnel people were not the only ones who were not sure what to make of Bryant. Rose, who was selected 44th overall in 1996 by Charlotte, said he witnessed early Bryant-hating coming from an unexpected group.
"I remember for the Chicago predraft camp, Kobe and I were on the same flight," said Rose, who was a teammate of Bryant's for about 2 hours on draft night. "We were taking physicals and all of the tests, and Kobe blew them away.
"His physical took about 2 minutes and he kept telling them, 'I don't have any injuries. I don't have anything for them to look at.'
"The doctors were marveling and I remember Ray Allen mumbling under his breath and telling Kobe, 'That's because you're 17 and you ain't done nothing yet.'
"I think that's where their rivalry kind of began. Kobe had to work his way through everything. Yeah, he had this sort of smug attitude but it was really just confidence. The guys who went to college really resented him. I would say all the rivalries started at that camp in Chicago because some of the other guys seemed like they wanted him to fail."
Failure isn't really an option if you want to earn respect on Tustin Playground in Philadelphia and in the Sonny Hill League, where Bryant honed his skills and defined his game.
Bryant has said he doesn't mind the boos he gets when he plays here but takes great offense to those who say he's forgotten where he came from.
"I grew up learning how to play basketball in Philadelphia," Bryant told me, a few years ago. "I will always be grateful to Philadelphia for helping making me the basketball player that I am."
The debate always has been whether that gratitude is reciprocated from Philadelphia to Bryant.
Jule Brown actually had an interaction with Bryant 2 years before that December of his sophomore year at Lower Merion. During the summer after eighth grade, Brown attended the weeklong Kobe Basketball Academy in Santa Barbara, Calif.
"I told him I would be going to Lower Merion and he made me feel like I had known him for a long time," Brown said. "It's funny that some people call him arrogant, standoffish and things like that, but I didn't see any of that.
"I just saw a humble person who was a great guy, who was really down to earth."
Still, there will be haters.