The long ride
DAVID SWANSON / Staff Photographer
The long ride
DAVID SWANSON / Staff Photographer
For those spending hours in traffic, it's no surprise the region has one of the nation's worst commutes. Fixes aren't cheap.
Jason Laughlin and Justine McDaniel / Inquirer Staff Writers, jlaughlin@phillynews.com jmcdaniel@phillynews.com
Sunday, July 12, 2015
Inching along the Schuylkill Expressway on a rainy spring evening, Jill Betters measures her commute in podcasts.
In less than three years, the 30-year-old has listened to 262 hours and 13 minutes, the equivalent of six and a half work weeks, traveling between Fishtown and her job in Valley Forge.
Headed eastbound around 6:20 p.m., Betters, a marketing manager at a home building materials supplier, notices an electronic road sign warning of police activity ahead. In 40 minutes she's supposed to be at a community meeting near her home. "I don't think that's going to happen," Betters says.
Thanks to all those hours in her Toyota Camry, she's now well-versed on the 1865 Mississippi River steamship disaster that killed more than 1,700 people and knows why the airport carpet in Portland, Ore., has become an Internet sensation. Still, if she had her druthers, Betters would take the train.
Except there isn't one. Nor is there a bus.
Like almost 2 million others around Philadelphia, Betters climbs into her car five days a week for a slow, frustrating and sometimes infuriating commute.
The region has one of the nation's worst commutes, according to one national survey, with congestion keeping drivers on the road for an additional 48 hours a year — more than a whole work week — traveling to and from work.

MICHAEL BRYANT / Staff Photographer
Jill Betters listens to podcast after podcast on her long commute from Fishtown to her job in Valley Forge.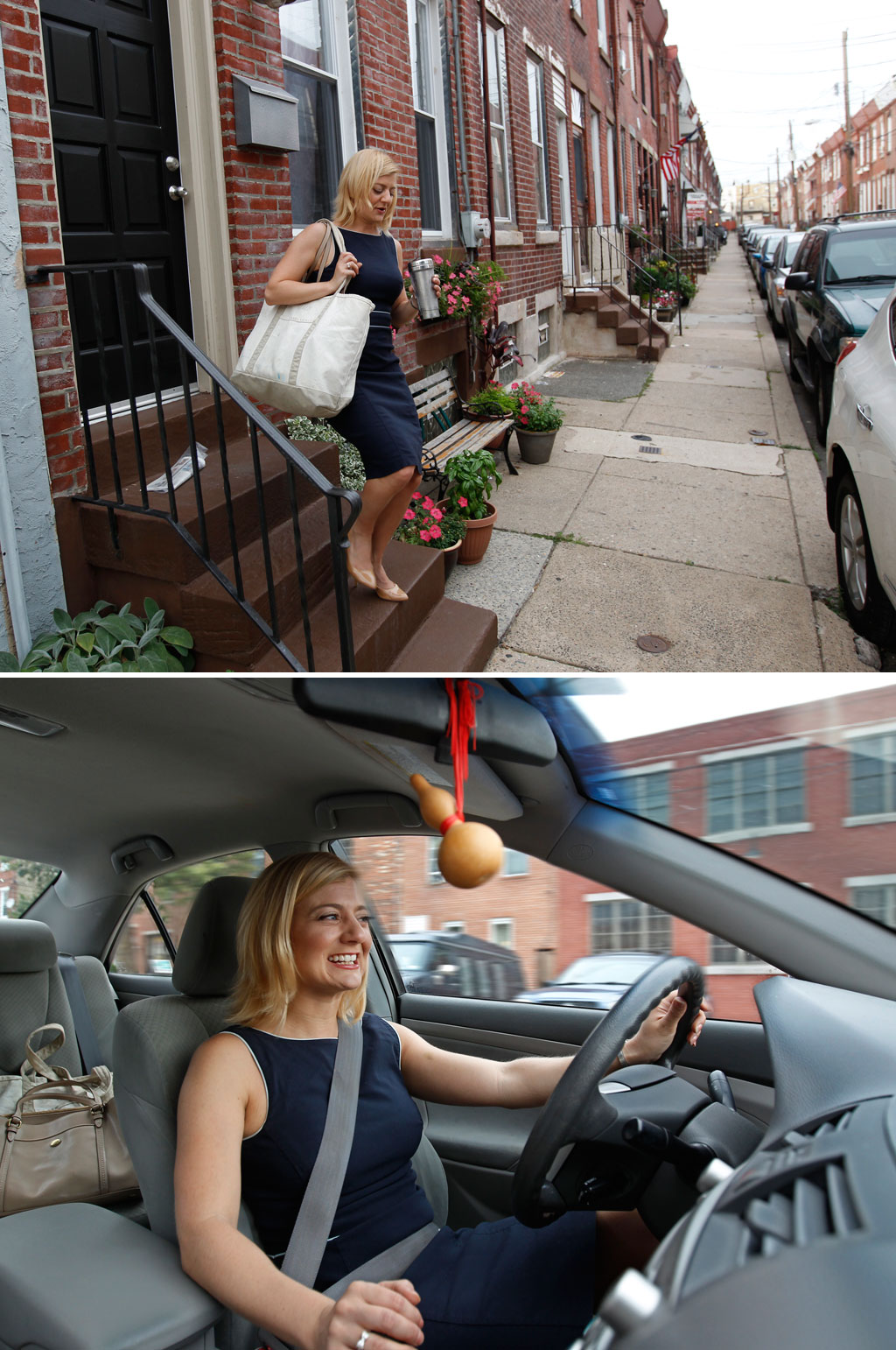 MICHAEL BRYANT / Staff Photographer
Jill Betters listens to podcast after podcast on her long commute from Fishtown to her job in Valley Forge.
In the area's fastest-growing counties, bus routes and train lines don't intersect; parking at rail stops, designed a century ago, can't accommodate demand; bus trips are long and segmented.
Public transit use is up, SEPTA says. But about 80 percent of the region's workers — the highest number among the Northeast's major metropolitan areas — still drive alone or carpool, often on overburdened and worn-out roads. In comparison, just over half of workers in the New York City metro area drive or carpool.
The commuting quagmire here has been decades in the making. Along with massive shifts in population from the city to the suburbs, the local workforce has undergone a dramatic change of venue as erstwhile bedroom communities have become employment hubs.
In 1970, jobs were about evenly divided between the city and its seven neighboring counties in Pennsylvania and New Jersey. The county workforce has since doubled to 2.27 million as the city's dropped 20 percent to 803,000, according to federal figures.
Job Shifts From City to Suburbs
In 1970, about half of all of the region's jobs were based in Philadelphia. By 2013, only about a quarter were, due to job losses in the city, and explosive growth in the suburbs.
Tap to view the number of jobs.
Hover to view the number of jobs, in thousands.
SOURCE: JLL Research, U.S. Bureau of Economic Analysis
OLIVIA HALL / Philly.com
Now, saddled with an infrastructure built for an era when Philadelphia was the employment nexus, planners and transportation officials are engaging in a profound game of catch-up.
Across the region, a wave of transportation projects bigger than anything in the last 30 years is animating the long-stagnant landscape. For 21st-century commuters struggling along on 20th-century roads and rails, they represent hope — but not yet relief.
In two dozen interviews with commuters, planners, municipal officials and transportation experts, The Inquirer examined the failure of the region's framework to keep up with the changing commute and the solutions now proposed — in other words, how we got here and why it can take so long to get there.

Each workday morning, Jenna Bozzi, 24, opens her Google Maps app to resolve a dilemma: What will be the quickest route between her Lower Bucks County home and her office in Doylestown.
"You just try to pick the lesser of all the evils," she said.
The westbound Pennsylvania Turnpike can turn into a rush-hour parking lot. Bustleton Pike is usually better, but if she gets stuck behind a school bus on a two-lane road, she'll never make it on time. Taking Interstate 95 means driving the most miles; her Mitsubishi Eclipse doesn't get great mileage.
Bozzi used to work in King of Prussia, about 30 miles from her Bensalem home. The job she took in December as an account manager at a boutique marketing firm is roughly 10 miles closer. But in terms of time, the drives are almost equal.
Overall automobile use in the region may be dropping, but the percentage of commuters traveling by car isn't, said Michael Boyer, a top planner at the Delaware Valley Regional Planning Commission, a group that works with area governments and transit agencies.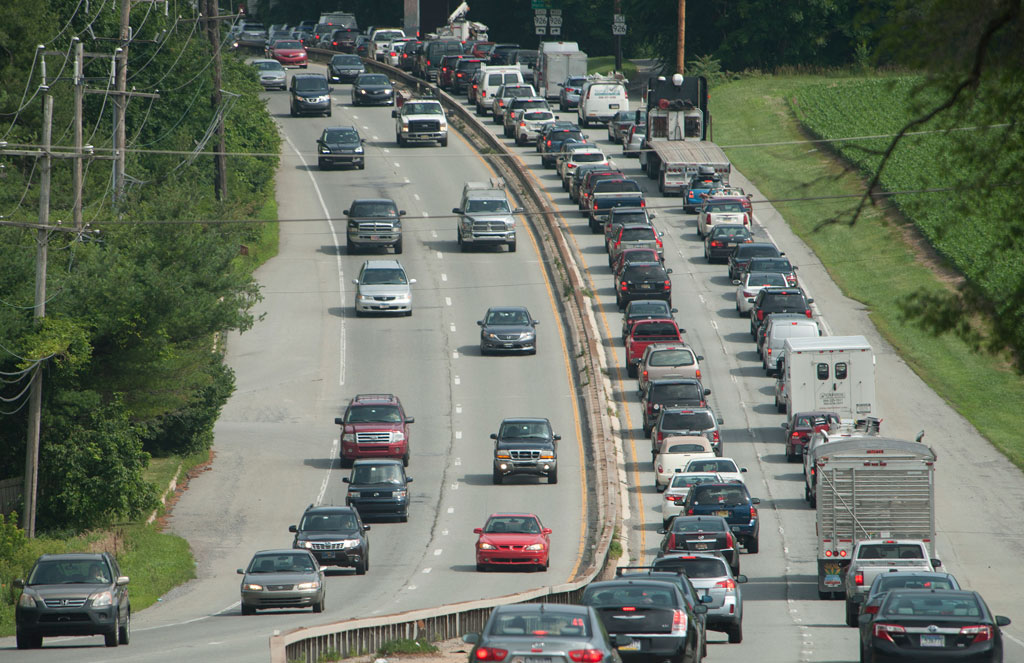 CLEM MURRAY / Staff Photographer
Route 202, which has largely driven the employment boom in Chester and Montgomery counties, is being widened.
In 1956, Congress authorized construction of 41,000 miles of interstate highways, the foundation of America's car culture. Now, crisscrossed by highways, their edges stippled with bursts of suburban development and lanes swollen with traffic, the U.S. is living with the consequences of sprawl.
"It just spread out the distances rapidly, not just between people and jobs but basically people and everything," said Adie Tomer, who studies metropolitan infrastructure as a senior research associate at the Brookings Institution. "Those were elements we didn't really think about when we kind of cemented this legacy, and that is the single biggest feature of what we're seeing everywhere in the country now."
Philadelphia is no longer the hub it once was. About three-quarters of the region's fulltime employees work outside the city. And more than 1.5 million people - nearly two-thirds of the fulltime working population - don't need to ever cross its borders. Their homes and jobs are in the counties.
Suburban populations have skyrocketed while Philadelphia is only just beginning to reverse a decades-long decline.
"The county-to-county commute is higher than ever before," said Leslie Richards, the Pennsylvania secretary of transportation and a former Montgomery County commissioner.
For now, Jenna Bozzi says she is doing her best to ride out the situation. She survives her commute by listening to National Public Radio, which she recently traded for top-40 radio stations.
"I just feel like if I'm going to be in the car for that long," she said, "at least I should sort of be enriching my mind somehow."

Sitting at the back of the van, Emily White rides quietly with her coworkers. She's on the last leg of an hour-plus commute that began on the Broad Street line, near her South Philadelphia home.
It's just after 8 a.m. on a sunny Friday in May, and most of the passengers wear headphones and gaze out the windows. Laptop bag on her arm and large Dunkin' Donuts cup in hand, White, a 29-year-old public relations worker, is among 11,700 commuters to Vanguard's Chester County locations.
The Paoli-Thorndale train line gets White close to work, but without the company shuttle she would be stranded at the Paoli station. It's just one example of a public transportation network out of sync.
"People are living everywhere and working everywhere and that's a much harder market to serve with public transportation."
Chester County transportation services director Randy Waltermyer
"Now… people are living everywhere and working everywhere and that's a much harder market to serve with public transportation," said Chester County transportation services director Randy Waltermyer.
Another example is the heavily used Exton train station, one of five in Chester County slated for improvements. It has no bus stop, though county planners now say they're working to expedite a fix. Across the county, only 11 percent of bus stops have both a shelter and a sidewalk, Waltermyer said.
Chester County is by far the fastest growing county in the state's southeastern corner, according to 2014 Census data. But many of its towns and communities were designed a century or more ago. "Nobody could imagine the volume of motor traffic," said William Stevens, executive director of Chester County 2020, a nonprofit focused on improving quality of life in the county.
JEFF FUSCO / For The Inquirer
The Schuylkill Expressway, the road of (often reluctant) choice not only for suburbanites working in the city but for growing numbers of Philadelphians with jobs in the suburbs, is at capacity, with up to 136,000 vehicles a day, on average, according to PennDOT. So is the Blue Route, a section of Interstate 476 completed in 1991 that links the PA Turnpike to I-95 near Delaware, that carries an average of 100,000 to 146,000 vehicles daily through Delaware and Montgomery counties. There is little chance of either being expanded, transportation secretary Richards said.
"All our infrastructure is hitting senior citizen age at the same time."
Leslie Richards, Pennsylvania secretary of transportation and a former Montgomery County commissioner
"All our infrastructure is hitting senior citizen age at the same time," she said.
Similar problems exist across the Delaware River, where a light rail connects Trenton to Camden but public transportation users can only take a bus to get farther south.
Every disconnect or inconvenience left in the workforce's exhaust-filled wake is another thing to keep someone off public transportation.
Even with the extra leg of a shuttle bus ride, though, White, who has been at Vanguard since 2012, said the car-less commute is worth it.
"You make your choices based on the lifestyle you want," White said. "I love the city ... (but this) is a great job."
How much of your life is spent commuting?
How much time will a person spend commuting in their lifetime based on a predicted retirement age of 65?
Predictions based on assumption that the average person begins working full time at age 22, with 20 vacation days a year. Results are estimates.
How long does it take for you to commute...
CALCULATE
Enter in your commute time.

Though this NJ Transit bus lacks a bathroom, it still smells like one as it leaves the Deptford Mall at 9:42 p.m. on a Wednesday. Someone makes a vulgar comment about the odor and passengers, many of them looking tired after working late shifts, laugh.
A man boards and asks if anyone can break a five-dollar bill. Exact change only on these buses.
Mandy Duranceau gives him four singles and, as he requests, one dollar in quarters.
"You're lucky I'm on the bus, dude," she tells him.
Buses are the sole transit option for many South Jerseyans for the same reason Pennsylvania's rail infrastructure remains stubbornly out of date: Solutions aren't cheap.
Two years ago, then-Gov. Tom Corbett and Pennsylvania legislators approved a landmark bill to set aside $2.3 billion a year for transportation projects through 2018. If that sounds like a lot, consider that last year the DVRPC estimated that Pennsylvania would need about $47.8 billion to finish its needed rail and road projects.
Meanwhile, Washington has been unable to deliver stable funding. Congress has punted on the issue with short-term bills, like one passed last month that will expire July 31.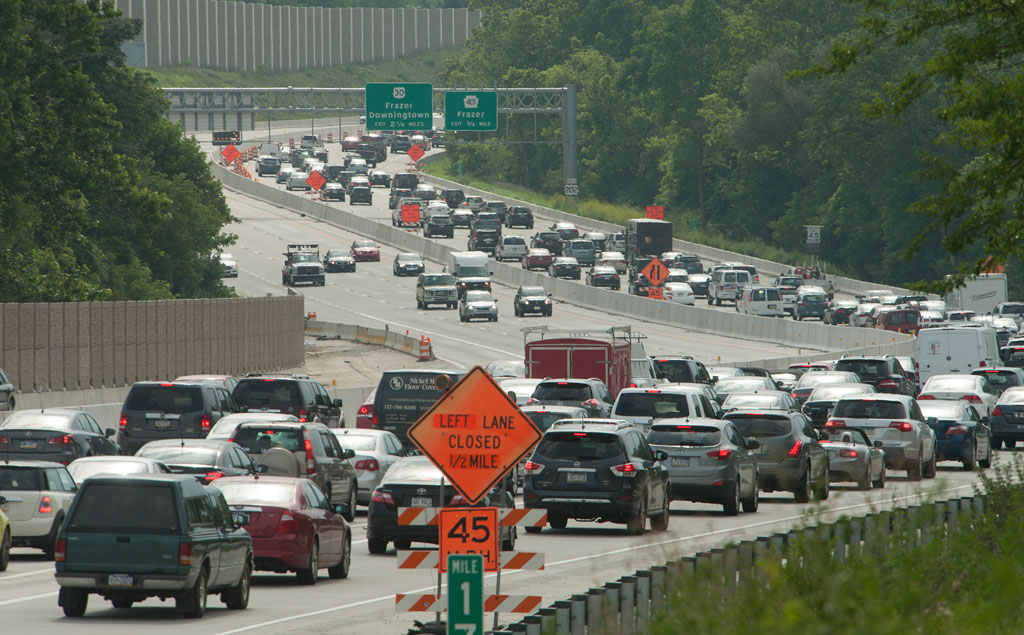 CLEM MURRAY / Staff Photographer
Commuters head nowhere quickly on Route 202 just south of Route 29. The Philadelphia region is plagued by transportation networks designed when the city was the residential and jobs hub.
Because federal money is unreliable and state money is still limited, communities have begun relying more on local tax revenue. Over the last decade, ballot initiatives to boost local infrastructure funding, usually through sales tax increases, have passed easily in places such as Los Angeles, Seattle and Oklahoma City, Tomer said.
"If you want to build more and new, you're best to look back home to find the resources and build the public support for those investments," he said.
In Philadelphia, only 8 percent of the city's transit capital funding comes from local sources, putting it near last among the country's 12 biggest cities, according to the DVRPC. In Houston, 76 percent of funding is local; in Washington, 43 percent.
That's significantly more dedicated to transportation than in Philadelphia, which historically has struggled to pay its bills despite relatively high taxes.
"It's just not as simple as raising the property tax here or raising the sales tax here," Boyer said. "It's sort of all locked together: How are we going to fund the education system? How are we going to fund the transportation system?"
Planners don't want to gamble with taxpayers' money, particularly with precious allotments from state and local governments, Waltermyer said. That means need outpaces change, which often occurs only after years of study. "To do it right, that process takes time," he said.
So Mandy Duranceau, 46, continues to make the half-hour bus trip between her home in Gloucester City and her waitressing job at the Meadows Diner in Blackwood twice daily. On the ride, she checks in with her 16-year-old daughter on the phone, and chats with fellow passengers.
"I always talk to people," she said. "It makes the time go quickly."
Jobs and Commuting in the Region
In the Philadelphia region, highway and rail networks were designed decades ago to shuttle people between suburban homes and jobs in the city. Today, about three-quarters of the region's jobs are located in the suburbs. From 1970 to 2013, employment in Philadelphia fell by 23 percent, while jobs in the suburbs have doubled.

The result: Highways that are at or above capacity, train stations miles from major employment centers, and one of the worst commutes in the country.

The map shows circles representing the number of jobs in each municipality in the suburbs, and in zip codes in Philadelphia. Click on the map for more information on commuting patterns and lengths, and details on the number and most popular types of jobs as of 2012.

SOURCE: Inquirer analysis of U.S. Census Bureau data
The Philadelphia Inquirer

Joseph Russell, a 31-year-old web developer, used to drive up to two hours a day between his Gloucester Township home and Northern Liberties job.
"Being stuck in traffic is the most soul-crushingly terrible thing that I have ever had to do," he said.
So when Russell and his wife moved back to this area from Massachusetts in 2013, they intentionally chose a new home on the PATCO line, which runs from Southern New Jersey to Philadelphia, in order to avoid that soul-crushing traffic.
These days, Russell walks seven minutes from his house in Collingswood to the PATCO station, takes a 16-minute ride to 12-13th and Locust streets, and walks six minutes to his South Broad Street office.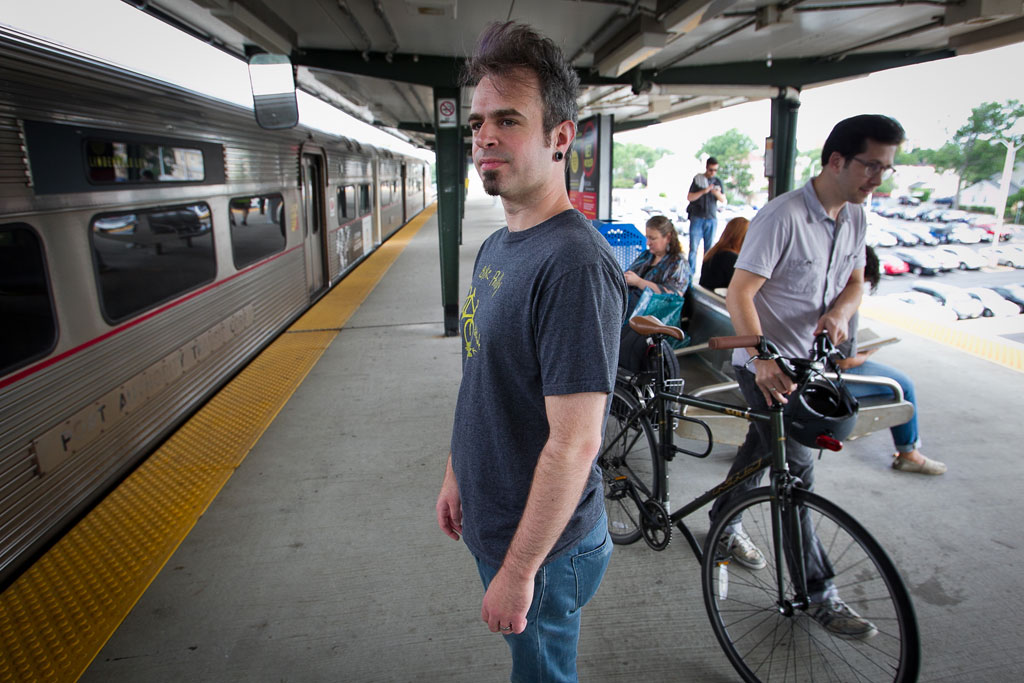 ALEJANDRO A. ALVAREZ / Staff Photographer
Joseph Russell awaits a PATCO train at the Collingswood station for his ride into Center City. He and his wife chose a town on the train line when they moved back to the area.
As the region moves toward some of its most significant progress in 30 years, projects on the horizon promise to make more commutes like Russell's: easy and convenient.
The most ambitious proposal for southern New Jersey, an estimated $1.65 billion rail line linking Gloucester County to Camden and Philadelphia, is in the planning stages. The funding sources for the project are up in the air, according to the Delaware River Port Authority, but planners are hoping state and regional money will be complemented by a significant pot of federal money.
"A lot of our older communities desperately need something like this to help revitalize them," said New Jersey Senate President Steve Sweeney (D., Gloucester).
New Jersey is also engaged in a billion-dollar project to update the interchange of Interstates 295 and 76 and state route 42.
In Pennsylvania, a $1.4 billion renovation project is underway on Interstate 95 from Interstate 676 to Cottman Avenue. Route 202, which has largely driven the employment boom in Chester and Montgomery counties, is being widened. There are also plans to eventually widen Route 30 between Thorndale and East Caln in Chester County, Waltermyer said.
SEPTA is planning to add a fresh spur of track to connect the King of Prussia area with the Norristown high-speed line. Also made possible was an extension of the Media-Elwyn rail line to an abandoned station in the community of Wawa, in western Delaware County.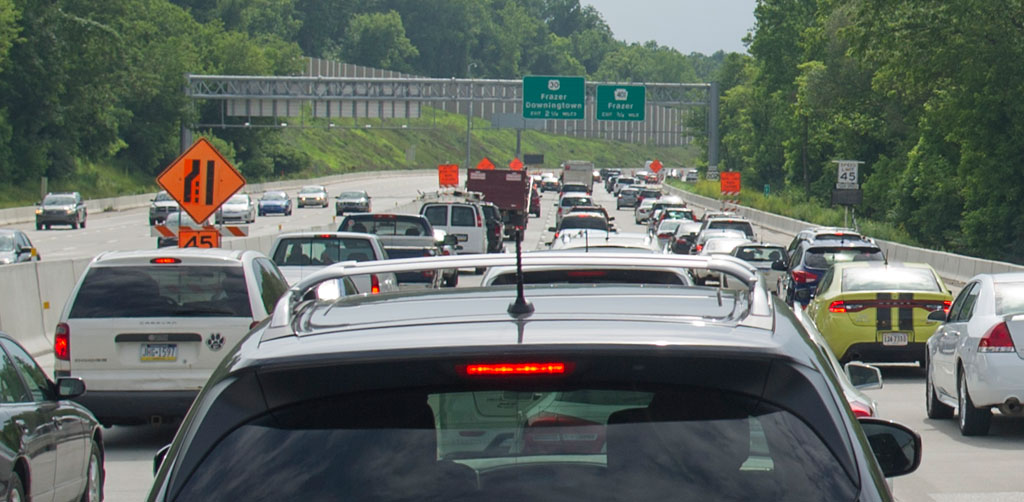 CLEM MURRAY / Staff Photographer
About three-quarters of the region's fulltime employees work outside the city.
"We're catching up," said Jeff Knueppel, SEPTA's Deputy General Manager, but he added that the agency's first priority is basic maintenance — fixing signal systems; replacing cars — which consumes an estimated four-fifths of public-transit and road budgets. "We had such anemic capital funding for years, we're just trying to heal what we have first."
The King of Prussia and Elwyn-Media extensions are the only new rail projects currently funded, Boyer said. Next up on the regional wish list is an extension of Philadelphia's Broad Street line to the Navy Yard.
Elsewhere across the city, upgrades to existing networks dominate. PennDot is spending $64.8 million to rebuild seven bridges over the Vine Street Expressway. It will also spend $160.2 million improving connections at the I-95 and Betsy Ross Bridge interchange.
Earlier this month, SEPTA completed a $1.7 million reconstruction of the 23rd and Venango bus loop in North Philadelphia. It has ordered 13 new locomotives at a cost of $154 million and started modernizing two trolley routes. As renovations at the Wayne Junction Station come to a close, new work is beginning at the City Hall and 15th Street stations.
Joseph Russell is glad for new improvements - and even if his train is delayed by track work, he can still read emails, articles or his Twitter feed, he said.
"But man, when you're in a car, you can only stare forward, and it's like being in a tiny little prison."
Now, Russell uses his commute to be productive on his smart phone until, each morning, the train stops and the journey ends. Then, like Bozzi, Betters and more than two million others making daily treks on an infrastructure that both flounders and flourishes, Joseph Russell goes to work.
jlaughlin@phillynews.com | jmcdaniel@philly.com 610-313-8114 | 610-313-8205 @jasmlaughlin | @McDanielJustine