For Lyft and Uber, more women behind the wheel
MICHAEL BRYANT / Staff Photographer
Tanya Kapanzhi of Evesham, a photography student at Moore College of Art and Design, drives for Uber.
Female cabbies are rare in Philly, but ride-sharing apps have opened new avenues for women drivers.
The twenty-something in the backseat, a late-night casualty of Center City's bar scene, was bewildered, drunk, and, inexplicably, trying to undress.
In the SUV's driver seat, Jennifer Sorrento told her passenger, who moments earlier had been unconscious, to keep her clothes on. The young woman was in a Lyft heading home, Sorrento explained.
It was 1 a.m. on a Saturday in July, and the bars would soon be disgorging boozy clients. Sorrento hoped to pick up fares for two more hours before going home to her two children. Time is money in the gig economy, and weekend nights pay great.
When she arrived at her passenger's South Philly home, though, Sorrento walked the woman to her door and told her, "When I close this door, I want to hear it lock."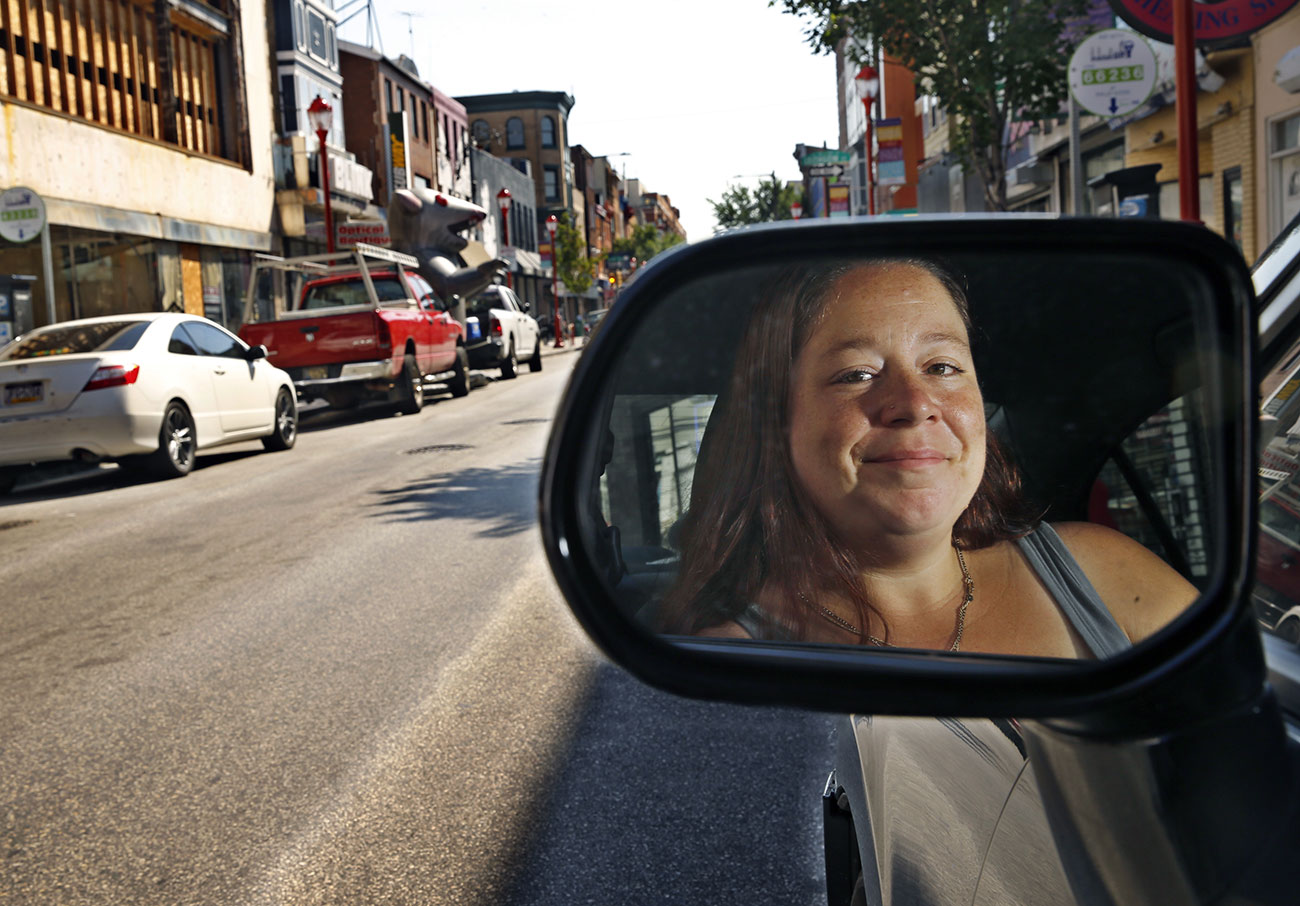 Before October 2014, the odds of finding a female driver in Philadelphia were slim. Of the city's 3,370 taxi drivers, 24 are women, says the Philadelphia Parking Authority.
That changed almost two years ago when Uber came to town, soon followed by Lyft.
Ride-hailing apps connect drivers to riders, and take a cut of the fare. In the process, they have opened to women a field long dominated by men.
These firms are stingy with driver data, but Uber reported about 19 percent of its users nationwide are women. In the Philadelphia region, 35 percent of Lyft's drivers are women, an 11-point rise from the start of 2016.
Driving for hire through apps has the same appeal to women as men. It offers flexible hours, and drivers can earn in direct proportion to the hours worked.
"It's a good feeling to know I can be a hustler if I need to be," said Lisa Harrelson, 26, a nursing student and weekend singer with a wedding band who started driving for UberX a few weeks ago.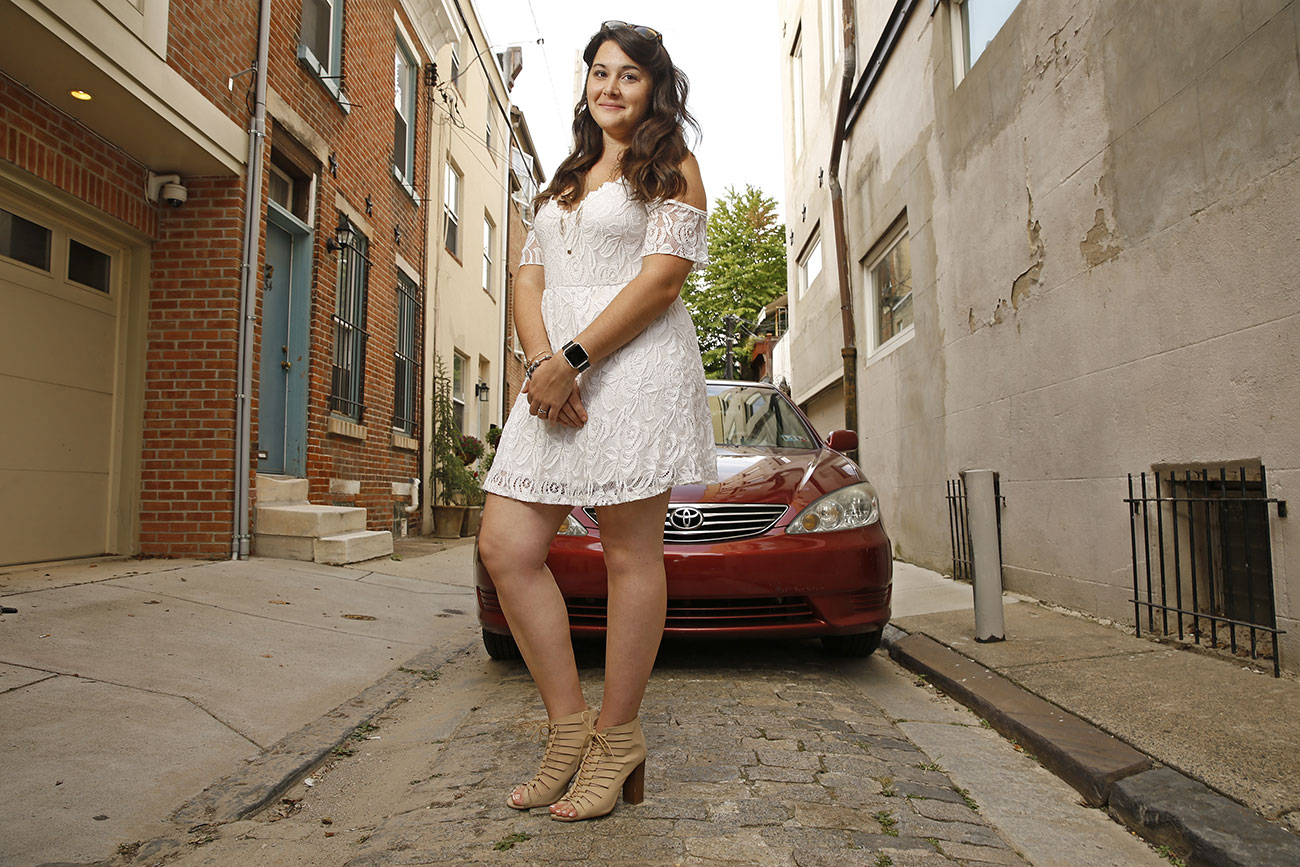 In a week of interviews, four of the region's drivers talked about being a woman behind the wheel, from the bond that can exist when other women are passengers to the sense of security the system offers drivers.
It's still difficult. "You have to find the areas where you make more money," Sorrento said, saying real money comes only when a passenger wants to go some distance. "You'd be amazed how many people get into a Lyft for two blocks."
The biggest difference between a female driver or a male may be the way customers react.
"When I get female customers now, especially late at night, they're so thankful," said Rasheedah Ahmad, 39, a Lyft driver for eight months. "They want to be OK trusting this person is going to get them home."
Sorrento, a 37-year-old single mother of two, has driven her Nissan Murano for Lyft about two months, and projecting that sense of safety to women is important to her.
"It makes me feel good that I'm helping them," Sorrento said. "Some of these young women, they drink too much and they don't know what's going on and somebody could take advantage of them."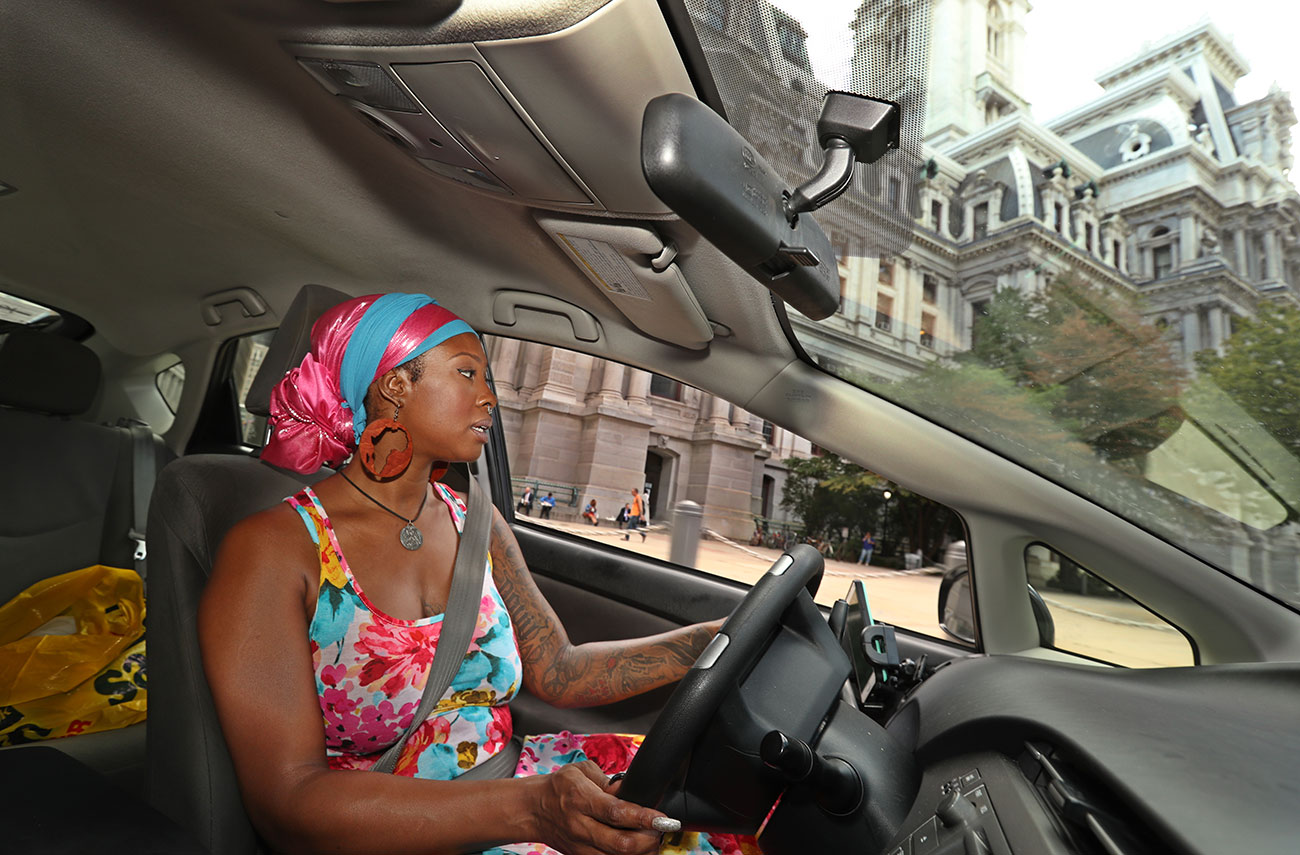 Ahmad, who also bartends, is gregarious with an activist streak. She also has chronic pain that makes a 9-to-5 job difficult. She once had a job as a paralegal. She hated it. She felt she had to cover her tattoos and straighten her hair to fit in.
Ahmad carries Mace when she drives, but Sorrento doesn't, though she keeps her purse to the left of the driver's seat. Harrelson replied by text when asked about having a defensive weapon, "Just my fists," followed by an emoji that mirrored Rosie the Riveter's famously flexed arm. The women said they felt safer than they would driving a cab.
"That little piece of glass between you is not going to protect you if somebody wants something," Sorrento said.
With Uber and Lyft, all payments are electronic. There's no cash to attract robbers. Passengers using ride-hailing apps create records so there's no anonymity. Ride-hailing drivers also generally know their destination in advance.
There is attention from male riders, though: requests for phone numbers, compliments, even suggestions that a driver ditch her car and a night's income to join guys at a bar.
"You listen, you politely smile, you politely decline," said Tanya Kapanzhi, 40, of Evesham, Burlington County, an UberX driver and photography student at Moore College of Art & Design. "As long as you don't get jumpy about somebody finding you attractive and asking you out, everything's going to be OK."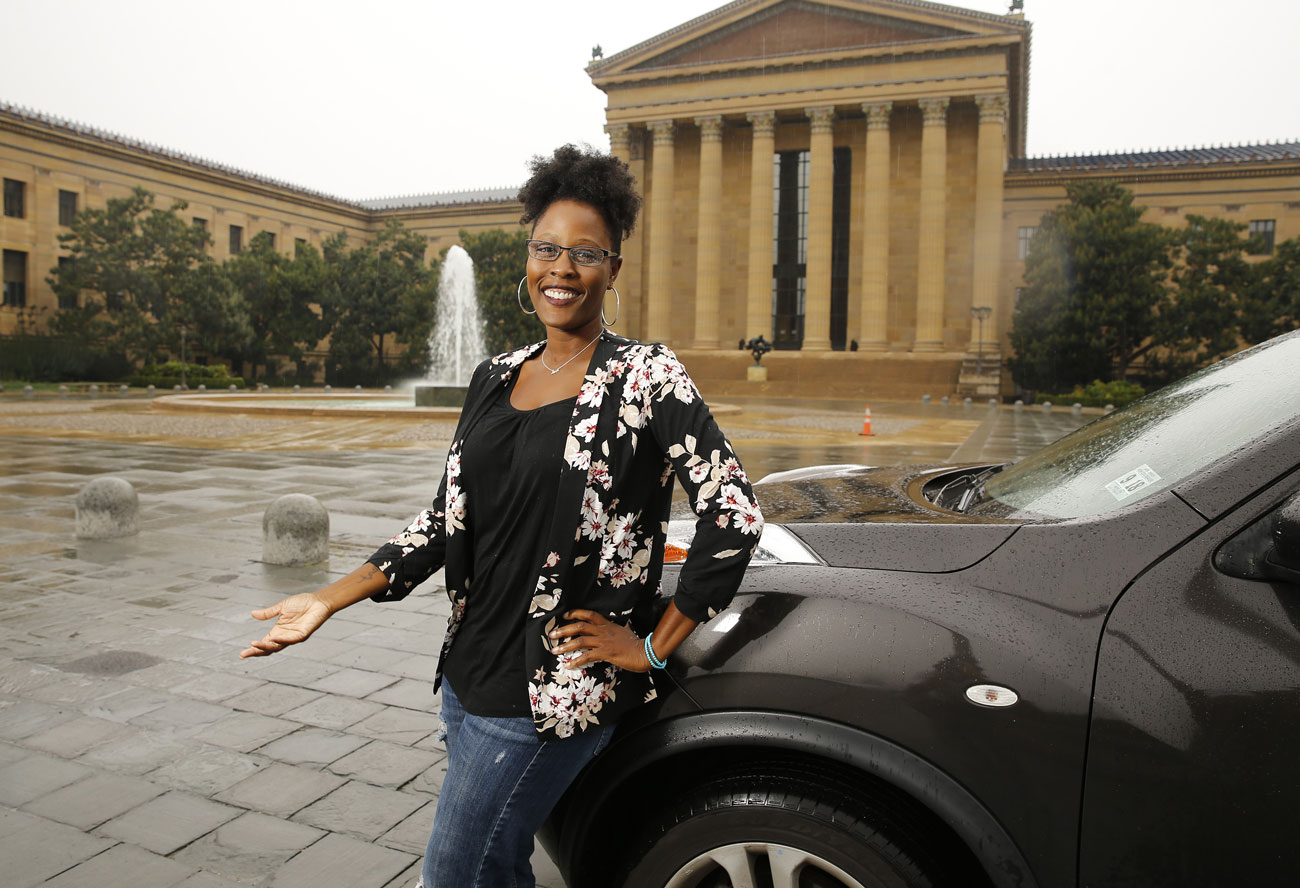 Harrelson and Ahmad both have experience with drunk guys from bartending, and said that helps. Some of Kapanzhi's worst passengers were not men but women who started fighting over access to a phone charger. She pulled over and tossed them out, she said.
More frightening than an unwanted come-on, drivers said, is someone making a mess.
"I'm afraid someone's going to get sick in my car," Ahmad said, "and I'm going to lose it."
Meanwhile, driving offers unprecedented access to a wide cross section of people. Kapanzhi described a passenger whose look intrigued her. She asked if he would pose for her and he visited Moore College for a photo shoot that yielded provocative pictures of a partially undressed man.
None of the four women interviewed drives full time, which conforms with Uber and Lyft's data. Half of those using Uber drive fewer than 10 hours a week. Lyft reported 80 percent of Lyft users drive 15 hours a week or less.
Relying on the gig economy requires strategy and means a lot of uncertainty. Kapanzhi texted about a recent flat tire, saying it was "more money out of my pocket." Drivers have to pay their own taxes. There are no paid sick days or benefits. And the money varies. Ahmad makes about $700 a week with 25 to 30 hours' driving, she said.
Sorrento drives midnight to 3 a.m. Saturdays and Sundays, and earns $50 to $75 a night. It's just one of her four jobs. She works at a day care, is a behavioral therapy assistant for children with autism, and on Sundays runs a housecleaning service. Saturdays, she writes papers for her master's degree courses.
There are months, such as July, when she doesn't bring in enough and panic sets in.
She has to decide where riders are most likely to want to go longer distances — Manayunk is one of her favorite spots to fish for passengers — and judge whether to chase the peak areas where Lyft boosts fares due to high demand. That can create a driver feeding frenzy as everyone speeds to the promise of riders. Ultimately, no one makes much.
The July night Sorrento walked the young woman to her door she waited outside until she heard a lock's click. Then she returned to her SUV to navigate a city aglow with the embers of a night fueled by shots and beer.
Miles away, at her Frankford home, a 12-year-old waited. Her son, Dante, is often awake on the couch when she gets home, no matter how late.
"He won't go to sleep," she said, "until I'm in the house."
jlaughlin@phillynews.com
215-854-4587
@jasmlaughlin