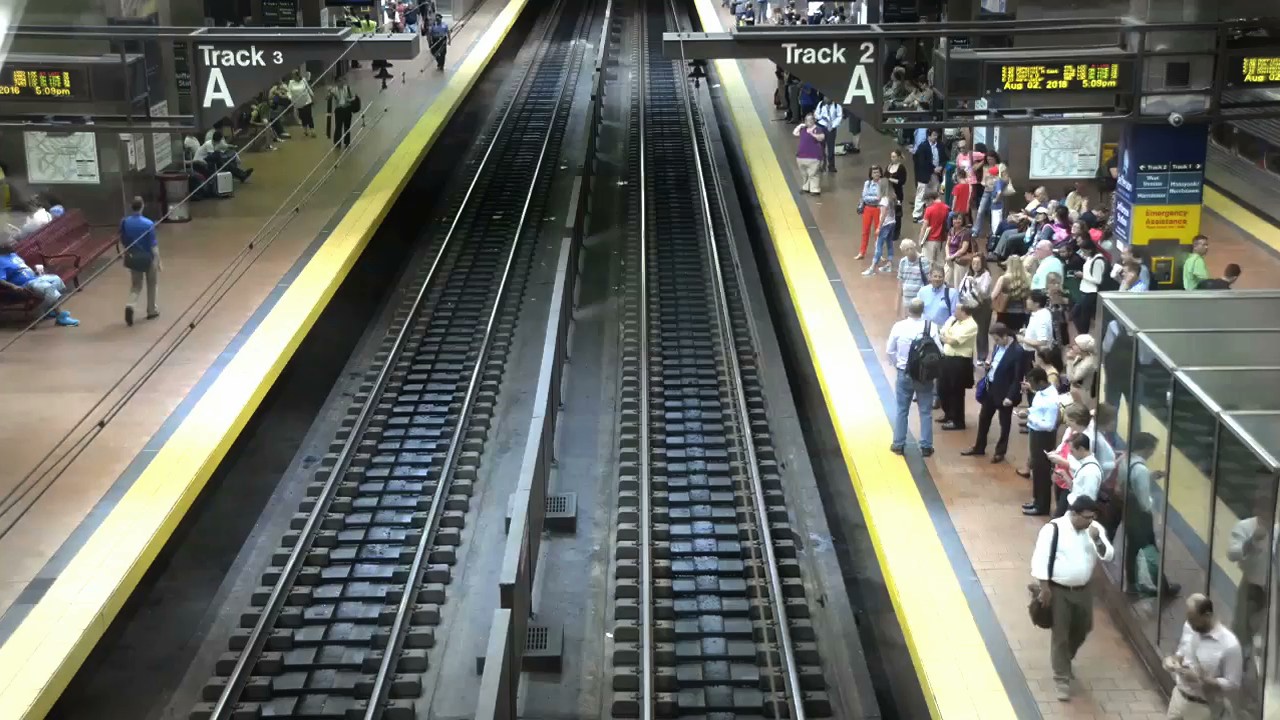 SEPTA: It's a long, long ride
JARED WHALEN / Staff
JARED WHALEN / Staff
Staffing and equipment problems, increased ridership add up to on-time woes for consistently unreliable Regional Rail.
On Tuesday night, a SEPTA train heading west toward Paoli lost power.
For hours.
No water. No bathroom. No air conditioning. No way off a train disabled a few miles shy of a station.
At first, the passengers joked among themselves. Then the train stood still.
Mary Kate Foley, a Temple University junior heading to a show rehearsal in Downingtown, said conductors appeared indifferent to passengers' concerns, while SEPTA's social media service provided inaccurate information about a rescue.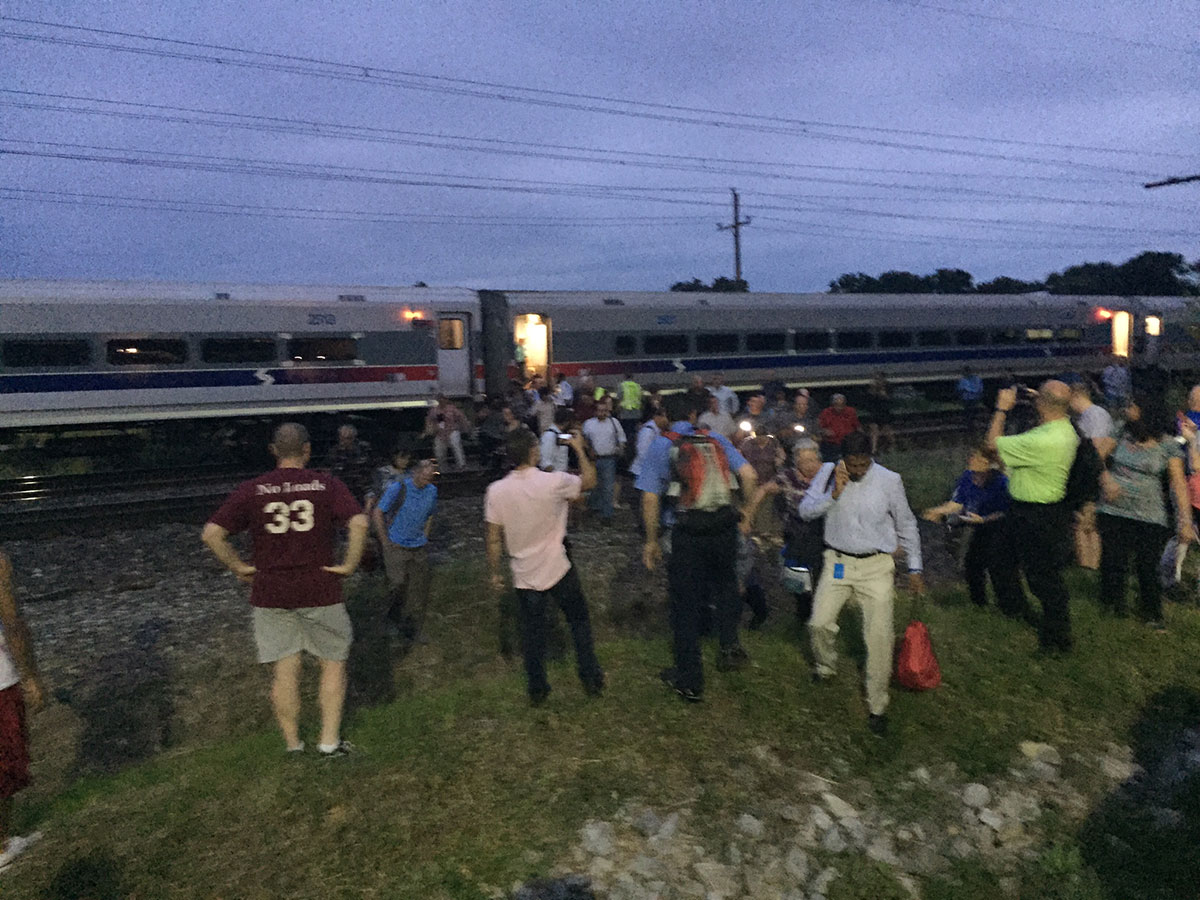 ROSEMARY FOLEY
Passengers leave a stalled Regional Rail train at 8:15 p.m. on Tuesday, August 9, after being stranded for hours waiting for SEPTA to retrieve them. "I was really furious," said Mary Kate Foley, who got on the train at 4:50 p.m., and had her mother pick her up in a car.
Her train left the Temple University station at 4:50 p.m., she said, and was halted an hour or so later by an Amtrak outage. But it wasn't until around 8:15 p.m. that she and the nearly 80 passengers were finally allowed off the train, then had to scramble through a ditch and climb a highway divider to get to a road 2 miles from the next station.
"I was really furious," said Foley, whose mother picked her up in a car. "I was three hours late and obviously shaken."
Foley is one of 65,000 people each weekday who contend with SEPTA's consistently unreliable rail service.
In 2015, nearly one in five trains was late, the worst performance of the decade. Train riders have sat in tunnels for hours without knowing why. They have missed job interviews and daycare pick-ups. They have learned to get to the station an hour before they need to.
And that was before July, when SEPTA lost a third of its rail cars.
An Inquirer analysis of hundreds of performance reports; interviews with SEPTA employees, top managers, other rail agencies, and industry experts; and input from more than 100 riders portrays a system that even fails to live up to its own expectations. The reasons are myriad and include outdated equipment, a lack of funding and manpower, growing ridership and a complicated relationship with Amtrak. None come with easy solutions.
MICHAEL ARES / Staff Photographer
Stuck in the middle: Passengers packed into a SEPTA train car at Jefferson Station.
Among the findings: More than 40,000 trains were late across the system's 13 lines last year — 17 percent of all trains. Another 1,283 were cancelled.
More than half the fleet is 40 years old, and some rail infrastructure dates back a century. SEPTA is short nearly two dozen engineers, mainly due to retirements.
SEPTA's unreliability is endemic across all lines and all times of day. The system as a whole hasn't consistently met the agency's self-imposed goal of a 90 percent on-time rate in three years. Prior to July's car failures, the Paoli/Thorndale and Trenton lines all were performing 10 percentage points worse than that on-time target in 2016. Only three lines exceeded that standard in the first half of the year.
SEPTA considers a train late if it arrives at its final destination six minutes after its scheduled time. Overall on-time performance for the first six months of 2016 showed improvement from the end of last year. But the 85-percent rate wasn't any better than the first six months of last year.
That data doesn't include canceled trains or local trains that suddenly become express — skipping stops to reach the end of the line on time. It also doesn't count arrivals at each station, only the end stop.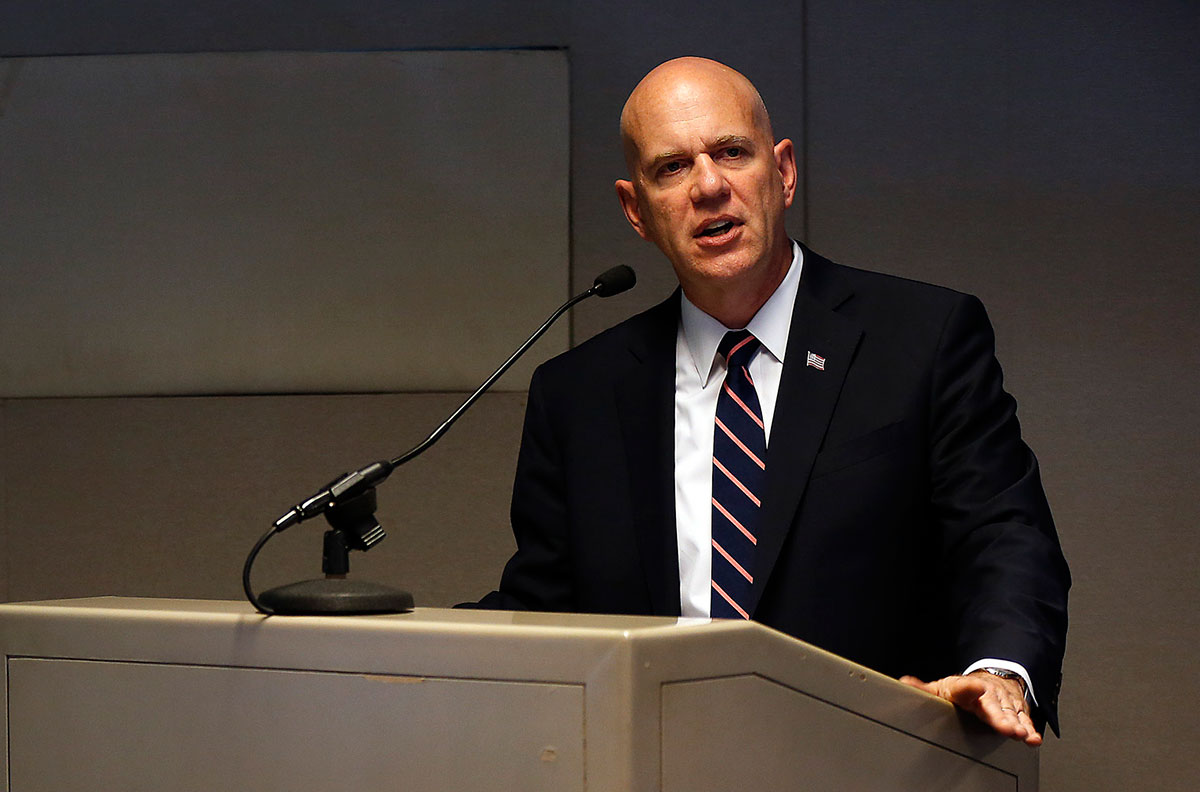 DAVID MAIALETTI / Staff Photographer
SEPTA General Manager Jeff Knueppel.says running on time is a top priority.
Flaws found last month in 115 of SEPTA's newest Regional Rail cars, the Silverliner Vs, threw the commuter rail into further chaos. But for tens of thousands of commuters, the latest plague of delays is merely an extreme variation on a familiar theme.
SEPTA General Manager Jeff Knueppel and other agency officials insist that having the rails run on time is a top priority and that the agency is taking steps to make that happen. The latest crisis won't halt improvement efforts, he said.
But those remedies are months — and in some cases, years — away.
Stretching from Center City from Wilmington to Trenton, from Doylestown to Media to Elwyn, the Regional Rail spans 280 miles in three states. The tracks have been major transportation arteries for the region since the mid-19th century, when they were operated by the Pennsylvania Railroad and Philadelphia and Reading Railway.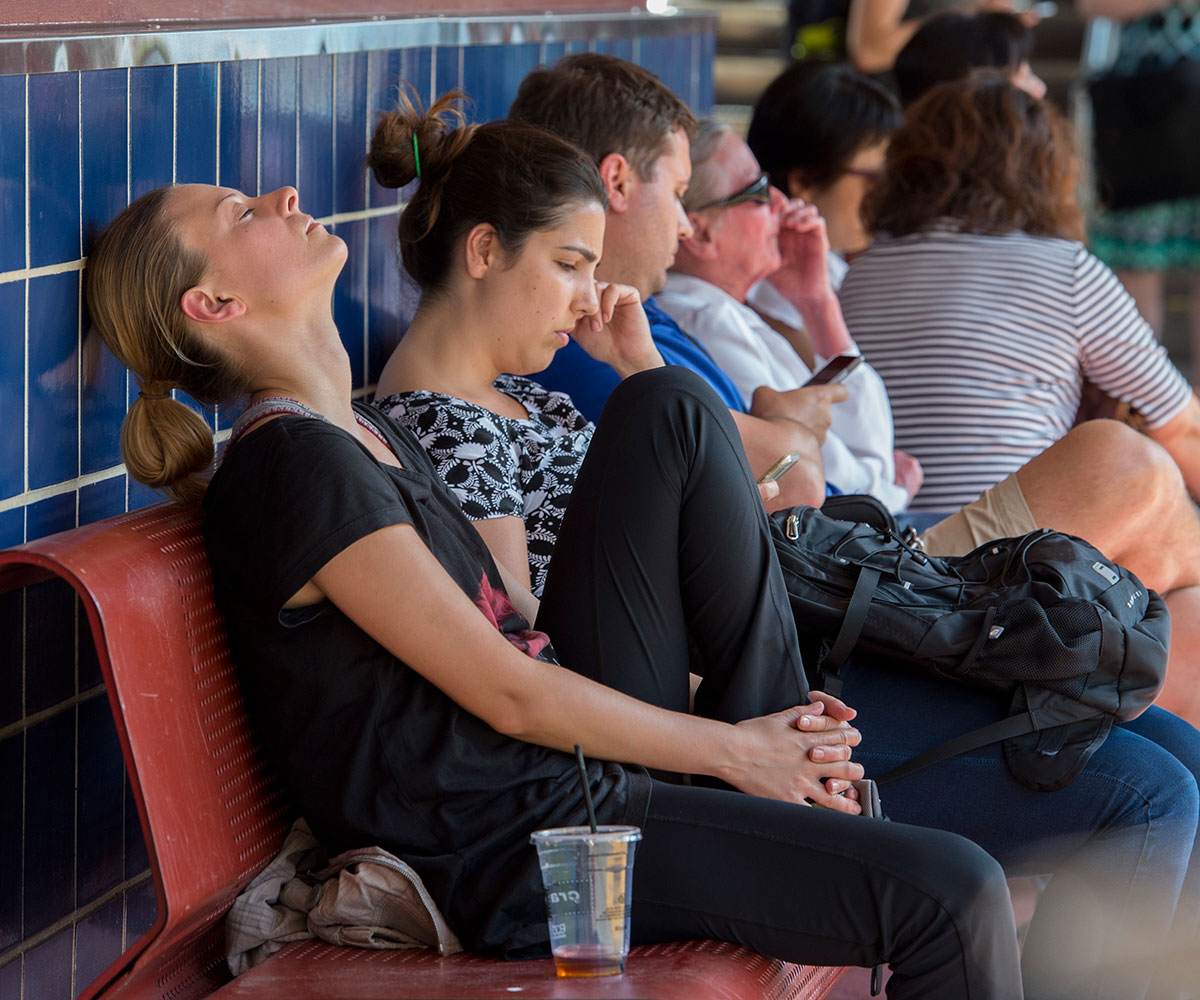 CLEM MURRAY / Staff Photographer
Hurry up and wait: Regional Rail riders on the bench for the next train to arrive outbound at the University City station.
It's a critical part of SEPTA's mission, though not the only one. The agency's buses and subways account for far more rider trips each year. But like most major transportation systems, SEPTA's efficiency and impact ripples beyond the passengers in the seats, potentially affecting lives, jobs, and productivity for millions of people, and relieving pressure from the region's overburdened highways.
SEPTA, a quasi-governmental entity with a $1.4 billion operating budget, took control of the regional rail system in 1983. It was historically underfunded, and by 2013 had identified $5 billion in unaddressed repairs and upgrades — fixes that could have prevented equipment and track failures such as the ones responsible for almost 3,000 delays last year.
U.S. commuter rail lines ranked by annual and weekday ridership
Of 29 commuter rail services in the country, just four — NJ Transit, the Metra in Chicago, the Metro-North Railroad in New York City, and the Long Island Rail Road — carry more riders than SEPTA.
"We have the best network of regional rail in the country," said Vukan Vuchic, a University of Pennsylvania emeritus professor of transportation and a regular rider. "It connects 13 lines in all directions through Center City. No other city in the United States has that."
But comparisons are difficult: Although transit agencies from New York to San Francisco confront similar challenges, they all do things slightly differently.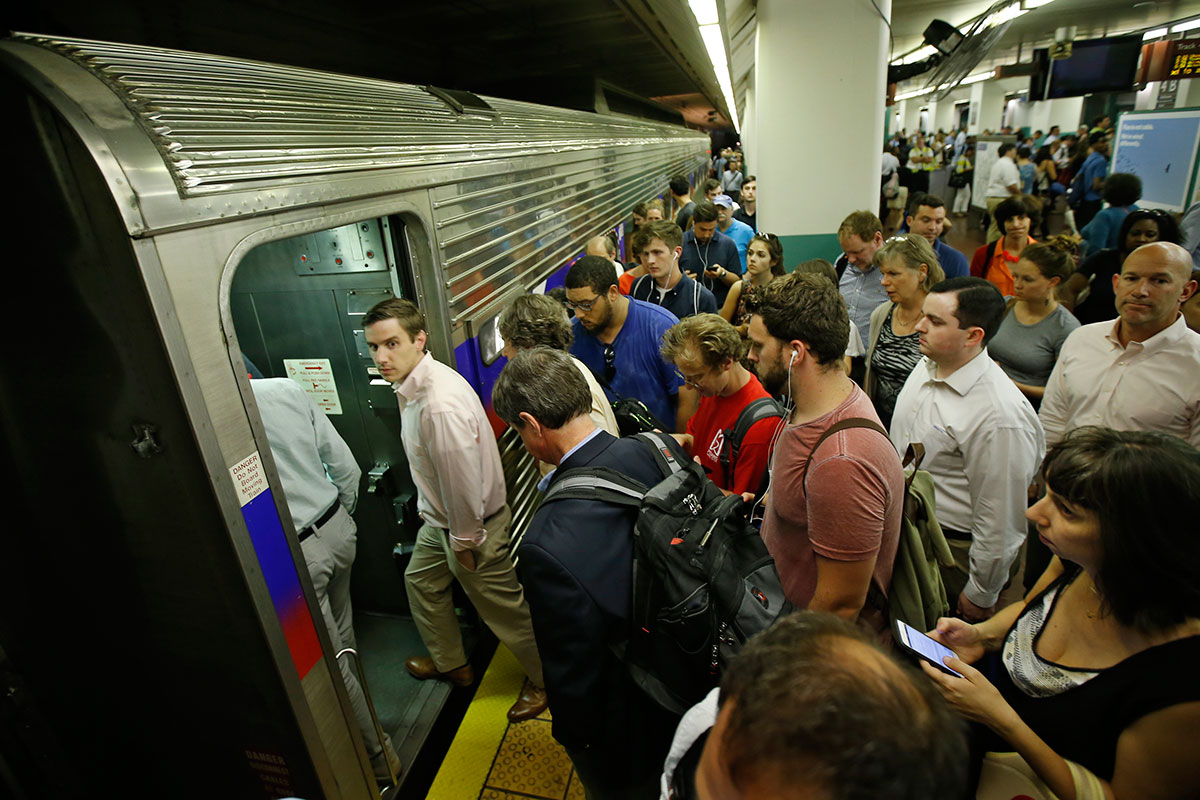 MICHAEL BRYANT / Staff Photographer
The daily crush: Passengers stream onto an outbound Chestnut Hill West train.
An "apples-to-apples" comparison would be unfair, said Randy Clarke, assistant vice president for safety operations and technical service at the American Public Transportation Association. "If you've seen one transit system, you've seen one transit system."
"Catching the Trenton line going home is an even bigger headache. It's not uncommon to have a train 17 minutes behind — on average. There's times that they don't even know when it's going to come and that you're urged to find an alternate route home."
"Even a delay of 5 to 10 minutes can multiply into a 20-to-30-minute delay once the train gets to Center City."
"On-time performance has been better the past year."
"I keep a stack of Service Guarantee Claim Forms in my briefcase. One of the questions on the form is 'Were you adequately informed of the reason for the delay?' to which I usually answer 'No.' "
"If there isn't enough time for the passengers to get on or off, or the conductors need to wait for another train to pass before switching tracks, why not update the schedules?"
"What I love about Regional Rail is the consistency in the conductors and the time they all take in familiarizing themselves with myself and my son."
"Not reliably, but frequently enough, the train will stop and sit. And no announcement, no explanation, no ETA for when we'll be moving."
"Rarely are there issues during morning commute. The evening commute, however, has me wondering if driving to work each day would better serve my time."
"The 8:27 a.m. is supposed to arrive at Suburban at 8:55 a.m. to give you plenty of time to walk to work. Instead, you need a hundred different excuses for your boss."
Sara Elia, Trenton Line
Alison Evans, Doylestown Line
Debbie Sandler, West Trenton Line
Chuck Argue, Media/Elwyn Line
Gina Rinelli Harris, Trenton Line
Brittany Redfern, Chestnut Hill West Line
Anthony Lower, Media/Elwyn Line
Tabitha Giddens, Chestnut Hill East Line
David W. Arata, Media/Elwyn Line
For SEPTA, the unique ability to run trains straight through the city, thanks to a tunnel opened in 1984, created unusually long routes, making it easier to accumulate delays and harder to maintain strict schedules.
A multitude of factors can affect reliability. Small things can mutate into big problems.
That includes construction projects at SEPTA stations and a recent Federal Railroad Administration crackdown on speeding — late conductors can't give their trains an extra nudge.
Growing ridership is a factor. It is up 50 percent since 2000, meaning more passengers and more time needed for boarding and disembarking. A minute's delay at one stop, two minutes at the next — they add up and can cause significant delays.
SEPTA commuter rails are also exposed to the elements. Fallen leaves on the tracks or a sultry day can stall trains. But, as much attention as weather receives, it was directly blamed for only about 10 percent of 2015 delays.
Nearly 7,000 delays last year were attributed to scheduling or congestion problems on the lines, more than twice what it was in 2014.
Sanjay Modi recalled sitting in a stalled SEPTA rail car on the West Trenton line, going nowhere, one evening in May. He was supposed to be in Bucks County for his third-grade son's first orchestra concert that night. Instead, he waited more than 30 minutes before taking a different train.
He was late to the recital.
"You can't commit to anything," said Modi, a technical director at the Wharton School and a daily SEPTA commuter. "I try to coach baseball and stuff like that, but I try to tell the guys, you can't rely on me being there early."
Even with delays and dismay, however, many commuters still prefer SEPTA to driving.
"The Regional Rail has really been a blessing to me," Kenzi Viser, 24, an insurance credentialing specialist who rides the Chestnut Hill West line, said this spring. "I do get from point A to point B."
In a boardroom on the 10th floor of SEPTA headquarters, Knueppel covered a floor-to-ceiling whiteboard in writing. Real-time info, infrastructure, flying blind: Bulleted points listing the obstacles SEPTA faces, divided into 30 categories.
"Almost anything you can ask about, we have a plan [for] it," the general manager said in May. While he and other managers are quick to acknowledge that problems have intensified in the last few years, they're pushing hard on many fronts to improve rail service.
SEPTA's on-time rate in 2013 was 93 percent, thanks in part to the arrival of new Silverliner V cars, giving it a full complement of cars for the first time in years.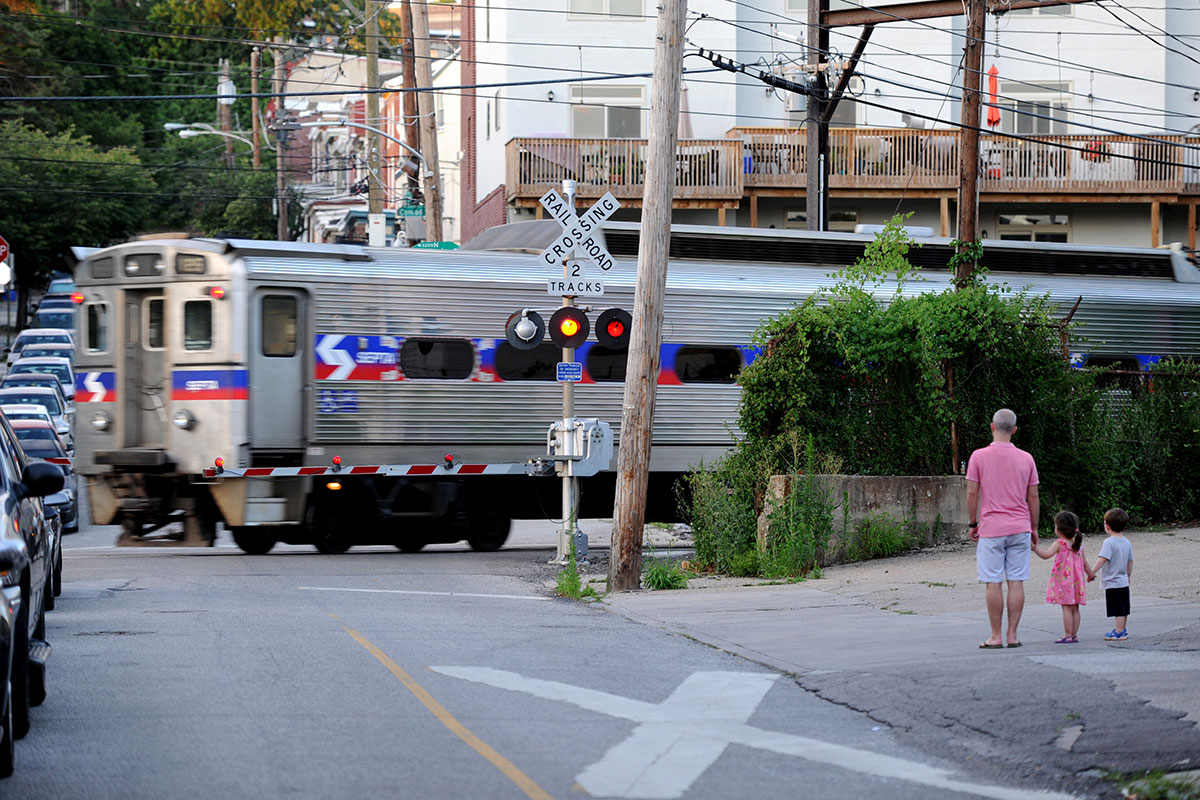 TOM GRALISH / Staff Photographer
An older Silverliner IV on the Manayunk/Norristown Line crosses Indian Queen Lane after leaving the SEPTA East Falls Station headed toward Center City. The line had the fourth-most cancelled trains in 2015.
The advantage was short-lived. The rest of SEPTA's cars are so old — 231 date to the 1970s — that they are prone to breaking down.
Some rail infrastructure, as is common on the East Coast, is 100 years old.
SEPTA bought 13 new locomotives last year, but they won't be available until 2018. A contract for 45 bi-level cars is on hold because of the Silverliner V problems. And fully updating the fleet will cost close to $1 billion, officials say. No contract is in the works for that.
Equipment failures involving vehicles and infrastructure caused 28 percent of all canceled trains from January 2015 to June 2016. Knueppel pointed to the aging fleet.
"Most people would not have something from the 1970s at this point," he said.
Last year, SEPTA took cars out of service to install positive train control, the automatic braking system that could have prevented the deadly Amtrak crash in Philadelphia. SEPTA pulled up to 10 percent of the fleet from service, contributing to 2015's weak on time performance.
SEPTA operates on six lines owned and used by Amtrak, an arrangement an Amtrak spokesman called, "a carefully choreographed dance," that is not always beneficial for SEPTA riders.
SEPTA, for its part, calls it flying blind.
Sharing tracks with Amtrak or freight lines is common in metro regions, but poor communication between Amtrak and SEPTA has exacerbated conflicts in areas where track bottlenecks occur. In New York City, by contrast, Amtrak and Long Island Rail Road dispatchers sit in the same room to control trains coming in and out of Penn Station.
Where they share tracks, SEPTA is at Amtrak's mercy. Amtrak controls dispatch on the tracks it owns and SEPTA loses the ability to observe its trains on those stretches — something transit authorities consider essential.
Delays due to conflicts with other rail services, primarily Amtrak, jumped by about two thirds from 2014 to 2015. In part, that was a cascade effect from the increase in other delays: SEPTA vehicles assume spots between Amtrak's; if a SEPTA train misses that window because of a delay, it might have to stop for an Amtrak train.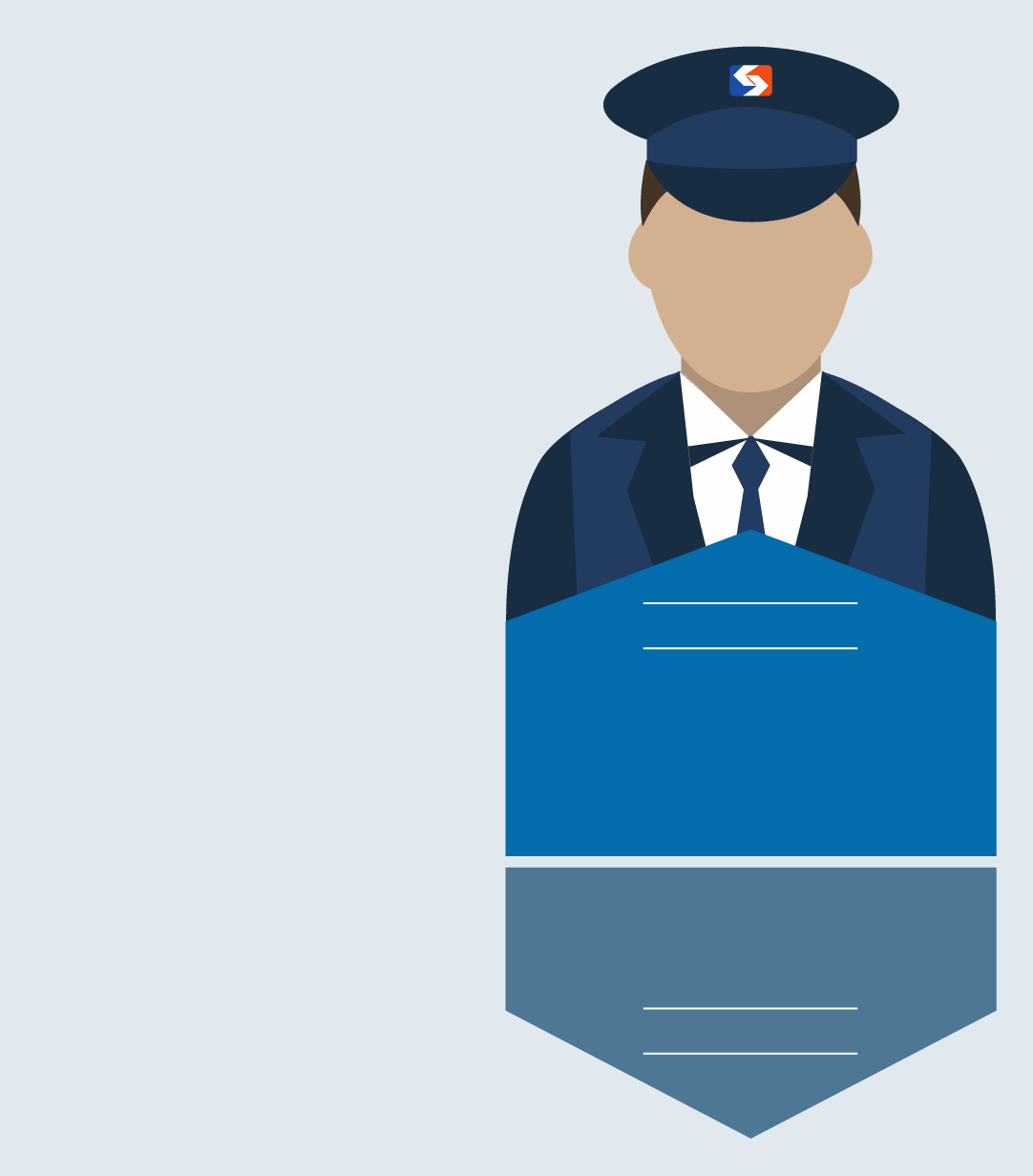 Head Conductor: The person in charge of the train. The conductor gives assignments to the assistant conductors, oversees the train's equipment is operating correctly, manages passengers.
Assistant Conductors: They help with the head conductor's tasks. That includes fare collection, overseeing boarding and disembarking, and managing passengers.
1 HEAD CONDUCTOR
2 ASSISTANT CONDUCTORS
1 ENGINEER
Engineer: The person driving the train. Engineers are expected to memorize the quirks and particularities of their routes and how to navigate them, along with the myriad regulations that govern each stretch of track.
On May 22, a SEPTA train broke down near Devon Station, the victim of snarled wires. What followed illustrated one of the agency's most vexing problems: a lack of staff.
SEPTA is short on engineers, so no one was free to retrieve the stranded train. Its engineer had to trek back to the maintenance yard himself to get a diesel car to pull his train off the tracks. The ordeal took 3 ½ hours.
Manpower delays constitute a leading cause of canceled trains. The authority is short nearly two dozen engineers due to retirements.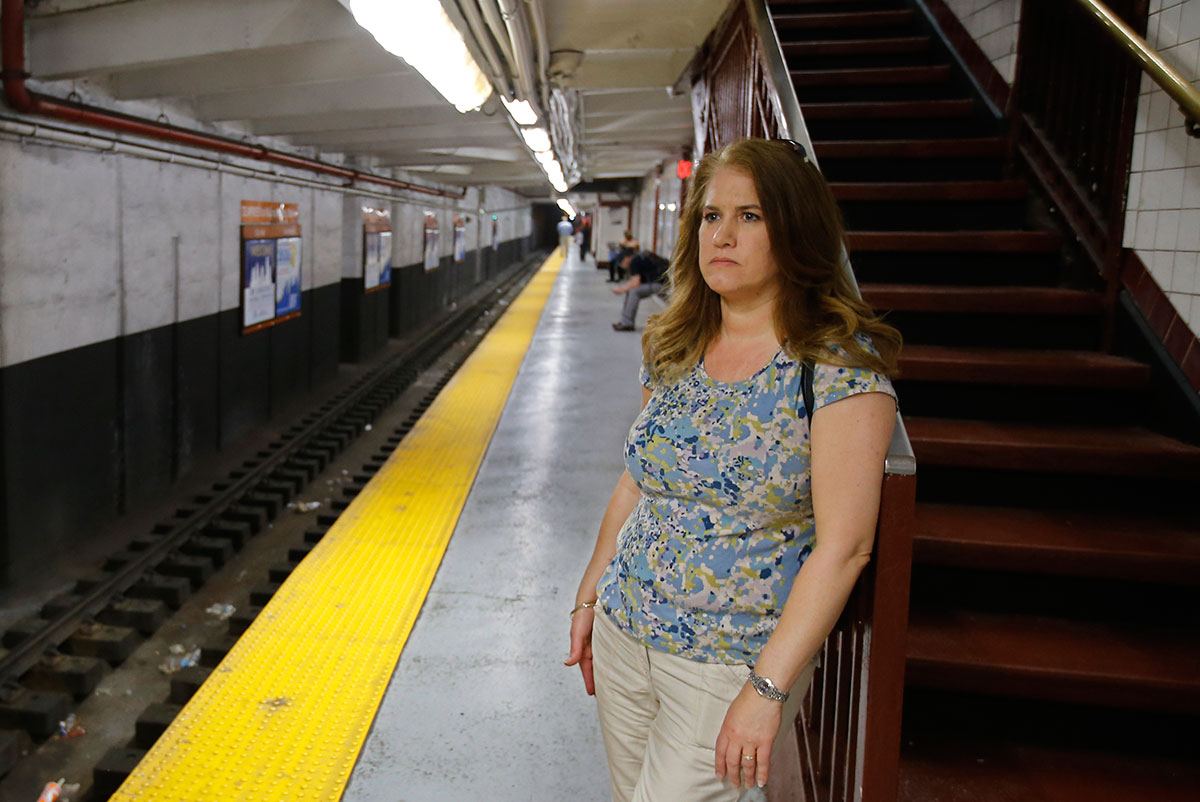 MICHAEL BRYANT / Staff Photographer
Not fun and games: Stephanie Dever waits for the southbound Broad Street line to take her to AT&T station to get her car in a stadium parking lot so she can drive home to Morton instead of taking Regional Rail.
The staffing shortage was exacerbated by a contract stipulation that engineers could not train new hires. That forced SEPTA to promote engineers to training managers, robbing trains of skilled operators. This spring, the rule was changed, freeing up the training process.
Stephanie Dever usually rides the Media/Elwyn Line from Morton to Suburban Station. She recalled her evening commute being delayed one evening because SEPTA didn't have an engineer for the train.
"I was, like, 'I'll drive it,'" she remembered thinking.
"The line is more reliably late than it is on time. Usually it is in the 3 to 4 minute range, but it happens so frequently it makes me wonder why they just don't change the train schedules."
"I've been riding the Warminster Line for over 20 years and have lost count of how many family events, important meetings, etc., I've either missed or been late for because of transit issues."
"The trains arriving at Suburban Station to Chestnut Hill East are consistently late or have not enough cars"
"The Regional Rail line is not always late, or even late most of the time, but… it is late often enough for me to get the train a good two hours before my classes."
"I am an aggravated, irritated, and simply fed-up Regional Rail rider."
"On an almost weekly basis, the normal four-railcar train is inexplicably reduced to two cars. This leads to cramming the normal amount of riders into half the normal seats, if the conductor(s) let you on the train at all."
"The announcements from that so-called PA system are laughable, you can never hear it, or even understand it, making you miss the train."
"I love the Regional Rail. Whether you ride it or not, it is a tremendous asset for the entire metropolitan area"
"I keep a stack of Service Guarantee Claim Forms in my briefcase. One of the questions on the form is 'Were you adequately informed of the reason for the delay?' to which I usually answer 'No.'"
Adam Lang, 38, Paoli/Thorndale Line
Jim Austin, Warminster Line
Ed Harris, Chestnut Hill East Line
James Lafferty, 25, Wilmington/Newark Line
Kiana Abraham, Chestnut Hill East Line
Bill Fox, 58, Fox Chase Line
Tim Perry, Airport Line
Andrew Kefer, 24, Paoli/Thorndale
Chuck Argue, Media/Elwyn Line
Some dispatchers retired, as well. Turnover has left newer, less experienced people to manage up to 788 trains a day. The conductors' union contends that trains consistently run without enough conductors on board, though SEPTA says the numbers are sufficient. Low staffing, scheduling headaches, and even mistakes from newer employees can cause delays.
Meanwhile, SEPTA observers had harsh critiques for conductors. Riders complained of unhelpful or uninformed employees. Vuchic, the Penn professor, said conductors lack urgency.
"There is no really awareness that every minute counts." he said.
Five blocks from SEPTA's offices, Suburban Station fills daily with passengers. On a June evening — before the Silverliner V crisis — Laurie Gerner of Bryn Mawr checked SEPTA's smartphone app before leaving work. Her 4:34 p.m. train was on time, it said.
But when she got to the platform, the monitor read canceled.
"When [they] don't post that stuff and don't announce that stuff, you're just at their mercy," said Gerner, 34, a marketing specialist for a Center City law firm.
It is the type of communication disconnect that riders say occurs over and over with SEPTA: Electronic signs that don't show when the train is really coming. Conductors who don't make announcements or answer questions. Speaker systems that can be unintelligible. An unreliable app that can't provide up-to-the-minute train locations.
SEPTA officials won't install monitors at every platform, saying instead that smartphones now are "always the go-to" for information. They claim the app is working but recommended checking SEPTA's Twitter feeds for up-to-date information.
Riders have ended up with a hodge-podge of resources that offer conflicting information, they report. Many said they don't even mind if their train is a few minutes tardy — they just want to know.
Whenever Gerner's train is late, she has to arrange for someone to pick her daughter up from her daycare center in Swarthmore, which closes at 6 p.m. — a problem commonly reported among working parents riding SEPTA.
"It's stressful," she said. "You're running to this train that you don't even know if it's going to show up."
The structural cracks that sidelined 115 cars last month last month could have caused a full-blown catastrophe if a SEPTA inspector hadn't spotted them.
Knueppel does not discuss on-time rates without touting the agency's dedication to safety.
"You ... can't drive a railroad completely by on-time performance," Knueppel said. "You don't want to do things in a way that compromises safety."
The current problems, riders say, have made things worse than normal. The scheduling problems likely will continue until October.
"My cost is about doubled every week because the train's not running [normally]," said Brittany Redfern of Philadelphia.
She used to take the train with her 4-year-old son, dropping him off at daycare at one stop and jumping back on the train to go to work. Now, she pays someone to drive him and takes the bus herself.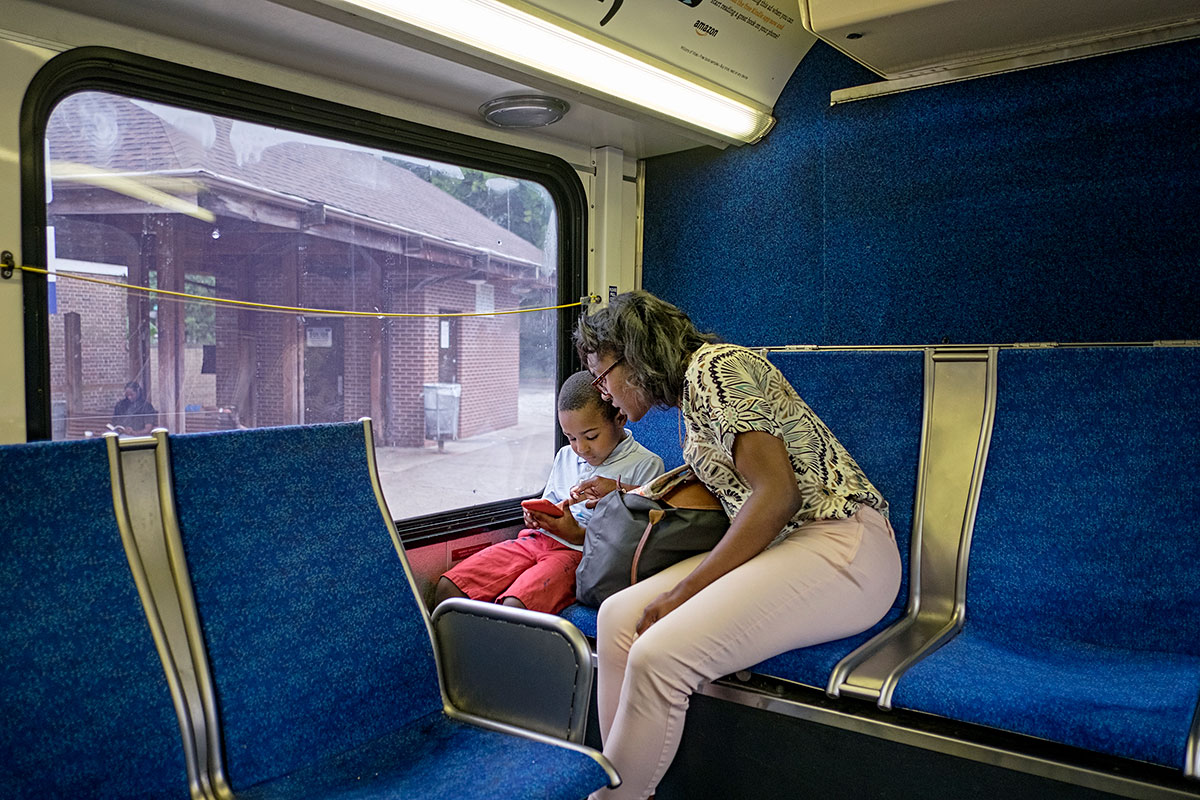 ED HILLE / Staff Photographer
Brittany Redfern and her son John, 4, take the bus home after she picked him up from daycare. They used to rely on the train, but now Redfern pays someone to drive her son to daycare.
Before the Silverliner V crisis, SEPTA had instituted changes to improve reliability, and those have stayed on track, Knueppel said.
Route restructuring at the end of last year brought an improvement in on-time performances. The Airport line saw 95 percent of its trains run on schedule from January to June, up from 85 percent over the same period last year. The West Trenton line improved by 3 percentage points in that time, and Warminster, by 6 — big jumps for two of the worst-performing lines, although the change limited service.
Recognizing the need to improve, SEPTA in June created a Regional Rail Operations unit solely responsible for running the rails. Formerly, rail and subways were under the same unit. The change was applauded by employees and rail watchdogs, who say it will improve focus and accountability on rail operations.
Other steps are underway.
To address the staff shortage, SEPTA has hired and begun training 24 new engineers.
Buoyed by an increase in state transportation funding, the agency spent $38 million to create a track for the West Trenton Line separate from freight rail and through 2020 is spending $115 million to replace nearly 100-year-old power lines, and $181 million in upgrades that will raise platforms to speed boarding and disembarking at eight stations.
SEPTA is also meeting with Amtrak in a bid to improve coordination.
Some fixes will take years, but Knueppel promises changes that will improve train reliability in the near term.
Changes being made
Stage of progress
Target completion
Hire engineers to bring staffing number up to 213
24 engineers currently in training
Summer/fall 2016 - ongoing
Split railroad management from transit management
Implemented; Railroad manager hired June
Done
Purchase technology to provide accurate train locators
Contract approved by SEPTA Board June 2016
2017
Training engineers to use PTC braking system properly
Complete
Done
Create a quick response team to repair switch failures
Team in place
Done
Purchase 45 bi-level rail cars for $190 million
Procurement delayed
TBA
Create comunications response teams to aid passengers at stations
Being Developed; Currently using Transportation Managers to communicate w/passengers
Projected implementation: November
Improve communications with Amtrak
Meeting are ongoing with rail agency
Ongoing
Replace all Silverliner IV's at a cost of $1 billion
Part of the long-term capital program.
2022-28 and/or beyond
Install new wiring near 30th Street Station, University City and the Media/Elwyn Line for $115 million
Ongoing
Depending on the location, between 2017 and 2020
Upgrade eight train stations at $181 million
Ongoing
Depending on the location, between 2017 and 2018
Purchase 13 electric locomotives for $113 million
Approved by SEPTA board July 2015
Delivery starts January 2018
To improve communications, SEPTA's board has approved a real-time tracking modem. It will bring the mobile app up to today's standards, allowing riders to see where trains are at all times. Getting it running will take about eight months, Knueppel said.
"I'm not sitting around waiting for things to happen," Knueppel said. "I don't believe in that."
In the meantime, riders such as Foley, Modi and Gerner will continue to wait — on platforms in the morning, and every day for better service.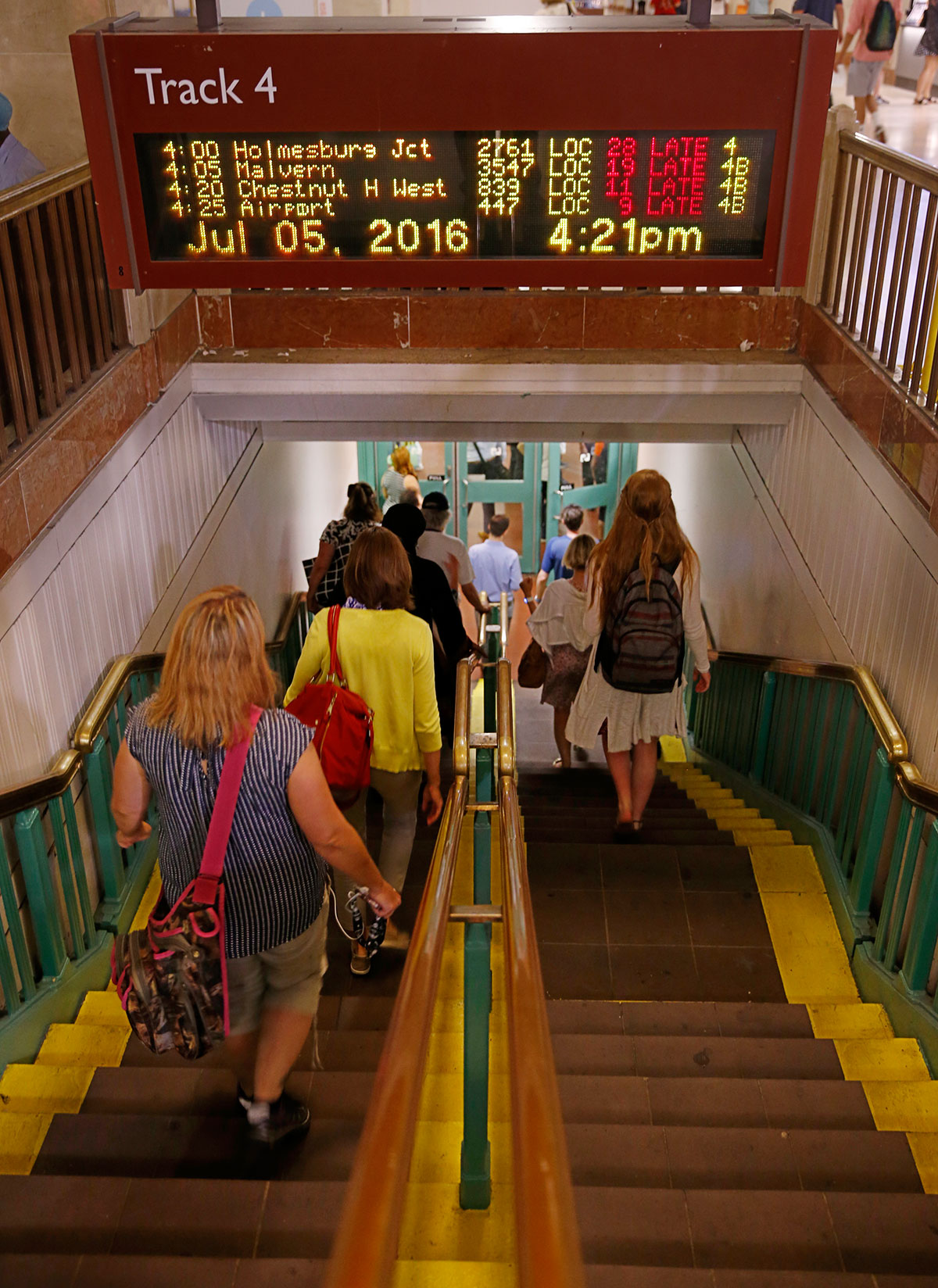 MICHAEL BRYANT / Staff Photographer
No rush: Regional Rail passengers take the stairs down to the tracks at Suburban Station as a display shows all trains are running late.
"The regulars, we all understand we're all in it together. We're all out in the 'burbs," Modi said. "Everyone's just trying to get to work and get home."
jlaughlin@phillynews.com, 215-854-4587, @jasmlaughlin; jmcdaniel@philly.com, 610-313-8205, @McDanielJustine
MICHAEL BRYANT / Staff Photographer
A commuter hurries to catch the train to Chestnut Hill West.