Skip to content
With strong competition, attendance, Philadelphia International Championship bike race in its prime
IF YESTERDAY'S TD Bank Philadelphia International Championship bike race was the last one in this city after 25 years, it certainly put on a memorable finale.
IF YESTERDAY'S TD Bank Philadelphia International Championship bike race was the last one in this city after 25 years, it certainly put on a memorable finale.
Team Columbia-Highroad turned in a sweep, as Ina-Yoko Teutenberg, of Germany, took the women's 57.6-mile Liberty Classic, and fellow German Andre Greipel sprinted to his first title here in the 156-mile men's race. It was the third win in 5 years for the 35-year-old Teutenberg, while Greipel had to overcome a huge early breakout and steamy weather.
"We were in very good position when we came down the stretch," said the 26-year-old Greipel, who finished in 6 hours, 24 minutes and 4 seconds. "[Teammate Chris] Henderson and I were there together down the end and we felt strong that we would be able to hold on and win. Chris could have won the race, too, but it's not about the individual, it's all about the team. And I was able to win this for the team."
Henderson admitted after the race that Greipel was picked beforehand to win for the team, had it come down to a sprint. As the next to final lap ascended from Lemon Hill, Henderson and Greipel were part of a group of five Columbia-Highroad teammates who headed the pack. It seemed a foregone conclusion that someone from the world's top-ranked team would grab the $13,500 grand prize. But when the peloton came down from Lemon Hill for the final run, Greipel had a slew of obstacles to overcome.
"We were pretty confident that it was going to come down to the sprint, and I'm very comfortable going down there with Greipel," Henderson said. "With about 400 meters to go, I finally felt Andre on my wheel, and it doesn't get much better than that. Earlier in the sprint, there was quite a bit of traffic and I was beginning to wonder if we would be OK. But we got past it."
Just to go off yesterday, the race had to overcome more obstacles than any racer will ever see. Sponsorship money was short and only the last-minute additions of Sugarhouse Casino and Foxwoods, who each donated $100,000, allowed the race to take place - and that all happened just about a month ago.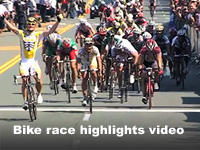 But fans were lined three-deep near the start around 9 a.m. on the Ben Franklin Parkway, and the people watching the race leading up to and around the famed Manayunk Wall were partying the way only Philadelphians can.
If the race is indeed in peril, fans seemed to come out in force to show their support.
"At Lemon Hill and Manayunk and here [at the finish line] there were huge crowds all day," Mayor Michael Nutter said. "People had a great time and we had incredible weather. It was a rough patch there for a little while [to get the race off], but folks really stepped up and made sure that this race stays the signature race in North America. It has a tremendous impact on the city. People look forward to this race. It's a real event here in this city. It's an economic driver and really has an impact in this city."
Teutenberg, who finished the women's race in 2 hours, 22 minutes and 33 seconds, certainly doesn't want to see the race come to an end. Her winning time was her fastest yet.
"Oh, I love this race and I love the city of Philadelphia," she said. "Obviously, I've had some success here, but even if I didn't, I would still love this race."
Not only is the future of the race in question, but so is how much longer Teutenberg, at her age, can stay atop the women's field.
"I don't know about that," she said with a smile. "I just rode my fastest time in this race so maybe I'm in my prime."
It certainly seemed like that yesterday, when in the last 100-yard sprint she bolted ahead of any challengers and crossed the finish line with both hands raised in the air.
It wasn't quite that easy for Greipel.
Daniel Holloway, from the USA National Team, and Andrew Talanski, of Amore & Vita Pro Racing, darted out to what got as big as a 12-minute lead early in the race. Which isn't entirely unusual, but when the women's peloton caught up to the men's field in Manayunk, race officials had to hold the men back, the first time that has happened in the 14-year history of the women's Liberty Classic.
But since Holloway and Talanski were so far ahead, they were left to ride, increasing their lead even more. Neither could hold the impressive pace, however, but they did make it tough for the other riders.
"Them going out like that was a bit unusual, and it took a lot of hard work to finally catch up to them," Henderson said. "It was a strange race, a little odd. But I think the strongest team came out on top, so I'm OK with that."
And all will be more than OK if the race does indeed return for year 26.
"We're going to get ready for next year's race this year and make sure we can lock this thing down," Henderson added.
Riders and fans alike are hoping for that. *