For rapid transit through your gift list, we've found seven well-priced, beautifully wrapped presents for a typical mix of recipients — all within 10 blocks of City Hall. Wearing sneakers and moving at a good clip, our reporter was able to buy them all in one lunch hour. Average price: less than $25 each. Whew. (Click on the numbered locations to see what you'll find at each spot.)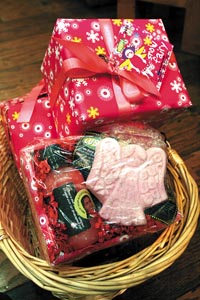 1. For the trendy young woman
(or the precociously vegetarian pre-teen)

Snow fairy gift set, $21.95

A pink, angel-shaped "bath bomb" (like bath salt, but fizzier), a 3.3-ounce bottle of sparkly bath gel and a 3.5-oz. bar of hand-made soap, all wrapped together in a wintry pink package — and all 100 percent "cruelty-free," with vegetarian ingredients that have not been tested on animals.

Where: Lush, 1428 Walnut St.

Insider tip: If you buy $45 worth of wrapped gifts, Lush will throw in a free citrus-scented "Christmas Party" bath bomb (so-called because when it dissolves, it releases festive floating stars). 

3. For the classier, older woman who's not of the bath bomb demographic

Estée Lauder "Beautiful" and "Pleasures" scented candles in porcelain holders ($25) and scented drawer liners ($20).

The drawer liners are boxed, bowed and ready to go. The candle holders are boxed and can be under-tree-ready in no time, since Estée Lauder has installed a fat roll of glossy, gold wrapping paper on the countertop of its Macy's cosmetics counter. "We can wrap gifts while you're standing here," says beauty advisor Sophia Cordero. "You don't have to go to the 3rd floor."

Where: Macy's, 1300 Market St., in cosmetics (1st floor)

Insider tip: Bobbi Brown and Origins are two other cosmetic counters at the Center City Macy's with speedy on-site wrapping capabilities and exquisite free packaging. 

5. For political partisans, left and right

Candidate books and campaign calendars, starting at $14.

Another almost-wrapped gift. Borders' wonkish "POTUS" collection (the acronym stands for "President of the United States") is conveniently located right next to the store's glitzy Papyrus-brand Christmas wrapping supplies.

To package a holiday treat fit for a C-SPAN fan, choose a candidate autobiography or two — the POTUS section has Hillary Clinton's, Barack Obama's, Joe Biden's and Mitt Romney's — and maybe a Hillary Clinton or Rudy Giuliani "Countdown to Victory" calendar ($14). Then walk two paces to select a medium-size Papyrus holiday gift bag ($7.95) and a pack of coordinating tissue paper ($2.25). Then get in line and pay. If only the primaries were so swift and painless!

Where: Borders, 1 S. Broad St.

Insider tip: For policy wonks who've been very, very good, you might add Stephen Colbert's "I Am America (and So Can You!)." Borders has it discounted at $18.89 on the best-seller rack near the cash registers. 

7. For guys of all stripes (and solids)

J.Crew vintage thermal shirts, $29.50

These soft shirts are as close to grab-and-go as menswear gets. Grab from the cornucopia of colors and sizes (S to XL) on the table in the store's center aisle. Then go to the checkout, where all purchases are swaddled in layers of snowflake-print tissue paper. If you ask, you'll also receive a gift box, a coordinating gift tag and a precut length of ribbon to pull together an easy, eye-catching package.

Where: J.Crew at Liberty Place. Enter from the 1st floor rotunda or off Chestnut Street between 16th and 17th.

Insider tip: J.Crew has kindly art-directed the holidays for its style-challenged customers. There's a free booklet showing clothes and accessories that go together nicely. Red gift tags hung around the store help you find the recommended goods.